16 Home Office Essentials
Remote employees, freelancers, at-home entrepreneurs — you all know you have the best office in the world. Your fridge is down the hall, your bed is around the corner, and pants are optional. But how you set up your home office is the difference between working from home successfully and wondering if the DQ down the road is hiring. Here are 16 essentials for your home office that will help you sit better and concentrate longer, while simultaneously making your home work environment more attractive and better organized, so you'll actually want to spend time there.
The best advice we've heard for those who work from home is this: give your home office the same respect as a "real" office. Have the right equipment. Keep it organized and well-lit. Get ergonomically oriented. And every once in a while put on pants.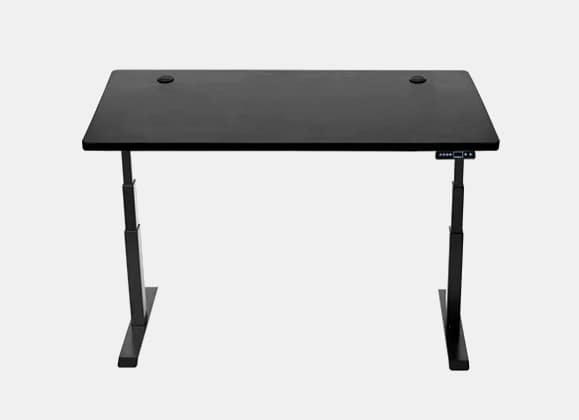 StandDesk
Sitting for hours on end is bad for you — and you don't need a celebrity doctor to tell you so. You feel it in your neck, back, shoulders. So stand up sometimes. But for the love of beans, keep working. The StandDesk comes in nine different top materials (including reclaimed wood and South American walnut) and adjusts from sit to stand with button-activated motors that quietly lower and raise up to 400 pounds in a matter of seconds. – Shop Now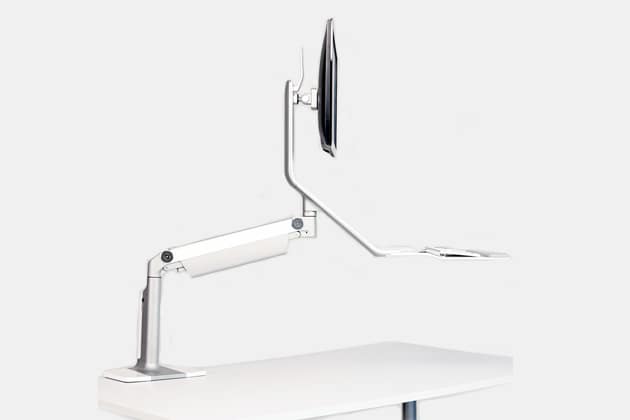 HumanScale QuickStand Lite
If you already found a desk you like, but want to try this sit/stand idea, the QuickStand Lite is the way to go. It clamps or bolts onto just about any desk out there and uses a counterbalance system to let you adjust your monitor to whatever height suits your preferred position of the moment. Your keyboard and mouse come along for the ride on a a wobble-resistant platform, that even offers a bit of space for your beverage. – Shop Now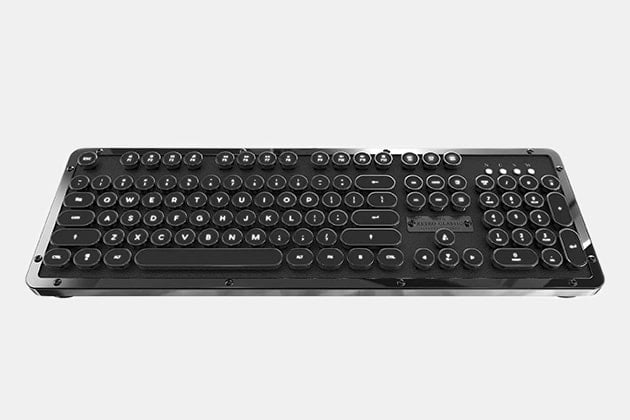 Azio Retro Classic Bluetooth Keyboard
You like the image of yourself as a Hunter S. Thompson-type — clacking away at typewriter, bottle of whiskey at your side. But using a typewriter to get any actual work done fills you with both fear and loathing. Meet a handsome compromise. This retro keyboard looks the part and offers satisfying clacks with each keystroke, but connects via bluetooth to PCs and Macs. It's got an aluminum alloy frame, pebbled leather top plate, and LED backlighting bringing classic cool into 2019. – Shop Now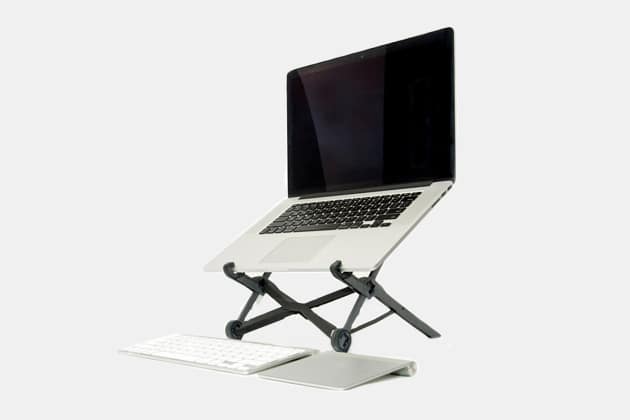 Roost Laptop Stand
If a laptop is your primary computer, take a look at how you're sitting. Eyes down, neck bent, shoulders scrunched? LIfting that screen just a few inches will improve your posture immeasurably (and possibly your productivity too). This Roost stand is the best way we've seen to raise your laptop the few inches needed to get your eyes pointing straight ahead. Quick to deploy and easily adjustable, the Roost uses pivoting "grips" to grab onto just about any laptop. Now all you need is a bluetooth keyboard, and wouldn't you know it, we put one of those on this list too. – Shop Now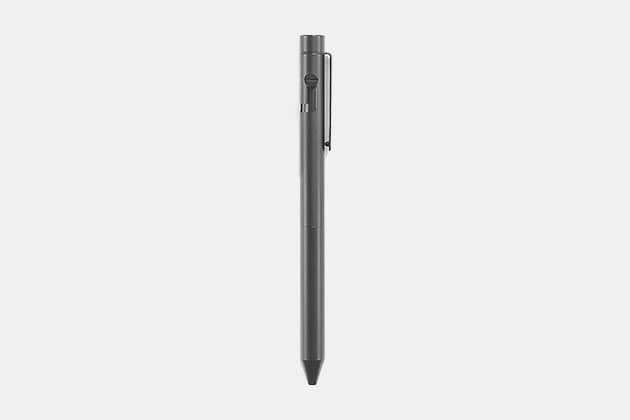 Inventery Bolt Action Pen – L
Note-taking apps, iPads and styluses, Wacom tablets — modern tech is determined to replicate pen on paper. But sometimes you just need the real thing. This bolt action pen from Los Angeles design studio Inventery looks as good as it writes. Made from brass with a black oxide finish and sporting high-speed deployment, the Inventery pen will put ink to paper long after today's newest tablet is obsolete. – Shop Now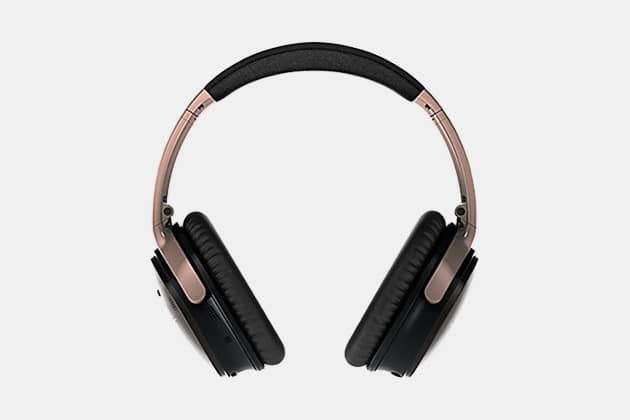 Bose QuietComfort 35 Wireless Headphones II
In a perfect world your home office is silent. No roommates playing Call of Duty at full volume. The kids don't have StoryBots on a loop. Your dog's collar doesn't clink incessantly. But the home office isn't always perfect which is why noise cancelling headphones are non-negotiable. The QuietComfort headphones from Bose are among the best. Wireless, with twenty hours of battery life, the proprietary tech cancels outside noise while delivering clear, balanced audio so you can focus on what you're doing, not what's bugging you. – Shop Now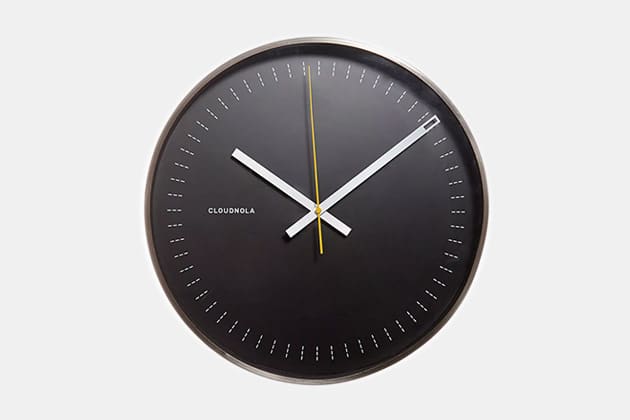 Cloudnola Objective Wall Clock
Tell time. Look nice. Don't distract. That's the job of your home office clock and this one from Cloudnola does its job very well. Designed in Amsterdam, the Objective wall clock has no numbers to crowd up the aesthetic and comes in a sleek stainless steel case with a black dial and minimalist hands. The movement is silent because there's nothing worse than hearing tic-tic-tic as a deadline approaches. – Shop Now
Modern In Designs AG Ribbed Office Chair
Office chairs don't get much sharper than this. The mid-century modern styling pairs clean lines with with consciously designed comfort for a chair that you'll look forward to sitting in — and seeing every day when you step into your office (or corner of the room). The five casters roll you about your space while the removable arms let you customize your seating style. – Shop Now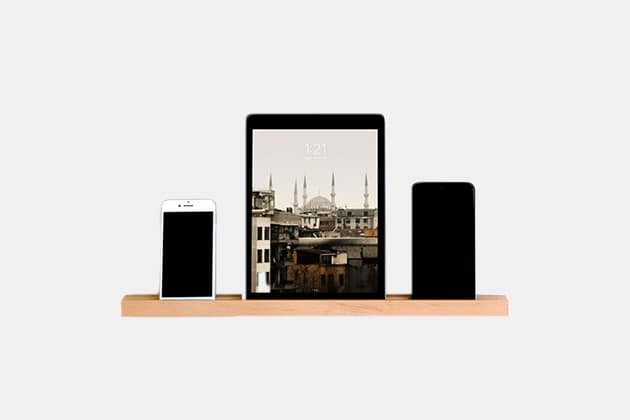 Stretch Shelf
An organized desk equals an organized mind. At least that's the hope. This streamlined little shelf will help get you closer to workspace nirvana by getting stuff off your desk and on the wall. With special divots and cable holes, the Stretch Shelf is ideal for holding your phone and other tech stuff while you work. It'll also serve to display a bit of art or some books, so you can liven up your office with a bit of flare. – Shop Now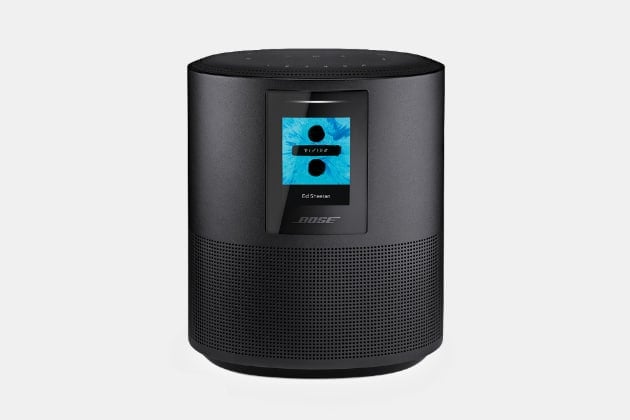 Bose Home Speaker 500
Once again, research is proving what you already know: music helps your brain concentrate. And if that music is clear, full, and Bose-quality? We can only imagine that'll sharpen your concentration to a razor's edge. Bose has long been the leader in quality home audio and their newest home speaker is designed to bounce music off the walls to fill a room with the beat of getting things done. It's voice activated with Alexa built-in and plays via bluetooth, Amazon Music, or Spotify, with Apple AirPlay 2 coming early 2019. – Shop Now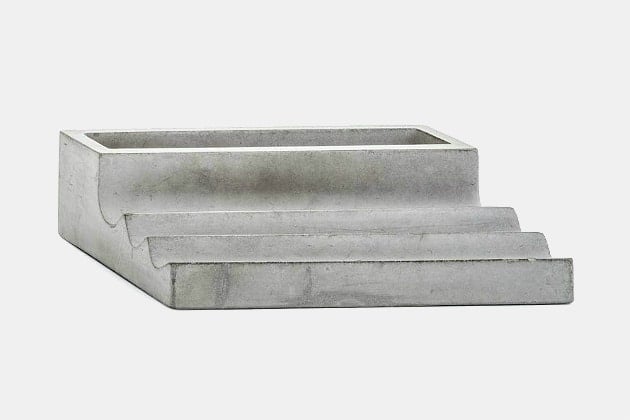 Concrete Desk Organizer
Heavy, solid, substantial, and strong — just like every one of your ideas. This concrete desk organizer looks cool and has room for your pens, phone, and various other bric-a-brac that needlessly clutter your desk. And since it's made from concrete, you'll need to replace it exactly never. – Shop Now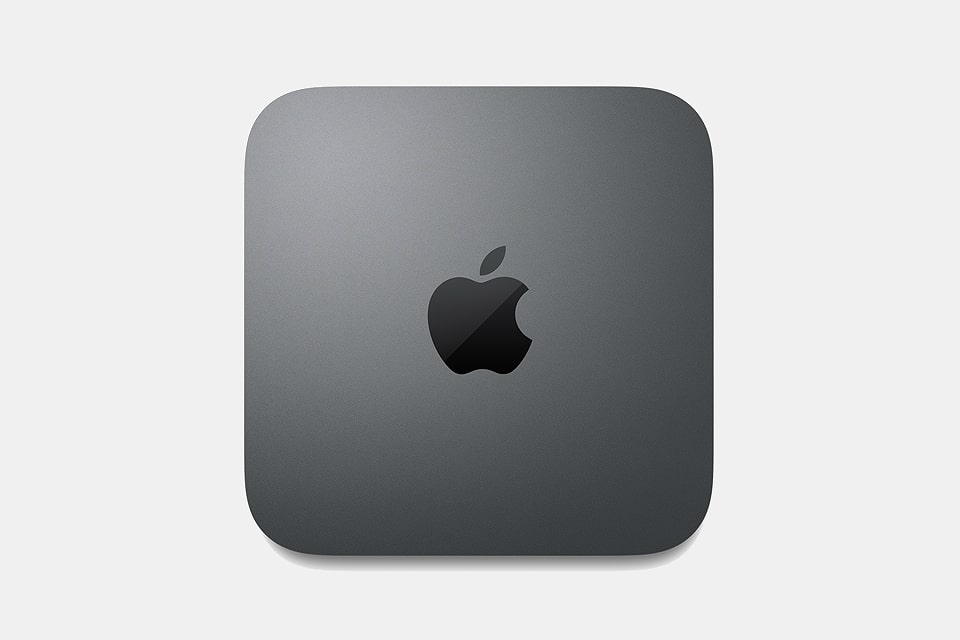 Apple Mac Mini
Somewhere between a massive desktop tower and slim laptop lies the Mac Mini. Apple's latest Mini offers five times faster systems performance than their previous version, packs Intel quad-core and 6-core processors, and has up to two terabytes of solid state drive storage. There's a slew of ports so you can configure your peripherals however you want and the tiny but mighty size gives you lots of options for how and where you set up your workstation. It's an affordable way to get a lot of Mac power, especially if you've already got a monitor and keyboard hanging around. – Shop Now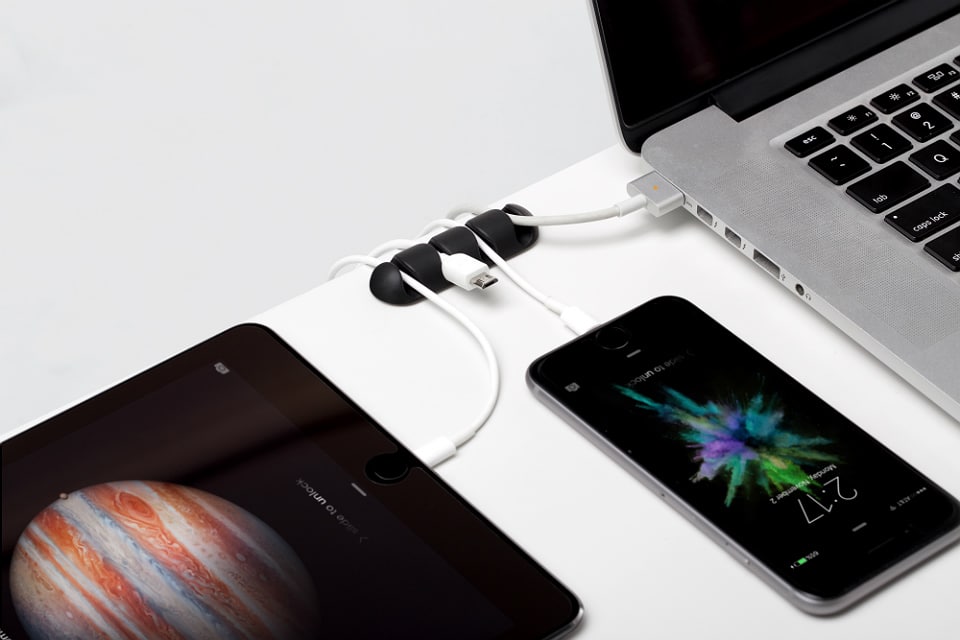 BlueLounge CableDrop Multi
Sometimes the smallest things pack the most genius. This inobtrusive doohickey is the cord wrangling hero your desk has been wishing for. No more hunting for the business end of a cord, no more rat nests of wires cluttering up your area. WIth a simple self-adhering backing and room for four cables, the CableDrop keeps every cord properly in line and right where you left it. – Shop Now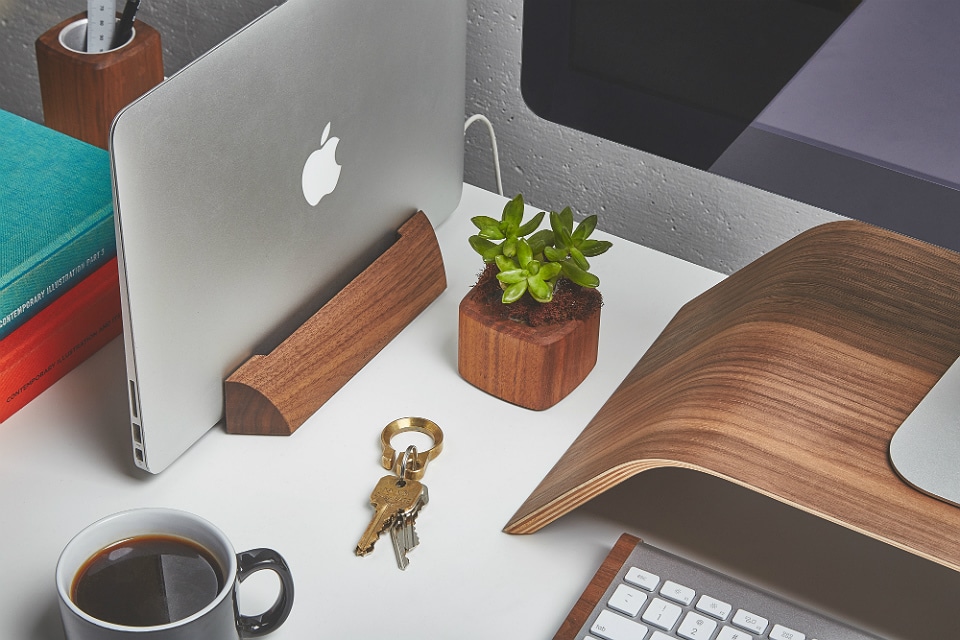 Grovemade Macbook Dock
If your laptop does desktop duty at homebase, you need a good stand. This one is made in Portland, Oregon from hand-finished solid walnut and an aluminum base. Cut resin housing and premium wool felt pads hold your laptop in place while natural cork feet keep the dock from sliding and your desk scratch-free. Plus it will look infinitely handsome next to any of the other desk and home products Grovemade artfully produces. – Shop Now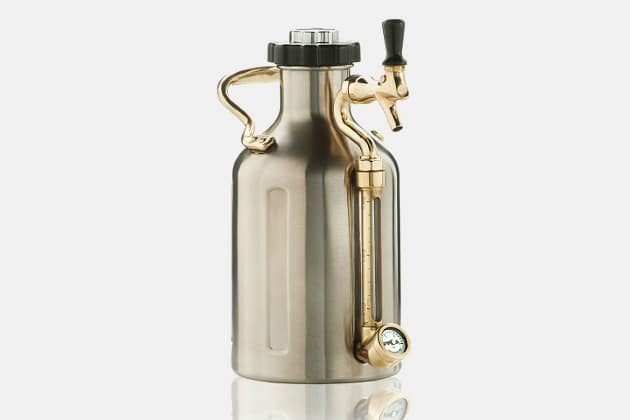 GrowlerWerks UKeg
If you work from home, you have the distinct pleasure of being in charge of when it's time to have a beer. Since there's often no "quitting time," right now is just as good as any other time to pour yourself a cold one. With the Growlerwerks UKeg, you have a pressurized keg of your favorite brew in the fridge at all times. Getting it filled is easy as showing up at your local pub and the 128 ounce size means fewer refill trips. Beer stays pressurized with CO2 cartridges (from any kitchen or sporting goods store) and the double walled insulation keeps it cold for hours, should you ever want to move happy hour out of the fridge and right on top of your desk. – Shop Now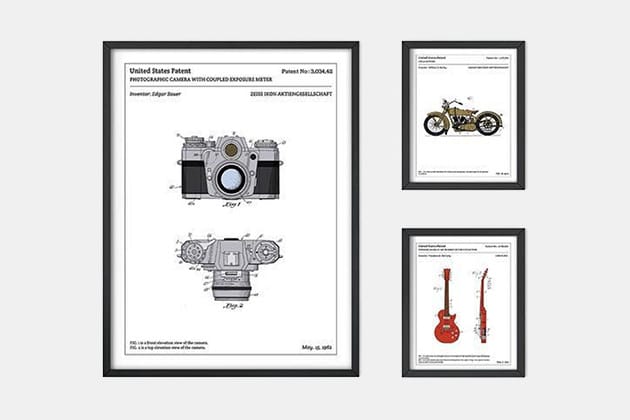 L'Affiche Technique Patent Posters
What better to inspire your next idea than the genius inventions of others? These posters are reproductions of the patent drawings for legendary products — from the Game Boy to the Lego man to the Harley Davidson — and are printed on coated matte cardstock. They come in two sizes, A4 or a larger 11.8 by 15.7 inches, and you get your choice of crisp white or with an aged patina. Having nothing on your office walls is depressing. Having a DeLorean patent drawing up there is downright inspiring. – Shop Now
Disclosure: Clicking on these links and making a purchase may earn us a small referral fee, at no extra cost to you. Learn more here.
freestar.config.enabled_slots.push({ placementName: "gearmoose_leaderboard_btf", slotId: "gearmoose_leaderboard_btf" });