The 15 Best Men's Chore Coats
When the heat of summer fades and the weather turns crisp, hopefully, it doesn't come as too much of a shock. If it catches you off-guard, there are style moves you can make to fight the chill and look great, quickly. One such move is reaching for the ever-reliable, tough, rugged chore coat. With its roots as a classic working man's jacket, it's an enduring style that's lasted through fast fashion cycles and emerged as one of the more reliable outerwear options for the discerning, style-minded guy.
The best men's chore coats on the market today work seamlessly with other style essentials, from rough-and-tumble dark denim to sturdy wingtip boots to a durable and long-lasting chambray shirt. Available in an array of neutral colors and fabrications — from selvedge denim to ridiculously tough waxed canvas — it should be a jacket style you put on, break in and never want to take off. In short, it should be able to serve as the only casual outerwear piece you need for fall — and into winter, for that matter. Take a look at our picks for the best men's chore coats, buy one and wear it proudly and often.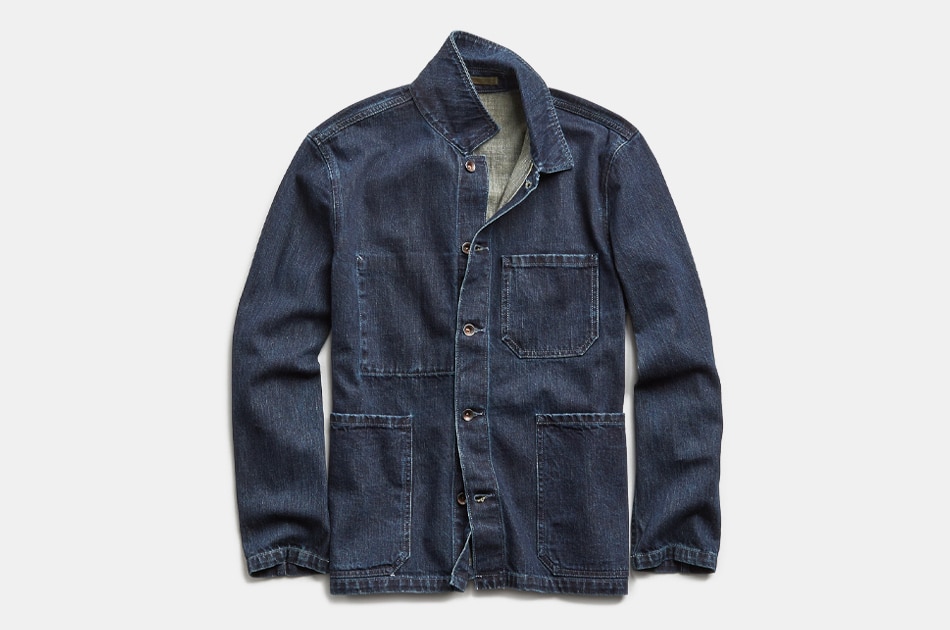 Todd Snyder Japanese Indigo Rinse Chore Coat
The team at Todd Snyder always knows how to keep us guessing (and keep us impressed, for that matter) when it comes to the best men's outerwear, season after season. Be it a luxurious peacoat or a classic field jacket, the Todd Snyder arsenal of outerwear runs deep, and that's certainly the case when it comes to the handsome Japanese Indigo Rinse Chore Coat. Made from some of the finest denim fabric on the planet, it's a unique and tough chore coat to wear day after day this season.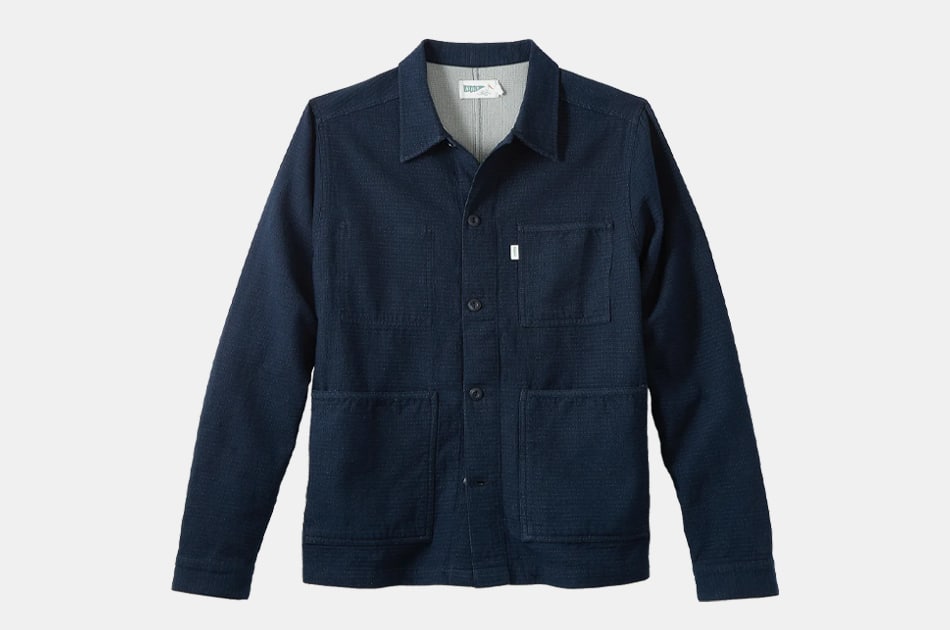 Wellen Double Cloth Chore Coat
Wellen's ascent to greatness as far as menswear brands go comes off the strength of both its stylish offerings and eco-conscious fabric choice, and it doesn't hurt that pieces like the Double Cloth Chore Coat work seamlessly with other Wellen gear picks, either. The Double Cloth Chore Coat is the type of tough chore coat you can wear non-stop with your favorite henley or denim shirt without missing a beat. Perfect fall style is (essentially) just a purchase away.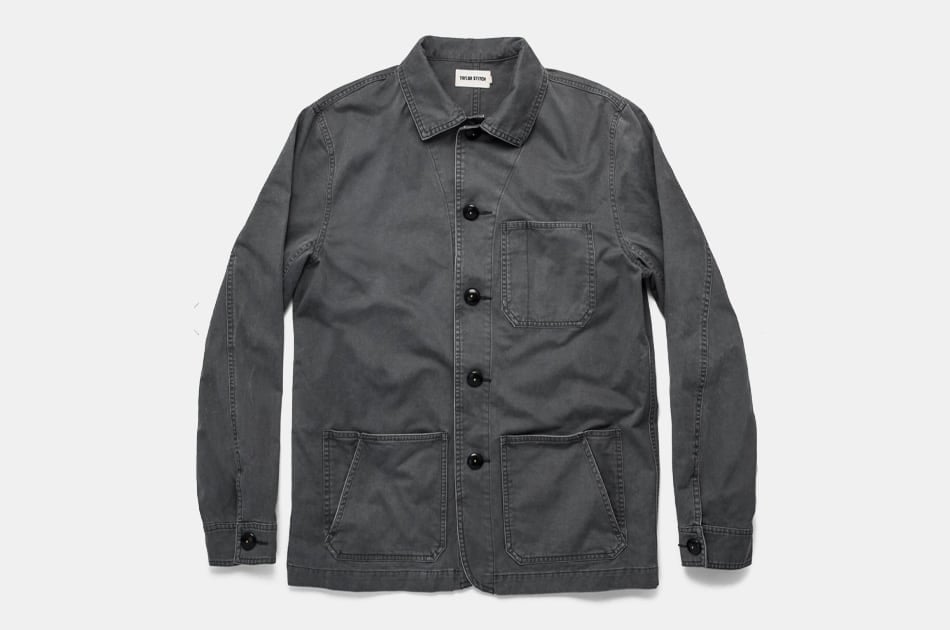 Taylor Stitch Ojai Jacket
You surely know you can count on Taylor Stitch to deliver the goods when it comes to stylish shirting, slim trousers, tough denim, and of course, the best outerwear in the game. And in the months since it's been released (and restocked), we've taken quite the liking to the Taylor Stitch Ojai Jacket, the modern man's chore coat for the guy who's always on the go (yet doesn't want to sacrifice style). Made with all-day functionality in mind, the Ojai Jacket's patch pockets and easy-to-layer washed cotton fabric mean this is the perfect jacket for fall and winter travel — not to mention the perfect jacket for when you need to get some work done in the shop (seriously).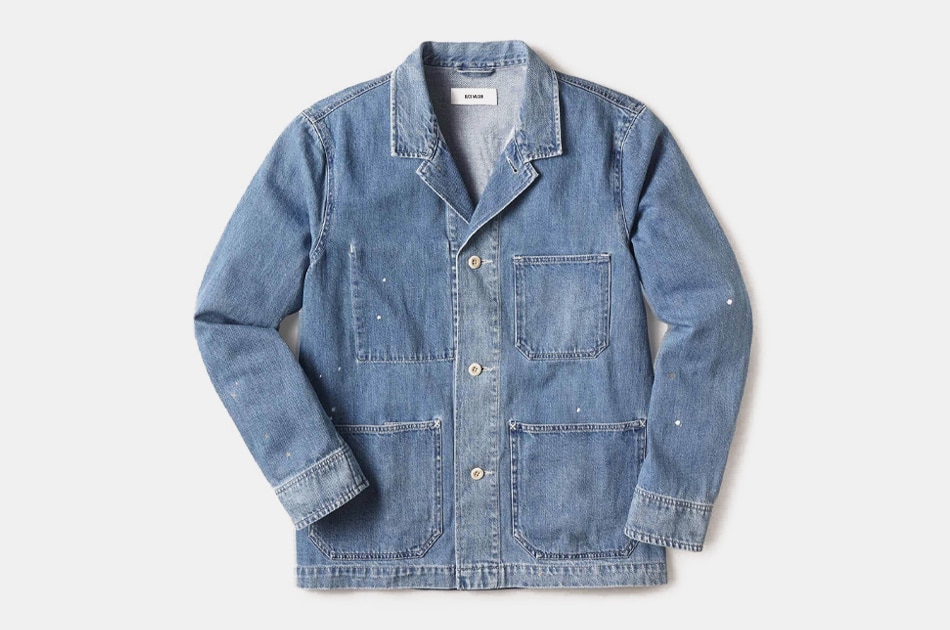 Buck Mason Denim Chore Jacket
Men's chore coats can be just about anything you want them to be, from a rugged piece of gear to wear on a chilly fall morning to a replacement for a blazer on your next remote team meeting. And in the case of the Buck Mason Chore Jacket, you're getting a rugged, tough chore coat that can do all of that, and then some. We love the faded denim construction and the fact that this chore jacket blends old-school cool with modern styling potential (seriously, try it out with a henley from Buck Mason, too).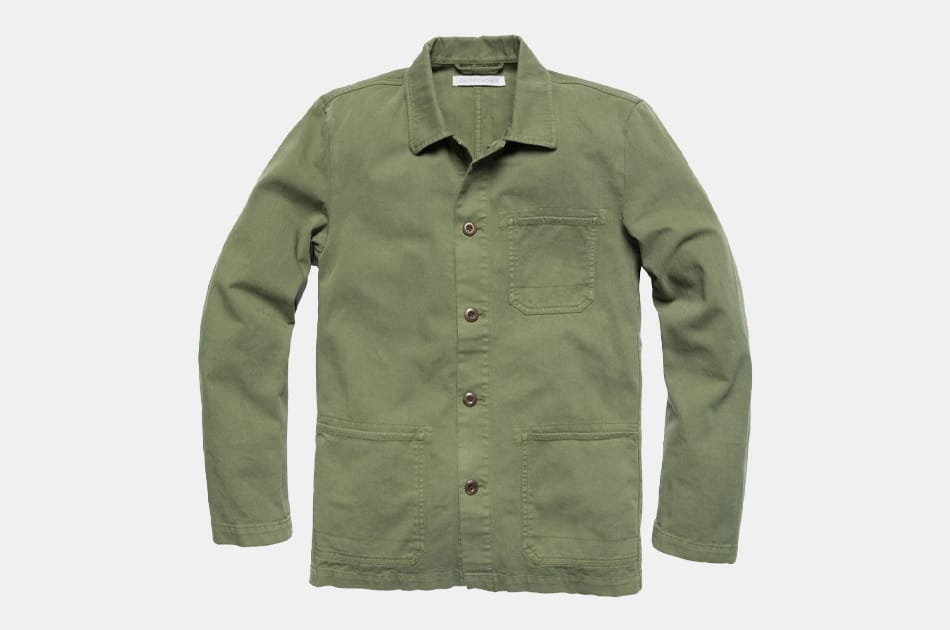 Outerknown Tradesman Chore Jacket
The Outerknown Tradesman Chore Jacket is just what the doctor ordered in terms of easy wearability and a nearly endless blend of style and function this season. It's made to be layered up, given the lightweight organic cotton construction, and we also love the cool and versatile Olive Drab colorway. Team it with an off-white henley and expertly faded blue jeans, then add your favorite leather boots for unstoppable fall style.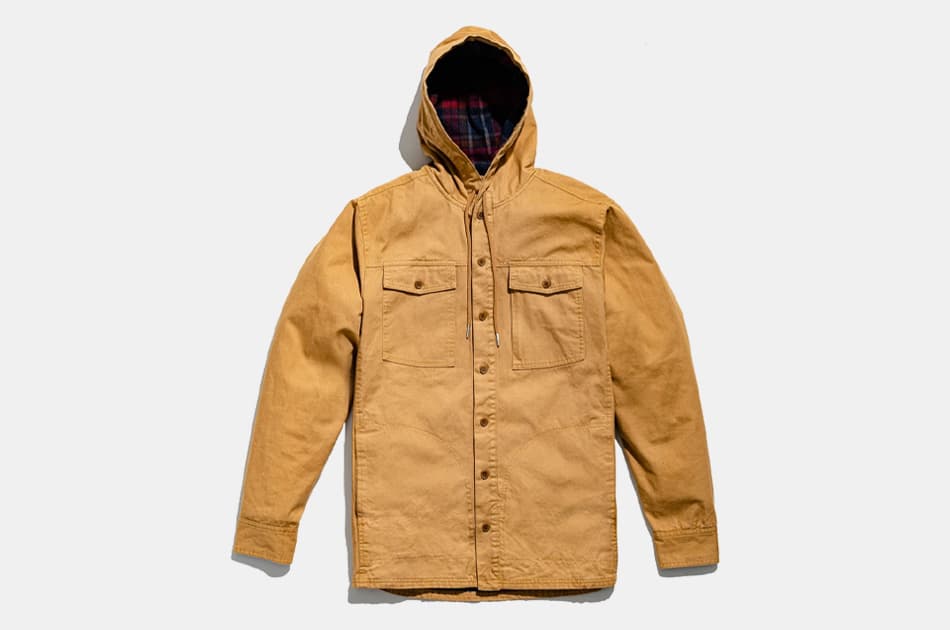 United By Blue Flannel-Lined Hooded Chore Coat
United By Blue thinks of everything when it comes to the perfect blend of style and sustainability for all seasons, but especially fall and winter. That's why we appreciate the fact that this chore coat goes above and beyond what you might expect, featuring a warm flannel lining and a crucial hood to protect you from the elements this season. It's a must on your next fall road trip.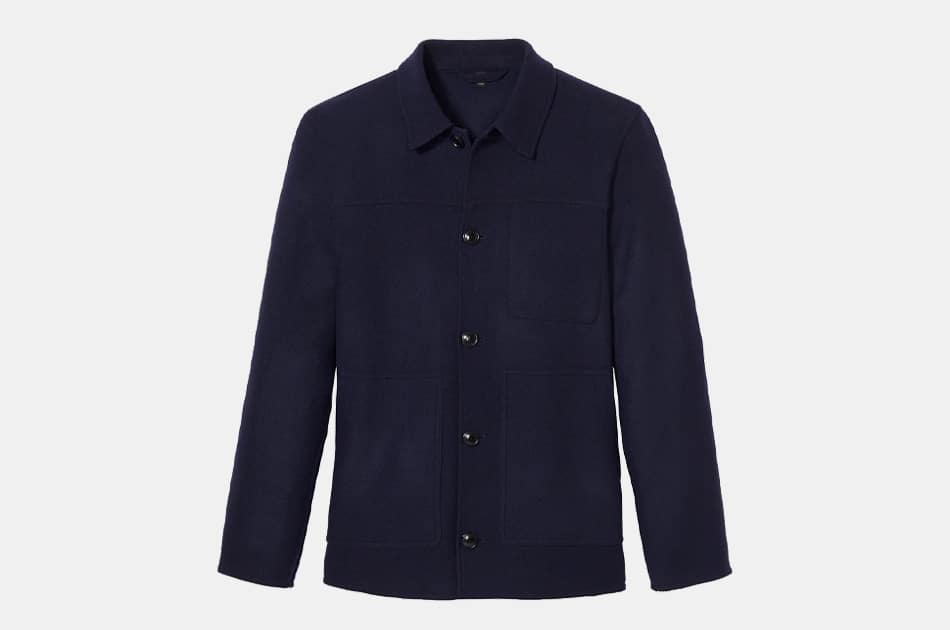 Bonobos Wool Chore Jacket
If you think of sleek tailored suiting or slim chinos when you first think of Bonobos, versus more rugged gear like one of the best chore coats, well, think again. We've been continually impressed over the years with how Bonobos extends its product offerings repeatedly, delivering style staples that toe the line between rugged and refined. The Bonobos Wool Chore Jacket is one such offering, made to be worn atop everything from a thermal henley and tan chore pants to slim chinos and your favorite chambray shirt.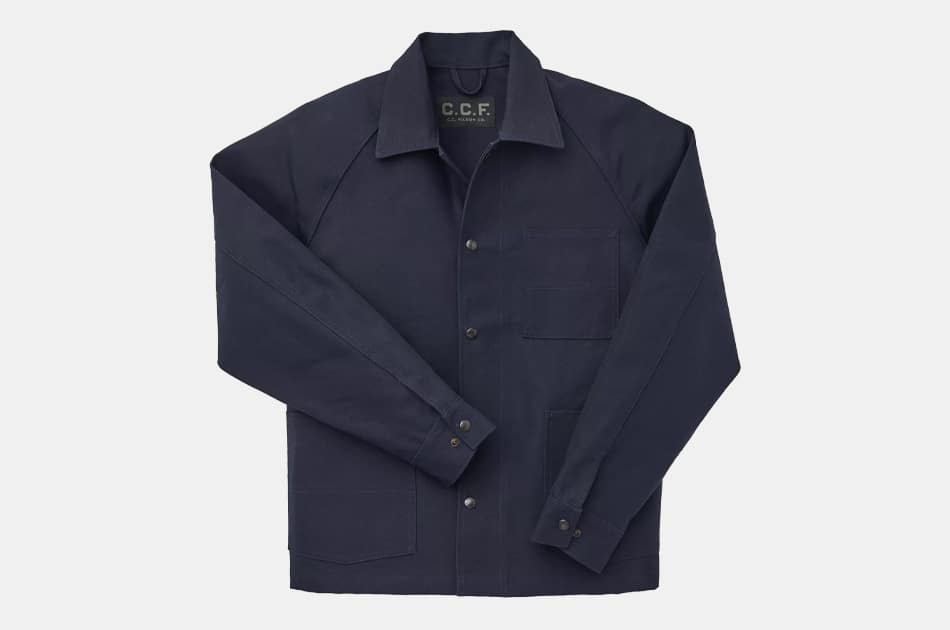 Filson C.C.F. Chore Coat
Filson did all of us gear lovers quite the favor with the introduction of the Filson C.C.F. line, a remarkable and tough line of functional workwear that's priced affordably and yet, made to last. That sort of approach has been true to form for Filson over the years, and the Filson C.C.F. Chore Coat is no different — it's the perfect layer atop one of the brand's legendary flannel shirts when the weather gets chilly (and when you need to get the job done, at that).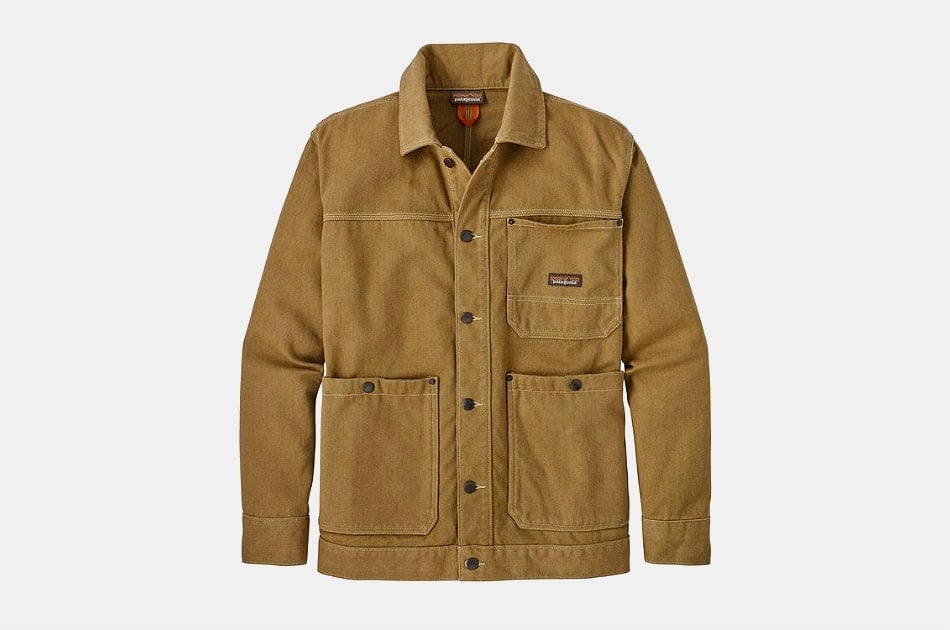 Patagonia Men's Iron Forge Hemp Canvas Chore Coat
We talk often about Patagonia and the brand's blend of sustainability and durable, rugged style — that's also true of the Iron Forge Hemp Canvas Chore Coat, the latest entry in a long line of outdoor-ready staples. Made from a ridiculously durable 19.2oz. Hemp canvas — an innovative fabric developed exclusively for Patagonia — this jacket is sewn using Fair Trade Certified methods for extreme attention to detail. As the brand points out, it's 25 percent more abrasion-resistant than regular cotton canvas, which makes it worthy for wearing every single day that the weather calls for it this fall and winter.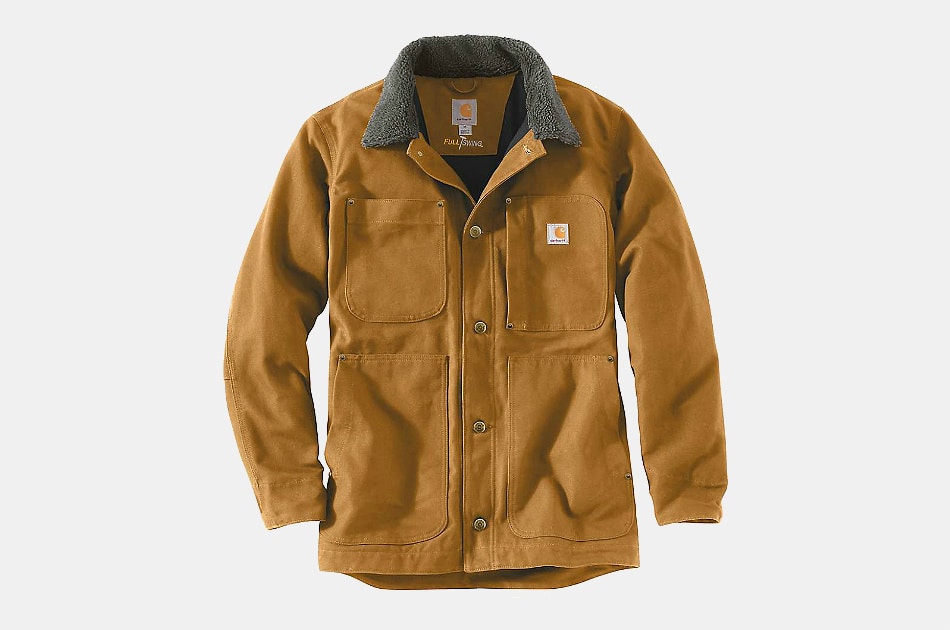 Carhartt Full Swing Chore Coat
Looking for a brand that makes seriously tough, incredibly rugged, real-world gear? Carhartt is the way to go — it's convenient that the brand is experiencing a newfound fashion resurgence as much as they're continuing to produce the same gear they always have. That's good news for you when it comes to the Full Swing Chore Coat, blending abrasion-resistant cotton duck fabric and a soft fleece lining. The lining adds warmth and the exterior is all durability — how's that for exceptional, yet dependable, style?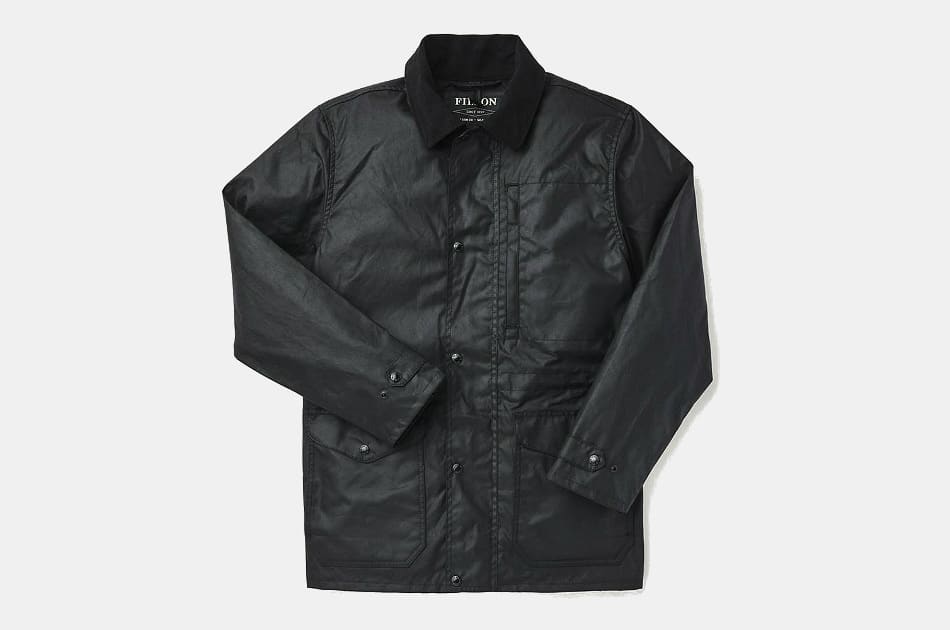 Filson Cover Cloth Mile Marker Coat
If you were going to put together a list of the best men's chore coats, well, number one … we've gone ahead and done the hard work for you. Number two: Start with the Filson Cover Cloth Mile Marker Chore Coat, featuring a tailored fit and a tough, Paraffin-based wax treatment. It's a beautiful coat that's every bit as functionally minded as the brand's built-to-last bags and outstanding leather goods, so we'd recommend adding it to your collection of Filson gear — or using the Cover Cloth Mile Marker Coat to start your own Filson wardrobe.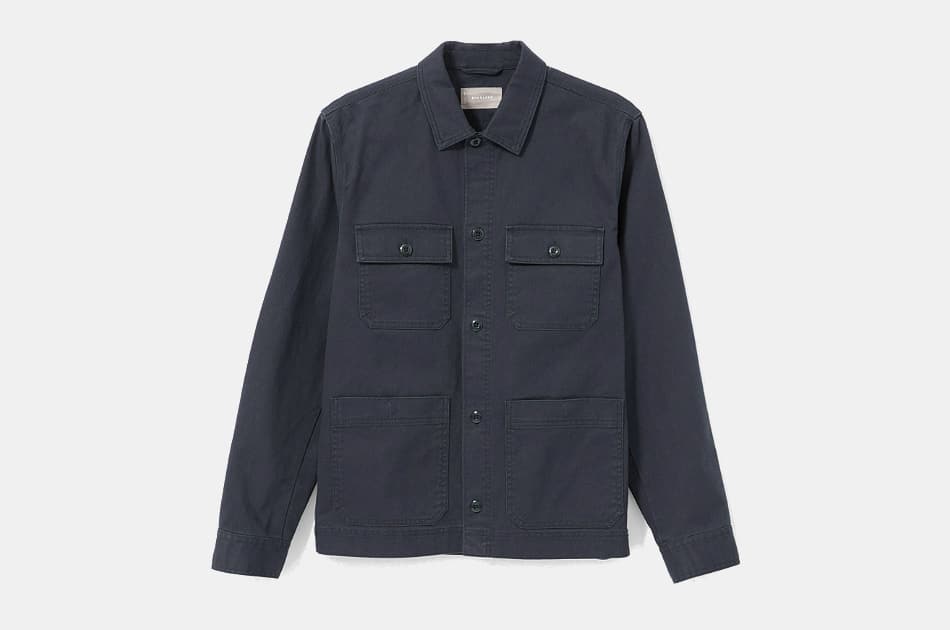 Everlane Chore Jacket
Much like Bonobos, Everlane continues to outdo itself season after season with new staples that are sure to become modern essentials in your wardrobe. That's just the way the brand wants it, and it's an admirable approach that results in dependable, rugged and stylish pieces like the Everlane Chore Jacket. Made with durable 100 percent cotton and available in colors like a rich shade of Pine (our personal favorite), we'd recommend wearing this chore jacket with a slub henley and faded denim for a weekend coffee date.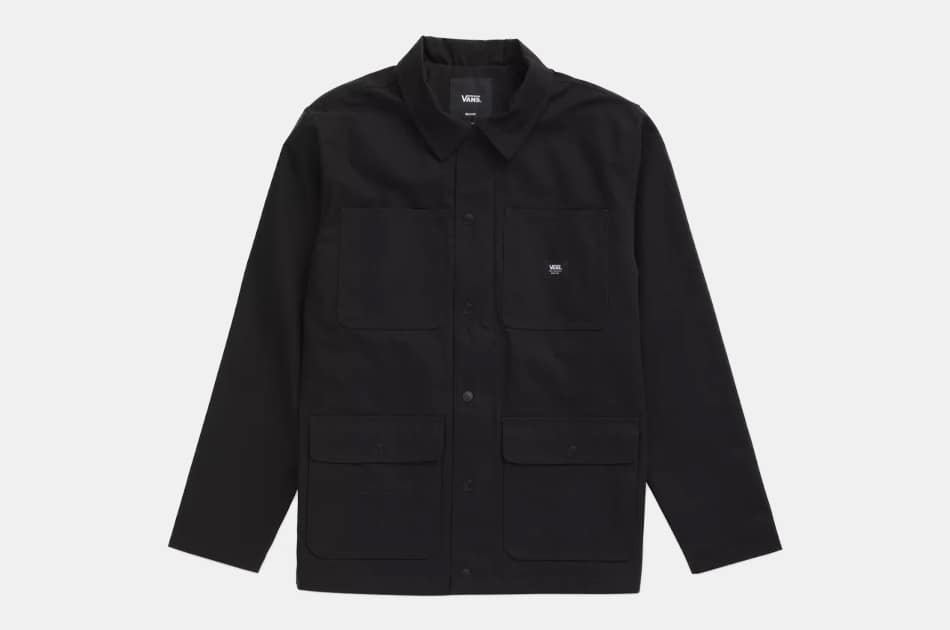 Vans Drill Chore Coat
What pairs up more readily with your Vans high-top sneakers than a Vans chore coat? That's right, the makers of those legendary and instantly recognizable sneakers now have a chore coat to team up with them, and it doesn't miss a beat as far as keeping your warm this fall. We love the lined construction and easy-to-layer style potential. Wear it with your favorite denim, a casual long-sleeve tee and of course, sneakers from Vans.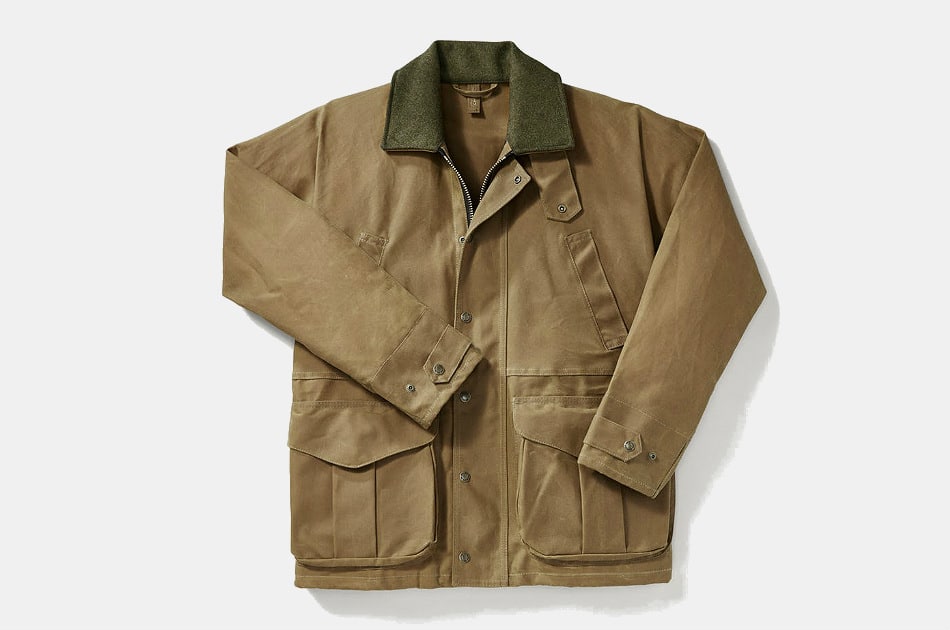 Filson Tin Cloth Field Jacket
Leave it to Filson to make rugged essentials worthy of the investment, year after year … after year. That's absolutely the case with its Tin Cloth Field Coat, made with water-repellent, tightly woven, industrial strength cotton for a look — not to mention functionality — that's sturdy and reliable as heck. It features chest hand-warmer pockets, bellows pockets and snap adjustable cuffs for mobility, and it's tailor-made to work through any and all outdoor activities — particularly hunting. However, that toughness means it can stand up to city rains or country exploration; you name it, Filson's made this jacket to do it.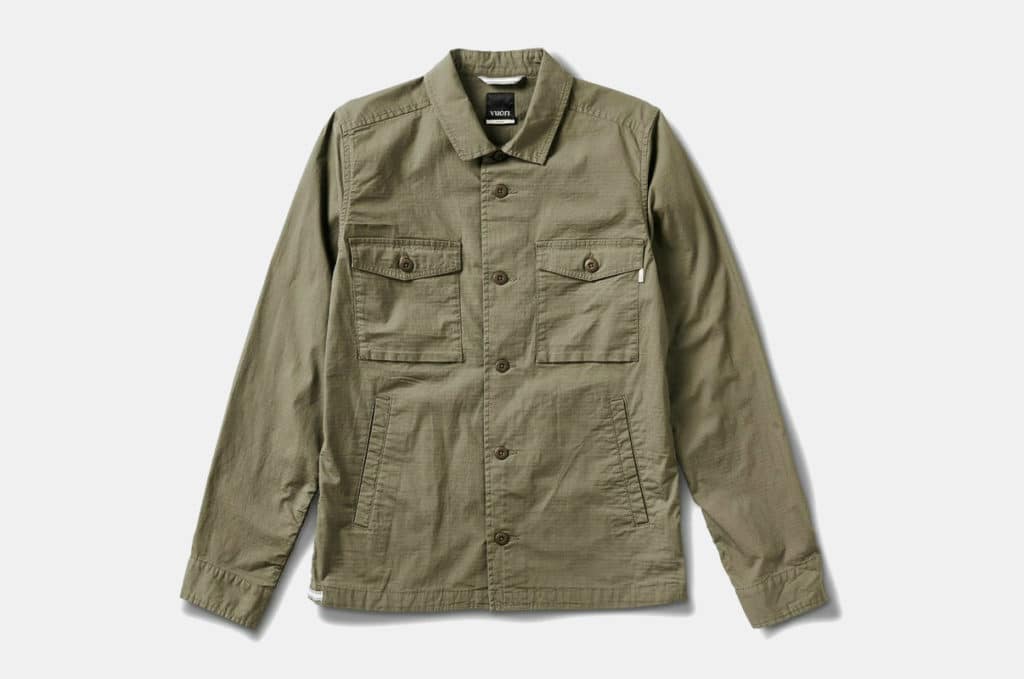 Vuori Ripstop Jacket
Be it the plethora of pockets or the tough-as-nails construction from rugged ripstop fabric, it's hard not to love the Vuori Ripstop Jacket. It's the sort of versatile jacket with plenty of space for your everyday carry essentials, especially when you hit the road this fall. It's also stylish enough to serve as a blazer replacement if you want to grab patio drinks when you get to where you're going this season, and it'll be a constant companion on plenty of other fall adventures, too.
Disclosure: Clicking on these links and making a purchase may earn us a small referral fee, at no extra cost to you. Learn more here.
freestar.config.enabled_slots.push({ placementName: "gearmoose_leaderboard_btf", slotId: "gearmoose_leaderboard_btf" });