The 18 Best Men's Chore Coats To Wear Right Now
When the heat of summer fades and the weather turns crisp, hopefully, it doesn't come as too much of a shock. If it catches you off-guard, there are style moves you can make to fight the chill and look great, quickly. One such move is reaching for the ever-reliable, tough, rugged chore coat. With its roots as a classic working man's jacket, it's an enduring style that's lasted through fast fashion cycles and emerged as one of the more reliable outerwear options for the discerning, style-minded guy.
The best men's chore coats on the market today work seamlessly with other style essentials, from rough-and-tumble dark denim to sturdy wingtip boots to a durable and long-lasting chambray shirt. Available in an array of neutral colors and fabrications — from selvedge denim to ridiculously tough waxed canvas — it should be a jacket style you put on, break in and never want to take off. In short, it should be able to serve as the only casual outerwear piece you need for fall — and into winter, for that matter. Take a look at our picks for the best men's chore coats, buy one and wear it proudly and often.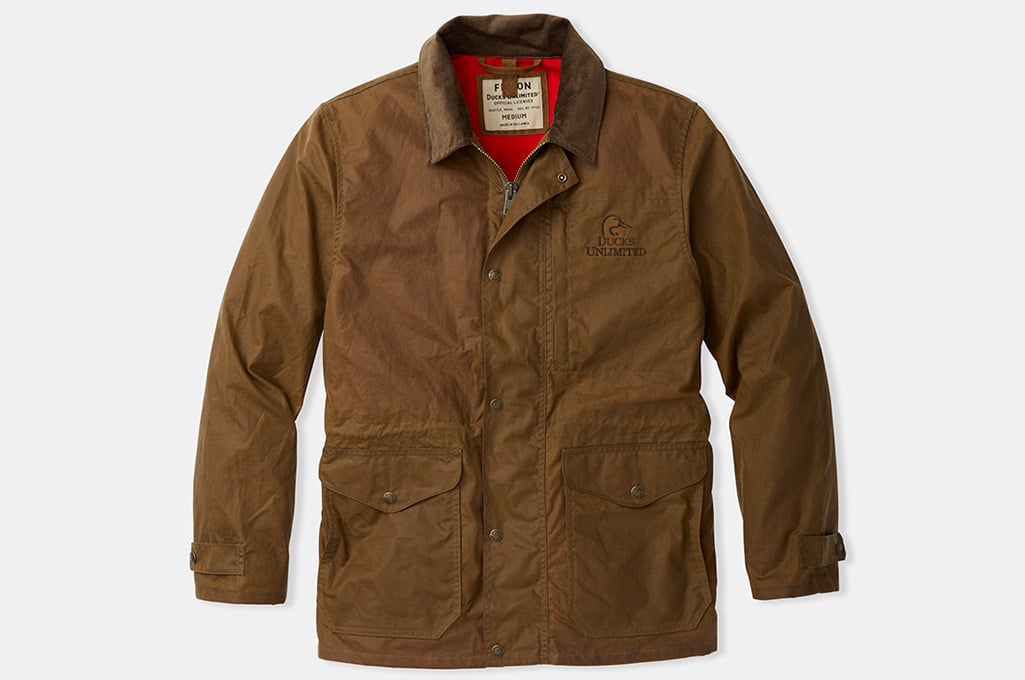 Filson Ducks Unlimited Cover Cloth Mile Marker Coat
For those cold, rainy days on the farm or at the campground, you'll be glad you have this coat close at hand. Made with sturdy oil-finished waxed cotton, it will shrug off the wet and damp with ease, and look good all the while. The two-way zipper front and snap-close storm flap make it easy to close up the coat when the weather turns ugly, and you can keep out the wind easily thanks to the Moleskin collar, snap-tab adjustable cuffs, and drawcord-adjustable waistband.
Thanks to the feather cloth lining in the body and polyester twill lining in the sleeves, this coat can easily transition from fall to winter to spring and get you through all but the coldest days.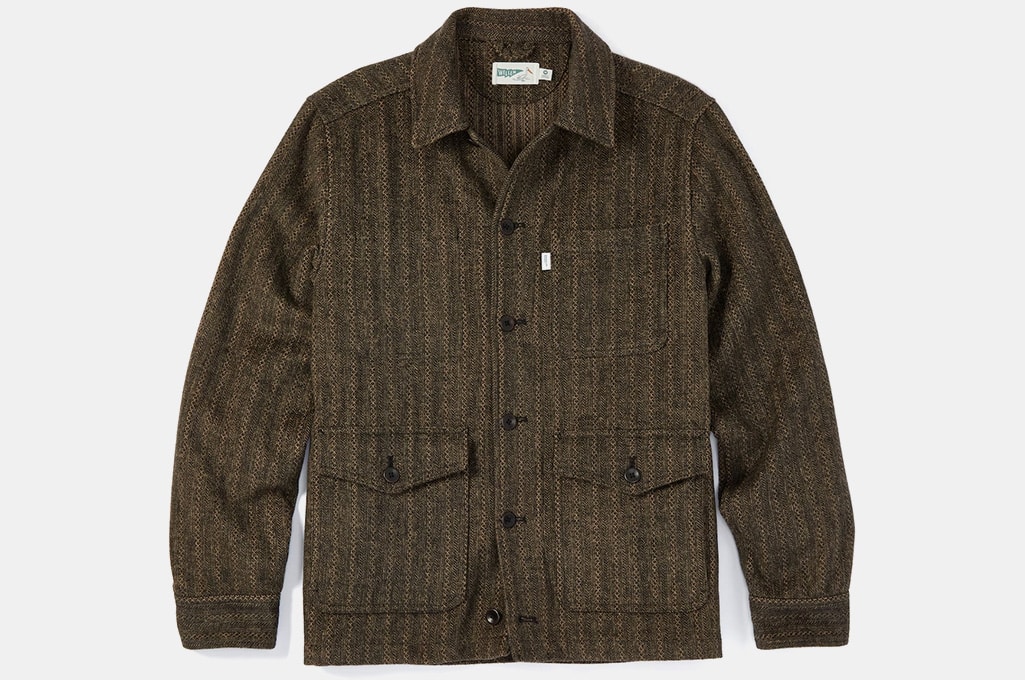 Wellen Blanket Chore Coat
Keep it lightweight and stay free to move with this Chore Coat by Wellen. Rather than using a thick, ultra-heavy material, the coat is made from a mix of polyester and wool that will be surprisingly lightweight—almost more like a shirt jacket than a proper coat. You'll love the striped jacquard pattern inspired by vintage blankets, and it'll feel as soft and cozy as any blanket, too.
You've got plenty of pockets, too: an interior chest pocket for your wallet and phone, open chest pocket for your sunglasses, and two button closure flap pockets that will serve as a secure place for your EDC tools. Wear it over a plain white T-shirt with a pair of sturdy jeans and your favorite leather boots for a truly timeless look.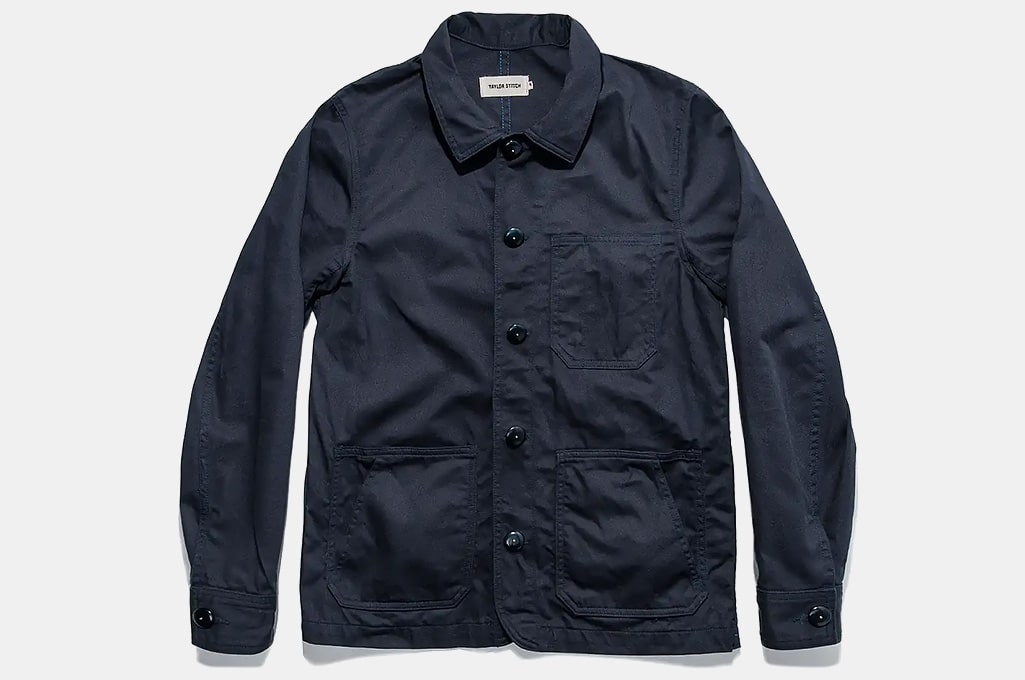 Taylor Stitch Ojai Jacket
Inspired by French workwear, the Ojai jacket by American fashion designer Todd Snyder gives the sturdiness of a chore coat a stylish upgrade. The jacket is mid-weight, light enough to wear on a cool day but not so thick it'll make you feel stuffy or overheated. It can be worn as both a top and mid layer, over a T-shirt or long-sleeved Henley, and pairs beautifully with a pair of black or blue denim jeans.
The pure organic cotton has been washed to not only make it wonderfully soft, but also give it that "lived in" feel that will make it instantly your favorite jacket from the first moment you slip it on.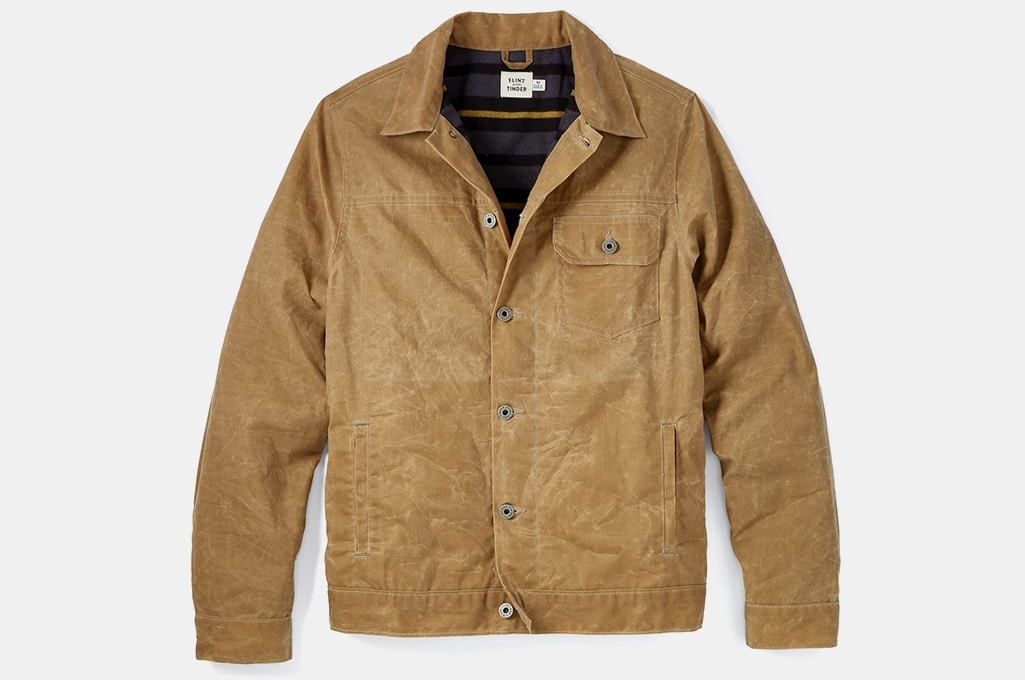 Flint and Tinder Flannel-Lined Waxed Trucker Jacket
If you need a coat that can handle any chore or work site, you'll love the  Flint and Tinder Flannel-Lined Waxed Trucker Jacket. The exterior is a waxed Martexin seven-ounce sailcloth that will shrug off rain, sleet, and snow, and will be incredibly resistant to stains and scuffs, too.
Thanks to the flannel interior lining, you'll be warm even when the weather gets cold and there's snow on the road. The more you wear it, the more it will develop wear patterns unique to you, so no two jackets will ever look the same. As long as you keep it properly waxed (once every year or two), it will keep you dry and warm for years to come.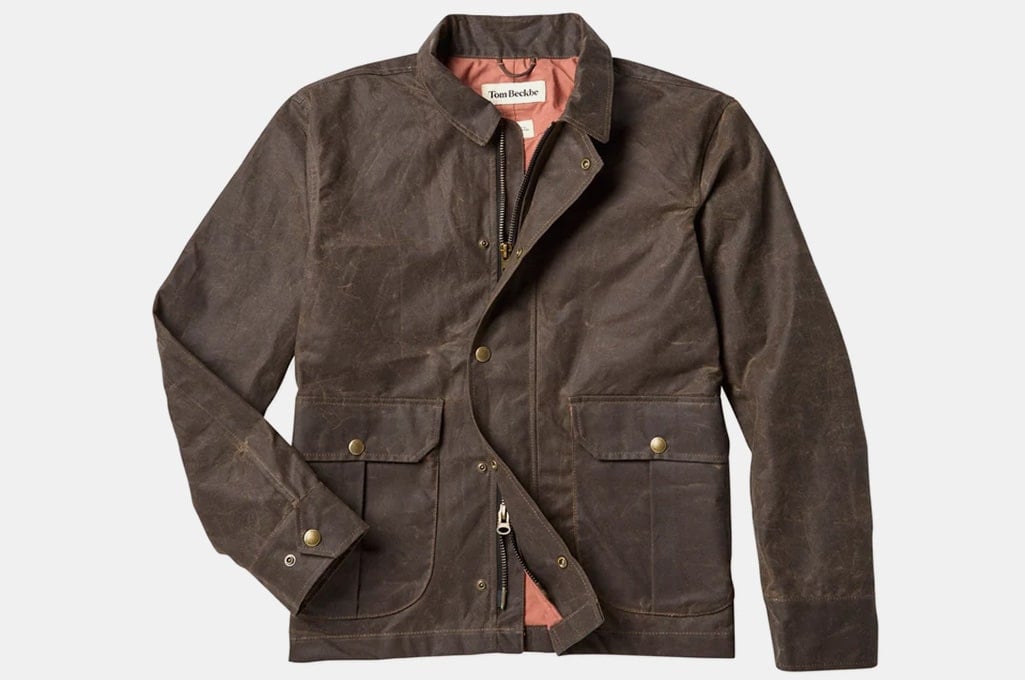 Tom Beckbe Shallowford Jacket
You'll never have to worry about impending rain or storms as long as you're wearing the Tom Beckbe Shallowford Jacket. This jacket is built using a mid-weight eight-ounce shelter cloth shell that is treated with a durable, waterproof wax finish that protects it from damp and wet.
The classic fit will accentuate your masculine physique in all the right ways, and the interior cotton lining is thick enough to keep you warm in cold weather without causing you to overheat when the sun comes up. It's a US-made product (using imported materials) that reflects the true quality and comfort of American styles—a jacket you'll be glad you own every time the fall chill rolls in.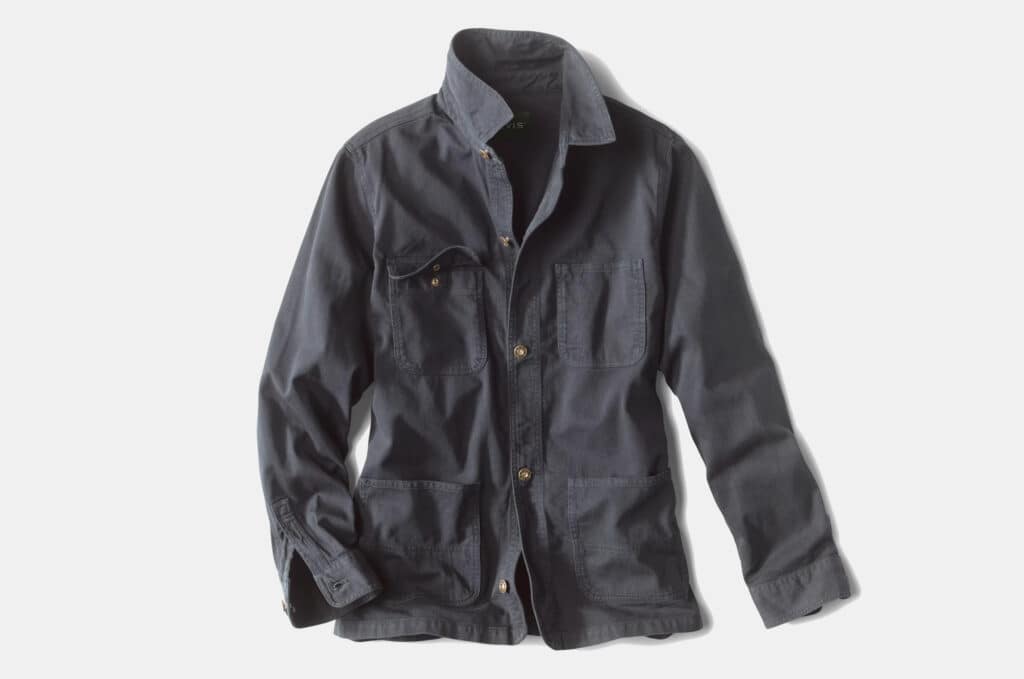 Orvis Bedford Cord Chore Jacket
With the Orvis Bedford Cord Chore Jacket, you've got a coat you can wear all year around, in every season. The lightweight corduroy fabric is ideal for the days when you just want to add a bit of style to your outfit, but it's surprisingly warm—perfect for when the weather turns sour. The dyed garment has a rich, vibrant color that will never bleed or fade even with regular washing and use. Thanks to the adjustable cuff closures, bound interior seams, and large patch pockets, this jacket feels as good as it looks and offers all the convenience you need for your everyday use.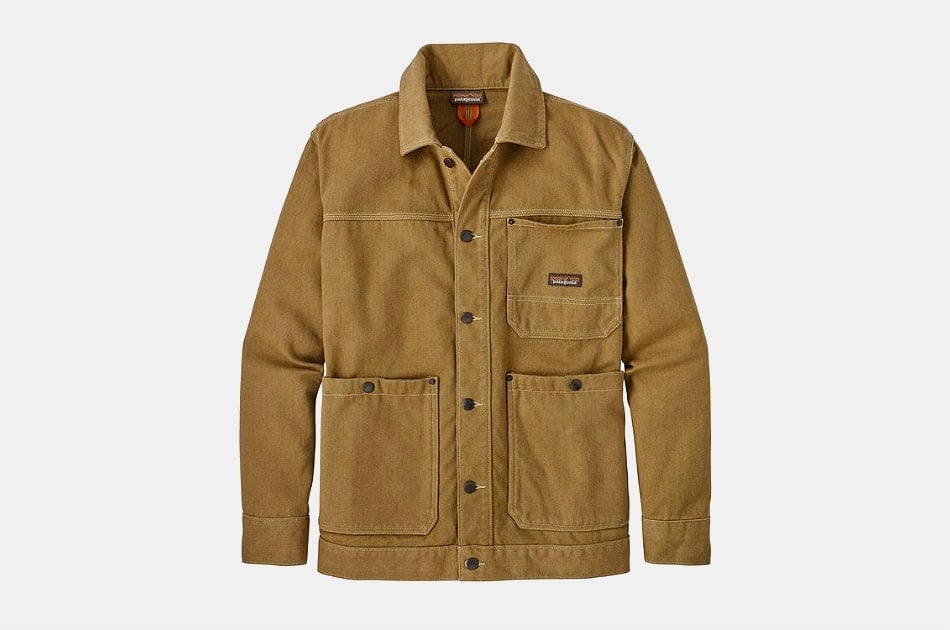 Patagonia Men's Iron Forge Hemp Canvas Chore Coat
We talk often about Patagonia and the brand's blend of sustainability and durable, rugged style — that's also true of the Iron Forge Hemp Canvas Chore Coat, the latest entry in a long line of outdoor-ready staples. Made from a ridiculously durable 19.2oz. Hemp canvas — an innovative fabric developed exclusively for Patagonia — this jacket is sewn using Fair Trade Certified methods for extreme attention to detail. As the brand points out, it's 25 percent more abrasion-resistant than regular cotton canvas, which makes it worthy for wearing every single day that the weather calls for it this fall and winter.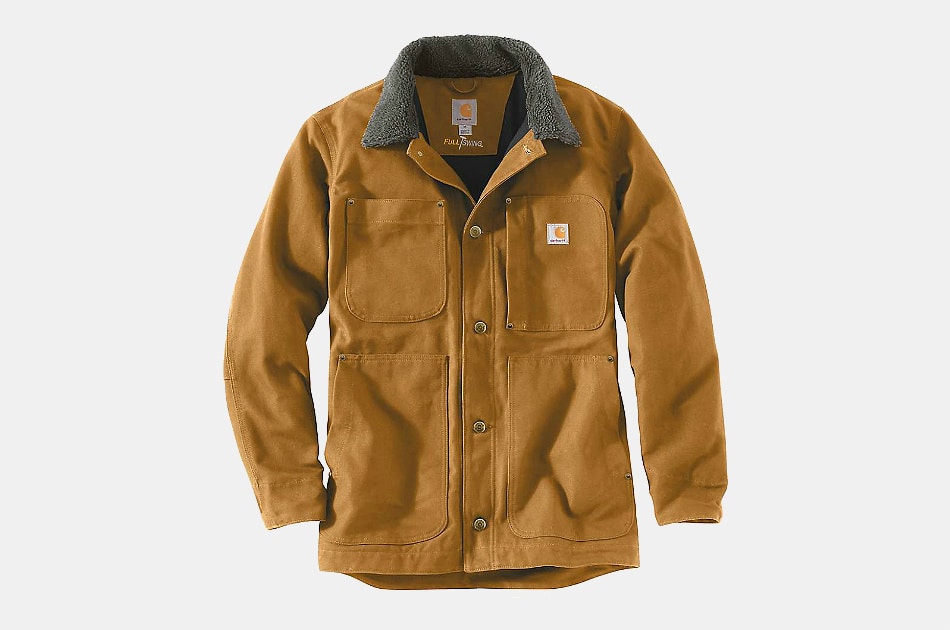 Carhartt Full Swing Chore Coat
Looking for a brand that makes seriously tough, incredibly rugged, real-world gear? Carhartt is the way to go — it's convenient that the brand is experiencing a newfound fashion resurgence as much as they're continuing to produce the same gear they always have. That's good news for you when it comes to the Full Swing Chore Coat, blending abrasion-resistant cotton duck fabric and a soft fleece lining. The lining adds warmth and the exterior is all durability — how's that for exceptional, yet dependable, style?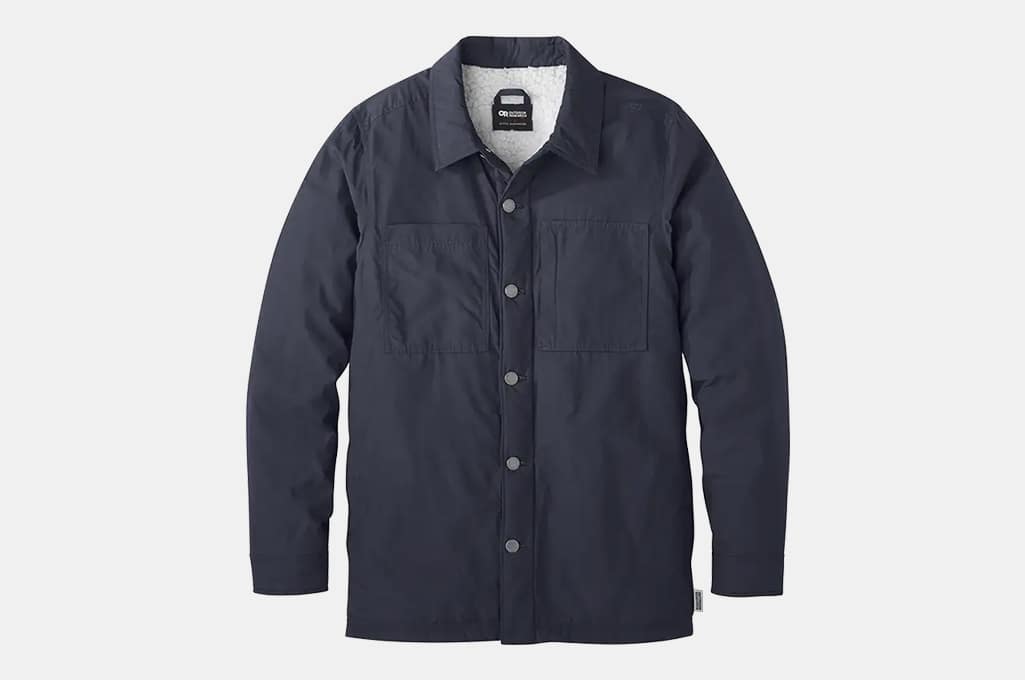 Outdoor Research Men's Lined Chore Jacket
When the winter chill starts slicing through your jacket, you need the Outdoor Research Men's Lined Chore Jacket. Designed and manufactured by one of the best cold-weather brands in the country, this coat is made with a solid waxed cotton exterior and a super-soft, super-warm Sherpa fleece lining on the interior. The eco-friendly VerticalX ECO technology incorporated into the arms will keep your limbs toasty warm without compromising flexibility and mobility. It's the work coat you'll be glad to take with you to every job site.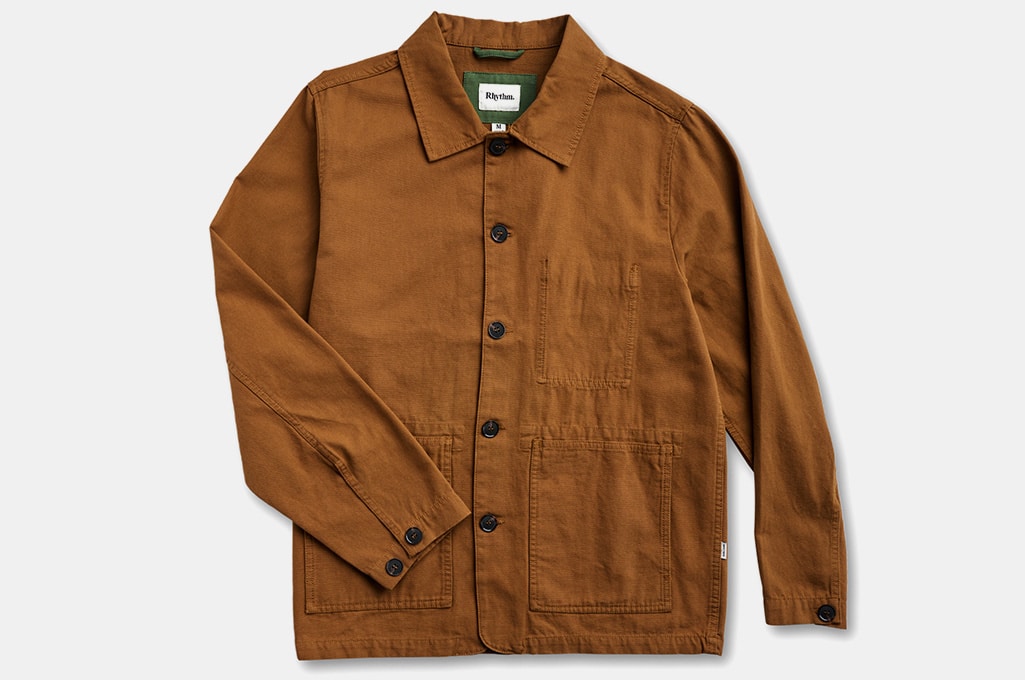 Danner x Rhythm Studio Chore Coat
Designed by Danner in collaboration with surfing brand Rhythm, the Studio Chore Coat somehow manages to capture the "laid back" vibe while still being tough and warm enough to serve as proper workwear.
The two front patch pockets are sized just right to hold your most-needed tools, and the side-entry pockets will keep your hands toasty warm even if you're wearing gloves. The use of lightweight cotton makes it a great three-season shirt to wear over your favorite comfy T-shirt or on top of a sleek hoodie, serving as a top layer to keep out the cold and protect you from stains and the wind.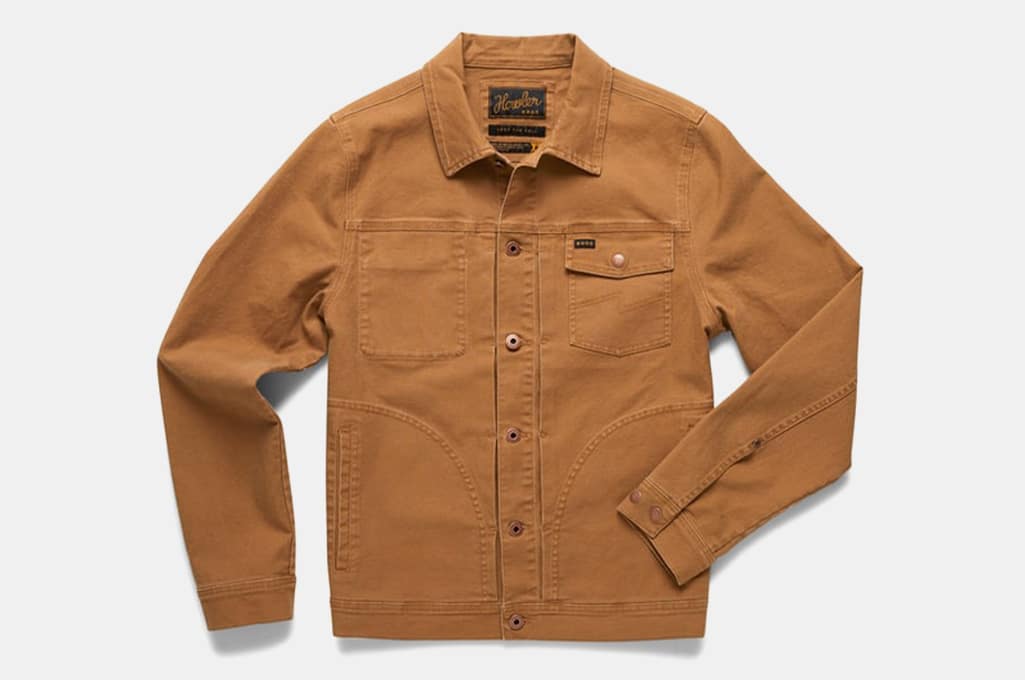 Howler Brother HB Depot Jacket
Howler Brothers delivers a truly useful, versatile top layer in the HB Depot Jacket. Made using duck canvas (a blend of linen and cotton with a layer of wax for maximum weather-proofing), this coat has the brand's signature Western style and a look that will make you feel right at home in any log cabin or ski chalet. When things get really cold, slip your hands into the oversized hand pockets placed comfortably at your hips, and you'll love how soft the pockets' inner lining feels on your skin. And don't think we've forgotten your EDC items—thanks to the secure interior chest pocket, you've got space enough to carry your wallet, ID, keys, cards, cash, and other items you take everywhere you go.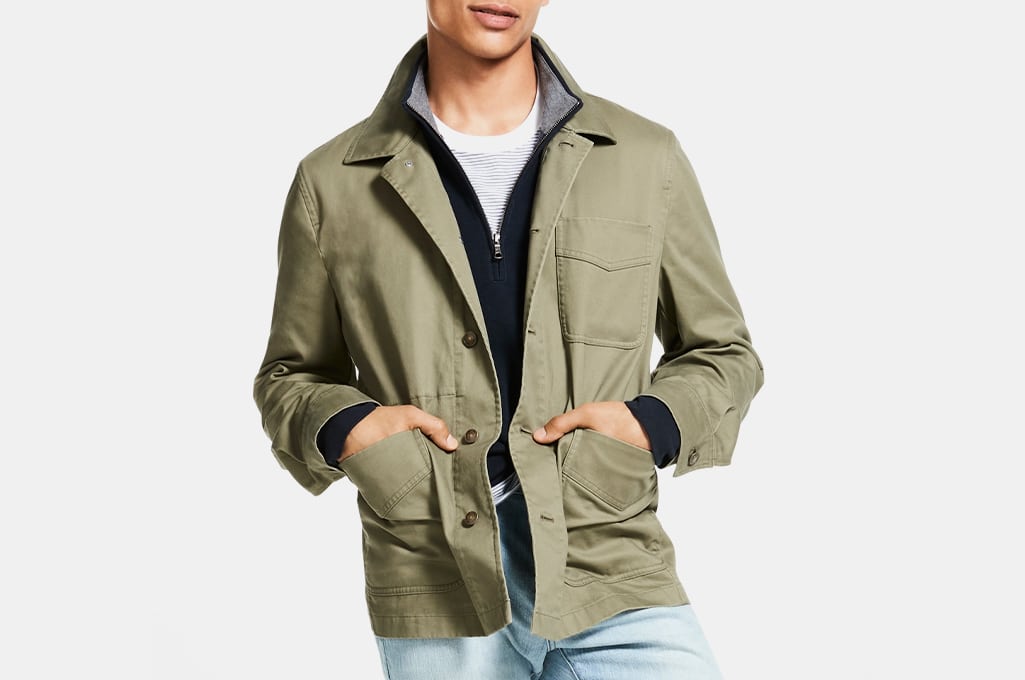 Brooks Brothers Stretch Cotton Twill Chore Jacket
Whether you're exploring your city or working on a job site, you'll love how flexible and versatile the Brooks Brothers Stretch Cotton Twill Chore Jacket feels. It's made using the classic waxed cotton canvas, but with just a hint of elastane mixed in to give it a bit of stretch and flex when you move. It's not just practical, though, but it's also surprisingly stylish, with a vintage appeal that has been tastefully upgraded with some modern flair. Plus, it comes in some striking color options that make for easy customization of your daily outfits.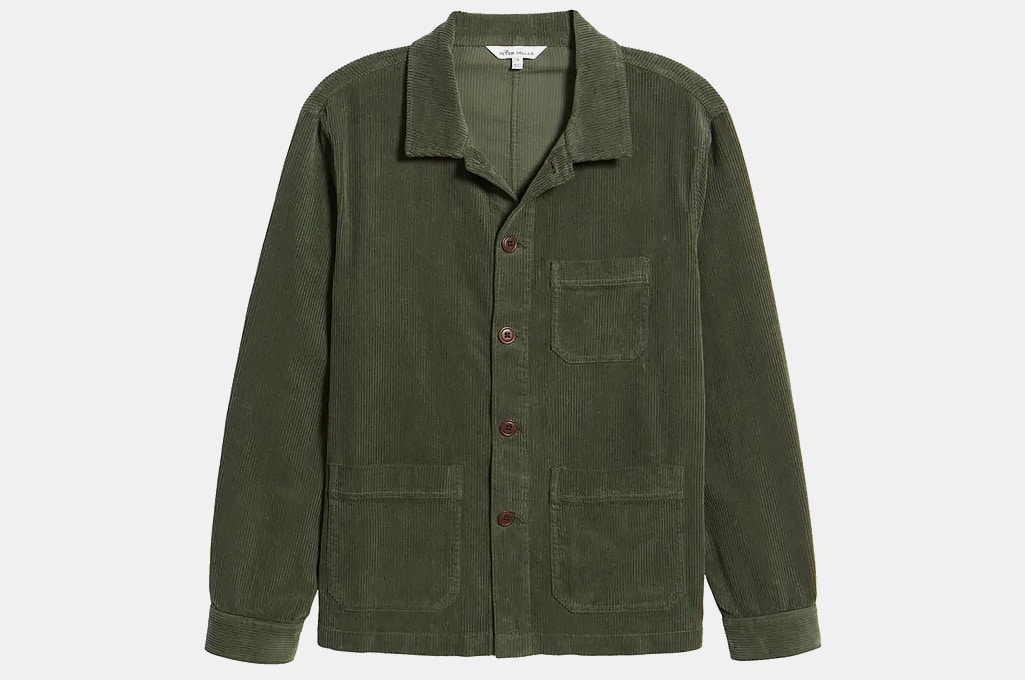 Peter Millar Corduroy Chore Coat
Go for the vintage look with this corduroy chore coat designed by Peter Millar. The wide-wale corduroy looks exactly like you'd expect from such a classic garment, but it's been given one crucial modern upgrade: the addition of elastane, which increases its flexibility and versatility.
Though it's casual enough to wear around town, you can throw it on over a collar shirt and slacks for a more "business casual" look—a great alternative to your standard blazer. Though not thick enough for heavy-duty or truly cold-weather use, it's a coat you'll love wearing during the early fall and late spring just before temperatures get too warm.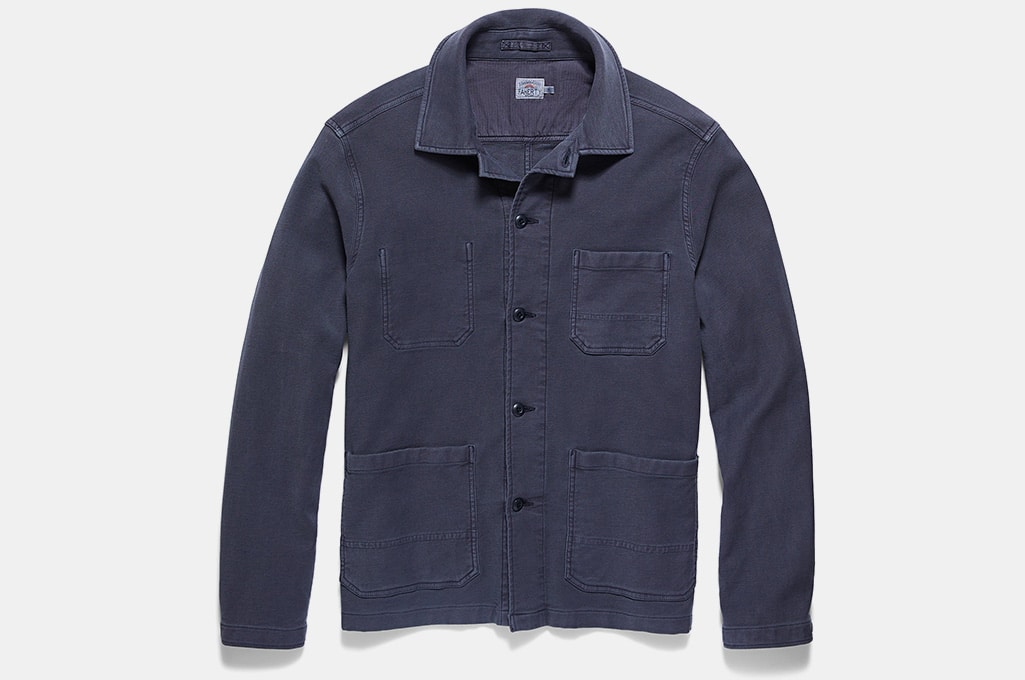 Faherty Stretch Terry Chore Jacket
Though it's cut and styled like a chore coat, this Faherty Stretch Terry Chore Jacket is really more of a shirt jacket—that is to say, very lightweight and comfortable. Made from a mixture of cotton, rayon, Lyocell, and elastane, it's a breathable garment that will stretch and move with you whether you're running errands, zipping around town on your electric scooter, or strolling into the office.
In addition to the three exterior patch pockets, the shirt features three more interior patch pockets that give you extra storage space for your EDC loadout. It's slim, sleek, and ultra-chic; what more could you ask for when the weather starts getting too chilly to walk around in just a T-shirt?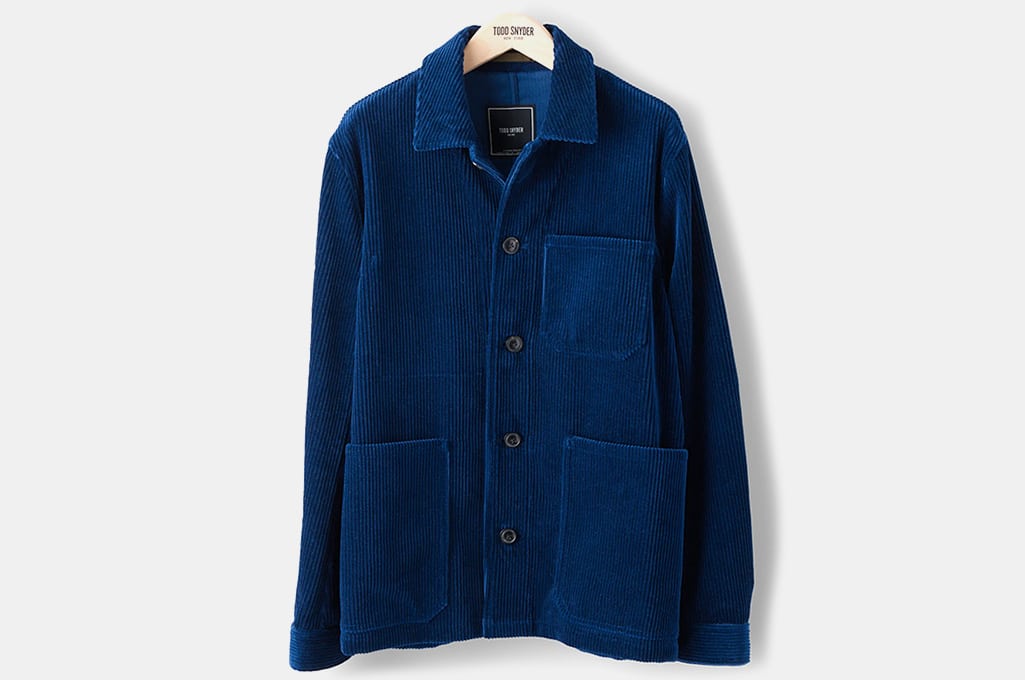 Todd Snyder Italian Corduroy Chore Coat
Todd Snyder brings a true taste of European style to your wardrobe with the Italian Corduroy Chore Coat. This coat is designed with the classic chore coat silhouette, but uses sleek, velvety Italian 8-wale corduroy that is soft to the touch and truly stylish to behold. It's the perfect blend of refinement and durability, with a fashionable cut but enough insulation to keep you warm on a cold day.
Thanks to its many, many pockets (including an interior pocket and two patch hip pockets), you've got room enough for all your daily essentials, with space to spare. Though pricier than most of the other offerings on this list, it's a premium product that will be a true upgrade to your daily outfits.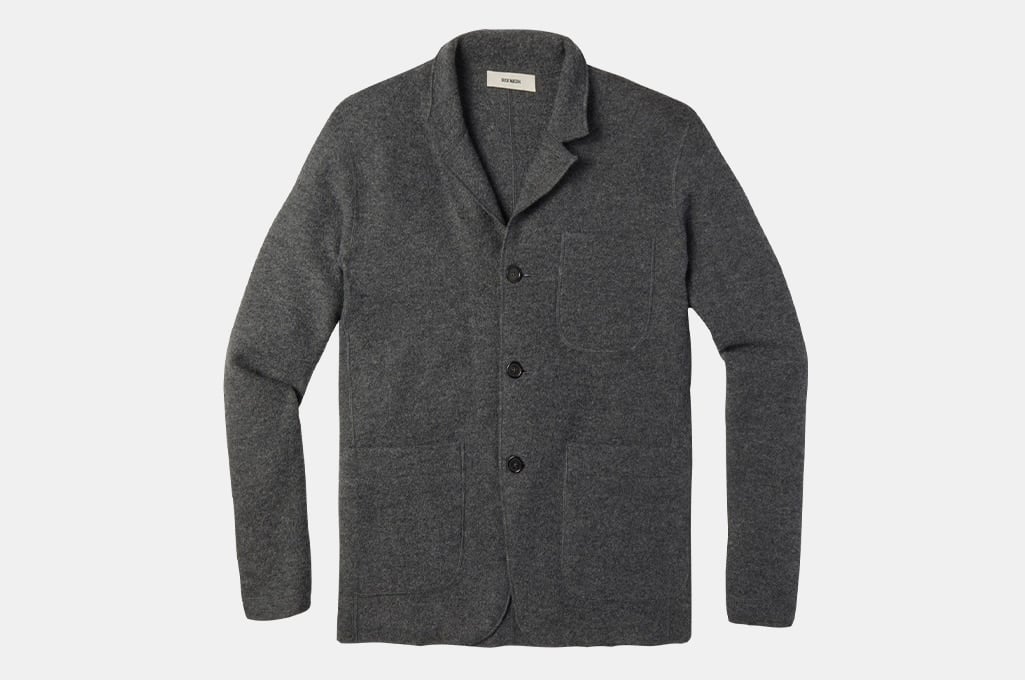 Buck Mason Felted Chore Coat
Buck Mason takes the chore coat style to the next level with its Felted Chore Coat. Not only is it cut in a unique style—tailored to be slim in the arms and roomy in the body, complete with flip-up collar that turns it from a jacket into a blazer instantly—but it's also made from hyper-tough Merino wool. The fabric is super durable, weather-resistant, and all natural. It's even great at keeping out the wind and cold as the worst of winter sets in.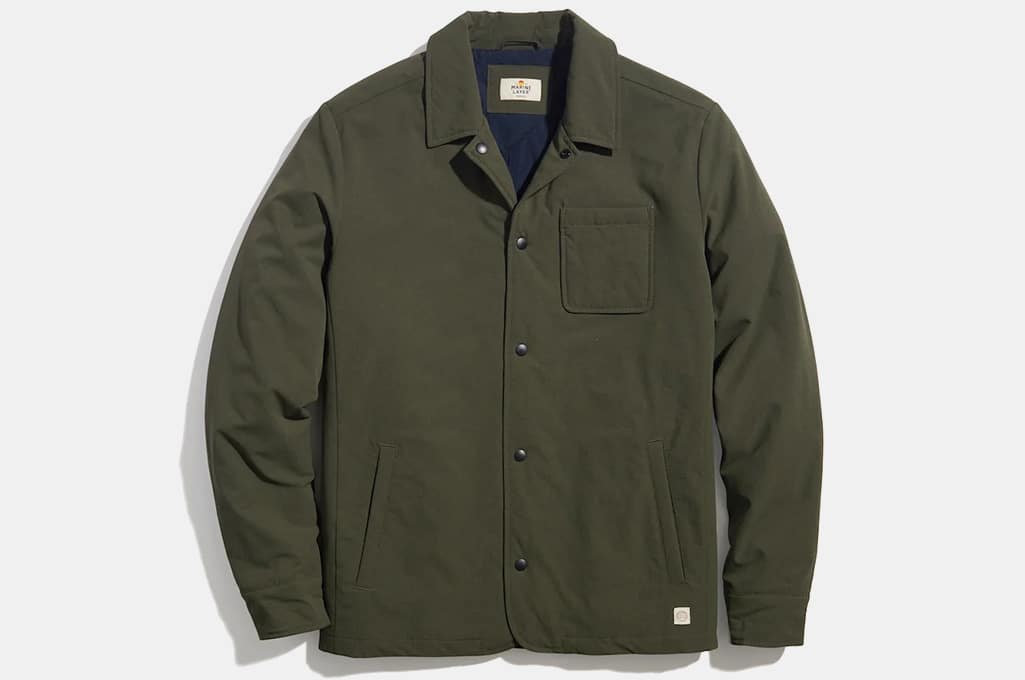 Marine Layer Erik Insulated Chore Coat
Bundle up against the cold and stay toasty warm in this heavy-duty chore coat by Marine Layer. The Erik Insulated Chore Coat is made using a heavyweight fabric that is sturdy on its own, but when paired with the polyester quilted inner lining, adds a whole new meaning to the word "toasty warm".
The synthetic fabric has just enough elasticity that the coat will move and flex with you, whether you're wielding an axe, hammer, or wrench. Not only is it stylish enough you'll be proud to wear it on a date or a night out on the town, but it's as comfortable as your favorite hoodie. You'll welcome winter because it gives you an excuse to break this bad boy out of your closet.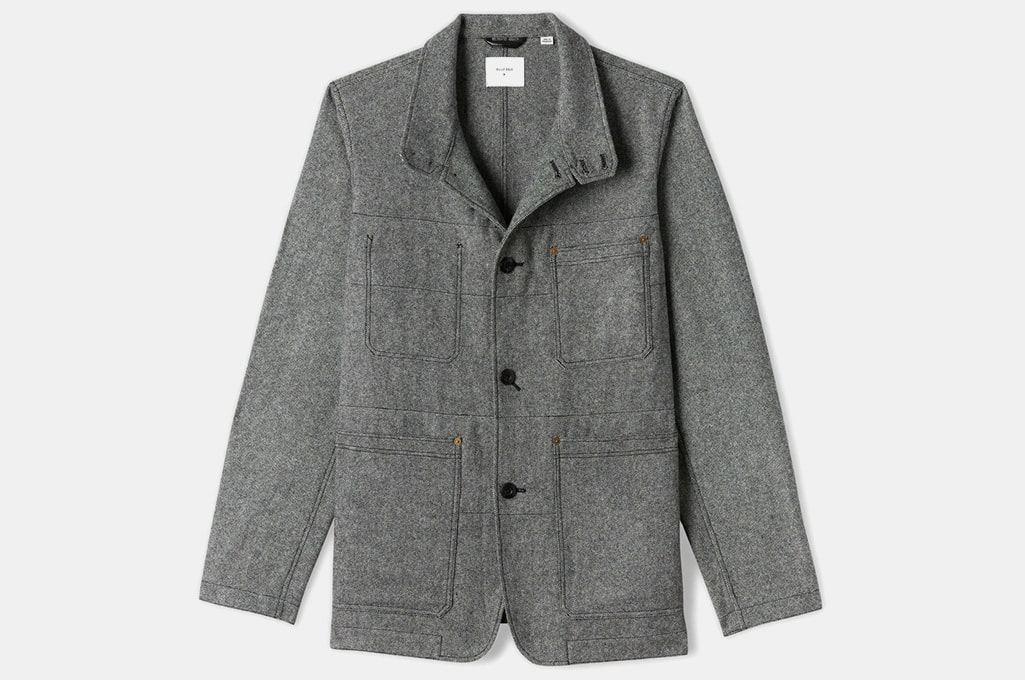 Billy Reid Natchez Chore Jacket
Step up your style game in a big way with the Billy Reid Natchez Chore Jacket. This coat is designed to replace your blazer, transforming your look from "business casual" to "effortlessly cool successful professional".
The blend of wool and synthetic fabrics makes it durable, lightweight, and incredibly versatile, and the addition of signature Billy Reid details (subtle ribbon stripe branding, genuine horn buttons, and the leather locker loop, to name a few) give this coat a flair for the elegant while still keeping your style down to earth. Wear it into the office or around town on the weekend—pair it right, and it will serve you well anywhere, anytime, for any activity.
Disclosure: Clicking on these links and making a purchase may earn us a small referral fee, at no extra cost to you. Learn more here.
freestar.config.enabled_slots.push({ placementName: "gearmoose_leaderboard_btf", slotId: "gearmoose_leaderboard_btf" });