The 20 Best Waxed Canvas Jackets
If you think you've got all the winter outerwear in your closet that you can possibly fit, think again. Between a slim topcoat, a durable parka and an essential denim jacket for layering, you also need a coat that's rough and tough enough to do it all. Enter a waxed canvas jacket, made in a variety of silhouettes and with various bells and whistles galore to take on winter weather.
With its versatile looks — sometimes featuring the silhouette of an overshirt, sometimes that of a jacket — it's a must-have. Crucially, it stands up to snow and slush, it's fit to wear outside for weekend exploration, and thanks to its workwear roots, it's rugged and yet refined at the same time.
Try it with a chambray shirt, dark denim and beat-up leather boots, or hit the streets with wool trousers and a classic Oxford for extra protection as you head to work. You can't go wrong with one of the best waxed canvas jackets for men.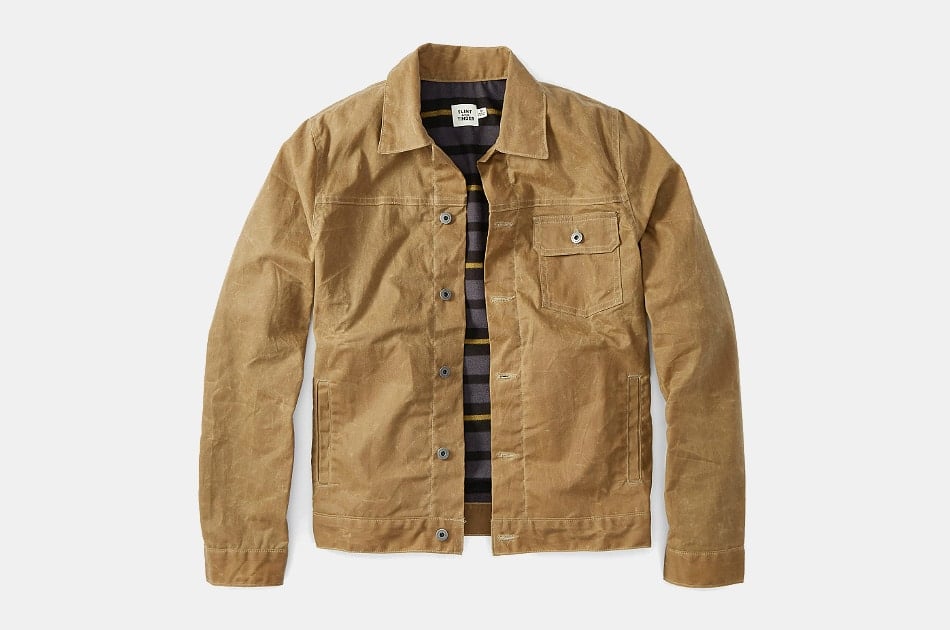 Flint and Tinder Flannel-Lined Waxed Trucker Jacket
Flint and Tinder, quite simply, continues to outfit stylish guys everywhere from head to toe with durable, tough and remarkable gear. The Flannel-Lined Waxed Trucker blends everything for which the brand is known, from a nicely tailored silhouette to quality fabrication (via Martexin sailcloth) and most notably, a new and super-warm blanket stripe lining.
We love the Field Tan colorway the best, ideal for wearing with perfectly broken-in jeans and your favorite henley to, well, your favorite brewery. It's the latest fall must-have, and you won't regret picking it up — to say the very least. Lace up your boots and get to work (or to the bar).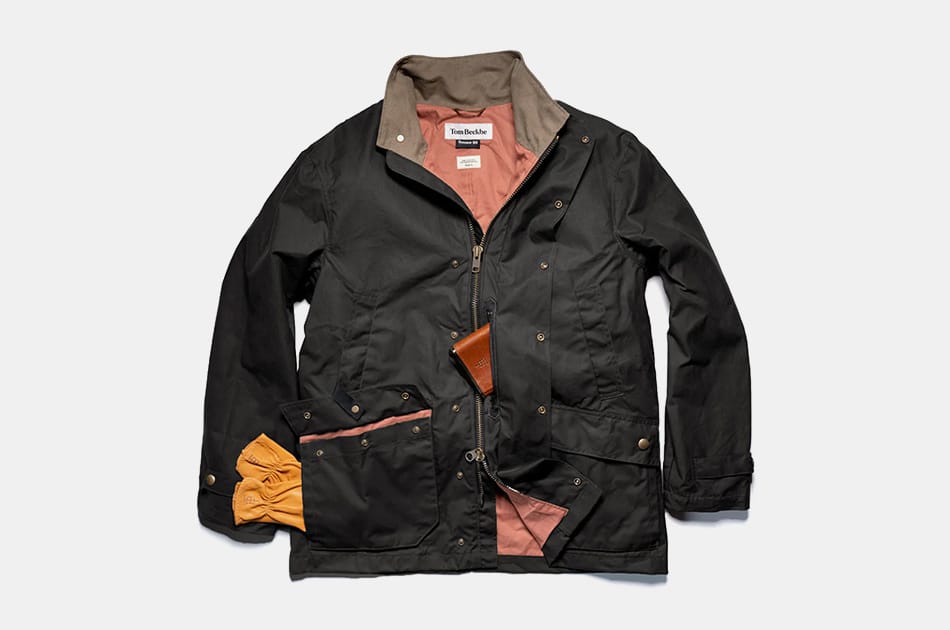 Tom Beckbe Tensaw Jacket
We appreciate a well-stocked rotation of durable, tough and rugged jackets — everything from a waxed cotton field jacket to a sleek moto jacket is fair game in our book. That makes the Tom Beckbe Tensaw Jacket all the more essential, stylish and handsomely designed. It's got an old-school feel to it just from looking at it — the waxed shelter cloth is nearly unlike any other coat on the market, as is the type of design that your father and grandfather might have appreciated.
Not quite good enough? The cotton twill lining is dyed using Alabama red clay, while gusseted underarms and a bi-swing back give you the range of motion you need in the field. 'Tis the season to embark on early morning hikes and hunting trips aplenty — the Tensaw Jacket is the one to get, if that sounds like your ideal fall or winter day.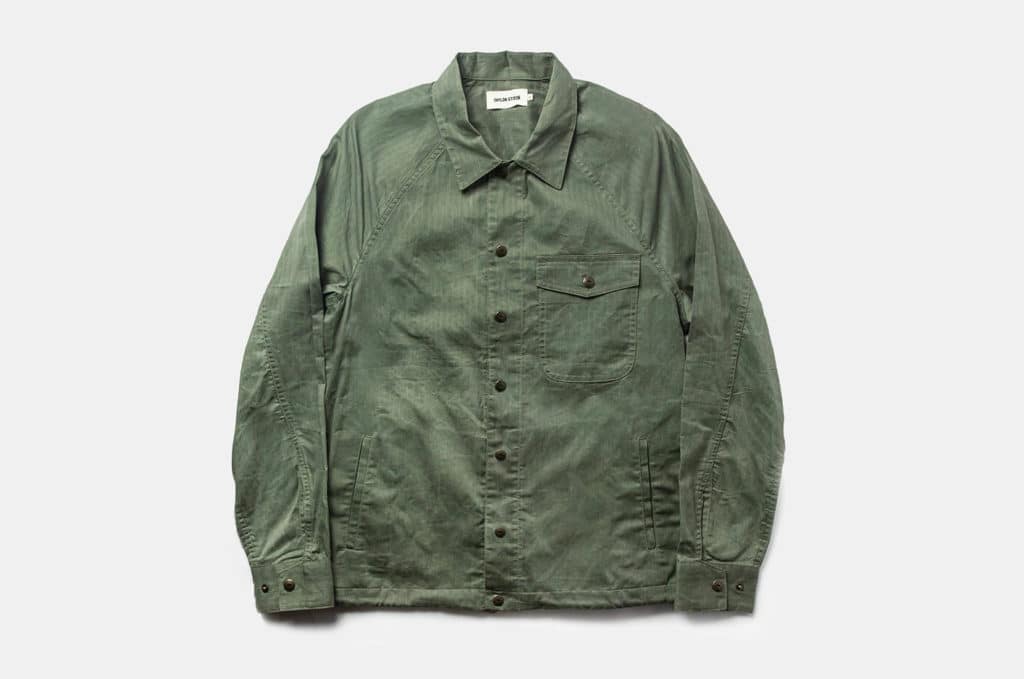 Taylor Stitch Lombardi Jacket in Olive Dry Wax
The best part about any menswear piece from Taylor Stitch is the modern fit and attention to detail in its creation, and the brand's iconic Lombardi Jacket is no exception. The Lombardi Jacket in Olive Dry Wax by Taylor Stitch has quickly become one of our favorites, made with rugged 100% Organic Cotton herringbone dry wax from Halley Stevensons that will only get better looking after each season of wearing. The exterior is a rich olive that'll wear in beautifully motorcycle ride after motorcycle ride, and it comes sans-lining perfect for when the weather turns a bit warmer this year.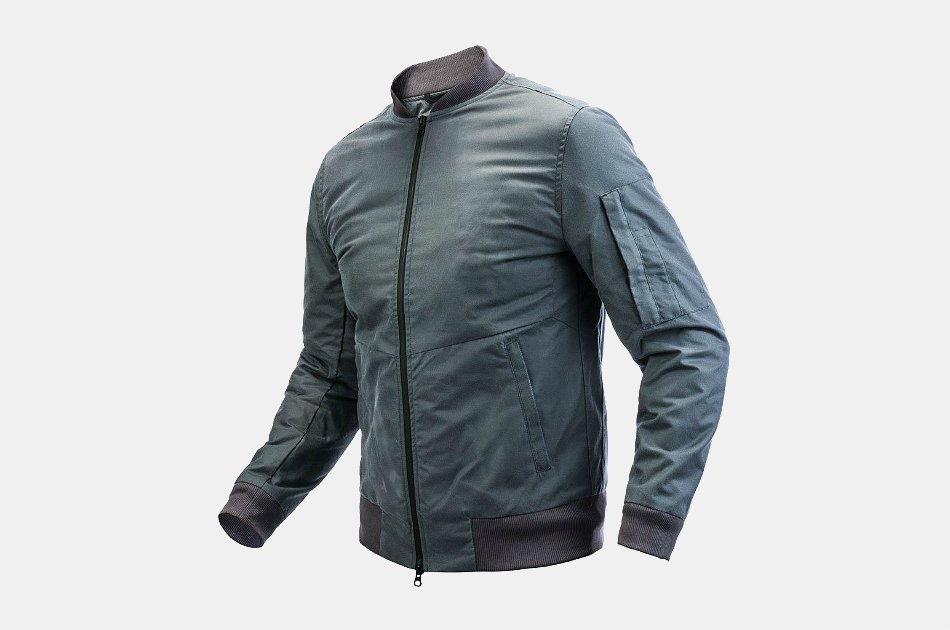 Mission Workshop Waxed Cotton Mission Bomber Jacket
The new Mission Bomber : WX by Mission Workshop can be best summed up in five words: Clean lines and highly functional. It's a modern take on the iconic MA-1 jacket built to take on the elements in proper Mission Workshop form. The jacket features a tailored, modern fit and is crafted from silkwax cotton made by Halley Stevensons — a Scottish brand that has been in the waxed cotton business for over 150 years. Thanks to the use of the aforementioned silkwax, the jacket's wearer can enjoy a luxuriously-soft, highly water-resistant piece of outerwear that will only look better with age.
Unlike traditional waxed cotton fabrics, Silkwax features a matte finish and very soft handfeel, while maintaining a high level of water resistance and the ability to wear in beautifully and look better the more it's used. Underneath the waxed cotton exterior is 50 GSM Polartex Alpha insulation that offers superior warmth in 45 degree weather, and exceptional breathability on sunny days in the lower 70's. A jacket doesn't get any more versatile than this.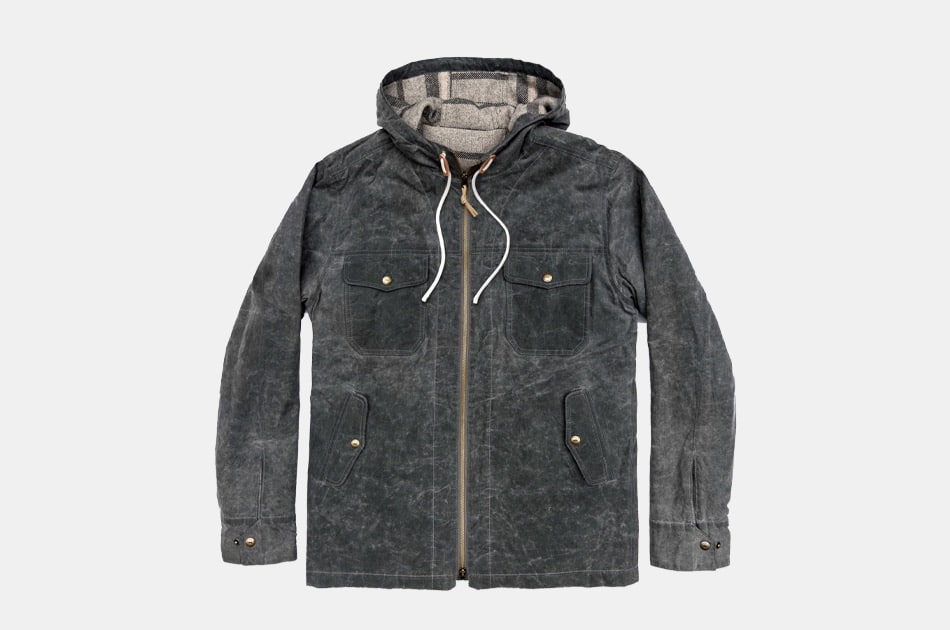 Taylor Stitch Winslow Parka in Slate Wax Canvas
When you get right down to it, the fall season calls for rough-and-tumble menswear that can stand up to chilly weather and inclement conditions without missing a beat — and is it any wonder, in that regard, that the folks at Taylor Stitch come through again? The Taylor Stitch Winslow Parka in Slate Wax Canvas in particular is precisely the right way to go, made from organic cotton beeswax canvas for a unique finish and loads of durability. This is a parka made for chilly mornings on the water or chilly mornings out on the trail — the choice is yours.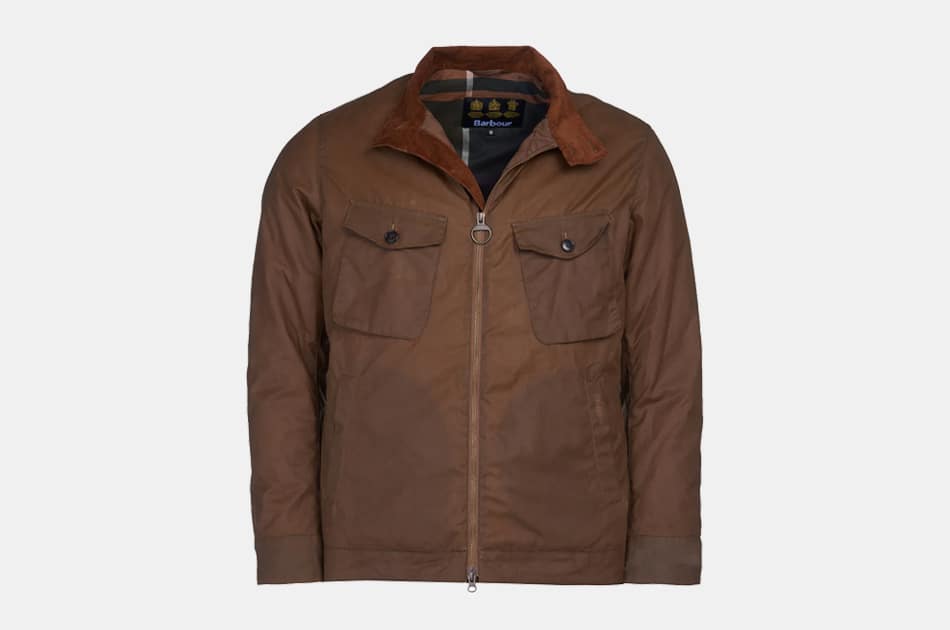 Barbour Weldon Wax Jacket
We could go on and on about why you need a rugged waxed jacket in your rotation this fall, but it's pretty clear, isn't it? The reason you need a waxed jacket like the Barbour Weldon Wax Jacket in your life is plain and simple: It's tough, it's rugged, it's versatile & built for anything. Barbour doesn't cut any corners when it comes to durable construction that can take a few licks (or more than a few), and the Weldon Wax Jacket is weather-resistant and built with a stand-up collar to take on the elements.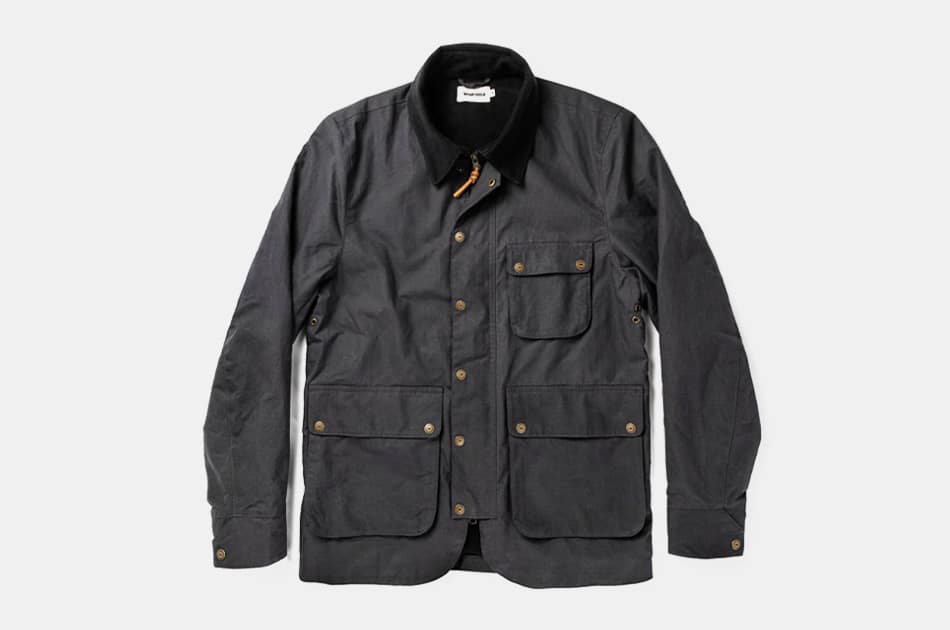 Taylor Stitch Rover Jacket in Ripstop Slate Dry Wax
Try one piece of Taylor Stitch clothing or outerwear, and you very well might want to make your wardrobe mostly composed of Taylor Stitch gear. The San Francisco retailer is going above and beyond the world of chambray and flannel shirts this season (both of which you need from the brand), and they're giving you another chance to get your new favorite fall jacket. The Taylor Stitch Rover Jacket is a much-loved piece that's being brought back for pre-funding right now, and from the custom Halley Stevensons fabric to the sleek Slate colorway, we couldn't be more pleased.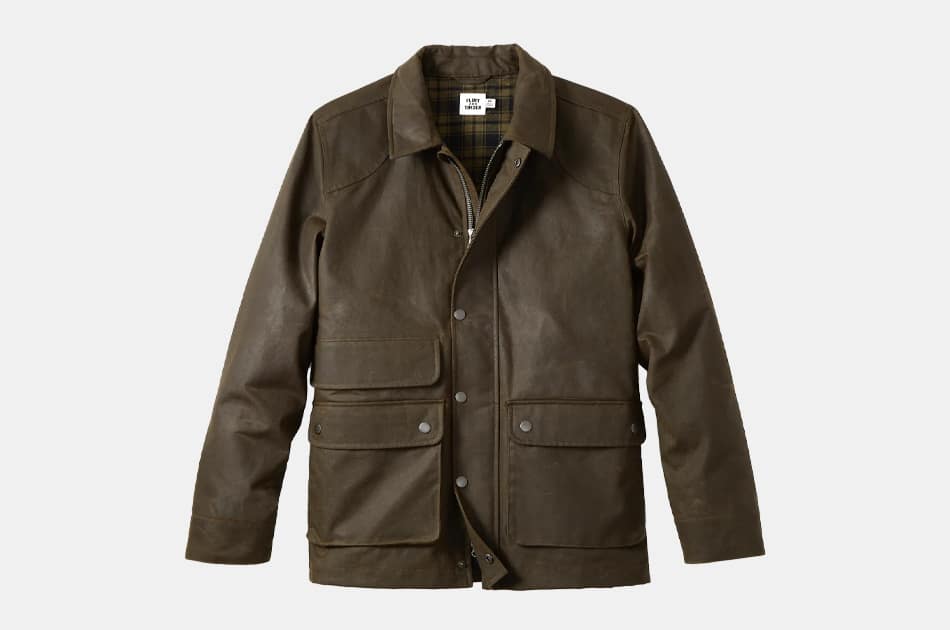 Flint and Tinder Flannel-lined Waxed Hudson Jacket
When you think of waxed jackets at Huckberry, we'd wager you might be thinking of the Flint and Tinder Waxed Trucker Jacket, a stone-cold style staple and a personal favorite of ours. But get ready to add another new Flint and Tinder staple into your rotation with the Flannel-lined Waxed Hudson Jacket, a badass field jacket made from British Millerain fabric in an adventure-ready cut. It's your new favorite fall jacket, without a doubt.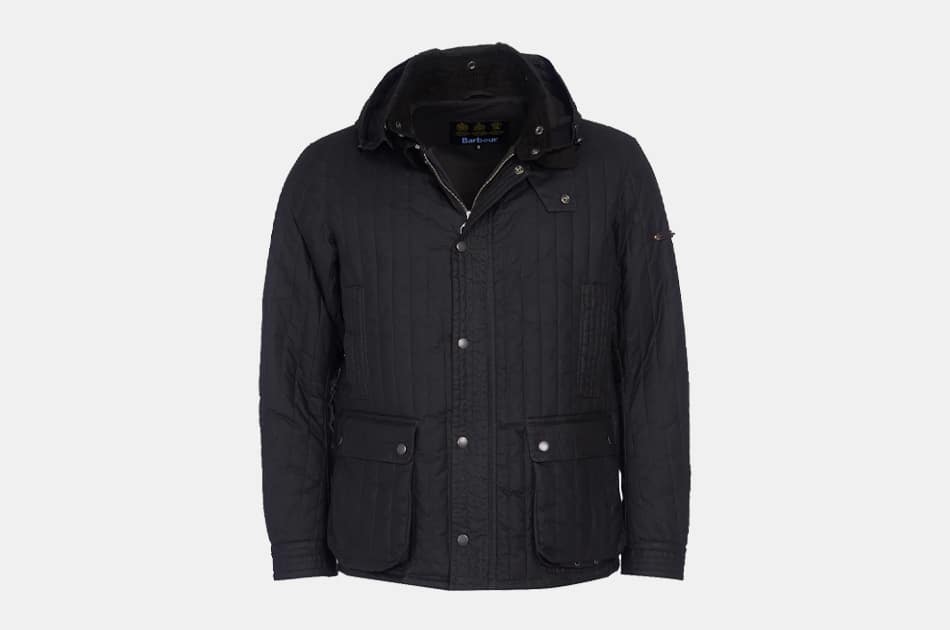 Barbour Gold Standard Supa Convertible Waxed Jacket
Barbour is right to call this jacket the gold standard, because it's arguably the type of waxed jacket against which all others should be compared. The convertible collar and hood give you three types of functionality and protection from the elements, while the snap-button storm flap also offers another touch of resistance to the elements. Add in the fact that it's a sleek silhouette that you can wear in the city or the country in equal measure, and you've got a surefire fall outerwear winner.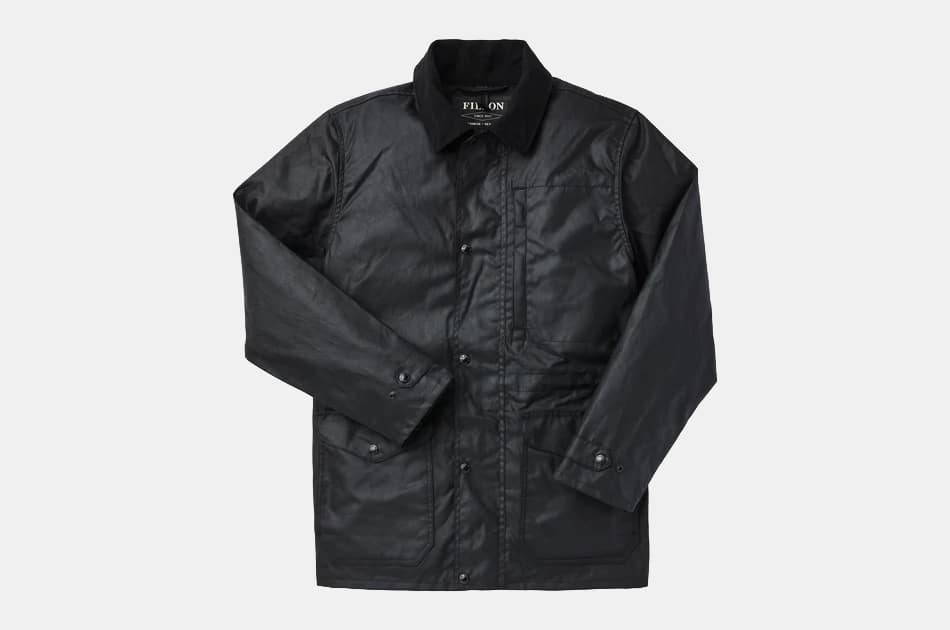 Filson Cover Cloth Mile Marker Coat
Your search for one of the best waxed canvas jackets should arguably start and end with Filson. The brand takes years of knowledge and years of crafting jackets for the Pacific Northwest, and dials it all into classic silhouettes like the Cover Cloth Mile Marker Coat. The kind of coat that can take a beating and keep on going, it's your day-to-night jacket for that fall road trip, no outerwear switch required.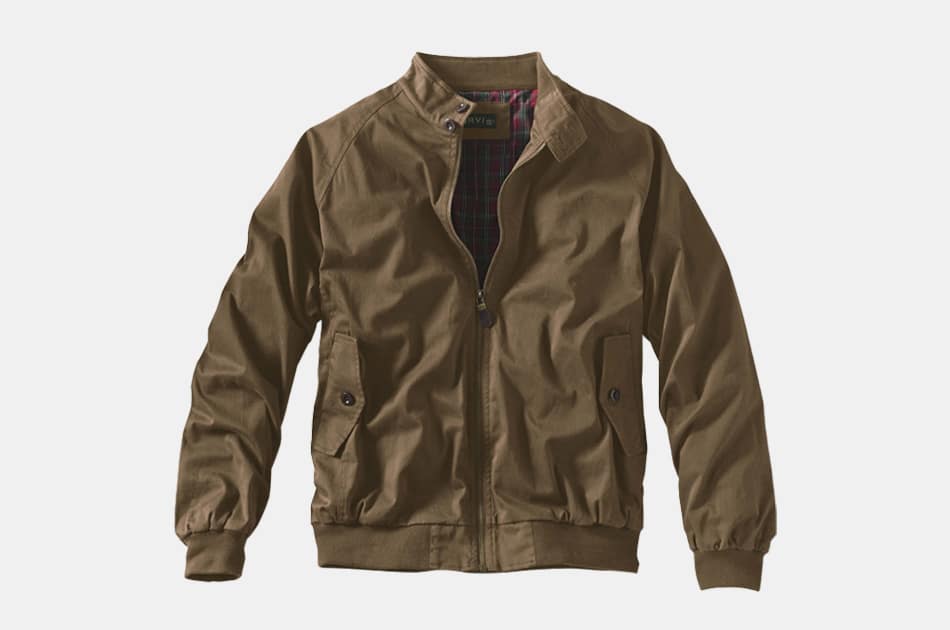 Orvis Waxed Weatherbreaker Jacket
Ask us what we think you need to hit the road this season — or to hit the town and pick up to-go beers, for that matter — and we might be inclined to say you need a waxed canvas jacket like the Orvis Waxed Weatherbreaker Jacket. Designed to mimic the classic Harrington jacket with a stand-up collar, the iconic style gets an upgrade in the form of stretch waxed cotton fit for blustery, chilly fall days.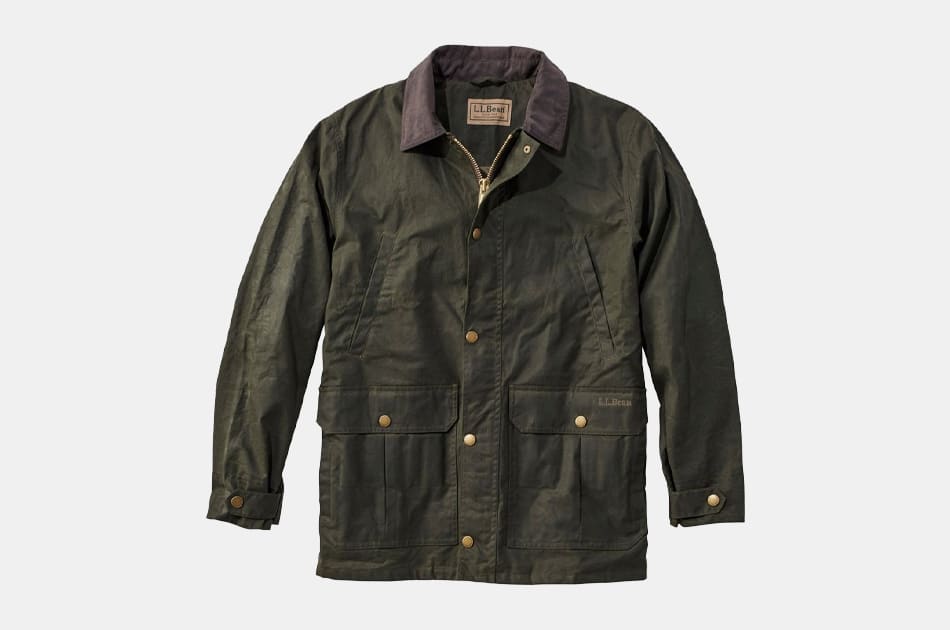 L.L. Bean Waxed-Cotton Upland Coat
To team up with your L.L. Bean Boots this season, we've got just the thing. L.L. Beans turns its illustrious heritage and bootmaking prowess toward another timeless style staple in the form of the Waxed Cotton Upland Coat. It's the perfect field coat for the modern explorer among us, with the type of design that'll never go out of style.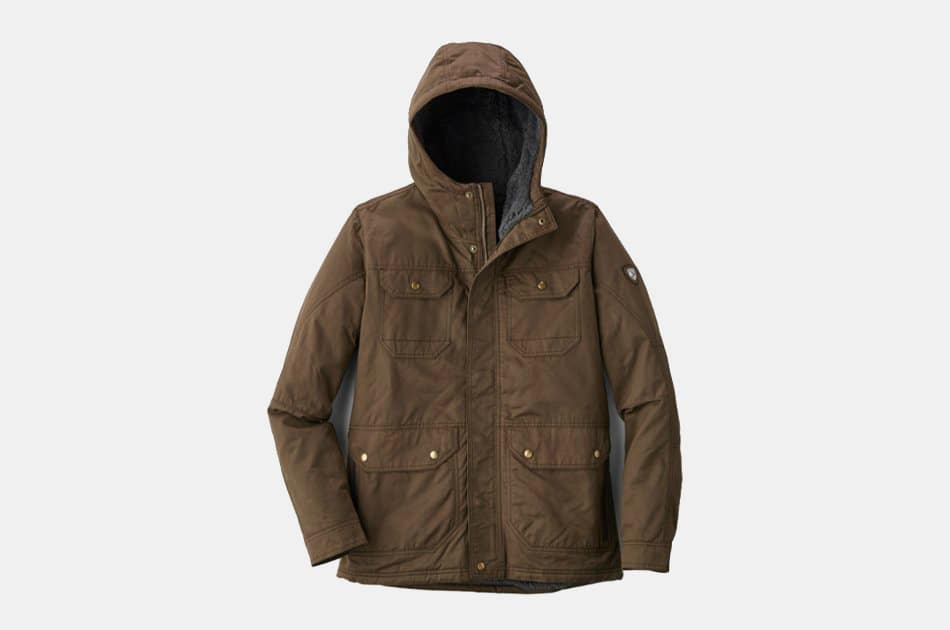 KUHL Kollusion Fleece Lined Jacket
The right waxed canvas jacket should ideally have the kind of dependable performance that's unexpected at the same time. What do we mean by that? We mean that the KUHL Kollusion Jacket, with its warm fleece lining, is exactly the kind of jacket made to deliver unexpected performance and durability in one rugged package. Oversized front snap button pockets and an interior chest pocket also deliver much-needed space for your EDC haul. Again, talk about unexpected performance.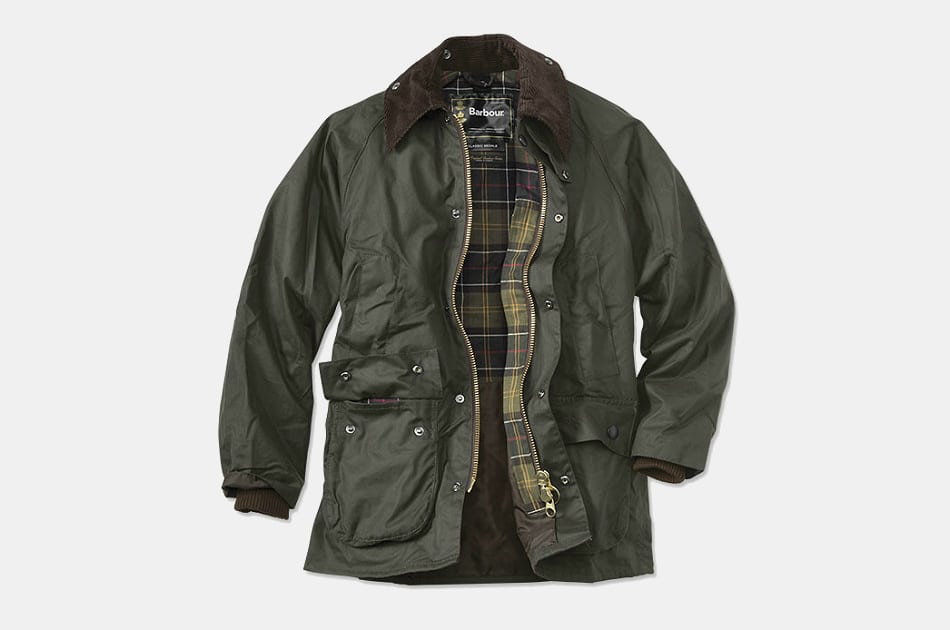 Barbour Bedale Jacket
If there's a jacket that epitomizes the sort of timeless style and rugged appeal that a waxed canvas jacket can bring, it just might be the Bedale Jacket. Barbour's roots and penchant for classic style run deep, and plenty of details on this particular piece are carefully composed. That goes for instantly recognizable touches, like the corduroy collar and the brand's classic Tartan Cotton lining. Known for its British country appeal, the Bedale Jacket can still go just about anywhere you want it. It's an everyday jacket built with tough functionality and appeal that'll last for decades.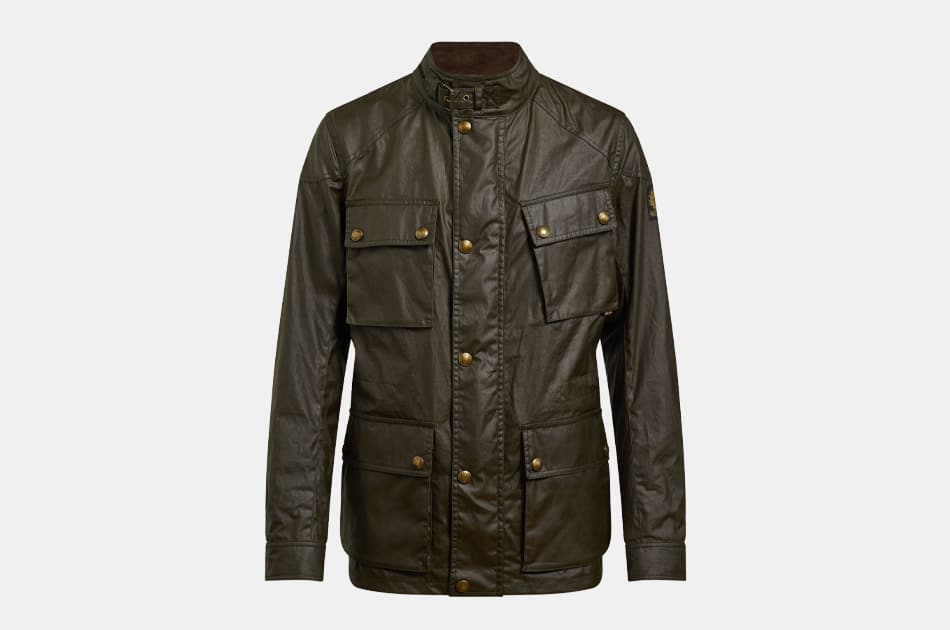 Belstaff Fieldmaster Waxed Jacket
There might be certain brands that spring immediately to mind when you think of a waxed canvas jacket — and assuredly, one would hope that Belstaff is among those brands. The iconic British heritage outfitter has a long, storied history of making field and road-ready outerwear for the gentleman explorer, and the Fieldmaster Waxed Jacket might just take the cake. We love the richly faded olive color and the go-anywhere durability — you'll have this jacket for years.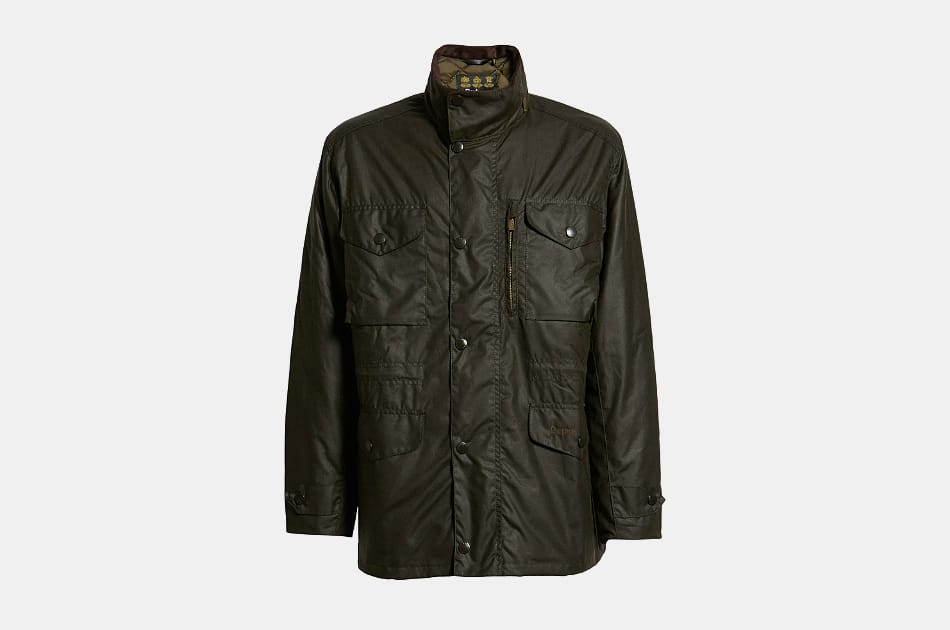 Barbour Sapper Waxed Cotton Jacket
They're might not be a brand that does the waxed jacket better than Barbour. With its roots in classic British heritage style and a focus on functionality and classic silhouettes, they're an easy go-to in terms of upgrading your outerwear. The military-style silhouette calls to mind the version worn by James Bond in his Scottish adventures, and that's a very good thing indeed. With helpful design touches like an inner waist drawcord and plenty of pockets, it's a piece you shouldn't go without this winter — whether you explore the Scottish highlands or not.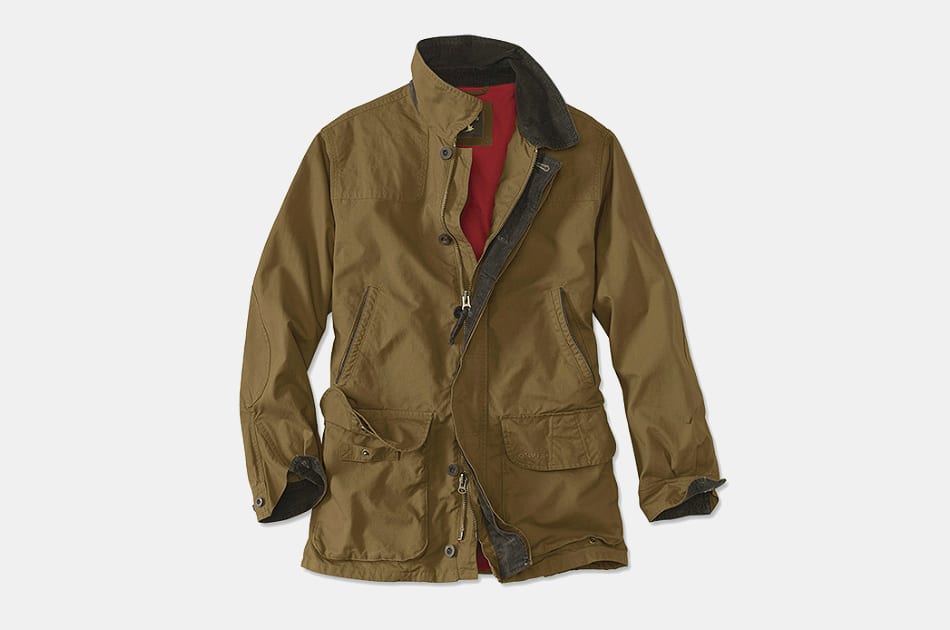 Orvis Heritage Field Coat
They call this piece the Heritage Field Coat for a reason, and one would expect its legendary functionality to stand up to such a name. The waxed cotton exterior can take on both rain and briars — as the brand says — and touches like a corduroy collar provide classic heritage inspiration direct from the field. As with all great pieces of outerwear, it's likely your grandfather or father wore the same jacket — and they might even have it to this day. That's as great a reason as any to buy it — isn't it?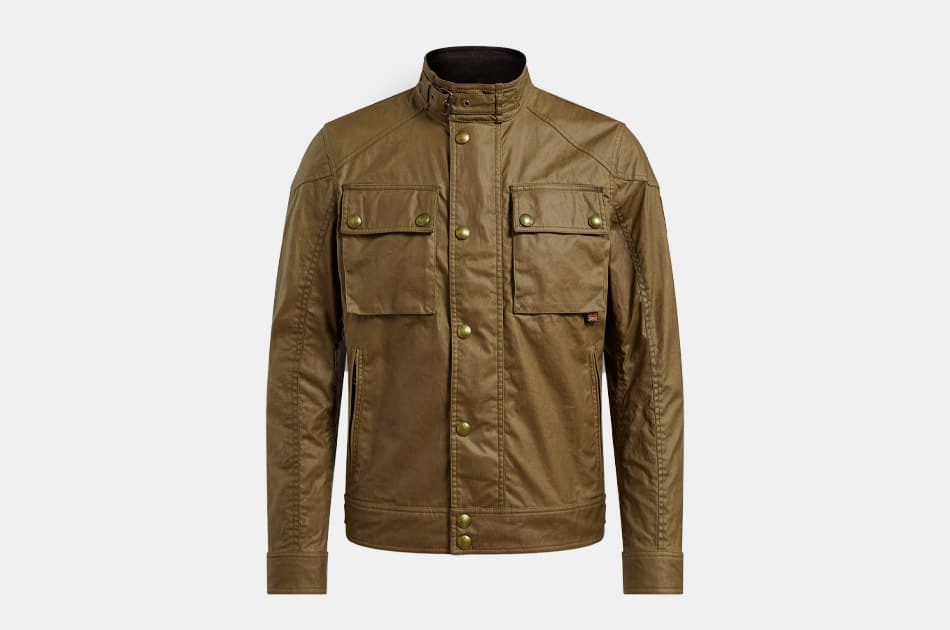 Belstaff Racemaster Waxed Jacket
Although waxed cotton is a treatment that calls to mind vintage style and throwback jackets of days gone by, the best brands are updating the silhouette with a little something extra — a dash of modern, edgy style, at that. The Belstaff Racemaster Waxed Jacket is the sort of speed-inspired, ever-so-slightly edgy jacket to wear when you hit the road (leather moto boots not included, sadly).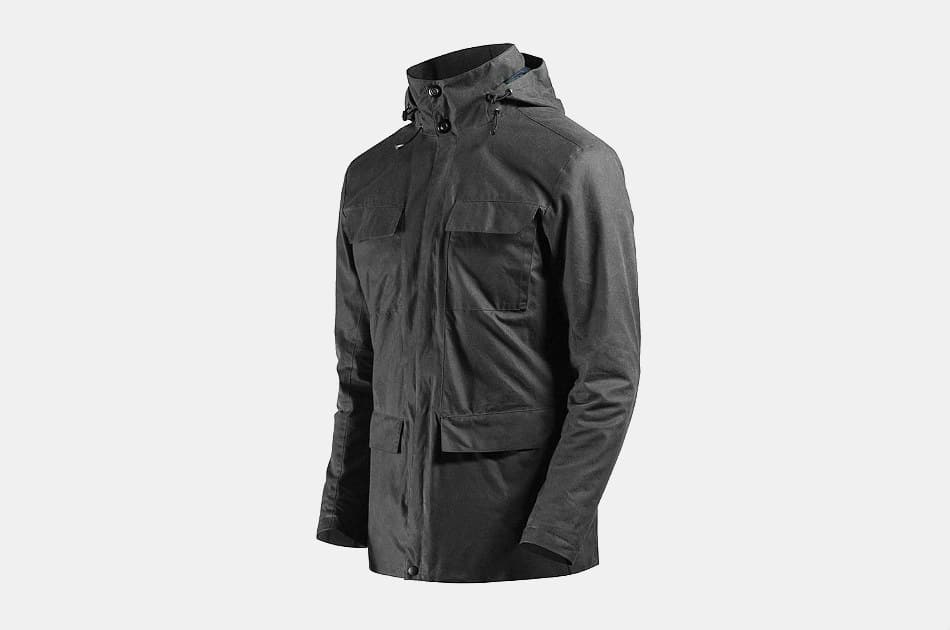 Mission Workshop Eiger Wax Canvas Field Jacket
Mission Workshop seems to have it all figured out when it comes to making sleek, commute-friendly gear for the guy on the go — gear that, all at once, is still crafted with great character and style. Retailing for an investment-level $685, this jacket comes packed with all the heritage, history and style you could ask for, available in sleek colors like black and charcoal, plus traditional colors like olive. A jacket that's both, as the brand says, water-resistant and refined? Sign us up. We'd wear this with slim dark denim, a classic chambray shirt and suede chukka boots — that's timeless, easy-going and functional style at its best.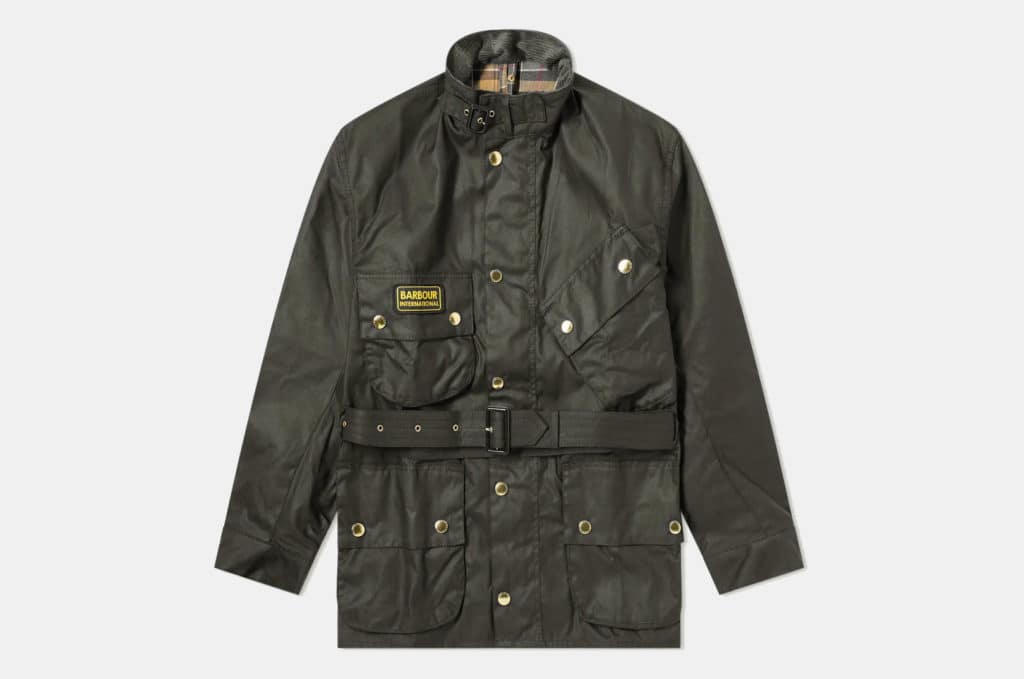 Barbour International Original Wax Jacket
When you pick up a waxed canvas jacket, you expect durability and extreme toughness — and one look at this classic waxed canvas jacket from Barbour tells us that you're going to get those two qualities in spades (and then some). Crafted from heavyweight, weather-resistant waxed cotton fabric, this jacket is treated to withstand the elements — and it's helpful that it comes with a pair of chest and lower patch pockets to secure your everyday carry valuables and a contrasting mixed cotton lining. Wear it with navy chore pants and a pair of the Duck Boots when your winter chores just won't wait.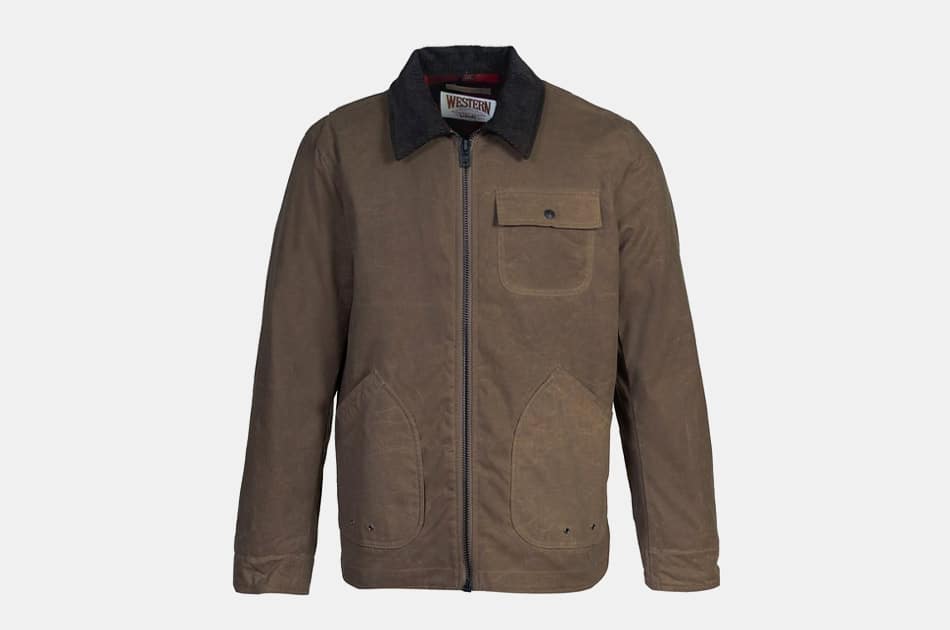 Schott Waxed Cotton Chore Jacket
You very well know Schott thanks to the brand's iconic leather jackets, the type of outerwear that needs no introduction. And it should come as no surprise that these masters of all things rugged and long-lasting have come up with another jacket for your consideration — the Schott Waxed Cotton Chore Jacket is simply as good as it gets. It's every bit as adventure-ready as, say, the Schott Perfecto, with a bit more room for your everyday carry, at that. Layer it up with your favorite denim shirt and slim black jeans to head to a rock concert.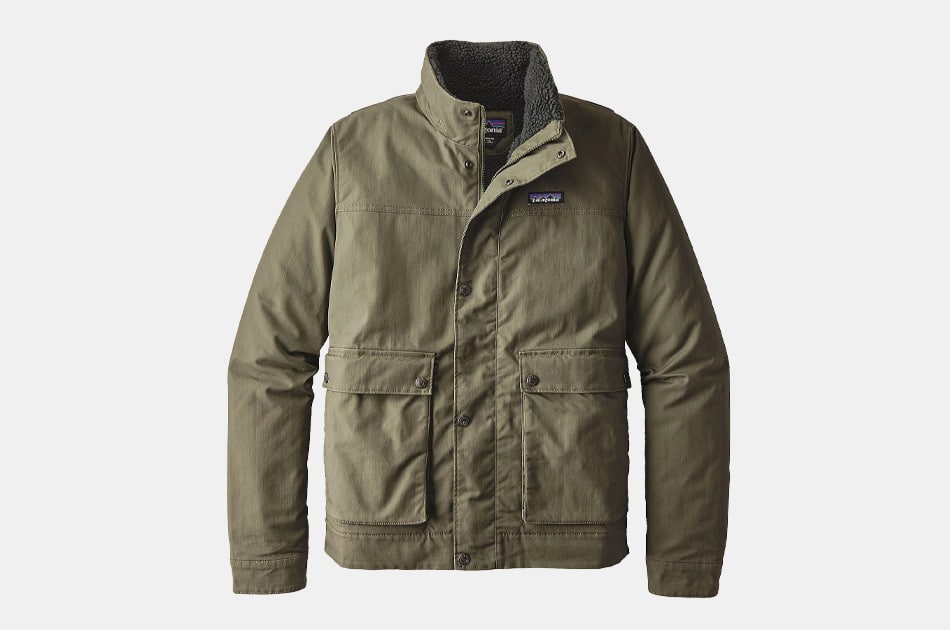 Patagonia Men's Maple Grove Canvas Jacket
Want style and sustainability all rolled into one? Of course you do — and that's where Patagonia comes into play, no doubt about it. The brand's base layers and thermal jackets are perfect for hitting the road, while the Maple Grove Canvas Jacket also serves as a handy piece of outerwear, precisely when you need it the most. Available in a range of neutral colors and lined with polyester fleece for extra warmth, this is your go-to trail and field jacket.
Disclosure: Clicking on these links and making a purchase may earn us a small referral fee, at no extra cost to you. Learn more here.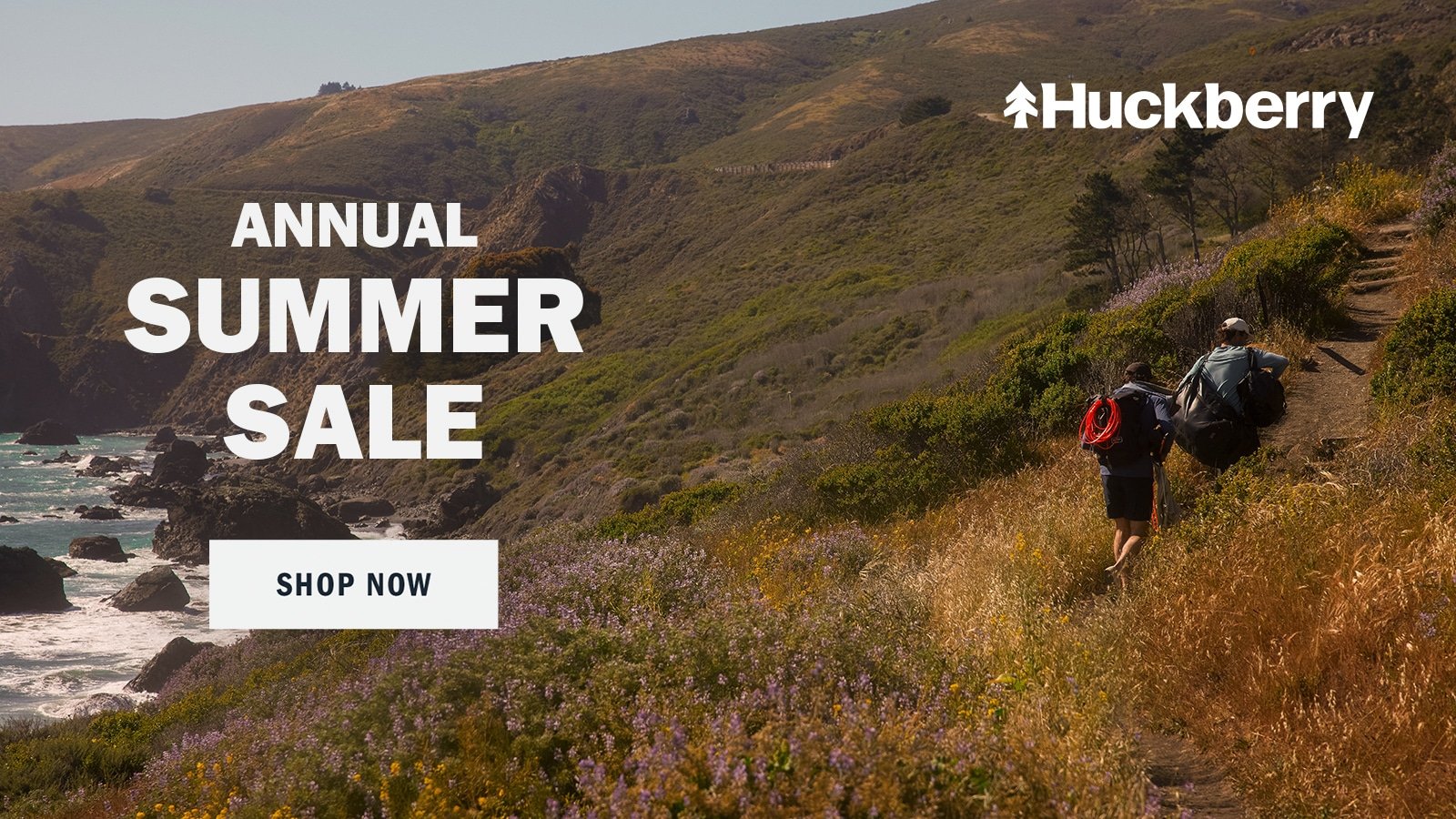 freestar.config.enabled_slots.push({ placementName: "gearmoose_leaderboard_btf", slotId: "gearmoose_leaderboard_btf" });