The 20 Best Waxed Canvas Jackets
If you think you've got all the winter outerwear in your closet that you can possibly fit, think again. Between a slim topcoat, a durable parka and an essential denim jacket for layering, you also need a coat that's rough and tough enough to do it all. Enter a waxed canvas jacket, made in a variety of silhouettes and with various bells and whistles galore to take on winter weather.
With its versatile looks — sometimes featuring the silhouette of an overshirt, sometimes that of a jacket — it's a must-have. Crucially, it stands up to snow and slush, it's fit to wear outside for weekend exploration, and thanks to its workwear roots, it's rugged and yet refined at the same time.
Try it with a chambray shirt, dark denim and beat-up leather boots, or hit the streets with wool trousers and a classic Oxford for extra protection as you head to work. You can't go wrong with one of the best waxed canvas jackets for men.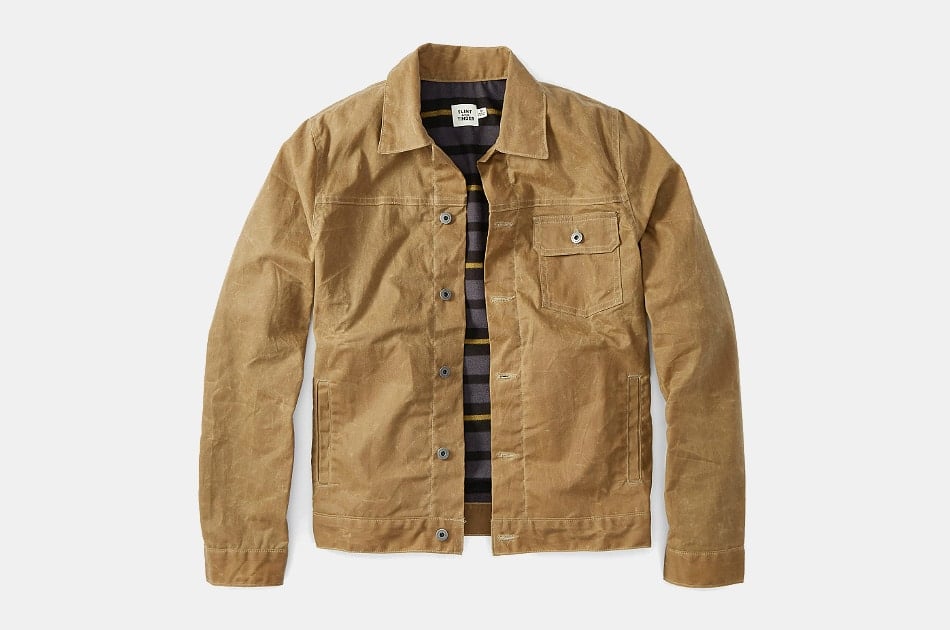 Flint and Tinder Flannel-Lined Waxed Trucker Jacket
Flint and Tinder, quite simply, continues to outfit stylish guys everywhere from head to toe with durable, tough and remarkable gear. The Flannel-Lined Waxed Trucker blends everything for which the brand is known, from a nicely tailored silhouette to quality fabrication (via Martexin sailcloth) and most notably, a new and super-warm blanket stripe lining.
We love the Field Tan colorway the best, ideal for wearing with perfectly broken-in jeans and your favorite henley to, well, your favorite brewery. It's the latest fall must-have, and you won't regret picking it up — to say the very least. Lace up your boots and get to work (or to the bar).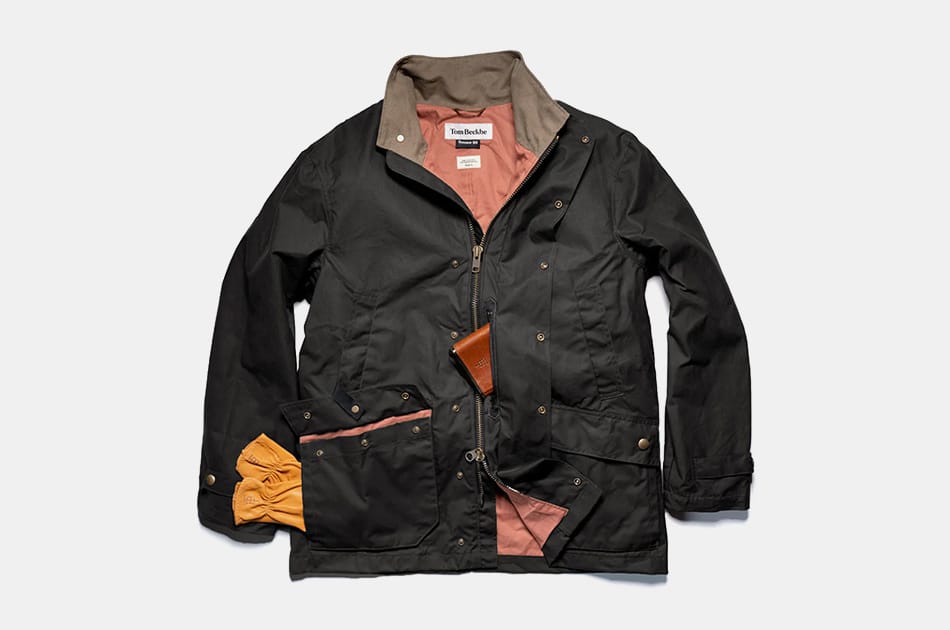 Tom Beckbe Tensaw Jacket
We appreciate a well-stocked rotation of durable, tough and rugged jackets — everything from a waxed cotton field jacket to a sleek moto jacket is fair game in our book. That makes the Tom Beckbe Tensaw Jacket all the more essential, stylish and handsomely designed. It's got an old-school feel to it just from looking at it — the waxed shelter cloth is nearly unlike any other coat on the market, as is the type of design that your father and grandfather might have appreciated.
Not quite good enough? The cotton twill lining is dyed using Alabama red clay, while gusseted underarms and a bi-swing back give you the range of motion you need in the field. 'Tis the season to embark on early morning hikes and hunting trips aplenty — the Tensaw Jacket is the one to get, if that sounds like your ideal fall or winter day.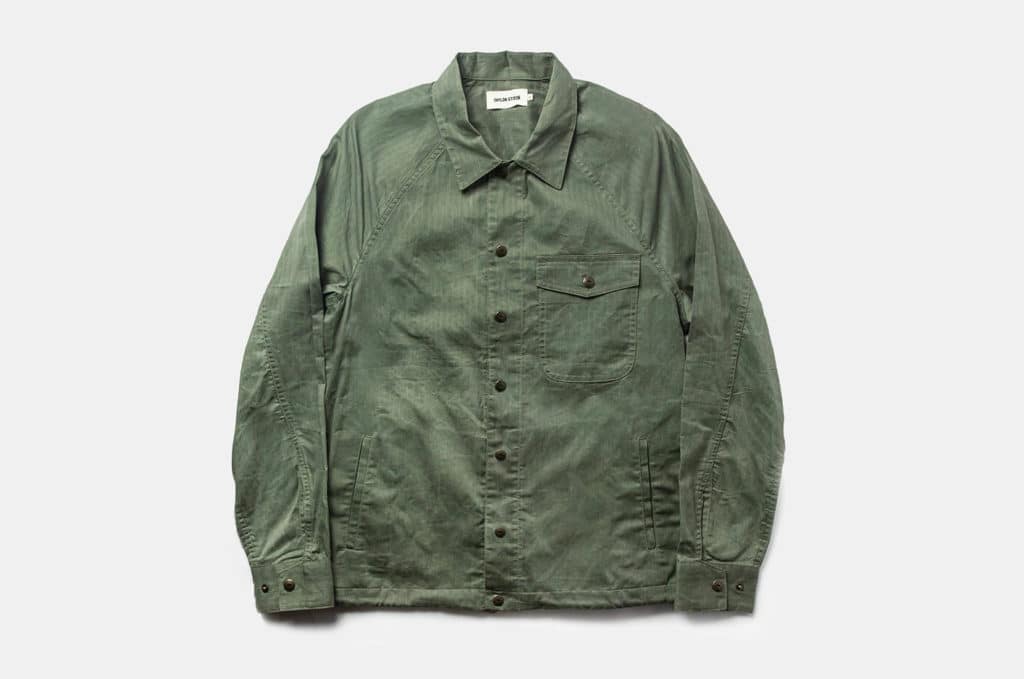 Taylor Stitch Lombardi Jacket in Olive Dry Wax
The best part about any menswear piece from Taylor Stitch is the modern fit and attention to detail in its creation, and the brand's iconic Lombardi Jacket is no exception. The Lombardi Jacket in Olive Dry Wax by Taylor Stitch has quickly become one of our favorites, made with rugged 100% Organic Cotton herringbone dry wax from Halley Stevensons that will only get better looking after each season of wearing. The exterior is a rich olive that'll wear in beautifully motorcycle ride after motorcycle ride, and it comes sans-lining perfect for when the weather turns a bit warmer this year.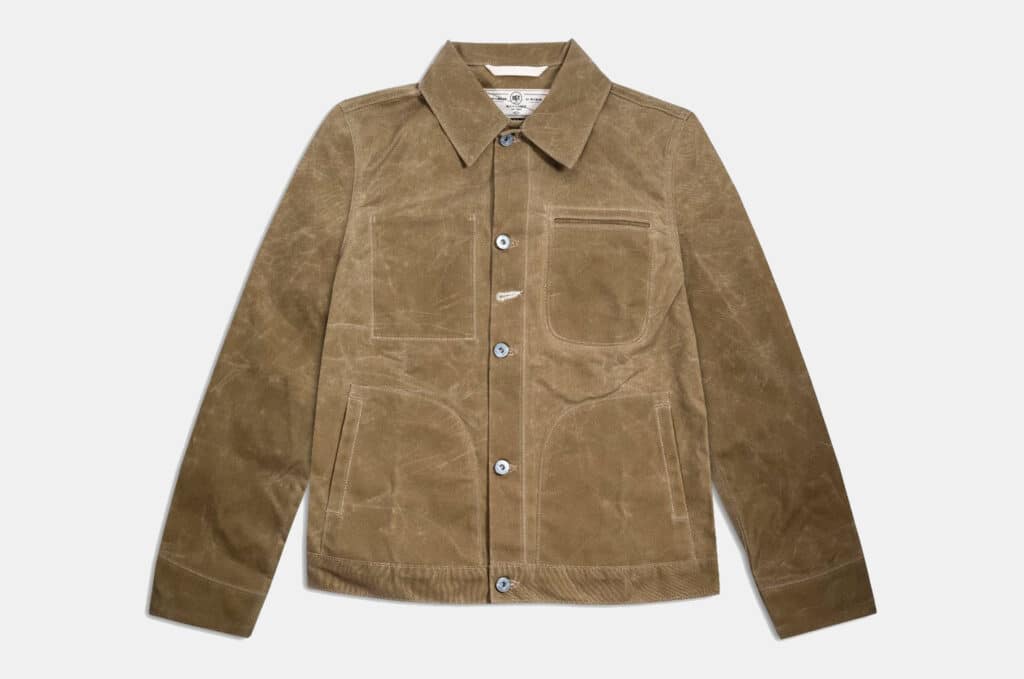 Rogue Territory Waxed Canvas Jacket
Rogue Territory's mission is to deliver clothes that blend subtle design details, precision fit, and a modern take on classic styles. Supply Jacket is cut in a unique style that makes it immediately stand out among its peers—and the reason that it was chosen to feature in No Time to Die as the jacket of choice for the one and only James Bond. Cut in a slim fit and handmade from American wax canvas, the iconic coat is fashion-forward and pairs well with any dark-colored jeans. The patch hand warmer style pockets aren't just roomy, but they're amazingly effective at keeping your hands warm in even the coldest weather. Best of all, the more you wear it, the more the canvas will darken and take on a "lived-in" appearance that just enhances its style.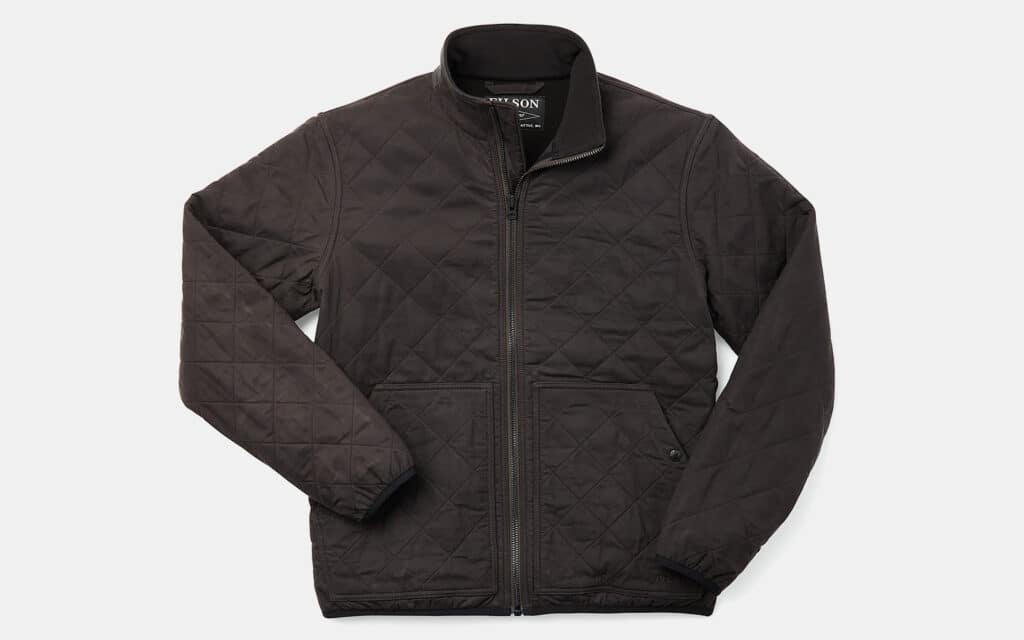 Filson Fleece-Lined Waxed Jacket
As the heat of summer retreats and fall's chill makes itself known, some of us are raring for the starting bell of that first properly cold day. The day when it's go-time for all the jackets, coats, sweaters, and pullovers that have been hidden away since spring. If anything in your closet matches up to this, good on you. If not, picking up Filson's Fleece-Lined Waxed Jacket is probably the best thing you can do to welcome the cool weather.
First off, this is Filson; Well-made is what they do. The jacket has a boxy, workwear cut with a quilted exterior construction to add some texture and interest. Tumbled and waxed cotton resists rain and wind while the recycled fleece lining keeps you warm. Pair this with some boots and jeans then leaf-crunch your way to your local pub for a pint of dark brown ale.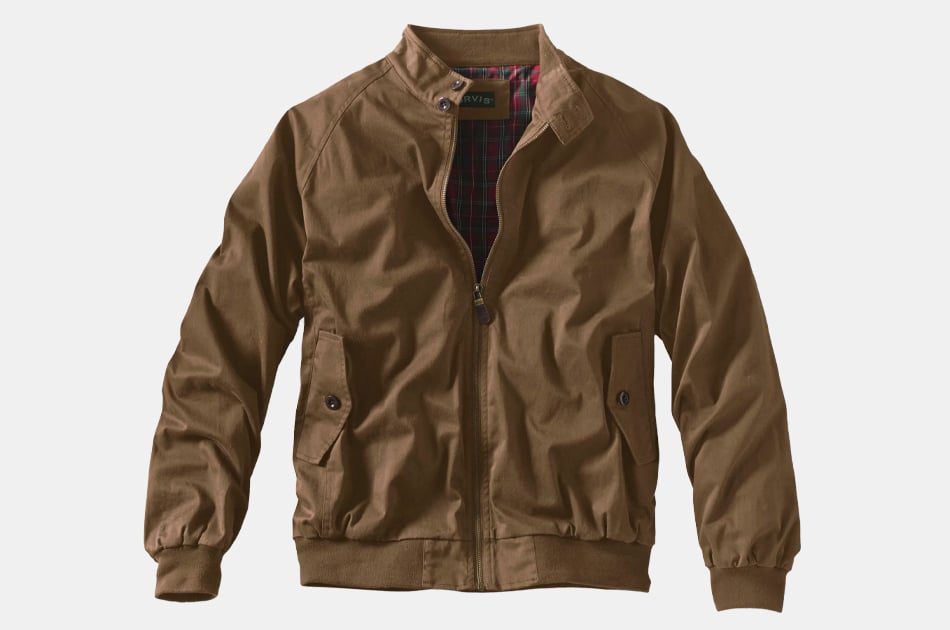 Orvis Waxed Weatherbreaker Jacket
Ask us what we think you need to hit the road this season — or to hit the town and pick up to-go beers, for that matter — and we might be inclined to say you need a waxed canvas jacket like the Orvis Waxed Weatherbreaker Jacket. Designed to mimic the classic Harrington jacket with a stand-up collar, the iconic style gets an upgrade in the form of stretch waxed cotton fit for blustery, chilly fall days.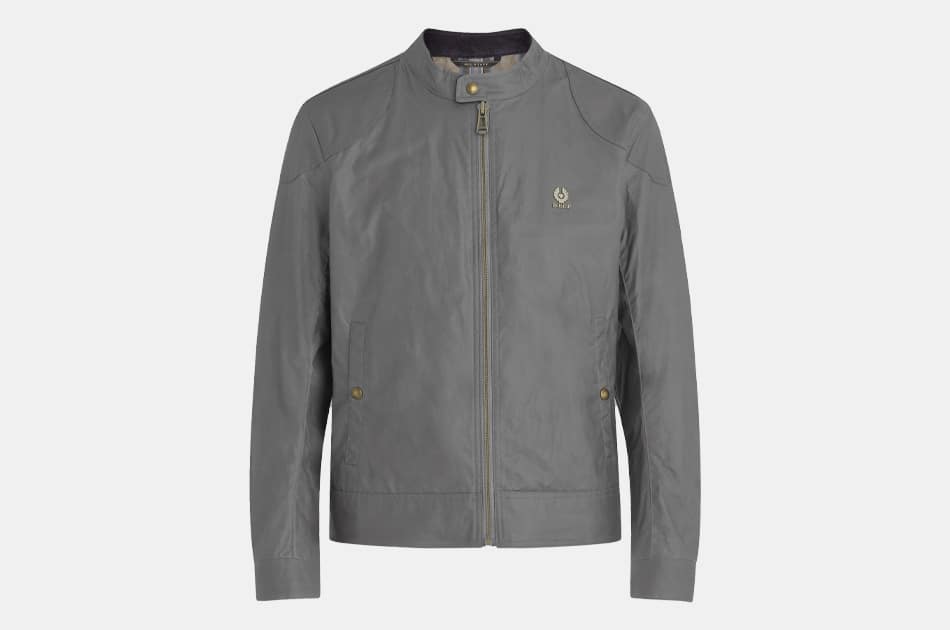 Belstaff Kelland Waxed Cotton Jacket
For over a hundred years, Belstaff has been producing rough-and-rugged clothing for sportsmen, at the forefront of purpose-built jackets. The Kelland Waxed Cotton Jacket is the culmination of over a century of style and cutting-edge design, blending classic cotton with an innovative micro and technical wax mixture that repels even the heaviest downpour to keep you dry and comfortable. The cotton-twill lining is warm without being excessively hot. You'll love the racer-style collar with its press-stud closure—the trendy design makes you feel like a true badass and pairs wonderfully with any casual outfit.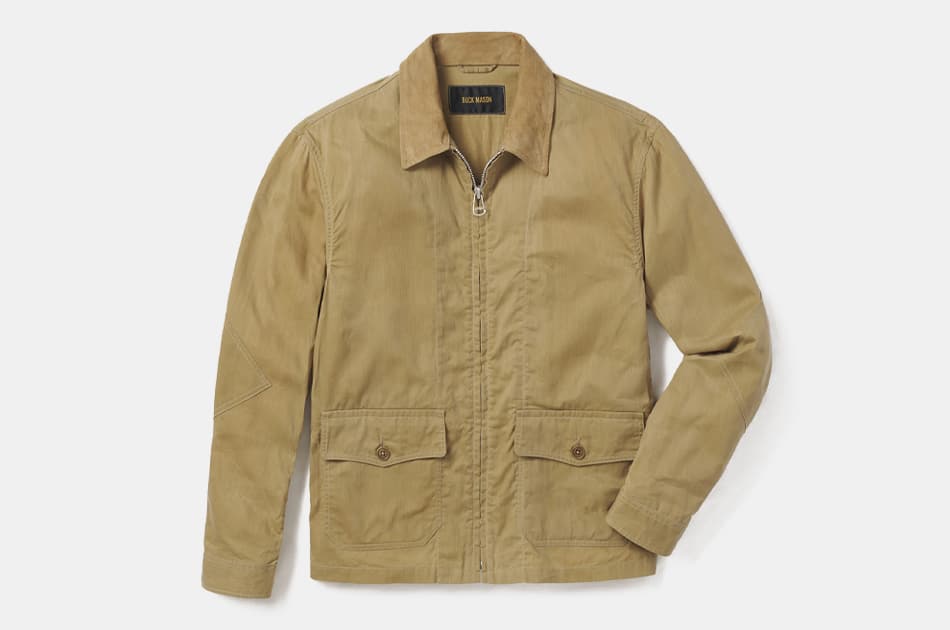 Buck Mason Waxed Herringbone Flight Jacket
With Buck Mason, you get classic-inspired clothing updated for the modern lifestyle. One look at the Waxed Herringbone Flight Jacket, and you'll immediately understand why the brand has made such a name for itself. Cut in the classic flight jacket style, it's the kind of coat you'd expect Maverick to wear, but versatile enough that it will accommodate your everyday life with ease. The cotton herringbone fabric is light and flexible, and the water-resistant wax treatment ensures the rain and sleet stays out of your clothing.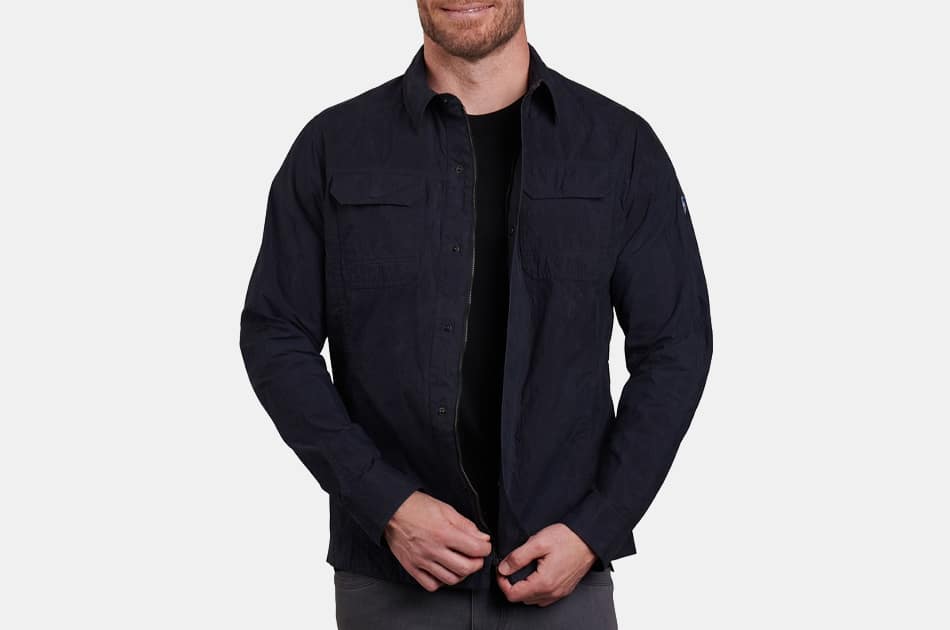 KUHL M's Alternatr Waxed Jacket
The KUHL brand is famous for durable clothing built for the outdoorsman, delivering rugged quality and versatile designs. The M's Alternatr Waxed Jacket is precisely that: a coat made for mild weather activities, combining the lightweight nature of a windbreaker with a water-resistant canvas exterior that will keep the rain out. The weatherproofing is made of a mixture of beeswax and synthetic wax, and this blend gives the coat a unique finish unlike any other waxed canvas jacket on the market. The coat's shell is a mixture of soft, durable cotton and rugged nylon, while the interior is pure polyester to increase moisture-wicking and heat-reducing properties. At just 14 ounces, it's a beautifully lightweight coat that will serve you well on any camping or hiking trip.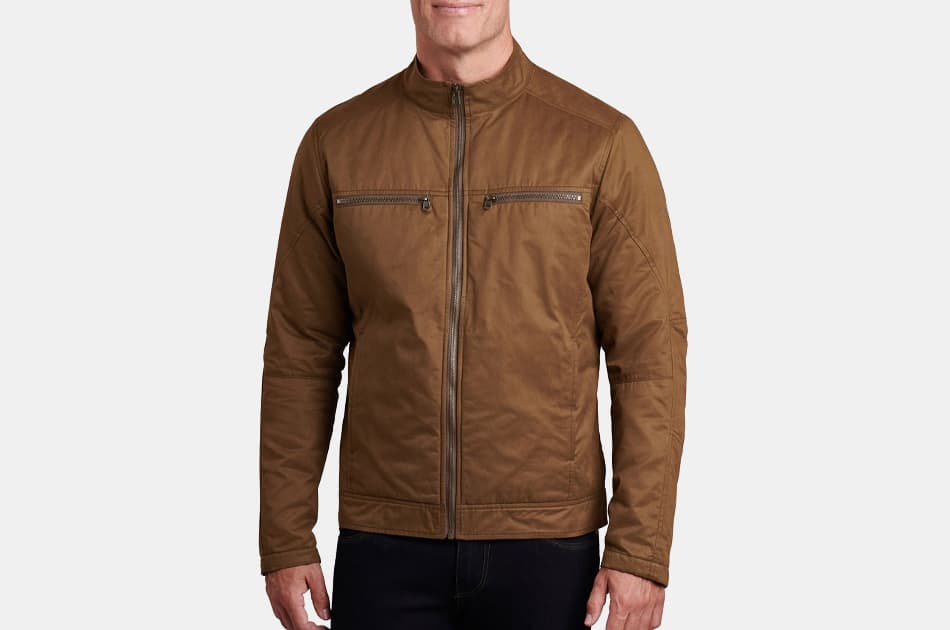 KUHL Kaffe Racer
KUHL delivers only the best with this racer-style jacket, which blends the classic vintage cut with cutting-edge modern fabrics. The Kaffe Racer is made with a blend of cotton, nylon, and polyester, finished with the proprietary ultra-tough DYNAWAX finish famous for its abrasion resistance. The pure nylon interior is quilted for comfort and will keep you warm in all but the harshest chill. With zippered sleeves and chest pockets, the coat combines form and function in a marvelously eye-catching way.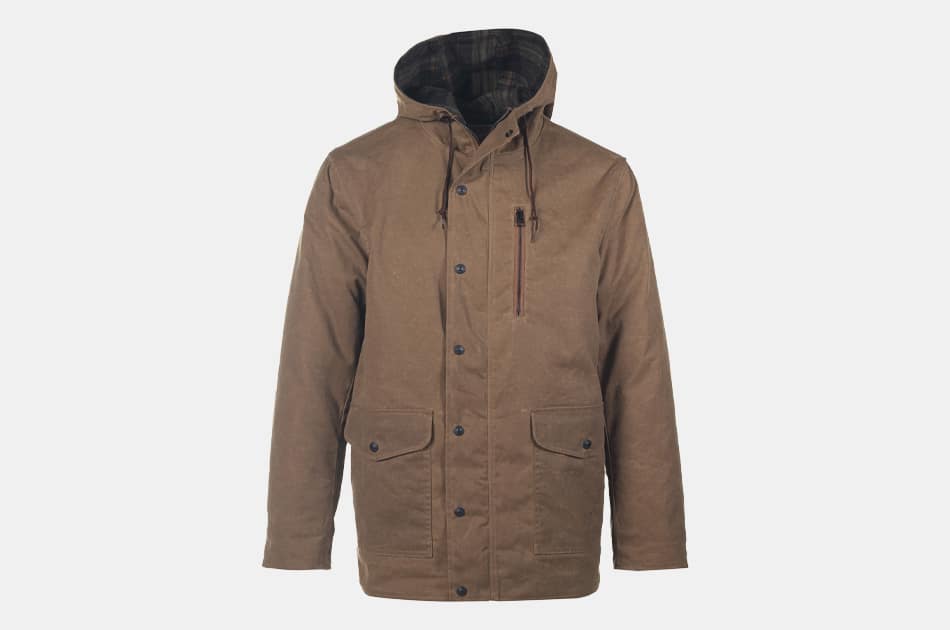 Schott Waxed Cotton Hooded Parka
Schott is a brand as American as apple pie and the Fourth of July, the legacy of Russian immigrants who have spent more than a century hand-crafted high-quality, iconic American clothing—including the coat worn by Marlon Brando in the cult classic film "The Wild Ones". The Waxed Cotton Hooded Parka is a modern take on a timeless design, a hooded parka made from ultra-tough waxed cotton with a wool lining to offer both comfort and superior warmth. At twenty ounces, it's a bit heavier than some of the other jackets on our list, but it's a jacket you can trust is built to last and guaranteed to provide years of weather-resistant wear.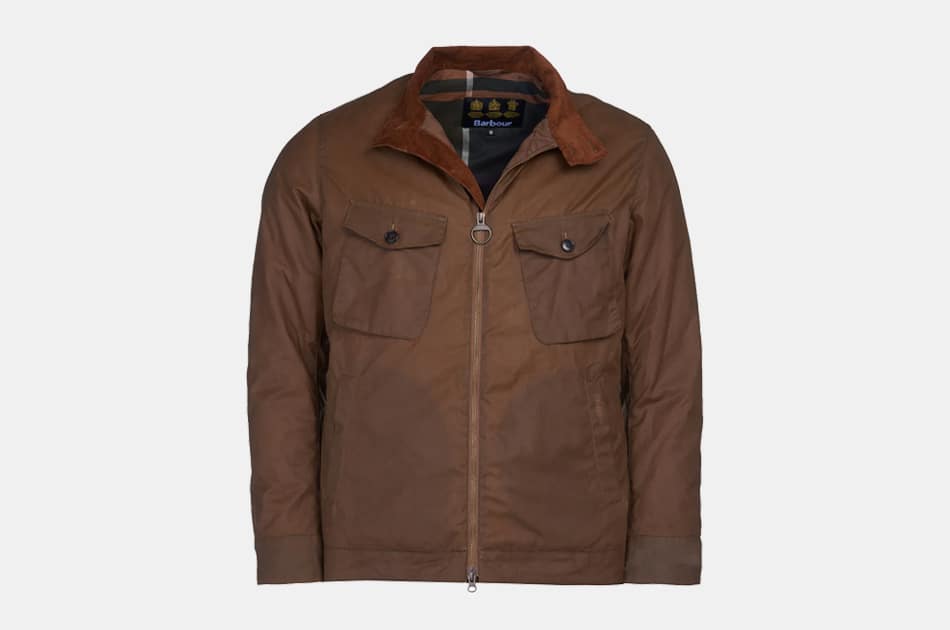 Barbour Weldon Wax Jacket
We could go on and on about why you need a rugged waxed jacket in your rotation this fall, but it's pretty clear, isn't it? The reason you need a waxed jacket like the Barbour Weldon Wax Jacket in your life is plain and simple: It's tough, it's rugged, it's versatile & built for anything. Barbour doesn't cut any corners when it comes to durable construction that can take a few licks (or more than a few), and the Weldon Wax Jacket is weather-resistant and built with a stand-up collar to take on the elements.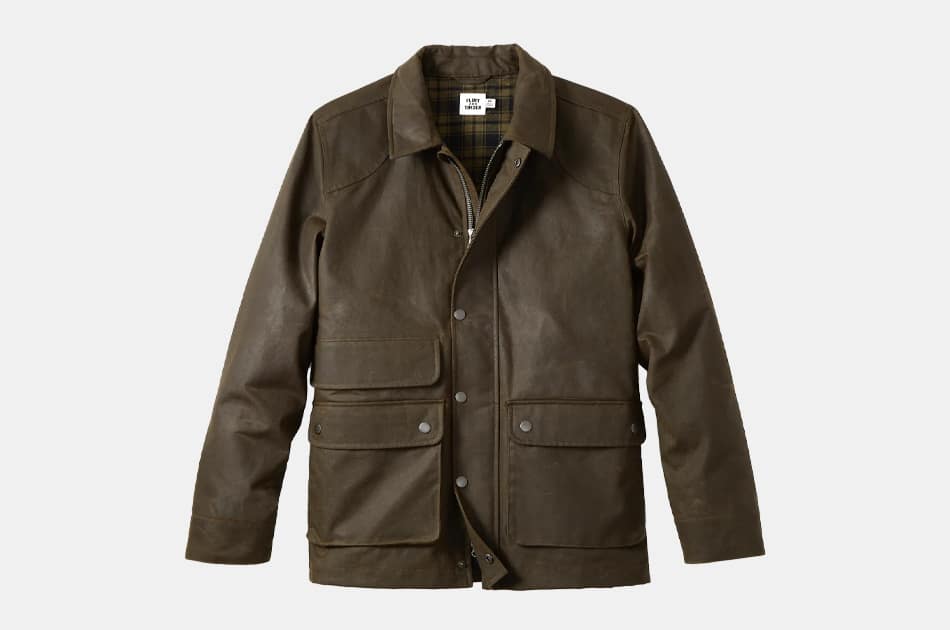 Flint and Tinder Flannel-lined Waxed Hudson Jacket
When you think of waxed jackets at Huckberry, we'd wager you might be thinking of the Flint and Tinder Waxed Trucker Jacket, a stone-cold style staple and a personal favorite of ours. But get ready to add another new Flint and Tinder staple into your rotation with the Flannel-lined Waxed Hudson Jacket, a badass field jacket made from British Millerain fabric in an adventure-ready cut. It's your new favorite fall jacket, without a doubt.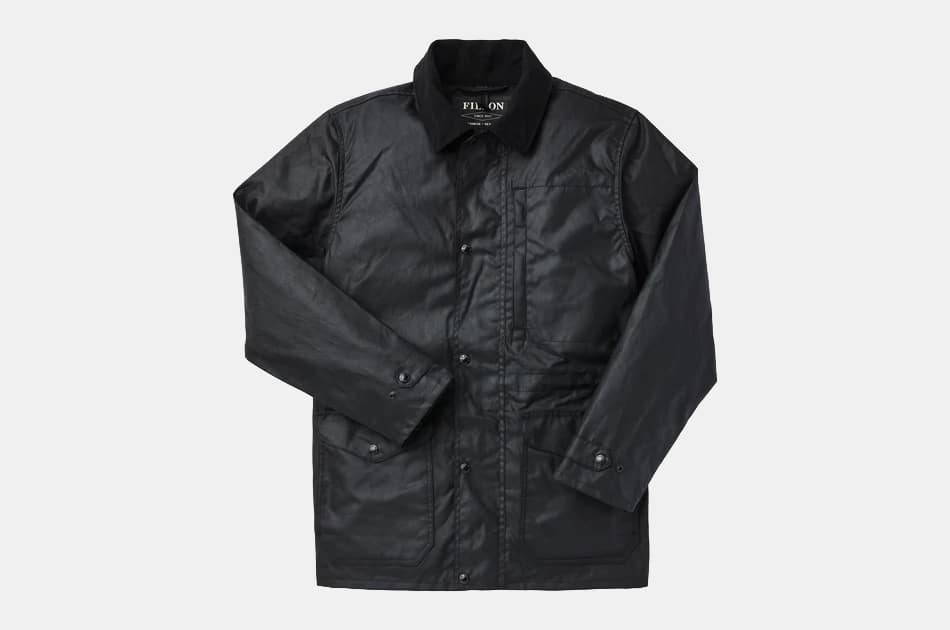 Filson Cover Cloth Mile Marker Coat
Your search for one of the best waxed canvas jackets should arguably start and end with Filson. The brand takes years of knowledge and years of crafting jackets for the Pacific Northwest, and dials it all into classic silhouettes like the Cover Cloth Mile Marker Coat. The kind of coat that can take a beating and keep on going, it's your day-to-night jacket for that fall road trip, no outerwear switch required.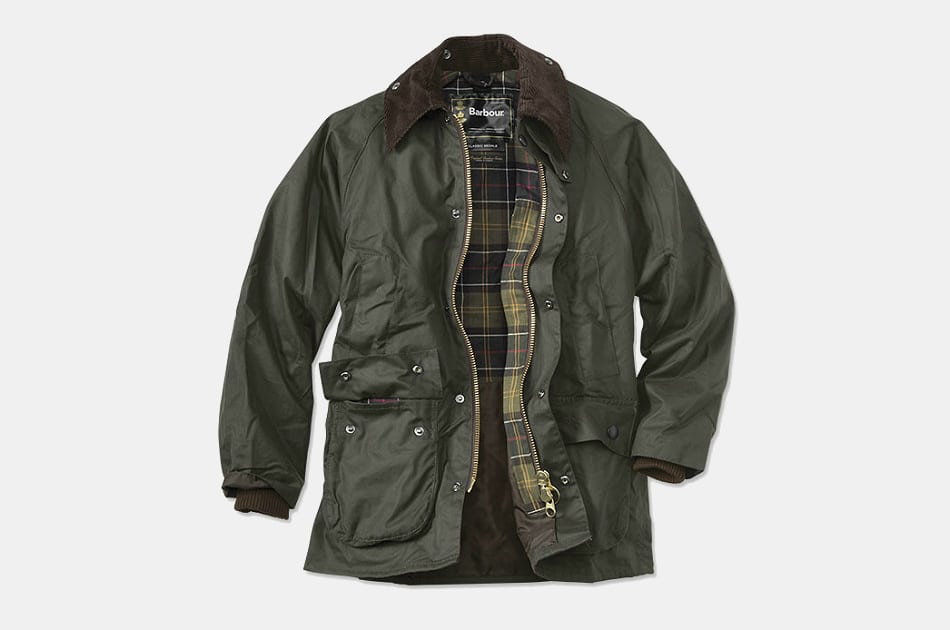 Barbour Bedale Jacket
If there's a jacket that epitomizes the sort of timeless style and rugged appeal that a waxed canvas jacket can bring, it just might be the Bedale Jacket. Barbour's roots and penchant for classic style run deep, and plenty of details on this particular piece are carefully composed. That goes for instantly recognizable touches, like the corduroy collar and the brand's classic Tartan Cotton lining. Known for its British country appeal, the Bedale Jacket can still go just about anywhere you want it. It's an everyday jacket built with tough functionality and appeal that'll last for decades.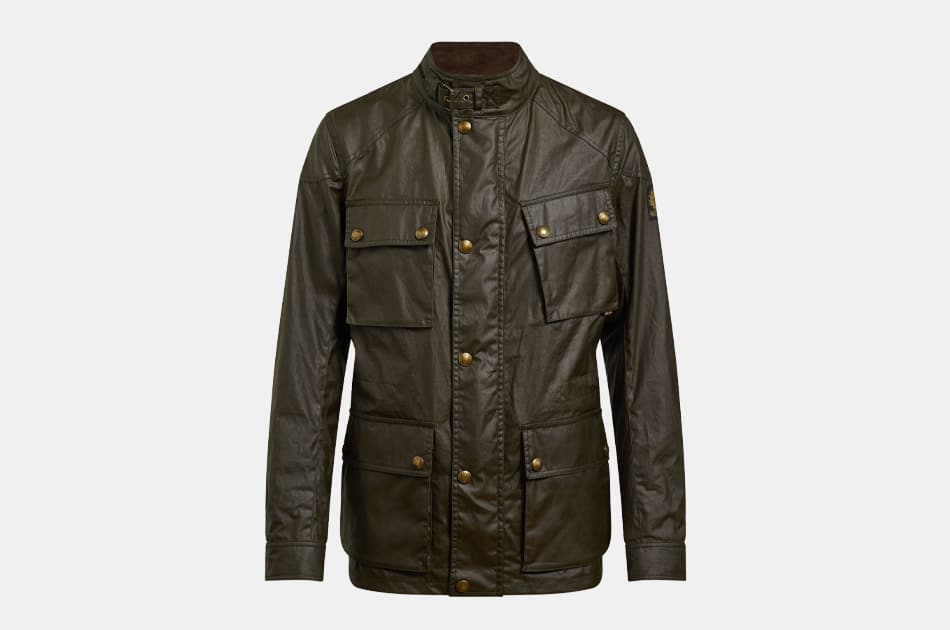 Belstaff Fieldmaster Waxed Jacket
There might be certain brands that spring immediately to mind when you think of a waxed canvas jacket — and assuredly, one would hope that Belstaff is among those brands. The iconic British heritage outfitter has a long, storied history of making field and road-ready outerwear for the gentleman explorer, and the Fieldmaster Waxed Jacket might just take the cake. We love the richly faded olive color and the go-anywhere durability — you'll have this jacket for years.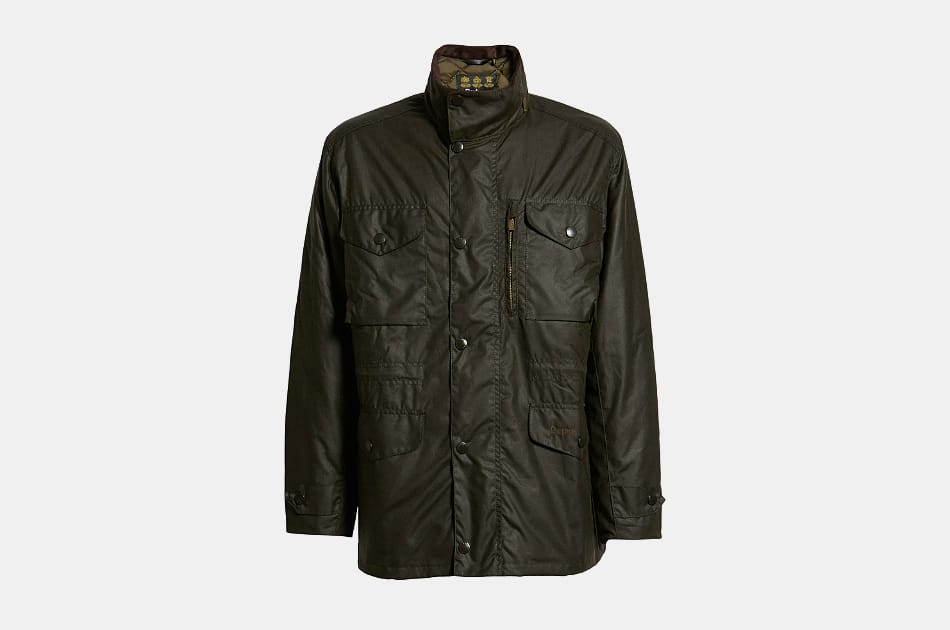 Barbour Sapper Waxed Cotton Jacket
There might not be a brand that does the waxed jacket better than Barbour. With its roots in classic British heritage style and a focus on functionality and classic silhouettes, they're an easy go-to in terms of upgrading your outerwear. The military-style silhouette calls to mind the version worn by James Bond in his Scottish adventures, and that's a very good thing indeed. With helpful design touches like an inner waist drawcord and plenty of pockets, it's a piece you shouldn't go without this winter — whether you explore the Scottish highlands or not.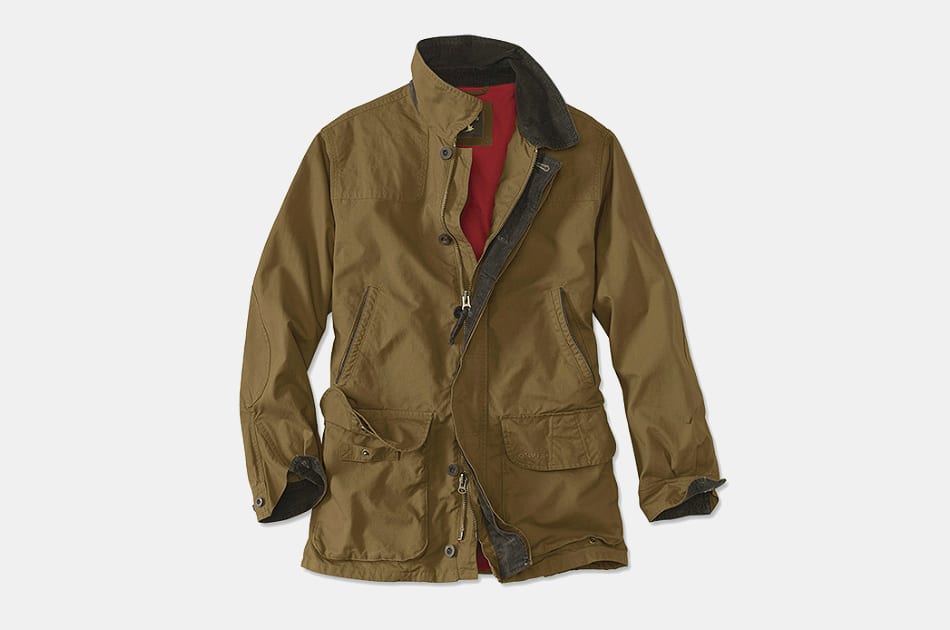 Orvis Heritage Field Coat
They call this piece the Heritage Field Coat for a reason, and one would expect its legendary functionality to stand up to such a name. The waxed cotton exterior can take on both rain and briars — as the brand says — and touches like a corduroy collar provide classic heritage inspiration direct from the field. As with all great pieces of outerwear, it's likely your grandfather or father wore the same jacket — and they might even have it to this day. That's as great a reason as any to buy it — isn't it?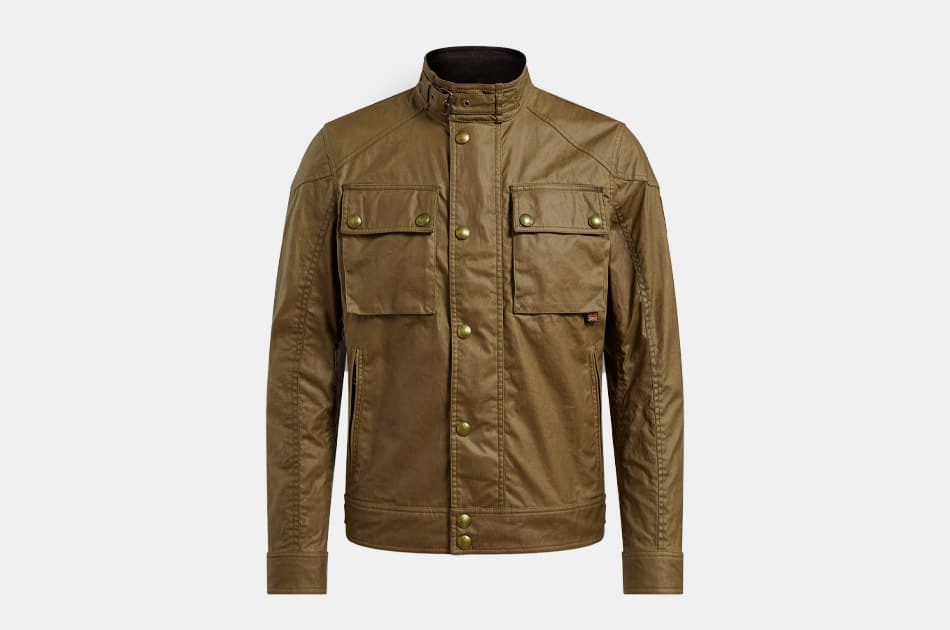 Belstaff Racemaster Waxed Jacket
Although waxed cotton is a treatment that calls to mind vintage style and throwback jackets of days gone by, the best brands are updating the silhouette with a little something extra — a dash of modern, edgy style, at that. The Belstaff Racemaster Waxed Jacket is the sort of speed-inspired, ever-so-slightly edgy jacket to wear when you hit the road (leather moto boots not included, sadly).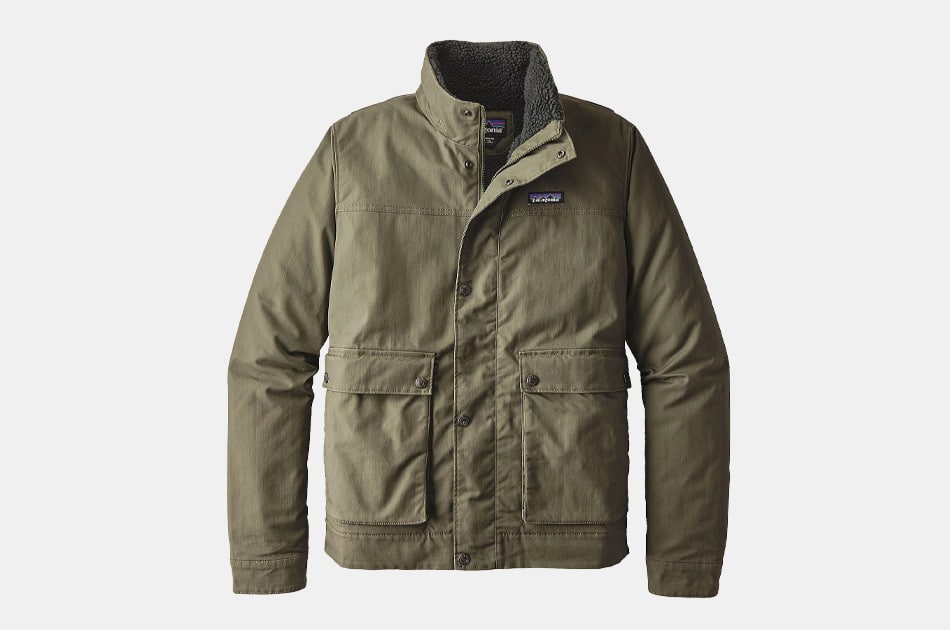 Patagonia Men's Maple Grove Canvas Jacket
Want style and sustainability all rolled into one? Of course you do — and that's where Patagonia comes into play, no doubt about it. The brand's base layers and thermal jackets are perfect for hitting the road, while the Maple Grove Canvas Jacket also serves as a handy piece of outerwear, precisely when you need it the most. Available in a range of neutral colors and lined with polyester fleece for extra warmth, this is your go-to trail and field jacket.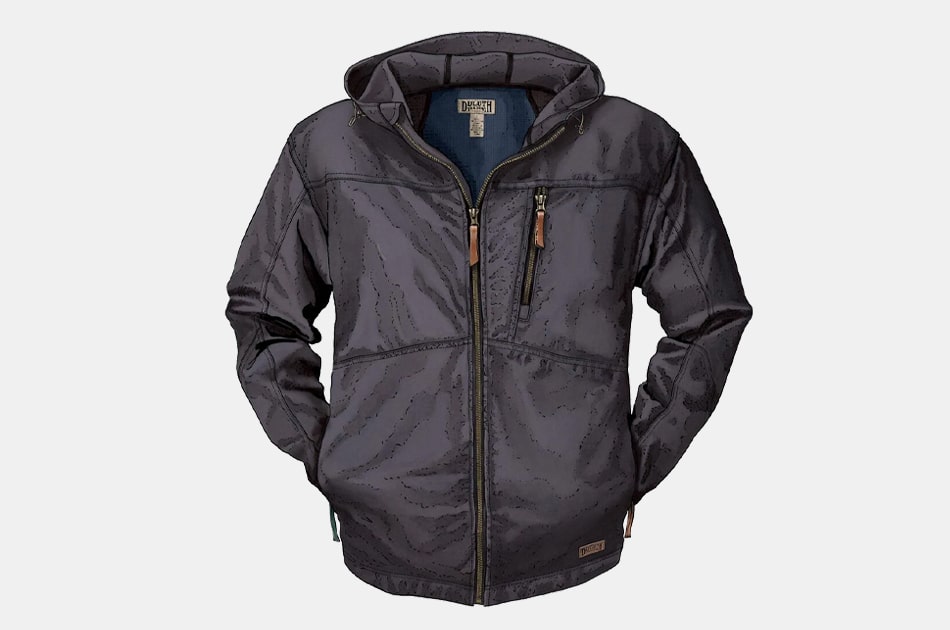 Duluth Trading Co. Men's Warden Waxed Canvas Jacket
Take Duluth Trading Co.'s Warden Waxed Canvas Jacket into the field with you, and you'll always rest easy knowing you've got an ultra-tough protective outer layer against rain, snow, sleet, and hail. Designed for game wardens spending long days out in the misty Minnesota weather, this jacket combines soft cotton with abrasion-resistant polyester, finishing it with a hyper-durable wax that will never fade. The inner lining blends polyester and spandex to give you maximum mobility and moisture-wicking to keep you cool on even the hottest days. With three zip pockets, including one chest pocket to carry your devices, you've got more than enough storage space for everything you want to take out into the field.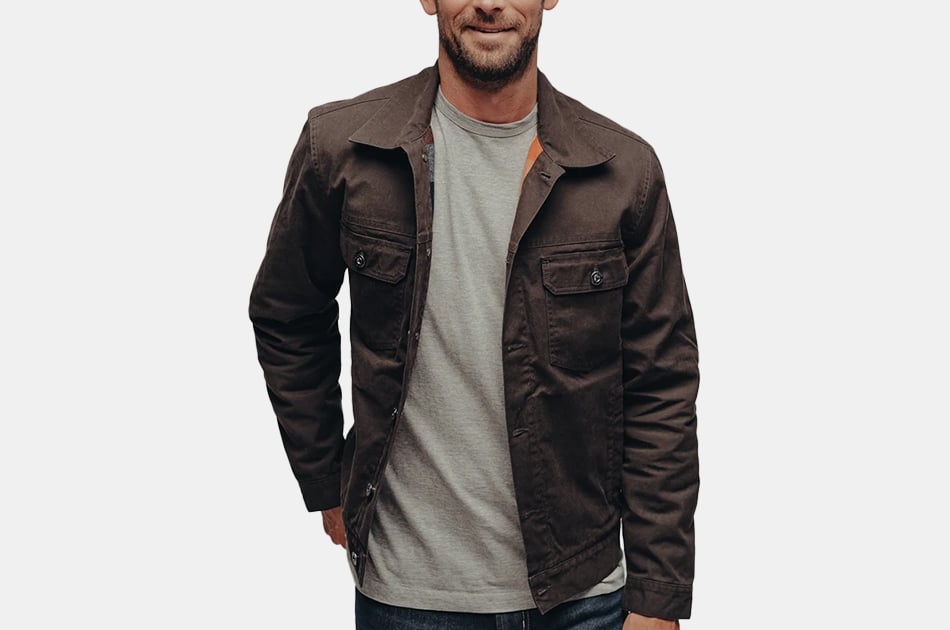 The Normal Brand Waxed Canvas Jacket
Built by brothers who wanted to blend ultra-comfortable fabrics with stylish, masculine design, The Normal Brand Waxed Canvas Jacket is an all-around excellent choice for any "guy's guy." The heavy waxed canvas feels solid, with a heft that lets you know it's made to play. The pure cotton exterior and heavy layer of wax is weather-resistant. Combined with the cotton interior lining, it's the ideal solution to keep you warm in any damp, wet, or rainy weather. But don't think it's just for rugged use—it's stylish and manly enough that it will look great paired with a button-down shirt for a first date. You'll always look your best in this waxed canvas jacket.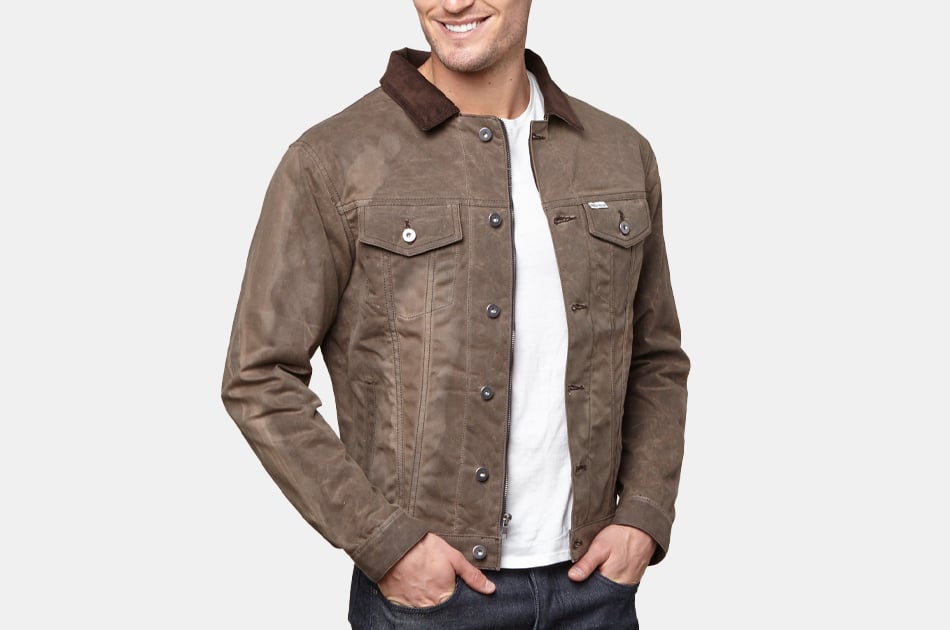 Iron and Resin Rambler Jacket
The Iron and Resin brand is all about owning fewer, higher-quality items of clothing, clothing purpose-built to last for years to come. The Rambler Jacket was the very first jacket the brand designed, and the one that put it on the map, thanks to its timeless design and ultra-durability. The trucker-style jacket is made from top-quality cotton waxed canvas, not so heavy that it weighs you down, but just hefty enough that you always feel protected and warm. The soft corduroy collar, front placket, and cuffs provide all-day comfort, and the combination of durable YKK zipper and tack buttons guarantees secure, weather-resistant closure. Whether you're a biker, trucker, or just an everyday guy who wants tough-as-nails clothing, this is the waxed canvas jacket you need.
Disclosure: Clicking on these links and making a purchase may earn us a small referral fee, at no extra cost to you. Learn more here.
freestar.config.enabled_slots.push({ placementName: "gearmoose_leaderboard_btf", slotId: "gearmoose_leaderboard_btf" });