The 20 Best Waxed Canvas Jackets Of 2023
If you think you've got all the winter outerwear in your closet that you can possibly fit, think again. Between a slim topcoat, a durable parka and an essential denim jacket for layering, you also need a coat that's rough and tough enough to do it all. Enter a waxed canvas jacket, made in a variety of silhouettes and with various bells and whistles galore to take on winter weather.
With its versatile looks — sometimes featuring the silhouette of an overshirt, sometimes that of a jacket — it's a must-have. Crucially, it stands up to snow and slush, it's fit to wear outside for weekend exploration, and thanks to its workwear roots, it's rugged and yet refined at the same time.
Try it with a chambray shirt, dark denim and beat-up leather boots, or hit the streets with wool trousers and a classic Oxford for extra protection as you head to work. You can't go wrong with one of the best waxed canvas jackets for men.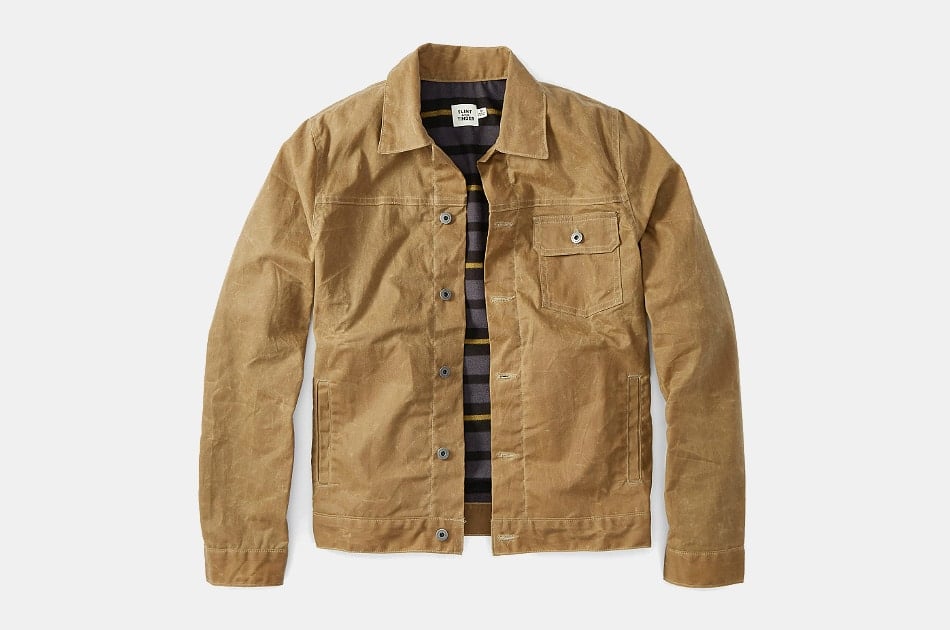 Flint and Tinder Flannel-Lined Waxed Trucker Jacket
Flint and Tinder, quite simply, continues to outfit stylish guys everywhere from head to toe with durable, tough and remarkable gear. The Flannel-Lined Waxed Trucker blends everything for which the brand is known, from a nicely tailored silhouette to quality fabrication (via Martexin sailcloth) and most notably, a new and super-warm blanket stripe lining.
We love the Field Tan colorway the best, ideal for wearing with perfectly broken-in jeans and your favorite henley to, well, your favorite brewery. It's the latest fall must-have, and you won't regret picking it up — to say the very least. Lace up your boots and get to work (or to the bar).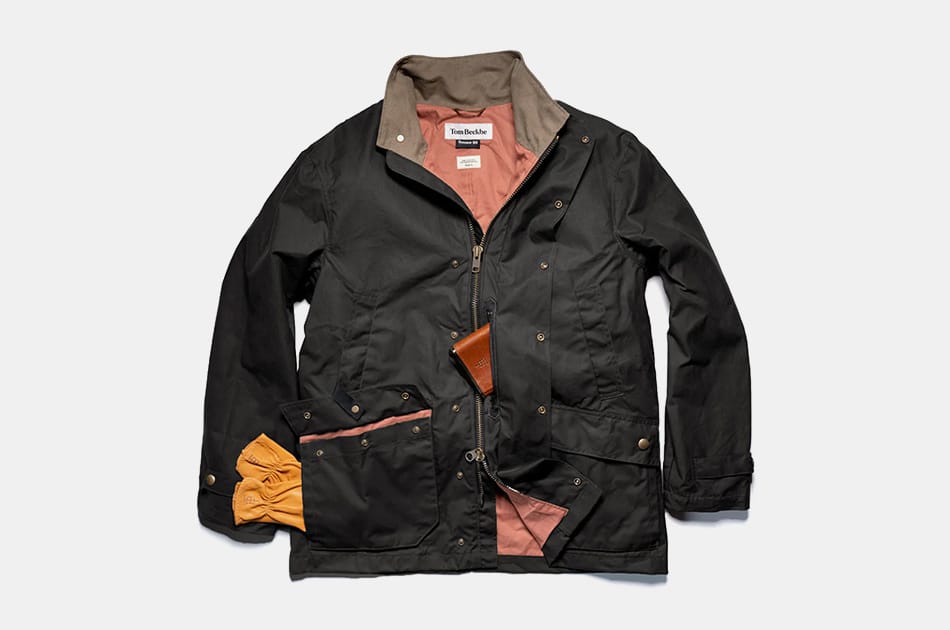 Tom Beckbe Tensaw Jacket
We appreciate a well-stocked rotation of durable, tough and rugged jackets — everything from a waxed cotton field jacket to a sleek moto jacket is fair game in our book. That makes the Tom Beckbe Tensaw Jacket all the more essential, stylish and handsomely designed. It's got an old-school feel to it just from looking at it — the waxed shelter cloth is nearly unlike any other coat on the market, as is the type of design that your father and grandfather might have appreciated.
Not quite good enough? The cotton twill lining is dyed using Alabama red clay, while gusseted underarms and a bi-swing back give you the range of motion you need in the field. 'Tis the season to embark on early morning hikes and hunting trips aplenty — the Tensaw Jacket is the one to get, if that sounds like your ideal fall or winter day.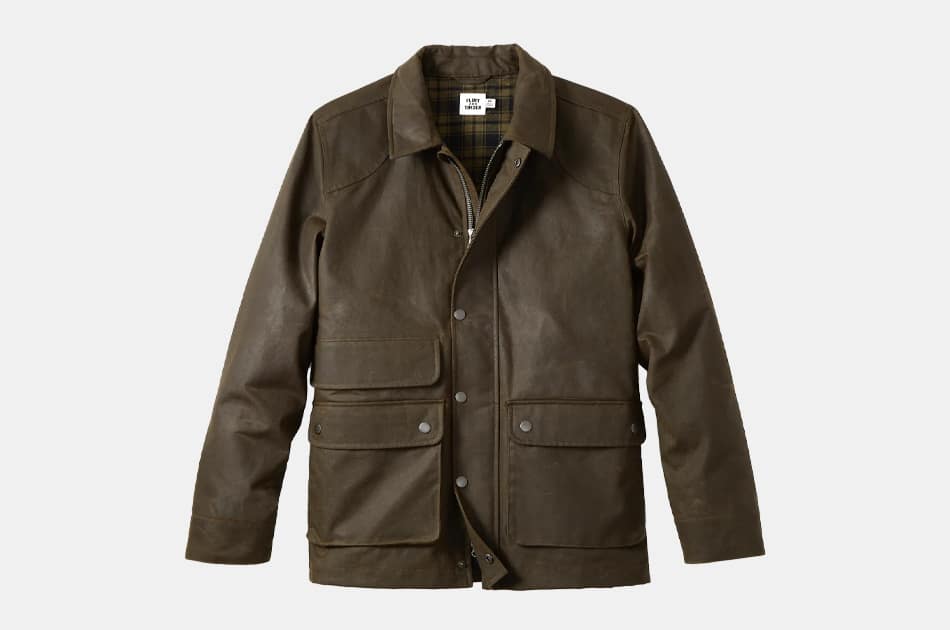 Flint and Tinder Flannel-lined Waxed Hudson Jacket
When you think of waxed jackets at Huckberry, we'd wager you might be thinking of the Flint and Tinder Waxed Trucker Jacket, a stone-cold style staple and a personal favorite of ours. But get ready to add another new Flint and Tinder staple into your rotation with the Flannel-lined Waxed Hudson Jacket, a badass field jacket made from British Millerain fabric in an adventure-ready cut. It's your new favorite fall jacket, without a doubt.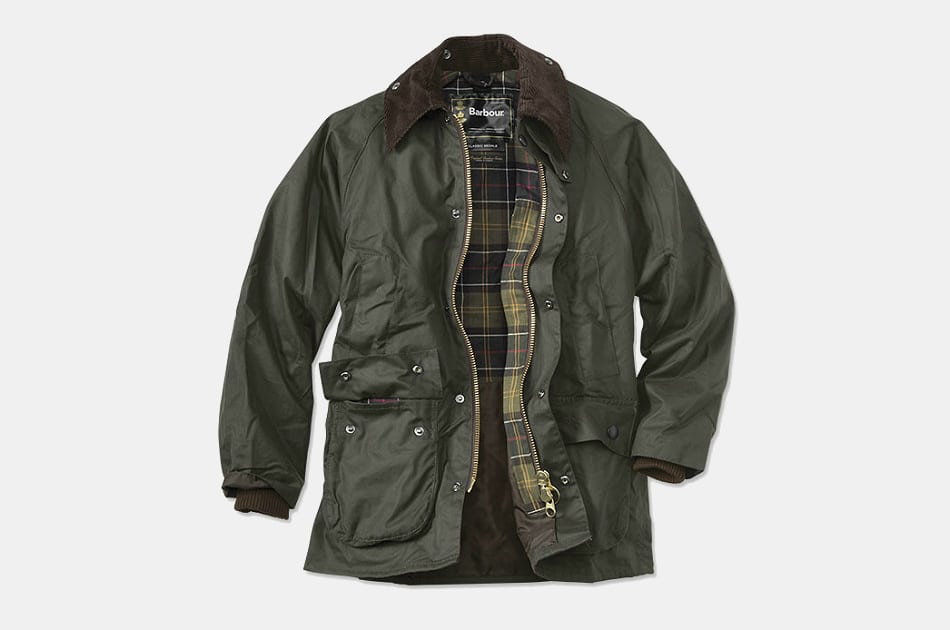 Barbour Bedale Jacket
If there's a jacket that epitomizes the sort of timeless style and rugged appeal that a waxed canvas jacket can bring, it just might be the Bedale Jacket. Barbour's roots and penchant for classic style run deep, and plenty of details on this particular piece are carefully composed.
That goes for instantly recognizable touches, like the corduroy collar and the brand's classic Tartan Cotton lining. Known for its British country appeal, the Bedale Jacket can still go just about anywhere you want it. It's an everyday jacket built with tough functionality and appeal that'll last for decades.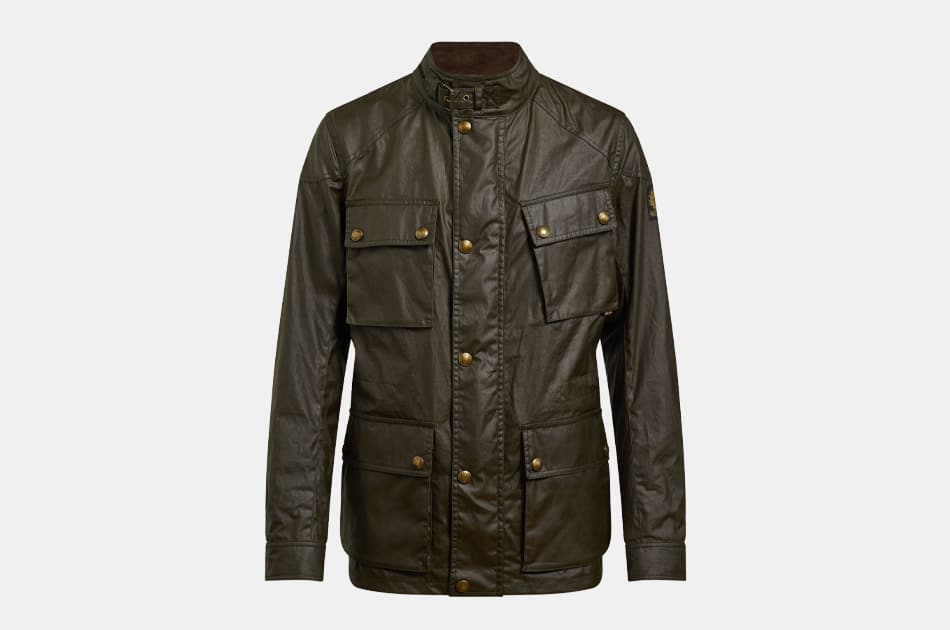 Belstaff Fieldmaster Waxed Jacket
There might be certain brands that spring immediately to mind when you think of a waxed canvas jacket — and assuredly, one would hope that Belstaff is among those brands.
The iconic British heritage outfitter has a long, storied history of making field and road-ready outerwear for the gentleman explorer, and the Fieldmaster Waxed Jacket might just take the cake. We love the richly faded olive color and the go-anywhere durability — you'll have this jacket for years.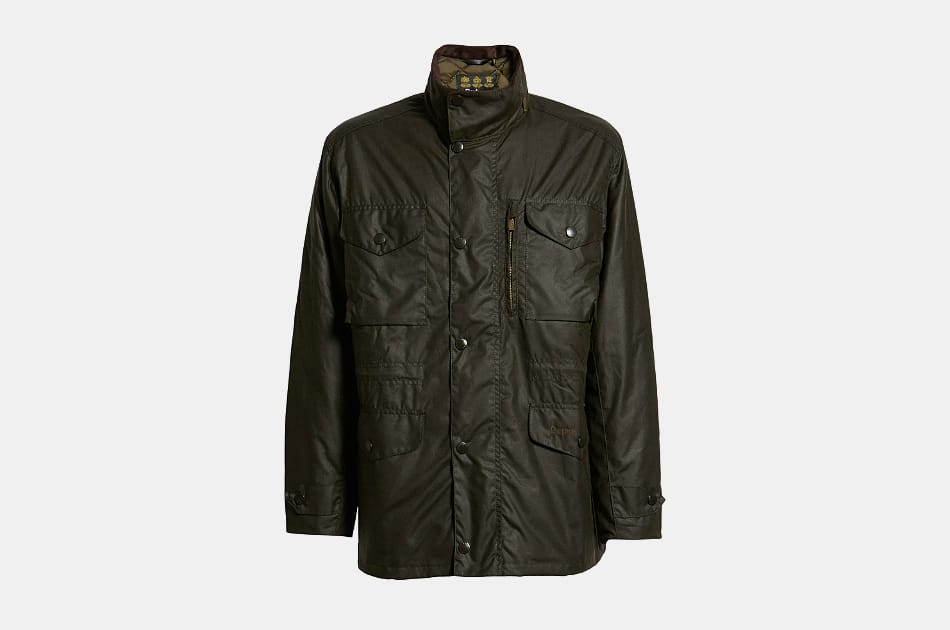 Barbour Sapper Waxed Cotton Jacket
There might not be a brand that does the waxed jacket better than Barbour. With its roots in classic British heritage style and a focus on functionality and classic silhouettes, they're an easy go-to in terms of upgrading your outerwear.
The military-style silhouette calls to mind the version worn by James Bond in his Scottish adventures, and that's a very good thing indeed. With helpful design touches like an inner waist drawcord and plenty of pockets, it's a piece you shouldn't go without this winter — whether you explore the Scottish highlands or not.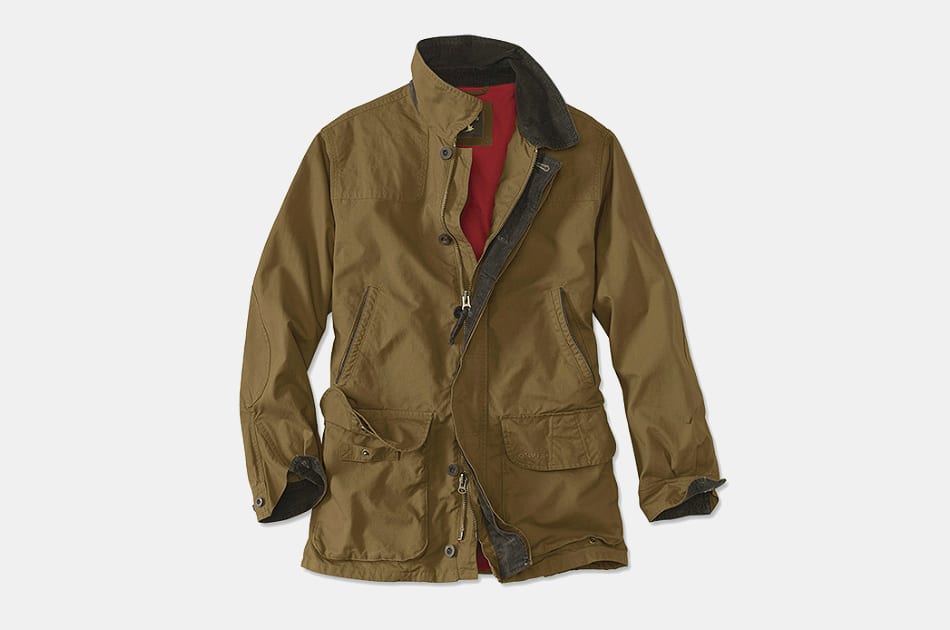 Orvis Heritage Field Coat
They call this piece the Heritage Field Coat for a reason, and one would expect its legendary functionality to stand up to such a name. The waxed cotton exterior can take on both rain and briars — as the brand says — and touches like a corduroy collar provide classic heritage inspiration direct from the field.
As with all great pieces of outerwear, it's likely your grandfather or father wore the same jacket — and they might even have it to this day. That's as great a reason as any to buy it — isn't it?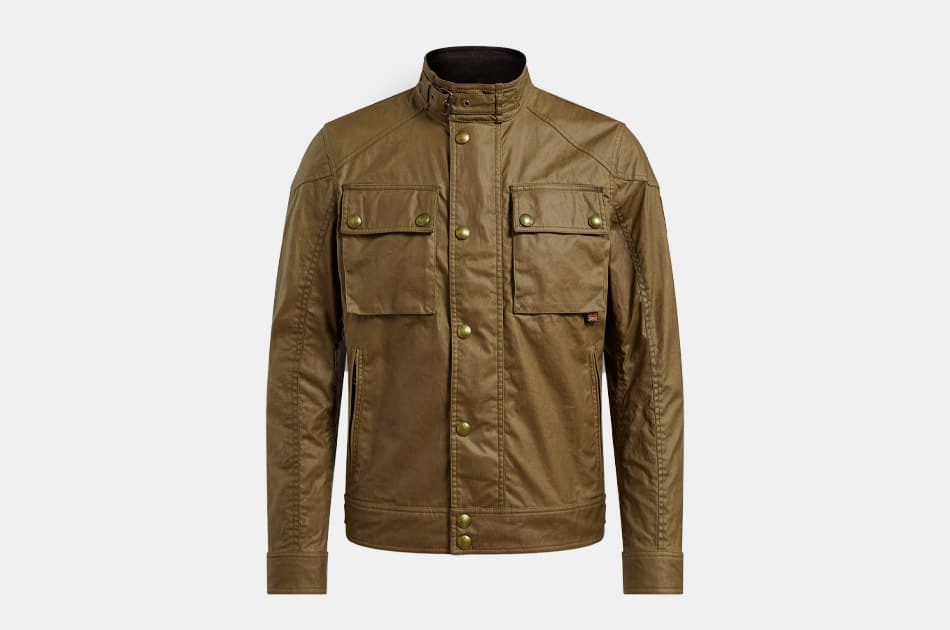 Belstaff Racemaster Waxed Jacket
Although waxed cotton is a treatment that calls to mind vintage style and throwback jackets of days gone by, the best brands are updating the silhouette with a little something extra — a dash of modern, edgy style, at that. The Belstaff Racemaster Waxed Jacket is the sort of speed-inspired, ever-so-slightly edgy jacket to wear when you hit the road (leather moto boots not included, sadly).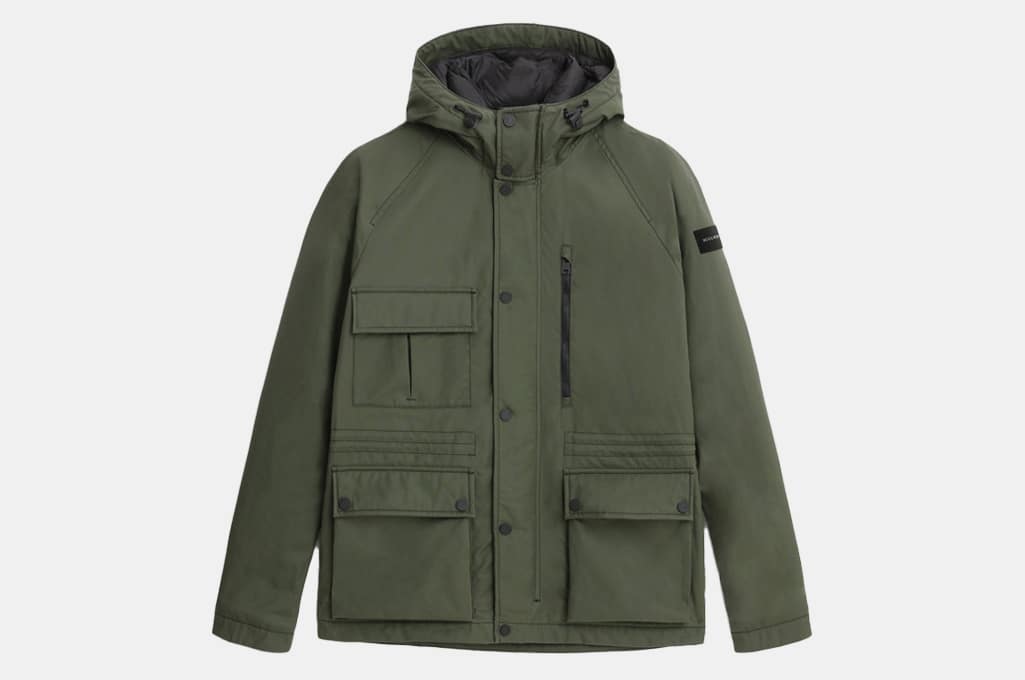 Woolrich Mountain Jacket in British Millerain Waxed Cotton
Woolrich takes you back to the days of mountaineering and adventuring with the Mountain Jacket in British Millerain Waxed Cotton, a garment you'll be glad to wear in any jungle, rainstorm, or storm-tossed boat.
The durable waxed cotton paired with PrimaLoft insulation makes for a marvelously warm outer layer. You'll love how resistant it is to both water and wind, and thanks to the raglan sleeves and snap-flap bellows pockets, it has a handsome, retro look.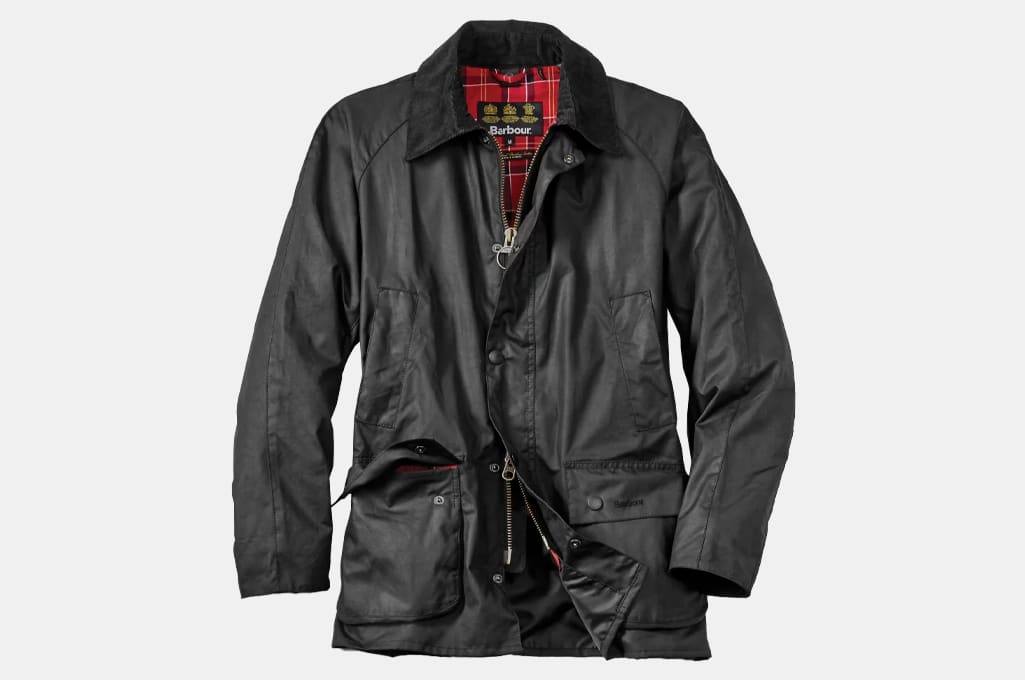 Barbour Ashby Wax Jacket
Barbour offers a jacket unlike any of the others on this list. The Ashby Wax Jacket looks more like classy leather than plain waxed canvas, and it's one of the most versatile outfits you'll ever own.
The mid-weight wax finish, washed corduroy collar, and tartan lining make this warm enough for a day out in the windy countryside or on the highlands, but the jacket is light enough you won't mind carrying it when the sun shines down hot. The collar is even studded in case you want to add Barbour's waxed cotton hood in the colder months.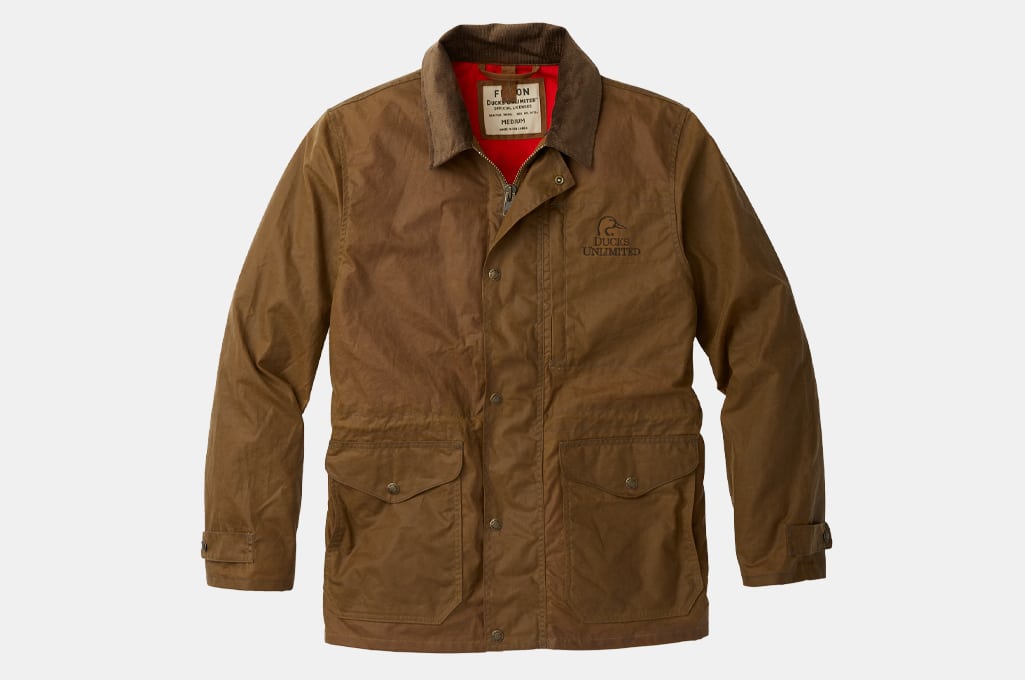 Filson Ducks Unlimited Cover Cloth Mile Marker Coat
The Filson Ducks Unlimited Cover Cloth Mile Marker Coat is a limited-edition item absolutely worth its higher price tag. Designed in collaboration with Ducks Unlimited, the coat is made with an oil-finish waxed cotton canvas that is beautifully rain- and wind-proof, and lined with a special "dry finish" Feather Cloth to keep your torso warm against winter's icy bite.
You'll love how soft the moleskin lining on the collar feels, and how you can adjust both the cuffs and waist to fit it precisely to your physique. It's lightweight, extremely comfortable, and a stylish addition to any man's wardrobe.
Belhaven Dry Waxed Cotton Worker Jacket
For guys who want to keep it ultra-lightweight, the Belhaven Dry Waxed Cotton Worker Jacket delivers on all fronts. It's a sleek, well-designed jacket that keeps things fitted with an adjustable hem drawcord and hook-and-loop cuff closures.
There are multiple pockets that can handle all your EDC gear, but it's based on the classic fishing jacket style, so you know it'll be great when boating or angling. Though it's lightweight, the canvas is densely woven to stop wind and rain, and the dry wax finish makes it both weather-resistant and highly durable.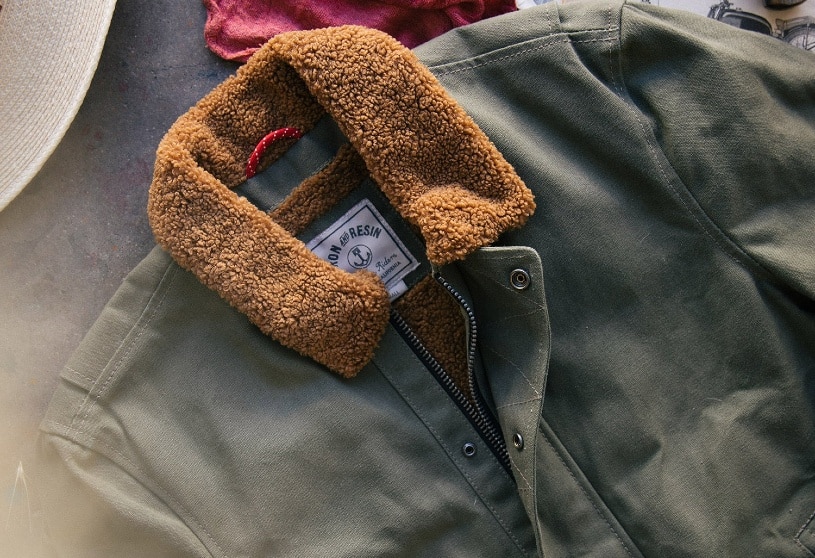 Iron and Resin Waxed Nautilus Jacket
Iron and Resin is a home-grown brand based in California, quickly growing well-known for its attention to detail and precise quality tailoring. The Nautilus Jacket definitely deserves a place on this list, thanks to its sturdy design and amazing comfort. The heavy-duty 14-ounce cotton is perfect for wearing on a work site, mountaineering trip, or cross-country motorbike journey, and the heavy Sherpa fleece interior keeps you toasty warm in even chilly weather.
Thanks to the interior drawstring, you can pull the jacket tight at the waist to both shield your torso from wind and adapt the jacket to your specific build. Styled after the classic 1940s US Navy N1 Deck Jacket, it's a highly reliable jacket you'll never get tired of wearing.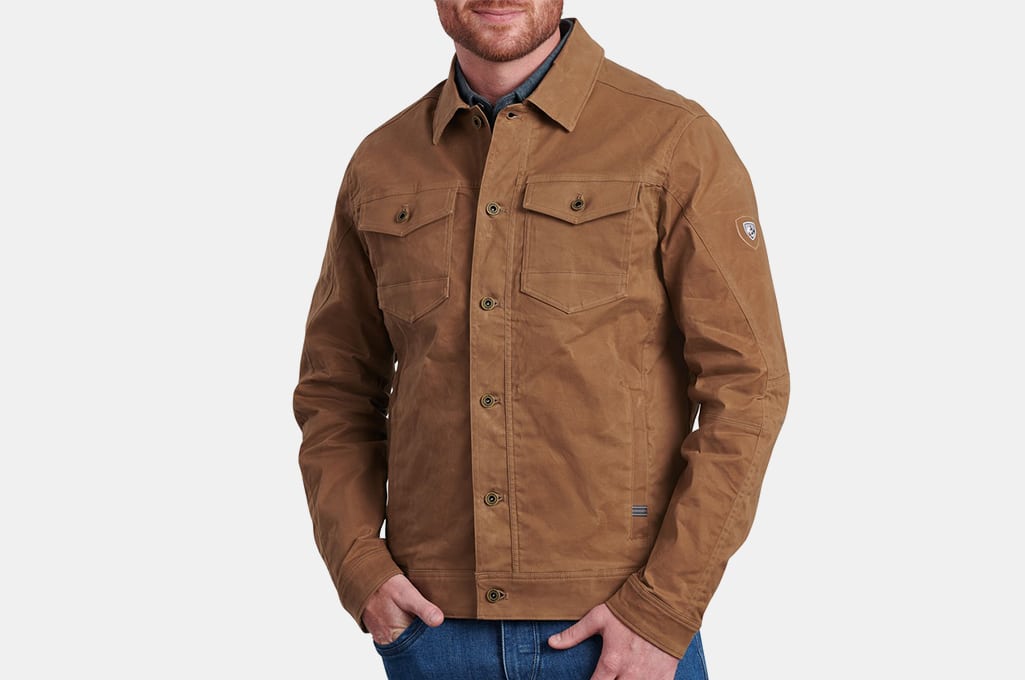 KUHL Outlaw Waxed Jacket
Keep it simple and classy with the KUHL Outlaw Waxed Jacket. It's cut in the trucker style, made using super-tough cotton with just a touch of Spandex to add elasticity, and lined with a blend of cotton and polyester flannel that will keep it lightweight but add moisture-wicking and quick-drying properties.
The coat will just get more beautiful with age, and the waxed exterior will soften the more you wear it—until it feels like your favorite coat in no time. For the months when it gets truly cold, you'll find the thick interior lining (including polyester inside the sleeves) will do an amazing job of keeping out winter's fierce bite.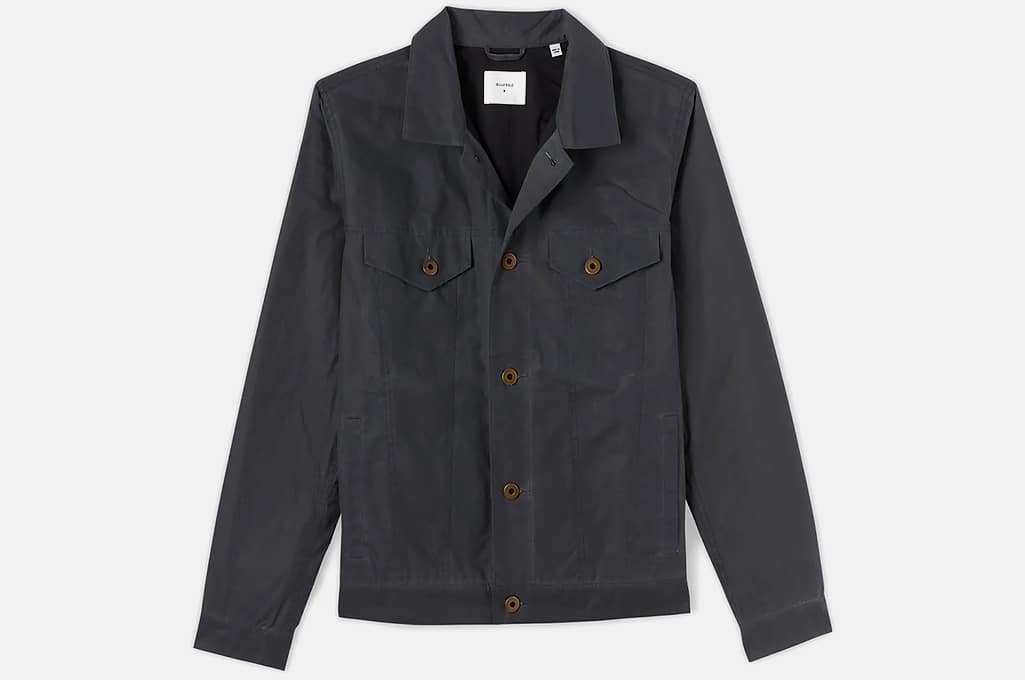 Billy Reid Waxed Trucker Jacket
This Billy Reid Waxed Trucker Jacket is just the style upgrade your practical, working man's daily wardrobe needs. Made using fine Scottish waxed canvas, sourced from renowned producer Halley Stevensons, it's built tough enough to shrug off rain, snow, and stains while still being comfortable to wear while driving a truck or tractor all day long.
The interior lining is a blend of cotton and polyester that adds a bit of flexibility and extra insulation to keep out the chill. Add to that a few stylish details—including Billy Reid's signature ribbon stripe and antique brass snaps—and it's a truly handsome jacket you'll be proud to wear year after year.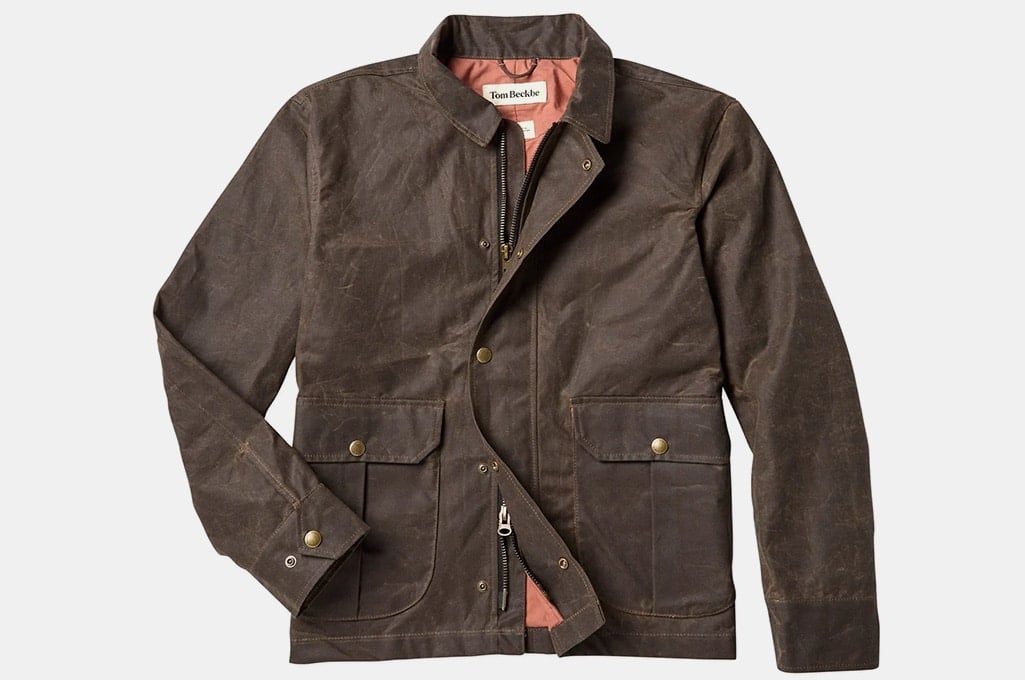 Tom Beckbe Shallowford Jacket
Tom Beckbe brings a wonderfully hard-wearing jacket to your closet. The Shallowford Jacket is made using eight-ounce midweight canvas, which is both weatherproof and water-resistant, capable of handling temperatures below 50F. The classic fit makes it comfortable whether you're sitting down or working hard, and the gusseted underarms give you excellent freedom of mobility to swing an axe or work a wrench.
The longer you wear it, the more the wax will develop a unique patina that makes it "all you", and the pop of color from the interior cotton lining (inspired by Alabama red clay) will complete your style to perfection.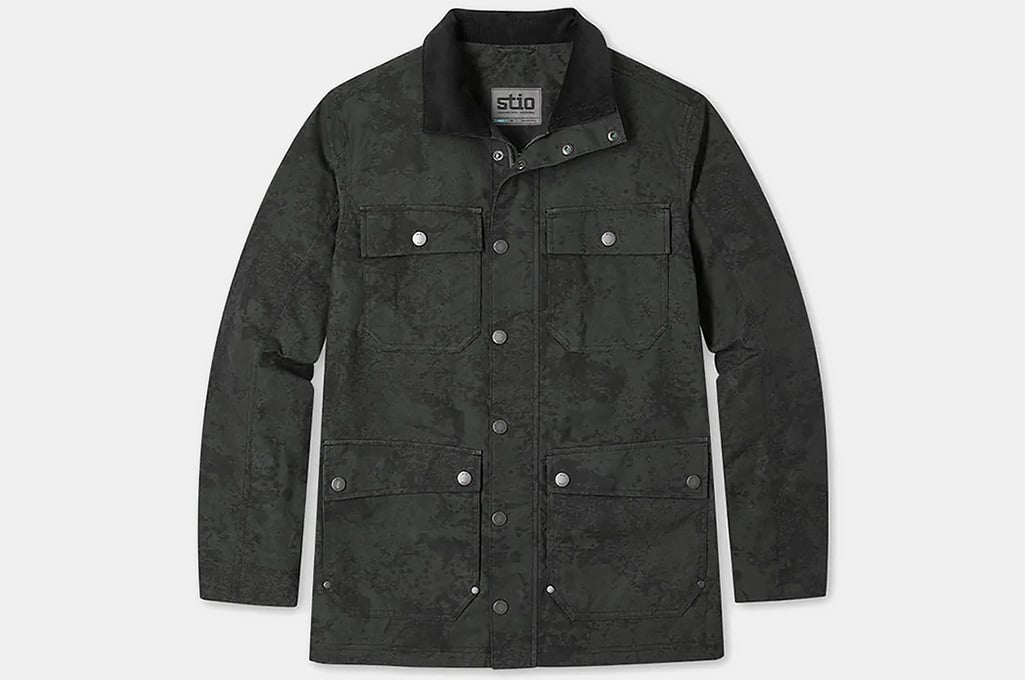 Stio Turnbolt Waxed Canvas Jacket
It doesn't matter if you're putting on tire chains, baling hay, or framing a house—the Stio Turnbolt Waxed Canvas Jacket is built tough enough to handle it all. The waxed cotton canvas is sourced from Halley Stevensons, the renowned producer and "leading expert" on waxed fabrics for over 150 years, so you know it's durable, reliable, and beautiful.
The waxed finish is water-resistant enough that you can use it even in the rainy spring and chilly fall, but it's got excellent breathability to keep you cool when the weather starts to warm up. Thanks to its ample pockets, both interior and exterior, you've got space enough for all your EDC essentials. Stay warm and look cool in this bad boy.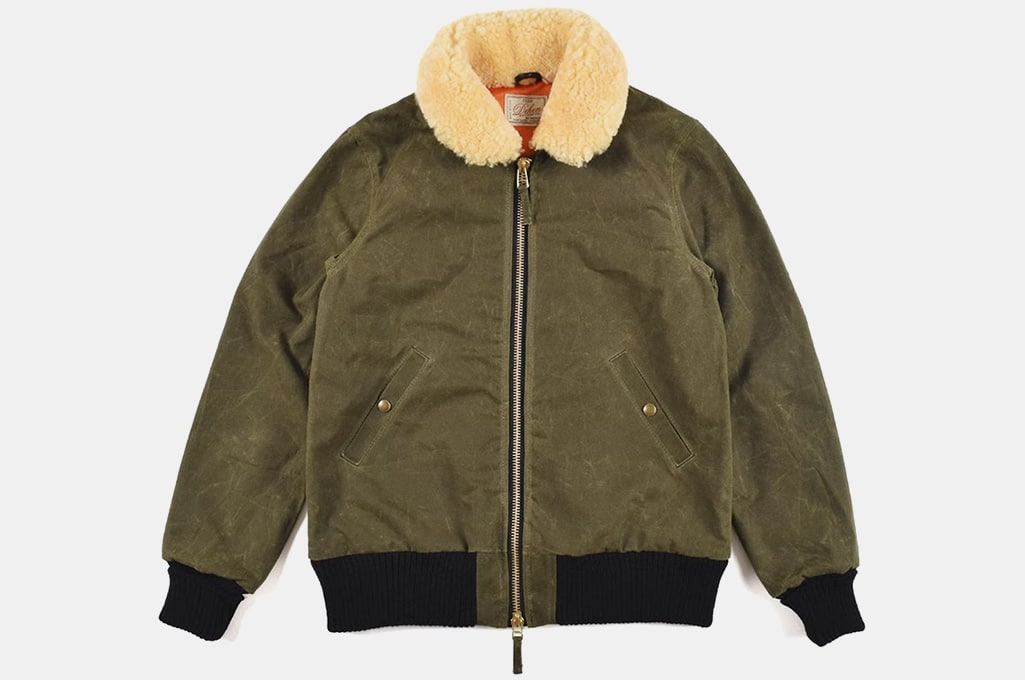 Dehen 1920 Flyer's Waxed Canvas Bomber Jacket
For those chilly days when you want a top layer to keep out the cold and wet, look no farther than the Dehen 1920 Flyer's Waxed Canvas Bomber Jacket. This bomber jacket comes with a collar made from genuine mouton sheepskin, a neck tab closure, and an interior lining that is both beautifully warm and a bright orange to ensure you're safer on the job site or farm in low-light conditions.
The ten-ounce waxed canvas is beautifully tough, and the jacket feels heavyweight enough to be used for both work and casual wear. Best of all, it's cut in the classic WWII flight jacket style, inspired by the military service of Dehen's founder.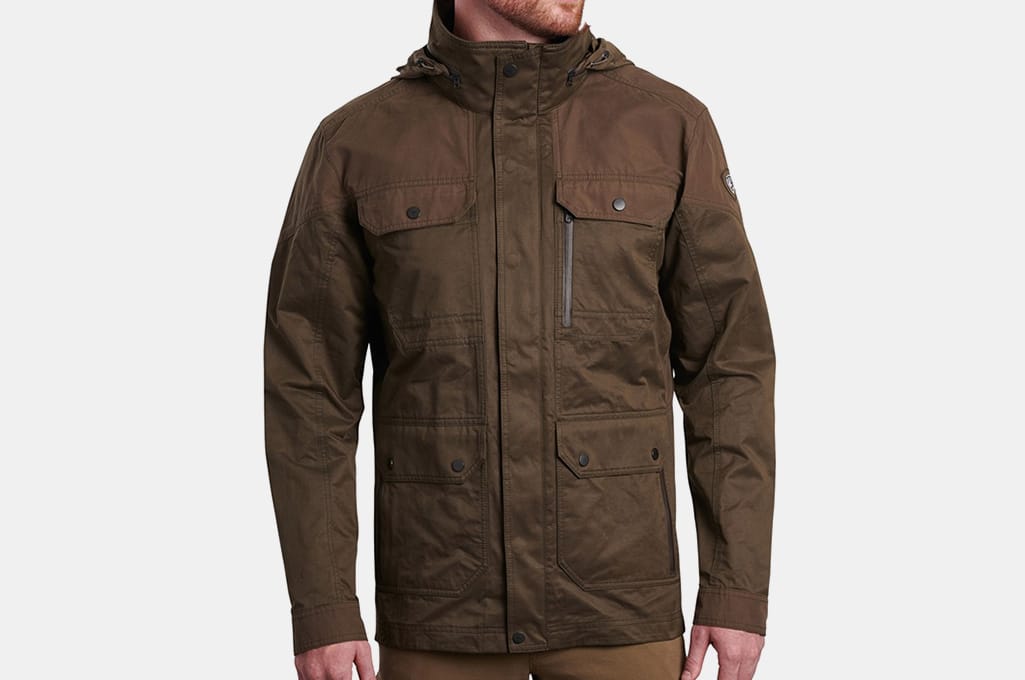 KÜHL KOLLUSION Jacket
Take this jacket camping, hiking, trekking, or fishing, and you'll be glad you did. The KÜHL KOLLUSION jacket is made using an exterior waxed canvas shell that combines cotton with polyester and nylon, making it both more versatile and tougher than pure cotton canvas. On top of that, it's got an inner lining of synthetic fabrics that offers good insulation while also flexing and moving easily with your upper body.
The jacket even comes with its own hood, which can be stowed into the zippered collar. Thanks to its seven interior and exterior pockets, you can keep your hands warm, your EDC items close at hand, and your most-utilized tools within easy reach. It's all the protection from wind and water you'll need.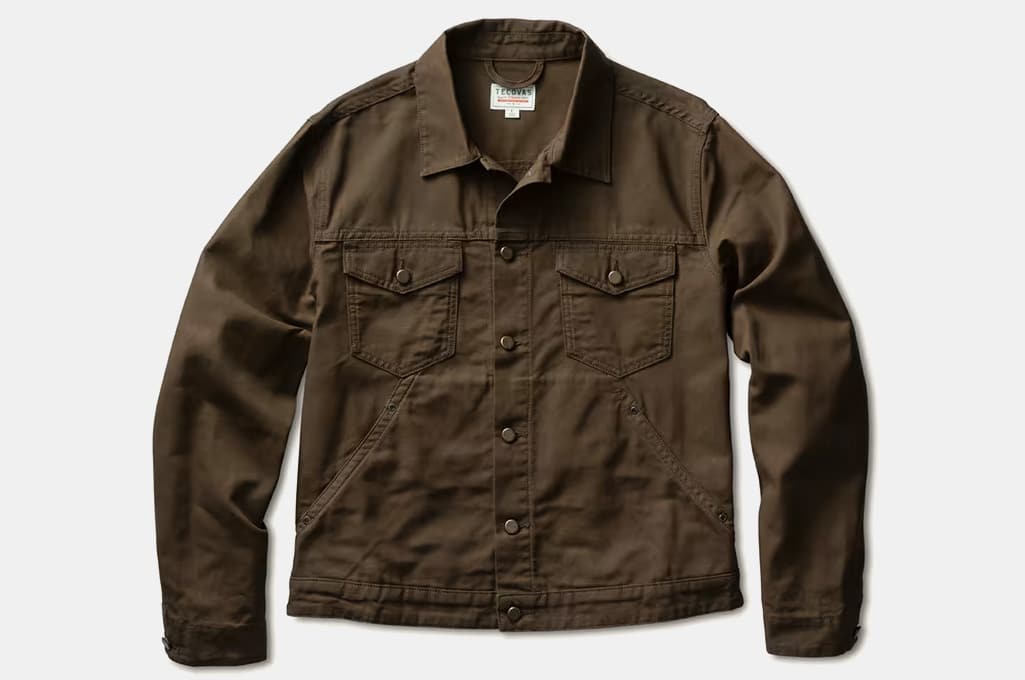 Tecovas Waxed Canvas Trucker Jacket
If you want a lighter-weight jacket to keep out the wind without weighing you down, you'll love the Tecovas Waxed Canvas Trucker Jacket. Though it's built from sturdy waxed cotton canvas, it's lightweight enough that it'll feel almost like a shirt jacket, without all that extra bulk of the heavier-weight jackets on our list.
The lack of lining gives you greater freedom of mobility, though you won't have as much protection against the cold. However, thanks to its classic cut and timeless style, it's a coat you'll be glad to wear year after year.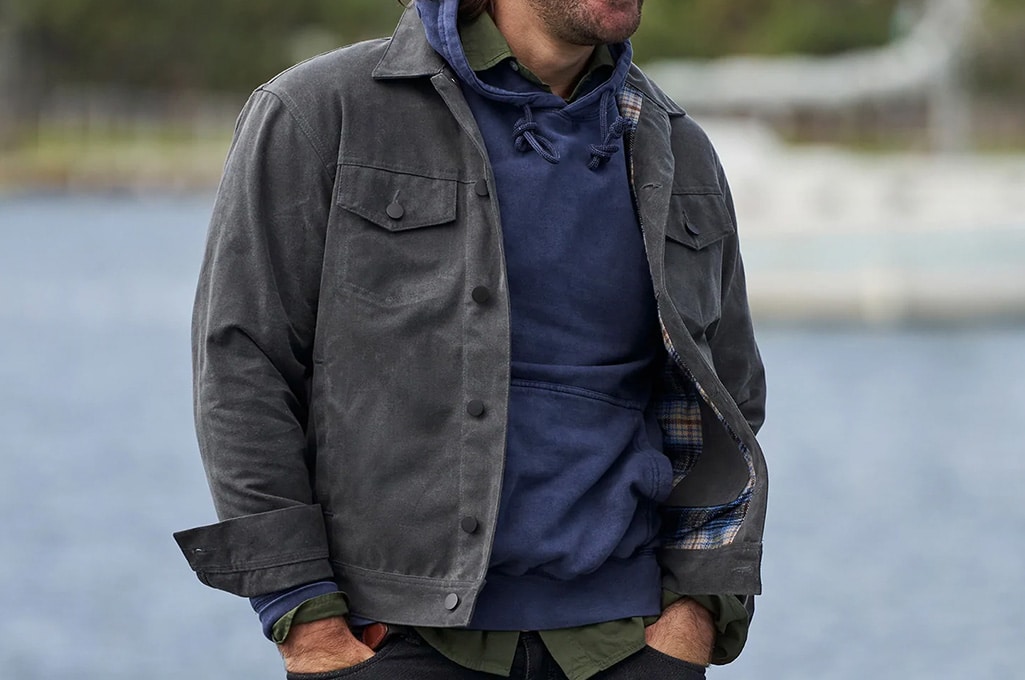 Nantucket Whaler Cruiser Jacket
From early spring to late fall, the Nantucket Whaler Cruiser Jacket is sure to be your go-to outer layer. Built using a heavyweight cotton canvas, it's got a thick layer of wax that will shrug off scuffs and stains as easily as it resists wind and rain. On the really chilly days, you'll be glad for the cozy flannel interior lining, which traps heat near your body while the canvas exterior keeps out the wind.
In addition to the standard side pockets, you've got two breast flap pockets and an interior chest pocket for your most important EDC items, and you can trust that the pockets will keep your essentials safe and dry. And no one can ever argue that it's not a truly stylish and good-looking coat, either.
Updated on 1/25/2023.
Disclosure: Clicking on these links and making a purchase may earn us a small referral fee, at no extra cost to you. Learn more here.
freestar.config.enabled_slots.push({ placementName: "gearmoose_leaderboard_btf", slotId: "gearmoose_leaderboard_btf" });