15 Best Men's Hiking Shoes
When you put on a pair of the best hiking shoes, you can feel the difference almost instantly — and particularly when you actually hit the trail and put some serious miles on 'em. Hiking shoes are no longer reserved for the overly technical crowd — even less skilled hikers can find an entry-level pair of durable, comfortable, functional hiking shoes set to take on any outdoor challenge this spring and summer (and of course, beyond that). Our favorite hiking shoes combine good looks and a surprisingly sleek profile with added details like extra cushioning and rebound, all the better to take on hike after hike … after hike.
The best hiking shoes on the market also tackle a pursuit that was commonly the province off-duty shoes — that is to say, some hiking shoes actually look great, in addition to serving a higher calling in terms of functionality. In fact, men's hiking shoes these days have more in common with lightweight, performance-ready sneakers than hiking shoes or boots of days gone by. Heritage brands like Danner and athletic brands like Adidas are even getting in on the fun with new iterations of classic models. Get the full scoop below, then get ready to tackle any hike you please this season.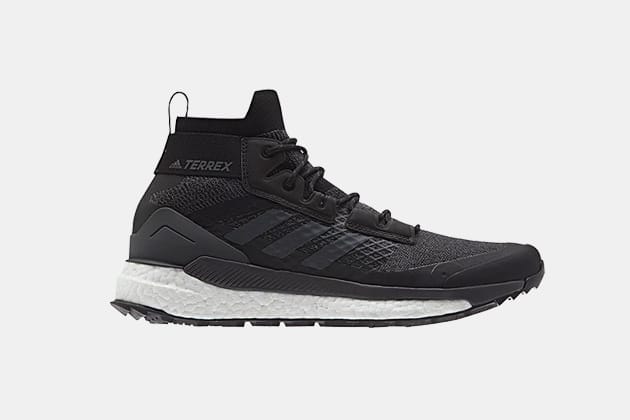 Adidas Terrex Free Hiker
We mentioned before that the best men's hiking shoes share plenty of DNA with your favorite sneakers — and that's because the makers of your favorite pair of sneakers are now trying their hand at durable, lightweight, outrageously comfortable hiking shoes like the Adidas Terrex Free Hiker. It starts with the Primeknit upper for a light weight and easy flexibility, and it carries through with abrasion-resistant upper reinforcements and a surprisingly rugged treaded outsole. Get a pair in a minimal black-and-white color combo, then wear them with your favorite hiking gear. – Shop Now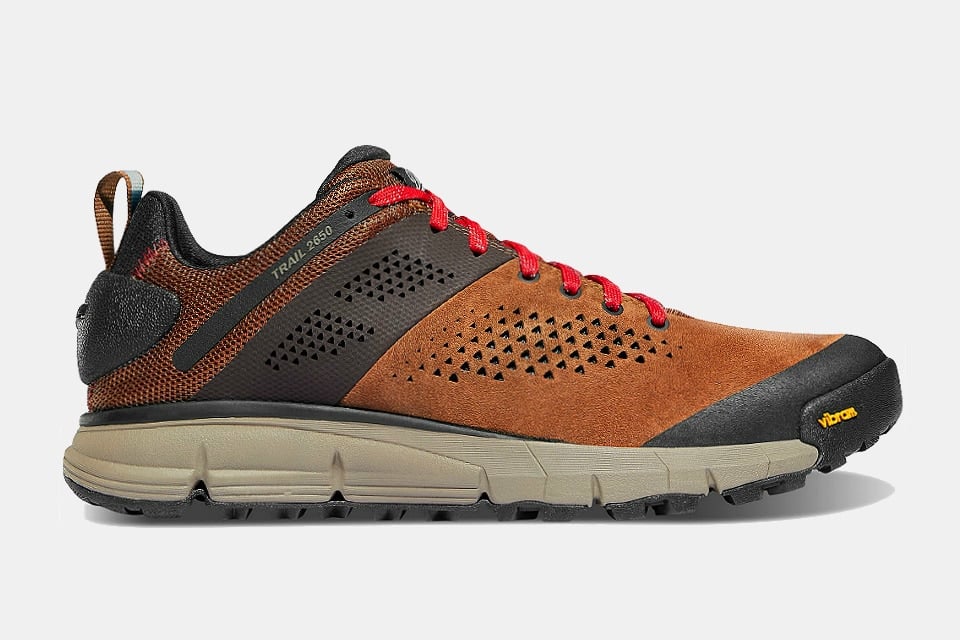 Danner Trail 2650
With classic touches like the DNA of old-school hikers a la the red laces and brown upper, the Danner Trail 2650 is as fine a take on the modern hiking shoe as we've seen. It's all the more remarkable when you consider it's coming from a heritage brand that makes tough-as-nails work boots, but the Trail 2650 features an exterior heel counter for greater ease of movement, plus a lightweight leather and textile upper. Wear them as often as possible whenever you feel like putting in serious miles on (or off) the trail. – Shop Now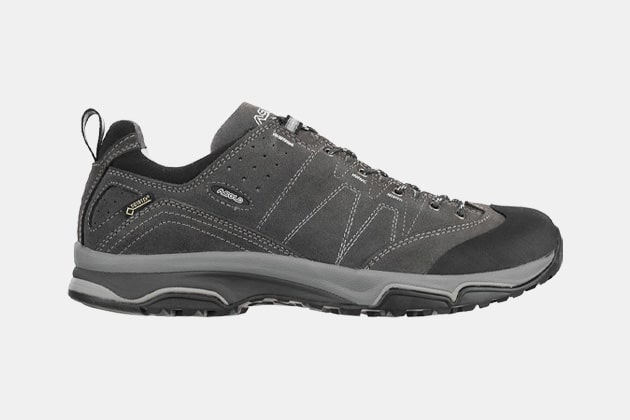 Asolo Agent Evo GV Hiking Shoe
The thing with the best men's hiking shoes is that they needn't be overly clunky or chunky in terms of their silhouette and construction — and the Asolog Agent Evo GV Hiking Shoes prove that handily. For rainy, blustery days, the Gore-Tex lining should prove very helpful, and a Vibram sole sits among the best in the business at providing comfort and durability all day long. The no-frills black color means these are less about fashion and more about function, but we've got no problems with that. – Shop Now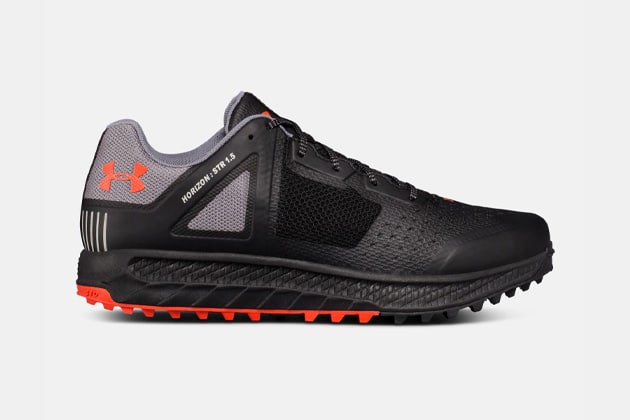 Under Armour Horizon STR 1.5 Hiking Shoes
If you typically think of basketball shoes worn by icons like Steph Curry when you think of Under Armour, we'll forgive you. But if you want a pair of the best men's hiking shoes to add some depth to your footwear collection for weekend adventures, you'd do very well to look past the brand's basketball offerings toward the STR 1.5 Hiking Shoes. The rubber lug outsole adds tons of traction, while an EVA midsole gives you all the comfort you expect — and need. – Shop Now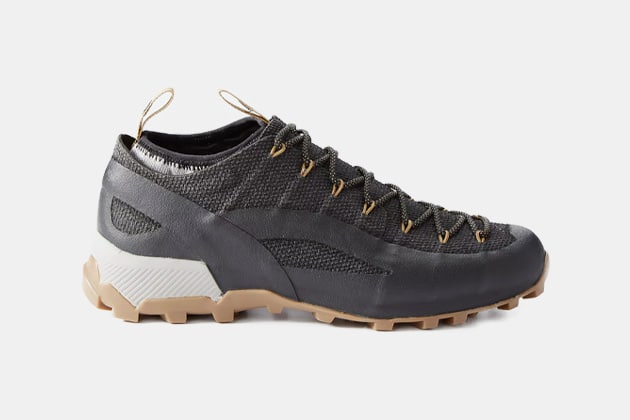 Naglev Unico Hiker
If at first you're struck by the unique look of the Naglev Unico Hikers, perhaps you'll be pleased to know that they deliver reliable performance and comfort despite looking different than other shoes on this list. Not that those unique looks are a bad thing — the silhouette is indicative of technical function through speed cable laces and a tough-as-heck one-piece Kevlar upper (yes, Kevlar). These can take on any hike you throw at 'em without missing a beat. – Shop Now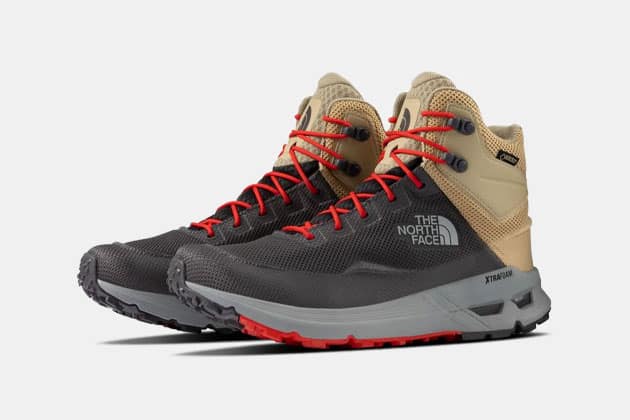 The North Face Safien Mid GTX Hiking Shoes
The North Face has you covered when it comes to tough-as-heck outerwear that's made to last brutal conditions season after season — but what about on the footwear front? Rest assured that they've got you covered there, too. The Safien Mid GTX Hiking Shoes have earned their place on our list of the best men's hiking shoes for good reason, seeing as they feature a proprietary outsole system and a terrific shock-absorbing midsole. – Shop Now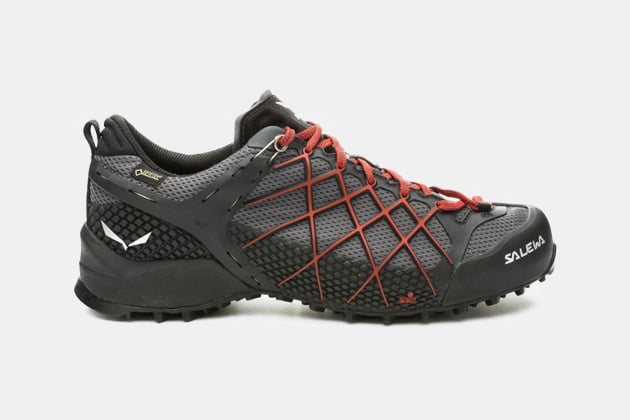 Salewa Wildfire GTX Approach Shoes
Hiking shoes needn't be overly bulky or cumbersome — as a matter of fact, some of our favorite hiking shoes boast a low profile, to go along with surprisingly tough and rugged construction and functionality. The Salewa Wildfire GTX Approach Shoes feature a waterproof Gore-Tex lining and a breathable mesh upper that's placed over a unique injected 3D cage. The result is a pair of surprisingly affordable, highly functional hiking shoes to conquer any summit this season. – Shop Now
Salomon X Ultra 3 GTX
Salomon says its X Ultra 3 GTX is "easy on the way up, even better on the way down," and if it that sounds like a pair of hiking boots that's simply too comfortable and too good to be true, well, join the club. That's what a first glance might tell you, but knowing Salomon's penchant for high-performing gear, it's very likely no bull. The X Ultra 3 GTX features a quick-lacing system for top-notch stability as you race up (and down) the mountain. Tackle it all with these tough hiking shoes. – Shop Now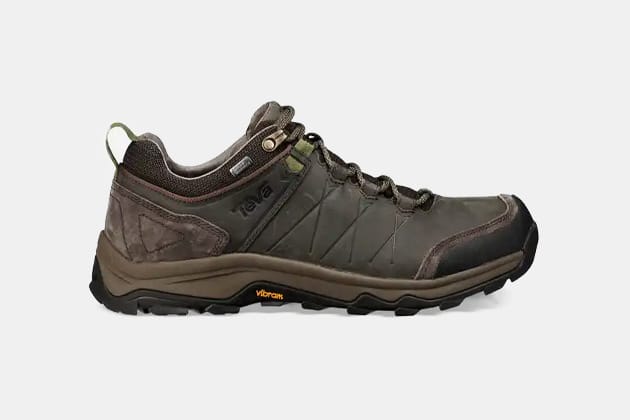 Teva Arrowood Riva Waterproof Shoes
Perhaps you've got a pair of laidback, festival-friendly Teva sandals in your rotation, but we'd wager you might not have a pair of the brand's hiking shoes — a worthy addition to your list of gear for your next off-trail trip, at that. The Arrowood Riva, as the title indicates, are in fact waterproof, but that's just the start of a long list of standout technical specs. A rubberized toe cap adds value and a bit of tough appeal, while the leather upper should get better with age. – Shop Now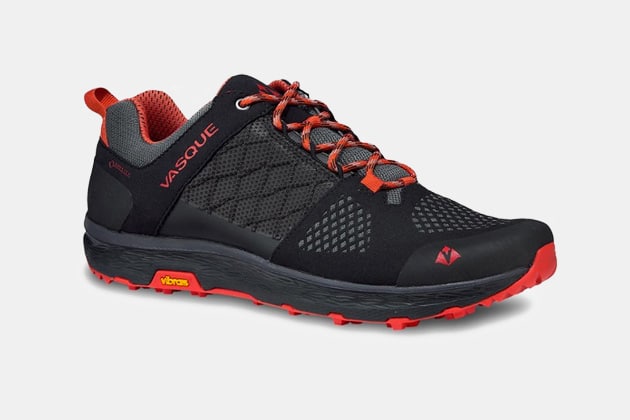 Vasque Breeze LT Low GTX Hiking Shoes
The Breeze is a surprisingly effective name for the remarkably lightweight Vasque hiking shoes seen here. With a profile more befitting of a spring sneaker, it's no wonder that the Vasque Breeze Low has plenty going for it. A microfiber mesh upper makes all the difference when compared to heavier leather boots, while a breathable Gore-Tex membrane keeps your feet dry on muddy trails. There's nothing worse than hiking boots that provide no support, and yet the Vasque Breeze also offer plenty of rebound and cushion. – Shop Now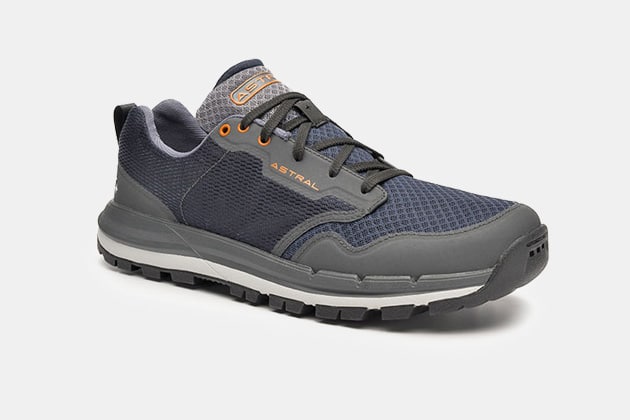 Astral Mesh Hiking Shoes
Astral makes remarkable, technically savvy gear with the best of them — and for easy pairing with your versatile Tech Chambray Shirt or waxed field coat, there's no better shoe we can think of than the Astral Mesh Hiking Shoes, available for sale today at Orvis. The proprietary outsole and ripstop mesh upper means these will last well beyond just one season — in short, they sound like your new favorite hiking shoes. – Shop Now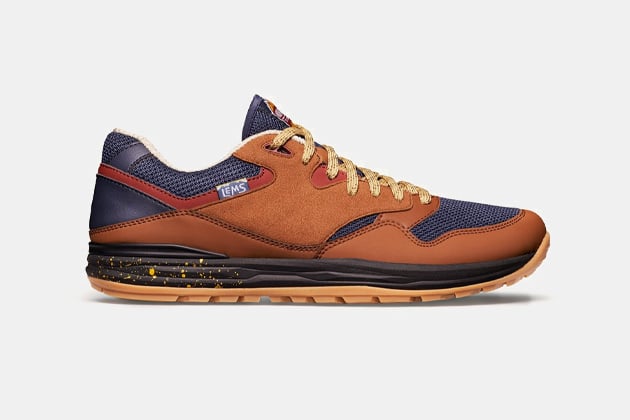 Lems Trailhead Hiking Shoes
You might know Lems for the brand's packable, easy-to-wear lace-up boots (which we certainly love and appreciate), but did you know the brand makes a pair of equally mobile, versatile and tough hiking shoes? Some of the best hiking shoes for men, in fact. We're talking, of course, about the Trailhead Hiking Shoes, made with lightweight air mesh on the upper and featuring what the brand calls a "mountain-to-town" outsole. That's a design approach we can get behind. – Shop Now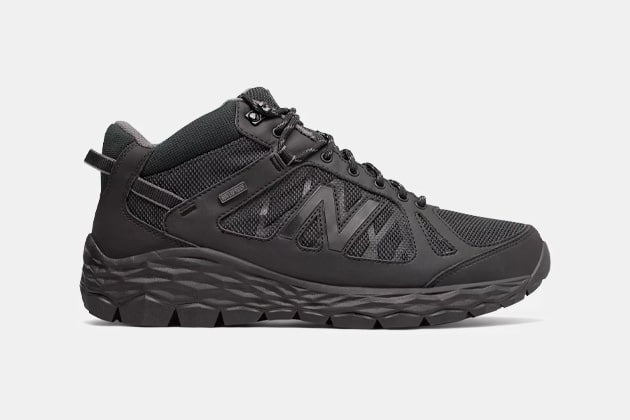 New Balance 1450
As we've said throughout this survey of the best men's hiking shoes, we're all for footwear companies taking their expertise and turning it into something great — and unexpected. Take the New Balance 1450, yet another hiking shoe offering from a lauded sneaker brand that you need in your closet right now. The 1450 teams a unique, strikingly rich Brown colorway with hits of grey and a cushioned foam midsole, all the better to keep your feet comfortable for hours on end — go ahead and stay out on the trail for a bit longer when wearing these. – Shop Now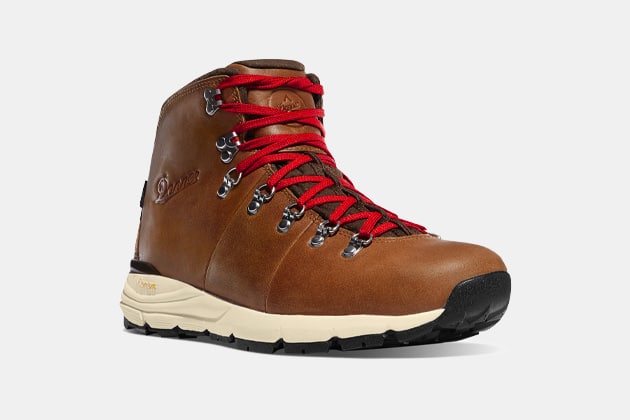 Danner Mountain 600
Take one look at the Danner Mountain 600, and it should be pretty clear that you're looking at a pair of the best men's hiking shoes, easily. They're another innovative silhouette from a brand that's long been one of our favorites — they should be a favorite brand of yours, too. The Mountain 600 is the perfect transitional hiking shoe, featuring a Vibram Fuga outsole and MegaGrip rubber technology. Retro color schemes and an easy-to-wear fit set these apart, too. – Shop Now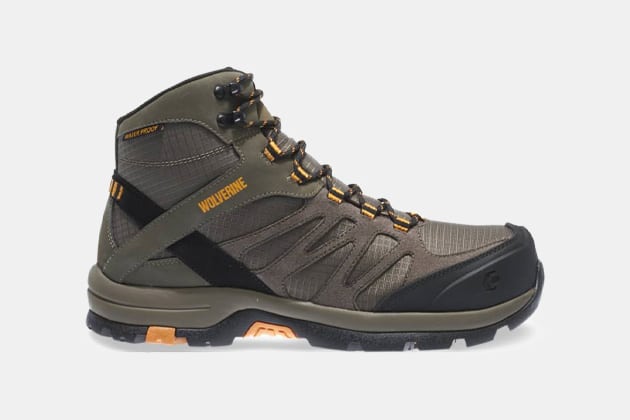 Wolverine Fletcher Waterproof Carbonmax Hiking Boot
If you're anything like us, you're lusting after Wolverine's standout casual boots, such as the remarkable 1000 Mile line — but what about the brand's more functionally minded hiking boots? For just over $100, you get standout durability and toughness that one expects from Wolverine, to go along with a useful CarbonMax safety toe. These hiking boots have it all covered, and then some. – Shop Now
Disclosure: Clicking on these links and making a purchase may earn us a small referral fee, at no extra cost to you. Learn more here.