20 Best Men's Long Sleeve Henleys
Quick, name the rugged layering essential you can't live without this winter. If you named the classic men's henley, you're spot-on — and you're absolutely going to enjoy today's post. The best men's long-sleeve henleys simply represent nothing less than the most critical base layer you can wear this season — with an added dash of serious style points thrown in for good measure.
We love the henley for its classic sporting roots — worn by rowers in years past and favored by rugged outdoorsmen and modern city guys alike these days. From the visually interesting button placket to the use of both innovative and cozy fabrics — like thermal knits and organic cotton — the best men's henleys truly have a little something for everyone. We think you should wear one of these rugged henleys as part of the rest of your winter style essentials:
So, beneath a classic chambray shirt alongside tough chore pants for snowy days (just add in a waxed parka). And the ideal thing about your new favorite base layer — again, likely coming from our list below — is the versatility. The henley lends a rugged edge to even tailored ensembles, like a wool herringbone suit and sleek leather boots. Try it out sometime. Keep in mind, to make one of the best men's long sleeve henleys work for you … you've got to buy it first. Read on and good luck.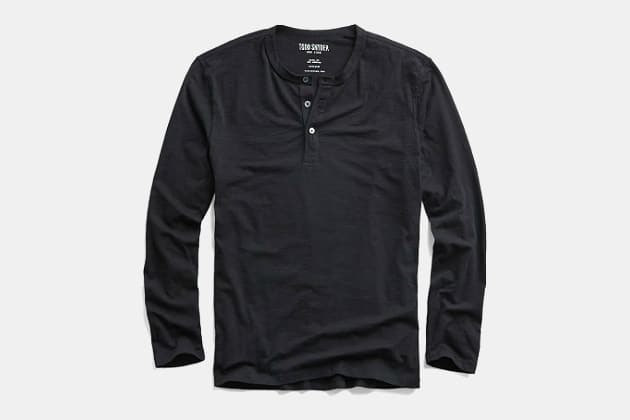 Todd Snyder Made In L.A. Long Sleeve Henley
By now, you know the rugged, heritage-inspired style that one of our favorite menswear designers, Todd Snyder, brings to the table. It should come as no surprise at all, then, that he's lent that expertise to one of the oldest sportswear staples in the book, and he's done it using coveted Los Angeles production. The city is now a hub for those who want to make accessible goods the right way — and this long-sleeve henley is further evidence of that. Simply pair it up with the brand's perfectly faded L..A-made denim and add leather moc toe boots for ideal off-duty style for every single winter weekend. – Shop Now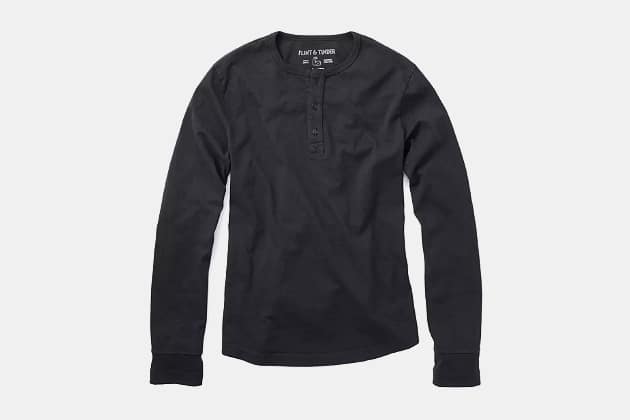 Flint and Tinder Heavyweight Henley
When you resolve to pick up one of the best men's henleys, you're resolving not to settle at all — it's all the better that the Flint and Tinder Heavyweight Henley is menswear's version of the complete opposite of settling. Made from heavyweight carded cotton that's then crafted into a durable and stylish henley, you're getting all the hallmarks of Flint and Tinder gear, from a tailored fit to a variety of color options and the ability to be worn handsomely with the brand's crisply cut denim and tough waxed trucker jackets. – Shop Now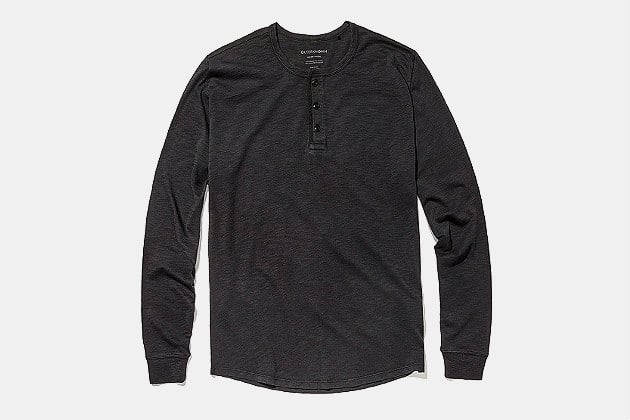 Outerknown Trails Henley
Add sustainable fabric to stylish design and what do you get? Virtually any piece of gear from Outerknown, but particularly pieces like the Trails Henley, a worthwhile addition to your cold-weather wardrobe. Throw in the fact that the collar is reinforced — more durability after repeated washes — and you've got a long-lasting henley that's great for the environment, thanks to the use of organic cotton. Wear it with the brand's new, equally sustainable denim. – Shop Now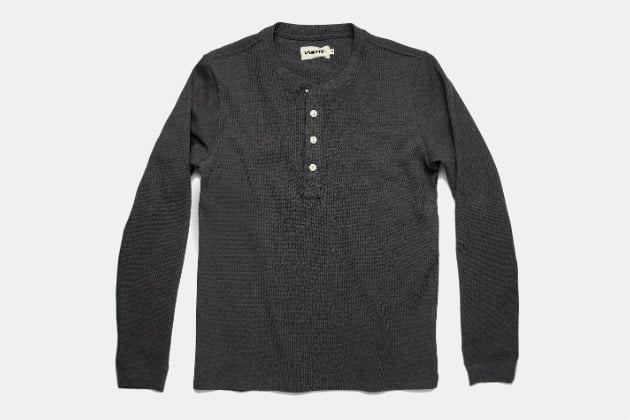 Taylor Stitch Heavy Bag Waffle Henley
There are regular henleys, made what you might call the "normal" way, and then there's the Taylor Stitch Heavy Bag Waffle Henley, made … well, the Taylor Stitch way. That means the brand uses a comfortable, exceedingly warm blend of upcycled cotton and recycled polyester, then constructs it in a thick and warm waffle knit. Cat's eye buttons and fully taped shoulder seams set this thing apart from the pack, too. It's perfect for a chilly upstate weekend. – Shop Now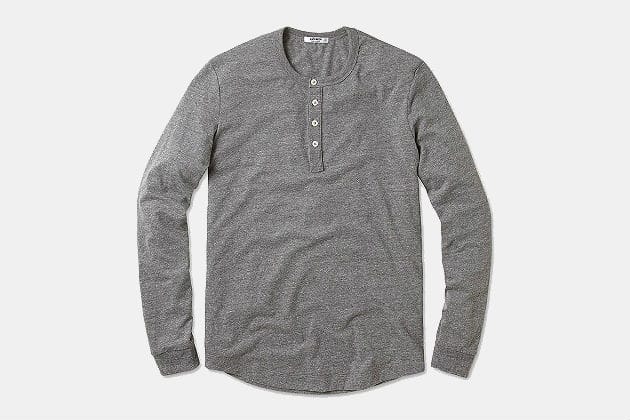 Buck Mason Curved Hem Henley
The smallest design details can separate the wheat from the chaff when it comes to the best men's henleys — trust us, we've worn and tested a bunch over the years. And from experience, Buck Mason makes some of the very best, helped along by details like the curved hem shown above. That's a visually interesting touch that makes this rugged henley all the more able to be worn on its own with slim black denim — or with one of the brand's stellar moto jackets. We like the rich Port color for its ability to pair with a sharp blue chambray shirt and tan chinos. – Shop Now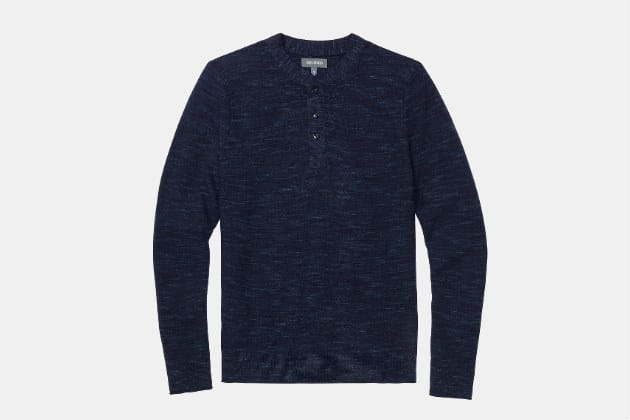 Bonobos Merino Henley
In some cases, it's the use of stellar fabric that elevates a henley onto a rarified list of the best men's henleys, and that's what Bonobos has done here with this merino henley. From the textured stitching to the use of that excellent 100 percent merino fabric, this henley is as dressy as it gets, able to be worn with one of the brand's handsome flannel suits — yes, you can wear a henley with a suit. This is the one to try it with. – Shop Now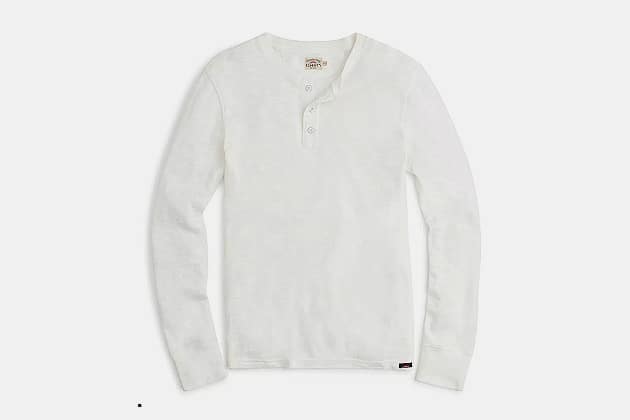 Faherty Brand Slub Cotton Henley
You might say that every guy needs a crisp white henley in his arsenal — that's what we think, at least. And the Faherty Brand Slub Cotton Henley fits the billing well. Coming from Faherty Brand, it's made with premium slubby cotton that's also been pre-distressed. In layman's terms, that means this henley is going to feel like one of the softest, coziest henleys you've ever worn, right out of the box. – Shop Now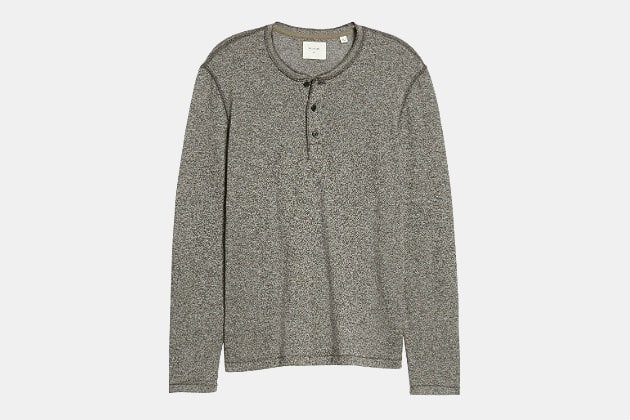 Billy Reid Mouline Henley
You can expect nothing less than the best quality and top-notch design from Alabama's own Billy Reid. The American designer churns out reliable hits season after season that make any guy look great — in short, he's making the runway accessible for the guy who might not pay attention to runway shows. The best example of this? In addition to the supremely cool Bond Peacoat, this refined, well-made henley — wear it under a flannel sportcoat with grey wool trousers. – Shop Now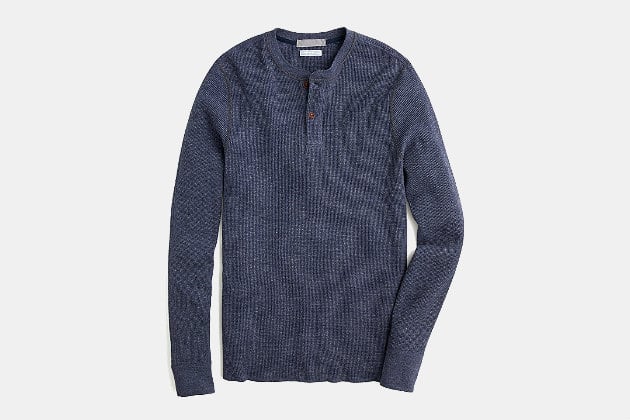 Wallace & Barnes Thermal Henley
The Wallace & Barnes line has always been a favorite of ours at J. Crew for its uniquely all-American, workwear-inspired take on the most timeless of silhouettes — like the tough henley. The flatlock seam construction lends both durability and longevity, while color options like Warm Camel are a nice way to nod toward winter (try wearing it under a navy topcoat with faded blue denim and tan suede chukka boots). – Shop Now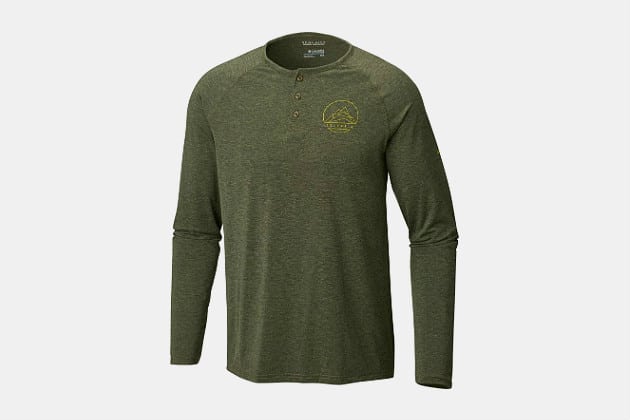 Columbia Trail Shaker Long Sleeve Henley
The Trail Shaker is a fitting name for a functional long-sleeve henley that's perfect to wear on the trail or in the city — it's part of the lineage of the Columbia brand to deliver utility and style all in one, of course. There ways you can wear a henley to fit with your active lifestyle, and we think this option is ideal to pair with a flannel workshirt and a waxed trucker jacket for a weekend hike. – Shop Now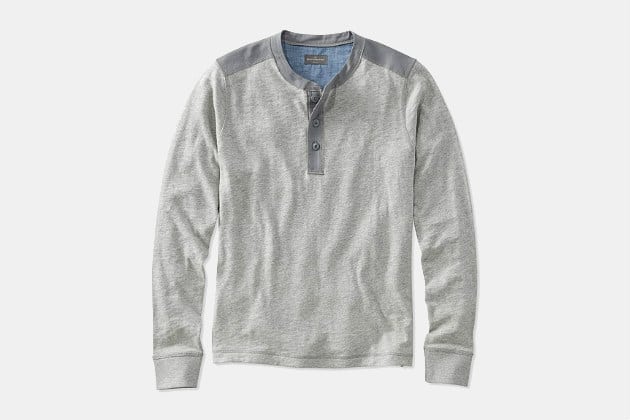 L.L. Bean Signature Long Sleeve Henley
What's the best thing to add to your tough, hard-wearing Bean Boots? One of L.L. Bean's nearly unbeatable henleys, another piece of gear from the legendary heritage brand that's designed to go the distance. The use of cotton twill on the placket and at the shoulders adds an element of outdoor-ready durability, making this henley the perfect one to layer under a rugged flannel workshirt. – Shop Now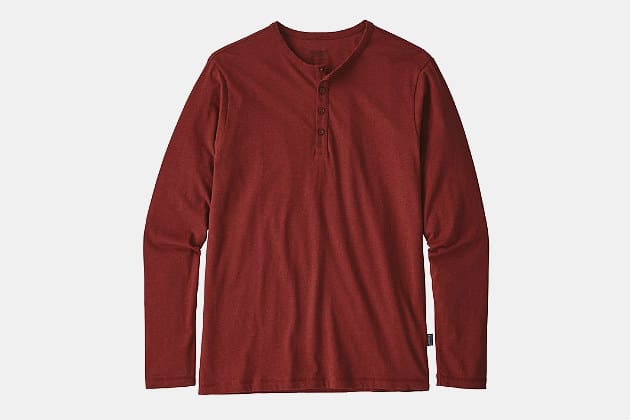 Patagonia Long-Sleeved Daily Henley
If you find yourself embarking on winter hikes and skiing trips, you're presumably acquainted with the work of Patagonia on the outerwear front — but what about the brand's stylish, eco-conscious knitwear? The Daly Henley in particular is a standout, made with 100 percent organic cotton that's been marled for a bit more texture and depth. Use this as a stylish base layer to hit the slopes, or wear it underneath a flannel shirt for a post-hike brewery visit. – Shop Now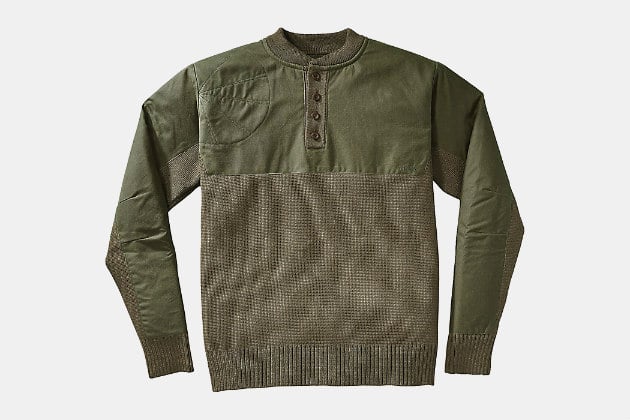 Filson Henley Guide Sweater
Part sweater and part henley, the Filson Guide Sweater is like nothing we've seen before when it comes to the best men's henleys. Featuring rain-repellent design detailing across the chest and shoulders, it's an exceptionally high-performing piece that'll wear easily with Filson chore pants and a tough Filson flannel shirt. All you need to do now is lace up your boots and get to work. – Shop Now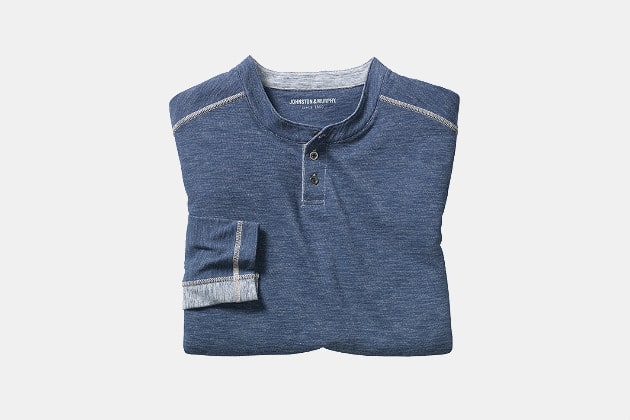 Johnston & Murphy Vintage Slub Henley
What better way to wear Johnston & Murphy's rugged captoe boots than with a slub henley from the brand? This head-to-toe outfitter is worth a look if you want simple, subtly stylish apparel, and this vintage-inspired slub henley fits the bill quite nicely. We like the contrast stitching and the knit texture, particularly when paired with a Johnston & Murphy field jacket. – Shop Now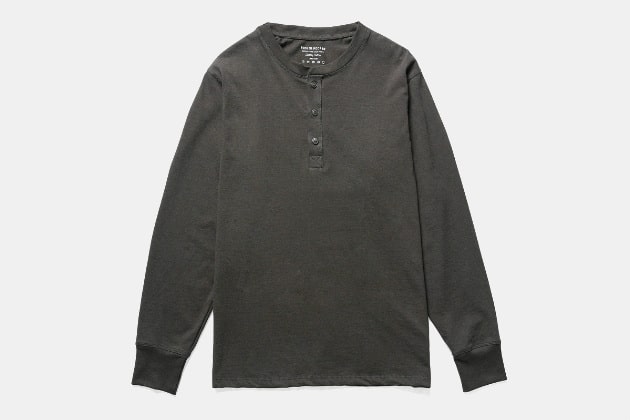 Richer Poorer Long Sleeve Henley
RIcher Poorer started out making excellent socks in lightweight, breathable fabric with cool designs, and they did so with great care. The brand has made its way forward with the utmost care since then, and that applies to its line of dependable knitwear. This long-sleeve henley in particular is perfect for layering with a shawl cardigan and indigo denim — to say the very least. All you need now are some new Richer Poorer socks, right? – Shop Now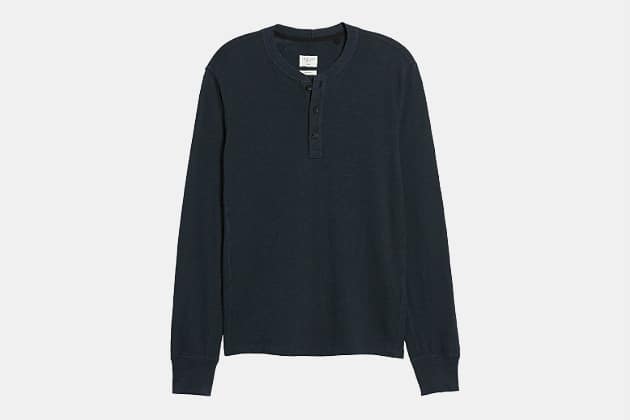 Rag & Bone Classic Cotton Henley
We'd wager you know Rag & Bone for the sleek, minimal and finely crafted menswear for which the brand is known — but did you know that in addition to perfectly cut denim and edgy leather jackets, they also craft a heck of a cotton henley? Classic, expertly fitted and perfect fo wear for a Saturday night on the town, we think. – Shop Now
Aether Apparel Long Sleeve Raglan Henley
With its real-life roots in the sporting world, it's fitting that Aether has taken a sport-inspired design approach to its Long-Sleeve Raglan Henley. It's made with fine 100 percent supima cotton with rugged raglan sleeves (designed to enhance your chest and shoulders — even if you don't hit the gym). It's also made with a lifetime manufacturing guarantee — not bad in our estimation. – Shop Now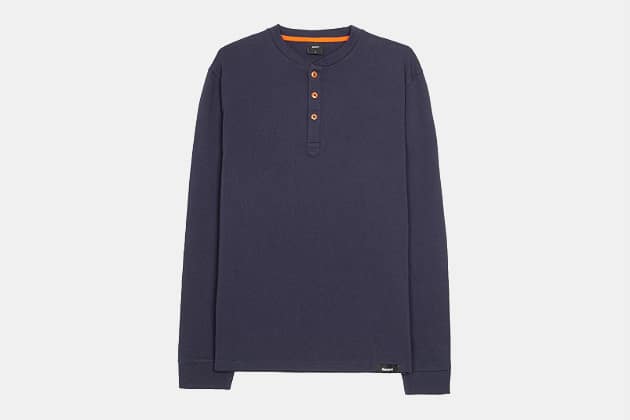 Finisterre Perran Henley
Finisterre has exactly the pedigree that's needed to make the rugged henley a go-to piece in your wardrobe. With roots on the chilly English coast, it's only fitting that the Perran Henley is made from heavyweight cotton — ideal to wear underneath your favorite chambray shirt. .It's all the better that it features small details like custom corozo buttons — a perfect contrasting touch that elevates this classic henley even more. – Shop Now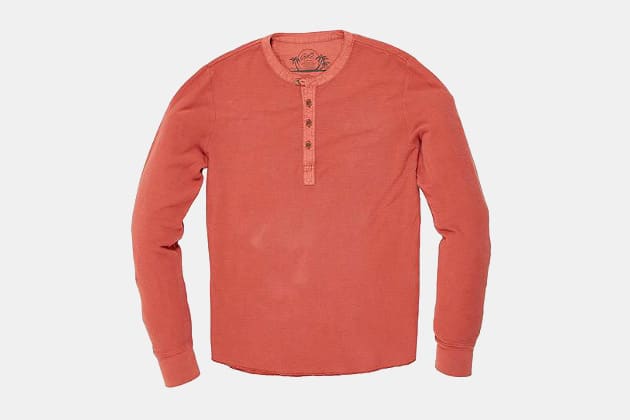 Grayers Campesina Double Cloth Thermal Henley
What's the best feature of the Campesina Double Cloth Thermal Henley from Grayers? Is it the appealing Battleship Gray color? The poplin detailing on the placket? The expertly curved hem? A combination of all three? We're tempted to think the last one especially. This one wears nicely with slim chinos from the brand in particular, and it's perfect for layering under a soft flannel shirt. – Shop Now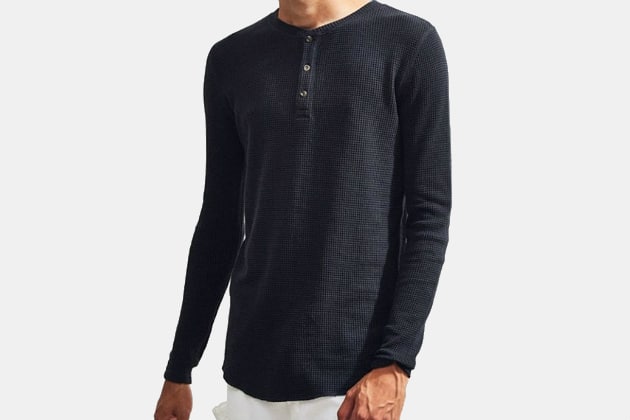 Urban Outfitters Waffle Thermal Henley
Looking for an affordable new henley? One made with quality and durability in mind? This thermal henley from Urban Outfitters is the way to go. It's somewhat rare to find a henley under $40, especially one in a sleek black color — wear it with an indigo denim jacket and slim tan chinos. We also like it with slim black denim and a black moto jacket for rock n'roll style. – Shop Now