The 18 Best Men's Peacoats
Make no mistake, the best men's peacoats are certainly worthy of having on your radar — and on your back this season. The peacoat is a style rooted in the type of practicality that guys need and enjoy nowadays, with roots in military function — yet plenty of modern style to back it up.
This historic silhouette has remained largely unchanged in its classic iteration, but some of your favorite designers are taking this icon and making it a dash more modern. That's good news for you, and it means that you can wear a classic, tailored peacoat with grey wool trousers and black chukka boots (a la James Bond) or alongside slim black denim and a crewneck sweater (similar to how style icon David Beckham wears his).
Yes indeed, it was mighty tough to narrow this list down to just 18, but we think we did alright — you be the judge, and be sure to shop some of the best men's peacoats before it's too late.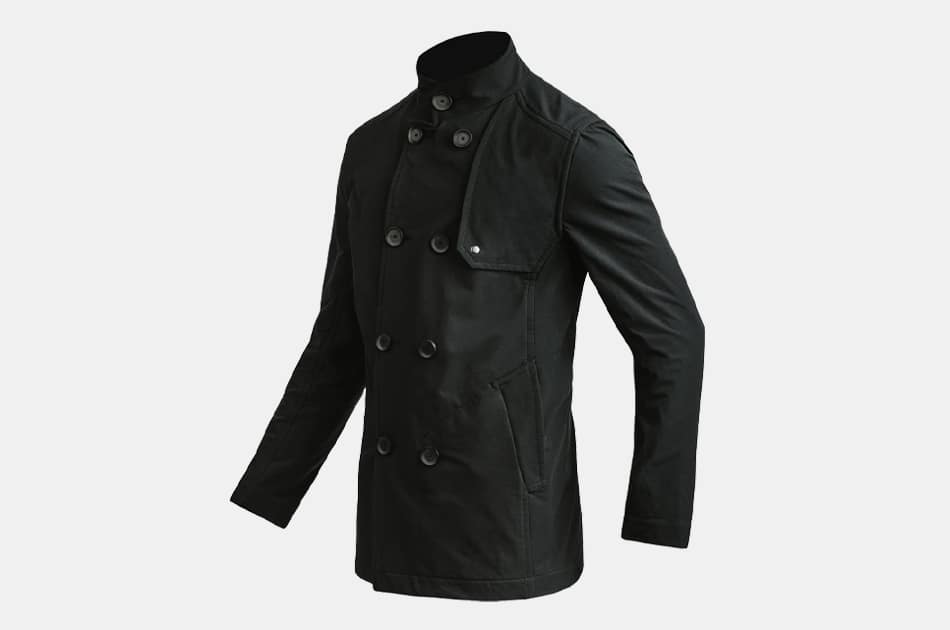 Mission Workshop Bridgeman : LT Softshell Pea Coat
For those living in a consistently warmer climate — or a consistently wetter climate — Mission Workshop's Bridgeman : LT is the obvious choice for a peacoat this season.
It's a lightweight version of the brand's Bridgeman Pea Coat and is made from a single-layer of high-performance Schoeller softshell fabric that is not only water-resistant during brief periods of rain, sleet, or snow, but it is also very breathable and stretches in four directions for those on the move — be it commuting to work, jetsetting across state lines, or walking to the next pub on the weekend. Add layers underneath on cooler days, or wear it with a clean white tee and dark jeans on days where the temperatures continue to climb.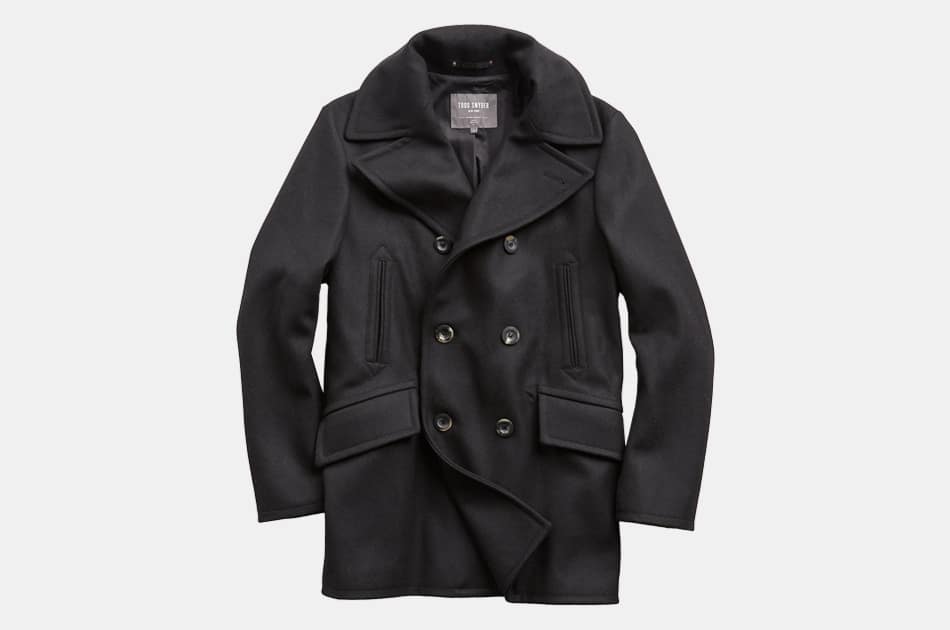 Todd Snyder x Private White Manchester Wool Peacoat
Of course, Todd Snyder — the lauded American menswear designer — deserves a place on this list. The designer takes military classics and upgrades them for the modern man, and he does it in a way that's accessible to gentlemen in the big city or the country in equal measure. Teaming up with Private White here was a great move, and the result is a bold peacoat you should take pride in wearing on the daily, with everything from suiting to dark denim.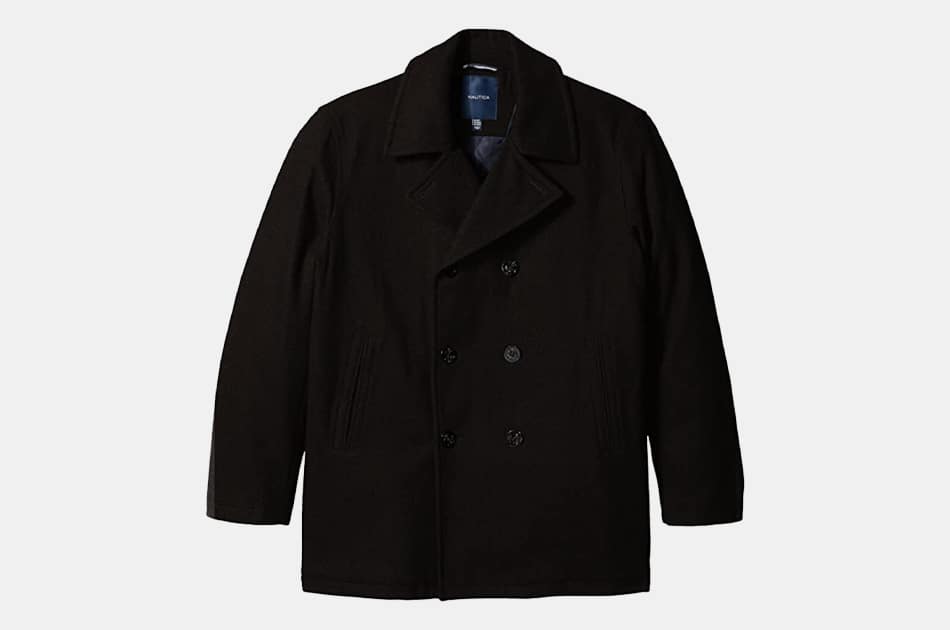 Nautica Wool-Blend Double-Breasted Peacoat
No menswear brand knows the ins and outs of men's Naval-inspired outerwear quite like Nautica, and their classic Peacoat proves this point. It will immediately elevate your wardrobe — from casual jeans and a t-shirt to slim chinos and an oxford shirt — thanks to a comfortable wool and polyester construction, a great-looking double-breasted design on the front, and interior welt pockets for your everyday carry essentials.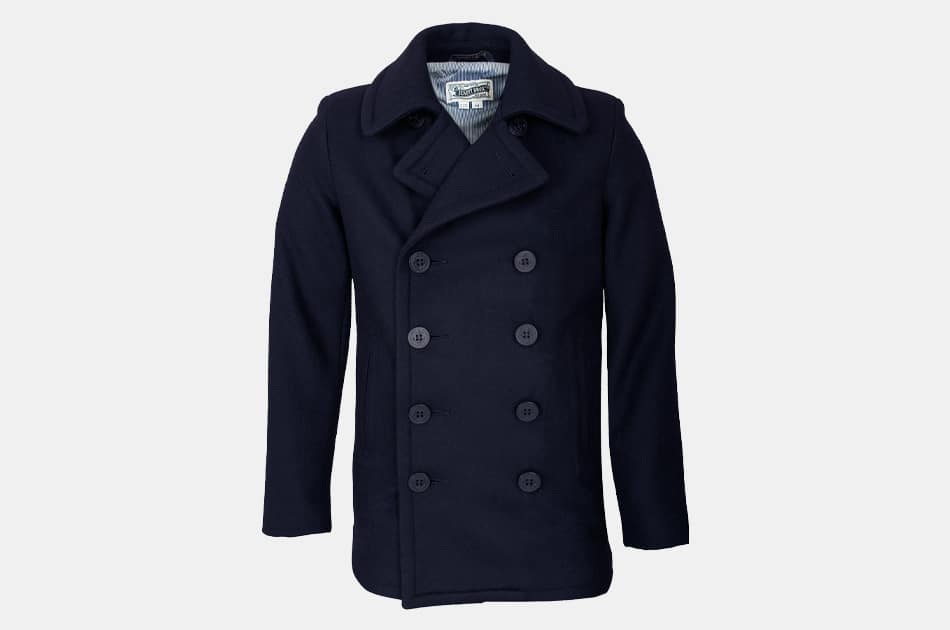 Schott Slim Fit Wool Blend Peacoat
If you normally associate Schott with utterly classic, iconic and timeless leather jackets … well, you're entirely right on the money. But the brand has also done beautifully when it comes to making other equally iconic, rugged and easily wearable styles, like the brand's Slim Fit Wool Blend Peacoat. And if a peacoat is more of your speed than a black moto jacket, this could be the very piece you want to pick up now. Featuring a nylon-wool blend and a versatile charcoal color, this peacoat is wearable with faded blue denim or burgundy chinos in equal measure.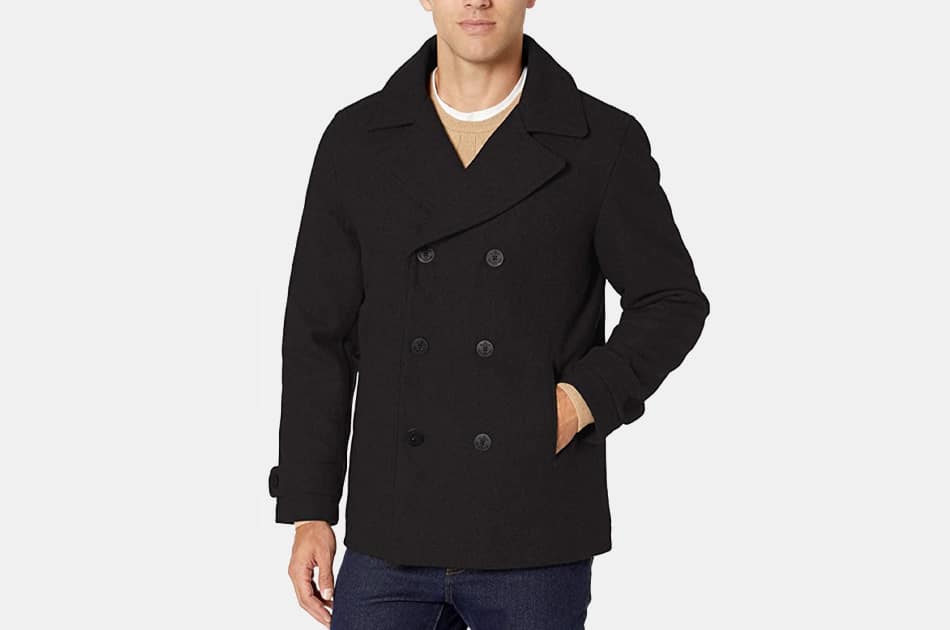 Amazon Essentials Wool Blend Heavyweight Peacoat
The main goal of the Amazon Essentials line of classic menswear is creating high quality, must-have clothing staples at an affordable price, and their Heavyweight Peacoat is a home run in that regard. At nearly a fraction of the price of its name brand counterparts, the Amazon Essentials Peacoat features a wool blend construction common to this particular style of jacket, and is heavyweight enough to keep you warm in frigid temperatures, stylish enough to wear to the office or the local pub thanks to a modern cut, and affordable enough to avoid the entire buyer's remorse phase after purchasing a heritage quality winter jacket.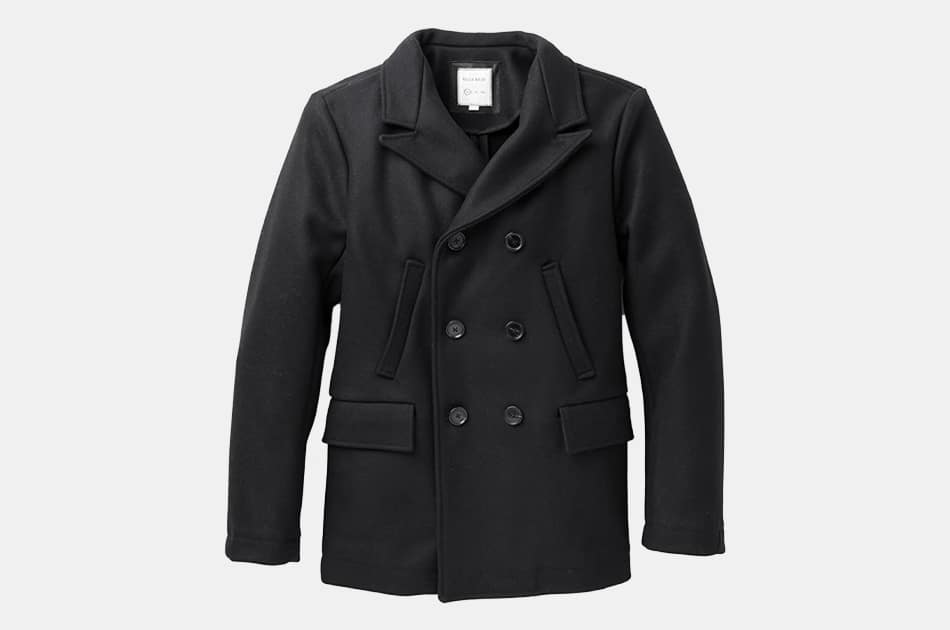 Billy Reid Bond Peacoat
There are regular peacoats, and then there's the peacoat to rule them all — at least, in our minds. The Bond Peacoat is a stone-cold classic, a stunner of a jacket made by an iconic American menswear brand and worn to great success by Daniel Craig as James Bond himself. In short, it just might be the perfect peacoat, cut slim — but not too slim — and made with beautiful details like leather back collar detailing. It doesn't get any better.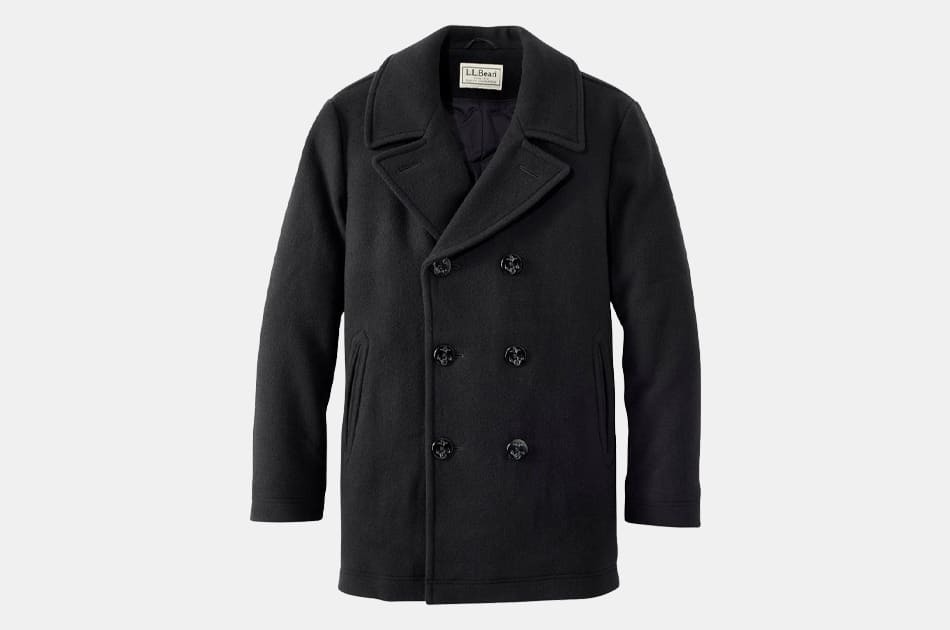 L.L. Bean Wool Peacoat
When a revered brand like L.L. Bean notes that its peacoat is authentic and true to the brand's heritage, we have a tendency to listen. Don't you agree? The durable and classic jacket shown above is an ideal pairing with a set of the iconic Bean Boots, and that's nearly all the gear you need to take on winter (to say the very least). Did we mention that the wool is 100 percent Italian and the fit is nearly impeccable?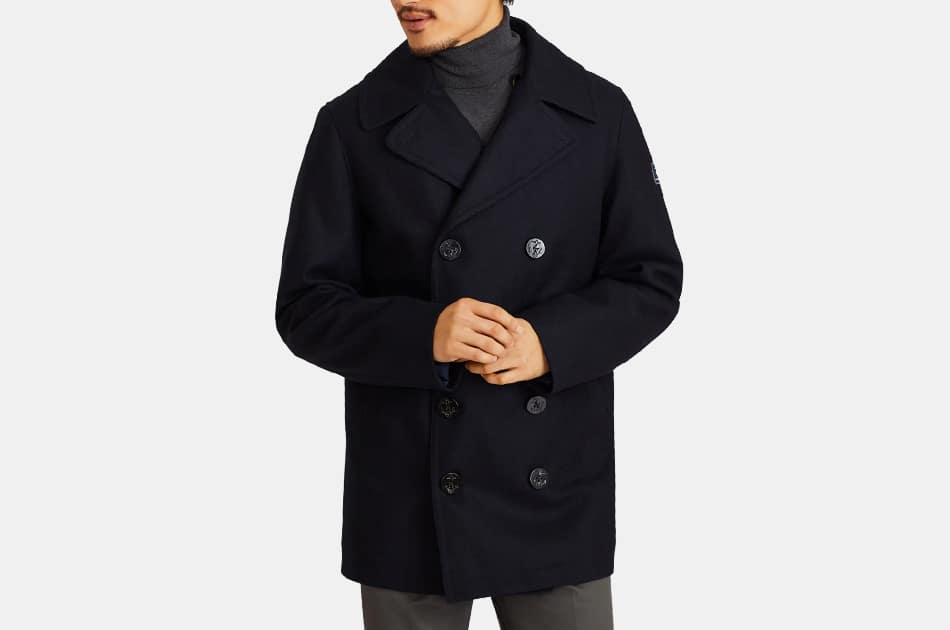 Brooks Brothers Iconic Wool Pea Coat
You surely know Brooks Brothers for the brand's instantly classic dress shirts and fine Oxford shirts — truly, staples of the modern man's wardrobe. But did you know they've also dabbled (and ultimately, been successful) in producing tasteful, equally classic outerwear? This brings us to the Iconic Wool Peacoat, an aptly named take on the silhouette that you should wear with Brooks Brothers shirting or chinos every chance you get.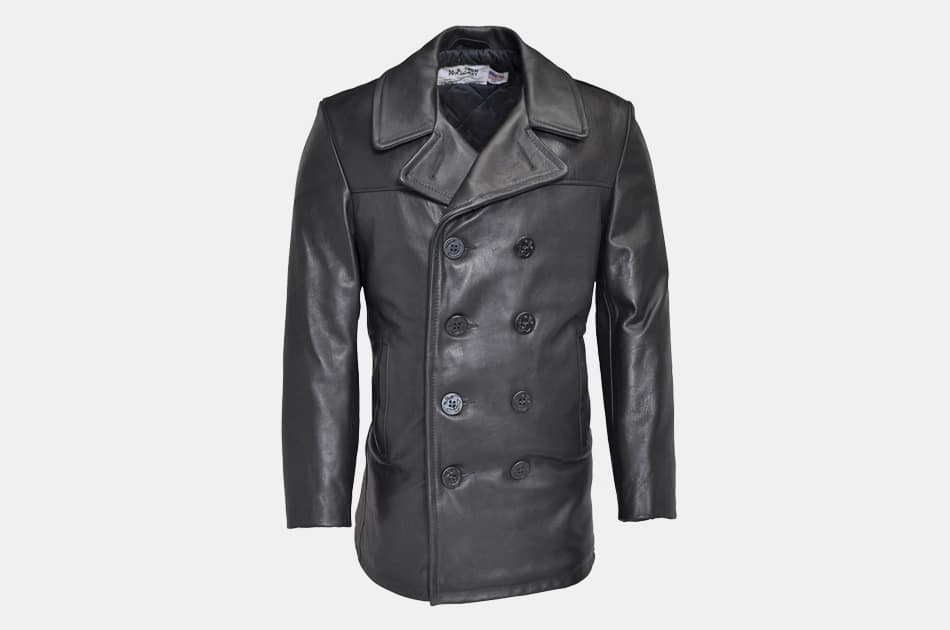 Schott Leather Naval Peacoat
Looking to inject even more moto-inspired edge into your winter layering game? We turn once again to Schott, who's taken the classic peacoat silhouette and done it up in rich black leather, as you might expect from a brand that makes some of the most iconic jackets on the planet. The nylon quilted lining offers extra warmth and durability, while the cowhide leather exterior is cool and sleek, not flashy. Layer it over a cream thermal henley and team that combo with slim black denim and beat-up moto boots for truly badass seasonal style.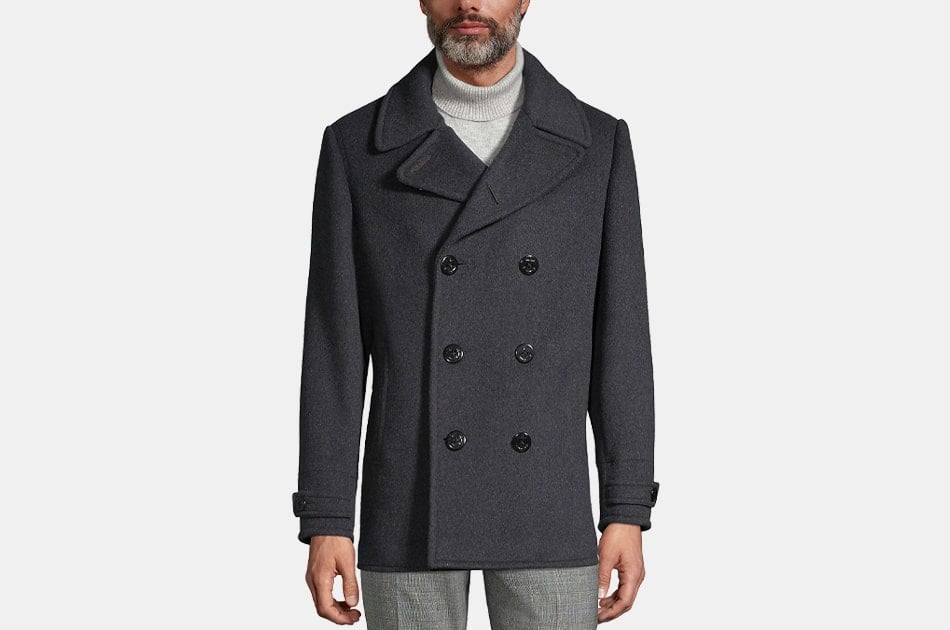 Land's End Wool Peacoat
When it comes to a silhouette like the classic peacoat, there are times where you needn't overdo it — and the Lands' End Wool Peacoat is a timeless example of keeping things simple and straightforward, yet highly stylish. We love the striking True Navy color, a truly (get it?) dressy option that should wear handsomely with slim tan chinos, brown leather boots and a crisp white Oxford shirt this fall and winter. It's on sale for a steal now, too.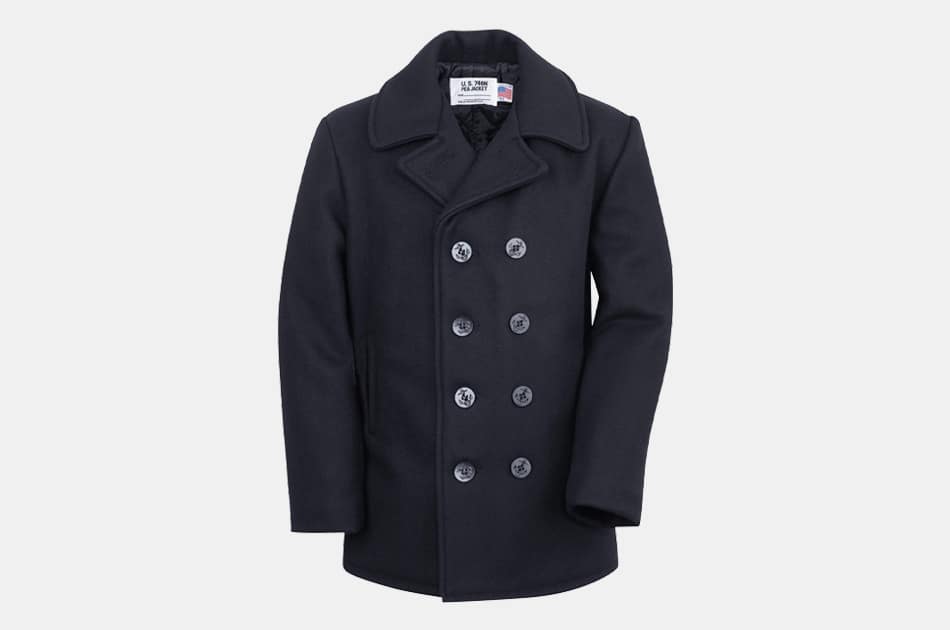 Schott Melton Wool-Blend Peacoat
There's no doubt that Schott is one of the best brands to look to for heritage quality leather moto jackets and flight jackets, but they also make a peacoat worth adding to your cool weather wardrobe arsenal this year. The brand's Melton Wool-Blend Peacoat is inspired by those worn by U.S. Navy soldiers of years past and features a fused wool-blend construction that will stand up to frigid morning temperatures and the occasional scattered snow shower. Hand-warmer pockets and a quilted lining round out the peacoat's notable features.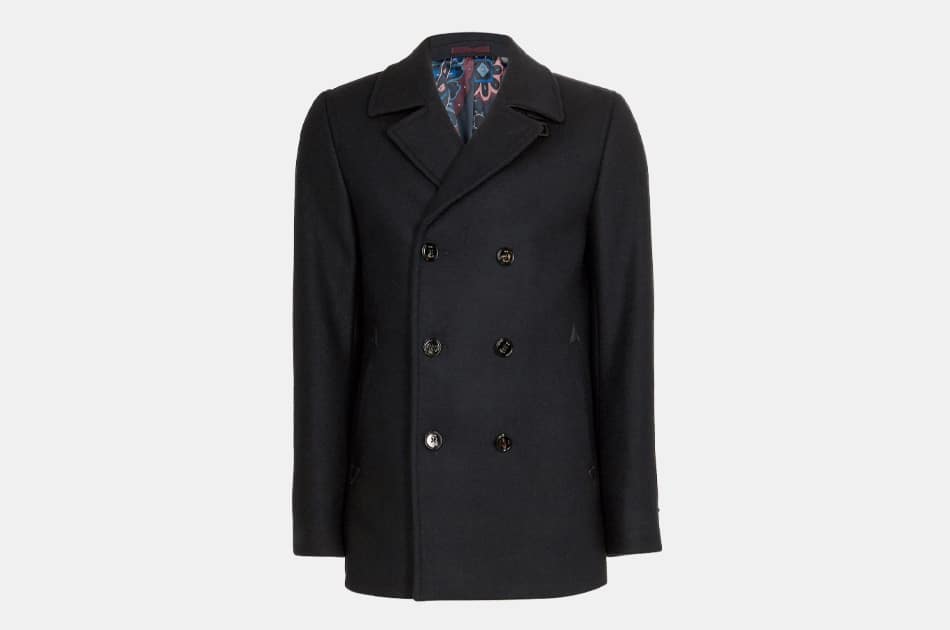 Ted Baker Westun Double Breasted Wool Peacoat
The best peacoats for men are designed to stand up to the elements in style (seriously, just think of how well James Bond wears his famed peacoat in Skyfall). For those of us not on a Bondian budget, however, a piece like the Ted Baker Westun Double Breasted Wool Peacoat should do the trick nicely, especially when worn with classic style staples like slim blue denim, a white Oxford shirt and brown leather boots. It's also on sale right now, so you really can't go wrong if you want a peacoat that won't break the bank.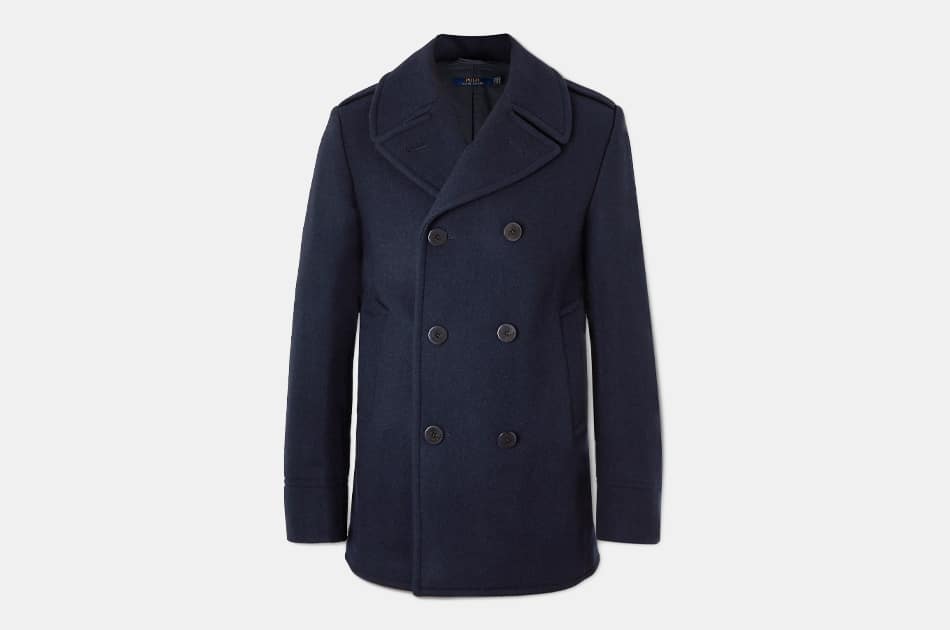 Polo Ralph Lauren Wool-Blend Peacoat
The peacoat is at once both a refined and rugged style staple, which is exactly what helps the Polo Ralph Lauren Wool-Blend Peacoat stand out stylishly this season. A clean design and buttoned epaulettes give it that classic peacoat feel, while the navy color seems to be a staple of plenty of the best men's peacoats. This is the sort of jacket you can feel great about wearing with more laidback pieces (a la a crewneck sweatshirt and indigo denim) or more business casual-type looks (think a blue chambray shirt, a grey knit tie and olive chinos).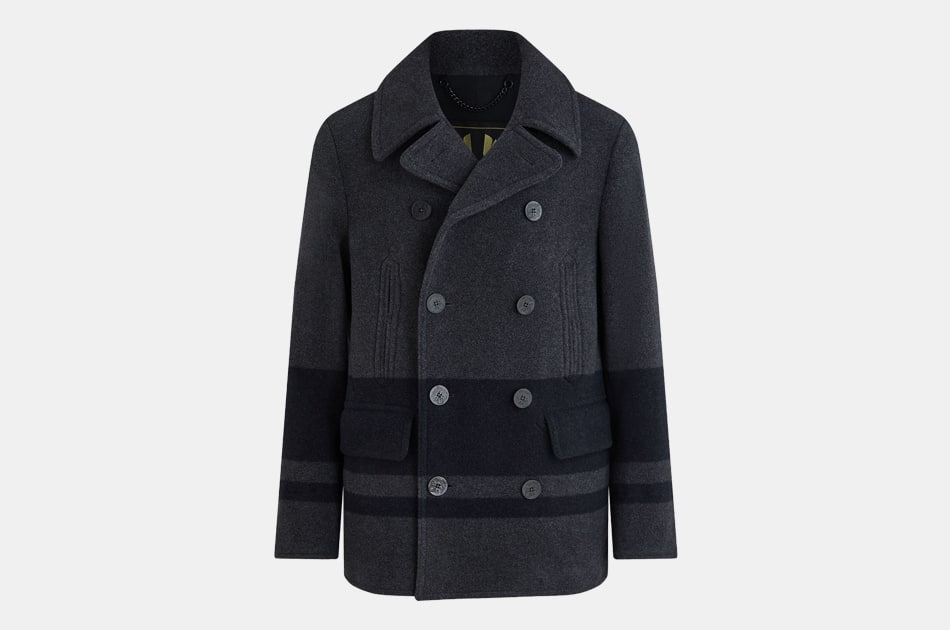 Belstaff Virginal Wool Peacoat
Belstaff certainly knows a heck of a lot about crafting the best outerwear for men, and with great care in mind, and it looks like that same approach holds true with the Belstaff Virginal Wool Peacoat. We love the high-quality construction and durable build — this is a peacoat fit for the open road and for all of your fall and winter adventures, to say the very least. And if it's anything like other Belstaff jackets, you'll assuredly have it for years and years to come.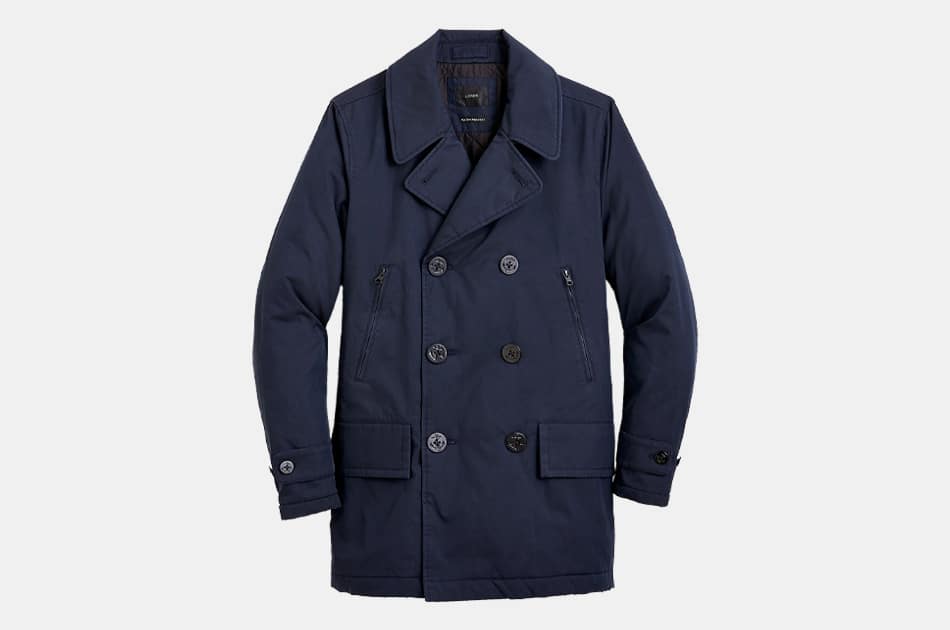 J.Crew Fulton insulated Peacoat
J. Crew takes the classic peacoat silhouette and amps it up as only J. Crew can, starting with PrimaLoft insulation that's warm, sustainable and functional. Elsewhere in this stylish peacoat, it's got all the bells and whistles you'd expect, including a classic silhouette, an easy-to-layer design and the kind of price-plus-quality combination it seems you can only get at J. Crew. For pairing up with other J. Crew style staples, you can't go wrong with the Fulton Insulated Peacoat.
Ashville Wool Peacoat
It seems that bold yet accessible, throwback-inspired style is surprisingly tough to find these days, but when you check out the digital pages of startup outerwear company The Jacket Maker, that elusive blend gets a lot easier to find. The Asheville Wool Peacoat is the sort of jacket that's seemingly been worn right out of the 1950s and into today, which means it's one of the coolest and best peacoats you can wear for fall and winter.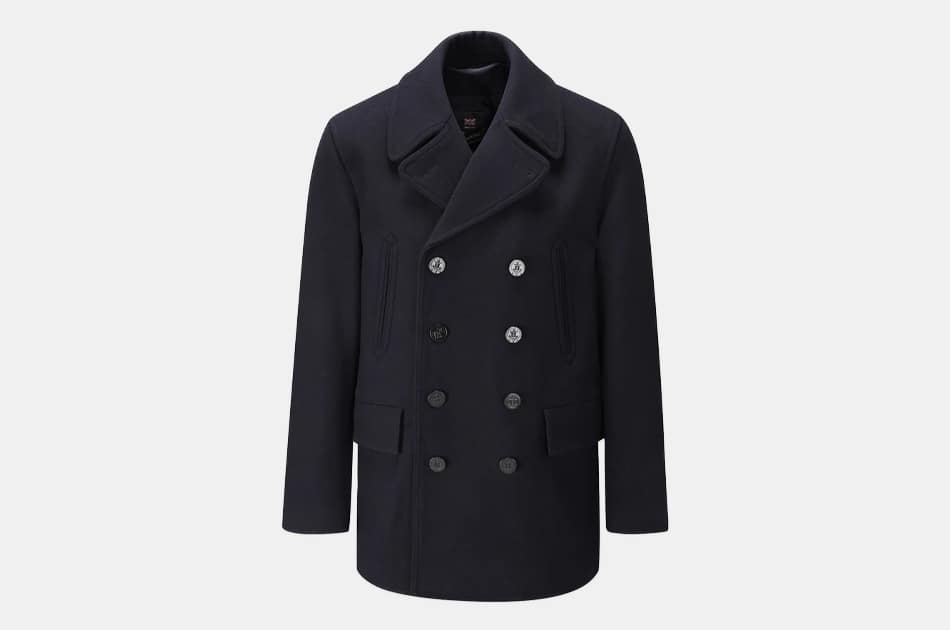 Gloverall Churchill Peacoat
Gloverall's Churchill Peacoat checks all the right boxes when it comes to the kind of legendary style you want from a great peacoat, starting with that famed name. It's an investment-level peacoat made with the kind of quality that Gloverall's brought to the market for years. We appreciate the authentic design and the no-nonsense functionality. Wear this through the coldest fall and winter days with ease, and rest easy knowing you'll look great all the while.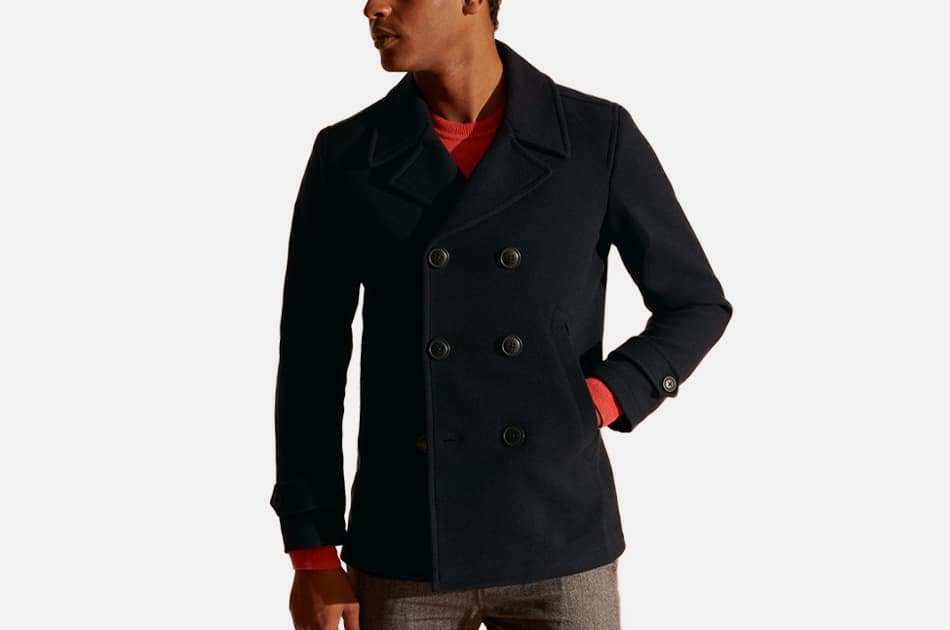 Superdry Foundation Double Breasted Peacoat
Superdry certainly doesn't cut corners when it comes to producing the best outerwear on the market, blending modern design with tough functionality and bold styling potential. If that seems like the kind of thing you could use in your fall and winter outerwear rotation, then you should absolutely consider the aptly named Foundation Double Breasted Peacoat. A piece of statement-making outerwear that you can (and should) wear with everything from tan chinos and a white Oxford shirt to black denim and a henley? That sounds great to us, so act now to snag this one if you agree.
Disclosure: Clicking on these links and making a purchase may earn us a small referral fee, at no extra cost to you. Learn more here.