The 20 Best Men's Peacoats
Make no mistake, the best men's peacoats are certainly worthy of having on your radar — and on your back this season. The peacoat is a style rooted in the type of practicality that guys need and enjoy nowadays, with roots in military function — yet plenty of modern style to back it up.
This historic silhouette has remained largely unchanged in its classic iteration, but some of your favorite designers are taking this icon and making it a dash more modern. That's good news for you, and it means that you can wear a classic, tailored peacoat with grey wool trousers and black chukka boots (a la James Bond) or alongside slim black denim and a crewneck sweater (similar to how style icon David Beckham wears his).
Yes indeed, it was mighty tough to narrow this list down to just 18, but we think we did alright — you be the judge, and be sure to shop some of the best men's peacoats before it's too late.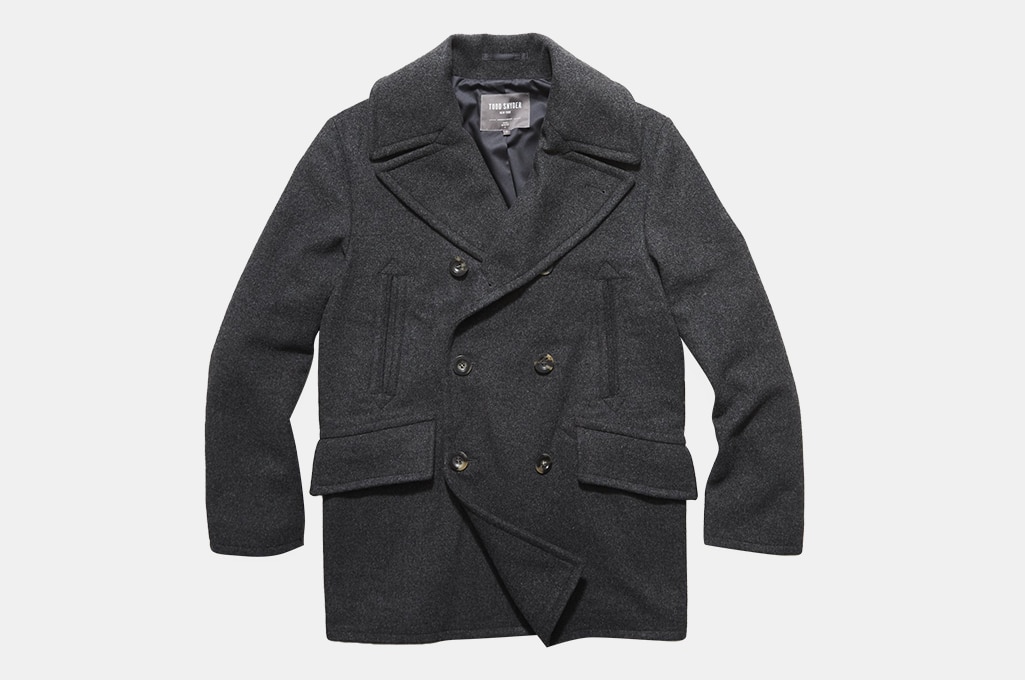 Todd Snyder + Private White Manchester Wool Cashmere Peacoat in Charcoal
Todd Snyder has made his mark on the fashion world by designing clothes that blend modern fabrics with classic style and luxurious flairs. The Private White Manchester Wool Cashmere Peacoat in Charcoal is a collaboration with Private White V.C., the renowned British outerwear maker. Blending wool melton and cashmere, this English-made coat is super soft but surprisingly tough. It's cut in a naval-inspired style and is built with ocean spray and hard weather in mind. The moment you slip it on and feel that silky soft viscose interior lining, you'll know you made the right choice for a winter coat.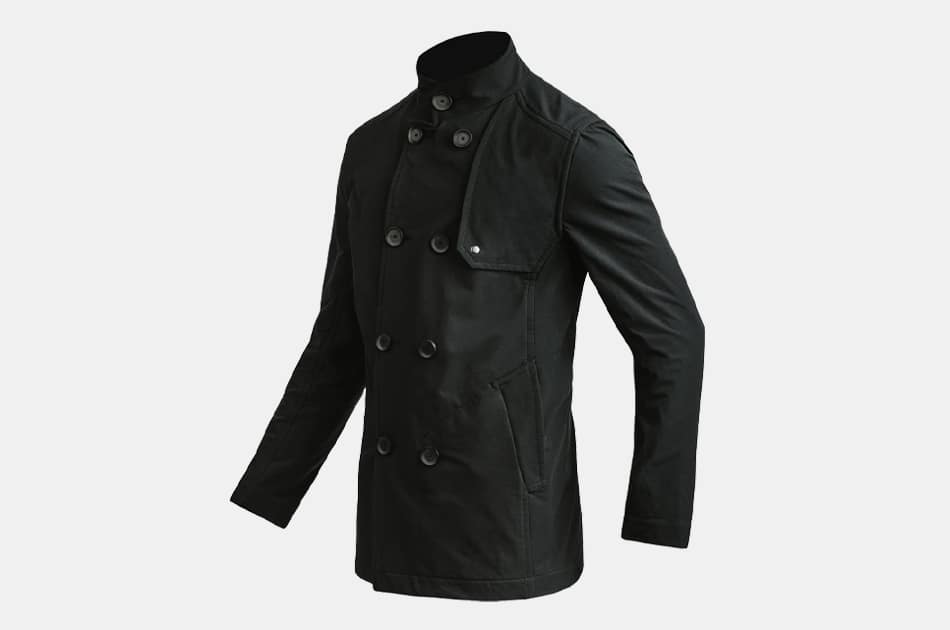 Mission Workshop Bridgeman : LT Softshell Pea Coat
For those living in a consistently warmer climate — or a consistently wetter climate — Mission Workshop's Bridgeman : LT is the obvious choice for a peacoat this season.
It's a lightweight version of the brand's Bridgeman Pea Coat and is made from a single-layer of high-performance Schoeller softshell fabric that is not only water-resistant during brief periods of rain, sleet, or snow, but it is also very breathable and stretches in four directions for those on the move — be it commuting to work, jetsetting across state lines, or walking to the next pub on the weekend. Add layers underneath on cooler days, or wear it with a clean white tee and dark jeans on days where the temperatures continue to climb.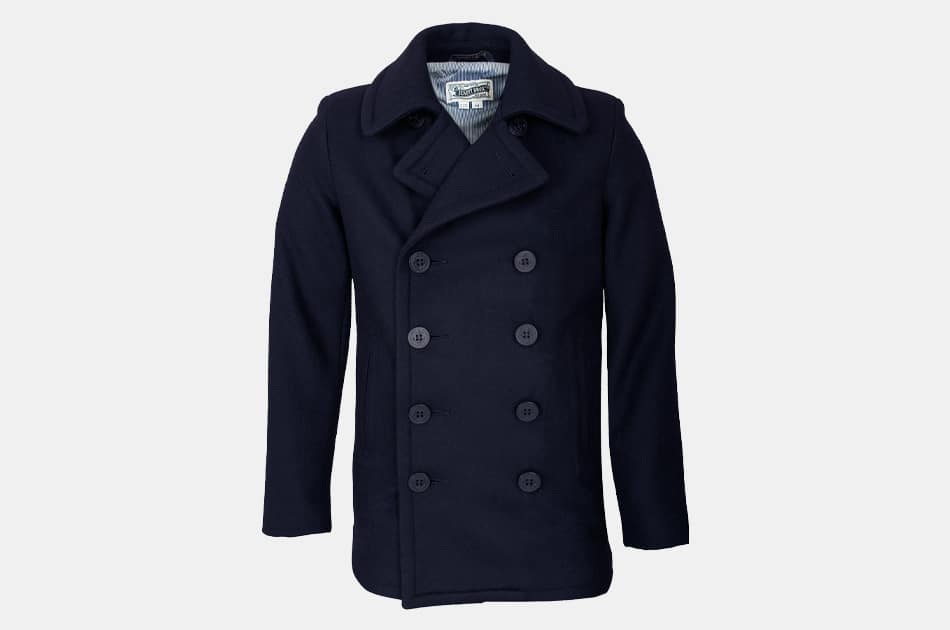 Schott Slim Fit Wool Blend Peacoat
If you normally associate Schott with utterly classic, iconic and timeless leather jackets … well, you're entirely right on the money. But the brand has also done beautifully when it comes to making other equally iconic, rugged and easily wearable styles, like the brand's Slim Fit Wool Blend Peacoat. And if a peacoat is more of your speed than a black moto jacket, this could be the very piece you want to pick up now. Featuring a nylon-wool blend and a versatile charcoal color, this peacoat is wearable with faded blue denim or burgundy chinos in equal measure.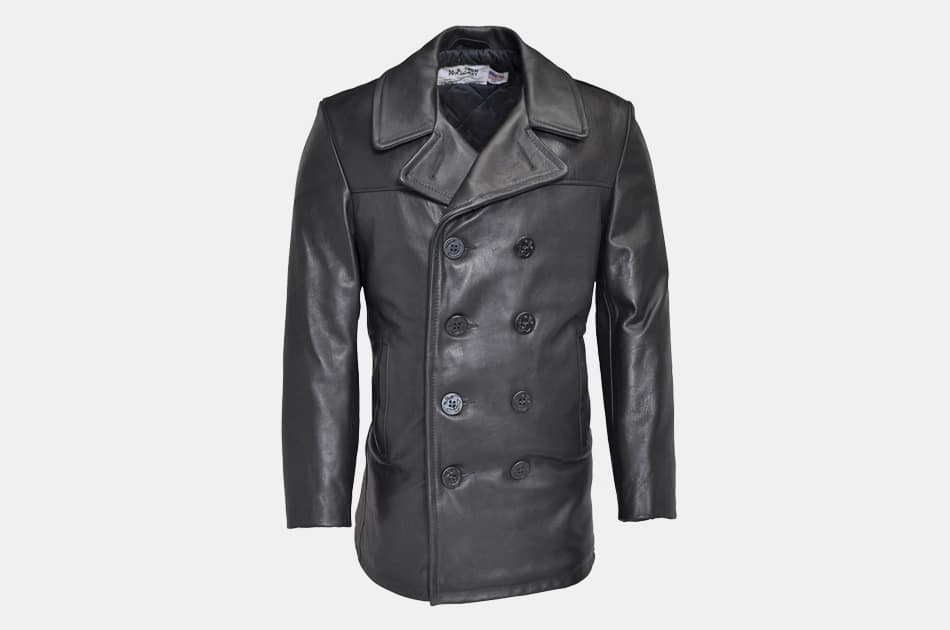 Schott Leather Naval Peacoat
Looking to inject even more moto-inspired edge into your winter layering game? We turn once again to Schott, who's taken the classic peacoat silhouette and done it up in rich black leather, as you might expect from a brand that makes some of the most iconic jackets on the planet. The nylon quilted lining offers extra warmth and durability, while the cowhide leather exterior is cool and sleek, not flashy. Layer it over a cream thermal henley and team that combo with slim black denim and beat-up moto boots for truly badass seasonal style.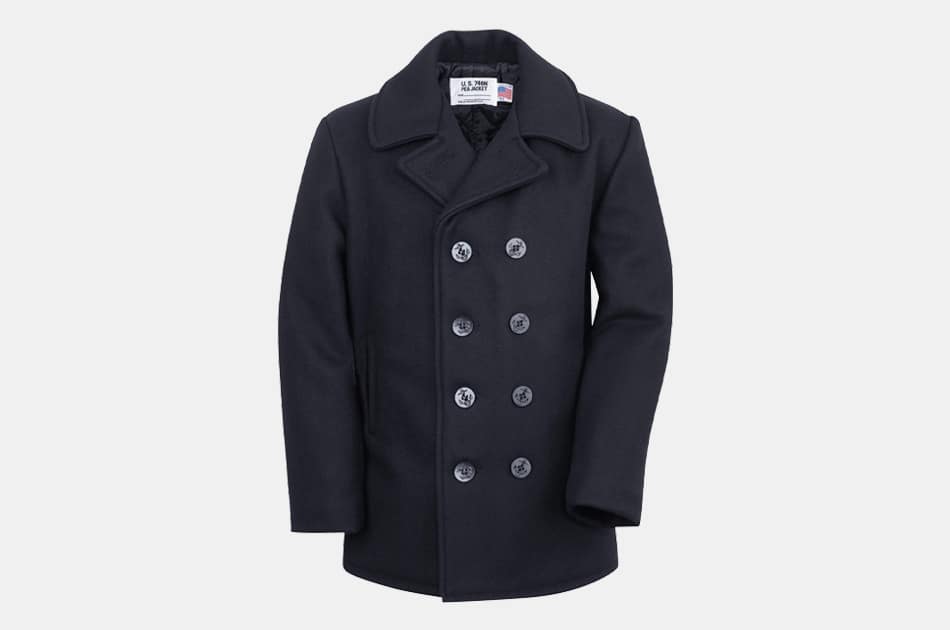 Schott Melton Wool-Blend Peacoat
There's no doubt that Schott is one of the best brands to look to for heritage quality leather moto jackets and flight jackets, but they also make a peacoat worth adding to your cool weather wardrobe arsenal this year. The brand's Melton Wool-Blend Peacoat is inspired by those worn by U.S. Navy soldiers of years past and features a fused wool-blend construction that will stand up to frigid morning temperatures and the occasional scattered snow shower. Hand-warmer pockets and a quilted lining round out the peacoat's notable features.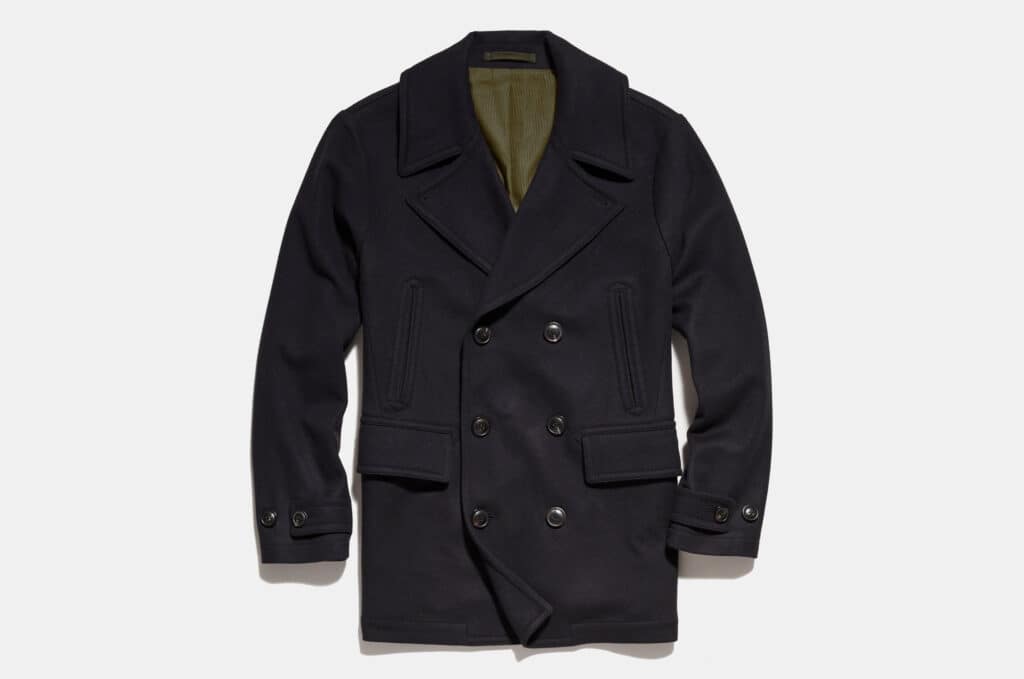 Todd Snyder Italian Wool Cashmere Peacoat
Of course, Todd Snyder — the lauded American menswear designer — deserves a place on this list. The designer takes military classics and upgrades them for the modern man, and he does it in a way that's accessible to gentlemen in the big city or the country in equal measure. italian cashmere wool is the focus here, and the result is a bold peacoat you should take pride in wearing on the daily, with everything from suiting to dark denim.
Ashville Wool Peacoat
It seems that bold yet accessible, throwback-inspired style is surprisingly tough to find these days, but when you check out the digital pages of startup outerwear company The Jacket Maker, that elusive blend gets a lot easier to find. The Asheville Wool Peacoat is the sort of jacket that's seemingly been worn right out of the 1950s and into today, which means it's one of the coolest and best peacoats you can wear for fall and winter.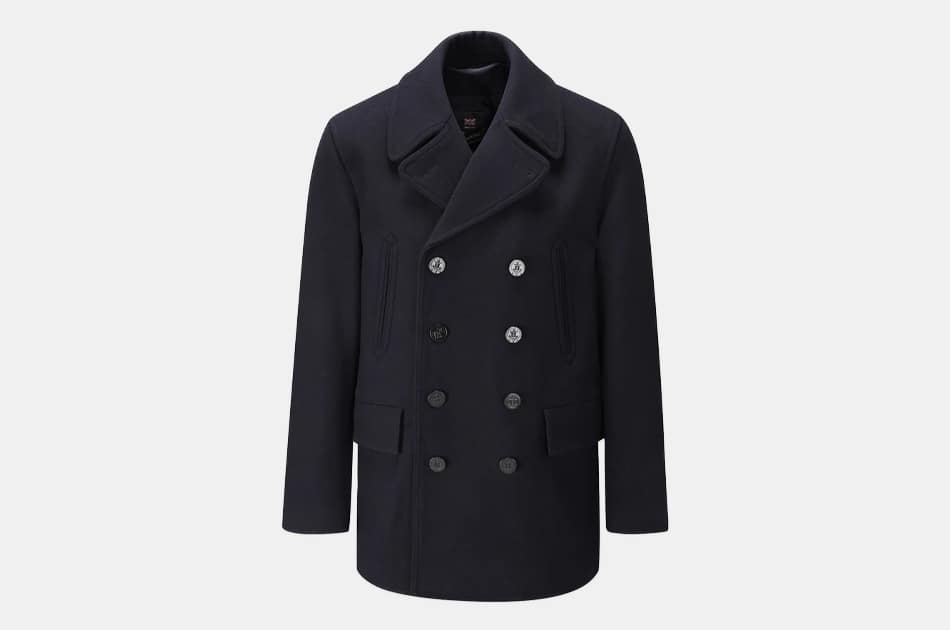 Gloverall Churchill Peacoat
Gloverall's Churchill Peacoat checks all the right boxes when it comes to the kind of legendary style you want from a great peacoat, starting with that famed name. It's an investment-level peacoat made with the kind of quality that Gloverall's brought to the market for years. We appreciate the authentic design and the no-nonsense functionality. Wear this through the coldest fall and winter days with ease, and rest easy knowing you'll look great all the while.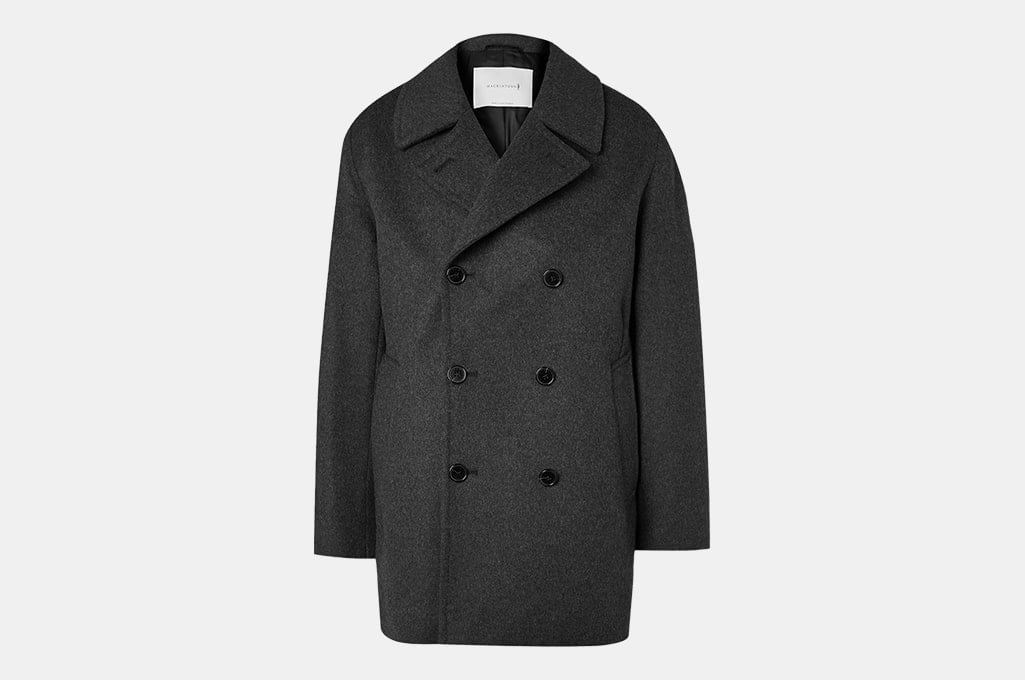 MACKINTOSH Dalton Wool and Cashmere-Blend Peacoat
Mackintosh is one of the best-known Scottish brands, and the Dalton Wool and Cashmere-Blend Peacoat is a coat that brings a modern update to the renowned "Dalton" style double-breasted pea coat. Made in Glasgow, it's a blend of hardy wool and cloud-soft cashmere that looks as great as it feels. The neatly structured shoulders and wider lapels will accentuate the breadth of your upper body, while it slims inward toward the waistline to give you that Herculean look you've been working toward.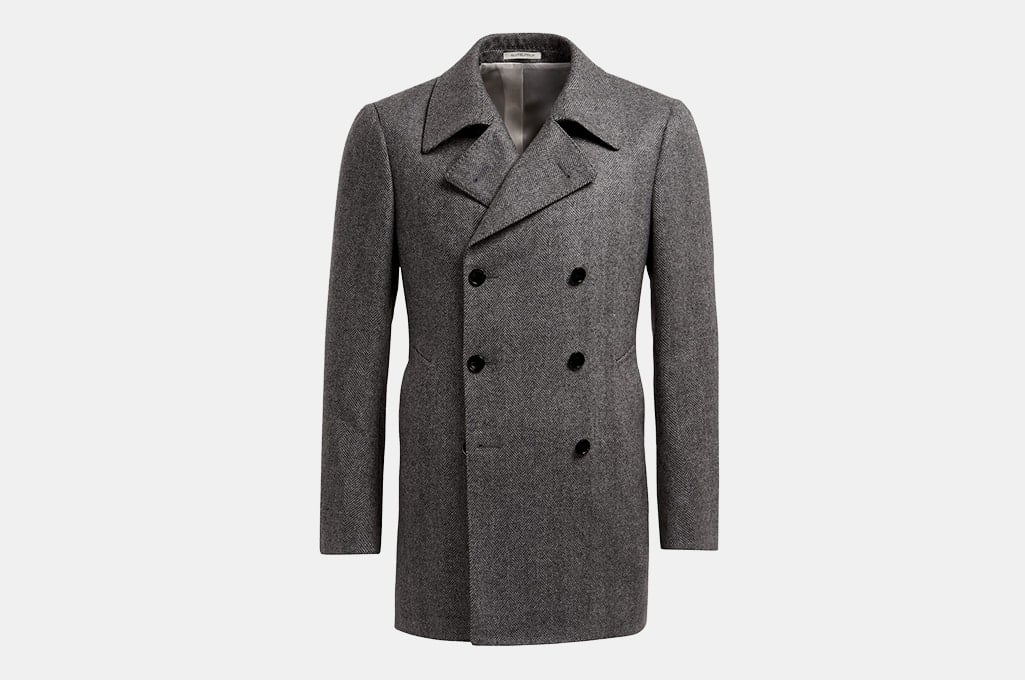 Suit Supply Light Grey Herringbone Peacoat
Suit Supply steps up its peacoat game once again with the Light Grey Herringbone Peacoat. Woven by E.Thomas using only the finest Italian wool-cashmere blend, the Arlington-fit coat will look absolutely stunning whether you wear it over a pair of slacks, jeans, or dress pants. The classic herringbone weave sets it apart from the crowd as a fashion-forward garment, perfect for the guy who wants to show off his knowledge of how to dress to impress.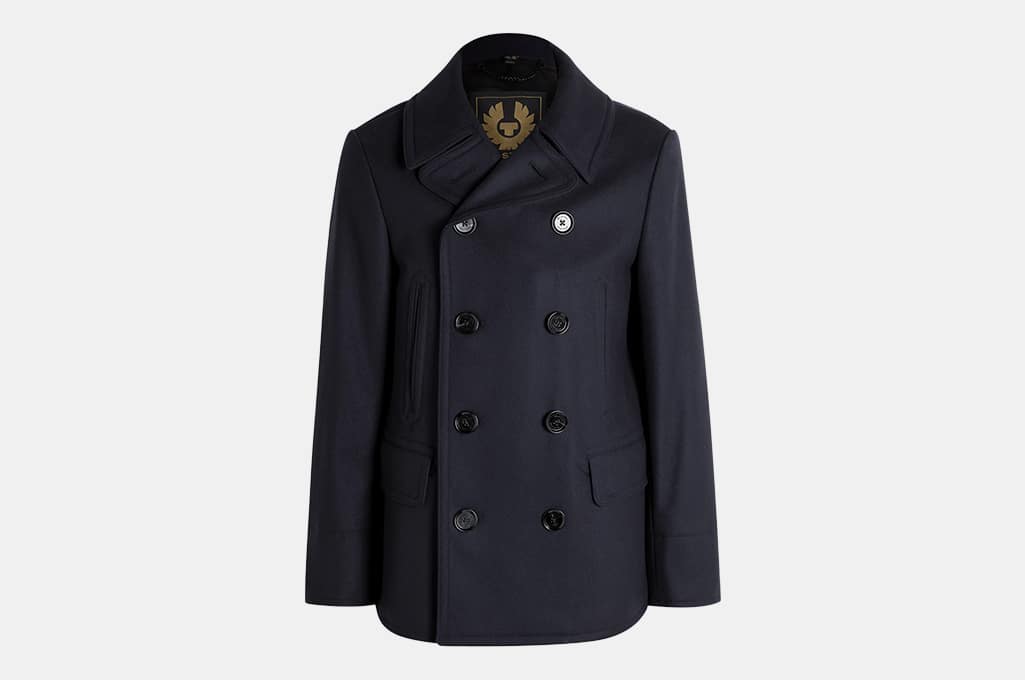 Belstaff Double-Breasted Virgin Wool-Blend Peacoat
Belstaff's British-inspired styles may be just what you need this winter. The Double-Breasted Virgin Wool-Blend Peacoat draws its look from the classic naval outfits, making you look and feel like an admiral from the moment you slip it on. The double-breasted front and structured shoulders work perfectly with the wide lapels to add a touch of refinement to your outfit, and the inky blue color will set you apart from the crowd. And wait until you get a feel of the hyper-soft wool and cashmere blend—it's just the sort of luxury you love.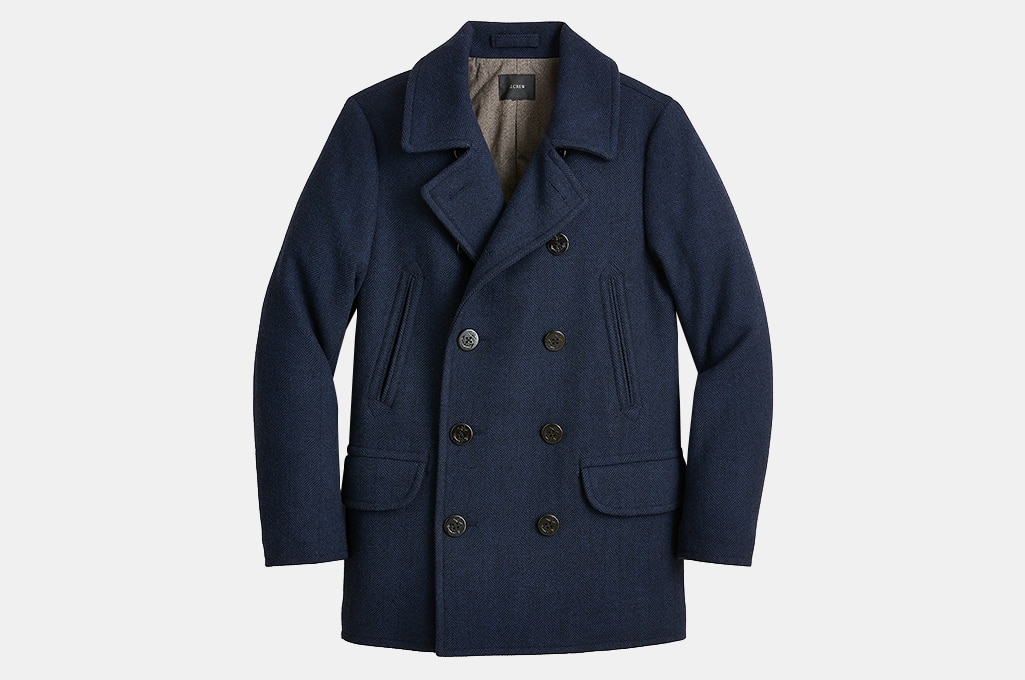 J.Crew Dock Peacoat
J.Crew keeps things simple and fresh with the Dock Peacoat, a modern take on the classic 1930s naval coat. It's stylish and sleek, with a straight fit, reinforced buttons, and lined pockets that will keep your hands and phone warm even in cold weather. Made from a blend of wool and polyamide, it's surprisingly good at keeping out the chill without being too bulky or heavy for an everyday coat. And when the weather turns truly brutal, the PrimaLoft insulation will be your best friend against winter's bite.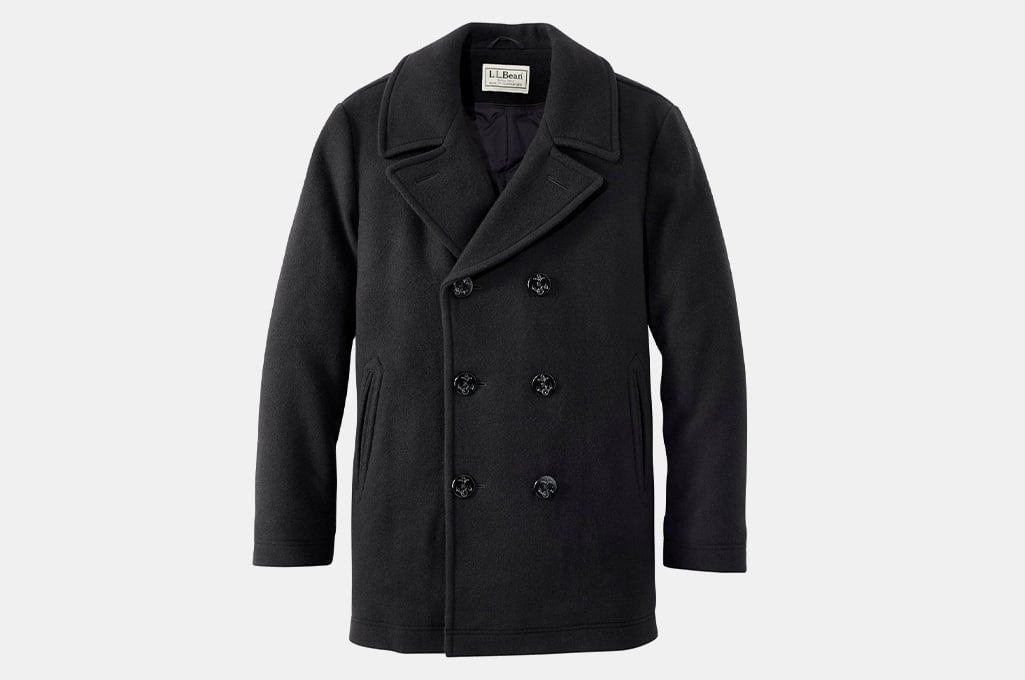 L.L.Bean Authentic Wool Peacoat
Stay classy and chic in this L.L. Bean Authentic Wool Peacoat. Made of pure Italian wool, it's a hard-wearing jacket that can handle any snow, rain, sleet, or hail without ever losing its stylish appearance. The cut is slightly fitted, accentuating your shoulders without compromising your freedom of movement. On icy days, wear it on top of a midweight layer and you'll stay warm all day long. The hip-length is just long enough to stop wind from seeping in, but it will never get in your way. With an interior layer of Thinsulate, you're insulated against anything winter can throw at you.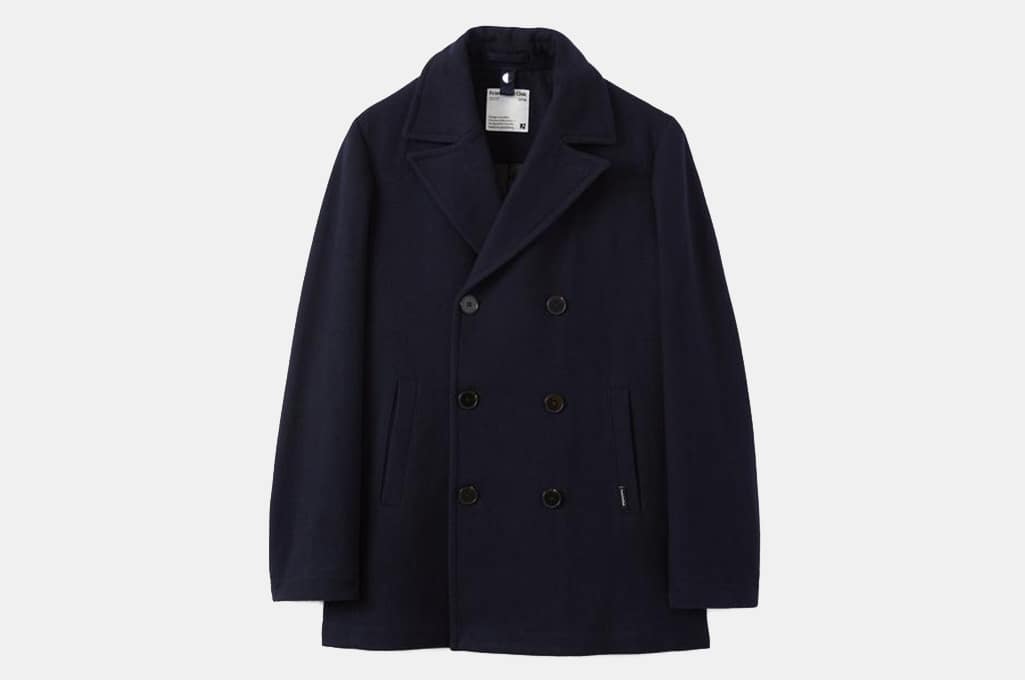 Frank and Oak The Nelson Recycled Wool Peacoat in Deep Blue
Get your admiral on in this Frank and Oak jacket, modeled after the coat worn by the legendary Admiral Nelson himself. The Nelson Recycled Wool Peacoat comes in a deep, royal blue color that will never bleed or fade, but just look more elegant the more you wear it. Made from recycled wool with just a hint of polyester (also recycled) blended in, it's versatile, comfortable, and extremely warm. The lining, buttons, and even the label are also made using recycled material—now that's commitment to eco-friendless.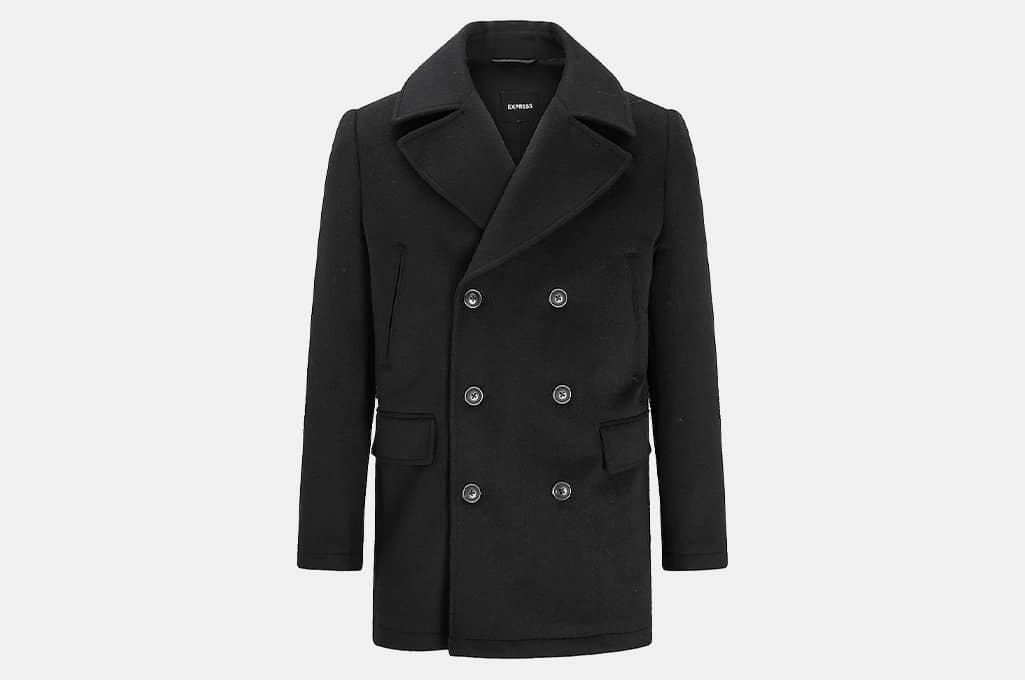 Express Solid Black Wool-Blend Peacoat
On the days you really want to dress your sharpest, throw on the Express Solid Black Wool-Blend Peacoat and get ready to strut your stuff. Everything from the button front notch lapels to the long sleeves to the double-breasted design screams elegance, but never at the cost of warmth. You'll love how cozy your hands feel inside the slant hand chest pockets, and the flap pockets give you plenty of space to store your EDC items. That sharp, straight hem looks amazing over a pair of slacks, jeans, or even snow pants.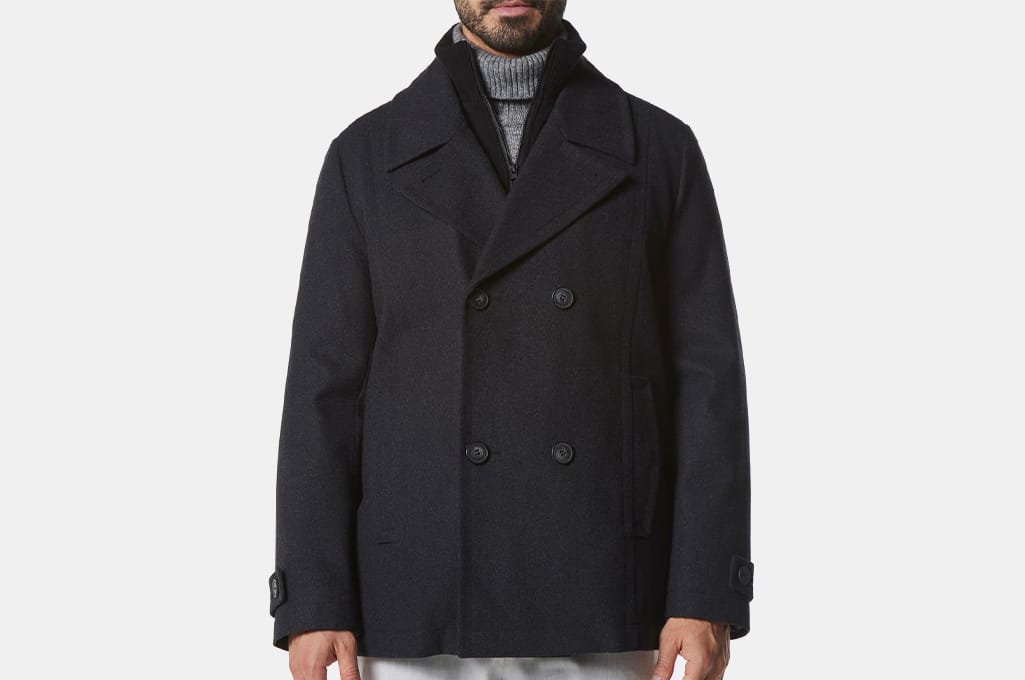 Marc New York Danton Water Resistant Peacoat
Marc New York adds a fresh spin to the classic Peacoat, and the result is a comfortable, sturdy garment you'll love wearing when the weather turns cold. As the name suggests, the Danton Water Resistant Peacoat is capable of keeping out the elements, so you can stride confidently through rain, snow, fog, and sleet. The knit jersey bib gives it a hint of flair that turns the classic contemporary, and you'll find this is an absolute essential for the cold-weather seasons.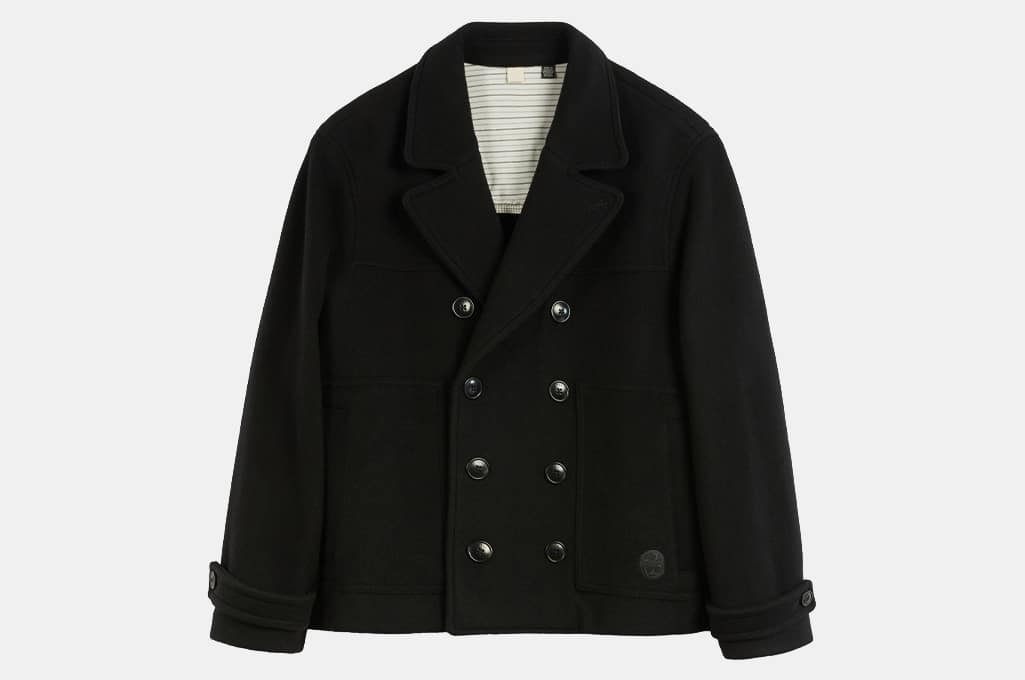 Ted Baker ATLLAS Peacoat
Ted Baker does something utterly different with the ATLLAS peacoat: instead of sticking with the classic hip-length hem, it cuts off the coat at the waist to give it a far more modern look. The result is something you'll find nowhere else, a true statement piece to showcase your cutting-edge stylish taste. The coat is made from a blend of wool and synthetics, with a cotton lining that is both lightweight and warm. All in all, it's a coat you'll be proud to show off all year around.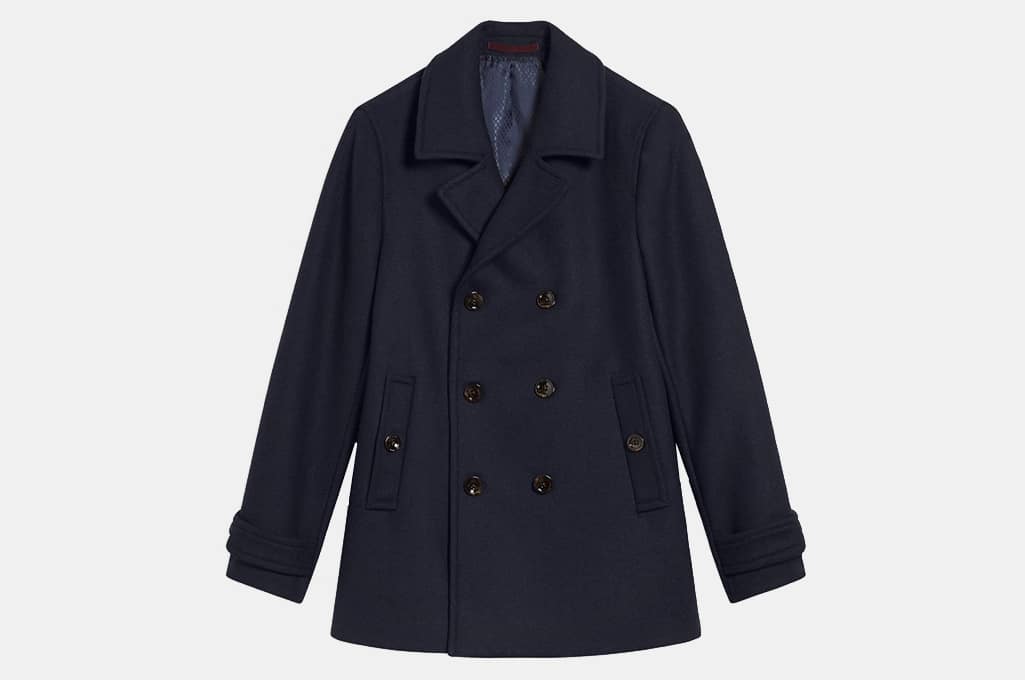 Ted Baker GRILLDD Peacoat
Nothing screams classic elegance like the Ted Baker GRILLDD Peacoat. Modeled after some of the best-known peacoats used by the British Royal Navy in the early 1900s, this hip-length coat will keep you warm without weighing you down. The blend of wool, polyester, acrylic, cotton, and viscose makes it one of the most versatile, hard-wearing peacoats on our list, and it's ideal for wearing during fall and spring before the weather gets truly icy. The cut is short and fitted, so perfect for sleek, athletic men who want to showcase their physique to maximum effect.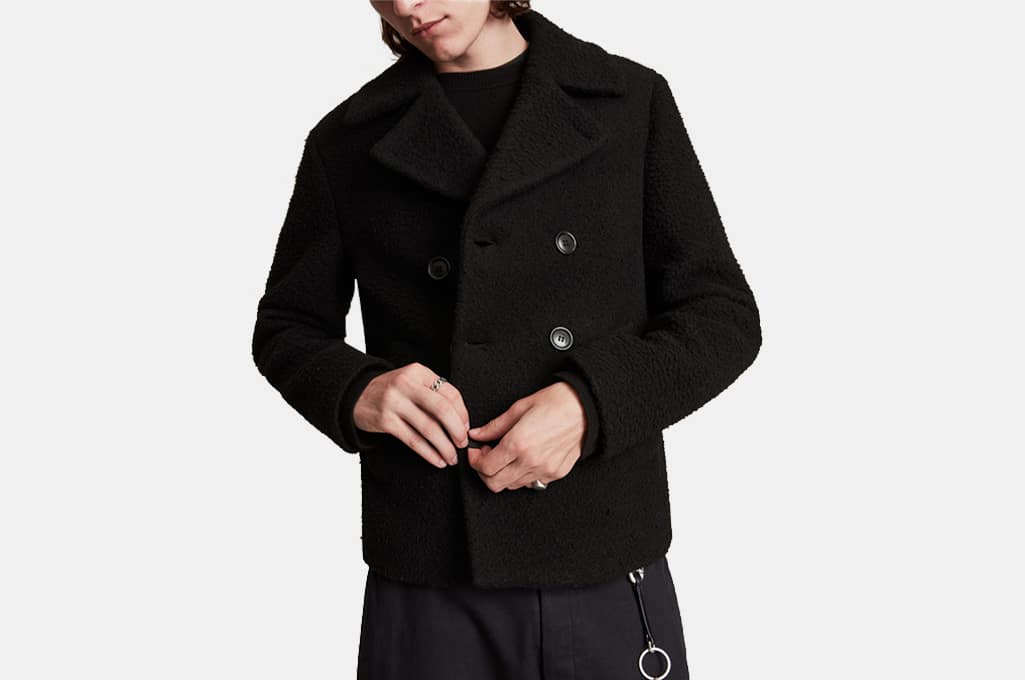 ALLSAINTS Eds Wool Blend Peacoat
ALLSAINTS Eds Wool Blend Peacoat modernizes a classic to create something unique and stylish. The double-breasted coat has a boxy, cropped silhouette that pairs perfectly with skinny jeans and Chucks or Doc Martens, but it's thick enough to serve as a great top-layer when winter sets in. With two welt front pockets and one interior pocket, you'll have plenty of space to carry all your go-to items and keep your hands warm. Created from fine Italian Casentino wool, it's a luxury garment made accessible to everyone.
RODD & GUNN Horsham Downs Coat
You'll feel like a true man the moment you slip into the RODD & GUNN Horsham Downs Coat, a rugged-looking but ultra-comfortable coat designed specifically for men's men. The blend of wool, polyester, and polyamide crafts a coat that is soft to the touch, warm, and sturdy. It carries the "Woolmark Blend certified" label so everyone who sees it knows it's made using only the finest wool blend. Thanks to its polyester-and-viscose interior lining, it will shrug off the cold and keep you beautifully warm in snow, rain, or wind.
Cockpit USA Naval Short Leather Peacoat Z21U025
For men who love their leather, Cockpit USA has the perfect option for you. The Naval Short Leather Peacoat is cut with a short enough hem that it's perfect for bikers and badasses, made using premium deer-tanned calfskin leather that is both soft to the touch and highly durable. The Ulster button-up collar is perfect for keeping out the wind, and the double-breasted chest maximizes core warmth. With adjustable belted straps at your waist, you can pull it tight to fit to perfection.
Disclosure: Clicking on these links and making a purchase may earn us a small referral fee, at no extra cost to you. Learn more here.
freestar.config.enabled_slots.push({ placementName: "gearmoose_leaderboard_btf", slotId: "gearmoose_leaderboard_btf" });