20 Best Nerf Guns In 2018
Just because you headed to college and a desk job instead of joining the Army, Navy, or Marines doesn't mean you lack the soul of a battle-hardened warrior (although you may lack the musculature).  If you're the type that likes to engage in inter-office warfare after hours or blow off steam with weekend romps into the woods for a little trigger-happy delight with friends, you know the value of a good Nerf weapon.
 
Single and double-shot Nerf guns are fine if you're playing with your kids, but when you get in the trenches with experienced Nerf warriors, the kid gloves come off and you'd better not bring a foam knife to a Nerf gunfight.  You need weaponry designed to sail over cubicle walls and span the length of long office hallways, or zip through the trees in the woods behind your house, nailing your best buddy before he gets a shot off. You need a motorized Nerf gun, a high-capacity Nerf gun, and perhaps a Nerf gun that fires 5 darts per second.
 
For the elite, desk-bound fighting force, Nerf guns are a matter of survival.  Okay, that's not true, but they are a matter of pride.  When you need a Nerf blaster that puts those jerks in IT to shame, you'll find plenty of features to fit the bill.  Here are the 20 best Nerf guns sure to energize your cubicle warfare game.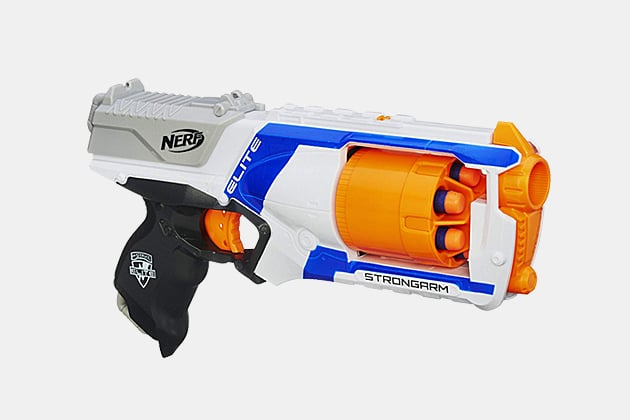 Nerf N-Strike Elite Strongarm Blaster
– Best Selling Nerf Gun –
In terms of firepower, this midsize blaster offers six elite darts that can be fired up to 90 feet without any battery-power for assistance.  Rapid fire of all six darts is possible thanks to the slam fire slide and you'll enjoy one-handed operation (meaning there is no cocking mechanism required between firing rounds).  A rotating barrel easily flips open for quick reloads so you can get back in the game when your blaster runs dry. – Shop Now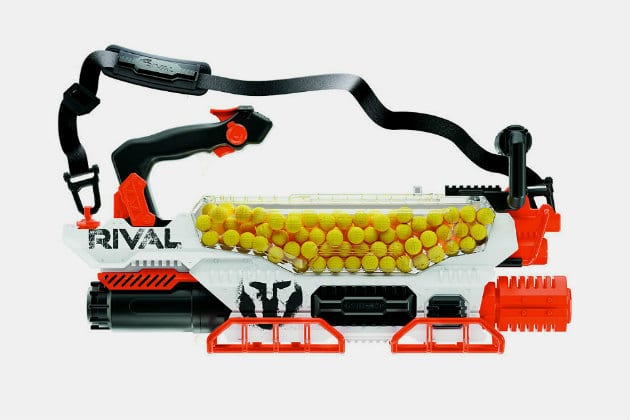 Nerf Rival Prometheus MXVIII-20K
– High Capacity Nerf Gun –
It's hard to deny the appeal of this massive, 2-handed weapon of foam destruction, considering the hopper can hold 200 rounds and the advanced acceleration system can fire them at a rate of eight rounds per second, at a velocity of 100 feet per second, with the help of a rechargeable NiMh battery.  If that wasn't enough, the kit comes with not only the gun, battery, charger, and rounds, but also flags and shoulder strap for added fun and convenience. – Shop Now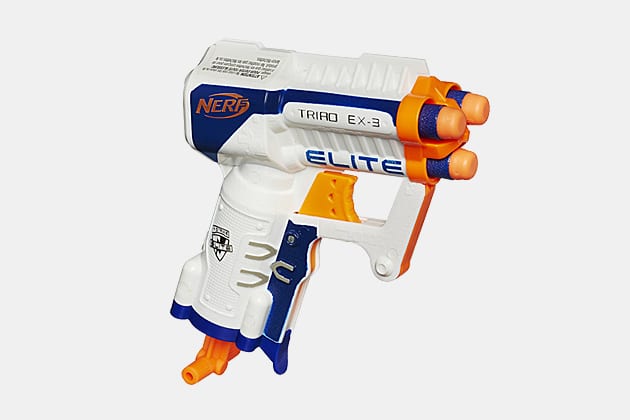 Nerf N-Strike Elite Triad EX-3 Blaster
– Pocket Nerf Gun –
Even if you prefer a larger blaster, it never hurts to have a backup on hand when your rapid-fire weapon runs out of ammo and you can't reload fast enough to defend yourself.  This small, single-handed use weapon offers a last-resort solution.  With only three elite darts, it won't win the war, but it will allow you to fire a few darts up to 90 feet, possibly giving you time to slip away and reload your primary weapon. – Shop Now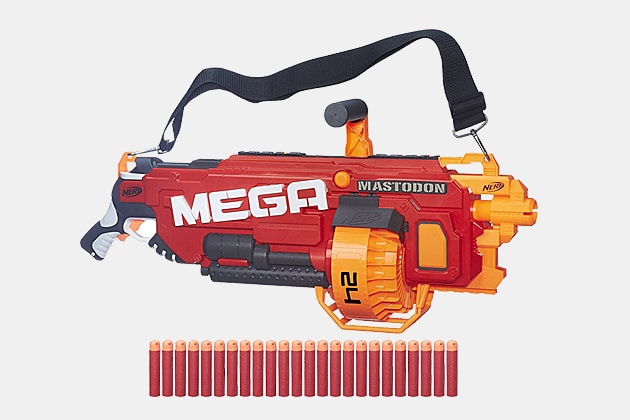 Nerf N-Strike Mega Mastodon
– A Motorized Nerf Gun –
This 2-handed beast is nothing if not impressive, starting with the sharp, red color of the body and extending to the prominent, 24-dart drum slung low on the barrel.  Much like menacing mastodons of old, this massive blaster, featuring mega whistler darts, is sure to strike fear into the hearts of your cubicle mates.  The first motorized Nerf mega blaster, it requires six D batteries to function (not included with product). – Shop Now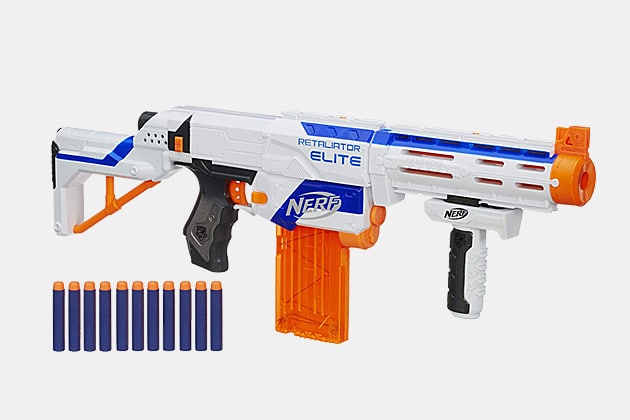 Nerf N-Strike Elite Retaliator Blaster
– A Customizable Nerf Blaster –
Maybe you can't decide which Nerf gun is most desirable for office or weekend warfare.  Good news!  This custom Nerf Gun offers four different configurations thanks to a slew of attachments, including a stock, stability handle, and barrel extension, not to mention 12 elite darts and a quick reload clip.  Darts reach a distance of 90 feet, so you can target the cowards hiding in the break room across a sea of cubicles. – Shop Now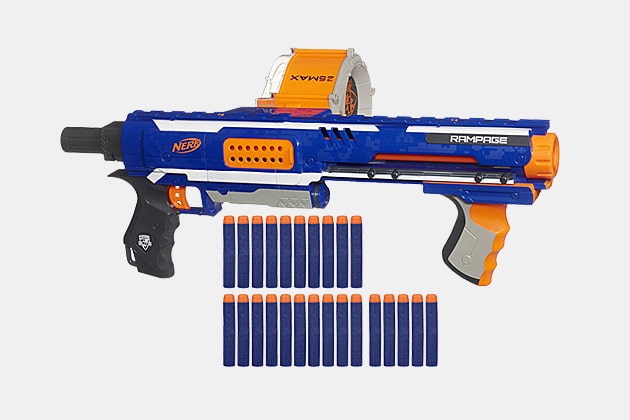 Nerf N-Strike Elite Rampage Blaster
– Rapid Fire Action –
This long, lean blaster is made versatile by the tactical rail, compatible with most N-Strike accessories (sold separately).  You'll start with 25 elite darts and a drum magazine and connector, allowing you to fire projectiles at a range of 75 feet, including rapid fire action thanks to the slam handle.  Unless you have extra drums on hand, this weapon isn't exactly quick to reload, but you won't need any batteries for operation. – Shop Now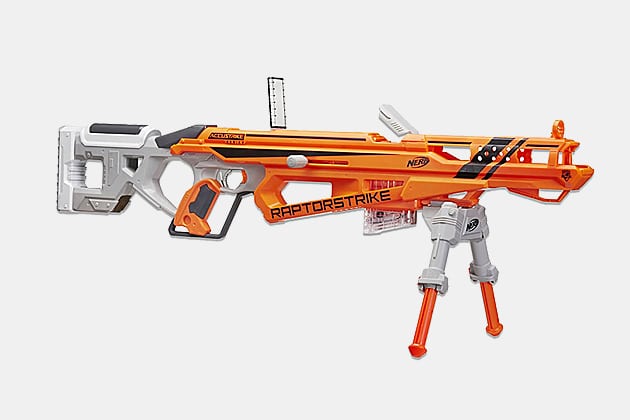 Nerf N-Strike Elite AccuStrike RaptorStrike
– A Bolt-Action Nerf Rifle –
Raptor is an apt name for a Nerf weapon reminiscent of the lightweight skeleton of a predatory bird like a hawk or an eagle.  Cutouts create a unique silhouette from which to launch 18 AccuStrike darts, which stow in two clips for speedy reloading.  An extendable bipod and pop-up site round out the functionality, in case you want to shimmy under a desk for sneak ankle attacks.  Just remember, you will have to contend with bolt-action firing. – Shop Now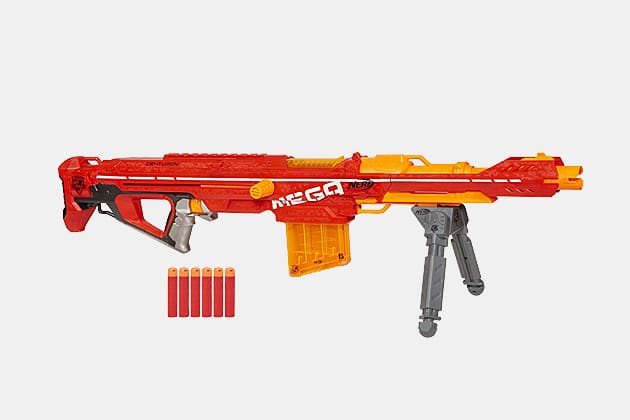 Nerf N-Strike Mega Centurion
– Long Range Nerf Gun –
It's clear this is a long range nerf gun from the extensive length of the barrel.  While you could use it in a handheld capacity, you'll be happy to learn it comes with a removable bipod stand for added stability when firing.  Not only will your mega darts reach a distance of 100 feet, but the whistler darts scream when they fly for a dose of extra intimidation during engagement.  Six mega darts are housed in a clip. – Shop Now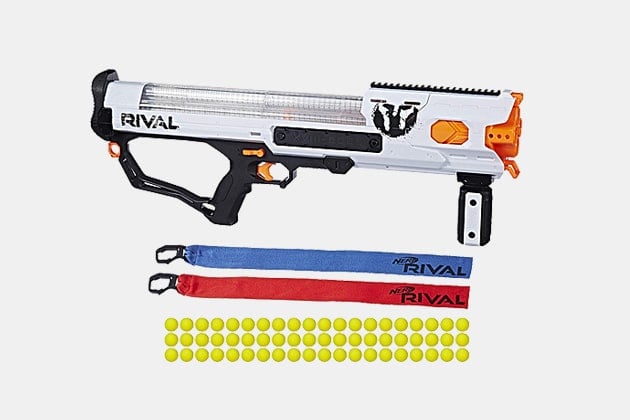 Nerf Rival Phantom Corps Hades XVIII-6000
– 100 Feet Per Second –
For a larger Nerf weapon, this blaster offers a rather trim profile for easy carry and handling.  Not only is it extremely portable, although it does require two hands for firing, it includes a high-capacity easy-load integrated magazine that holds 60 rounds, as well as a spring-action mechanism, trigger lock, and tactical rail.  It also fires rounds at 100 feet per second, delivering the precision and power needed to vanquish office rivals. – Shop Now
Nerf N-Strike Elite Rhino-Fire Blaster
– Battery Powered Nerf Warfare –
It may look a bit like a Star Wars vehicle, but this rapid-fire blaster with removable tripod designed to steady shots is an elite weapon of non-lethal warfare.  With two drums that hold 25 elite darts each, you can hold your position for a while, thanks to motorized blasting that allows for rapid fire from alternating barrels.  You will need six D batteries for operation and interns to reload your drums (neither of which are included). – Shop Now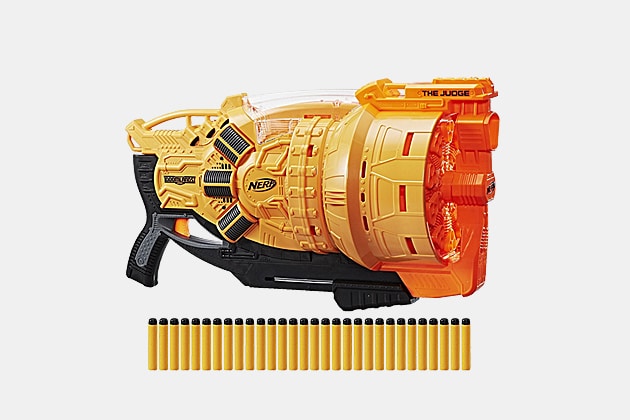 Nerf Doomlands The Judge
– Nerf Court Is Now In Session –
What can you say about a weapon that looks like a wheel of death?  Well, let's start with the fact that the enormous, 30-dart revolving drum can fire 3 darts simultaneously, taking out desktop figurines like it's child's play.  Then there's the terror opponents will feel when you round the corner bearing a weapon with a barrel bigger than your head.  The only drawback?  Rapid reload is not an option. – Shop Now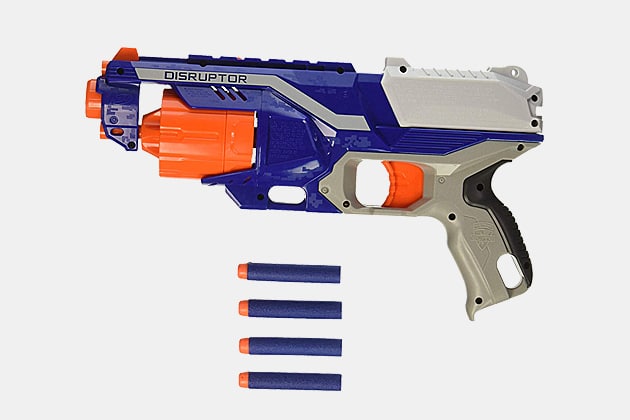 Nerf N-Strike Elite Disruptor
– Lightweight and Maneuverable –
Like most single-handed use blasters, you won't get a lot of bullets (just six elite darts in the rotating drum), but it's lightweight, portable, and easy to maneuver with if you're the type that appreciates quick-strike, ninja-like capability.  The quick-draw blaster with slam-fire action fires darts up to 90 feet so you can strike your foes and disappear like smoke on the breeze before they even know what hit them. – Shop Now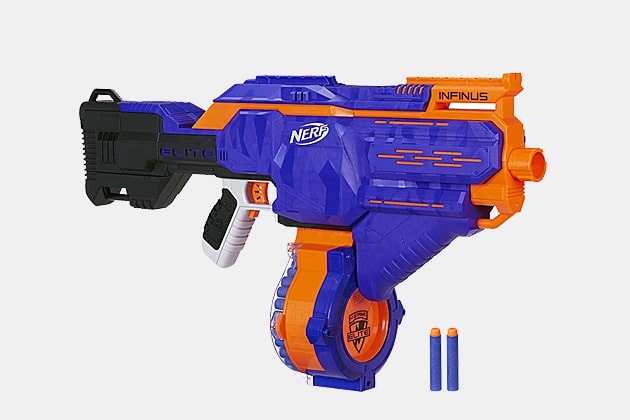 Nerf N-Strike Elite Infinus
– Motorized Speed-Load Technology –
There's a lot to like about this 2-handed blaster, from the stock on the back for stability to the motorized speed-load technology that auto loads darts into the drum.  Speaking of which, the 30-dart capacity drum provides ample shooting power, especially considering you can load darts without removing the drum.  Fully-motorized functionality means you can pop on the drum and start firing in seconds, ensuring you're capable of rapid defense or offense in enemy territory. – Shop Now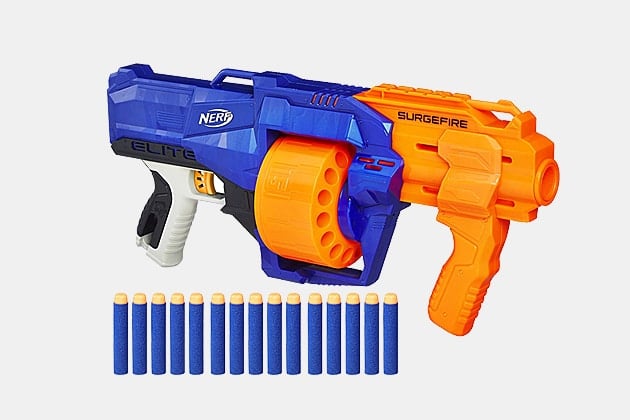 Nerf N-Strike Elite SurgeFire
– Pump-Action Nerf Firing –
You'll be surprised by the firepower packed into this mid-size blaster, which features 15 darts in a rotating drum.  You'll get decent range with darts that fly up to 90 feet, as well as speedy attack capabilities thanks to pump-action blasting and slam fire functionality.  The size won't slow you down or give away your position (although you won't be able to hide the eye-searing orange and blue plastic behind your average office ficus). – Shop Now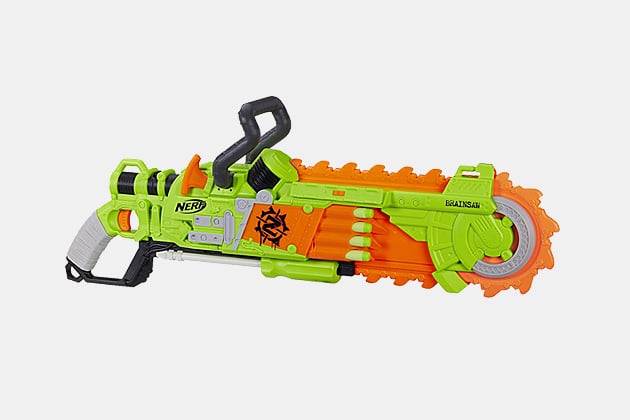 Nerf Zombie Strike Brainsaw Blaster
– Intimidate Your Opponents –
There's a big market for zombie weapons, not so much because zombies are a credible threat, but because these defenders against undead attackers are so freaking cool.  This one looks like a mini chainsaw, complete with spinning blade, that also happens to fire eight zombie strike darts, one at a time.  You probably don't want to attack your coworkers with a spinning blade of hard plastic destruction, but for intimidation, it does the trick. – Shop Now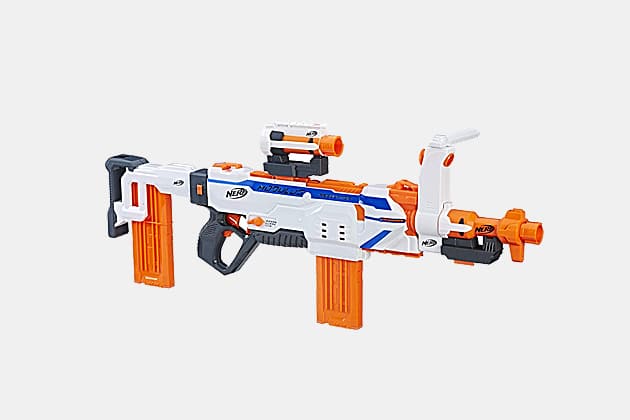 Nerf Modulus Regulator
– A versatile Nerf Gun –
There are going to be times when a single bullet will get the job done.  Then there are occasions where you'll want a burst of firepower, or even continuous-fire capabilities.  This versatile Nerf weapon accommodates your every need with SwitchFire technology that offers three separate modes.  With 24 modulus elite darts that fit into two included clips and a swivel handle for stabilizing shots, you can confidently lead your company of marketing heroes into battle.  Four C batteries required (not included). – Shop Now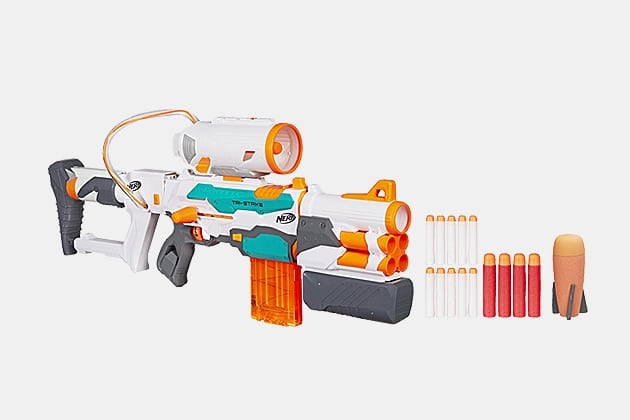 Nerf Modulus Tri-Strike
– Includes A Nerf Missile Launcher –
Why would you choose a Nerf weapon that only fires one type of projectiles when you could fire two sizes of darts and a foam missile over cubicle walls and into enemy territory?  Assemble your weapon starting with and Elite Dart blaster, to which you can add a mega dart barrel extension and a missile launcher stock.  With 10 elite darts that fit in a clip, four mega darts, and a beefy missile the size of a bean bag, you're sure to decimate your foes. – Shop Now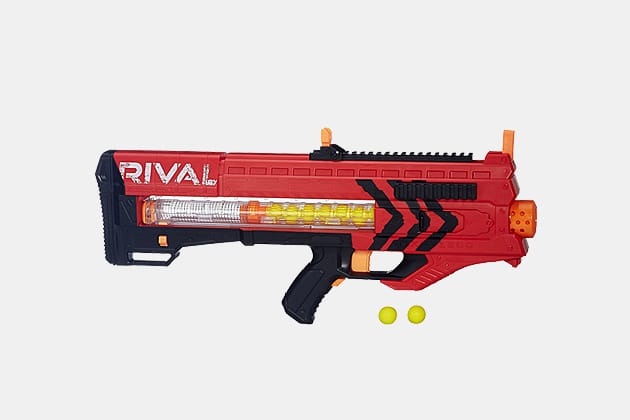 Nerf Rival Zeus MXV-1200 Blaster
– A High-Impact Nerf Gun –
Sleek and slim, this blaster offers motorized functionality for easy load and rapid fire when you need to pack a punch.  Twelve high-impact rival rounds are easy to load in the ambidextrous magazine, a tactical rail allows for the addition of Nerf accessories, and you'll enjoy convenient extras like a trigger lock, a jam clearing door, and flip-up sights for zeroing in on the enemy.  Requires six C batteries (not included). – Shop Now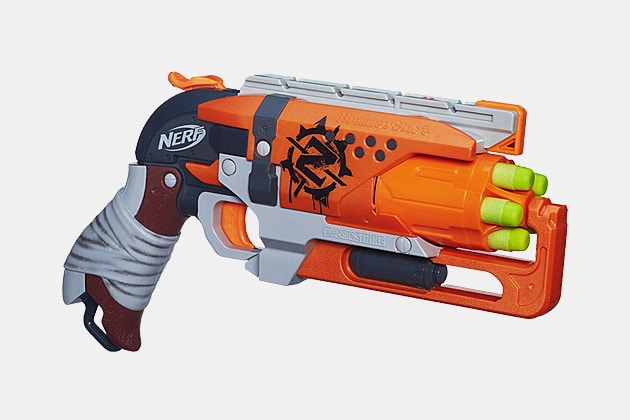 Nerf Zombie Strike Hammershot Blaster
– A Hammer Action Nerf Gun –
Another blaster from the zombie line, this Nerf weapon may lack the wow-factor of a spinning saw blade, but it does feature hammer action blasting.  You can't exactly fan the hammer – this is no Doc Holliday special – but you can accomplish single-handed fire with five zombie strike darts.  Plus, you'll get zombie strike stencils to personalize your weapon.  They won't help you double-tap zombies or fend off human attackers, but they look pretty cool. – Shop Now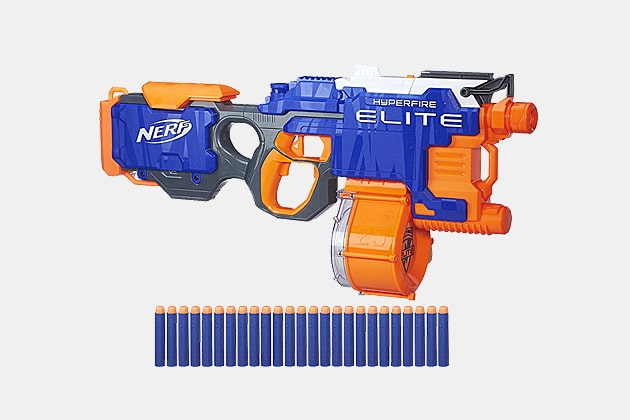 Nerf N-Strike Elite Hyperfire Blaster
– 5 Darts Per Second –
Tactical maneuvers are made easier with this compact but powerful Nerf weapon, featuring a 25-dart drum.  The short barrel won't give you away by peeking around corners before your round them, making stealth attacks easier.  It also fires darts up to 90 feet, and thanks to battery operation, it can rapid fire darts at the incredible rate of up to five per second.  This blaster requires four D batteries (not included). – Shop Now
– Nerf Gun Accessories –
Making the most of your Nerf weapons means more than keeping a stockpile of foam darts within easy reach in your desk drawer.  It means adding the accessories that will up your Nerf game and transform you into an elite cubicle warrior.  Upgrades to weapons, ammo, and storage are just some of the amazing Nerf accessories to consider.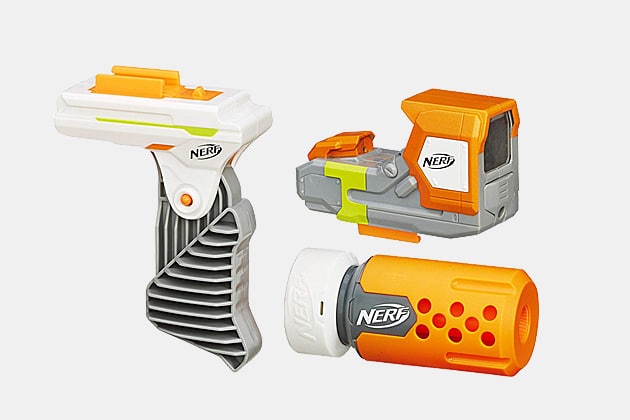 Nerf Modulus Stealth Ops Upgrade Kit
Designed for the Modulus blaster, this kit offers three accessories, including the Red Dot sight, the Proximity Barrel, and the Pivot Grip designed to enhance your covert ops so you can get the drop on competitors. – Shop Now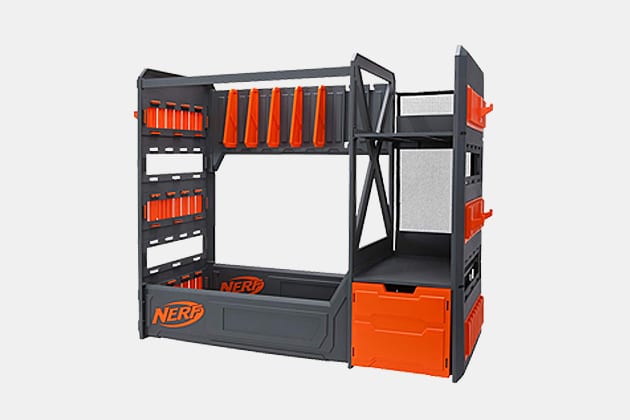 Nerf Elite Blaster Rack
The last thing you want to do in a battle is sift through a filing cabinet drawer full of weapons.  With this handy rack you can organize up to 20 weapons (depending on size) and ample ammo and clips for quick grab. – Shop Now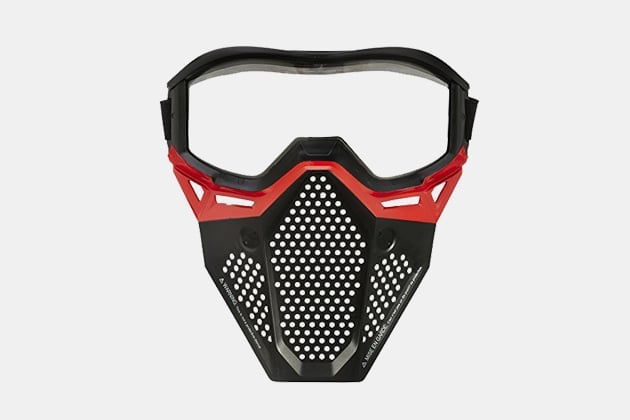 Nerf Rival Face Mask
A foam dart might not shoot your eye out, but it will hurt like the dickens and leave a nasty shiner.  This breathable, full face shield comes in several colors for personalized protection. – Shop Now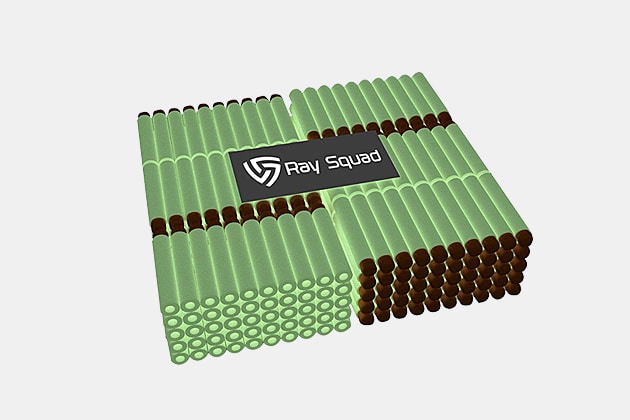 Ray Squad Glow In The Dark Nerf Darts
When twilight falls, you may have to call off your battle for failure to locate ammo and reload.  Not so with glow in the dark darts that are easy to find, even in a dim setting. – Shop Now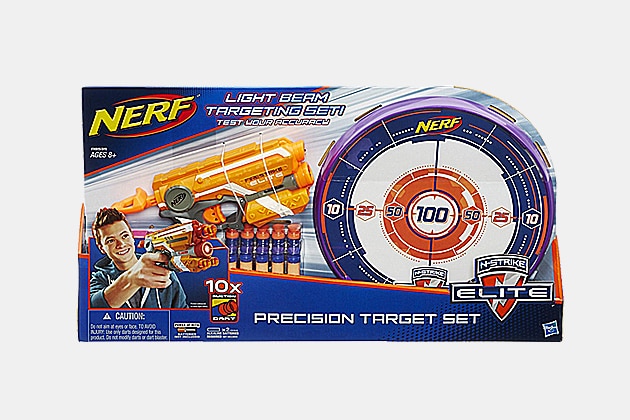 Nerf N-Strike Elite Precision Target Set
What's the matter?  Having trouble hitting your foes in the heat of battle?  Practice your shot at home with this kit that includes a blaster, 10 suction darts, and a practice target. – Shop Now
Disclosure: Clicking on these links and making a purchase may earn us a small referral fee, at no extra cost to you. Learn more here.