12 Best Weapons For Cubicle Warfare
Middle management may see them as a means of making you more productive, but we see cubicle walls for what they truly are: walled fortifications waiting to be sieged. You spend more time with your co-workers, colleagues, associates and fellow wage earners than you do with your own family and sometimes you want to shoot them with a rubber band. Lob a paperclip into their latte. Fire a dart at their cat poster. Give into that urge.
Just make sure when you wage cubicle warfare, you have the best of the best. You don't want to be standing there with a limp rubber band when your co-worker has a fully automatic rubber band machine gun. YOU should be the one with the machine gun. And the catapult. And the crossbow.
We rounded up some indispensable interoffice weaponry from which to wage office warfare, from build it yourself illustrated guides all the way to war machines ready to roll (or fly) out of the box. All you need is access to the cache of office supplies and a band of unsuspecting colleagues. Our list will provide you with a selection of the best items to outfit your armory so that you can fully engage your co-cubicle inhabitants in something that is most decidedly not a trust building exercise.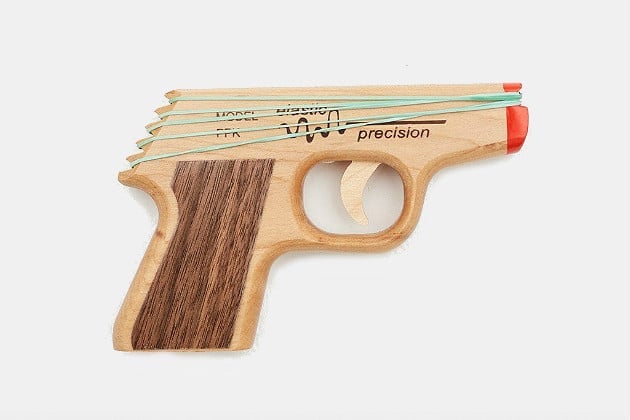 PPK Rubber Band Gun
"Be extremely mysterious even to the point of soundlessness. Thereby you can be the director of the opponent's fate."
Casually stroll about the office with this tucked into your waistband. You'll look like a harmless co-worker, but will secretly be packing the heat of not 1, but 5 rubber bands. This made-in-America, solid maple replica of a Walther PPK comes with 50 shooting bands — and the beauty of a rubber band shooter is that reupping your ammo supply is as easy as a visit to the supply closet. With each pull of the trigger, this shoots a band up to 20 feet, until you've exhausted all 5. If you can't hit your target by then, we suggest a sick day to practice at home. – Buy It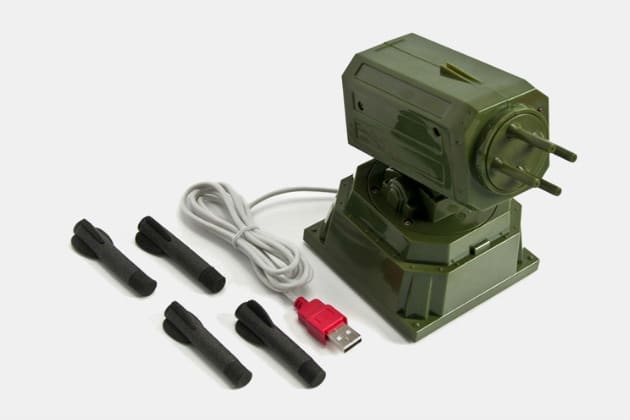 USB Foam Missile Launcher
"Let your plans be dark and impenetrable as night, and when you move, fall like a thunderbolt."
When participating in cubicle warfare, being able to look like you're working at a moment's notice is the first rule of engagement. So get to know this computer-controlled missile launcher. It hooks up via USB and is controlled, aimed and launched from the very computer you're supposed to be using to develop more scalable synergy solutions. Or whatever. With 4 foam projectiles that can clear an impressive 25 feet, you can hit your target without taking your eyes off your screen. No one will know it was you! Unless they happen to notice the missile launcher on your desk. – Buy It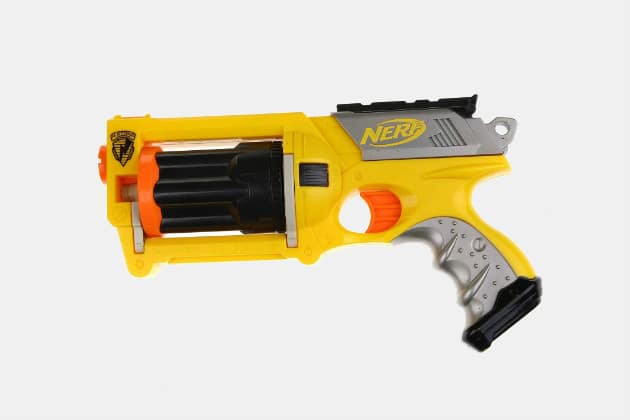 Nerf N-Strike Maverick Rev-6
"The worst calamities that befall an army arise from hesitation."
For some corporate drones, high noon just means lunch. Not to you. With one of these 6-shooters strapped to each hip, you'll be ready to meet in the aisles for an old fashioned Nerf shoot out. Part of the N-Strike series, the Maverick shoots N-Strike suction darts from a side-loading, rotating cylinder, just like the Colt revolvers Wyatt Earp and Billy the Kid once used. So now, when somebody in the office says the word "draw," it won't be followed by "up a contract." – Buy It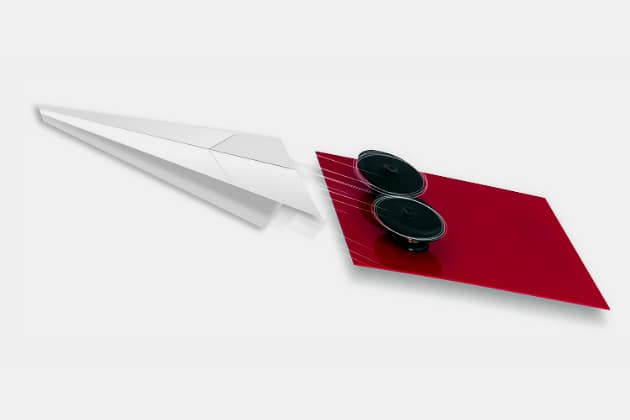 4M Electric Plane Launcher Kit
"Appear weak when you are strong, and strong when you are weak."
Deep in the history books of inter-cubicle warfare, the paper airplane is immortalized as one of the original office warcrafts. Only the wadded paper ball precedes it. Ok, we made that up. But still, paper airplanes date back to at least your middle school days, so you're probably ready for an upgrade. Enter this electric plane launcher kit. Motors spin discs that launch your paper glider up to 30 mph. Put it together, fold your plane and watch it fly across the oceans of desks at the speed of a miniature B-52. – Buy It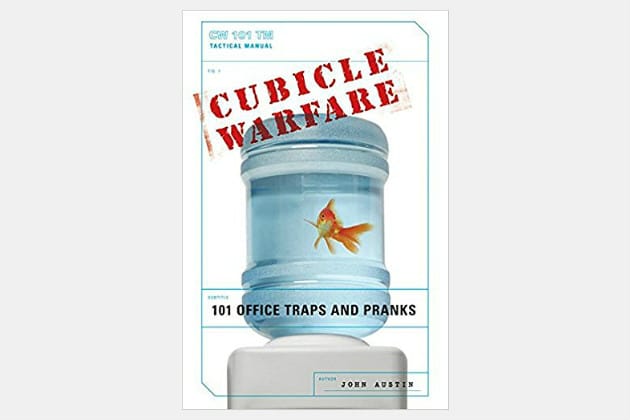 Cubicle Warfare: 101 Office Traps and Pranks
"He who is prudent and lies in wait for an enemy who is not, will be victorious."
Sure, shooting an intern with a rubber band is all kinds of fun. Launching a paperclip into an account manager's coffee is not only satisfying, it's therapeutic. But don't forget the importance of psychological warfare. Covert ops. This book will show you how it's done. Diagrams and step by step instructions walk you through a slew of pranks — some designed to annoy and vex (The Bottomless Box) others designed to slowly undermine the enemy's sanity (The See Me, The Office Hook-Up). Get a copy, get pranking and steadily become the most feared among your peers. – Buy It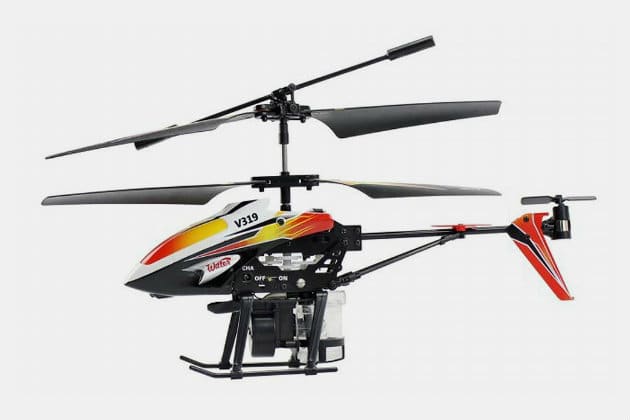 Water Shooting RC Helicopter
"Victorious warriors win first and then go to war, while defeated warriors go to war first and then seek to win"
When you run out of land, take your game to the air with a remote controlled helicopter — that happens to also fire a water cannon. We see this working wonders for breaking up boring weekly status meetings or as a diversionary measure should someone come asking where all the rubber bands went. It comes fully assembled and ready for attack with 10 minutes of fly time. A set of flashing lights will mesmerize your target before launching a stream of water to disorient, torment and otherwise offend any co-worker unwise enough to get in range. – Buy It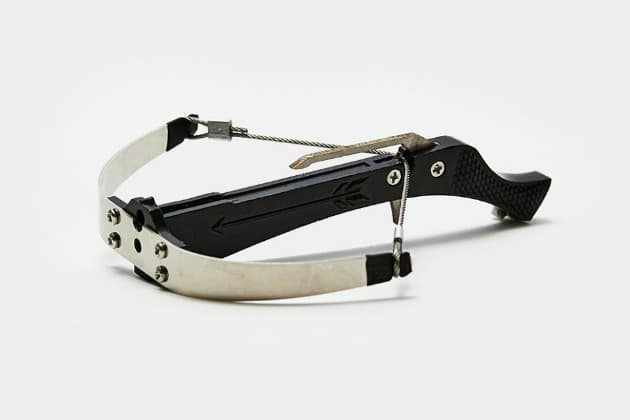 Mini Toothpick Crossbow
"So in war, the way is to avoid what is strong, and strike at what is weak."
You know that one dude who always get a can of diet coke and sips it really loud? Do you sometimes wish you could shoot it? Now you can. And from really far away. Take a match, a toothpick, a Q-Tip, load it into the mini crossbow and watch your munition hurtle across the sea of cubicles. (With a range of 30 -50 feet, this is one you need to be careful with. Wait till the can is back on the desk to shoot it, please.) As an added fear tactic, the stainless steel crossbow comes with its own stand. Display it on your desk as a warning to slurpy soda drinkers everywhere. – Buy It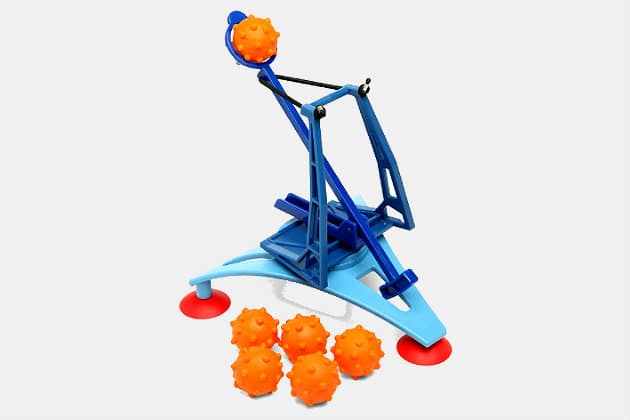 Airstrike Catapult
"In the midst of chaos, there is also opportunity."
If your neighbor takes refuge behind his cubicle wall for protection, consider this your siege engine. With suction cups to firmly plant the war machine on your desk (or any smooth surface, conference tables included) just pivot the launch base, pull back the arm and send a spiked foam ball sailing over any walled defense. With a range of 40 feet, one of these orange projectiles will easily clear any obstacle and, with practice, will handily hit home in the caffeinated depths of someone's morning coffee. It comes with 6 balls, but we see nothing to prohibit you from finding other random junk to launch. – Buy It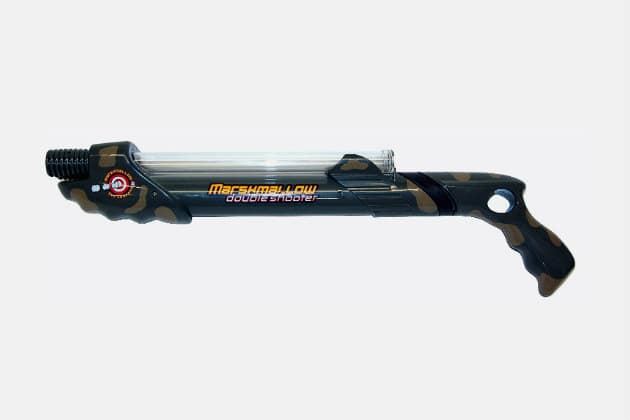 Mini Marshmallow Double Barrel Shooter
"What the ancients called a clever fighter is one who not only wins, but excels in winning with ease."
In cubicle warfare, a wise combatant maintains a degree of plausible deniability. When asked, "Did you shoot Linda?" You can say, "No, I was offering her a snack." This double barrel, pump action shooter can hold and fire 50 mini marshmallows about 30 feet across the room. A delicious and effective attack. And when a truce is called amongst your co-toilers and peacetime begins, we could see this being used to festive up a holiday party, with everyone trying to shoot marshmallows into mugs of (definitely not spiked with bourbon) hot chocolate. – Buy It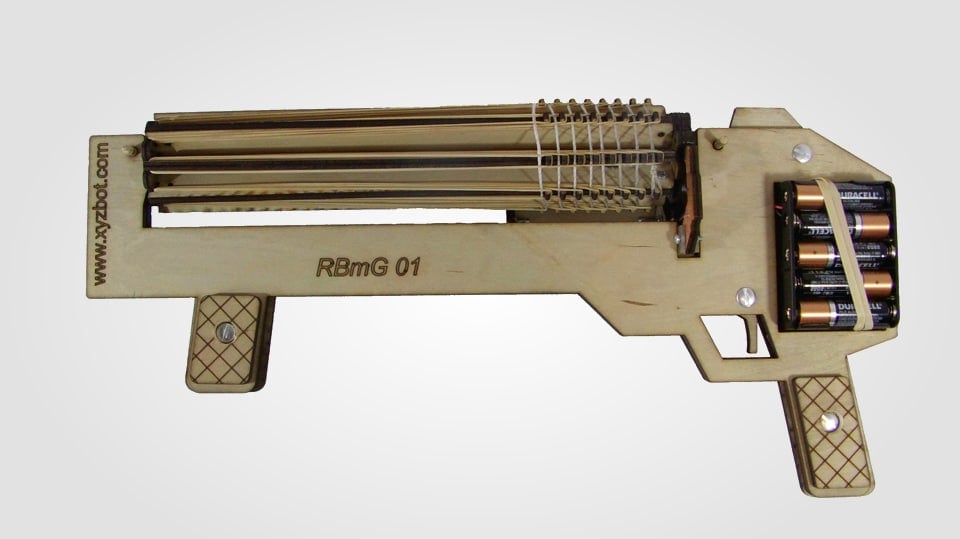 Rubber Band Machine Gun
"If you know the enemy and know yourself, you need not fear the result of a hundred battles."
When you absolutely, positively must shoot every rubber band in the supply closet, accept no substitute. The Rubber Band Machine Gun is fully-automatic, has 16 barrels and fires up to 672 bands without reloading. The trigger revs up the electric motor (powered by 5 AA batteries) spitting out the entire load of bands in under a minute. It comes with a stand so you can proudly display what some will wisely interpret as a deterrent. Any who are unwise enough to wage acts of aggression towards your desk encampment should prepare for imminent annihilation by rubber band. – Buy It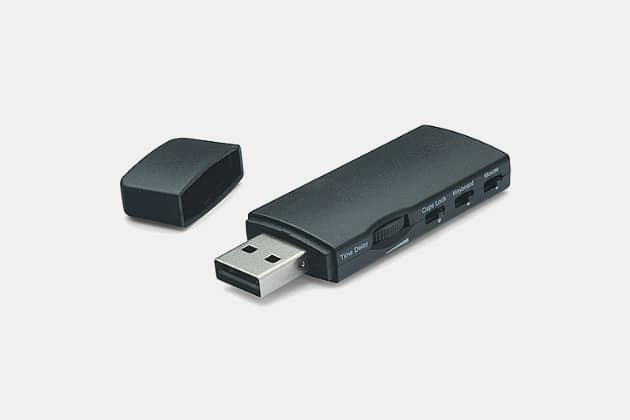 Phantom Keystroker
"Thus the expert in battle moves the enemy, and is not moved by him."
Not an in-your-face, scrimmage on the battlefield sort? Perhaps acts of nefarious cyber warfare are more your speed. Plug this flash-drive decoy into the unsuspecting USB port of an associate's computer and watch him slowly go insane. The Phantom Keystroker will make random mouse movements, type out arbitrary junk phrases, toggle the caps lock and can be set on a time delay to stretch out the torture. Watch/listen as your target battles with a seemingly possessed desktop. Then either come to the rescue or surreptitiously remove the device before IT makes it to your neck of the woods so you can continue the torture another day. – Buy It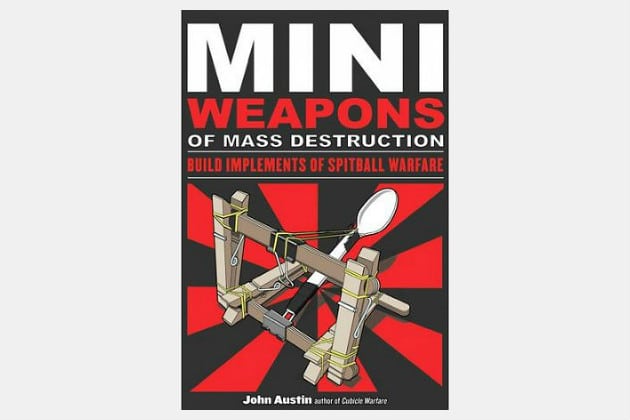 Mini Weapons of Mass Destruction: Build Implements of Spitball Warfare
"The whole secret lies in confusing the enemy, so that he cannot fathom our real intent."
A crossbow, a catapult, a rubber band shooter. All are essential elements of a well stocked office arsenal. But what if you want even more? What if you want to be the 19th century British Empire to everybody else's everybody else? Get this book and access to every paper clip, binder clip, pencil and rubber band you can get your hands on and prepare to develop your stockpile of mini-weapons. Illustrated, step-by-step instructions guide you through 35 projects for shooters, launchers, darts, catapults and, yes, mini bombs. Get this and soon no one will care what you said on that conference call that one time, you'll just be the guy with all the cool toys. – Buy It
Quotes from The Art of War by Sun Tsu