The 20 Best Sandals For Men
For as often as we talk about the importance of seasonal style essentials, there's a certain part of the men's footwear game that's often overlooked — that is, the importance of a stylish pair of summer sandals. We're here to solve that conundrum today with the best sandals for men — that's right, the 20 best sandals for men feature budget picks, stylish options and functional offerings made for beach strolls and boardwalk visits week after week in the warm weather.
We make no bones about it — the best men's sandals now incorporate premium materials and easygoing wearability, whether worn to the beach or pool or slipped on to grab a spot of ice cream on a warm summer evening. You'll have a hard time misstepping with any of the best sandals for men on our list — we practically guarantee it.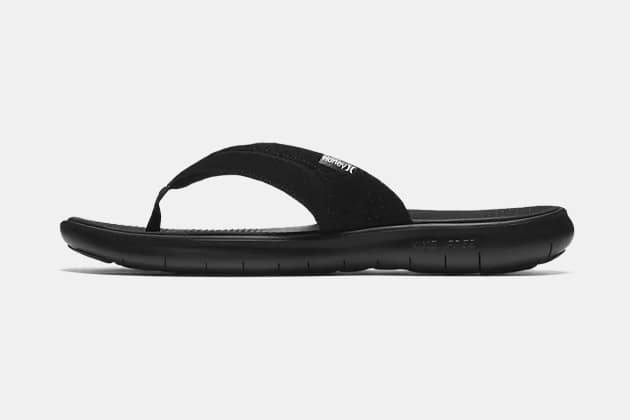 Hurley Phantom Free Motion Men's Sandals
When you find a sandal with as much comfort and wearability packed into it as the Hurley Phantom Free Motion has, you should assuredly jump on getting a pair as soon as possible. That being said, these are a hot seller — and they're here just in time for summer. Made with a Nike Free outsole for flexibility and all-day comfort, the sleek Black color pairs up with your favorite short-sleeve shirts and swim trunks with ease. – Shop Now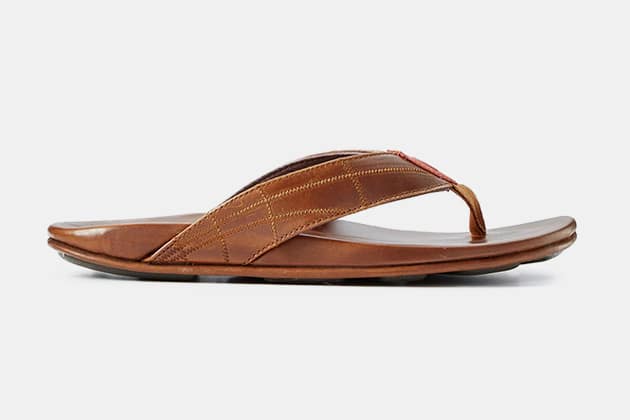 Olukai Hokule'a PaePae Sandals
With truly authentic Hawaiian heritage and history behind it, plus plenty of durability and quality, OluKai sandals are a surefire winner that belong on your feet this season (to say the least). The easy-to-wear Hokule'a PaePae Sandals deliver a lot of bang for your buck, from the full-grain leather straps to laser-etched details drawn from the sail of the Hokule'a canoe on its first voyage. Own, wear and enjoy a piece of history. – Shop Now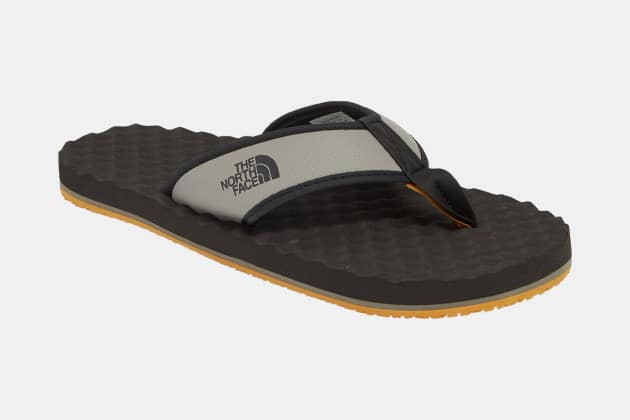 The North Face 'Base Camp' Water Friendly Flip Flop
You've come to know and love The North Face for exceptionally durable, tough gear that's suited for conquering summits and heading off trail — but what about more casually minded products like the Base Camp Water Friendly Flip Flops? Yes indeed, The North Face can take care of your feet on that front, too. Available for under $40 and featuring a comfortable egg-crate footbed and the go-anywhere technology you'd expect from The North Face, these are a major winner in our book. – Shop Now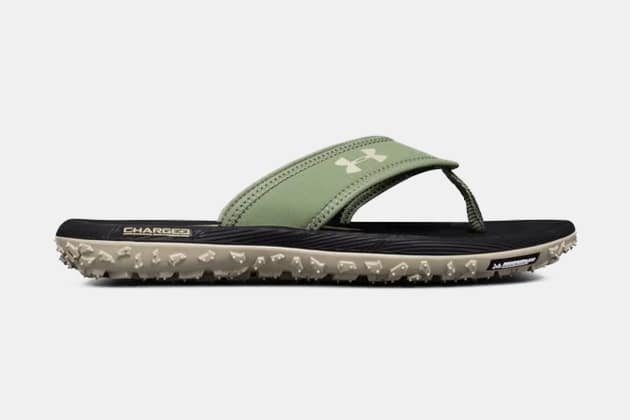 Under Armour Fat Tire Sandals
Coming from a brand that excels at making hard-wearing, technologically forward basketball sneakers and athletic gear, it might come as a surprise to see sandals in the mix — but what Under Armour knows is that you need a pair of comfortable shoes for post-workout, vacation and everything in between. The Fat Tire Sandals feature a tough Michelin Wild Gripper outsole for maximum traction on slippery pool decks, while Charged Cushioning keeps your feet free from pain. – Shop Now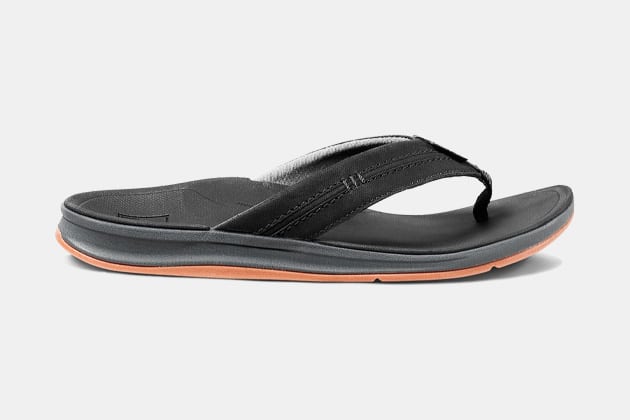 Reef Ortho-Bounce Coast Sandals
Reef is known for a multitude of sandals that offer functionality and plain old fun in one package (take its sandals equipped with a bottle opener, for instance), and yet, the brand doesn't sacrifice comfort or durability at all. Arch support and an emphasis on plenty of cushioning should provide maximum support for your feet all day long, while it's tough to top the slick Black colorway shown here. – Shop Now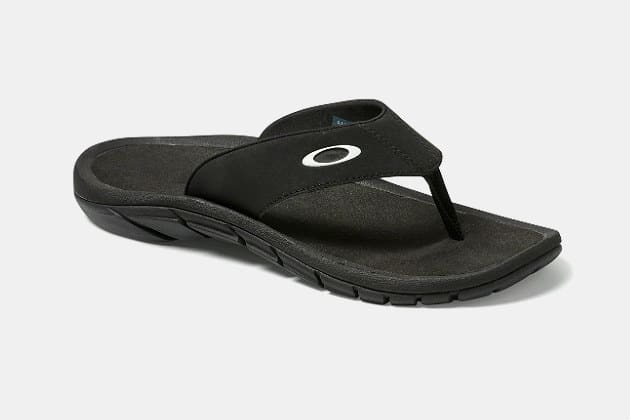 Oakley Super Coil Sandal 2.0
Oakley's gear is extreme, adventure-ready and available in all seasons — the Super Coil Sandal 2.0 would the perfect complement to a pair of sporty Oakley shades. With rugged construction and quick-drying material, the Oakley Super Coil is but one pair of sandals that can get wet and then go off the beach to a patio bar paired up with chino shorts, — that's owing to a variety of colorways and a soft footbed. – Shop Now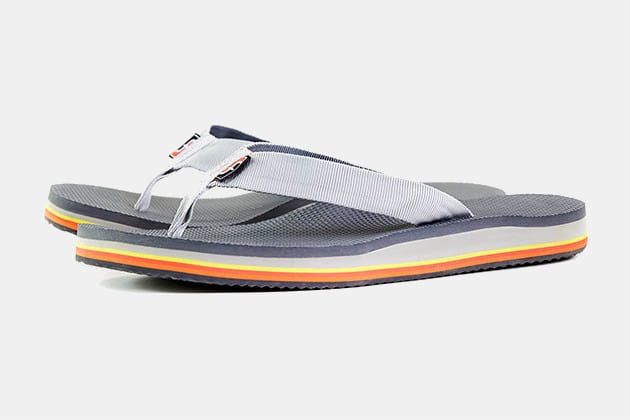 Nuhanas
The type of thought and quality that ends up going into Nuhanas sandals is really unlike any offering on the market. The brand uses heat molding for a perfect fit — that means you get a comfortable grip and easy-to-wear functionality, as the brand calls these "the highest performance sandals on the market." Stepping over a rocky shoreline or kicking them off to head to the beach shouldn't be a problem at all, and style doesn't take a backseat thanks to multiple color options. – Shop Now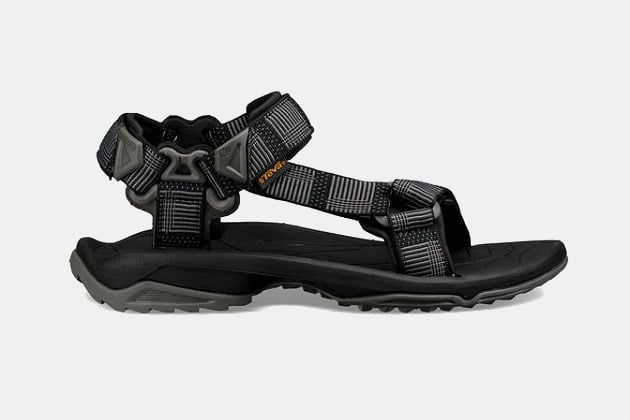 Teva Terra Fi Lite
Teva has a history of making sandals beloved by casual beachgoers and enthusiastic campers, and the Terra Fi Lite Sandals nail that balance nicely. The versatility starts with polyester webbing that's both durable and quick-drying — perfect for hopping through streams. And the brand's trademark Shoc Pad provides absorption and comfort for the total package in terms of useful spring and summer sandals. Wear these with olive cargo shorts and a grey utility shirt for adventure-ready durability. – Shop Now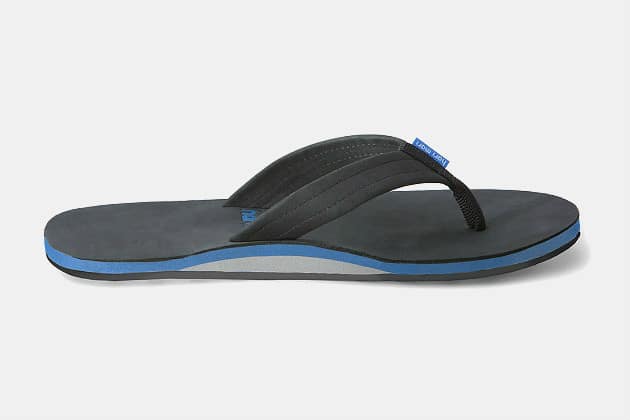 Hari Mari Fields Sandals
With a no-nonsense black-and-blue colorway and no-nonsense construction, Hari Mari gets it right when it comes to wearable, practical sandals for summer. Put them on your own list of the best sandals for men — the nubuck leather insole and lightweight midsoles combine comfort and style. Memory foam at the toe also makes the break-in process easy — and it's just as easy to love these knowing that proceeds go in part to childhood cancer initiatives. – Shop Now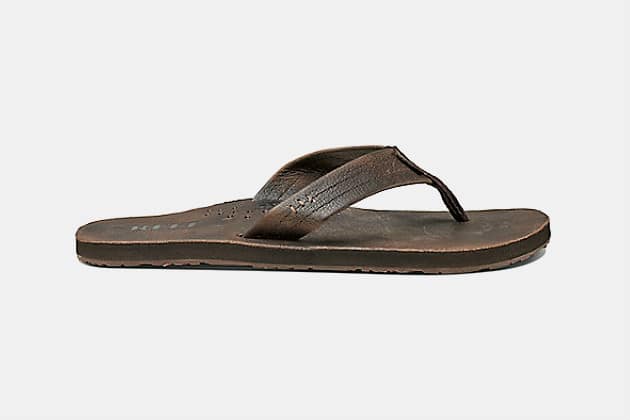 Reef Draftsmen
The Draftsmen is a classic sandal reinvented and stylized for the guy who appreciates quality materials and fine looks for easygoing summer evenings — from the beach to a patio bar. The Draftsmen features a full-grain leather upper and footbed, with a rich Chocolate leather color that's more akin to your favorite sneakers. For functionality in addition to style, they also feature a bottle opener built into the footbed — doesn't get any better than that. – Shop Now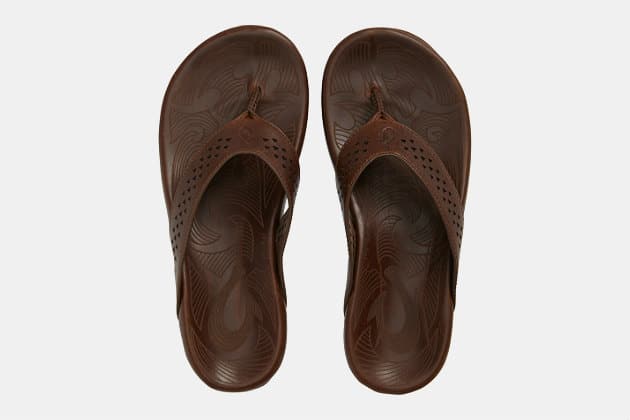 Olukai Kohana Flip Flop
OluKai makes a variety of handsome, durable leather boots and shoes, but it's perhaps most well-known for its flip-flops — and for good reason. The Kohana is a summer essential for your feet, made out of handsome brown leather with eye-catching design details and what the brand calls "tropical embellishments." That means they look great, perform nicely with chino shorts or swim trunks, and work for a summer BBQ or a day at the pool. – Shop Now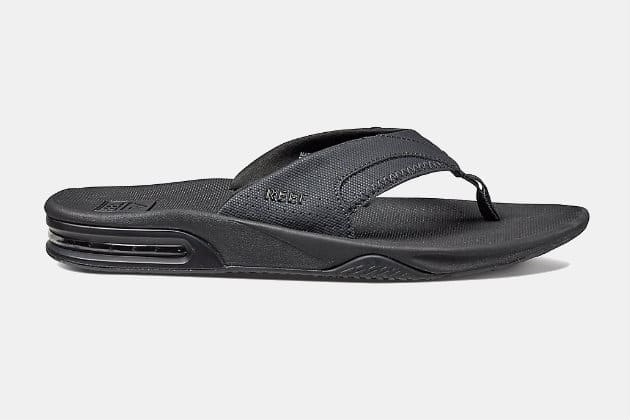 Reef Fanning Sandals
Reef has just about all the stylish sandals you need for summer, and that means it's tough to sort through the brand's offerings. The Fanning Sandals just might be the ones you need, however — fashioned with a synthetic nubuck upper for durability, plus the brand's signature bottle opener in the footbed, you need only throw these on to be set all summer long, no matter if your travels take you to a coastal beach or the local pool. – Shop Now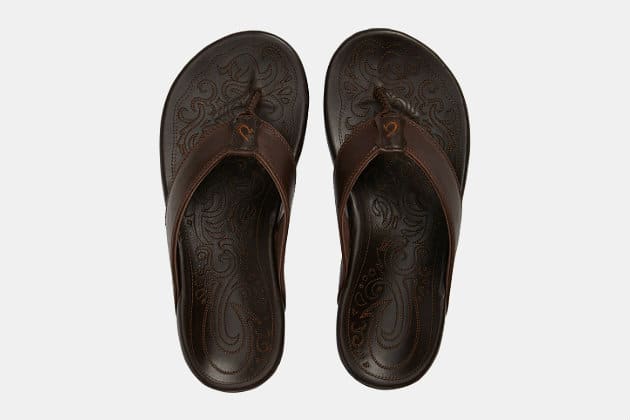 Olukai Waimea Flip Flops
OluKai continually nails the balance of functionality and versatility that one needs, even when it comes to the best sandals for men this summer. The Waimea incorporates comfort, style and a bit of tropical flair thanks to neat embroidery on the insole and the brand's supple leather for a crafted touch that should match up easily with everything from slim swim trunks to rolled linen trousers and bright blue shorts. – Shop Now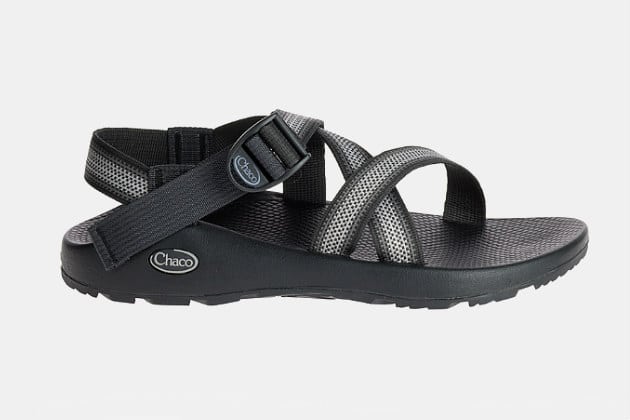 Chaco Men's Z/1 Classic Sandal
Chaco makes its Z/1 Classic out of just eight parts, making for a simple and sleek sandal that you should wear just about any time you get the chance in the warm weather this summer. For just over $100, you get premium quality and a sleek silhouette thanks to simple jacquard webbing foot straps and a LUVSEAT midsole for a very comfortable ride that's unique to the brand. The style and functionality they provide is also unique — get these before summer gets too far along. – Shop Now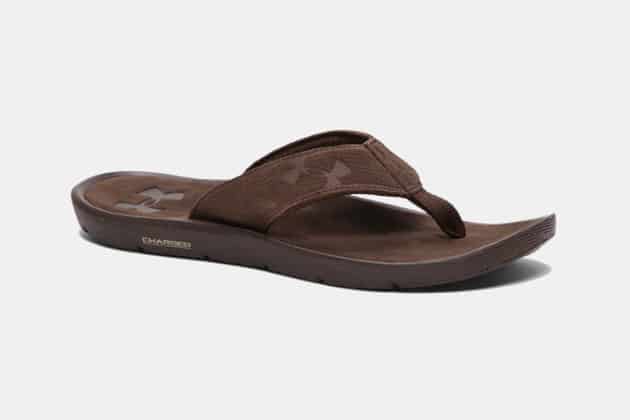 Under Armour Elite Harbor Sandals
Under Armour's focus on reliable, top-line performance and standout quality is to be applauded across all facets of its brand, and there's no question they've kept that attention to detail in line with the Elite Harbour Sandal. It's a sandal that's at once stylish and wearable (thanks to the textile leather lining) and yet comfortable on your feet after a hard training session (thanks to the brand's Charged Cushioning midsole). Wear these after a trip to the gym or to head to a casual day at the pool. – Shop Now
Vince Westcoast Sport Sandals
For style that's more minimal and sleek than your typical pair of sandals, the VINCE Westcoast Sport Sandal is made with all-rubber construction to stand up to ocean waves or a busy pool — and it features both a price and high-fashion pedigree to match. They're a perfect pair of sandals to throw into your carry-on or backpack for a stylish beach getaway, and with two sleek color options, they'll team with nearly any other summer style essential you bring with you. – Shop Now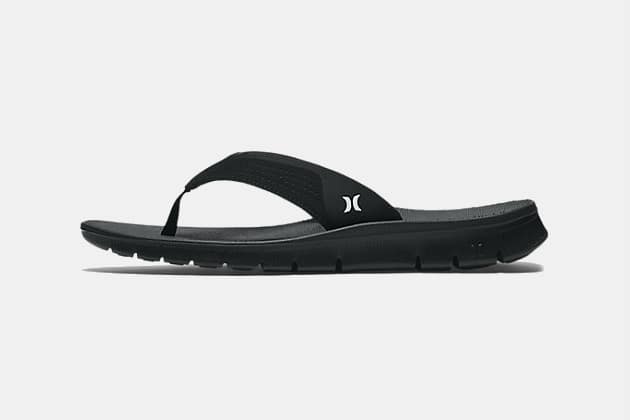 Hurley Fusion Sandals
Hurley continues to deliver when it comes to sandals that blend the best of athletic performance with the comfort and easy-to-wear silhouette of a classic summer sandal. The Fusion is no different, made with deep flex grooves through the sole and a heel cup for maximum support. The result is a pair of sandals that can go from the pool deck to a quick shoreline trek without missing a beat — and the unbeatable price (just $40) makes 'em a big-time winner. – Shop Now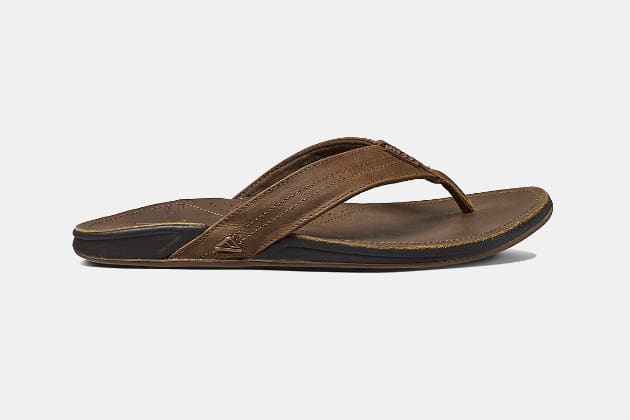 Reef J-Bay III
If you've got a pair of Reef swim trunks or another item from the lauded surf brand, you know that Reef does great work in the way of water-ready, surf-ready gear. The J-Bay III features rich full-grain leather throughout, making them a reliable lifestyle substitute for sandals that work just as well on land and at dinner as they might when worn on a quick beach trek. Arch support adds another layer of quality to these premium sandals — make no mistake about that. – Shop Now
Xero Shoes Z-Trail Sandals
It should come as no surprise that we're all about technically minded sandals in addition to more casual, laidback options. When it comes to a pair of sandals you could wear camping as readily as you could wear to the farmer's market, go with the Z-Trail Sandals from Xero Shoes. The TrailFoam midsole and FeelTrue rubber outsole provide comfort and traction aplenty, while the multi-colored straps remind us of old-school outdoor sandals. Think of them like your go-anywhere pair of spring and summer sandals, no questions asked. – Shop Now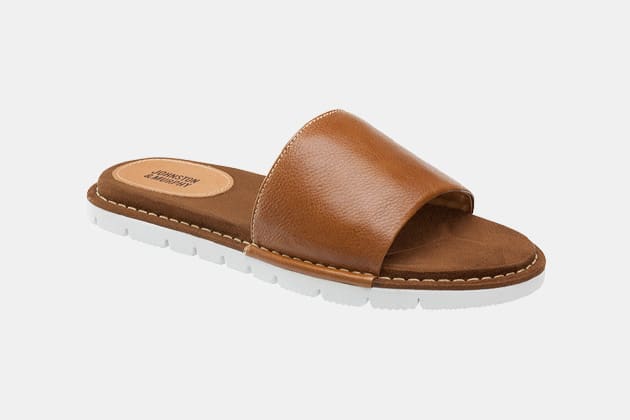 Johnston & Murphy Prescott Slide Sandals
The brand that makes some of your favorite dress shoes also makes a perfectly casual pair of sandals to complement all your off-duty 'fits (ideally including the brand's slim chinos and shorts or luxurious quarter-zip sweaters). We appreciate the tan tumbled full-grain leather and the leather slide lining, making for a comfortable and super-premium wearing experience for your next outdoor rooftop party or laidback happy hour. – Shop Now