16 Coolest Tactical Vehicles Ever Built
Other vehicles may be faster, they may get better gas mileage, and they're almost certainly lighter That's because tactical vehicles are built for more. More protection, more endurance, more power. They are what you want in combat, in dicey situations, and/or when society collapses. Here's what we found when we went looking for 16 coolest tactical vehicles ever. These tactical vehicles are bikes, SUVs, even an amphibian, that will go where a Honda Civic just can't.
Some are armored against explosives and armor-piercing rounds, some will rocket you across a wasteland or a chaos-filled city environment. While a few of these tactical vehicles are toys reserved just for official law enforcement and military use, others are ready for any random person (with enough cash) to make their Monday morning coffee run way cooler — and also prepare them for absolutely any un/foreseeable circumstance.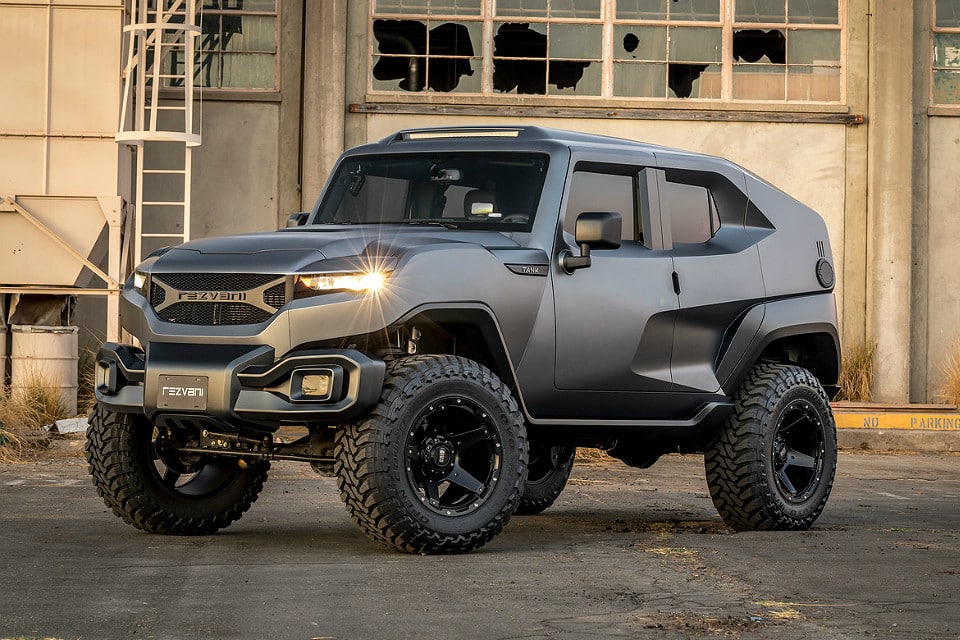 Rezvani Tank Tactical Urban Vehicle
Rezvani makes two kinds of vehicles: Beasts, lightweight, high-performance sports cars, and Tanks, very unlightweight tactical SUVs. The "base" model Tank (though there's nothing basic about it) is the Tank Tactical Urban vehicle with a 6.4-liter, V8 engine capable of putting out 500 horsepower — and you have the option of getting ridiculous with your power by upgrading to a Supercharged Hellcat with 700 plus horsepower and 650 foot-pounds of torque. The on-demand 4 by 4 eats up tough terrain, but conserves energy on smooth roads. Thermal and night vision come standard. The ergonomic seats and fully automated interiors make this one luxurious Tank. – Link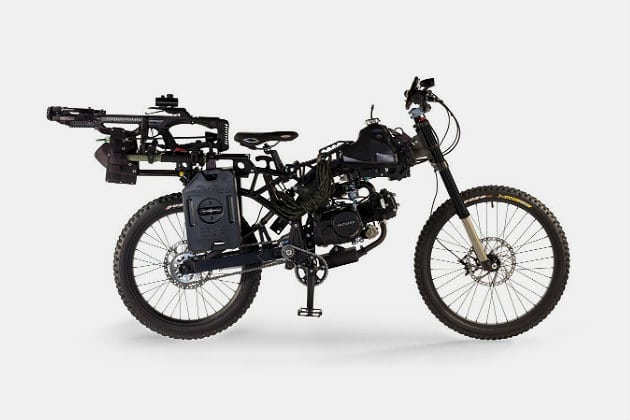 Motoped Survival Black Ops Edition
When apocalypse comes knocking, don't count on roads being wide open and free, and don't expect ubiquitous gas. This Survival Black Ops made by Motoped will go where roads end and will propel you up to 300 miles before you need to stop for a fill up. Part mountain bike, part motorcycle, it comes fully assembled with your choice of a 49 cc or 125 cc engine. There's a giant rack for strapping all your survival supplies and it'll carry three full gallons of fuel. They're built to order and take up to 60 days for delivery. Order now and be ready for lawless roadlessness. – Link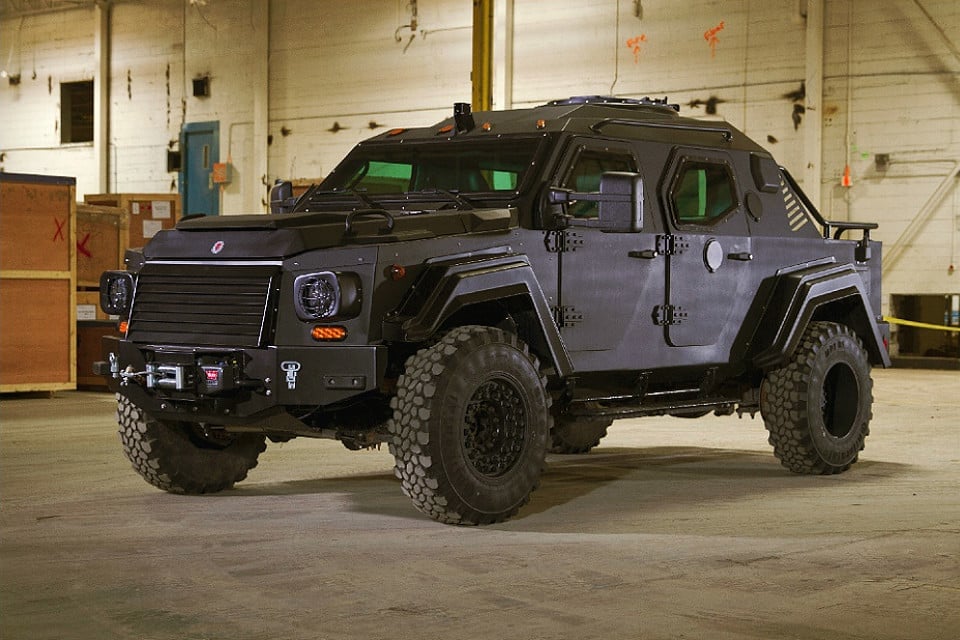 Gurkha RPV Tactical Armored Vehicle
Canadian Terradyne makes tactical vehicles used around the world by government agencies and private security organizations. The RPV is part of their Gurkha Tactical Vehicle lineup and it is ready for dang near anything with top-level B7 armoring and 19,500 pounds of vehicle weight. A four-wheel drive, six-speed automatic transmission is paired to a 6.7 liter V8 turbo diesel powerstroke engine putting out 330 horsepower and 750 foot-pounds of torque. – Link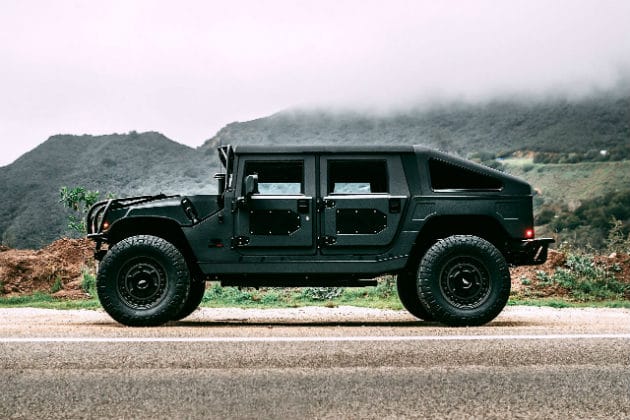 Mil-Spec Hummer H1 Launch Edition #006
Mil-Spec Auto hails from just outside of Detroit and specializes in stripping Hummers down to their frames, black powder-coating everything and rebuilding their custom vehicles as tough as possible. Between 2018 and 2020, they're hand-building twelve models as part of their Launch Editions. This one, #006 features air-suspension with an auto-leveling system for better on-road handling. This particular build has been claimed by its new owner but MSA will be very happy to build an iteration just for you. – Link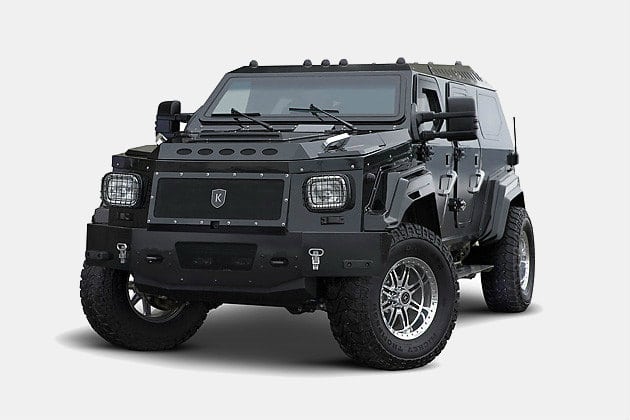 Conquest Knight XV Armored SUV
Conquest out of Toronto hires people to shoot at their SUVs. H.P. White Labs is the ballistics testing facility that quality-certifies all armoring materials used on Conquest's flagship Knight XV Armored SUV. The company plans to make just 100 editions of these military-inspired SUVs. Each has a curb weight of 13,000 pounds, 14 inches of ground clearance, and come with either a 326 horsepower V10 gas engine or a 300 horsepower powerstroke V8 turbo diesel. Front and rear night vision cameras, ballistic run-flat systems on the tires, and tinted armored glass also come standard. – Link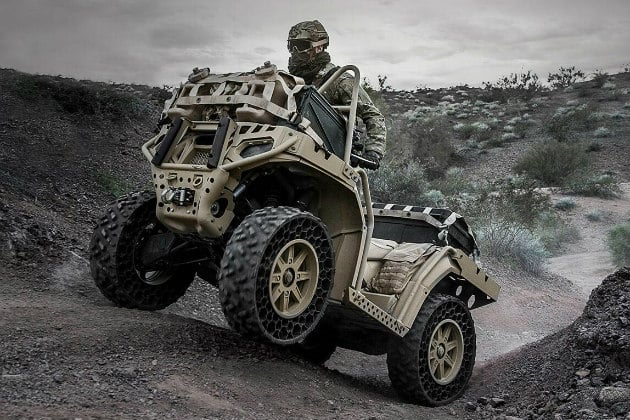 Polaris Sportsman MV 850
For the hero who rides alone, the military-focused Polaris Sportsman MV 850 can carry one rider plus a 200-hundred pound payload on the front rack and 400 pounds on the back, for a max capacity of 850 pounds. The 77 horsepower 850 cc engine is paired to a continuous variable transmission with on-demand all-wheel drive. There's a full underbody skid plate and front bumper protecting the MV850 from rough terrain and infrared capabilities and blackout drive make it ready for night ops. – Link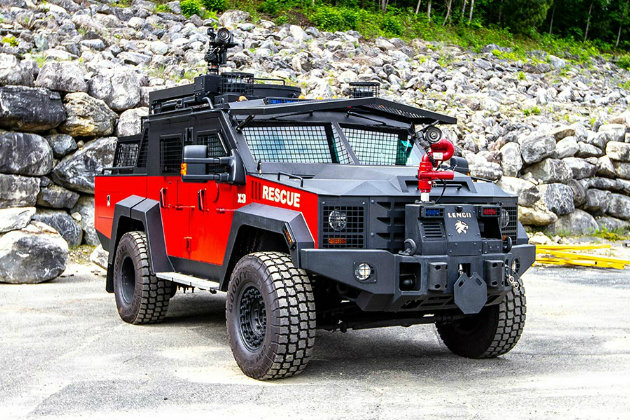 Lenco BearCat X3 FireCat
Lenco makes armored vehicles for law enforcement and military use. One of their latest offerings is the BearCat X3 FireCat. Specifically designed for fire response, the armored vehicle has an onboard water tank with a foam proportioning system and a nozzle mounted to the roof so it can put out small structure and vehicle fires before they get out of hand. To knock down bigger fires, it can hook to a main waterline for continuous water flow. Joystick controls inside and room for six fully equipped officers make it a favored vehicle in many a fire house. – Link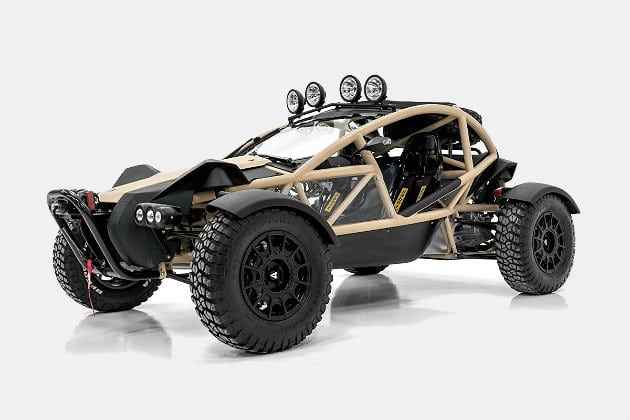 Ariel Nomad Tactical Buggy
Ok, you don't want a giant tank-like SUV and a tactical bike isn't quite enough. How about a buggy? This isn't a lightweight, beach-only dune buggy. Built by Ariel Motor company, the Nomad Tactical packs a Honda 2.4 liter i-VTEC engine delivering 230 horsepower and 200 foot-pounds of torque to push its 1750 pounds to 60 miles an hour in 3.5 seconds, with a top speed of 120 miles an hour. To get over any terrain comfortably, the Nomad Tactical comes with 15-inch wheels, BFG mud terrain tires and JRi shocks. A true bug-out buggy. – Link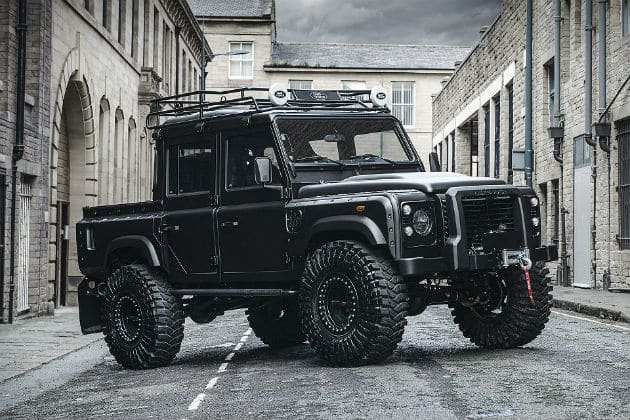 Land Rover Defender Bigfoot
Take a Land Rover Defender and push it into full beast mode — that's what London-based Chelsea Truck Company did when it made the Bigfoot. The SUV gets a five-inch lift and five-spoke, steel beadlock wheels with thirty-seven-inch Maxxis Trepador tires. The paint job is a blacker than black Volcanic Rock Cromax finish and the standard bumper has been switched out for a custom, winch-enabled version with a sump guard. LED headlights from Diamond Bright and Cabbie spotlights make sure you see where you're headed. The vehicle itself makes sure everyone sees you. – Link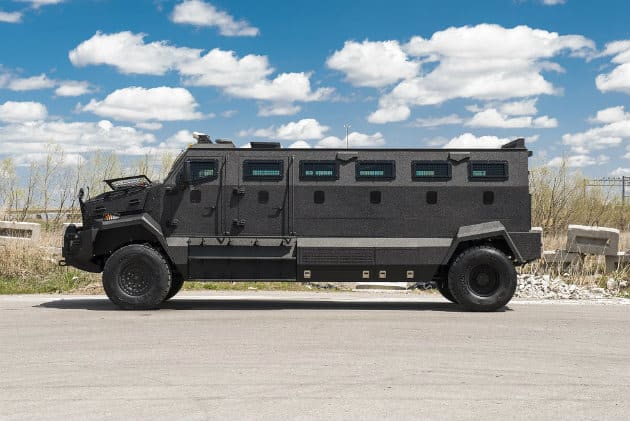 Inkas Huron APC
What's the point of your land ark if you can't bring along everyone you know? The Inkas Huron armored personnel carrier can seat sixteen and get them safely through the direst of circumstances. External armoring is independent-certified, level B7 armor that can withstand high-powered rifles and hand grenades with a blast-protected floor that holds up against light anti-personnel mines. It all rides on a Cummins 8.3 liter diesel engine putting out 305 horsepower helping sixteen riders get gone. – Link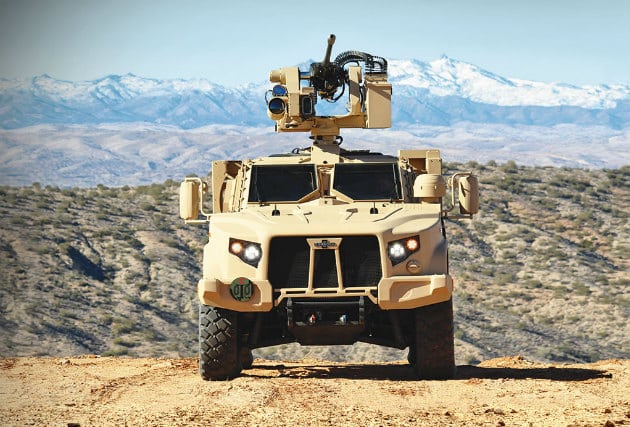 Oshkosh Defense Light Combat Tactical All-Terrain Vehicle
Last year the US Army put in a $6.7 billion order for over six thousand Oshkosh tactical vehicles. That's a pretty good endorsement for the utility of a given company's wares. Their Light Combat Tactical Vehicles provide Mine-Resistant Ambush Protection (MRAP) and are equipped with an intelligent independent suspension to conquer any terrain and withstand any environment. – Link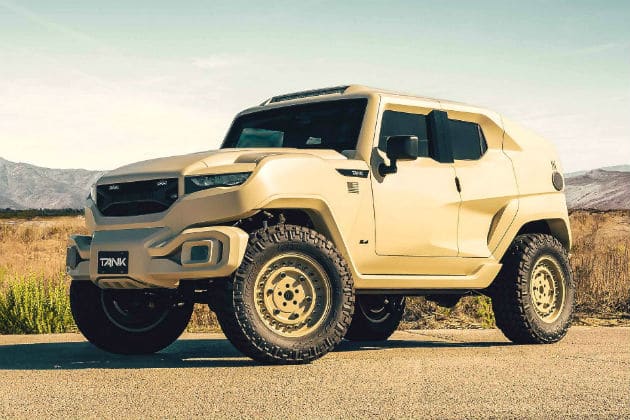 Rezvani Tank Military Edition
Most tactical vehicles promise massive HP and armored protection, but not all of them give you night vision, blinding lights, magnetic deadbolts, gas masks and electromagnetic pulse protection. The military version of the Rezani Tank Tactical Urban Vehicle does. The horsepower goes up to 500 from a V8 and an on-demand four-wheel drive transmission. The ballistics armored protection can stop high-caliber weapons and both battery and fuel tank are wrapped in Kevlar. Now every street is a safe street. – Link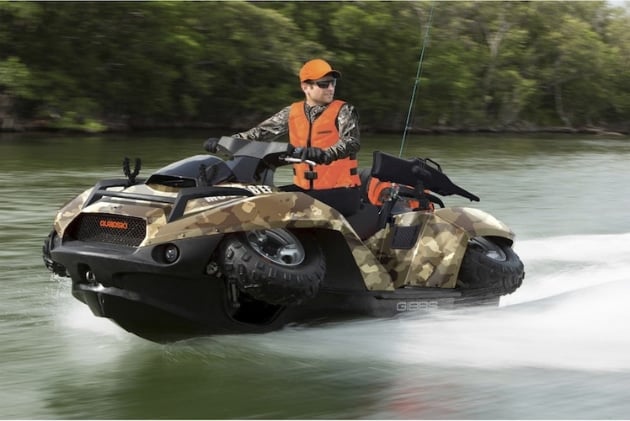 Quadski Amphibious ATV
If your quarry goes to ground, leave no ground to go to. And if it goes to water, get an amphibious vehicle. Michigan-based Gibbs Sports pioneered high speed sport amphibious vehicles capable of speeds topping 45 miles an hour on both land and water. A BMW Motorrad K1300 engine brings the power, while the suspension helps with improved handling on land and retracts before hitting the water with the push of a button. The company has sold all models as of now, but are working on new models — along with a TriSki, BiSki, and a Quadski XL. – Link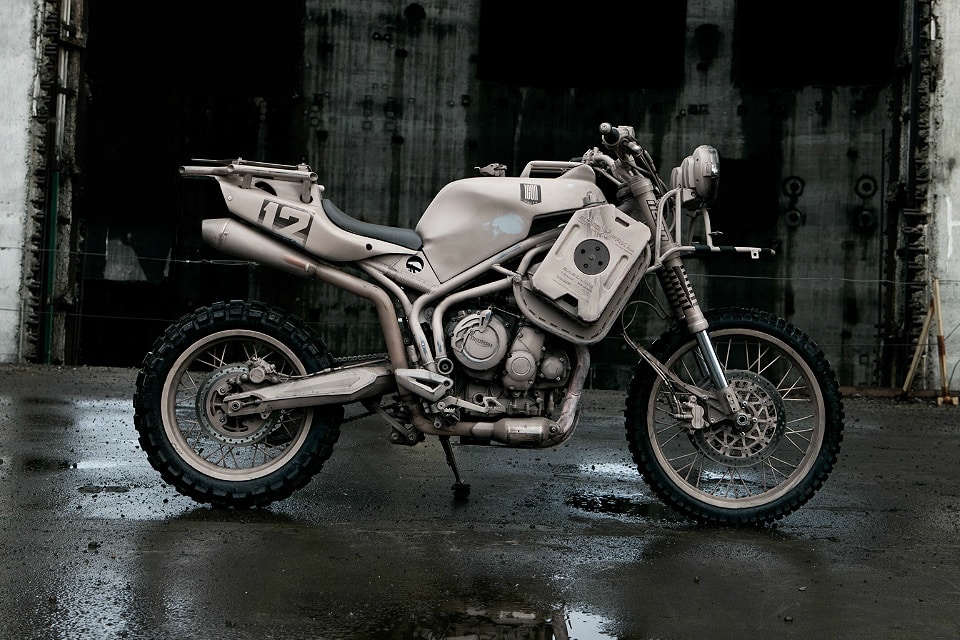 Triumph x Icon Dromedarii Motorcycle
The dromedarii name comes from camel-mounted forces in the late Roman Empire. And it's an applicable name for this custom motorbike. A collaboration between riding gear company Icon 1000 and Triumph motorcycles, the Dromedarii is a Mad Max-looking ride based on a Tiger 800XC. All plastic was removed and replaced with steel cages and plates — while that ups the weight, it's a necessary move in the apocalyptic desert. A custom oversized fuel tank plus front and back gear racks make you ready for the Thunderdome. – Link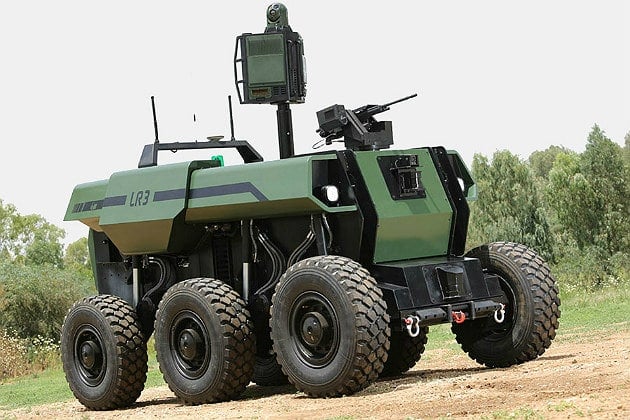 RoBattle Combat Robot
A robot does not get tired. It does not worry about being blown up. The RoBattle is an unmanned combat and support robotic vehicle from Israel Aerospace Industries that can be equipped with manipulator arms, surveillance and reconnaissance sensors, and remote-control weapons. Used for convoy protection, ambush and attack operations, and surveillance missions, the RoBattle is a (very) grown up version of that RC tank you once drove. – Link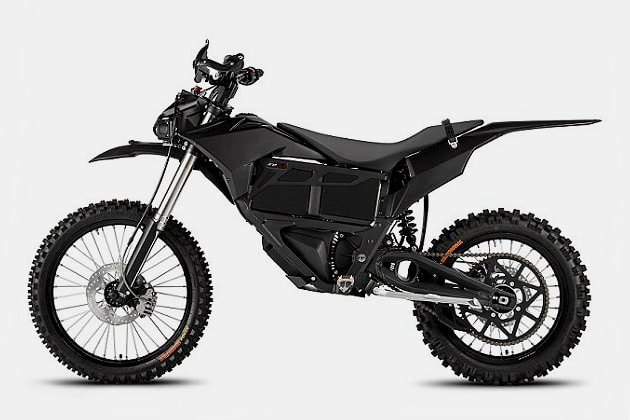 Zero Motorcycles MMX
No one can hear you coming on an electric bike. Heat signature? Zero. Want to operate inside a building? No exhaust to keep you from doing just that. Electric bike maker, Zero Motorcycles offers their MMX for military and law enforcement applications. It's a lightweight option with off road tires. Like all electric vehicles, the torque is instantaneous, this one going from a standstill to 102 miles an hour. The MMX can be fully submerged up to one meter and you have nothing to worry about in the way of transmission, fluids, or gas. Swappable power packs and an off-board charger mean the power just keeps coming, anywhere you take it. – Link