16 Best Travel Pants For Men
No matter the season, you need a pair of functional travel pants. That's our ultimatum, and we're sticking to it. What separates a pair of the best men's travel pants from regular pants you wear every day? That, to us, is pretty simple.
Travel pants combine all the crucial style attributes you ask for in your favorite jeans or chinos, but with a little something extra. We're talking true all-day versatility — the ability to look great when having drinks at your final destination, blended with the tough ability to stand up to the demands of a long day of travel. And we're also talking durability and toughness; the best men's travel pants transcend the idea of traditional denim or chinos, often incorporating fabric with nylon or elastane for extra stretch, comfort and performance.
The end result when it comes to travel pants? An addition to your closet that's uniquely ready for the road, well-suited to the demands of travel and even more fit to wear other like well-minded travel gear. You'll have to look for other suitable pieces on your own, but we'd wager the below selections are a more-than-worthy place to start building your next travel ensemble.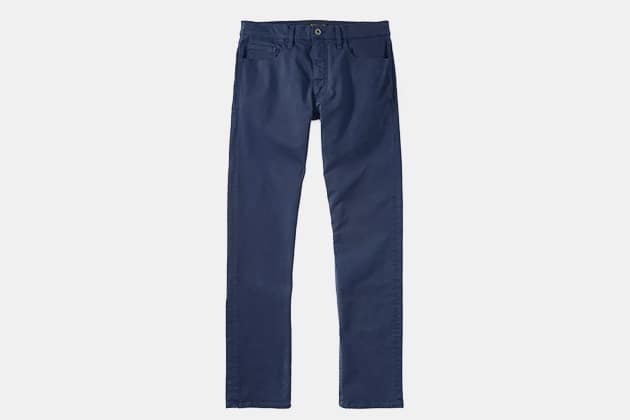 Flint and Tinder 365 Pants
We start our list of the best men's travel pants with a pair of stylish five-pocket pants that are as essential as any you currently have in your closet. Flint and Tinder devotes exacting attention to high-quality goods, from T-shirts to crewneck sweaters to Oxford shirts, and the 365 Pants are a fitting complement to all of these, seeing as they're cut like jeans but move like chinos. That makes them the ideal pair of pants to wear for a long day on the road — you can depart the plane, then head to happy hour without missing a beat. – Shop Now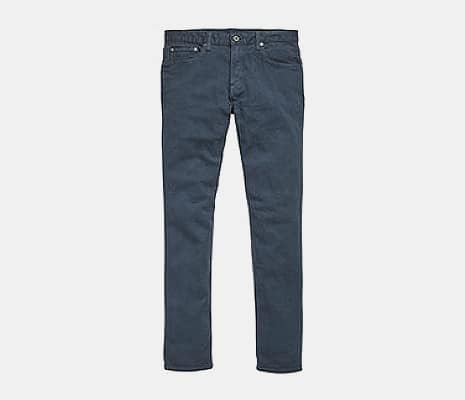 Bonobos Travel Jeans
Bonobos is another brand we admire for doing things so consistently well across the board — that goes for its aptly named Travel Jeans, a favorite from the brand around these parts for several years. They represent all that's great about the best men's travel pants, from the range of fit options to the cotton-elastane blend to the curved waistband — this is one comfortable pair of pants for a long cross-country flight, to be sure. – Shop Now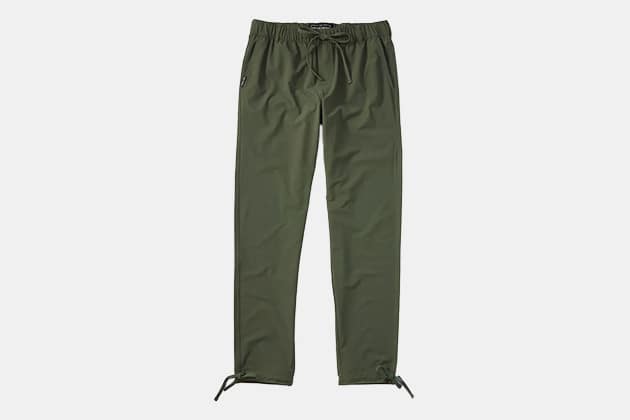 Coalatree Trailhead Pants
The best thing about a great pair of travel pants is the versatility and durability they provide you — kind of like the Coalatree Trailhead Pants. Done up in a tried-and-true colorway that just so happens to be exclusive to Huckberry, they feature all kinds of (very necessary) bells and whistles that make it easy to see why they belong on this list of the best men's travel pants. From the drawstring ankles and waist to the slim fit and the nylon ripstop fabric, they're more than worthy of praise. – Shop Now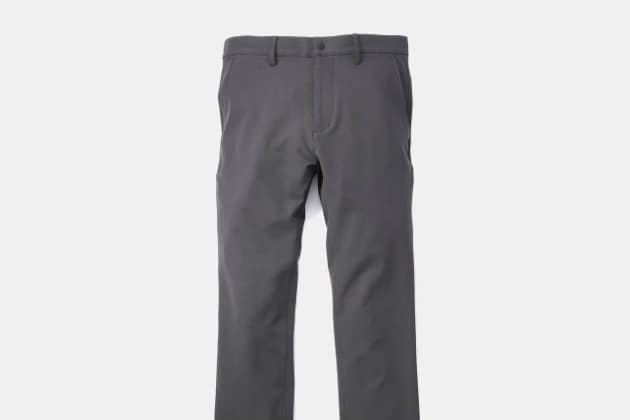 Proof Nomad Pants
Take it from us: We love Proof for what the brand represents and the gear they subsequently make. They're all about crafting versatile, stylish gear in cool colors, the type of gear that's made for the everyday guy who wants to look great while traveling — that can be said for pieces like the Proof Oxford as well as pieces like the essential Proof Nomad Pants. The cut is slim and tailored but not too tight, while the construction is foolproof (and weather-ready) — no need to treat these pants too delicately; they can certainly stand up to it. – Shop Now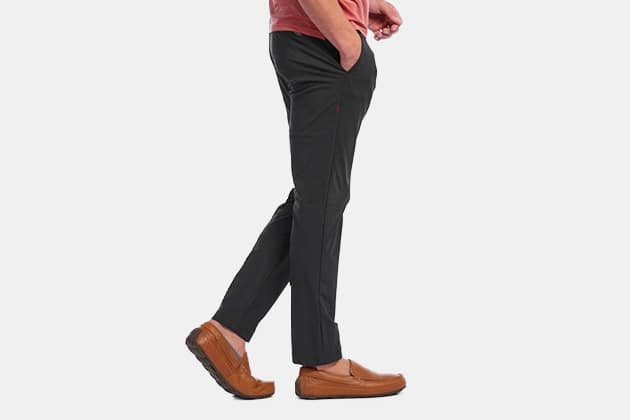 Rhone Men's Commuter Pants
Now, we all know that travel encompasses more than just cross-country flights or train rides — it can also mean your daily commute, and whether you live in a big city and battle subway crowds or speed through the streets on your bike, Rhone's Commuter Pants are going to help you get the job done with ease. It starts with Japanese stretch fabric and a range of color options, and carries through to a slim fit (one that still allows you to hop one your eight-speed with ease). – Shop Now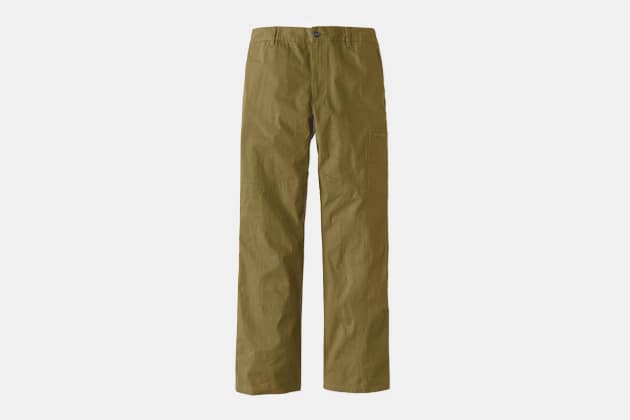 Orvis Ripstop Travel Cargo Pants
Oftentimes, the best place to turn to for travel gear are the sort of brands that make gear for the field — brands like Orvis that develop goods with movement and dependability in mind. That approach is what makes the Ripstop Travel Cargo Pants so essential (and yet unexpected). The ripstop fabric stands up to anything that travel throws your way, while the cargo pockets offer plenty of space for your everyday carry essentials. – Shop Now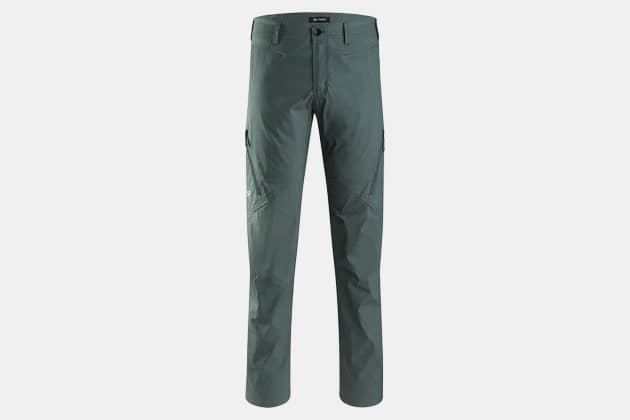 Arcteryx Stowe Pants
The best men's travel pants, whether ones worn for your commute or for a long day on the road, don't have to be over-the-top in terms of construction or fabrication at times — Arcteryx has hit that benchmark quite nicely with the Stowe Pants (perhaps you agree?). The Stowe Pants are, first and foremost, air-permeable and crafted with a slim fit, in a stretch cotton-nylon blend that's made to stand up to anything while wearing nicely with classic picks like a white Oxford and tan suede chukka boots. All of this is to say, you need the Arcteryx Stowe Pants now. – Shop Now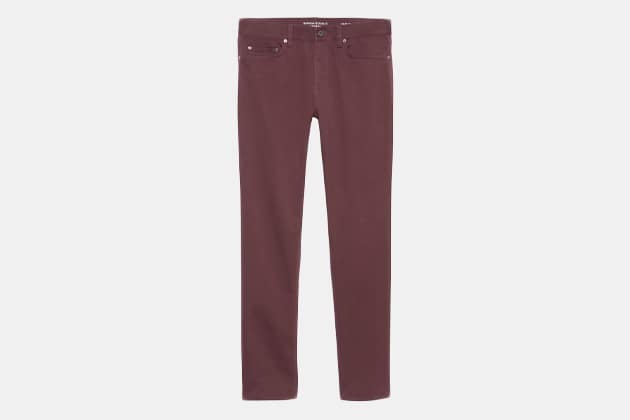 Banana Republic Traveler Pants
Leave it to Banana Republic to perfect a pair of pants with the fit of your most essential jeans and the dressy qualities of your favorite chinos, all rolled into one. The fact that they look truly great for travel is just a bonus, to us. The Italian cotton is specifically engineered for a soft texture and feel, all the better when it comes to staying polished and sharp for days on the road. – Shop Now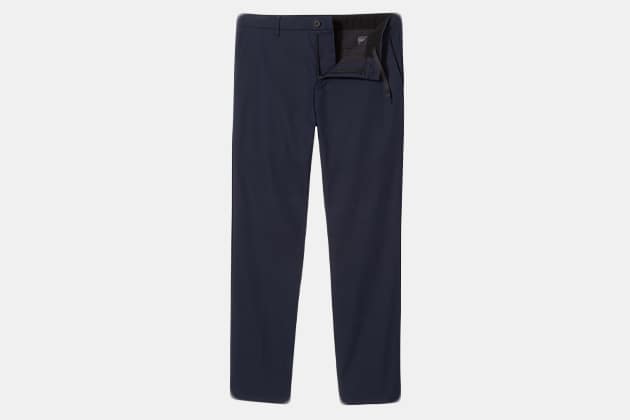 Bonobos Tech Chinos
Bonobos joins our list again with a pair of atypical chino pants that flip the script on what you might typically expect from this classic, tech-friendly menswear brand. This particular pair of pants is made with breathable fabric from Schoeller, and they incorporate incredible 3XDRY moisture management. In summary: The Bonobos Tech Chinos are going to become your new favorite travel pants. – Shop Now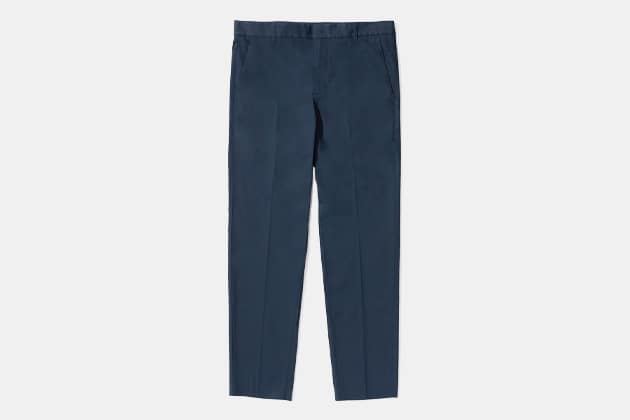 Everlane Air Chinos
Everlane has been a favorite brand of ours for some time, all thanks to the brand's focus on "radical transparency" and timeless, classic basics that are really anything but basic. The Air Chino strikes a solid middle ground when it comes to all of the brand's key pillars, including the ethical construction and the use of lightweight cotton (ideal for breathability during long spring and summer travel days). – Shop Now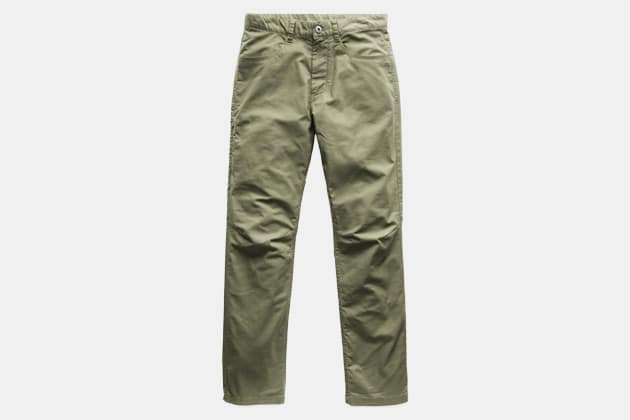 The North Face Men's Motion Pants
The North Face is definitely a brand that comes up first and foremost for its commitment to technical jackets and high-performance gear — it makes total sense to us, then, that the Men's Motion Pants fulfill the same promise but in a different category. They're made with the brand's lifetime guarantee, all the better given that you'll want to wear them as much as you can, for each and every trip. – Shop Now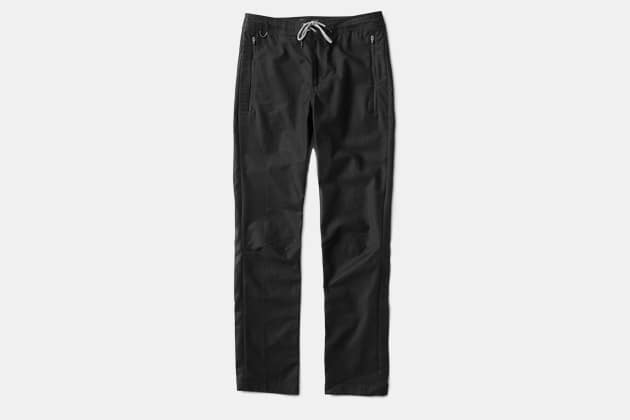 Roark Revival Layover Pants
Roark Revival does a masterful job of delivering on basics that combine the best of the classic and the workwear-inspired in a modern way — what exactly does that mean? Well, it means that they make pieces like the Layover Stretch Travel Pants, made with a slim-straight fit and done up in a blend of nylon, cotton and elastane. The resulting pants are comfortable and polished without going overboard — simply put, your commute or your next flight are going to be that much more stylish. – Shop Now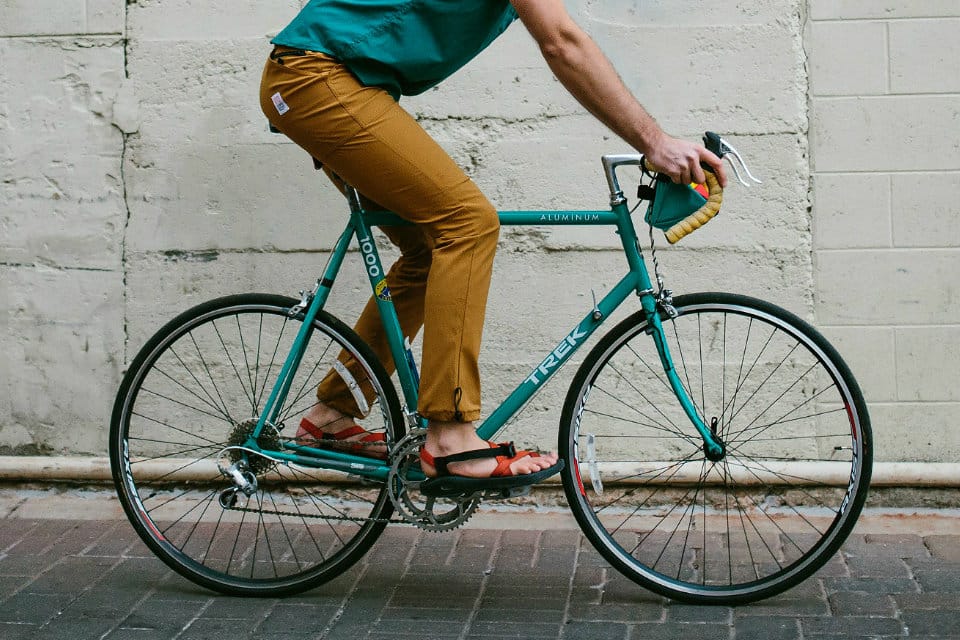 Topo Designs Tech Pants
The brand that makes your favorite outdoor gear and a wide range of durable bags and everyday carry essentials also can ably produce one heck of a pair of travel-minded pants. The Tech Pants from Topo Designs are made to be lightweight and easy to wear, all thanks to the nylon fabric (built with two-way stretch). The range of color options is critical when it comes to finding the right pair of travel pants, and Topo Designs delivers in this regard, too (we love the Olive colorway, particularly when worn with a crisp white Oxford shirt and tan Chelsea boots for easy-but-sharp travel style). – Shop Now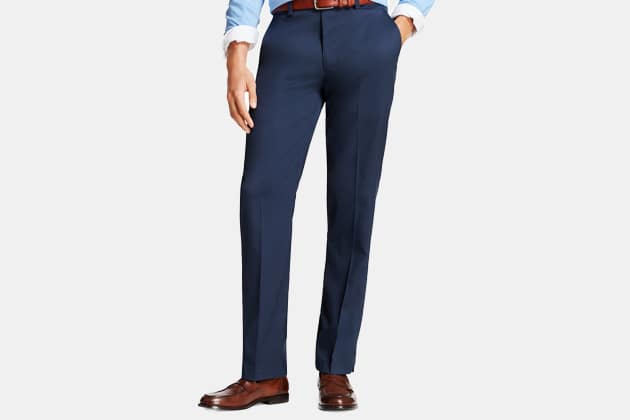 Brooks Brothers Performance Series Pants
Brooks Brothers might not typically conjure images of mobility and ease of movement when it comes to its pants, but the Performance Series Pants serve to change all of that (and quite quickly, we might add). The use of polyester twill and corozo buttons means these pants are particularly adept when it comes time to hit the links, yet they'll do just as well if fancy wearing them on a long flight or train ride (Pro tip: Go for it). – Shop Now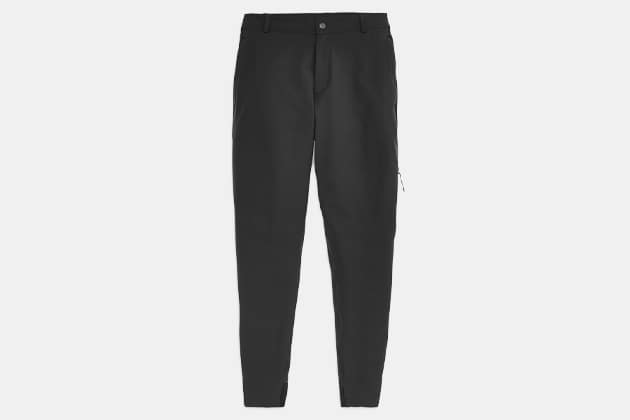 Mack Weldon Radius Pants
The search for the best men's travel pants can span far and wide, so it's refreshing to discover that one of your favorite basics brands might just be making one of the best pairs of men's travel pants. No, scratch that — the Mack Weldon Radius Pants are definitely one of the best pairs of men's travel pants. They happen to be waterproof, wind-resistant and stain-resistant, all of the qualities that make them more than ready for plenty of travel adventures. – Shop Now
Fjallraven Travelers Trousers
If you're a dedicated outdoorsman or woman, perhaps you're familiar — or quite familiar — with Fjallraven. The brand's parkas and backpacks are tried-and-true when it comes to essential adventure gear, and it's with that spirit in mind that the Travellers Trousers are made. Like several other of the best men's travel pants, they're highly ventilated — that means you can wear them en route to your destination, and then off the plane or train without having to change. – Shop Now