The 15 Best Trucker Jackets
For all the jackets that might be taking up space in your closet, we're willing to bet that there isn't one that combines the rugged durability and versatile appeal of the trucker jacket. We've rounded up the best trucker jackets here for your reading and shopping pleasure, and there's no question you'll be pleased with the results.
Like any great item of menswear, the trucker jacket finds its roots in gear that was made for the long haul and tested in the field. It's, in short, the perfect jacket to break out when the weather turns chilly in fall and winter. The trucker jacket conveys a sort of rugged edge, with a familiar cut akin to your favorite denim jacket — yet most often upgraded in weather-ready fabrics.
The best trucker jackets for men feature sturdy hardware, weather-friendly linings and a tough exterior — ideal for layering up with a henley, a thermal shirt or a classic chambray shirt. There's no time to waste — you need a trucker jacket, and you need one soon.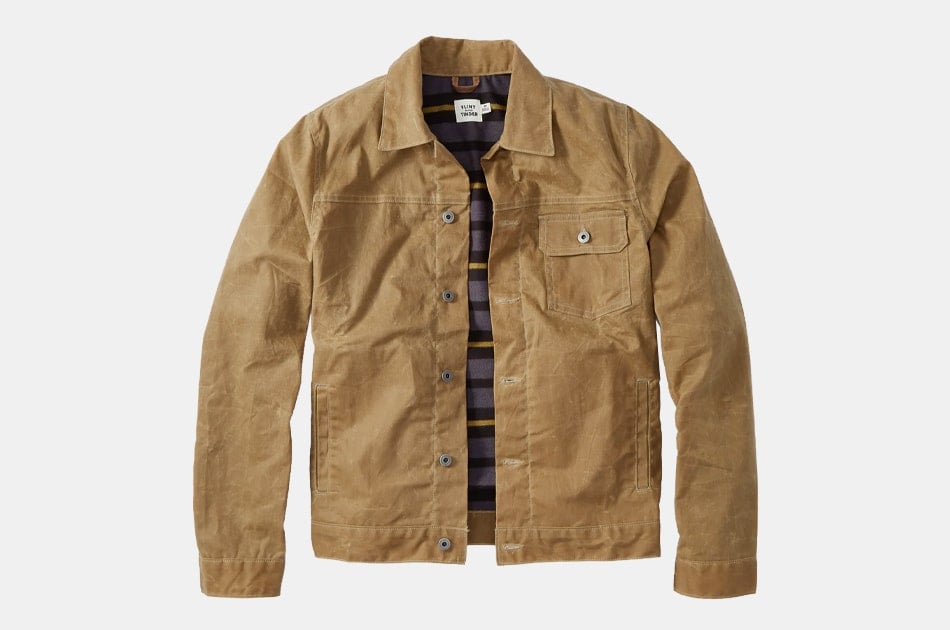 Flint and Tinder Flannel-Lined Waxed Trucker Jacket
The standard right now among trucker jackets just might be the Flint and Tinder Flannel-Lined Waxed Trucker Jacket. Crafted from beefy Martexin waxed sailcloth for a hard-wearing silhouette, the Flannel-Lined Waxed Trucker also features … yes, you guessed it, a cotton flannel lining for extra warmth. Right down to the custom metal buttons, this jacket is carefully constructed and durably crafted. It's also a great way to layer up your Flint and Tinder henley or crewneck sweater, and the agreeable price means it's a hot seller — you best act fast if you hope to hang it in your closet for what's left of this winter.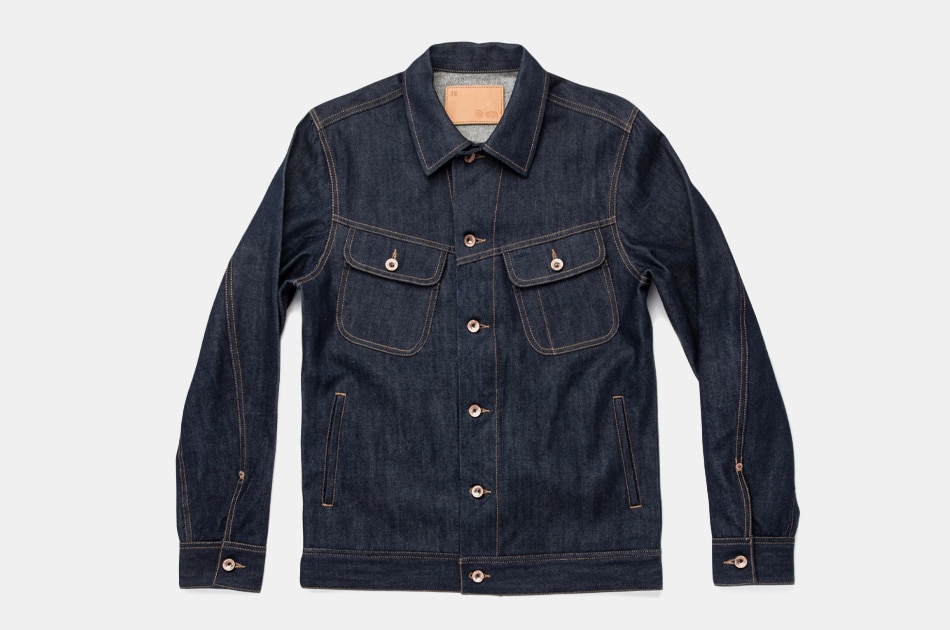 Taylor Stitch Long Haul Jacket in Organic '68 Selvage
Want another great example of a stylish, durable trucker jacket that should be very, very high on your wish list? Meet the Long Haul Jacket from Taylor Stitch. It's one of the more lauded styles from the San Francisco-based retailer, and that's saying something … the brand makes a heck of a lot of great gear. A 13-oz. 100% organic cotton construction custom developed with famed ISKO Mills makes this inky-blue denim jacket built to last 50 years or more. Copper YKK doughnut buttons and rivets also add a rugged, vintage-inspired look, too. Talk about a piece of outerwear that's as up for adventure as you are.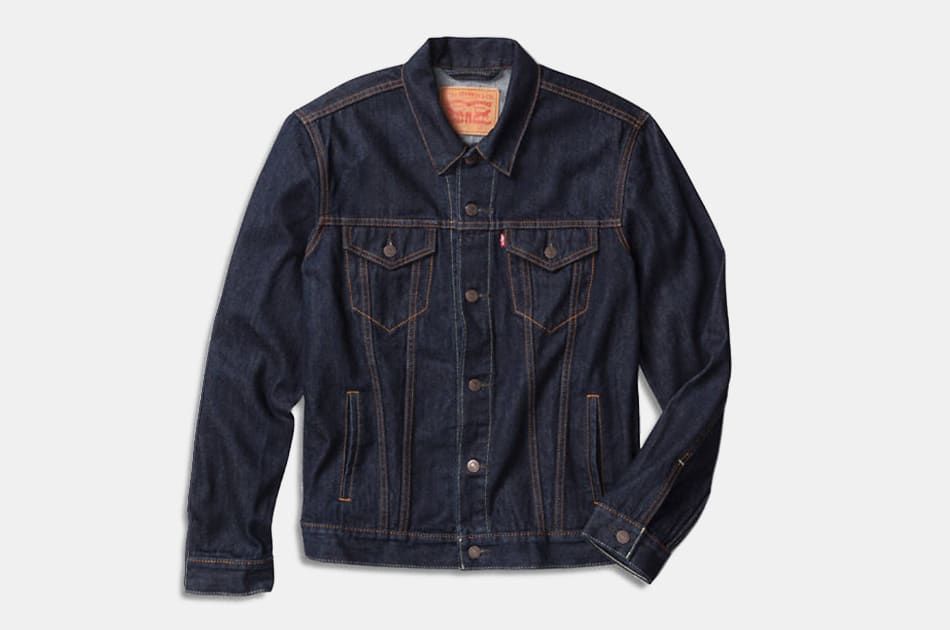 Levi's Trucker Jacket
Levi's is synonymous with all things great denim — the brand's classic, legendary Trucker Jacket certainly carries on that lineage quite nicely. The design is nearly as recognizable as the brand's stellar jeans, and it's helpful that you can pair them both together for an edgy, fall-ready and rock-inspired ensemble. Available in a wide array of washes and colors, we like the brand's pleasingly faded indigo Rinse version the best — it's perhaps the most classic take on the style out there. It's also made from the best of the best: Non-stretch heavyweight denim, all the better if you want a tough jacket for fall and winter layering.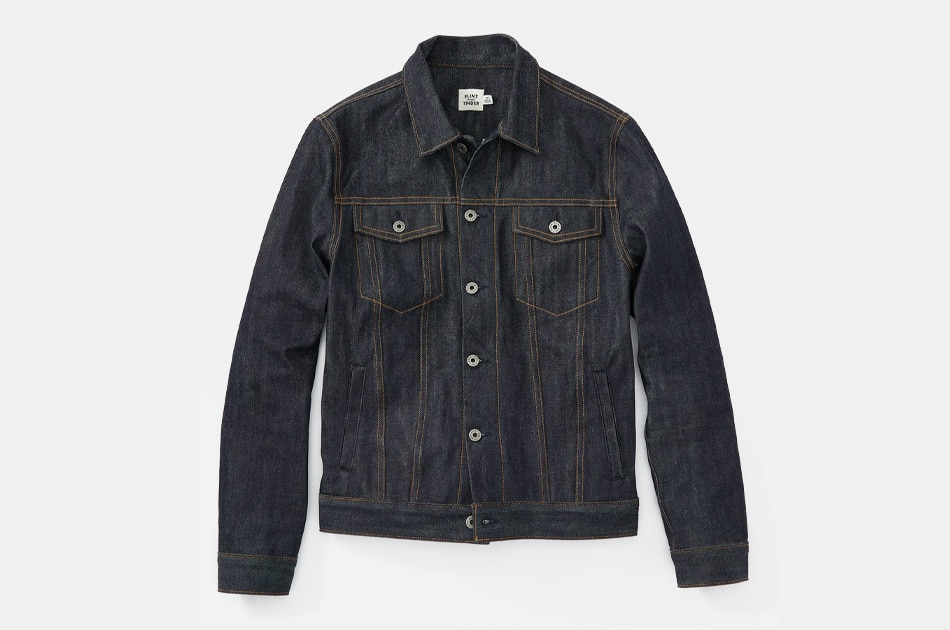 Flint and Tinder Defender Denim Trucker Jacket
For all its prowess in making a stylish waxed trucker jacket, Flint and Tinder gets the basics right, too — that's exactly what makes the brand's Defender Denim Trucker Jacket so great. The design process starts with a 12 oz raw selvage denim reinforced with the same aramid fibers used in bulletproof vests and combat helmets, all the better to wear this jacket with fall style staples without overheating. Make no mistake, the Defender Denim Trucker, with its raw denim color, is ready for fall and winter style alike — team it with a thermal henley, grey corduroys and classic suede chukkas for everyday, all-American style.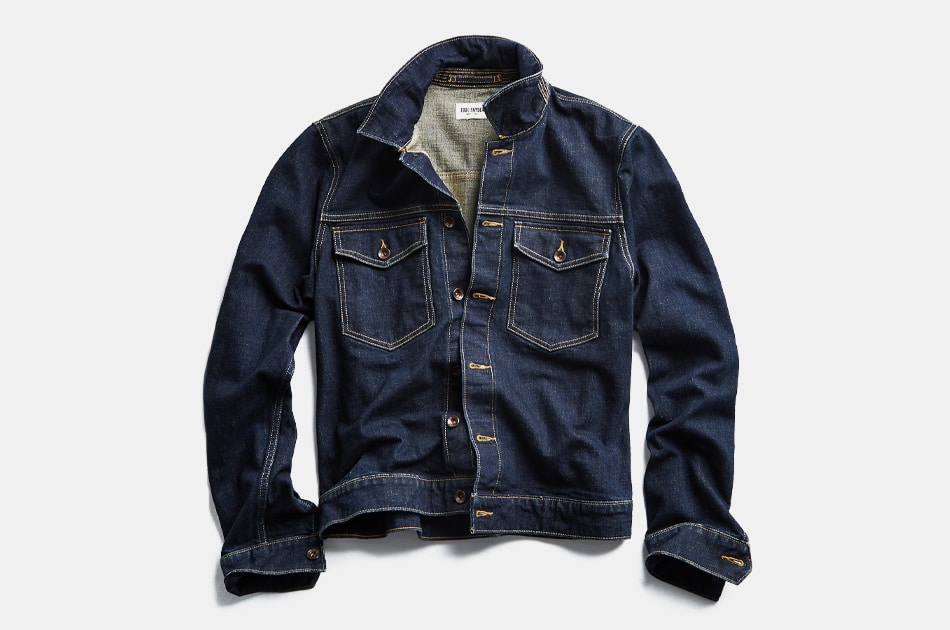 Todd Snyder Japanese Stretch Selvedge Denim Jacket
It makes perfect sense that American menswear designer Todd Snyder would make one heck of a classic trucker jacket, right? Of course it does. The designer's Midwestern heritage lends itself to the type of timeless style staples every guy needs, especially moving into the blustery, breezy confines of spring. The Japanese Stretch Selvedge Denim Jacket absolutely delivers the goods, packing a serious punch by way of tough 13.5oz. Japanese selvedge denim that'll only get better with age. Wear it as Todd recommends — with slim stone chinos, suede chukka boots and one of the brand's pocket tees.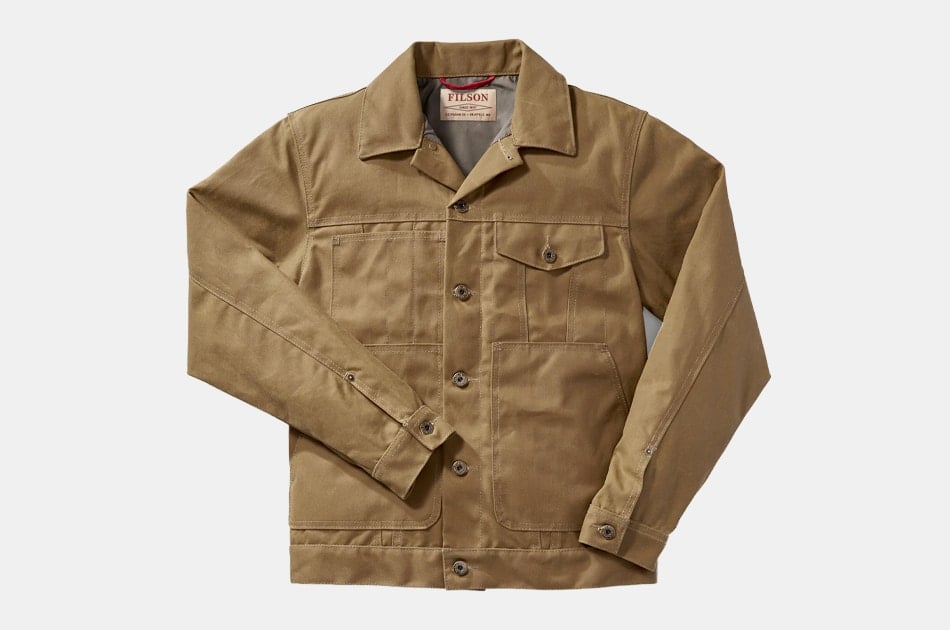 Filson Tin Cloth Short Lined Cruiser Jacket
Filson is known for a great deal many things — the iconic Pacific Northwest heritage brand laid its foundation on outfitting real-life explorers and adventurers across the globe (and at home). It should come as no surprise that part of that lineage is owed to durable, timeless styles like the Filson Tin Cloth Short Lined Cruiser Jacket. Talk about one of the best trucker jackets for spring (and beyond), and this beauty is bound to come up. Helpfully, it's abrasion-resistant and water-repellent, complete with a no-nonsense fit and a hip-length design that makes it the perfect complement to hearty chambray shirting or one of the brand's heavyweight tees.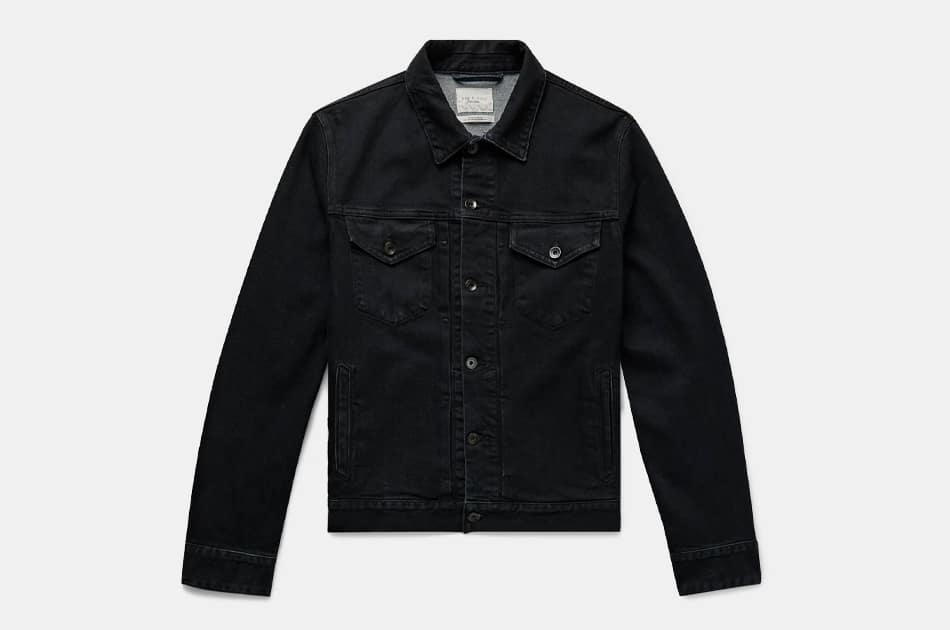 Rag & Bone Definitive Denim Trucker Jacket
Rag & Bone has an aesthetic so well-defined, it's refreshing to see it play out — and in the case of style staples like denim, that aesthetic is slim, streamlined and often, yes, black. It's a brand made for rockers and worn by city dwellers (among others), so if you find yourself planning a big night on the town, you'd do well to grab the Definitive Denim Trucker Jacket. It's one of the coolest trucker jackets we've seen in some time, and it's only going to get better the more you wear it. The ideal pairing? Slim jet black jeans, a grey tee and a Miller High Life.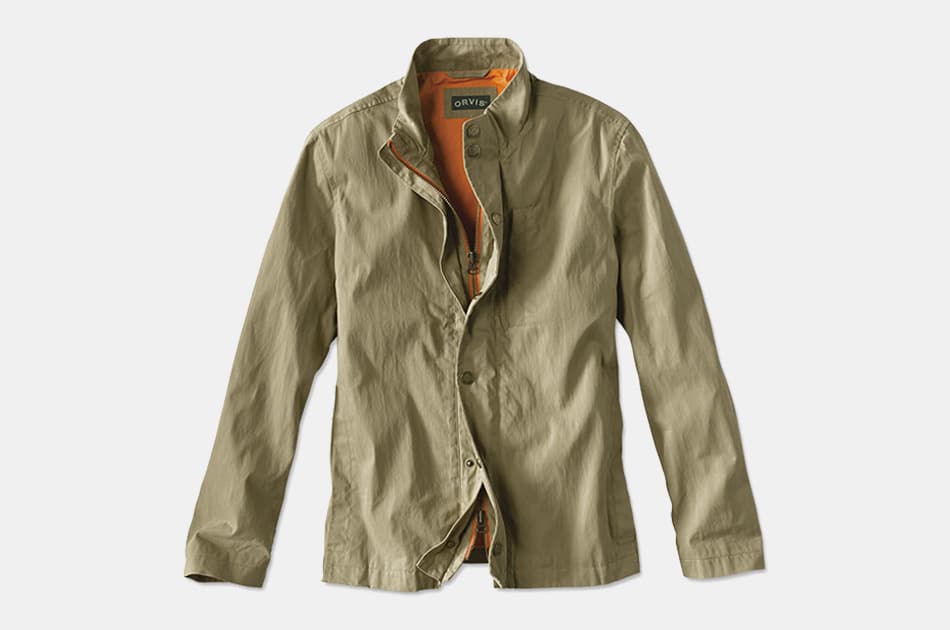 Orvis Highpoint Trucker Jacket
When you've got the opportunity to get out and go off-trail this spring, you need gear that goes with you and helps you take on life's adventures without slowing you down — Orvis knows this, and it's why the brand has built a reputation that precedes itself. The Highpoint Trucker Jacket is an exemplary take on the trucker jacket, featuring a slightly longer cut for added versatility, to go along with a cotton-polyamide shell crafted to stand up to blustery, breezy winter weather. The poppy orange lining is a nice stylistic touch, so we think you'd do well to wear this with your favorite henley and tough chore pants.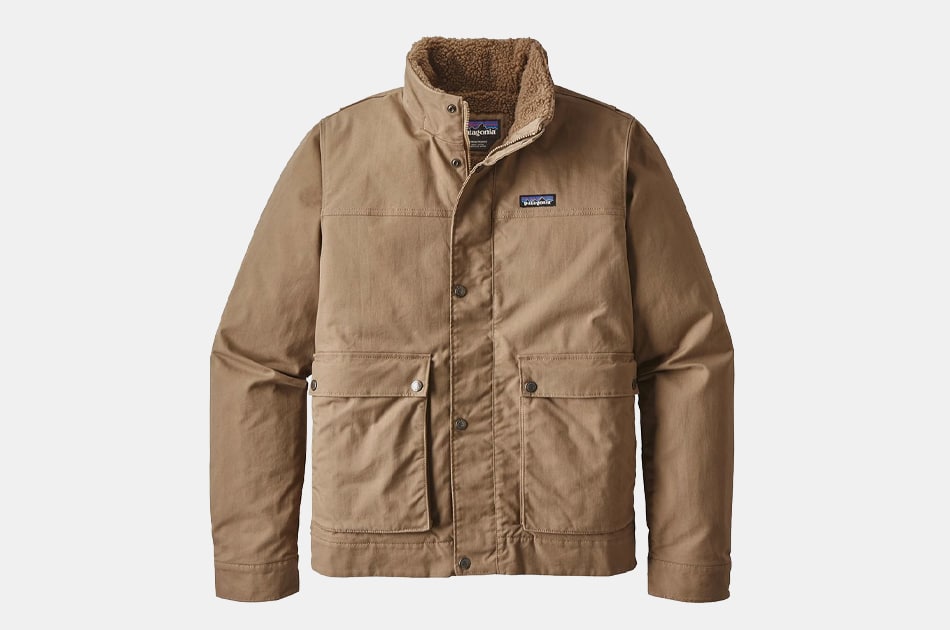 Patagonia Maple Grove Canvas Jacket
If you want a trucker jacket that's both conscious of the environment and conscious when it comes to style, you want the Maple Grove Canvas Jacket. It manages to blend the durability of waxed canvas with a hint of stretch — plus water-repellent functionality — for a take on the trucker jacket that's more than ready for the outdoors. The stowaway hood adds another dimension to this jacket, too; don't be afraid to wear it in the rain. Lined with warm polyester pile fleece, this handsome canvas jacket is one to throw on with your favorite leather boots and a pair of lovingly warm denim.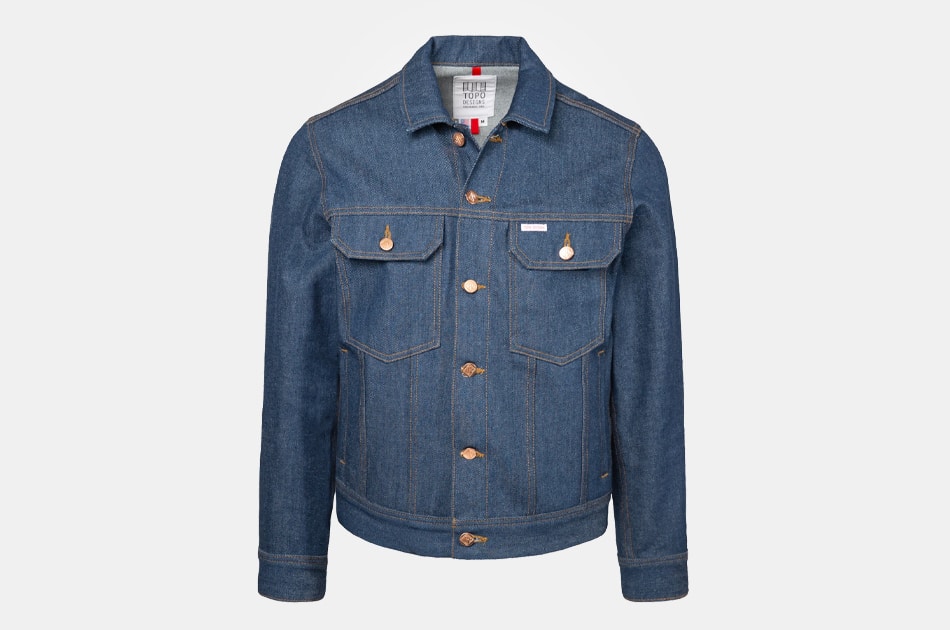 Topo Designs Trucker Jacket
Topo Designs does an excellent job straddling the line between classic and modern — the brand uses pops of color to great effect in its tough and durable bags, which calls back to retro mountaineering gear, yet it also churns out reliable modern standbys like this denim trucker jacket. The use of Mt. Vernon Blue Denim makes this jacket striking and one-of-a-kind, guaranteed to break in beautifully the more you wear it on your outdoor adventures.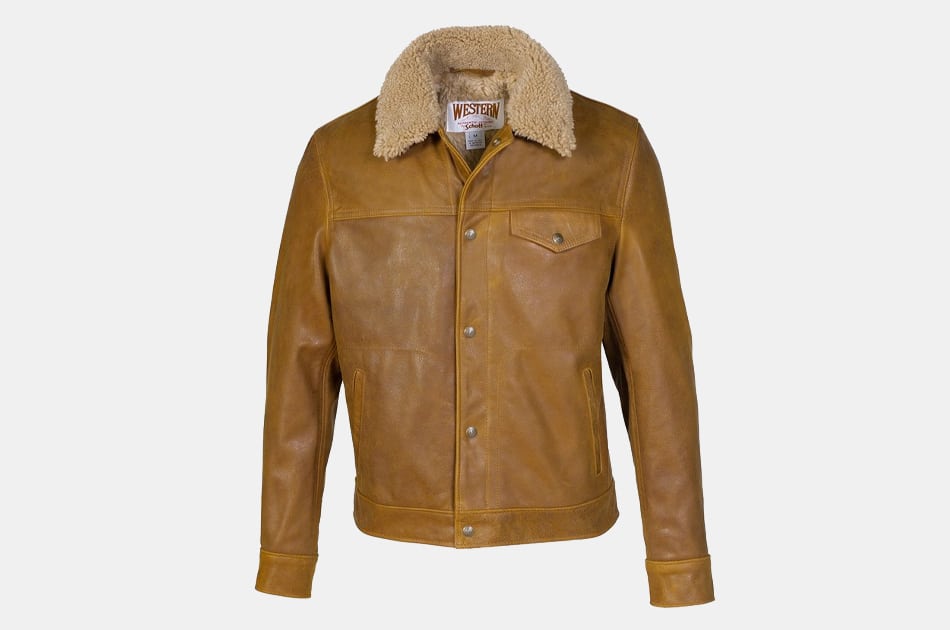 Schott Waxy Naked Buffalo Trucker Jacket
Schott's history and heritage speaks for itself — just look at the style icons who've donned a classic Schott moto jacket over the years. They also do quite the job at crafting one of the best trucker jackets we've seen, too — and dare we say it, but it might be as worthy of your consideration as the famed Schott Perfecto Jacket. The Waxy Naked Buffalo Trucker Jacket is rugged, ready to layer and built to last.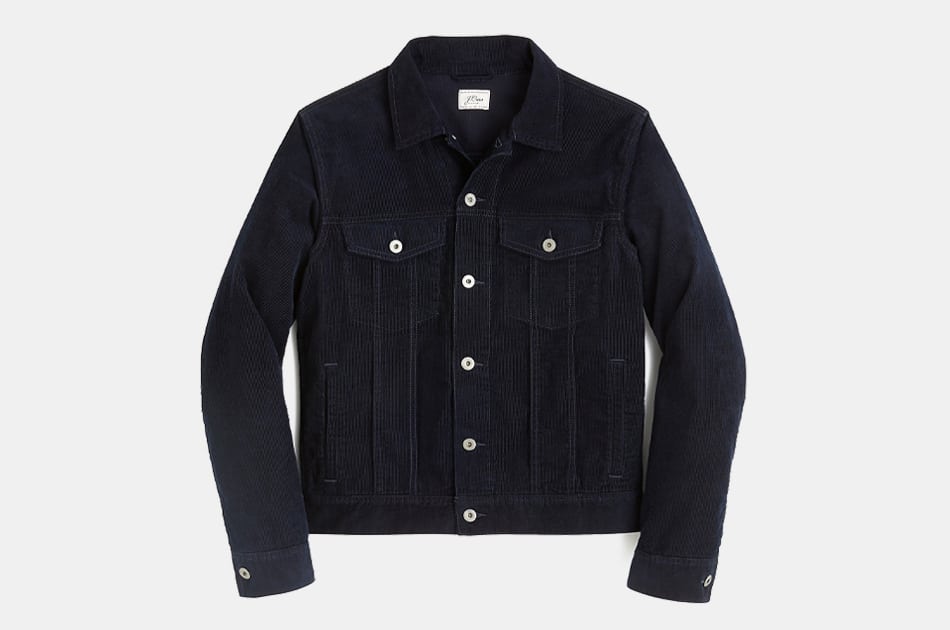 J.Crew Trucker Jacket in Stretch Corduroy
The trucker jacket has undergone many iterations over the years in terms of fabric and fit, and yet this stretch corduroy jacket from J. Crew might be one of the coolest takes on the style we've seen. Available in two rich colors (we're partial to the Saddle Brown color), this jacket is the perfect midweight spring layer when paired with a breezy J. Crew chambray shirt or garment-dyed tee.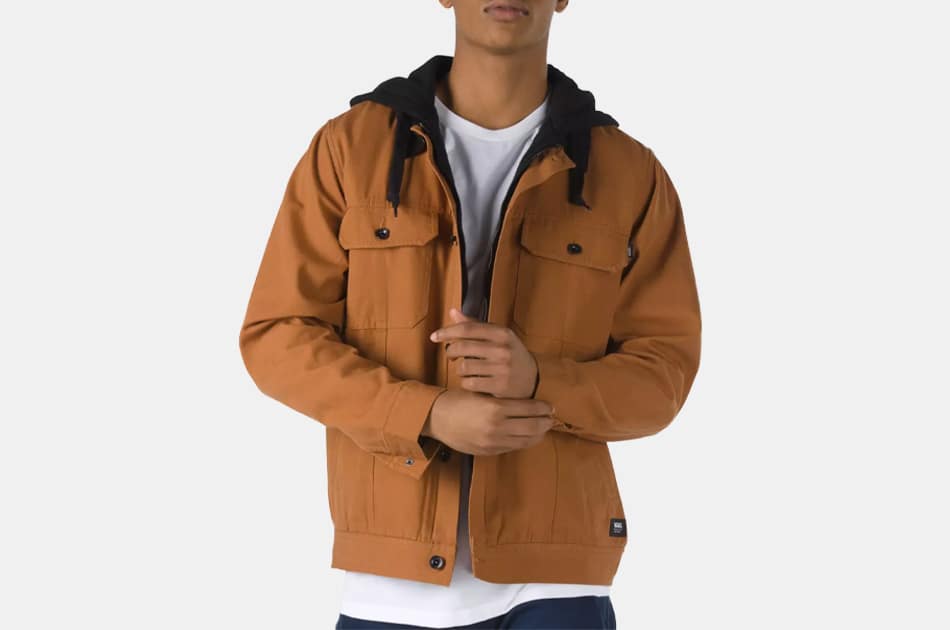 Vans Precept Hooded Trucker Jacket
You undoubtedly know Vans for its full range of classic men's sneakers, but don't be surprised when you find yourself pining over the brand's well-made apparel — designed to be worn with Vans sneakers, undoubtedly. The Precept Hooded Trucker Jacket, made from cotton canvas and featuring contrasting corduroy details at the collar, is an ideal layer to throw on during a laidback spring day.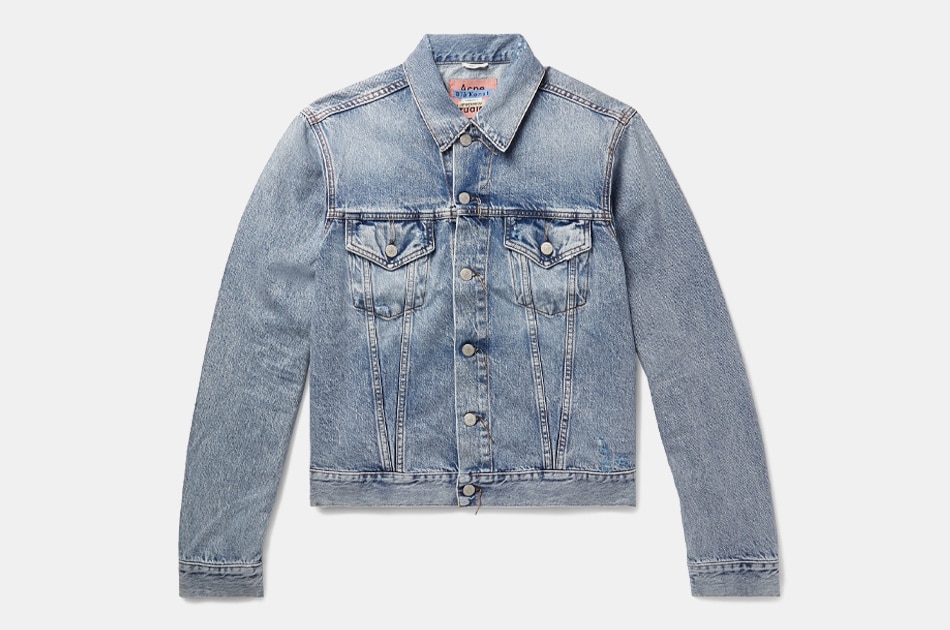 Acne Studios Distressed Denim Trucker Jacket
A trucker jacket is one of the coolest silhouettes in men's outerwear (at least, we think so), and that sentiment certainly rings true when you consider the premium, rock n'roll-ready Acne Studios Distressed Denim Trucker Jacket. It's here just in time for spring, made in Italy from 100 percent cotton for an ultra-premium yet edgy addition to your spring outerwear lineup.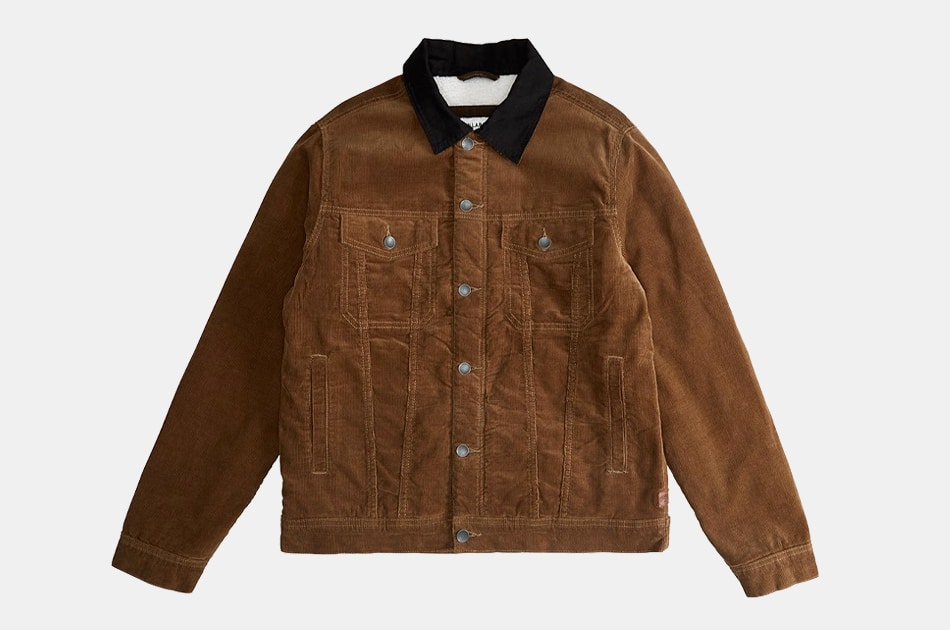 Billabong Barlow Trucker Jacket
Billabong is going beyond the beach — decidedly beyond the beach, in fact — with its Barlow Trucker Jacket. Made from fall and winter-ready cotton corduroy, the Barlow is a classic jacket with a bit of a vintage look to it, the type of coat your dad might have worn on a chilly fall morning decades ago. The sherpa lining adds an extra degree of warmth, making it perfect for wearing while heading to and from an early-morning surf. The Indigo Deep Sea option is just as cool, made with washed cotton denim for a weathered aesthetic. Either option should more than suitably cover off on your cold-weather layering needs.
Disclosure: Clicking on these links and making a purchase may earn us a small referral fee, at no extra cost to you. Learn more here.
freestar.config.enabled_slots.push({ placementName: "gearmoose_leaderboard_btf", slotId: "gearmoose_leaderboard_btf" });