The 15 Best Trucker Jackets
For all the jackets that might be taking up space in your closet, we're willing to bet that there isn't one that combines the rugged durability and versatile appeal of the trucker jacket. We've rounded up the best trucker jackets here for your reading and shopping pleasure, and there's no question you'll be pleased with the results.
Like any great item of menswear, the trucker jacket finds its roots in gear that was made for the long haul and tested in the field. It's, in short, the perfect jacket to break out when the weather turns chilly in fall and winter. The trucker jacket conveys a sort of rugged edge, with a familiar cut akin to your favorite denim jacket — yet most often upgraded in weather-ready fabrics.
The best trucker jacket for you should feature sturdy hardware, weather-friendly linings and a tough exterior — ideal for layering up with a henley, a thermal shirt or a classic chambray shirt. There's no time to waste — you need a trucker jacket, and you need one soon.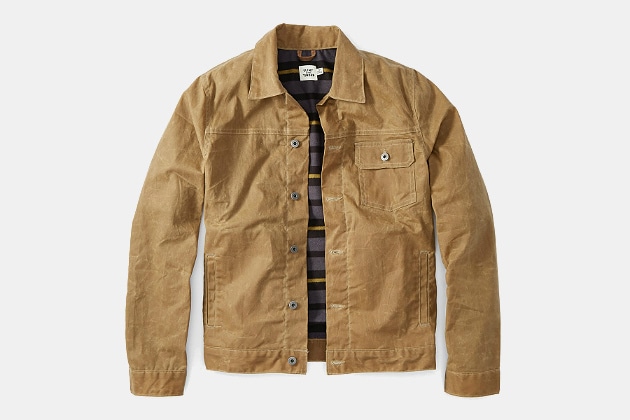 Flint and Tinder Flannel-Lined Waxed Trucker Jacket
The standard right now among trucker jackets just might be the Flint and Tinder Flannel-Lined Waxed Trucker Jacket. Crafted from beefy Martexin waxed sailcloth for a hard-wearing silhouette, the Flannel-Lined Waxed Trucker also features … yes, you guessed it, a cotton flannel lining for extra warmth. Right down to the custom metal buttons, this jacket is carefully constructed and durably crafted. It's also a great way to layer up your Flint and Tinder henley or crewneck sweater, and the agreeable price means it's a hot seller — you best act fast if you hope to hang it in your closet this winter. – Buy It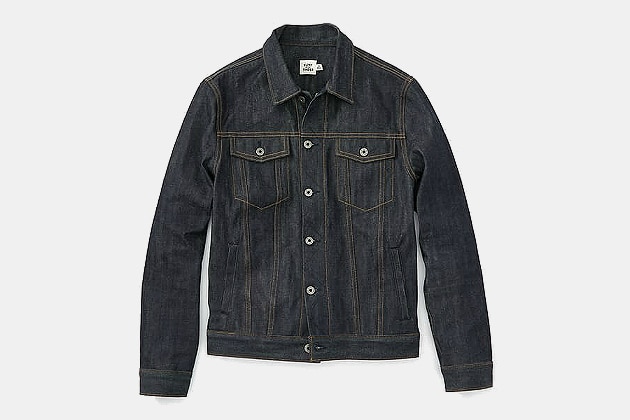 Flint and Tinder Defender Denim Trucker Jacket
For all its prowess in making a stylish waxed trucker jacket, Flint and Tinder gets the basics right, too — that's exactly what makes the brand's Defender Denim Trucker Jacket so great. The design process starts with a 12 oz raw selvage denim reinforced with the same aramid fibers used in bulletproof vests and combat helmets, all the better to wear this jacket with fall style staples without overheating. Make no mistake, the Defender Denim Trucker, with its raw denim color, is ready for fall and winter style alike — team it with a thermal henley, grey corduroys and classic suede chukkas for everyday, all-American style. – Buy It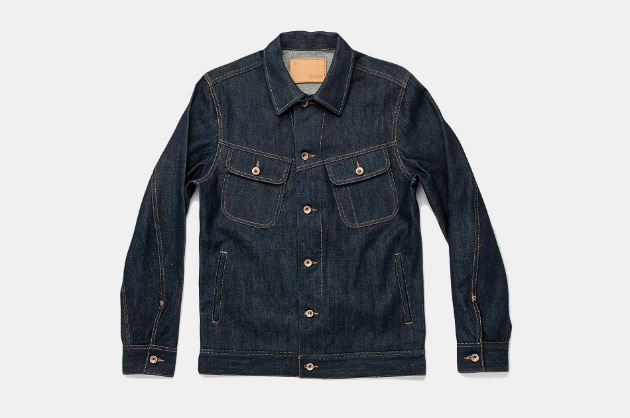 Taylor Stitch Long Haul Jacket in Organic '68 Selvage
Want another great example of a stylish, durable trucker jacket that should be very, very high on your wish list? Meet the Long Haul Jacket from Taylor Stitch. It's one of the more lauded styles from the San Francisco-based retailer, and that's saying something … the brand makes a heck of a lot of great gear. A 13-oz. 100% organic cotton construction custom developed with famed ISKO Mills makes this inky-blue denim jacket built to last 50 years or more. Copper YKK doughnut buttons and rivets also add a rugged, vintage-inspired look, too. Talk about a piece of outerwear that's as up for adventure as you are. – Buy It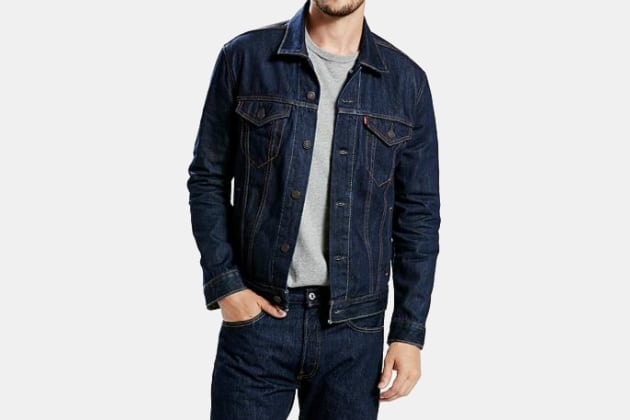 Levi's Trucker Jacket
Levi's is synonymous with all things great denim — the brand's classic, legendary Trucker Jacket certainly carries on that lineage quite nicely. The design is nearly as recognizable as the brand's stellar jeans, and it's helpful that you can pair them both together for an edgy, fall-ready and rock-inspired ensemble. Available in a wide array of washes and colors, we like the brand's pleasingly faded indigo Rinse version the best — it's perhaps the most classic take on the style out there. It's also made from the best of the best: Non-stretch heavyweight denim, all the better if you want a tough jacket for fall and winter layering. – Buy It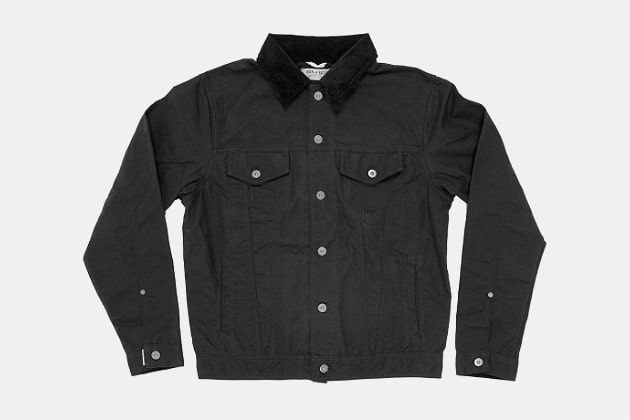 Iron and Resin Rambler Jacket
If you want a trucker jacket that can handle the twists and turns of the road — literally — then you want the Iron & Resin Rambler Jacket. Iron & Resin simply doesn't miss a beat in terms of developing and designing exceptionally tough, road-ready gear. The Rambler Jacket lives up to the hype in that regard, easily. The corduroy collar offers classic styling, while the Martexin waxed canvas clocks in at a beefy 10.10 ounces — more than hard-wearing enough for wherever the road (or your bike, or the park trail) takes you. Team it with moto-inspired jeans and rugged leather boots through the fall and into winter. – Buy It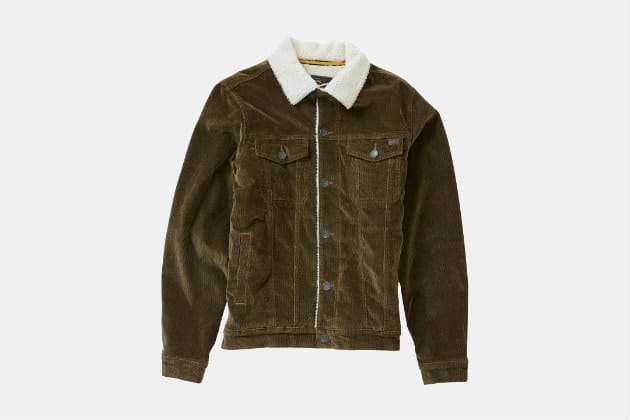 Billabong Barlow Trucker Jacket
Billabong is going beyond the beach — decidedly beyond the beach, in fact — with its Barlow Trucker Jacket. Made from fall and winter-ready cotton corduroy, the Barlow is a classic jacket with a bit of a vintage look to it, the type of coat your dad might have worn on a chilly fall morning decades ago. The sherpa lining adds an extra degree of warmth, making it perfect for wearing while heading to and from an early-morning surf. The Indigo Deep Sea option is just as cool, made with washed cotton denim for a weathered aesthetic. Either option should more than suitably cover off on your cold-weather layering needs. – Buy It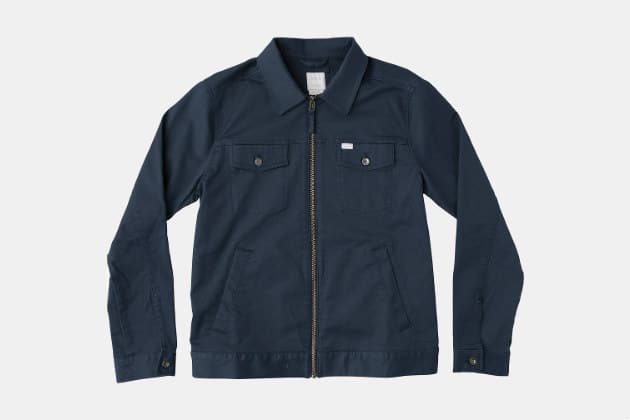 RVCA Spanky Trucker Jacket
If you typically think of trucker jackets featuring button front construction, the RVCA Spanky Trucker Jacket is switching up the typical mold — and doing so in a way that's at once stylish and functional. Inspired by the Type-3 trucker jacket, the Spanky Trucker Jacket is made from a cotton-elastane blend, with polyester for stretch. The enzyme wash gives it a lived-in aesthetic, making it the sort of jacket to throw on with light wash jeans and a grey crewneck sweater for easygoing, casual weekend style. Layer it over a classic Oxford shirt for style that's collegiate-inspired at your next tailgate. – Buy It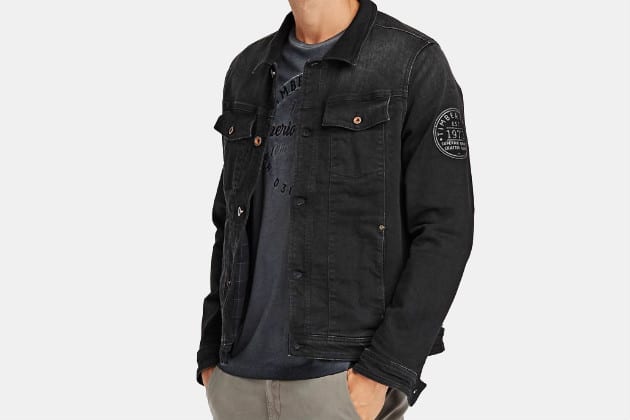 Timberland Black Denim Trucker Jacket
Need a jacket to go with your classic Timberland boots? The brand's new, edgy and seriously cool Black Denim Trucker Jacket is the one to buy now — and then wear all fall and winter. Made from washed cotton featuring just a hint of stretch (one percent elastane), the Black Denim Trucker Jacket is lined with cotton canvas for extra warmth, meaning you can throw this one on over a marled henley and a slim crewneck sweater quite easily. A reliably tailored fit and the brand's eye-catching logo patch add to the sleek appeal of this surprisingly versatile trucker jacket — not a bad job at all. – Buy It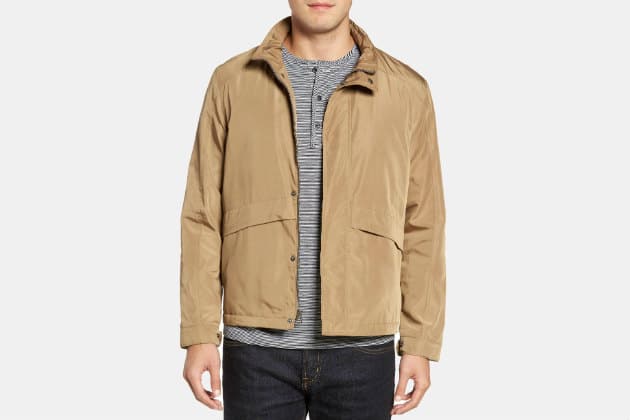 Cole Haan Trucker Jacket
Change your perception of Cole Haan — that is, think outside the box in terms of their traditional (if lightweight and innovative) footwear. The Cole Haan Trucker Jacket accomplishes that goal quite nicely, featuring lightweight, water-repellent polyester done up in a simple, travel-ready shape. It's simply yet carefully designed, available in three easy-to-wear, easy-to-style colors (including Titanium and Sand). Grab and go with the Cole Haan Trucker Jacket, preferably paired with a pair of the brand's LunarGrand footwear. The even better part outside of the stylish versatility of this unique jacket? The sub-$200 price. That's perfect fall style done right. – Buy It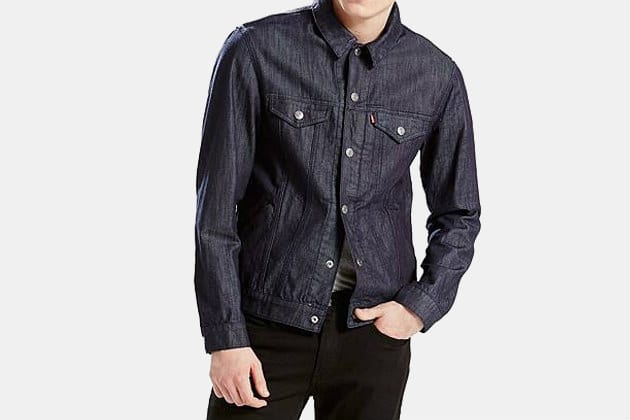 Levi's Commuter Trucker Jacket
Levi's has made crafting great denim into an art form — the brand's popular, functional Commuter line is evidence of that. Made from remarkably durable, tough fabric that blends traditional cotton with CORDURA fabric and nylon for stretch and toughness, the Commuter Trucker Jacket has a lot going for it. It's resistant to abrasions and tears, and it's also crafted with a water and dirt-repellant finish. The Commuter Trucker Jacket is also travel-ready, in a big way — it features a zip-out hood and reflective Scotchlite tape on the back, so you're visible no matter how far off-road you go. – Buy It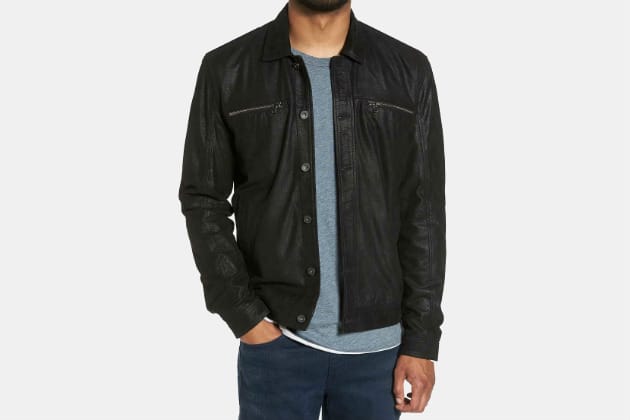 John Varvatos Leather Trucker Jacket
John Varvatos is yet another brand that's getting in on the trucker jacket game, this time with a heck of a sleek, stylish option that's more than ready for a night on the town. Featuring an investment-level price tag (more than $400), plus some sleek design additions in the way of zip chest pockets, this jacket is an essential addition to slim black jeans and a black henley. Add black leather Chelsea boots for a seriously slick ensemble from head to toe. It's also lined for durability and warmth, so feel free to layer it up this winter. – Buy It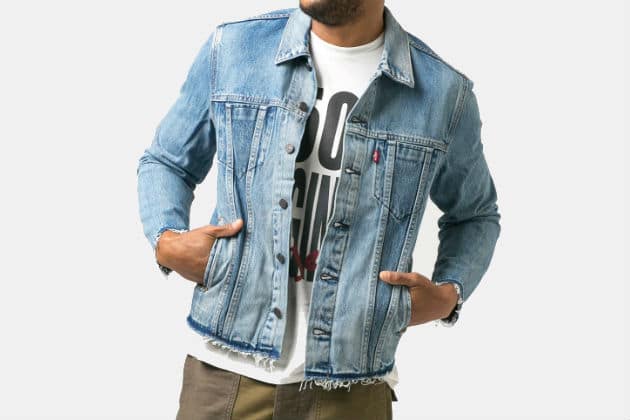 Levi's Altered Trucker Jacket
If you thought JackThreads was gone for good, think again. The Altered Trucker Jacket is a great example of the type of gear that JackThreads is once again curating — and that's a very good sign following their return earlier this year. Part of the Levi's Premium line, this raw-edge jacket is, quite literally, an edgy update of a classic style. It's got the same great fit as the brand's classic trucker jacket, with a hand-finished, street-ready aesthetic. The Altered Trucker Jacket would pair up quite well with slim chinos and classic brown leather boots, and the light wash denim is a unique alternative to an inky indigo jacket. – Buy It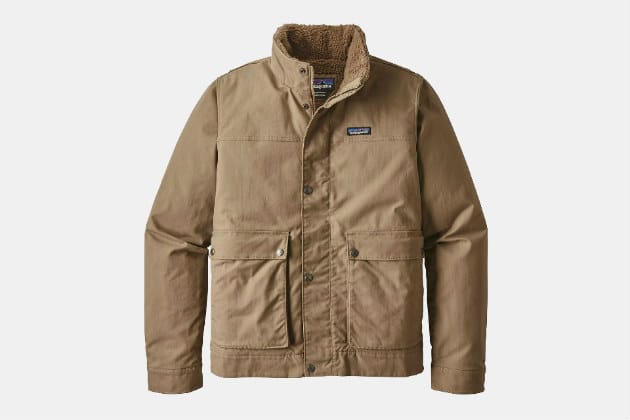 Patagonia Maple Grove Canvas Jacket
If you want a trucker jacket that's both conscious of the environment and conscious when it comes to style, you want the Maple Grove Canvas Jacket. It manages to blend the durability of waxed canvas with a hint of stretch — plus water-repellent functionality — for a take on the trucker jacket that's more than ready for the outdoors. The stowaway hood adds another dimension to this jacket, too; don't be afraid to wear it in the rain. Lined with warm polyester pile fleece, this handsome canvas jacket is one to throw on with your favorite leather boots and a pair of lovingly warm denim. – Buy It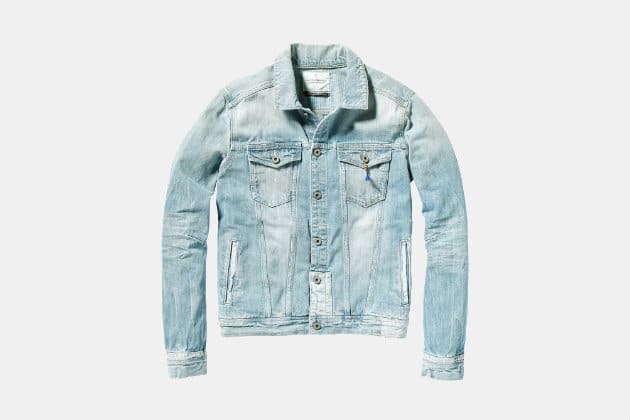 Scotch & Soda Sundrench Trucker Jacket
Scotch & Soda is a brand that puts plenty of care into its high-quality denim, year after year and season after season. That approach hasn't changed with this exceptional trucker jacket, featuring the sort of handcrafted touches that turn a jacket from a jacket into, well, a work of art. Made with a slim fit in a striking shade of light blue denim, this jacket has spring and summer style written all over it — yet, it's more than suitable for layering now with a camel topcoat and dark blue denim for plenty of visual interest and cool winter style. – Buy It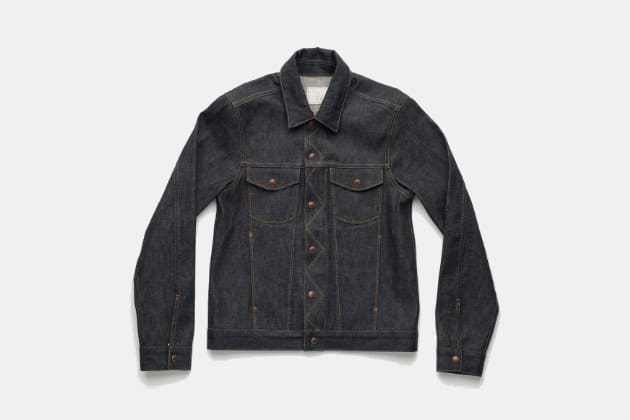 Freenote Cloth CD2 Jacket
If you want a jacket that's built to turn heads, look great and get better with age, you want the Freenote Cloth CD2 Jacket. Featuring broken twill selvage from Japan, the CD2 Jacket is a verifiable stunner, plain and simple. From the striking zig-zag stitching to a hand-selected leather zipper pull, this jacket is built to last and built to look great with just about anything. Slim chinos and leather chukkas? This jacket works. A classic Oxford and burgundy corduroys? This jacket is simply perfect. Grey chinos and a chambray shirt? Throw on the CD2 Jacket — it's ready for it. – Buy It