16 Watch Microbrands Worth A Look
Like collectors of art or sports memorabilia, the watch world is a mix of high and low, fanbase-specific and wide-ranging. There's also a fascination and cool-factor around the smaller indie and unheard-of watch brands. So, we've rounded up 16 of the best watch microbrands worth a look, and perhaps worth a spot in your current collection.
What is a Microbrand?
Basically, a microbrand is a small-scale brand, often associated with a specific community, niche market, or geographic location. They're often run by small operations, employing five to ten-ish people. With watches, "microbrand" is a tricky term because it can refer to any non-mainstream watchmaker that operates online—from the legit to the fly-by-nights and scammers. The brands we have here fall into the former category, all high-quality enough to reclaim the term "microbrand" from the latter category.
The Best Watch Microbrands To Know: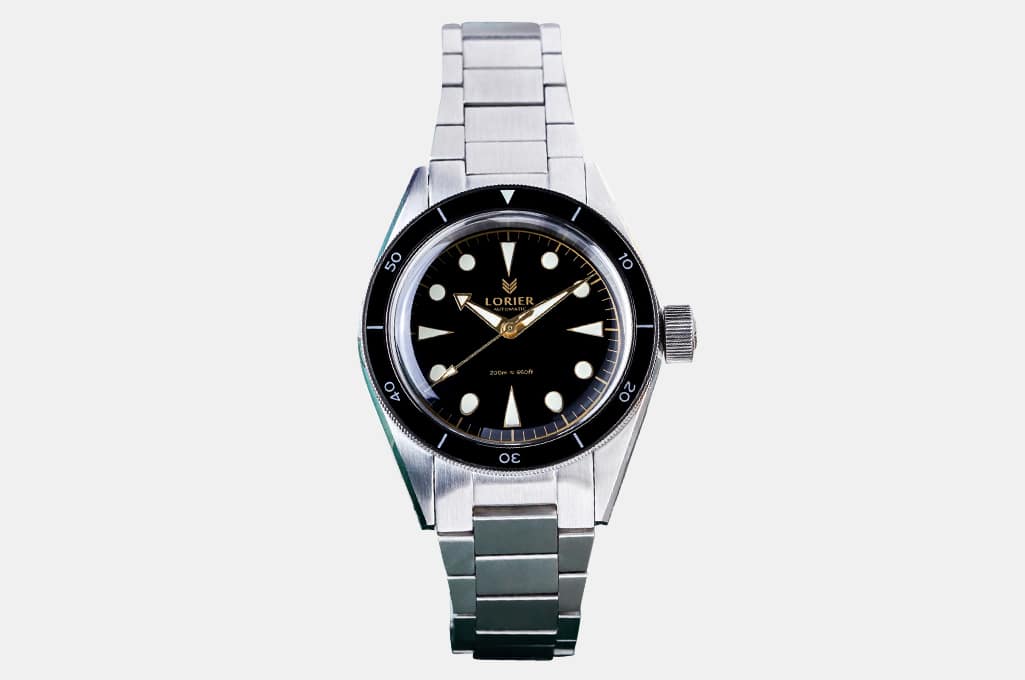 Lorier Watches
New York-based Lorier is run by Lorenzo and Lauren Ortega, a husband and wife team. They focus on bringing quality vintage-inspired pieces to the mid-market. Lorier watches are rugged and sporty, boasting an effective partnership between fun and function. I like to think of their modern takes on oldie-but-goodies as being similar to a prewar home with smarthouse capabilities.
A good example is their Neptune watch, which features a lot of the charming qualities of a vintage Big Crown Submariner, particularly in its beautifully domed crystal. Still, it's updated with clean lines, brighter contrasts, and a Miyota movement. You can look for the latest version of the Neptune – the Series III – to drop this summer.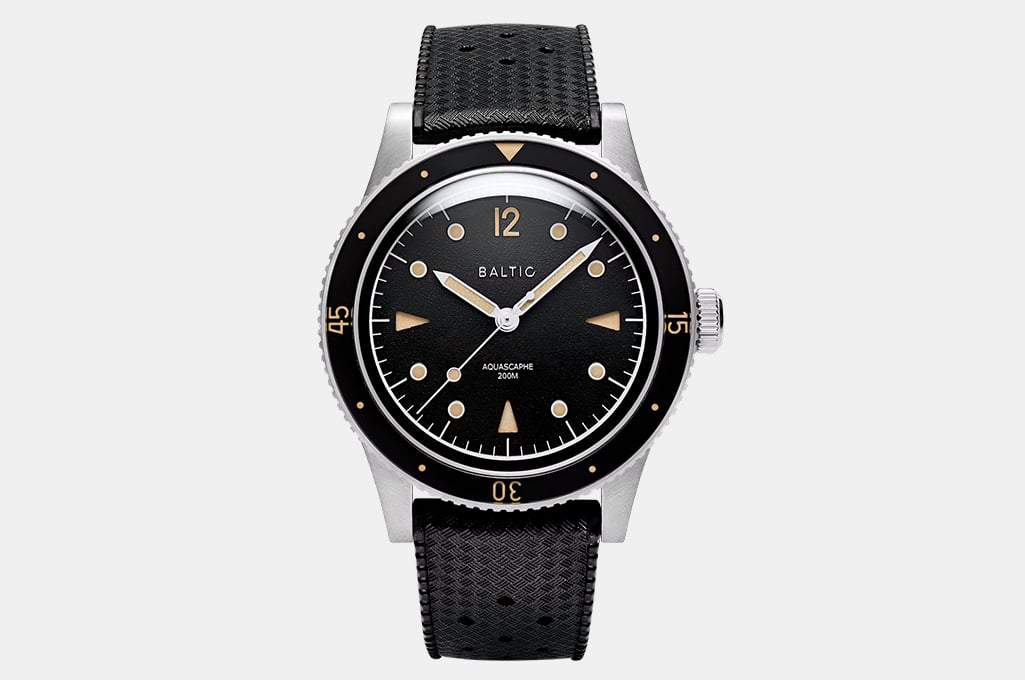 Baltic Watches
Baltic Watches have become an indie watch world darling since they launched in 2017. The company is located in Besançon, France's historical capital of watchmaking. They use speciality Hong Kong factories for movements and case parts, but assemble and design all of their timepieces in France. Baltic has developed a trusting relationship with collectors thanks to this detailed transparency, vs other midmarket watch brands that use descriptions like "some portions made in Asia."
The Aquascaphe is their flagship of sorts, having put the brand on the map. It's a style-forward tool watch, recognized by its sandwich dial, double-domed sapphire, and glossy sapphire bezel. Shown here is the Aquascaphe on a black Tropic rubber band. We'll always have a soft spot for the beads of rice bracelet, however, which is a worthwhile upgrade currently available for the Aquascaphe.
You can read our hands-on review of the Baltic Aquascaphe here.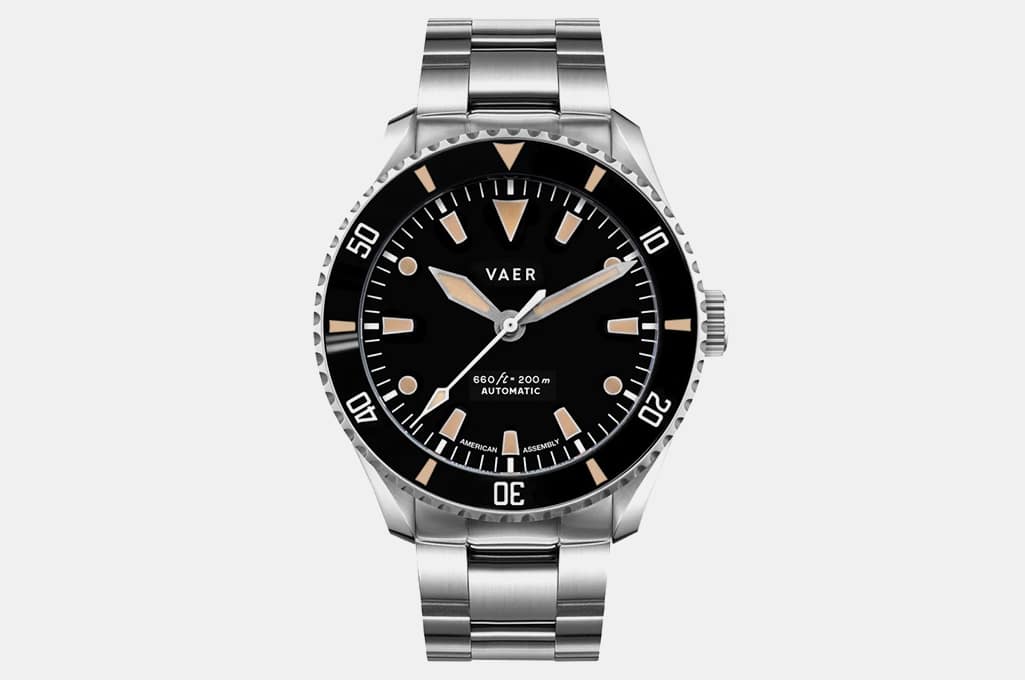 Vaer
A good sport watch should be equal parts functional and no-frills. This isn't always an easy balance to strike, but Vaer's simple and honest approach to watchmaking has distinguished them from the overpricers and flashy distractors of the watch world. If you're allergic to fast-fashion and ladder-climbing luxury, Vaer's authentic and reliable sport watches are a good place to turn.
Like all of Vaer's timepieces, the D5 Arctic Diver is assembled and tested for durability, each accompanied with a signed certificate from a technician. Plus, they do that right here in the US. The D5 has that retro charm, yet comes with 200m of water resistance for recreational diving.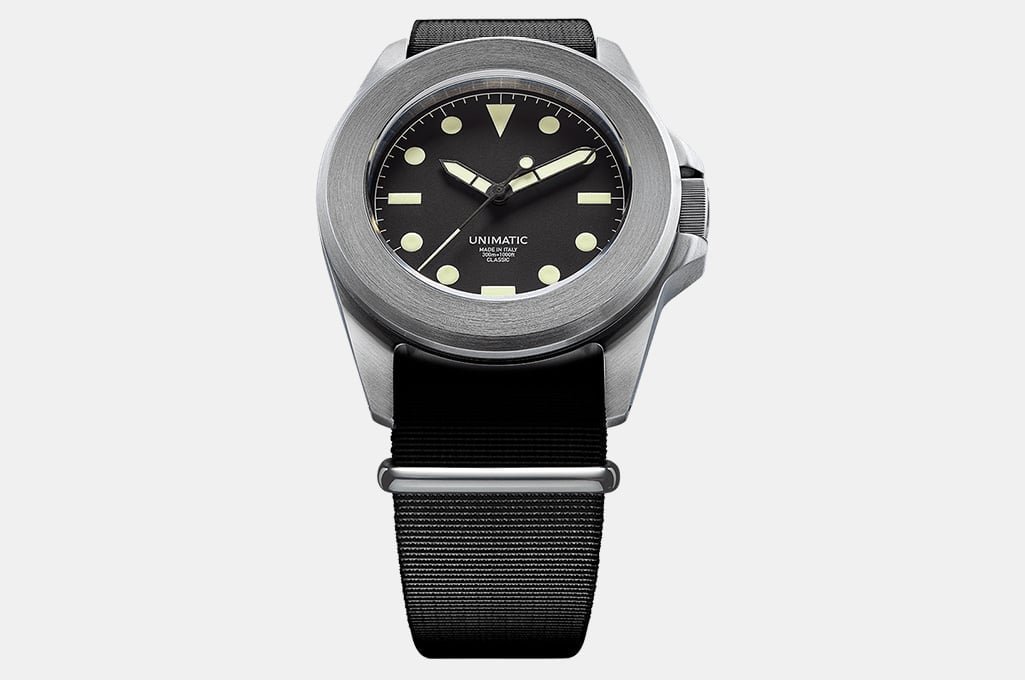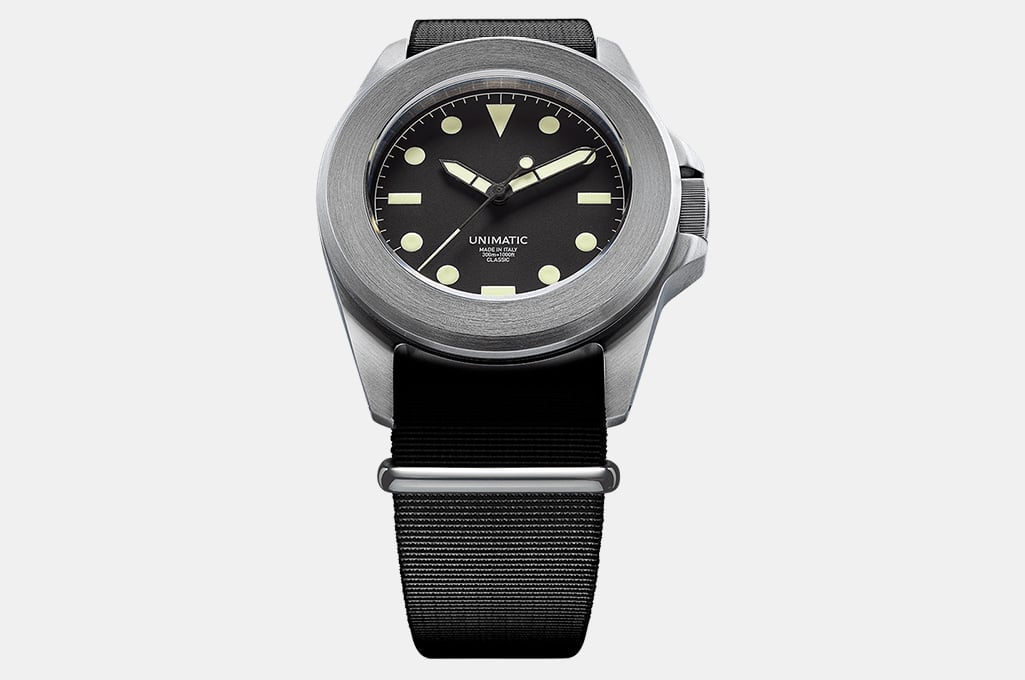 Unimatic
Launched in 2015 by industrial designers, Simone Nunziato and Giovanni Moro, Unimatic creates fundamental tool watches that are aesthetically simple yet bold. Flaunting a whopping 300m of water resistance and effective anti-magnetism, each Unimatic watch case is built in-house. They also offer engravings and made-to-orders.
Their tool-focus results in a lot of effective jack-of-all-trade watches, like the U4 Classic. It's big and bold, but not overly sharp, with the crown guard neatly sinking into the side. It's known for being a perfect combination of dive and field watch qualities.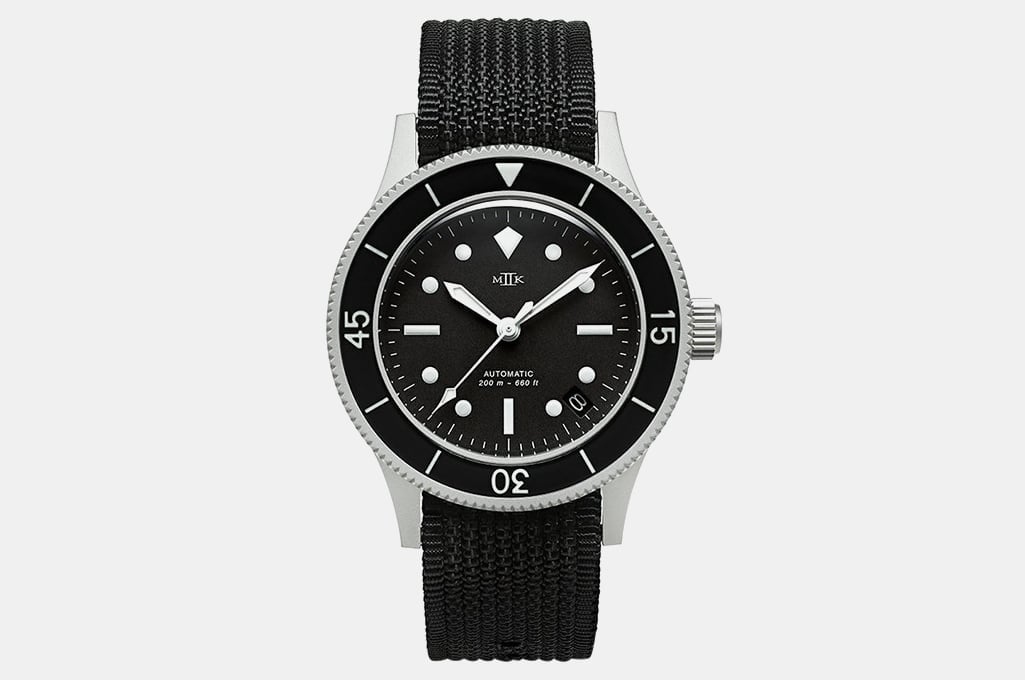 MK II
MK II got their start by offering customization and watch parts for other brands, like Seiko and Luminox. They may not have invented modding, but MK II definitely made it easier, then more common. They're an American brand that outsources best practices depending on what each timepiece needs most, sometimes it's Japanese precision, sometimes Swiss accuracy. This method-focused strategy has made them a favorite among military organizations.
MK II's commitment to utilitarianism and timeless looks can be seen in the Keroman Stingray II, which is modeled after the '50s Fifty Fathoms design issued by the Marine Nationale. Each Keroman is tested for water resistance and thermal shock to the ISO 6425 Divers' Watches1 standards.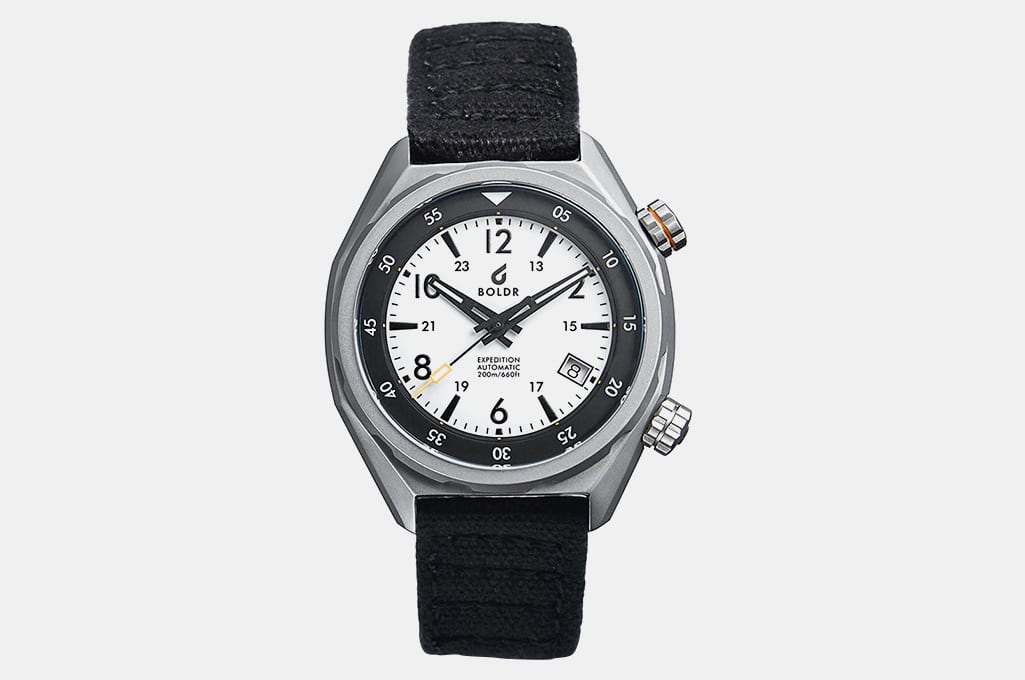 Boldr Supply Co.
With an emphasis on gear, BOLDR Supply Co. is based in Singapore and builds watches for explorers and adventurers. The main source of value in their timepieces is the fact they're tank-level abuse-resistant. They're like a modernized G-Shock with an audience that overlaps between gearheads and cool indie kids.
This being the case, it's no surprise that the Venture Expedition II takes the beater watch to the next level. It's tactical and insanely functional. Unlike so many beaters out there, the Expedition II has good looks with its dimensional dial and uniquely-edged case.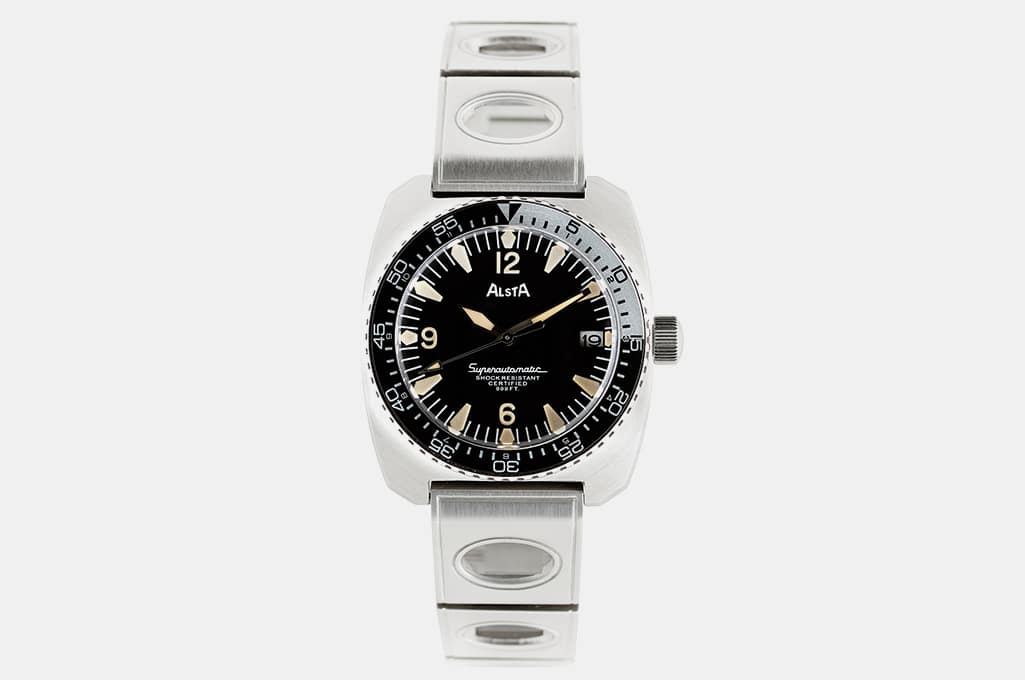 Alsta
Swiss-based Alsta was a big name for practicalists and trend-setters alike in the '60s and '70s. After being made defunct via the quartz crisis, Alsta then made a triumphant comeback as a microbrand in 2014. This extra piece of history and culture is one of the things that makes them such a distinguished microbrand.
Richard Dreyfuss famously wore an Alsta watch in Jaws, and this is the timepiece that the 2019 Nautoscaph Superautomatic is based on. Everything about this timepiece is unique, from its cushion-like case to its manholed, single-linked bracelet. Everything about it is also premium, from its sapphire crystal to its easily serviced and reliable Seiko movement.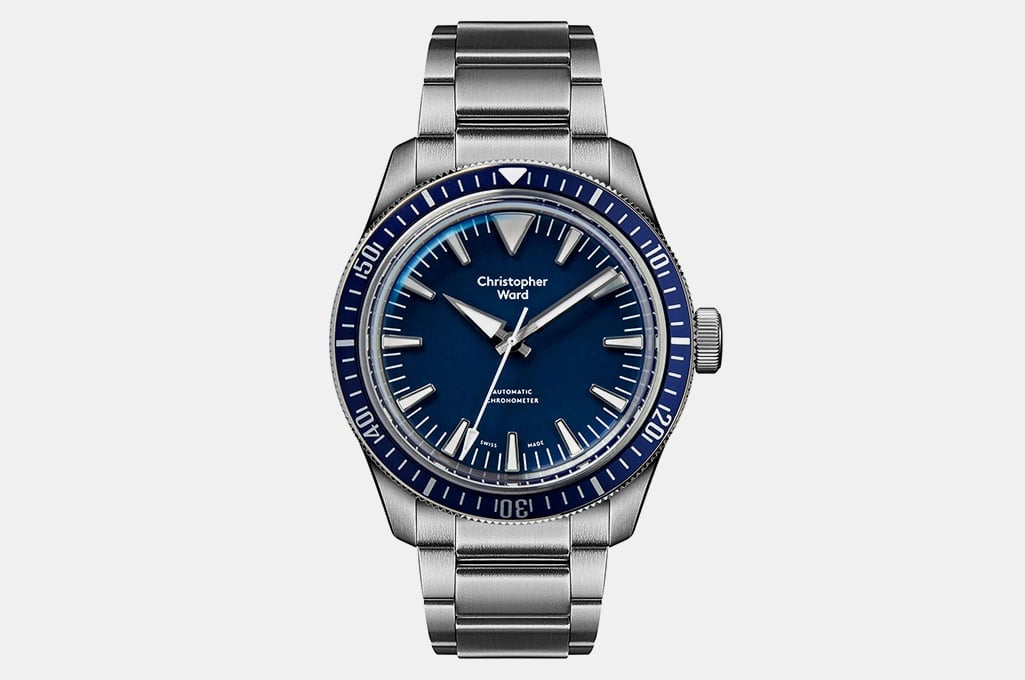 Christopher Ward
Designed in the UK and manufactured in Switzerland, Christopher Ward watches combine English aesthetics with Swiss engineering. They're also known for cutting middlemen, traditional marketing, and distribution costs, allowing them to sell their watches at a fraction of the price of comparable pieces from big-name brands.
Christopher Ward's English design sensibilities are seen in the C65 Dartmouth's slick lines. Its bezel markers and dial indices are as flawlessly speedy as an Aston Martin's silhouette. And for just about a grand, you get a COSC-certified movement, which is unheard of.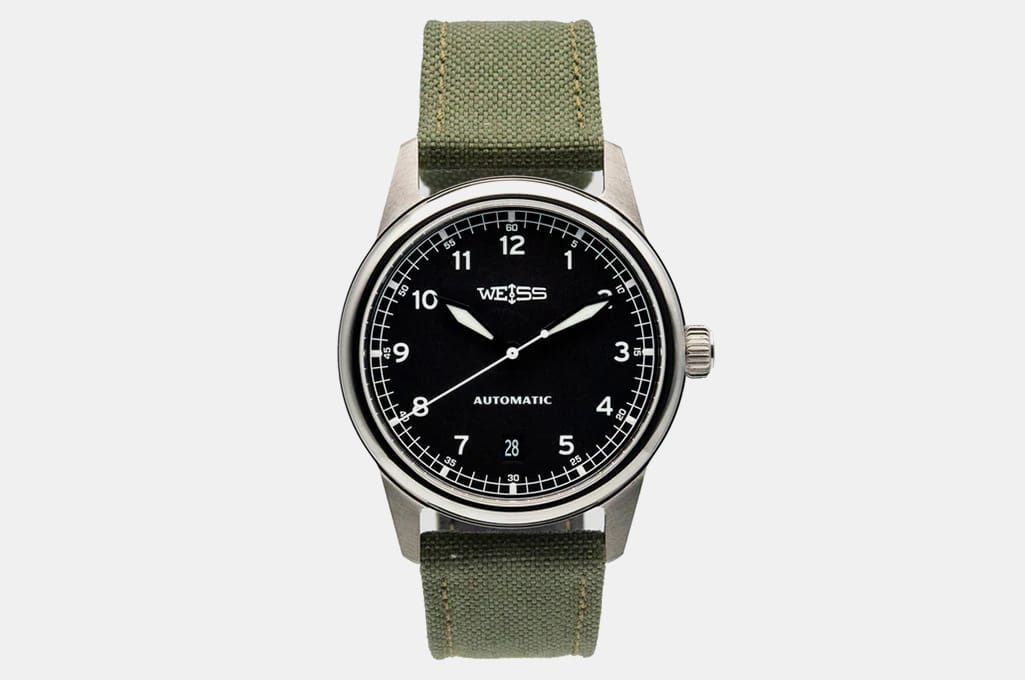 Weiss Watch Company
Though Cameron Weiss cut his teeth at places like Piguet and Constantin, the goal of Weiss Watch Company is to build American-looking watches. That usually means implementing beloved vintage touches, like printed small-seconds hands and railroad outer tracks. Still, Weiss watches are timeless yet modern, and outstandingly versatile.
Their Automatic Standard Issue Field Watch features a reasonable and handsome 38mm case and classically bold alpha hands. The beveled sapphire, reliable movement, and modern finishing are welcome updates, resulting in a timepiece that looks great on men of all ages and walks of life.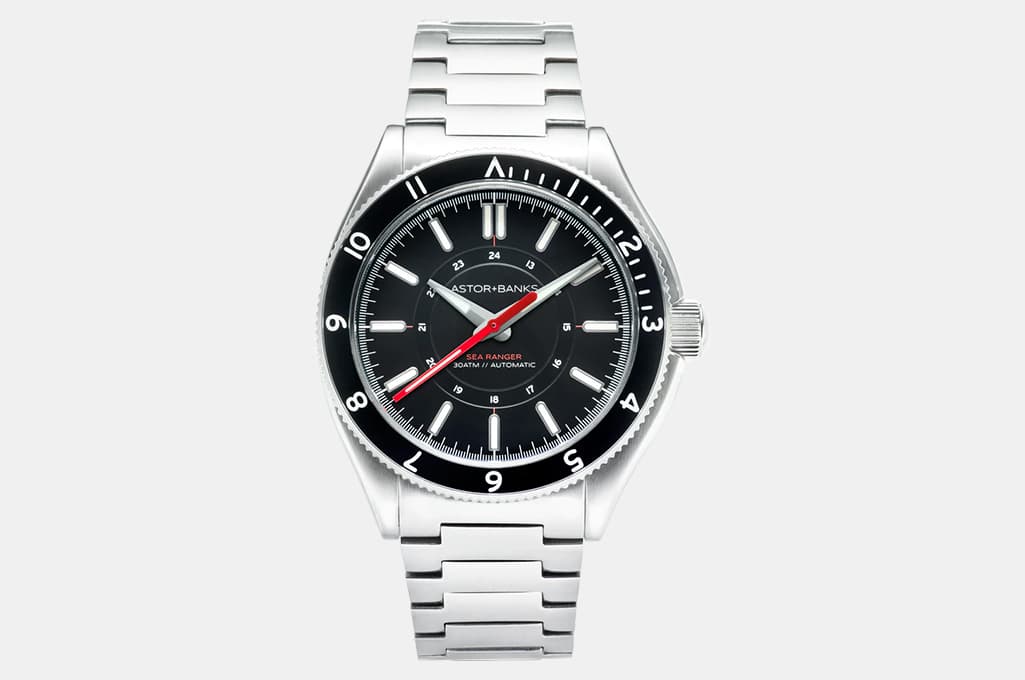 Astor+Banks
Despite having only been around since 2012, Astor+Banks has already achieved a signature look. They have an emphasis on accuracy, only employing Swiss mechanical and quartz movements, and assemble all of the watches themselves in their Chicago headquarters.
Regardless of the colorway you go for, the Sea Ranger is a quintessential Astor+Banks watch. Both the bezel and military time track are indented, while the indices are immaculately applied. This creates a multi-surfaced topography, and that physical dimensionality that the brand is known for.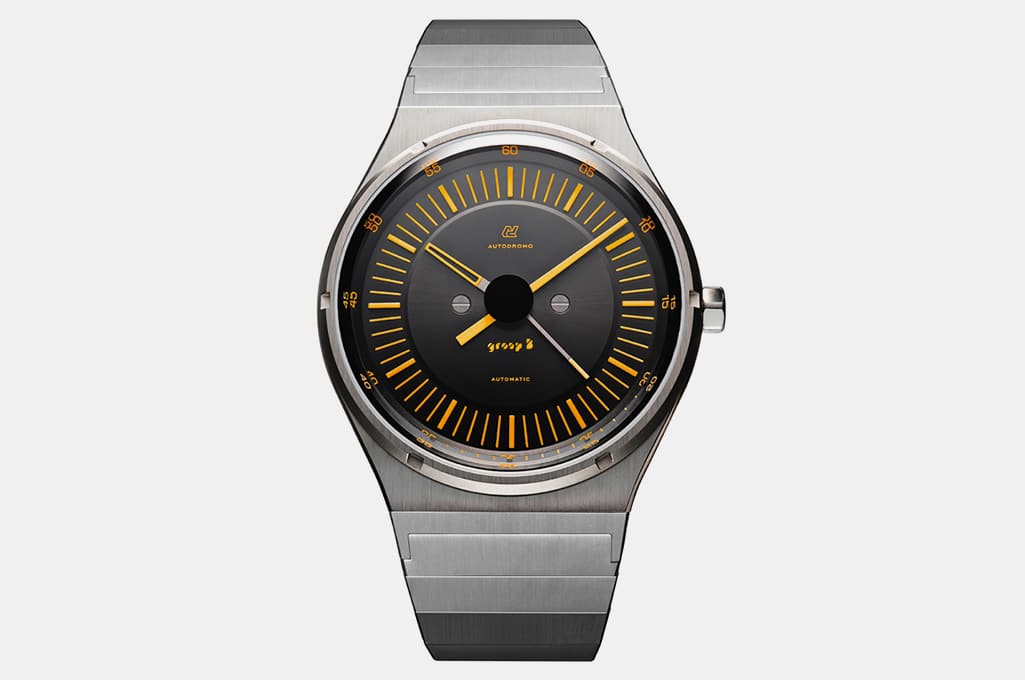 Autodromo
Bradley Price is a New York-based industrial designer who started the lifestyle brand, Autodromo, based on his love for motorsports. Clever Price knows that car lovers and watch collectors significantly overlap. While many brands have their dedicated racing watch, Autodromo specializes in timepieces that celebrate the sport's past, present, and future.
An homage to the technology of the Group B era of motorsports (1982–86), the Series 2 Automatic looks like a repurposed '80s sports car dashboard. Autodromo lovingly refers to Group B as the "last romantic era of motorsports." This watch honors the time by using exotic materials like its bi-metallic case, a two-part titanium capsule, which houses the premium movement and is integrated into the steel bracelet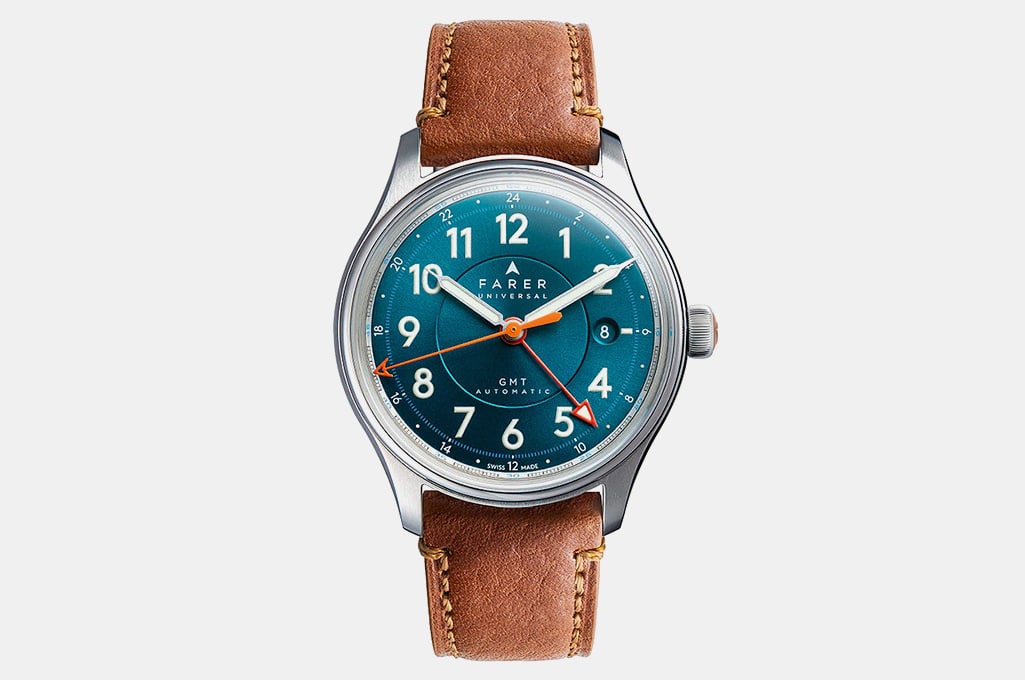 Farer
Farer is a brand that loves stories, particularly adventure stories. They update designs and complications from the '60s, then revive them with Swiss movements and contemporary constructions. They also name their models after British explorers and the vehicles they used.
The Lander IV, for example, is named after a Cornish innkeeper, the sole survivor of a group trek in Africa. In the spirit of adventure, Farer has fun with colors and textures, seen in the Lander's sea green dial and orange accent. Hardly a toy though, this watch boasts serious materials, including the Sellita automatic that you can watch through the caseback.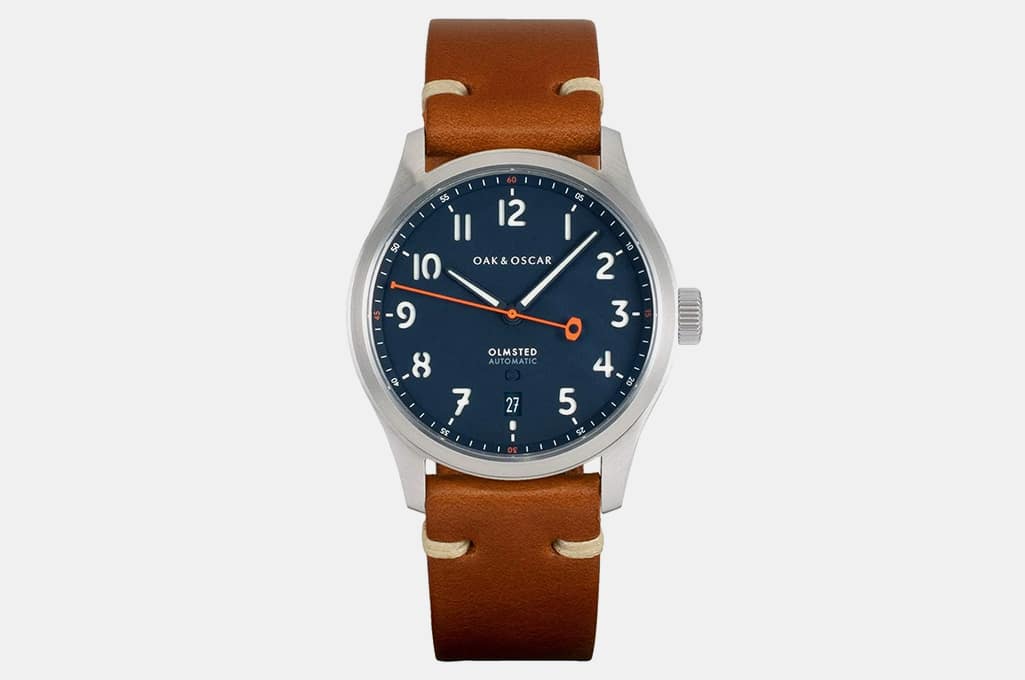 Oak & Oscar
Oak & Oscar is another new watchmaker that's achieved an instantly recognizable style in their short time in the game. Founded in 2015, collectors love the brand's matte sandwich dial, stencil-style indices, and overall bold style.
The Olmsted 38 is Oak & Oscar's classic field watch. Though simple, the stark matte dial is striking, and impressively legible even in dim lighting. Part of that is thanks to the cut-out indices, a brand signature, and the watch's many-layered AR-coated sapphire crystal. This stylish watch runs on an easily-serviced 21-jewel Swiss movement.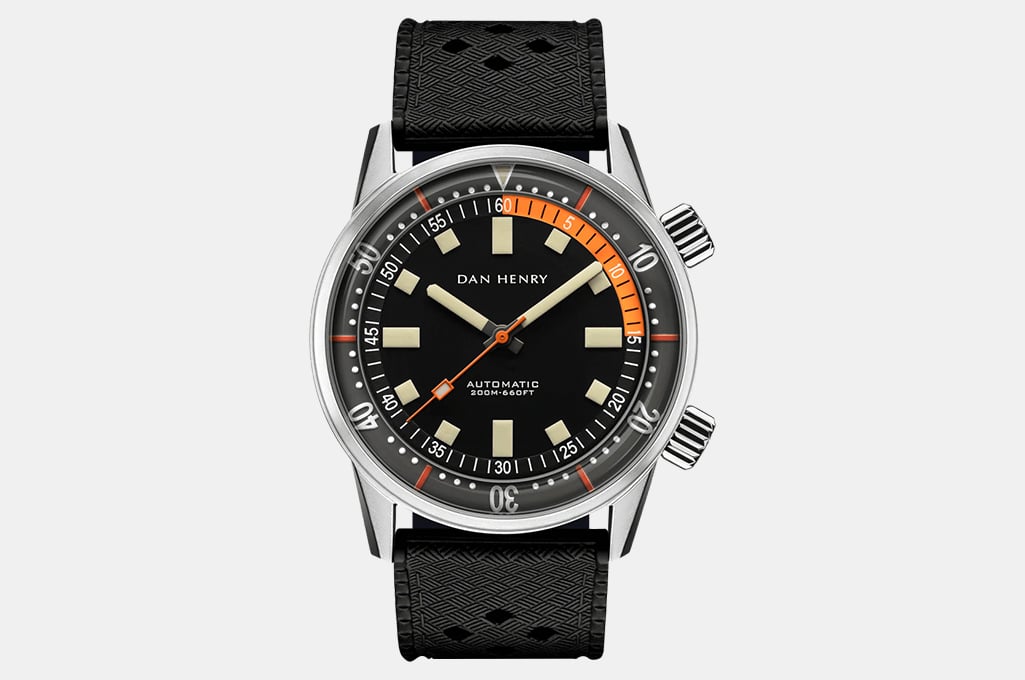 Dan Henry Vintage Watches
Dan Henry founded his namesake brand in 2016, after having collected over 1500 vintage timepieces. What makes Dan Henry Vintage Watches unique from the many other vintage-inspired brands out there, is that he takes inspiration straight from his collection. Instead of being general homages of watches of a certain time, these timepieces are specific remakes of particular models that may or may not be available at flea markets or vintage dealers.
Limited to 1,970 pieces, Dan Henry's 1970 Automatic Diver is functional and stylish. The bright colors, blocky indices, and double-domed crystal add a retro charm, but also enhance the eligibility of this 200m water-resistant diver.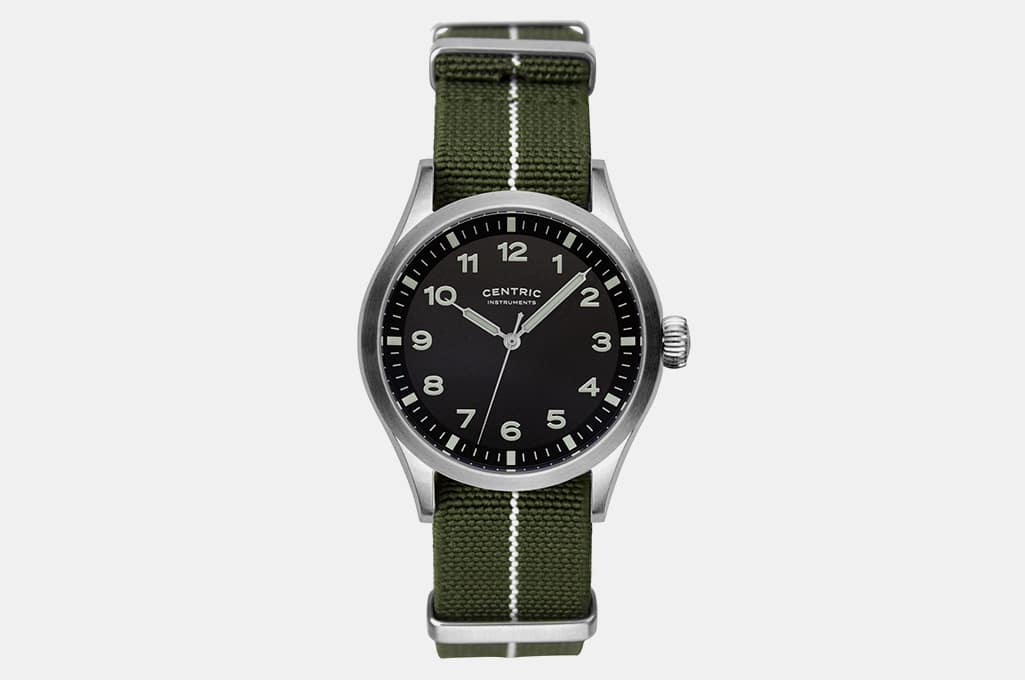 Centric Instruments
Centric Instruments builds no-frills everyday carry gear, and are known for their modern solar watches. If what you're looking for in a watch is durability and accuracy, Centric Instruments is an effective and sustainable option.
The Field Watch MKIII is a perfect example of a Centric timepiece, with its surgical-grade steel case and solar powered cell. Just one minute of sun will give you 24 hours of power. Plus, like all of the brand's watches, it's unassumingly stylish, with a deep dial and nato straps in several colors.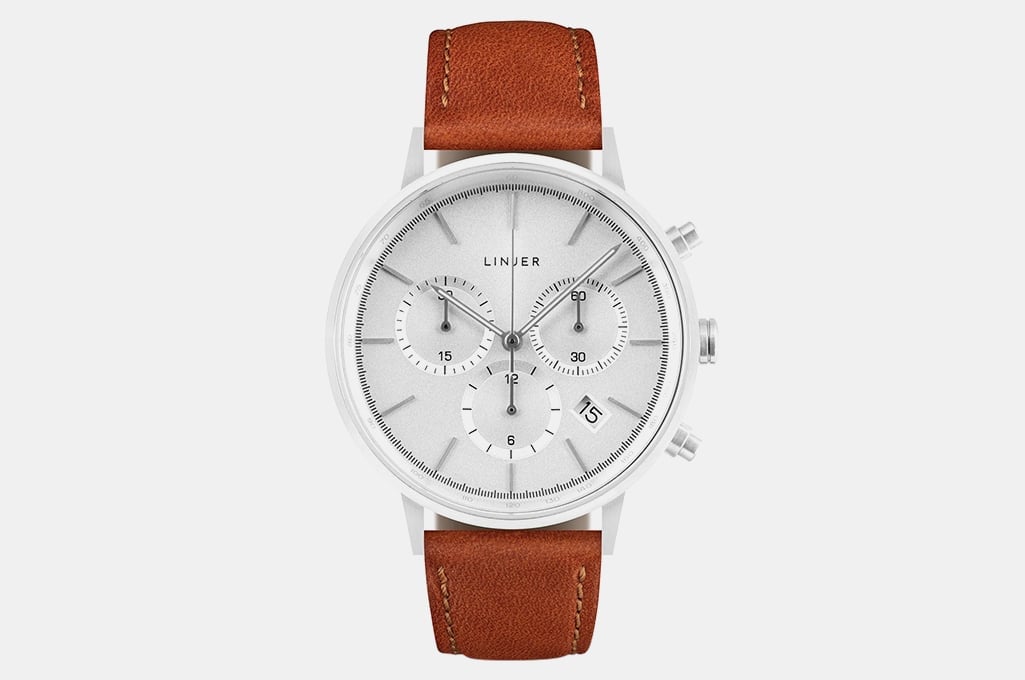 Linjer
Linjer was started in 2014, as an offering for people who needed another option besides cheap fast fashion and super expensive luxury goods. With their watches, I find they do an excellent job of combining sporty and dressy features. Not only does Linjer sell directly to consumers, allowing prices at 50 percent below the market standards, but they even offer a quick quiz on their website to help curate down your options. The results are pretty nuanced and sophisticated. In my quiz, I mentioned I prefer classic styles but that I'm outdoorsy—one of the options was a traditional dress watch, but in gunmetal.
This detail-oriented sophistication can be seen in their Chronograph. It's sporty but refined, with a rim tachymeter and immaculate finishing. It runs on the hyper-accurate and repairable Ronda quartz 5030.D movement.
Disclosure: Clicking on these links and making a purchase may earn us a small referral fee, at no extra cost to you. Learn more here.
freestar.config.enabled_slots.push({ placementName: "gearmoose_leaderboard_btf", slotId: "gearmoose_leaderboard_btf" });