12 Best Waterproof Backpacks
Once we leave our school days behind, backpacks don't tend to be an essential part of the average adult's everyday life, but there are certainly instances in which they come in handy. If, for example, you happen to carry a lot of gear for work and you commute by train or other mass transit, a backpack could provide the safe and convenient storage space you need for your laptop, work reports, lunch bag, and gym clothes, whereas a typical laptop bag might be too small, not to mention uncomfortable.
Then there are backpacks designed for avid outdoorsmen and women. When you spend your weekends engaged in multi-mile day hikes or overnight camping trips, having the right backpack can help you to tote all the essentials for your trip and avoid common aches and pains. It can also keep the contents dry, if you select a truly waterproof backpack model.
The good news is, there's no shortage of waterproof backpacks that fit the bill, with features designed to withstand the elements and deliver the comfortable and convenient packing experience you prefer. The problem is choosing the products that best meet your needs and deliver optimal function and longevity. Here's a quick breakdown of the best waterproof backpacks for those looking to keep their everyday carry dry.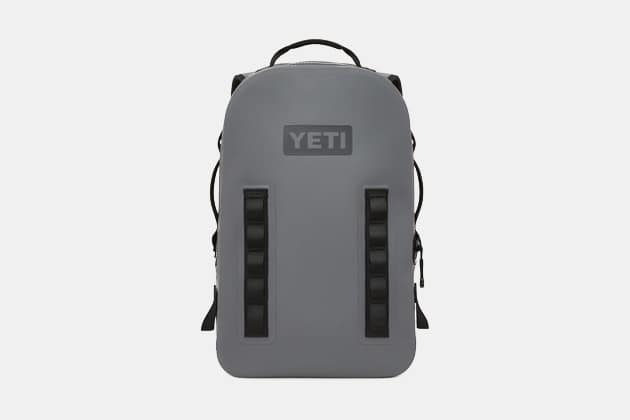 Yeti Panga Backpack 28
Most hikers and campers can get by with a pack that offers light rain protection, but for the intrepid explorers used to braving deluges and dunkings during river crossings, nothing less than a 100% watertight pack will do the trick. Yeti is happy to deliver with a tote that pairs their roomy Panga duffel design with the hallmarks of a truly excellent backpack, including ergonomic features like DryHaul Shoulder Straps for comfort and removable chest straps and waist belt for security and stability. – Shop Now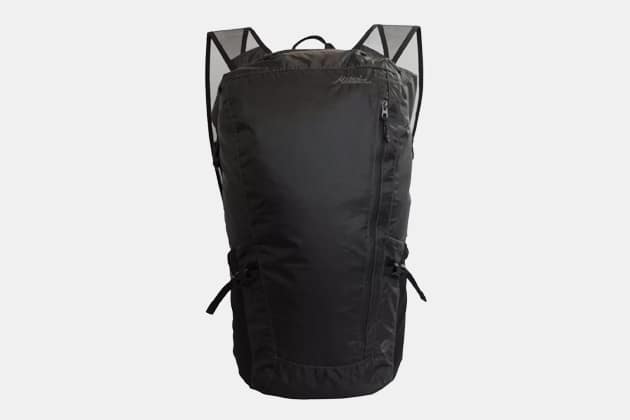 Matador Freerain 2.0 Packable Backpack
Portability is a must on long hiking or camping excursions, and you'll be amazed you never thought to pack a backpack that can hold up to 24 liters and still be rolled up small enough to fit in the palm of your hand when not in use. This bag delivers with ultra-light, flexible design that suits your every need, moves with your body, and adds just 4.8 ounces to your carry weight. Even so, it offers puncture-resistant 30D Cordura ripstop nylon with siliconized waterproofing to keep all your gear bone-dry. – Shop Now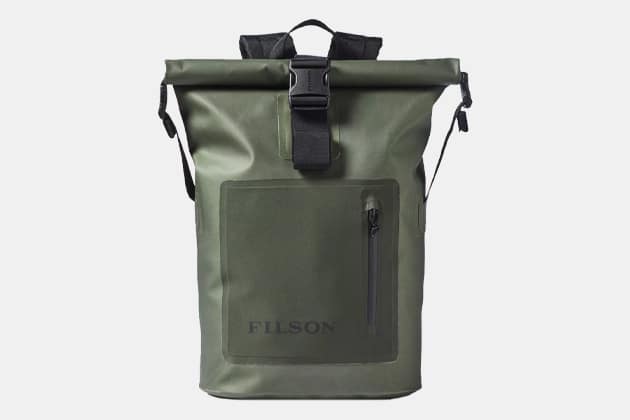 Filson Dry Backpack
What does it take to make a pack watertight? How about PU-coated 840-denier nylon that not only keeps the contents totally dry, but also delivers flexible and abrasion-resistant utility? Pair this material with a roll-and-cinch closure and rugged plastic hardware and you've got a bag that nary a drop can get into. Hikers will also enjoy breathable, high-density EVA foam padding on the shoulder straps and back for added comfort, as well as the wide-mouth opening that offers easy loading and unloading. – Shop Now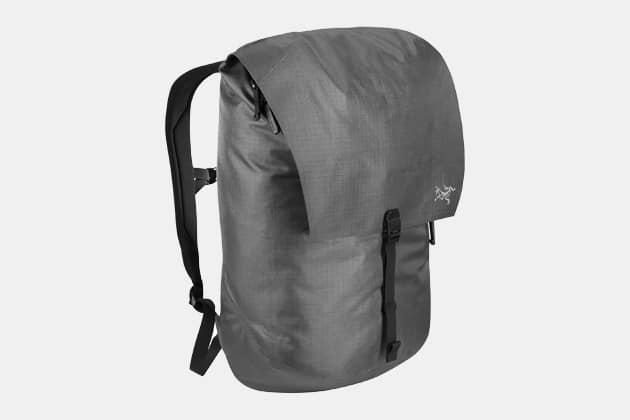 Arcteryx Granville 20 Backpack
There are two things to recommend this urban backpack. First, there's the waterproofing, with AC² (Advanced Composite Construction) features that include laminated surfaces and taped seams for optimal protection from the elements. Then there's the unique utility provided by the lightweight construction, smart organizational features (padded laptop sleeve, stretch mesh pockets for cords, and pockets under the flap for personal items), and the ability to add custom attachments like a bike light. It's the urban accessory you never knew you needed. – Shop Now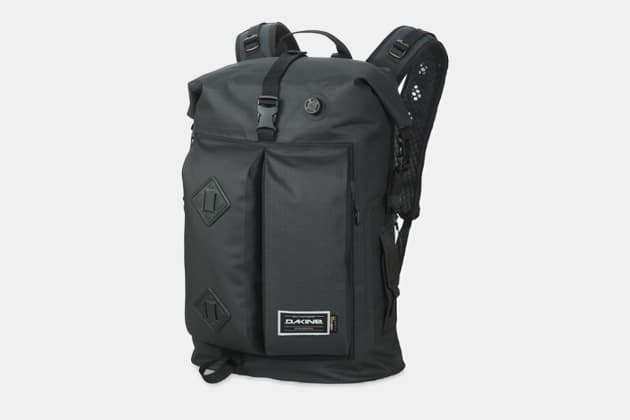 DAKINE Cyclone II 36L Dry Pack
Skate-pack makers Dakine are known for delivering the goods with innovative design, and they don't disappoint with this waterproof pack for outdoor adventuring. Whether you frequently brave inclement weather on your daily bike commute or you spend your weekends hiking through mountain storm cells, you're sure to appreciate the waterproof polyester shell, the polyurethane-coated, water-resistant zippers, and the roll-top closure and welded construction that ensure both the main compartment and outer pockets are kept safe from splashes and downpour alike. – Shop Now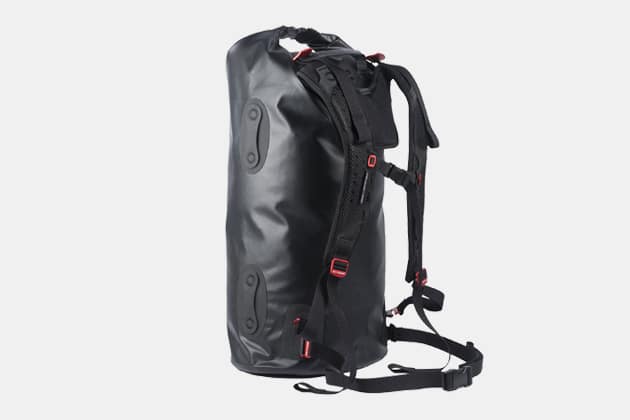 Sea To Summit Hydraulic Dry Pack
This heavy-duty dry pack delivers the goods with zero moisture thanks to 600D TPU laminated waterproof fabric that also happens to be PVC-free, UV resistant, and capable of withstanding cold temperatures to protect the contents. A non-wicking, roll-top closure with interlocking profile ensures a watertight seal at the top, while welded construction promises zero leakage at seams. 7075-T6 anodized aluminum buckles stand the test of time and the elements, and a waist strap helps to keep your bag secure for added stability and comfort. – Shop Now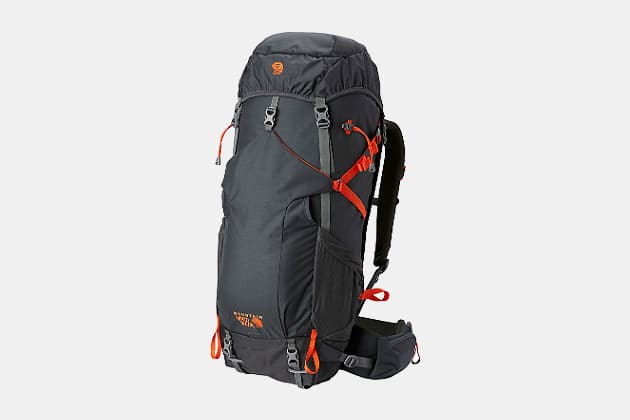 Mountain Hardwear Ozonic 50 OutDry Pack
There's more to this backpack than just the OutDry waterproofing technology that protects the main compartment from even a hint of moisture. It's made for comfort and convenience with 3-inch torso adjustments for customizable suspension, side pockets that are easy to reach without removing your pack, and a removable, zippered top compartment with security pocket and key clip that can be reversed to hide exposed seams or even clipped to front shoulder straps for custom weight balance and easy access to items within. – Shop Now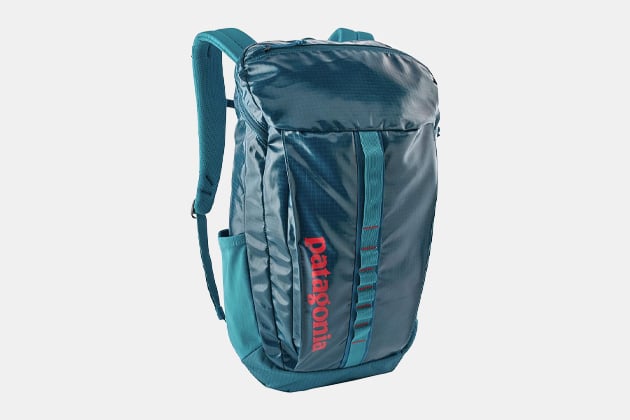 Patagonia Black Hole 25L Waterproof Backpack
It's no surprise the outdoor experts at Patagonia have come up with a waterproof backpack, and hikers will love the throwback, Alpine daypack aesthetic. The ripstop material is lightweight, resilient, and coated with a water-resistant TPU film for lasting waterproofing. Naturally, it offers comfort features, as well, including heavy-duty, molded padding in the back and shoulder straps. Convenient stretch-woven side panels are perfect for holding water bottles, but the laptop sleeve also doubles as a hydration port in a pinch. – Shop Now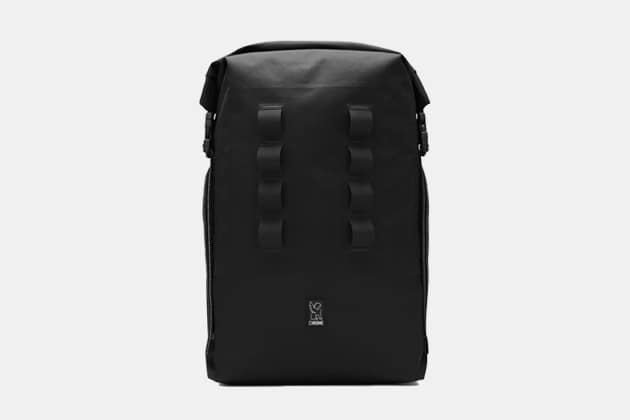 Chrome Industries Urban EX Rolltop Backpack
Roll-top bags are pretty par for the course when it comes to waterproofing, but this one has the added element of easily adjusting to fit the load you're carrying, up to 28 liters at max capacity. There's a padded sleeve for laptop protection and sundry internal pockets for organization. In terms of comfort, you'll enjoy ventilated and padded backing and an improved shoulder harness design that offers easy adjustment. Plus, there are five handles so you can carry it any way you want. – Shop Now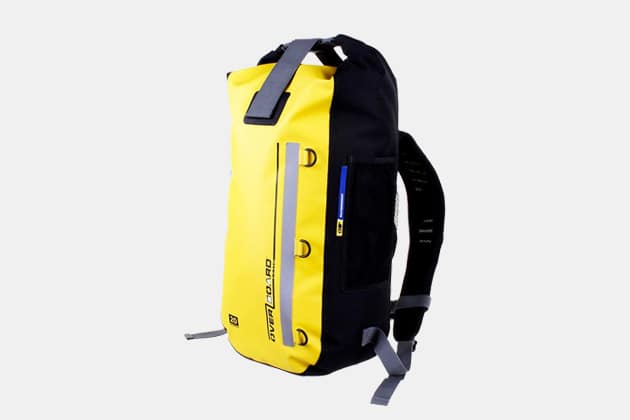 Overboard Classic Waterproof Backpack
This simple, boxy backpack comes in a slew of bright colors that could probably be seen from outer space, presumably in case you get lost. More important, however, is the fully-waterproofed, roll-top construction and a pack that will actually float if dropped in water. Lightweight, padded shoulder straps and lumbar support ensure comfort, while a ventilated back panel allows for air flow to keep you dry. If you're looking for a waterproof daypack that pairs comfort and utility with colorful styling, this is one you can't pass up. – Shop Now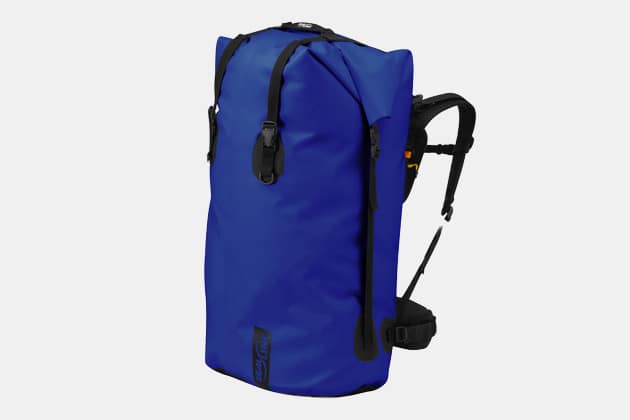 SealLine Black Canyon Dry Pack
This PVC-free pack offers the waterproof properties you're looking for paired with large-capacity carry (65L or 115L sizes) to deliver the versatility you need on every hiking, biking, canoeing, canyoneering, or camping trip. 100% waterproofed material and welded seams keep the weather outside of your pack, where it belongs, and comfort features like an all new suspension system, as well as padded shoulder straps, waist belt, and lumbar support, ensure you'll get through even long hikes with nary a rash or bruise. – Shop Now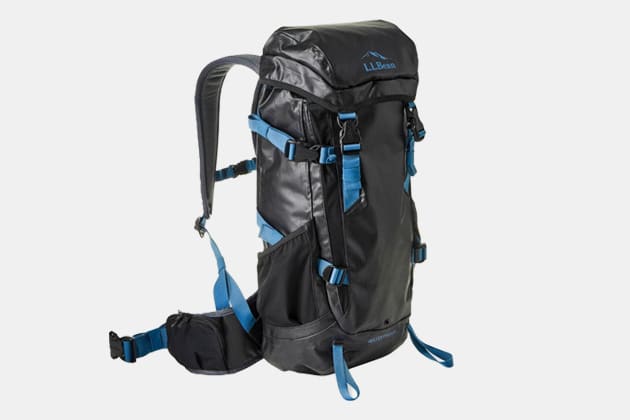 L.L. Bean All Conditions Waterproof Day Pack
This company lives by the motto "the outside is inside" with high-end, outdoorsy gear and apparel that helps you look like you're living your best outdoor lifestyle. Their waterproof daypack is no exception, with IPX6 waterproofing that repels rain, snow, and mud; a waterproof roll-top closure; and taped and sealed interior seams in the main compartment. It also has external pockets with drainage holes for the stuff you don't mind soaking. Side compression straps add stability and comfort and can even be used to store additional gear. – Shop Now