The 12 Best Windproof Lighters
There are few things as truly frustrating as going to light a celebratory cigar, start a campfire, or get the kindling going for a grill, and having weather conditions drown out your efforts. In the worst cases, that disappointment goes beyond "oh, this isn't working well" and crosses over into a sort of primal frustration—shouldn't we have this whole fire thing mastered by now?
Fear not: Equipped with one of our dozen choices for the best windproof lighters, you'll never again face the struggle of lighting a fire alone on a windy day. Our selections run the gamut from convenient pocket-sized lighters to torches fit for doomsday survivalists.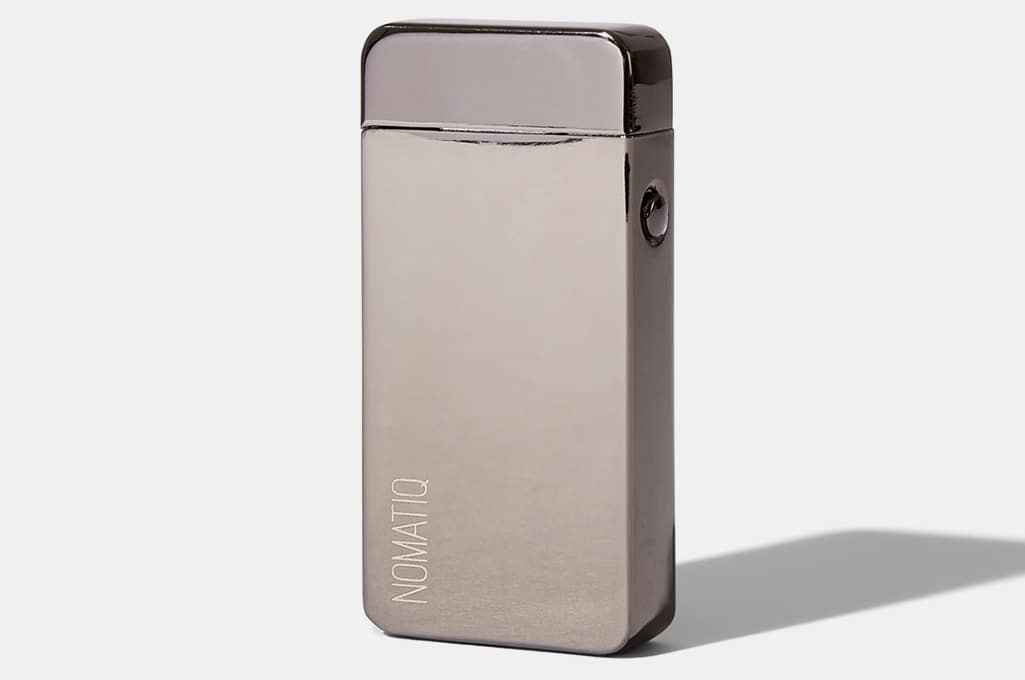 Nomatiq Rechargeable Electric Dual Arc Lighter
Want to guarantee that you don't have to deal with your lighter being blown out? Do away with the flame altogether. In case you're not already familiar with the style (it's fairly new, after all), electric lighters offer a high-voltage electric "flame" that's created without combustible fuel. Instead of refilling it with lighter fluid, you just plug your electric lighter into a USB charger to keep it full of fire-starting juice. Nomatiq's Electric Dual Arc Lighter is among the best options out there, with a reasonable price and sleek, minimalist look and feel. Once you start using this, you may be tempted to ditch your gas lighters altogether.
Casing Material: Zinc alloy
Fuel Source: Electric
Dimensions: Height 2.75″ x width 0.25″
Price: $30
The Takeaway: It's electric, so there's no need for combustible fuel. Simply charge like you would your phone and you're set for the day.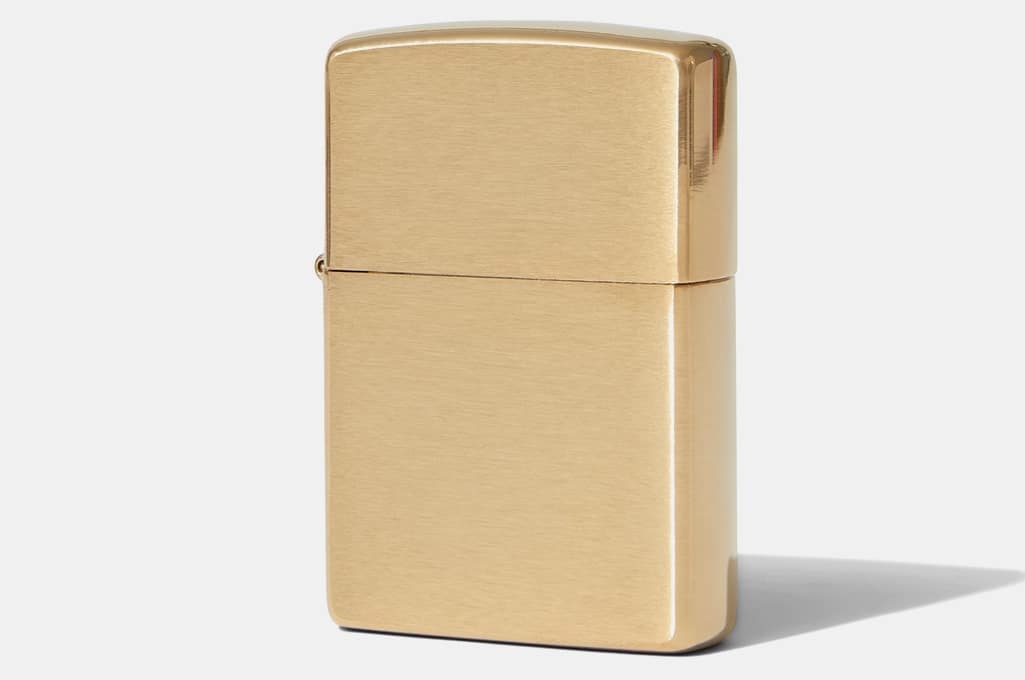 Zippo Brushed Brass Lighter & Electric Insert Set
Not to be outdone on their own turf, lighter giant Zippo is getting in on the electric lighter game as well—with electric inserts that are compatible with almost every Zippo lighter case. This brushed brass example is classic Zippo at its finest, with the immediately recognizable flick noise on the open and close. The electric lighter insert looks almost identical to Zippo's standard butane-filled design, only replacing the flint and striker wheel with a push-button electric igniter. In between uses, remove the electric insert and you can charge it with a standard USB cord.
Casing Material: Brass
Fuel Source: Butane or electricity
Dimensions: Height 2.25″ x width 0.5″ x depth 1.5″
Price: $48
The Takeaway: Classic Zippo click-wham, now with the option for USB-powered electric lighting.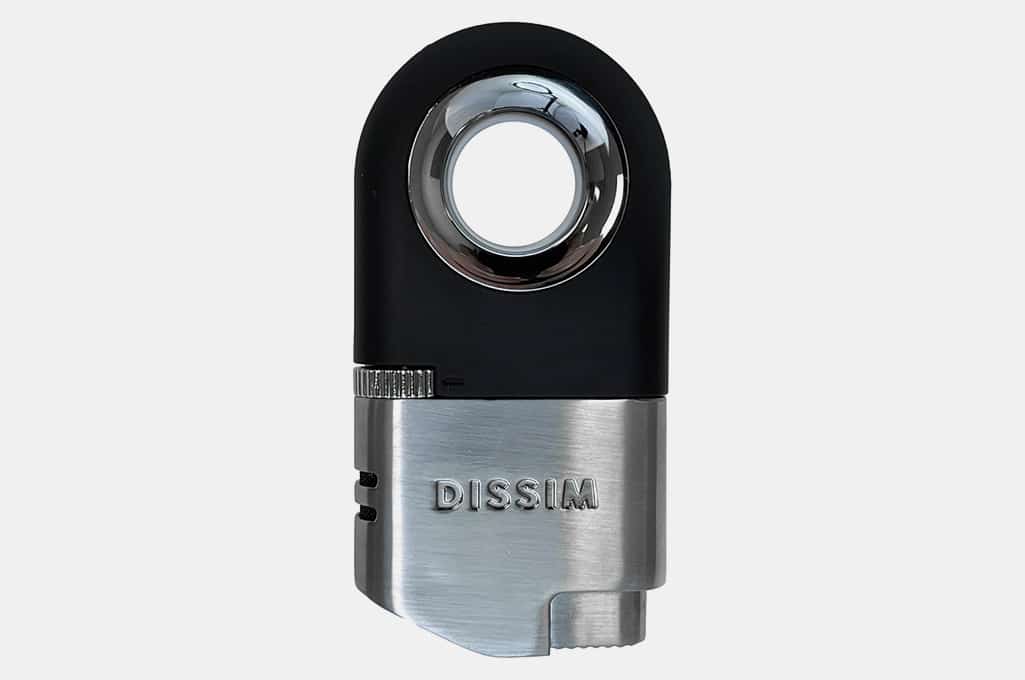 Dissim Executive Inverted Dual Torch Lighter
If you've been using standard lighters for years, you've probably stopped noticing that a gas station Bic really isn't very comfortable to use at all. This is doubly true if, like me, you have larger than average hands—the striker mechanism just isn't made for comfortable ergonomics. Fixing that uncomfortable use position is what Dissim's lineup of lighters is all about, and they are literally turning the design on its head. Their Executive series Inverted Dual Torch Lighter is the cream of the crop, using a high powered windproof dual torch design in combination with their patented circle grip design for ease of use.
Casing Material: Zinc and synthetic
Fuel Source: Butane
Dimensions: Height 3.62" x width "1.89 x depth 0.59"
Price: $118
The Takeaway: The unique design of Dissim's torch lighter both makes it more effective in windy conditions.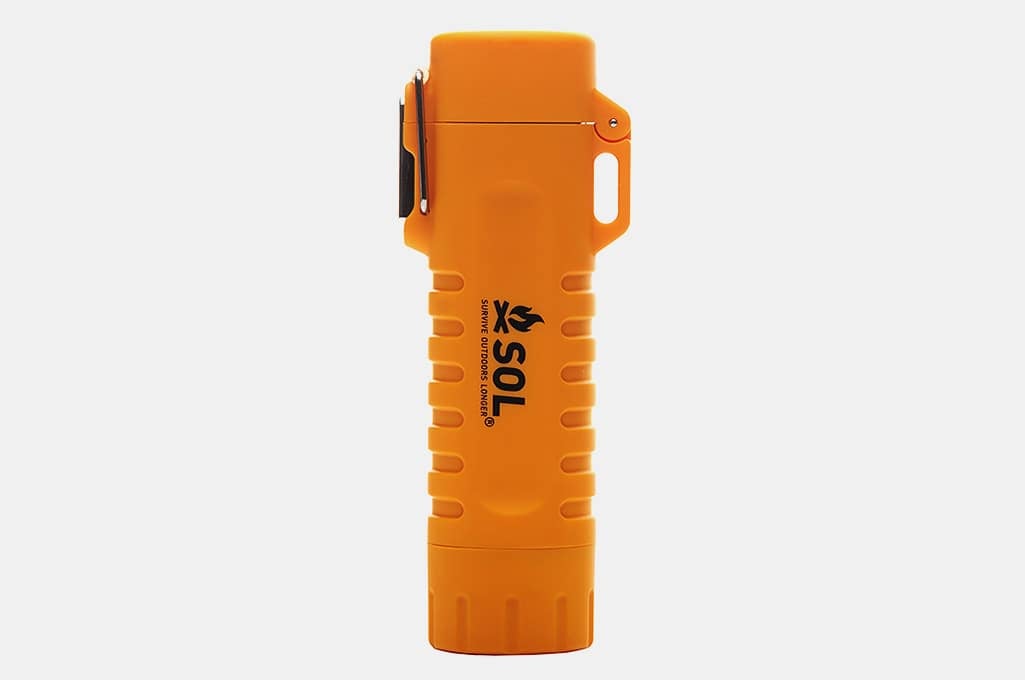 SOL Fire Lite Fuel-Free Lighter
If I had a dollar for every time I've lost a lighter, then I could easily buy the SOL Fire Lite Fuel-Free Lighter—and hopefully never lose it again, thanks to the long lanyard and bright orange coloration. This is a camping lighter par excellence, weighing in at just two ounces and featuring a complementary 100 lumen light. The whole package will run for about three hours on a single charge, and if you're having trouble getting your fire started, you can just cut off a small piece of the included "Tinder Cord." Perfect for outdoor enthusiasts, survivalists, and EDC gear nerds.
Casing Material: Plastic
Fuel Source: Electric
Dimensions: Height 4" x width 1.4"
Price: $25
The Takeaway: The tinder-ready lanyard and integrated flashlight make SOL's lighter a perfect backcountry companion.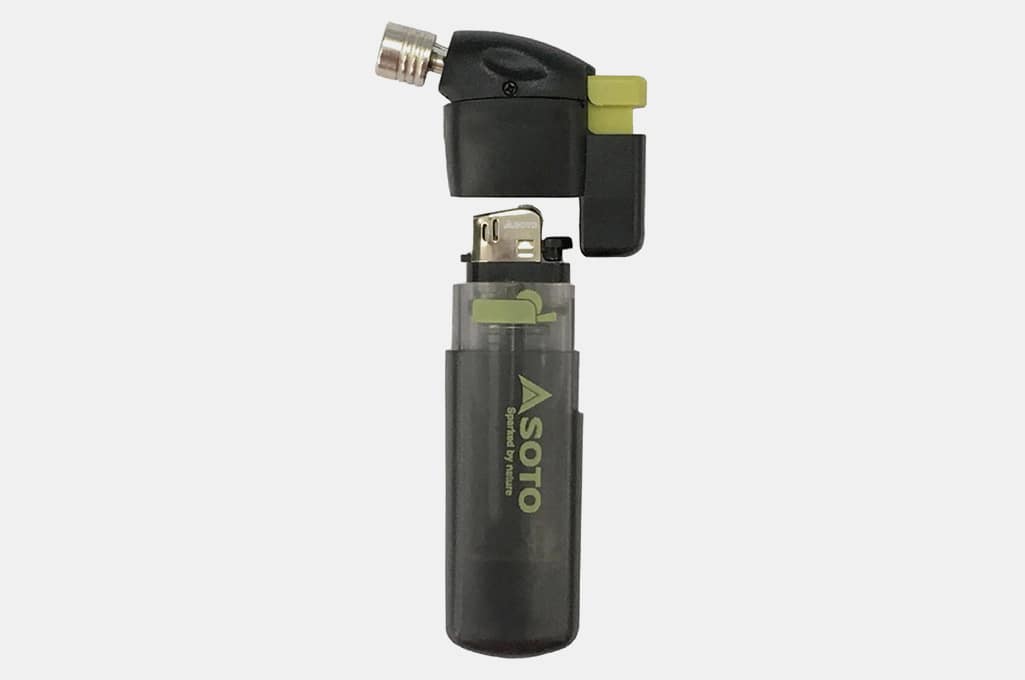 Soto Pocket Torch with Refillable Lighter
Do you already have a half dozen gas station lighters kicking around? Then you'll love the Soto Pocket Torch, with its Transformers-like ability to turn any cheap old rectangular lighter into a powerful camping-ready torch. If you don't have a rectangular lighter or seven laying around (this doesn't use circular lighters, like Bics), the included lighter is easily refillable for anytime, anywhere use. A word of warning, though: Because of its multi-part design, this torch doesn't perform all that well at elevations over 5000 feet. If you're in the mountains and looking for a windproof lighter, we recommend choosing a different one from this list.
Casing Material: Plastic
Fuel Source: Butane
Dimensions: Height 4.3" x width 2.4" x depth 0.9"
Price: $19.95
The Takeaway: Soto's Pocket Torch transforms any old rectangular gas station lighter into a high-powered, directed torch.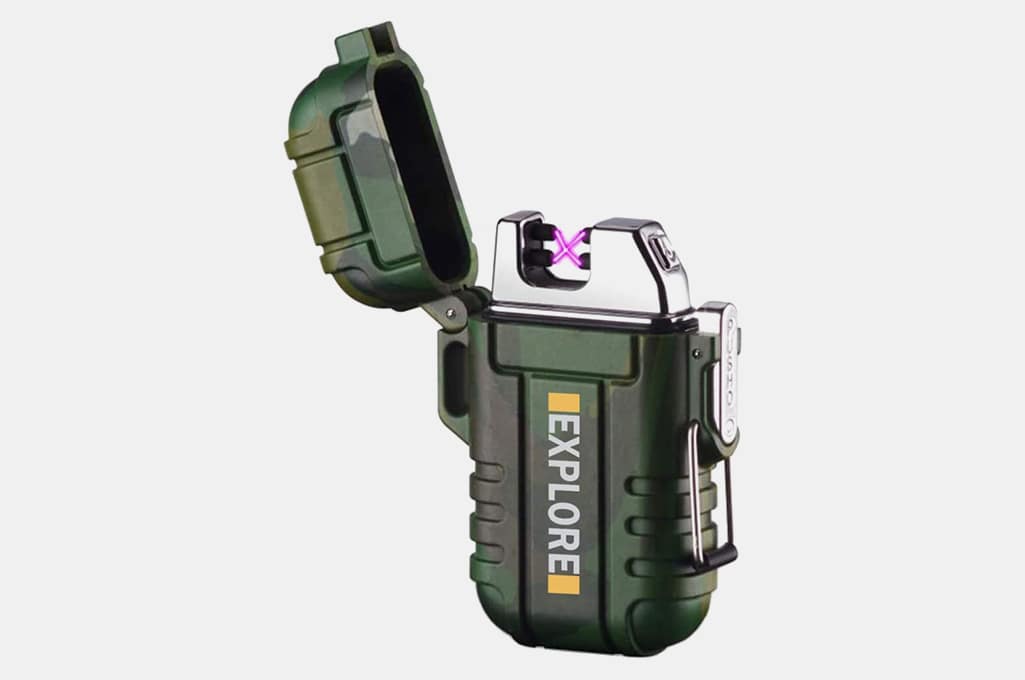 LcFun Waterproof and Windproof Dual Arc Lighter
How many lighters do you know of that will still work after a day of being carried through the rain? We only know of one now: LcFun's Waterproof and Windproof Dual Arc Lighter. It's rated to IP56 waterproofing, meaning that it is "protected from high pressure water jets from any direction" (the locking top seals it well enough that it might survive a dip in the pool, but that's not guaranteed). The lighter itself is another great example of a USB-rechargeable electric dual arc lighter, this time in a more outdoorsy or tactical look that's hard to come by in this category. It's our first choice for a lighter to take with you on a fishing trip, that's for sure.
Casing Material: Plastic
Fuel Source: Electric
Dimensions: Height 2.7" x width 1.9" x depth 0.7"
Price: $21.99
The Takeaway: A variation on the dual arc electric lighter, this one from LcFun has the benefit of serious water resistance too. A darned good option to throw in your pack before you head out camping.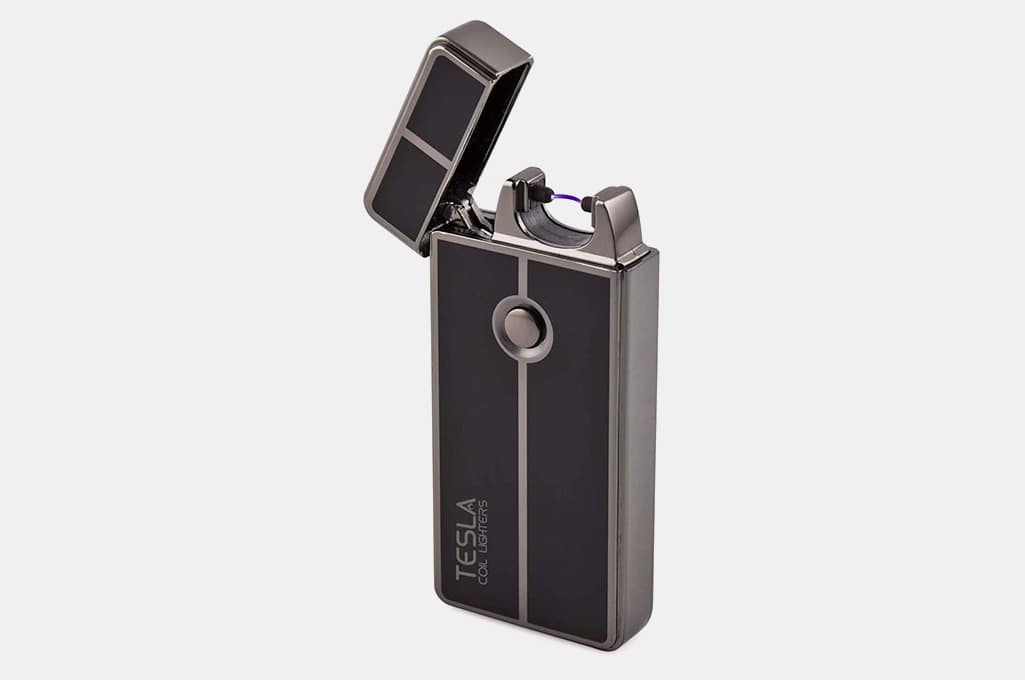 Tesla Coil Lighters USB Rechargeable Windproof Arc Lighter
Offering an extra long battery life in a handsome and easy to use case, Tesla Coil Lighters' USB lighter is also one of the most affordable on our list. On each charge, it will last for 100 to 300 uses (or about a week of regular use). Recharge it for a few hours on the weekend with a USB charger, and it'll be ready to go all week long. There's really not much more to it: It's a streamlined and minimalist take on an electric lighter that does what it's intended to, and does it well for a long time at a great price.
Casing Material: Stainless steel
Fuel Source: Electric
Dimensions: Height 3" x width 1.75" x depth 0.5"
Price: $16.99
The Takeaway: Affordable, cool looking, and electric—a perfect way to try out this new style of lighter and see if you like it.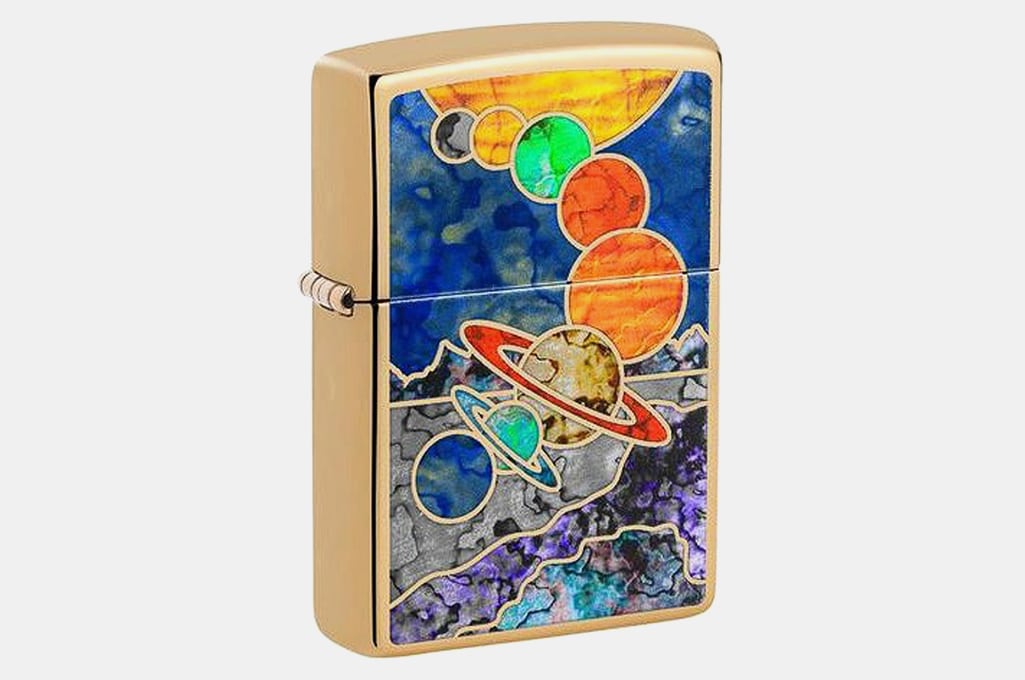 Zippo Fusion Space Windproof Lighter
No matter how cool all the electric lighters in this list may be, they're never going to be "high polish brass Zippo with a metallic planetary motif" cool. And as you may know, even the classic butane Zippo lighters are windproof—well, wind-resistant in practice, but you get the idea. The real move here is to buy the coolest Zippo shell that you can find, and then get one of their electric lighter inserts so you're never without flame-starting power. Then you can look stylish and play with your fire and dual arc electric flames whenever you want to show off.
Casing Material: Brass
Fuel Source: Butane
Dimensions: Height 2.25″ x width 0.5″ x depth 1.5″
Price: $36
The Takeaway: Zippo reliability and style, yet works flawlessly in windy conditions.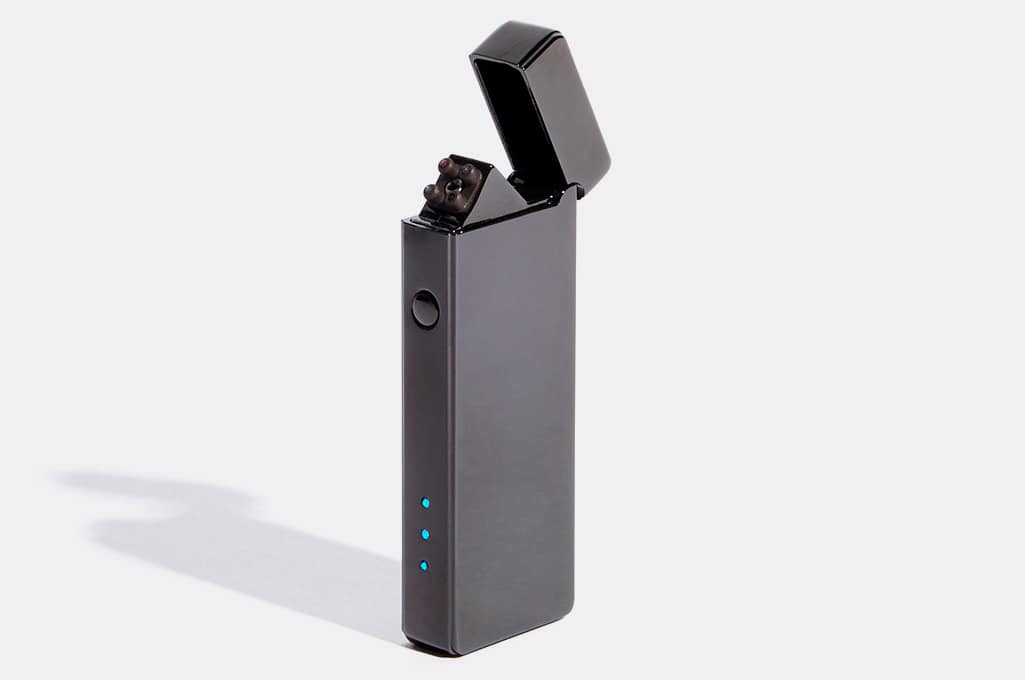 The USB Lighter Company Slim Double Arc Lighter
True to their name, The USB Lighter Company makes—you guessed it—rechargeable electric lighters. They're much the same as the Nomatiq and Tesla Coil lighters featured above, with two key differences: First, the angle of the electric "flame" makes these just a little bit easier to use when lighting anything that requires precision; and second, it's available in seven cool colors including a mind-blowing rainbow edition. So how should you choose between these similar electric lighters? My advice is to go with the one that fits your particular style best, as all of them featured so far are powered by very similar technologies.
Casing Material: Zinc alloy
Fuel Source: Electric
Dimensions: Height 3.1″ x width 1.12″ x depth .45″
Price: $35
The Takeaway: This slim and minimalist lighter features a unique angle for precise lighting in windy conditions and is also available in a wide range of cool colors.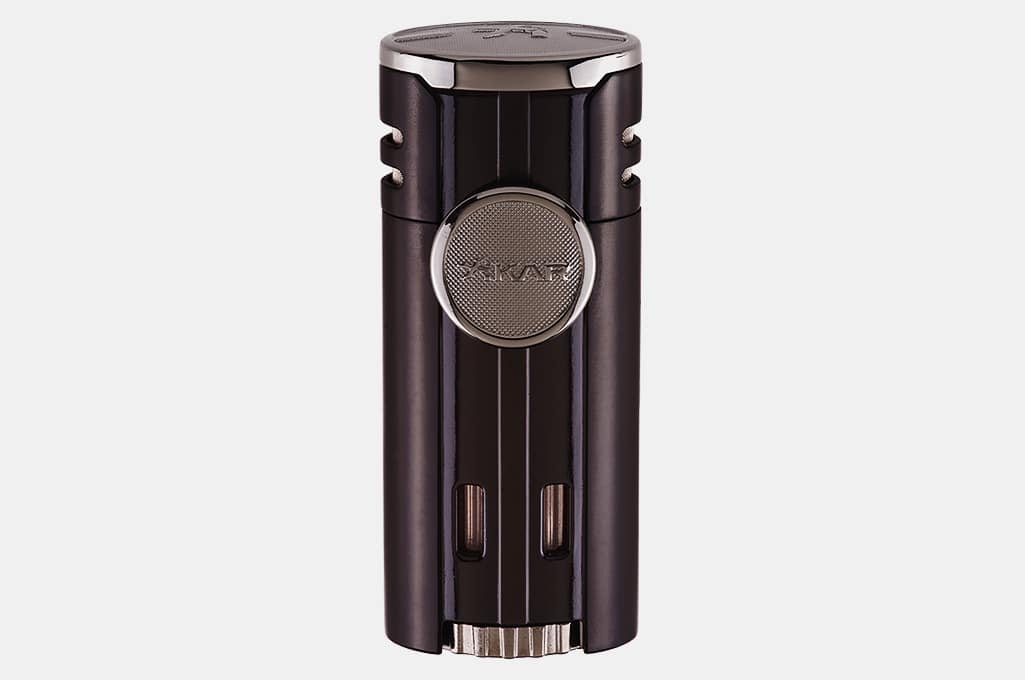 XIKAR HP4 Quad-Jet Flame Lighter
Traditional lighters produce a single butane flame. Electric lighters use a dual arc charge to light things up. Torch lighters go a step farther in the flammability game, using pressurized liquid butane to create a hotter and more directed flame. But the real gold standard for concentrated heat and flame is the quad-jet torch lighter, as exemplified by Xikar's HP4. Four angled jets create an ultra-hot ignition point with pinpoint accuracy, making it perfect for lighting cigars and fully capable of starting any campfire. It's rated to 11,000 feet of elevation too, making it a surprisingly nice addition to a mountaineering kit loadout.
Casing Material: Stainless steel
Fuel Source: Butane
Dimensions: Height 6.3" x width 3.74" x depth 1.54"
Price: $134.99
The Takeaway: The HP4 is large and in charge, perfect for lighting cigars or getting stubbornly damp kindling to ignite.
Jetline Magna Quadruple Torch Lighter
Jetline's Magna is about as streamlined as a beefy quad-torch lighter can get, at just under three and a half inches tall and an inch square. But that doesn't mean it's any less capable of lighting up any cigar, campfire, or candle that you can throw at it, since it features the same type of powerful four-way lighting mechanism as the Xikar featured above. Do you need this much lighter for everyday purposes? Probably not. But it never hurts to have a little gas in the tank when it's time to light a pile of slightly-too-damp firewood.
Casing Material: Unknown
Fuel Source: Butane
Dimensions: Height 3.35" x width 1.06" x depth 1.22"
Price: $49.99
The Takeaway: Jetline's Magna is one of the most affordable quad torch lighters out there, and it comes with a built-in cigar punch to boot.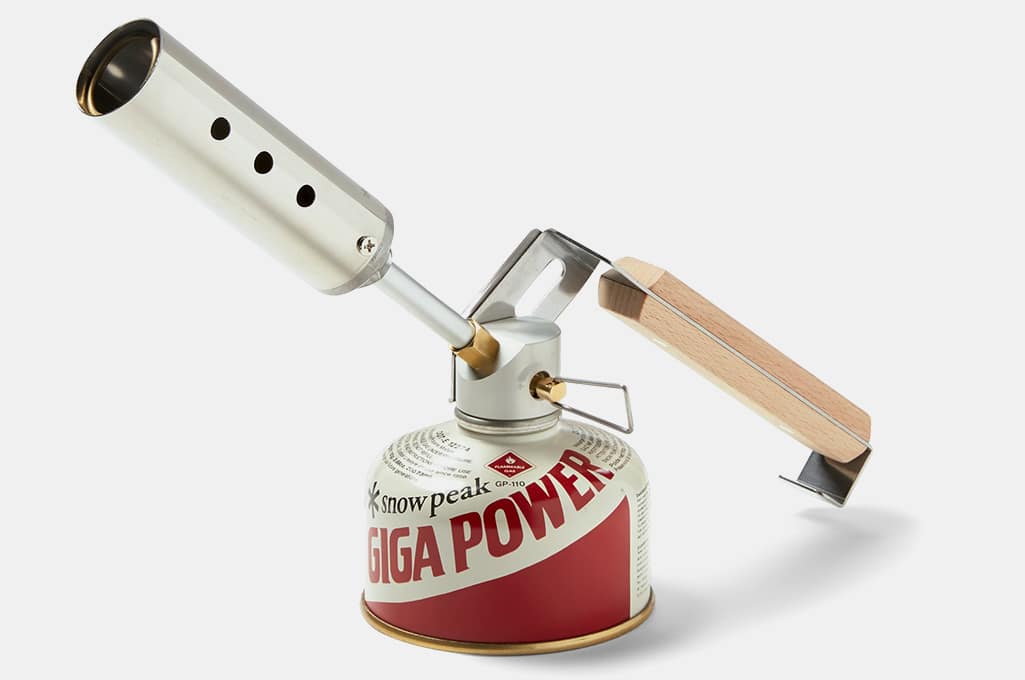 Snow Peak GigaPower Folding Torch Lighter
Though I can almost guarantee that Snowpeak's GigaPower Torch Lighter isn't what you think of when you're looking for a windproof lighter, please allow me to make my case for it. If you're heading out camping for anything more than a day trip, you'll almost definitely be carrying camp stove fuel. Why not put that to good use for more than just heating up water for coffee? This compact and foldable torch lighter attaches directly to a Snowpeak GigaPower fuel canister, transforming it into a 14,000 BTU flamethrower that will make quick work of getting your campfire started. And even better, it can toast a s'more in record time, too.
Casing Material: Stainless steel, brass, and nylon
Fuel Source: Snowpeak fuel cells
Dimensions: Length 5.5" x width 1.5"
Price: $64.95
The Takeaway: You're out camping. No lighter? No problem. Turn your Snowpeak fuel canister into a high-powered blow torch instead.
Disclosure: Clicking on these links and making a purchase may earn us a small referral fee, at no extra cost to you. Learn more here.
freestar.config.enabled_slots.push({ placementName: "gearmoose_leaderboard_btf", slotId: "gearmoose_leaderboard_btf" });