The 12 Best Fire Starters
When venturing into the great outdoors, a fire starter is one of your most valuable resources alongside a fresh supply of water and a full tang fixed blade knife. Sure, a lighter and a book of matches will normally do the trick in favorable conditions, and we can't help but recommend you carry them with your camping gear or in your bug-out bag. But should your Bic lighter run short of butane, or your matches get wet during inclement weather, a ferrocerium or magnesium fire starter is your best bet at starting a fire no matter where you set up camp.
Throw one one of these fire starters in your bag or vehicle and never worry again about being able to cook food, signal for help, or keep warm during unfavorable weather conditions.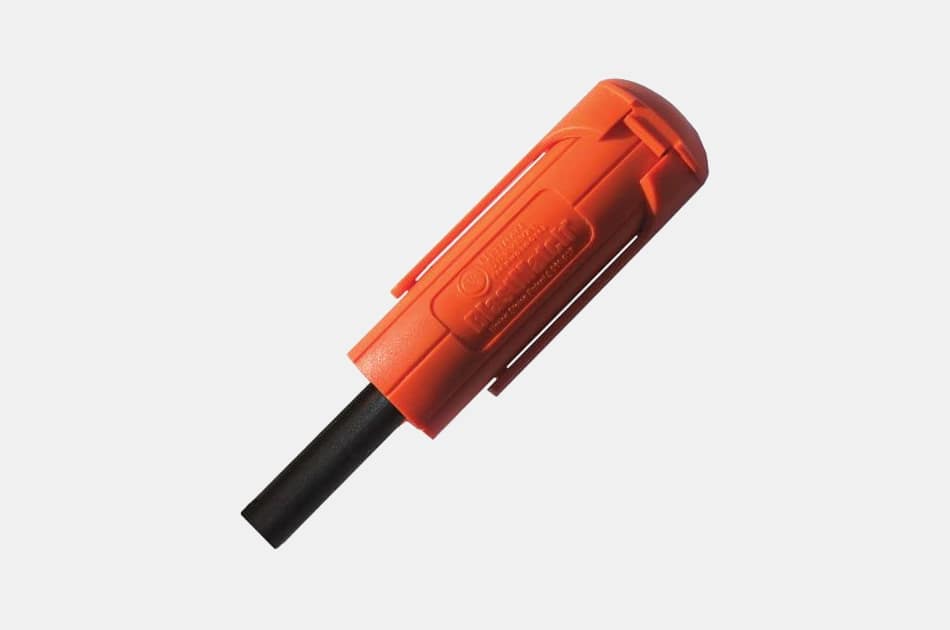 UST Blastmatch Fire Starter
There is hardly any manual operation required when using the Ultimate survival Technologies Blastmatch, which makes it the easiest fire starter to operate on this conclusive list. Inside the Blastmatch lies a patented flint bar and tungsten carbide striker that, with the push of a single button, can produce directionally targeted sparks in dry, wet, or any other unfavorable fire starting conditions. Other notable features include a waterproof protective cover that locks in place to prevent accidental sparks from occurring and a rotating bar that maintains even wear and tear.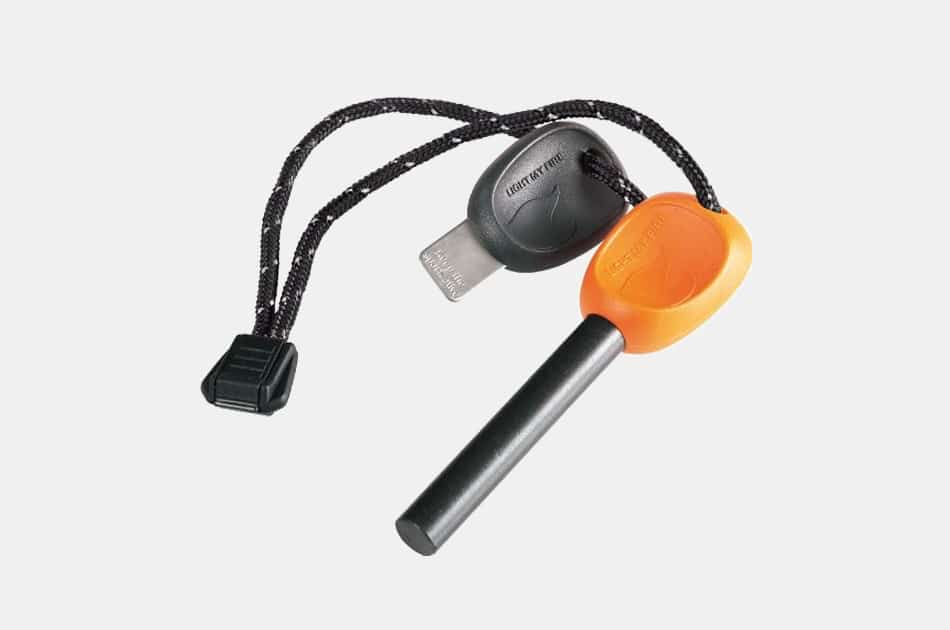 Light My Fire Swedish FireSteel 2.0 Army Fire Starter
With the Swedish FireSteel Army fire Starter, you get everything you need to start a camp fire, grill, or emergency signal, and nothing you don't. It's basic yet compact design allows for easy storage in your gear pack, bug-out bag, or for everyday carry on your keychain, while a dependable striking rod not only produces showers of intense fire-starting sparks when wet, but also delivers up to 12,000 strikes in the field, eliminating the need to buy an additional fire starter any time soon.
Exotac Nanostriker XL Fire Starter
Exotac's nanoStriker XL is the larger, meatier version of the original Nanostriker, and, just like it's baby brother, it will throw large showers of scorching sparks up to 5,500 degrees fahrenheit thanks to a replaceable fire rod that contains both ferrocerium and, unlike most other fire rods, magnesium. When these two are used together like with the nanoStriker, you'll find starting a fire in both wet and cold environments much easier.
An exceptionally sharp striker made from tungsten carbide is housed inside of the device's waterproof anodized aluminum body that contains plenty of room for stashing extra fire starting tinder as well. Throw it in your bag before you head into the bush or carry it everyday on your keyring via the included split ring.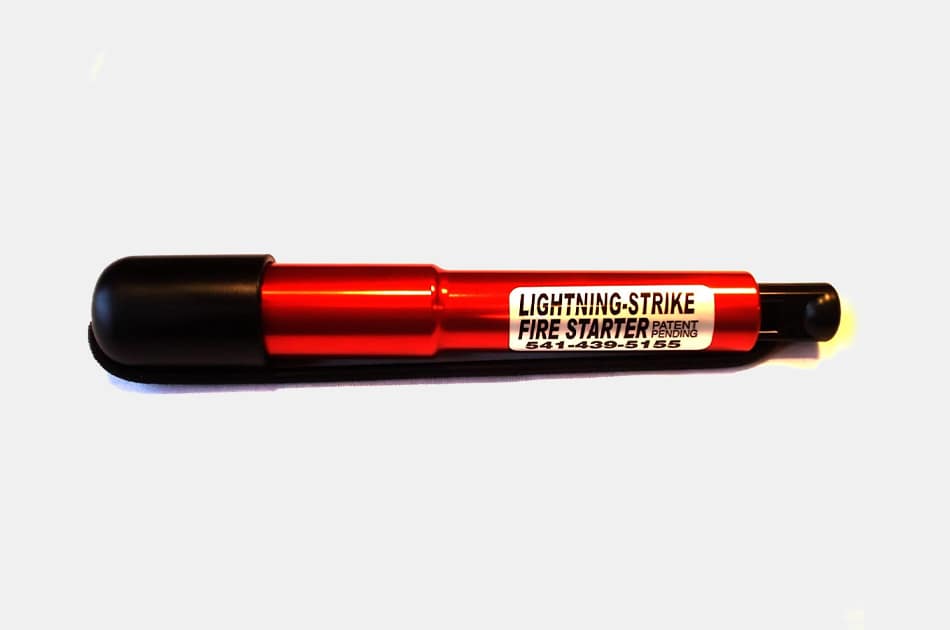 Holland Lightning Strike Fire Starter
The largest fire starter on this list, the Holland Lightning Strike, is also one of the easiest and most effective. This beefed-up fire starting device was designed for those serious about both survivalism and bushcraft. Roughly the size of a small tactical flashlight, the Lightning Strike boasts an oversized, replaceable ferrocerium rod, a fire striker, and plenty of specially-designed tinder encased inside of an anodized aluminum tube that allows you to literally "point and shoot" the sparks through the barrel directly onto your tinder. Starting fires in the rain, snow, or freezing temperatures has never been faster, easier, or more efficient.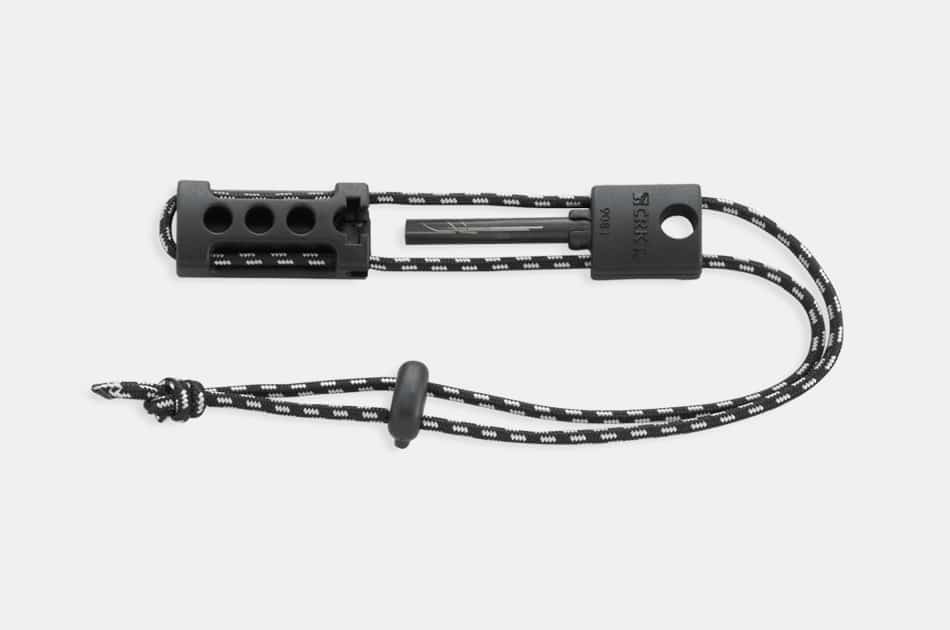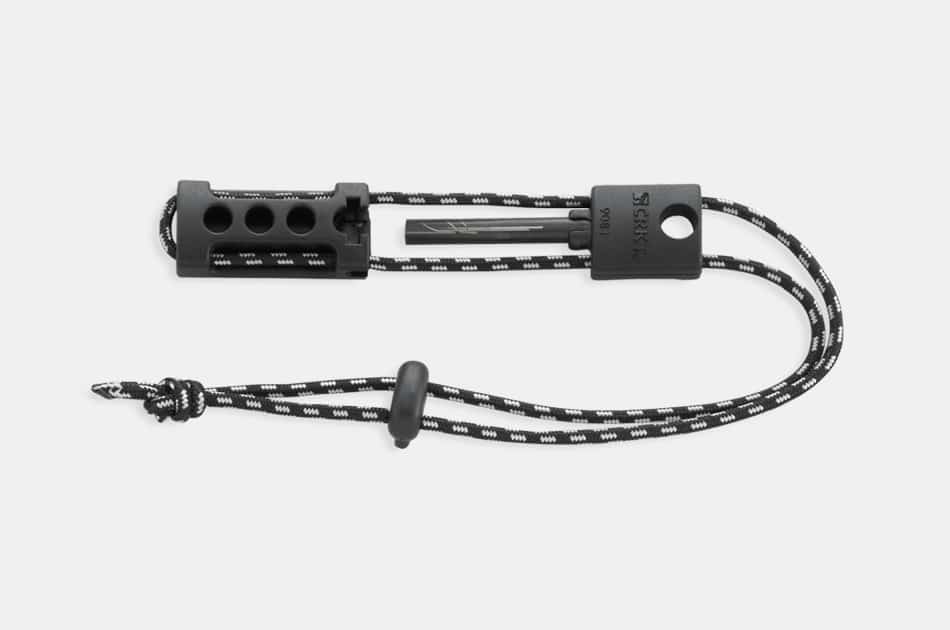 CRKT Spark'N Sharp Fire Starter
Tiny tools are the bread and butter of the EDC lifestyle, and minimalists are sure to appreciate the outstanding utility of this miniscule fire starter. With a length of just 2.8" and a weight of 1.3 ounces, you might be surprised to discover that this bright tool not only throws sparks, but doubles as a knife sharpener. The fire steel pulls from a case that features a sliding plate on one side. Slide the plate to the bottom of the casing to expose the tungsten carbide blade sharpener, or slide it out the top to reveal the steel striker and start making sparks. Both pieces (body and removable fire steel) are threaded onto a lanyard for easy carry around the neck or attached to a pack.
MSR Strike Igniter
Fire starters frequently come in black, but a few manufacturers have chosen bolder colors that make these diminutive tools a lot easier to locate in loaded packs or twilight conditions. This is certainly the case with the MSR Strike Igniter in red (plus red lanyard). The combination of carbide steel and ferrocerium flint reliably produce sparks at 5,500 degrees (F), regardless of weather, so you can light a campfire or stove even in cold, wet, or otherwise unfavorable conditions. You'll enjoy between 3,000 and 12,000 strikes, and in true MSR fashion, it features a bottle opener, so you can sit back and enjoy your blazing fire while sipping your favorite suds.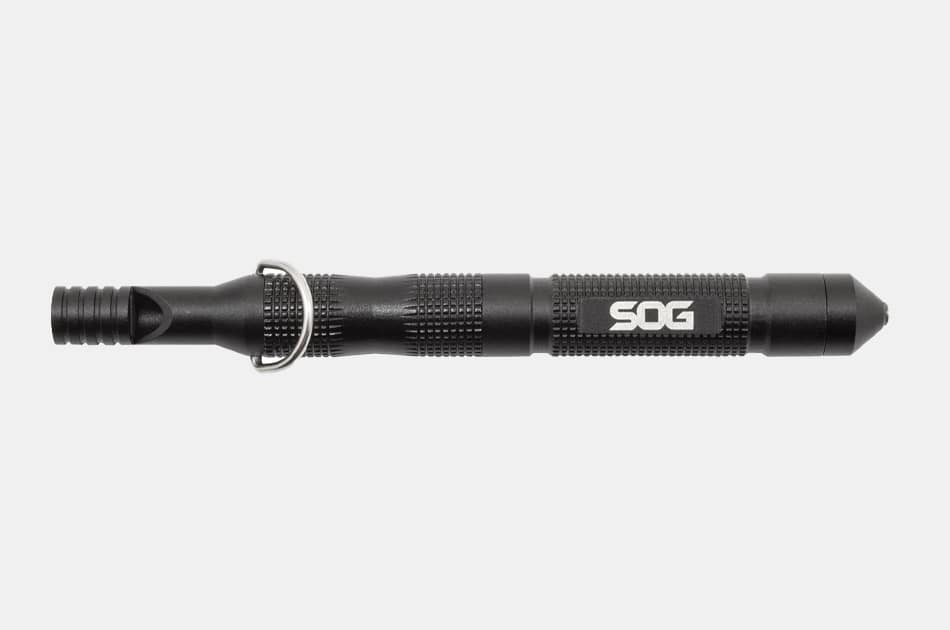 SOG Flint
SOG makes knives, multi-tools, packs, and all kinds of outdoorsy necessities, so it's no surprise they'd come up with a compact, practical Flint tool to complement any camper's kit. This 4.3", wand-style beaut looks a bit like a vape pen, especially with the safety whistle situated at the top. But of course, there's no vape juice inside – just a fire starter, a striker, and compartment to store your steel wool tinder. At the far end, you'll find a carbide-tipped glass breaker, perfect for those times when you're in the middle of nowhere and realize you locked your keys in the car.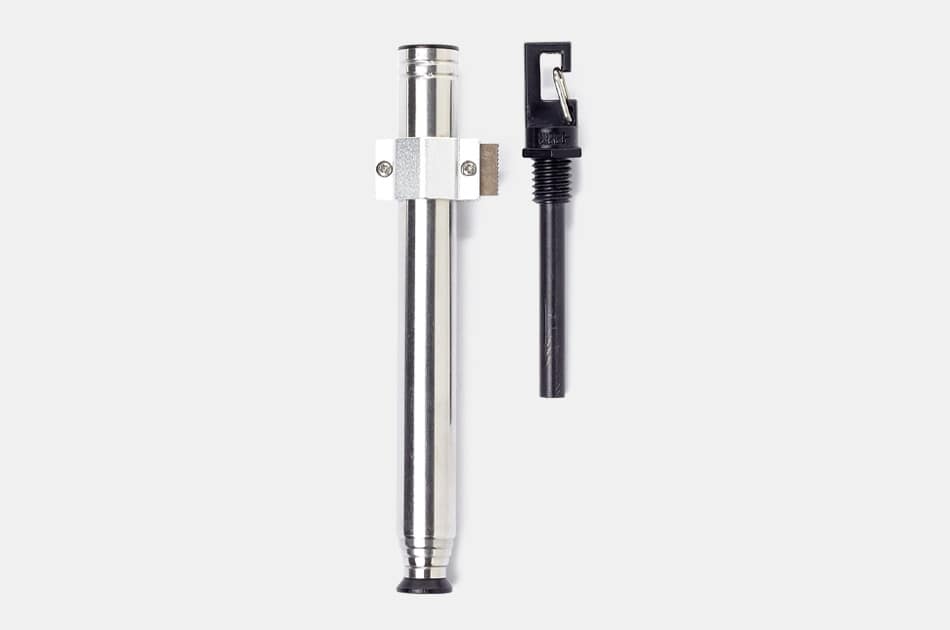 Vargo Ultimate Fire Starter
At first glance, this looks more like the ultimate telescoping pointer than a fire starter, and indeed, it's a simple, stainless steel rod that lengthens from 5.9" collapsed to 18.2" when extended. However, when you unscrew the cap to remove the ferrocerium rod, you can scrape it along the integrated ferrocerium strike tool to create sparks, and then extend the hollow rod to use as a straw-like bellows, gently puffing air on embers to turn your sparks into a full-blown fire in no time. Believe it or not, it even works to get wet wood burning, and with an 18" bellows, you keep your distance from growing flames.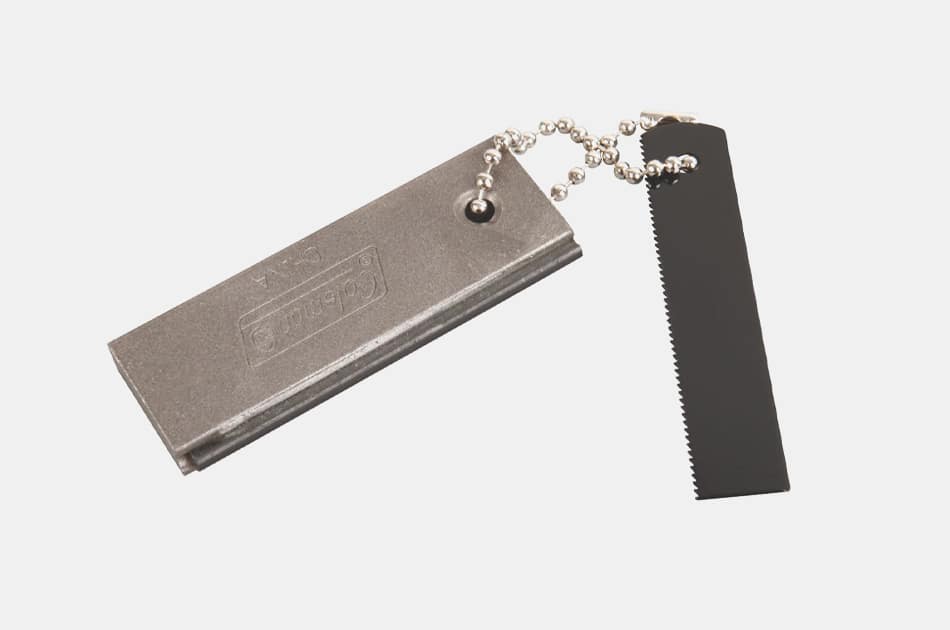 Coleman Magnesium Fire Starter
You already love their coolers and camping stoves, so you're sure to dig Coleman's Magnesium Fire Starter kit that will get your stove going and cook all the vittles you packed in your cooler. If you remember back to your school days, you probably did a science experiment with magnesium, in the form of flash paper. You'll be glad to learn it works just as well in the wild. All you have to do is use the steel scraper to shave some magnesium onto your tinder. Then run the same steel along the flint to throw sparks and ignite the magnesium, which burns up to 5,600 degrees.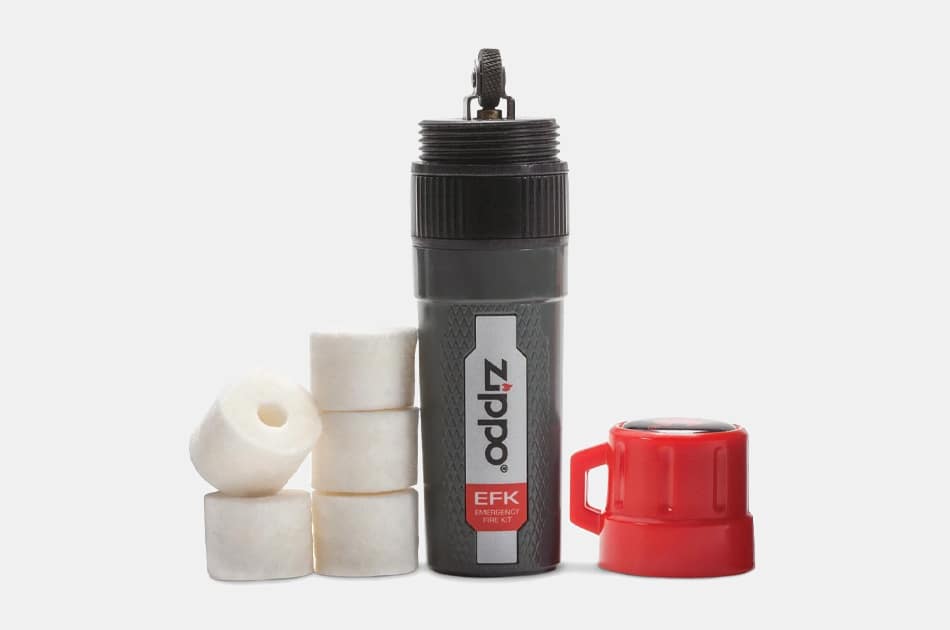 Zippo Emergency Fire Kit
If you're looking for more than a simple flint-and-steel combo, Zippo has you covered with an emergency fire kit that is at once more involved and considerably easier to use than some simpler models. At roughly 4"x1.4", it's only slightly bulkier than some fire starters, and the kit includes a familiar Zippo flint spark wheel under the cap, as well as an ABS plastic canister (with O-ring seal for water resistance) containing five small, paraffin wax-coated, cotton spark tinders. Each tinder has a hole to poke a stick through before fluffing the cotton and lighting with the spark wheel. Burns five minutes.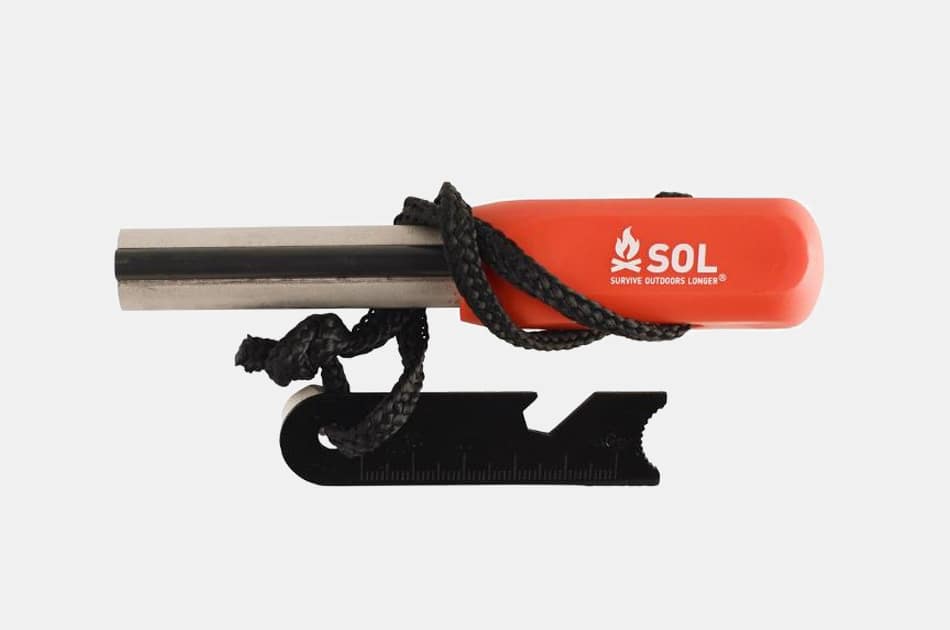 SOL Mag Striker
Another magnesium model, this fire starter uses the power of powder to get your blaze going. It looks a bit like a squat screwdriver, and at 6.5" length, it's not the smallest tool out there, but you'll be glad for the robust plastic handle, which stops you from scraping your fingers as you shave magnesium flakes onto your tinder. You'll also appreciate the curved end of the scraping tool, which perfectly fits the rounded edge of the magnesium, and of course, the scraper doubles as the strike plate for your flint. The steel striker also has a bottle opener, natch.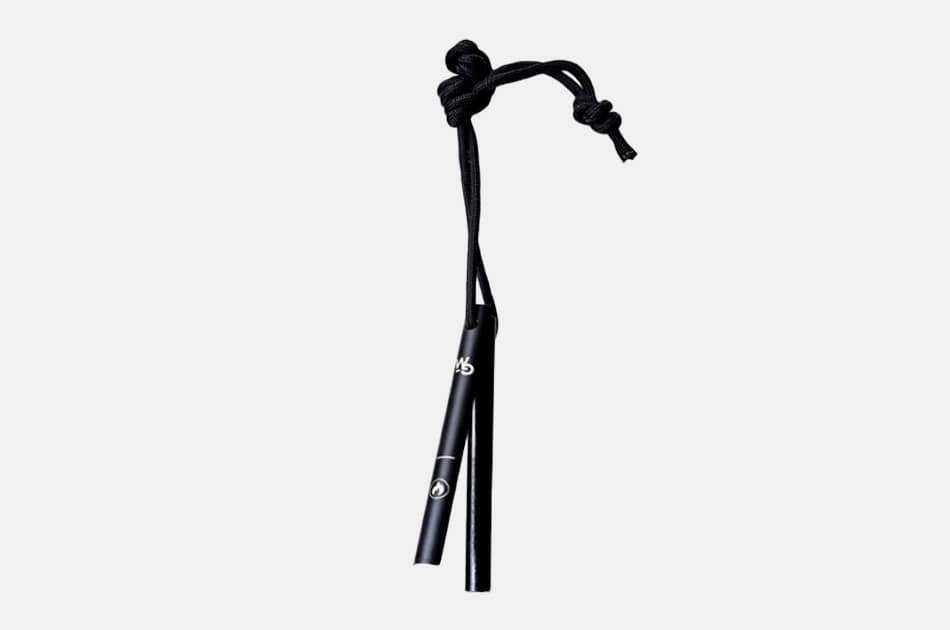 Wolf and Grizzly Firestarter
Carrying a tiny tinder is preferable when you're trying to keep your load light and compact. However, it can be hard to make sparks with only an inch of striking surface. If you prefer a bit more surface area to work with, you can't go wrong with this 4.9" long fire starter (with just 0.8" width) that offers plenty of ferro rod to work with. You'll get an incredible 20,000 strikes, along with a striker made from knife steel, so you can keep it sharp for the work at hand. Plus, the handy paracord unravels to reveal hidden jute that can double as tinder in emergency situations.
Updated 10/2020 by Sarah H.
Disclosure: Clicking on these links and making a purchase may earn us a small referral fee, at no extra cost to you. Learn more here.
freestar.config.enabled_slots.push({ placementName: "gearmoose_leaderboard_btf", slotId: "gearmoose_leaderboard_btf" });