The 10 Best Fire Starters
When venturing into the great outdoors, a fire starter is one of your most valuable resources alongside a fresh supply of water and a full tang fixed blade knife. Sure, a lighter and a book of matches will normally do the trick in favorable conditions, and we can't help but recommend you carry them with your camping gear or in your bug-out bag. But should your Bic lighter run short of butane, or your matches get wet during inclement weather, a ferrocerium or magnesium fire starter is your best bet at cooking food, signaling for help, and keeping you warm enough to make it through the night.
Before you head out on your next outdoor excursion, be sure and throw one of these field-tested fire starters in your bag. Your life and the lives of those you love just might depend on it.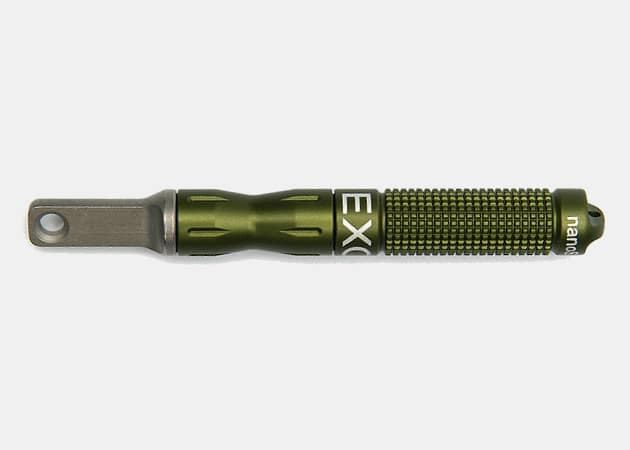 Exotac nanoStriker XL
Exotac's nanoStriker XL is the larger, meatier version of the original NanoStriker, and, just like it's baby brother, it will throw large showers of scorching sparks up to 5,500 degrees fahrenheit thanks to a replaceable fire rod that contains both ferrocerium and, unlike most other fire rods, magnesium. When these two are used together like with the nanoStriker, you'll find starting a fire in both wet and cold environments much easier.
An exceptionally sharp striker made from tungsten carbide is housed inside of the device's waterproof anodized aluminum body that contains plenty of room for stashing extra fire starting tinder as well. Throw it in your bag before you head into the bush or carry it everyday on your keyring via the included split ring. BUY IT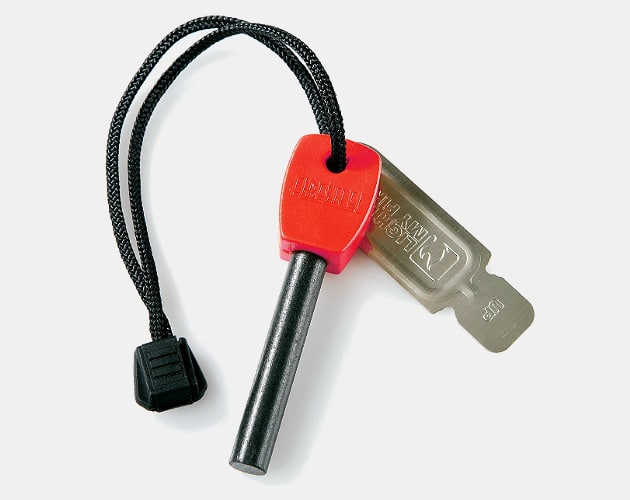 Swedish FireSteel Army Fire Starter
With the Swedish FireSteel Army fire Starter, you get everything you need to start a camp fire, grill, or emergency signal, and nothing you don't. It's basic yet compact design allows for easy storage in your gear pack, bug-out bag, or for everyday carry on your keychain, while a dependable striking rod not only produces showers of intense fire-starting sparks when wet, but also delivers up to 12,000 strikes in the field, eliminating the need to buy an additional fire starter any time soon. BUY IT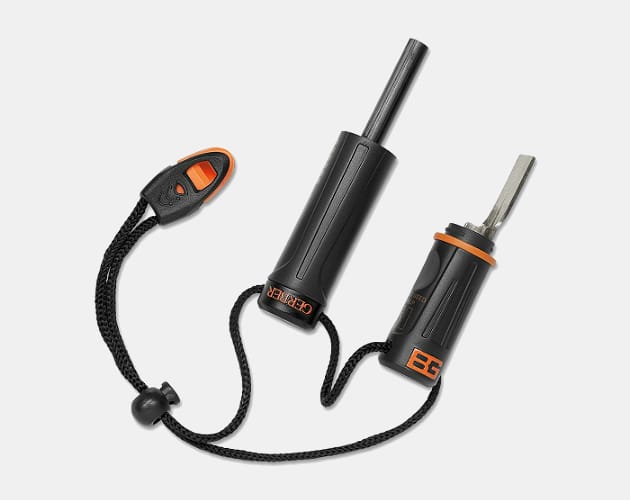 Gerber Bear Grylls Survival Series Fire Starter
While each fire starter on this list will undoubtedly fulfill your fire starting needs without fail (they wouldn't make it on this list if they couldn't), Gerber's Bear Grylls Survival Series Fire Starter is definitely our favorite of the bunch—the editor's pick, if you will. While compact enough for your bag or pocket, the device's handle is meaty enough for solid grip, even for those with a larger set of meat claws. Attached to the handle is a ferrocerium rod that, when not in use, fits into a watertight housing with plenty of room left over for the included metal striker and extra fire starting tinder.
Other notable features include an attached lanyard for wearing around your neck or attaching to your gear, a built-in rescue whistle for alerting rescuers to your whereabouts should you become disoriented to your surroundings, air rescue instructions, and a pocket survival guide. BUY IT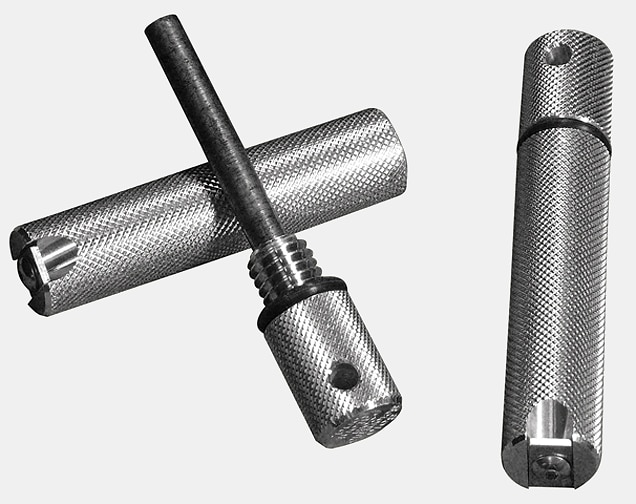 Rothco Aurora Fire Starter
The Aurora Fire Starter has been around for a while and has had it's share of field testing. The results conclude that its both reliable and versatile enough to pull fire starting duties in any emergency situation imaginable.
The Aurora's fire rod is a combination of both ferrocerium and magnesium, rendering fire starting tasks in the rain, sleet, or snow that much more possible, while a waterproof, anodized aluminum container prevents the fire rod from corrosion and also doubles as the device's fire striker. It's rugged case also features a knurled design for a superb grip in those wet environments that you'll now have no problem starting a fire in on your next outing. BUY IT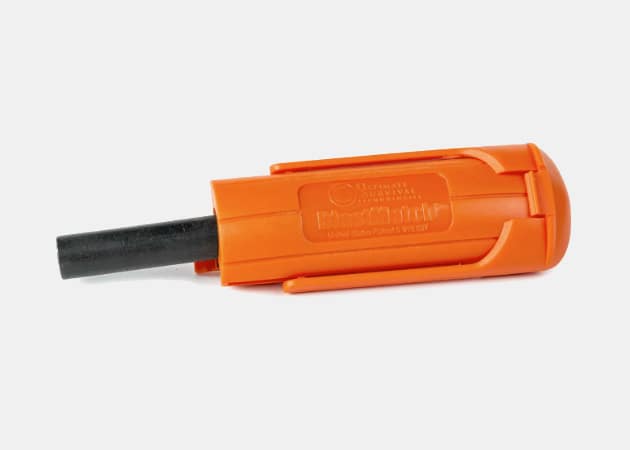 UST Blastmatch Fire Starter
There is hardly any manual operation required when using the Ultimate survival Technologies Blastmatch, which makes it the easiest fire starter to operate on this conclusive list. Inside the Blastmatch lies a patented flint bar and tungsten carbide striker that, with the push of a single button, can produce directionally targeted sparks in dry, wet, or any other unfavorable fire starting conditions. Other notable features include a waterproof protective cover that locks in place to prevent accidental sparks from occurring and a rotating bar that maintains even wear and tear. BUY IT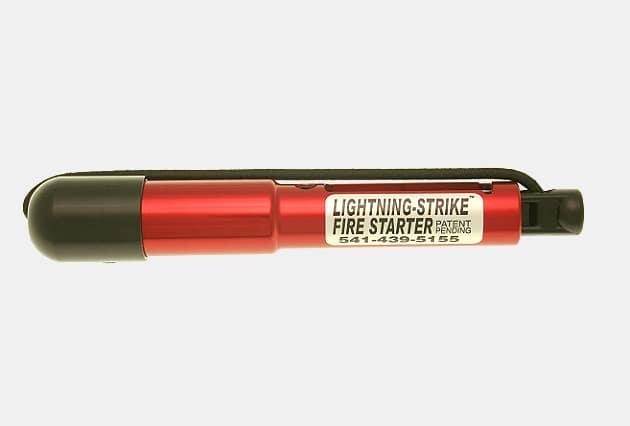 Holland Lightning Strike Fire Starter
The largest fire starter on this list, the Holland Lightning Strike, is also one of the easiest and most effective. This beefed-up fire starting device was designed for those serious about both survivalism and bushcraft. Roughly the size of a small tactical flashlight, the Lightning Strike boasts an oversized, replaceable ferrocerium rod, a fire striker, and plenty of specially-designed tinder encased inside of an anodized aluminum tube that allows you to literally "point and shoot" the sparks through the barrel directly onto your tinder. Starting fires in the rain, snow, or freezing temperatures has never been faster, easier, or more efficient. BUY IT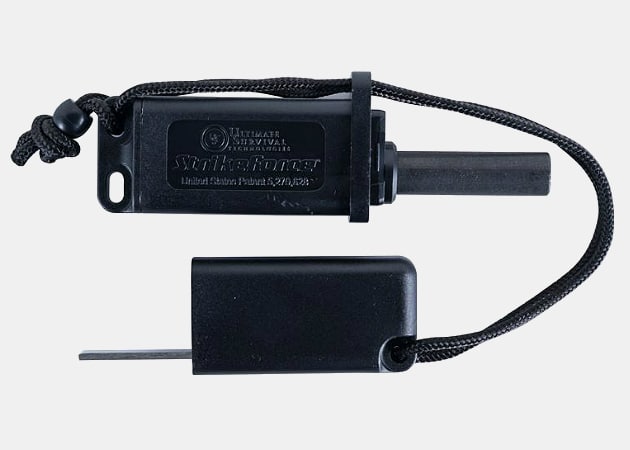 UST Strike Force Fire Starter
Another capable flint-based fire starter we felt obliged to include is the Strike Force by Ultimate Survival Technologies. The included alloy flint bar, together with a hefty steel striker built into the device's cap, provides up to 4,000 strikes, with each producing a glorious shower of sparks three times hotter than a traditional match. There is plenty of room inside the handle compartment for extra fire starting tinder, and with a payload of a mere 3.7 ounces, you'll barely even notice it in your pocket or stashed inside your backpack. BUY IT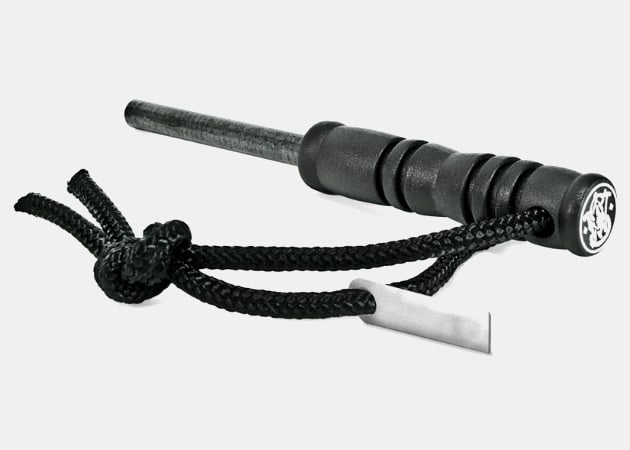 Smith & Wesson Fire Striker Survival Kit
There is no doubt that Smith & Wesson is a leading manufacturer of firearms, knives, and even tactical pens. But their commitment to survival goes even further than weapons thanks to their Fire Striker Survival Kit.
Essentially a compact bug-out kit for everyday pocket carry, the Fire Striker Survival Kit not only includes a flint striker fire starter, but an assortment of other survival essentials that can come in handy when lost in the backcountry such as a set of matches, fishing line coupled with fishing hooks, lead sinker weights, a compass, and a pair of needles. If you can't make your way home with this survival kit, then your best bet is to venture no further than your own backyard. BUY IT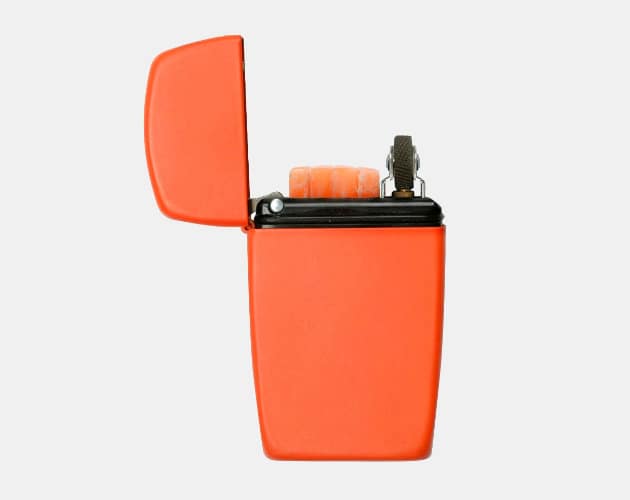 Zippo Emergency Fire Starter Kit
Zippo's main purpose for over 80 years has been to create fire for millions with their reusable metal pocket lighters, so it's no surprise that they've also created a fire starter kit as a backup for the avid outdoorsman. The Zippo Emergency Fire Starter Kit boasts the same familiar design as its pocket lighter counterpart complete with the flint-wheel striker, along with 4 water-resistant waxed tinder sticks and a bright orange, water-resistant polypropylene case that also floats on water should you become separated from the kit while traversing a narrow fjord or stream. BUY IT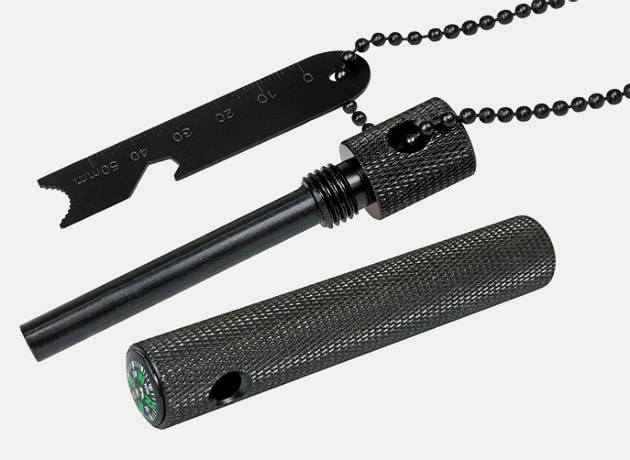 Boker Plus Fire Starter
If their tactical pen, Mini Slik Tanto Knife, or Subcom Pocket Knife are any indication of Boker Plus's dedication to EDC and survival essentials, then you'll sleep well in your tent knowing that their fire starter is packed securely in your bag. With the included metal striker, you can scrape chips off of the built-in magnesium rod as extra kindling for the intense shower of sparks produced when striking.
Additional features include a threaded aluminum container with a slip-resistant checkered pattern and a built-in compass. Both a bottle opener and a 50mm ruler come attached to the fire starter via a chain, which serve no real purpose in survival mode but make great tools on the campground should your goal be killing a 12 pack of Newcastle before noon. BUY IT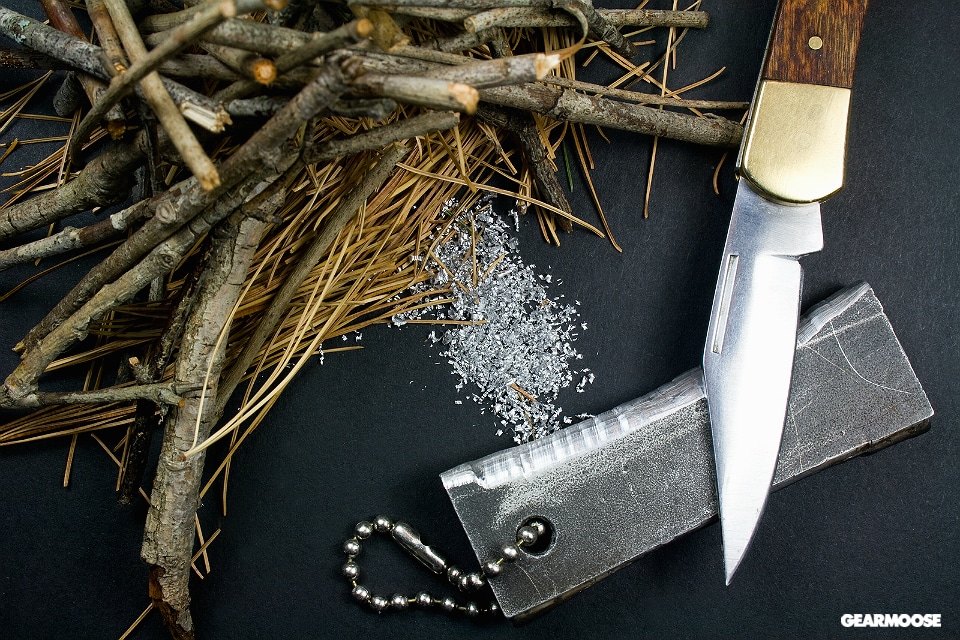 Disclosure: Clicking on these links and making a purchase may earn us a small referral fee, at no extra cost to you. Learn more here.