With as amazing as Bose's QuietComfort headphones are, I was curious: Could their low-profile, sporty earbuds really compare? So the GearMoose team arranged for me to test out a pair—and I must say that I'm impressed. They're amazingly comfortable and easy to use, and really affordable given their sound quality.
But don't take my word for it—let's get into the nitty gritty details so you can decide for yourself whether you need a pair of these sport earbuds in your life. If your experience is anything like mine, you'll never want to go to the gym without them again.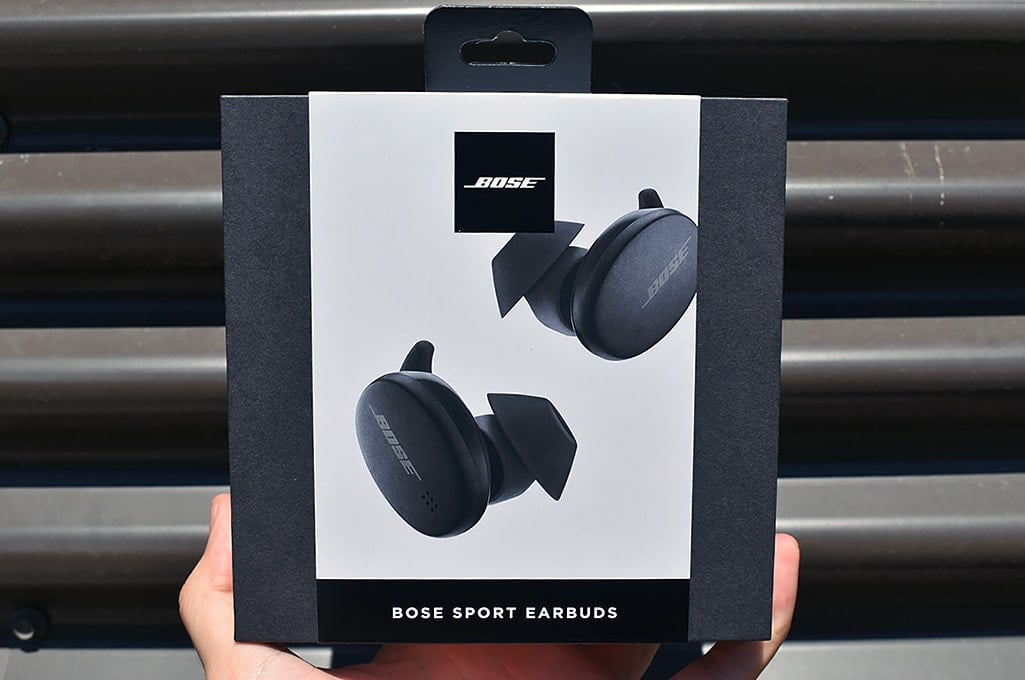 How I Tested Them
Because these earbuds are made for exercise, I wanted to put them through their paces in as many ways as possible. So over the course of a couple weeks, I wore them for every activity I could think of: Walking, running, biking, hiking, weightlifting, bodyweight training, and intense kickboxing sessions on a heavy bag.
That's all in addition to wearing them around the house and testing their noise cancelling effects in cafes and bars. And to test the depth of their sound clarity, I loaded up one of my favorite playlists from Amy, sat back, and listened closely.
All the while, I was making note of the buds' battery life and portability. So when I say that the Bose Sport Earbuds are pretty freakin' great, that's not a casual comment—it's a thoroughly tested opinion.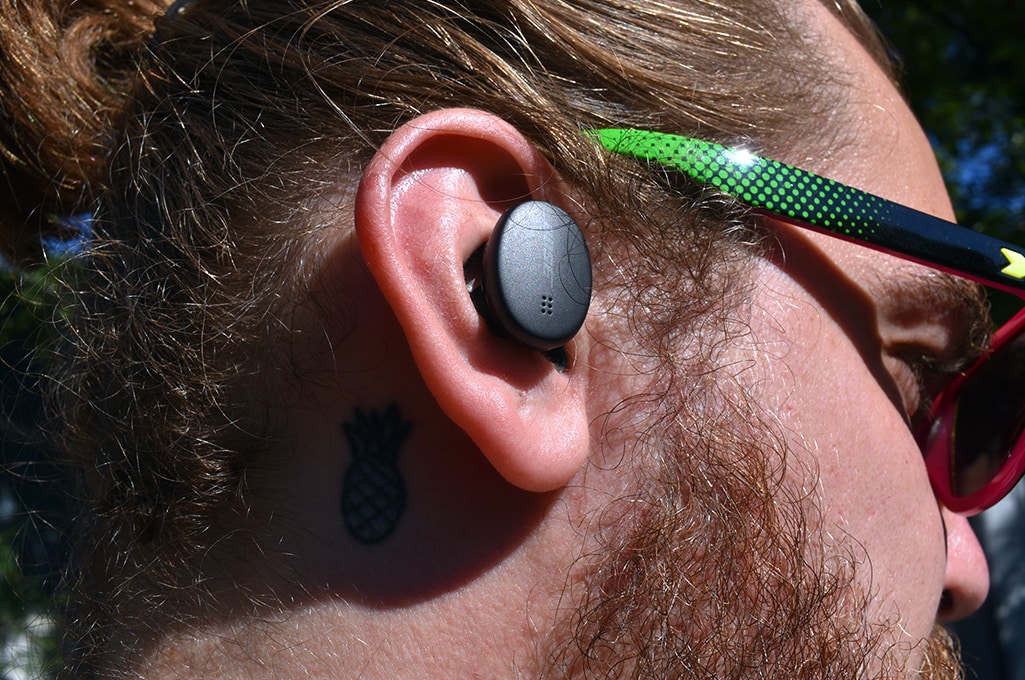 Ergonomics
There's something about the shape of my ears that makes shopping for earbuds a real challenge. Or, at least, that's what I thought—until I started asking around to my friends and getting their earbud opinions.
With the exception of a few AirPod fanatics, there was a clear consensus: Most earbud designs kinda suck. Some are too small. Some are too difficult to change the rubber pads on. And a lot of them just plain don't fit ears very well.
The design of the Bose Sport Earbuds' eartips is absolutely on point. The conical shape means that each eartip size can fit a wide range of ears, and switching from one size to another is super easy. A lot of earbud manufacturers could learn a thing or two from how user friendly this change-out process is, because it lets me share my earbuds with my partner without dreading the readjustment process.
That inner eartip comfort is paired with a stable and secure outer arm. Once you put the eartip into your ear, you rotate the earbud backwards and then tuck the arm under the ridge in your ear. Sealed in properly, this keeps the sport earbuds on no matter what activity you're doing—I was even able to do hanging situps and vigorous burpees without worrying about them coming out.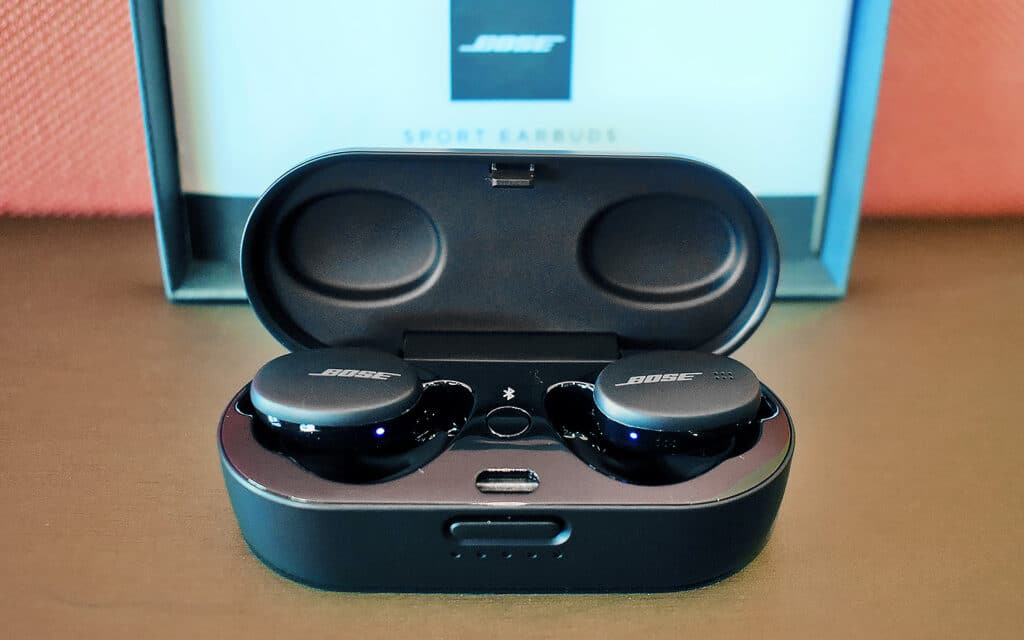 Sound Quality
The downfall of most earbuds meant for exercise is their poor sound quality. Apparently, it's quite difficult to pack the high-efficiency drivers necessary for deep and clear sound into earbuds small enough to stay on while you're working out.
I'm still impressed with the clarity and balance of the audio that the Bose Sport Earbuds offer. The highs are perfectly high, and the lows are moderate enough that you won't give yourself a headache while listening to dubstep. That's all combined with a crystal clear midrange and great sound separation, giving you a real "in-person" vibe for all of your favorite songs.
As far as noise cancelling properties go, it's incredibly difficult to match up to what Bose has done with their QuietComfort series of headphones and earbuds. And I won't lie: The noise cancelling for the Sport Earbuds is significantly less robust.
But is that really a bad thing? I'm not so sure. As much as I love the noise cancelling offered by the QuietComfort series, when I'm exercising I want to remain at least somewhat aware of my environment. The Sport Earbuds seem to toe the line between the two—offering enough noise cancelling to get into deep focus states, but not so much that you'll ignore the car honking at you while you run.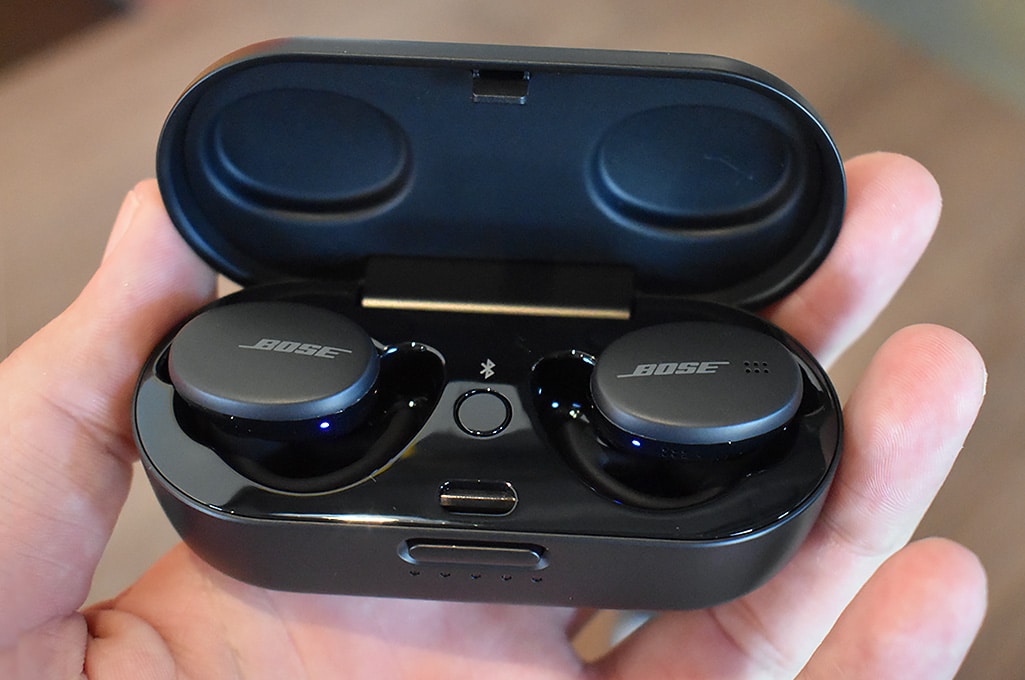 Ease of Use
The entire setup process for my Bose Sport Earbuds took less than 10 minutes. Unboxing was quick, and downloading the streamlined Bose Music app took no time at all. Then it was a quick step-by-step guide to properly fitting and connecting the earbuds, and giving them a cool name for when you connect via Bluetooth (mine are Black Truffles, because I was reading a book on fungi and mushrooms just before I unboxed them).
From there, the app guides you through the embedded touch control features available for your new earbuds. This is where I really started to fall in love with my new gear: With a simple swipe up or down on the right earbud, you can increase or decrease the volume. Tap it twice, and you can pause or resume playback. And if you want to get fancy, you can set up your own commands on the left earbud to allow you to skip songs, record playback, or navigate through an album.
The earbuds themselves have a five hour battery life—not great, but not bad. But when you pair them with their carrying case, you get an additional 10 hours of battery life out of a single charge. Wearing them to the gym and during my workouts, I went for nearly a week before having to do a full recharge.
Overall, I felt like I'd owned these for years after playing around with them for half an hour. And now, they're in my bag everywhere I go (not just the gym). What more could you ask for in a new piece of gear?
Looks
If it's not the sound quality that tanks a pair of sport headphones, it's the dopey looks. Way too many earbuds on the market today are oversized, garishly colored, or stick far out from your ears and look silly.
I really like the middle ground that Bose's Sport Earbuds have found. They're just big enough for people to recognize that you're wearing headphones and don't want to be bothered, but not so big as to look out of place. And whether you go for the black, glacier white, or baltic blue color schemes, the same sleek design makes them easy to integrate into an outfit.
Final Verdict
I'm absolutely stoked to own a pair of Bose's Sport Earbuds. They're comfortable as heck, with a secure fit that doesn't leave your ear until you want it to. And their sound quality is wonderful enough to lay around listening to albums, picking out new and fresh details in songs I've listened to dozens of times. I enthusiastically recommend these to anyone looking for a new pair of earbuds for their active lifestyle.
Disclosure: Clicking on these links and making a purchase may earn us a small referral fee, at no extra cost to you. Learn more here.
freestar.config.enabled_slots.push({ placementName: "gearmoose_leaderboard_btf", slotId: "gearmoose_leaderboard_btf" });