For those familiar with the KTM 390 Duke, you may not even realize you are looking at one right now. That's the bike providing the foundation for this badass BusyPeople KTM Scrambler.
As one of the best performing bikes available, the KTM 390 opens a gateway of possibilities for dreamers and builders. That's great news for riders looking to establish their own identity through vision and style. In this particular case, a graphic designer worked with a small team to build this masterpiece over a two year span.
This BusyPeople Scrambler wouldn't just fit into any Mad Max scene, it would steal the show. With its cyberpunk doomsday styling combined with possessed performance capabilities, this KTM Scrambler is the perfect stallion for the most epic chase scenarios.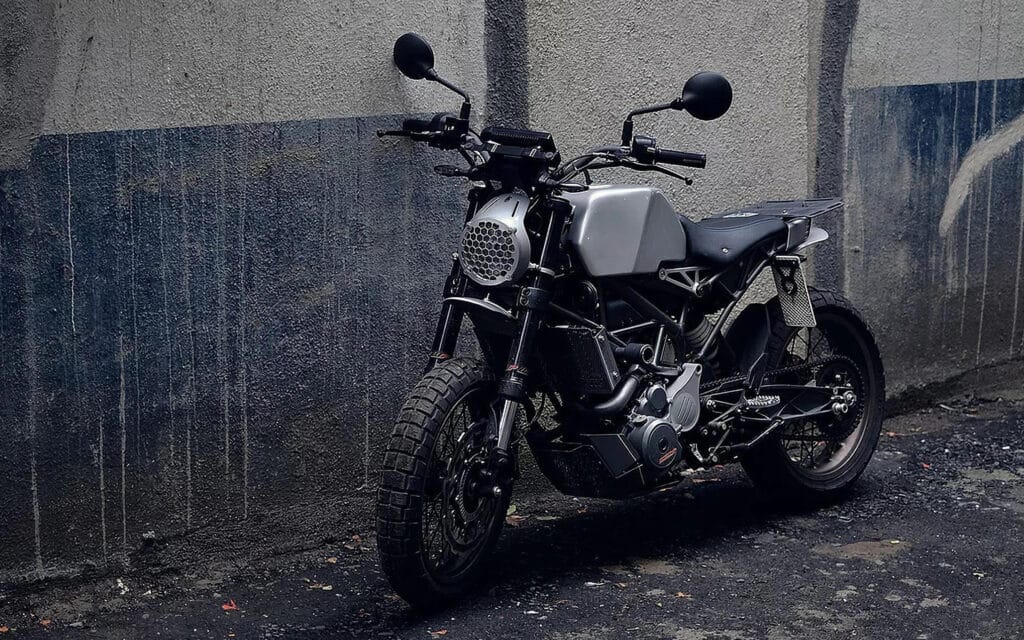 They began with re-imagining the subframe using a custom design. Gradually, the project transformed from a drawing into a CAD sketch and then finally into CNC machined parts unique to this custom motorcycle build.
In the end, this bike looks pissed off. Imagine the bright LED headlamp shining through that mean custom grille under the moonlit sky. The BusyPeople KTM project is agile enough to flash the eight individually-wired rear LED taillights to anything that thinks it can hang.
From the 17-inch Akront spoke rims to the custom-built fuel tank, this Scrambler knows how to mix things up. After all, it only took the team four attempts to build the final draft of the fuel tank. That's the kind of dedication artists make to achieve their masterpieces.
Making a modern motorcycle look like it is from the future is an art by itself. Kudos to the builders of the BusyPeople KTM Scrambler, this is the kind of bike that puts you on the map permanently.
Disclosure: Clicking on these links and making a purchase may earn us a small referral fee, at no extra cost to you. Learn more here.