Here's a tip from me to you. If you're looking at a second-market Casio A168WA, Databank, or F-91W, there are ways to ensure it's legit. Scan the package's QR code to see if anything comes up. Inspect for discoloration. And for newer F-91Ws, you can hold down the right-side button. Authentic models will flash "Casio" on their screens as a result.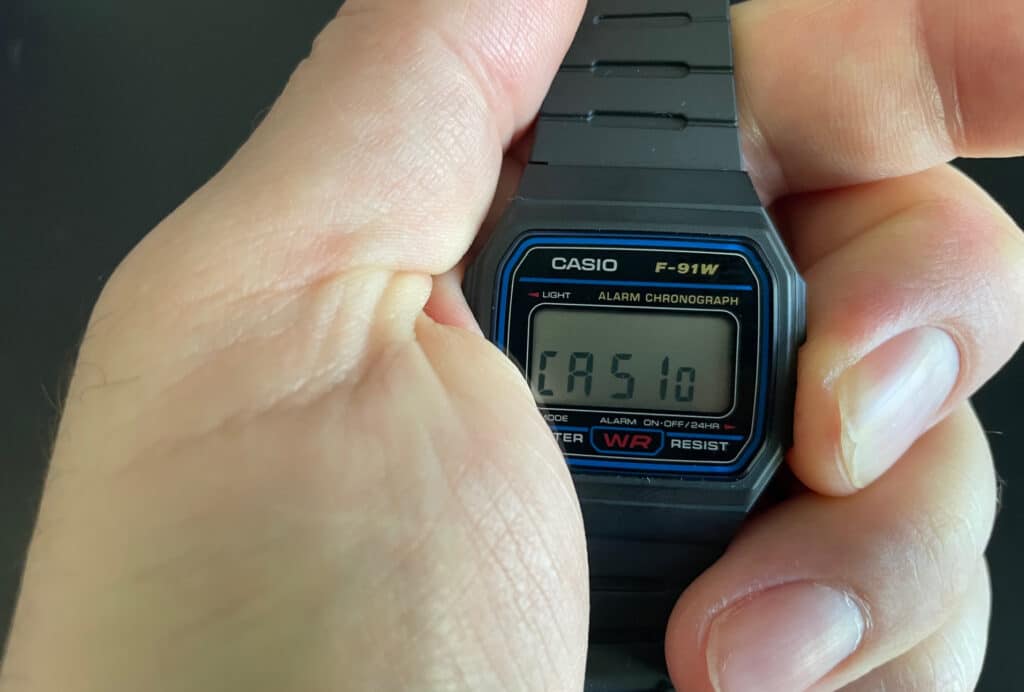 By the way, the F-91W is a $15 watch. I guess legends of all prices are susceptible to counterfeit.
Why is it a legend though? How does the F-91W get the same retro-futuristic street-cred as its cousin, the A168WA, which looks like a reformatted Gameboy, and the DataBank, a literal calculator on your wrist? See, the F-91W is simply competent, and that's its triumph. It's deceptively legendary. Plus, it's infamously been worn by heroes and villains alike.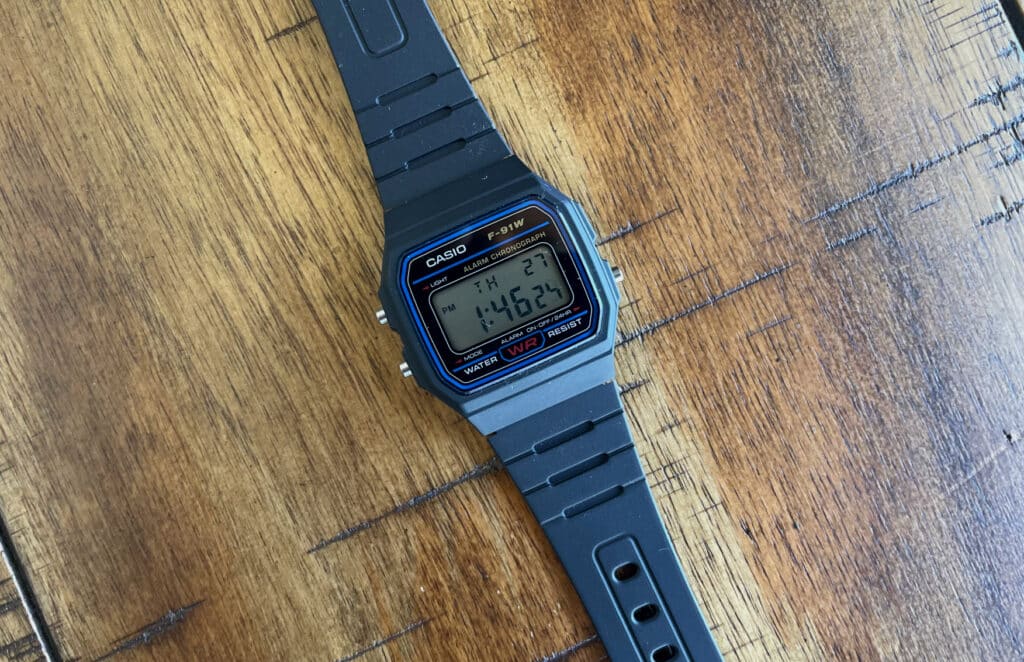 Origins and disputes
The F-91W is the descendant of the F-87W, designed and upgraded by Casio's Ryusuke Moriai to have chronograph functions with a net time mode and a lap time mode. It also had, and has, a daily alarm, hourly chimes, and an annual calendar. It was basically the smart watch of its time.
And speaking of its time, the F-91W's release date is a bit of a mystery. It's either 1989 or 1991, depending on who you ask. Watch anthropologists have dug up several primary sources, magazine reviews for example, citing a 1991 release date, along with advertisements supposedly from years prior. There was even a successful campaign to change its release date on Wikipedia from 1991 to 1989.
Either way, though lacking software, this innovative F-91W was likely designed down to its circuits using CAD. Ultimately, Casio is an electronics company at its core.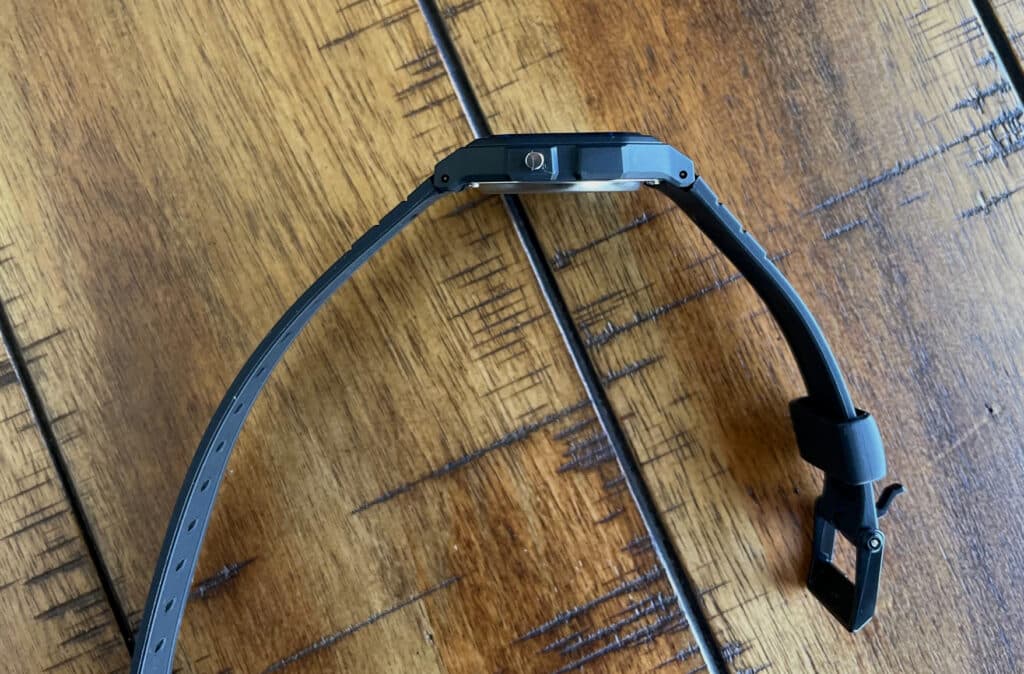 The most sold watch in the world
In 2011, the annual production of F-91Ws was three million units. This means that this plastic timepiece is the most sold watch in the world. Unlike luxury mechanical watches, which rely on scarcity and aspirationalism to gain a cultural edge, Casio seems to understand that consumer electronics are a different beast.
Brilliantly, they know that the F-91W is more like the latter than the former, having gained its icon status through sheer prevalence. It's highly likely that an F-91W has passed through your wrist, even if you don't remember.
So let's talk about the design and why it's so wearable.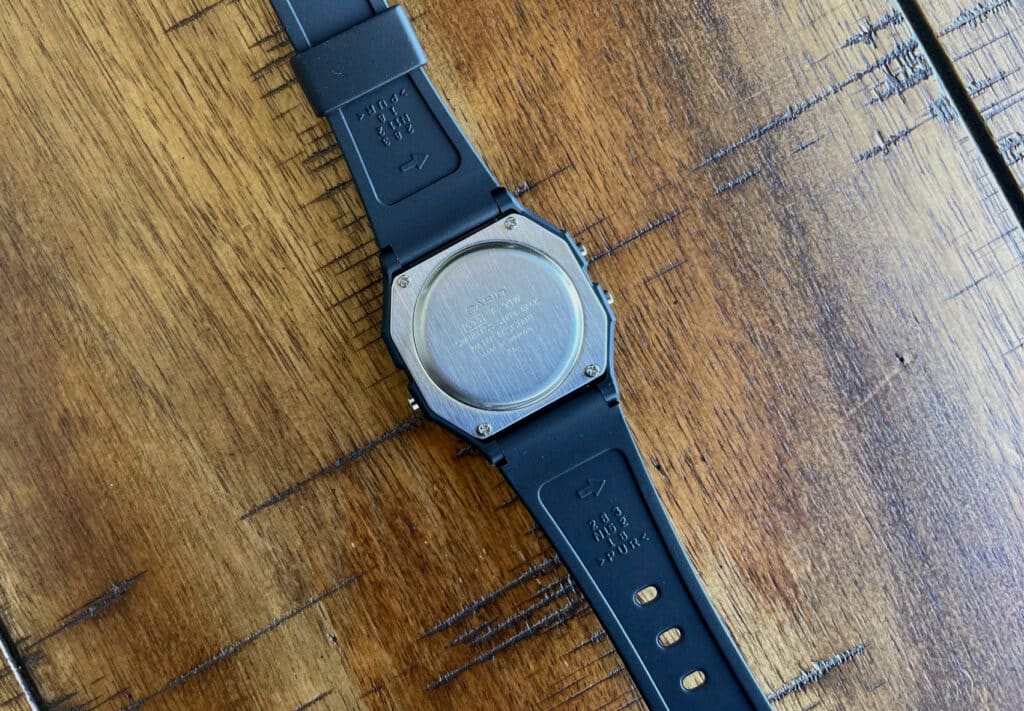 The design
The F-91W has gone through about zero changes since it came out decades ago. It has a resin case with a steel back, and in classic Casio fashion, leans hard into that utilitarian look. It's unimposing, especially at 37.5 by 34.5 millimeters, and with a matte, black construction, it's decidedly the unflashiest Casio icon.
Other colors have been produced, like gold-cased and silver-cased versions, and even an all-orange colorway. However, the original F-91W, as in the F-91W1, is the quintessential variant that sits comfortably in the classics club.
After all, its LED face has those red and blue accents that seem so prototypical to '80s electronics. Think about it. An '80s Sony VCR: The eject and stop buttons are blue. Record button? Red. The B and A buttons on an NES controller? Red. The same accent colors are found on vintage Helix boomboxes as well.
Other than the F-91W's accuracy, plus or minus 30 seconds per month, and its seven-year battery life, its prior-mentioned functions aren't sexy by today's standards. The green LED backlight is iconically weak. I have a feeling Casio never upgraded it because it has that nostalgic so-bad-its-good quality, like how Lucasfilm keeps using corny screen wipes in even recent Star Wars movies.
Fact of the matter is all of this equates to an inoffensive, unisex watch that can be worn by anyone who simply wants a good timekeeper. It's also a great way not to fall into the rabbit hole that is one's smartphone. Its cheap price tag makes it easily replaceable too.
In a way, the F-91W was destined for ubiquity on its own, even without the help of '80s revivalism, though the movement certainly shone a spotlight.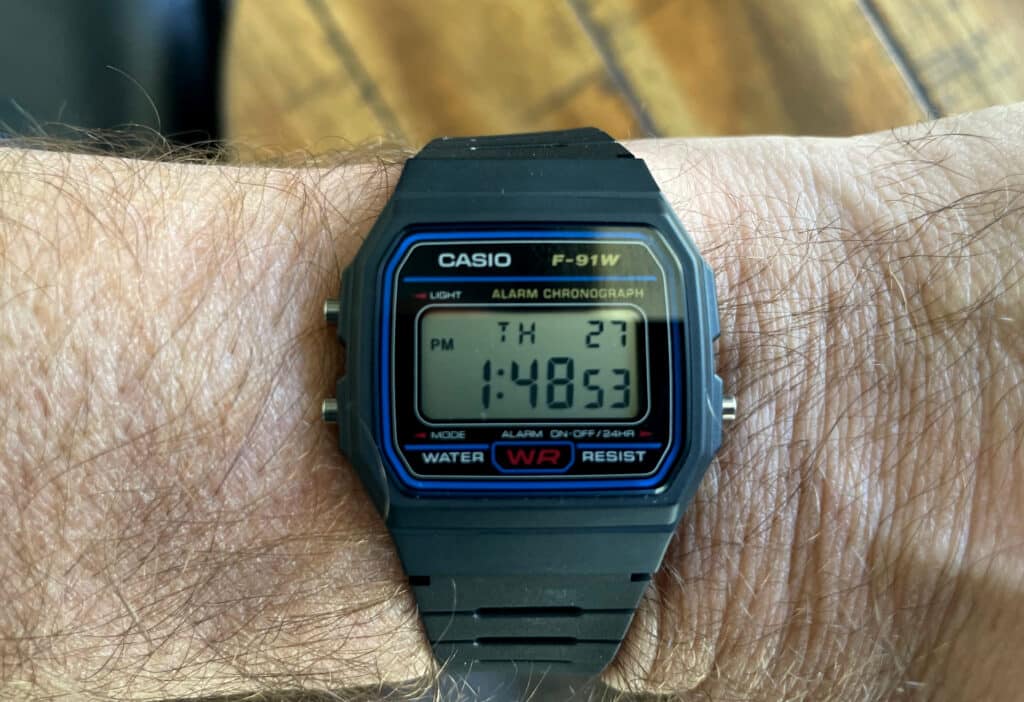 The wearers of the F-91W: Saints and sinners
Before we get into its infamous "terrorist watch" status, I want to remind you all that the F-91W was worn by Dustin Henderson (played by actor Gaten Matarazzo) in the Netflix series Stranger Things.
It was also worn by Ryan Reynolds in Free Guy, a symbol of Guy being a low-key non-player before graduating into the main character, all while maintaining his accessible everyman quality.
And yes, the F-91W was basically standard issue for real-life terrorist group, al-Qaida. In fact, leaked documents about Guantanamo mention that a third of their inmates had that very watch on their person when they were captured. Junior Jihadists were actually taught how to wire them up to a circuit board to create explosives. It's no wonder why wearing an F-91W raised TSA eyebrows for some time after September 11.
As someone who isn't a fan of terrorists, I like to remind people that it's not the F-91W that it's such a good non-smart digital watch. Just like it isn't Sriracha's fault that Brooklynites started putting their logo on slim-fit t-shirts in the late aughts.
Admittedly though, for an "understated icon", the F-91W has made quite a bit of noise. Few watches, especially at this price point, have successfully checked off both fame and infamy in just three decades.
Legacy
The F-91W can be anything to anyone, which is why it spans a wide range of wearers, from presidents to rappers to entrepreneurs.
I've known people to wear it for its retro reliability, as well as for its normcore prestige a la Free Guy. Heck, someone on the internet even souped up his F-91W with smartwatch capabilities. He liked the design so much, he decided his Casio was like a pre-war Colonial that needed fuel-cell heating.
It can be a first watch for a boy or a girl. For those who work with their hands, it's a much more affordable and easily replaceable workhorse than a G-Shock. And for a lot of people, the F-91W, or at least one of its direct relatives, was the watch that started a deep interest. It could've been in watches, or electronics, or gear and EDC. It's no wonder that even with its three million units of yearly production, it's still being counterfeited. Arguably, the F-91W is the understated icon of all understated icons.
Dimensions
Height: 37.5mm
Width: 34.5mm
Thickness: 8.5mm
Water Resistance: 30 Meters
Disclosure: Clicking on these links and making a purchase may earn us a small referral fee, at no extra cost to you. Learn more here.
freestar.config.enabled_slots.push({ placementName: "gearmoose_leaderboard_btf", slotId: "gearmoose_leaderboard_btf" });