As Casio lead designer Kikuo Ibe stood over the shattered remains of a pocketwatch gifted to him by his father, he vowed to create an unbreakable watch. At the time, watches were considered fragile instruments. For the next two years, it would seem impossible to change that unfortunate reputation. Yet Ibe's dream of crafting a watch that withstands any unforgiving impact its wearer would survive took him and his dedicated team of engineers on a journey of over 35 years—and counting.
Named for gravitational shocks this watch scoffs at, the G-Shock became immensely popular among both the utilitarian-focused (military and law enforcement personnel, athletes) and street cred-centric (fashion trendsetters, skateboarders). It's rugged, practical, and nearly indestructible. It stands as a symbol not only of durability and tenacity, but of independence, pushing the limits, and overcoming obstacles.
After all, the story behind the Casio G-Shock speaks volumes to those values.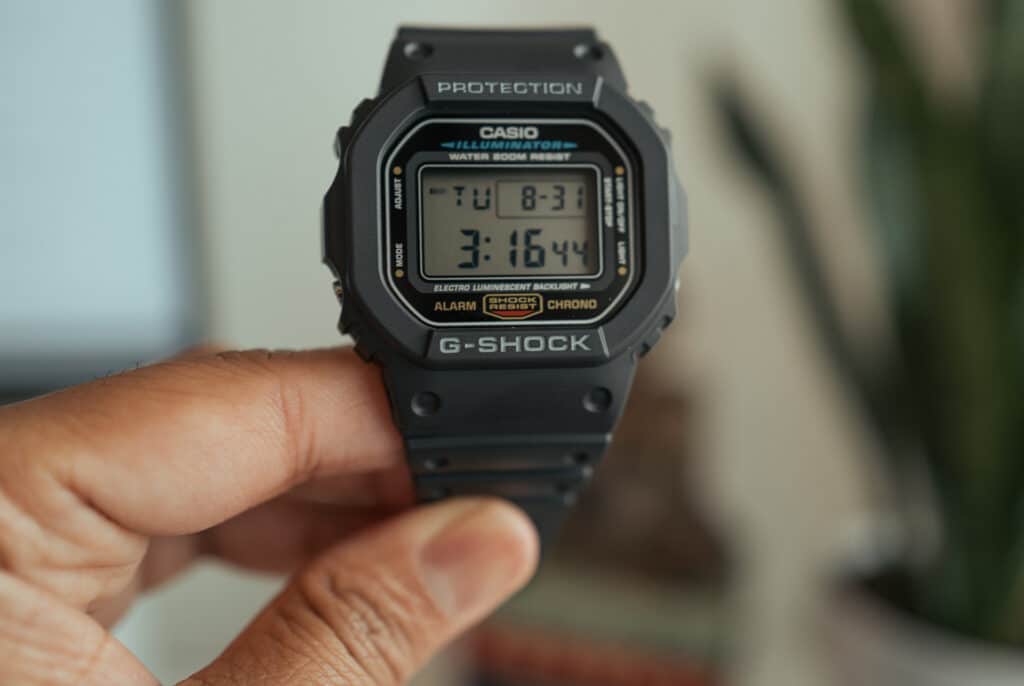 An Ambitious Beginning
In 1981, Kikuo Ibe founded Project Team Tough with three other colleagues. Their target goals, based on the "Triple 10" concept, were deceptively straightforward. They would build a watch that could:
Withstand a 10-meter drop
Hold up under 10-bars (or 100 meters) of water
Have a battery life of 10 years
Months of hard work trying to defy the laws of physics exhausted the engineers and designers. How could the intricate internal workings of a timepiece be protected from sudden shock? For a time, it seemed as though the project would come to a dead end.
But as Ibe walked past a playground where children were playing with a rubber ball, he had an "aha!" moment. No matter how hard the ball hit the ground, no amount of impact reached the center of the ball. This realization led to the development of the hollow structure inside all G-Shocks, cocooning and shielding the vital workings of the watch from impact.
Two years and 200-plus prototypes later, Team Tough finalized the shock-resistance structure. The first G-Shock ever—the DW-5000C—launched in April of 1983.
By tapping into an unexplored niche, sales were expected to soar. However, the initial sales in Japan were rather sluggish due to the high demand for dress watches. Fears of having to discontinue the model surfaced.
In 1984, the newly-released G-Shock DW-5200 was shown in an American commercial as a hockey puck replacement. But surely a watch could not withstand such repeated and heartless impact! General disbelief around the G-Shock grew, and Casio was accused of false advertising. Soon after, live tests on TV were conducted on the DW-5000C to ensure its durability and toughness.
Needless to say, the watch survived the impact of the hockey stick. After that, its popularity shot through the roof. The snazzy Tri-graph liquid crystal display caught on in American youth culture, while skateboarders and Hip Hop heads picked up on the unique, powerful look.
Ironically, the G-Shock's success in America led to an upsurge of watches being imported from the west back to Japan to satisfy the demand for G-Shocks by Japan's younger population. This "Hero" model was credited with saving the brand—which is still going strong today, 30-something years later.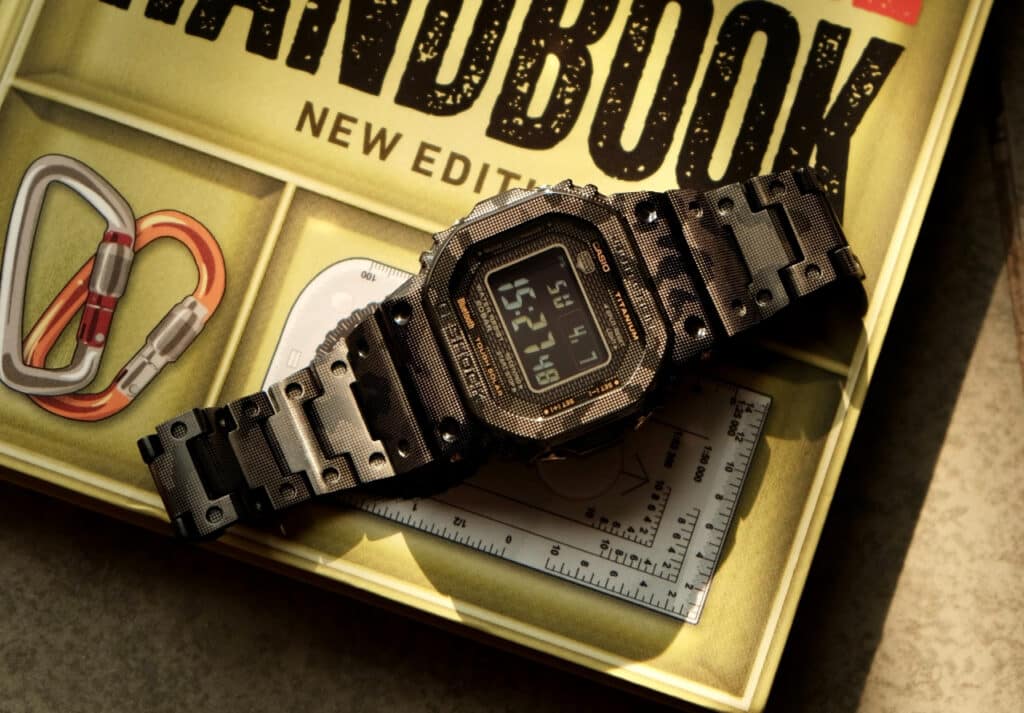 Innovative Technology
The durable appeal of G-Shocks doesn't stop at their aesthetics and functionality. Each new G-Shock builds on the ones that came before, each better and more technologically advanced than ever.
The initial shock-resistant design sported ten separate layers of protection, including a urethane rubber bumper, a stainless steel case, and a hardened mineral glass watch crystal. The stainless steel screw-down caseback supported the floating module, where the central quartz mechanism nestled safe in a urethane foam cradle, connected to the outer buttons and LCD module by flexible cables. The protruding parts of the watch itself—buttons, watch face cover, etc.—are also crafted from resilient urethane, isolating the fragile parts of the watch from shock.
The 200-meter water resistance—twice the amount initially targeted by Team Tough—made this watch the friend of athletes and adventurists. It already had all the digital functions that remain with the G-Shocks of today: stopwatch, countdown timer, alarm, 12/24 hour modes, and a light-enabled display. Its unique look was, and still is, a testament to its lasting functionality.
With the innovative shock-protection structure in place, the vital timekeeping mechanism withstands the elements: electric shock, gravity, low temperature, vibration, water, and shock.
The success of the 5000 line infused Casio's engineers with renewed energy and vision. Fifteen years after the first model launched, Casio's G-Shock enjoyed more than 19 million in worldwide sales. Few product brands last for over 30 years, and yet the Casio G-Shock is still with us today—a fashion statement, a cultural institution, and the definition of durability in more sense than one.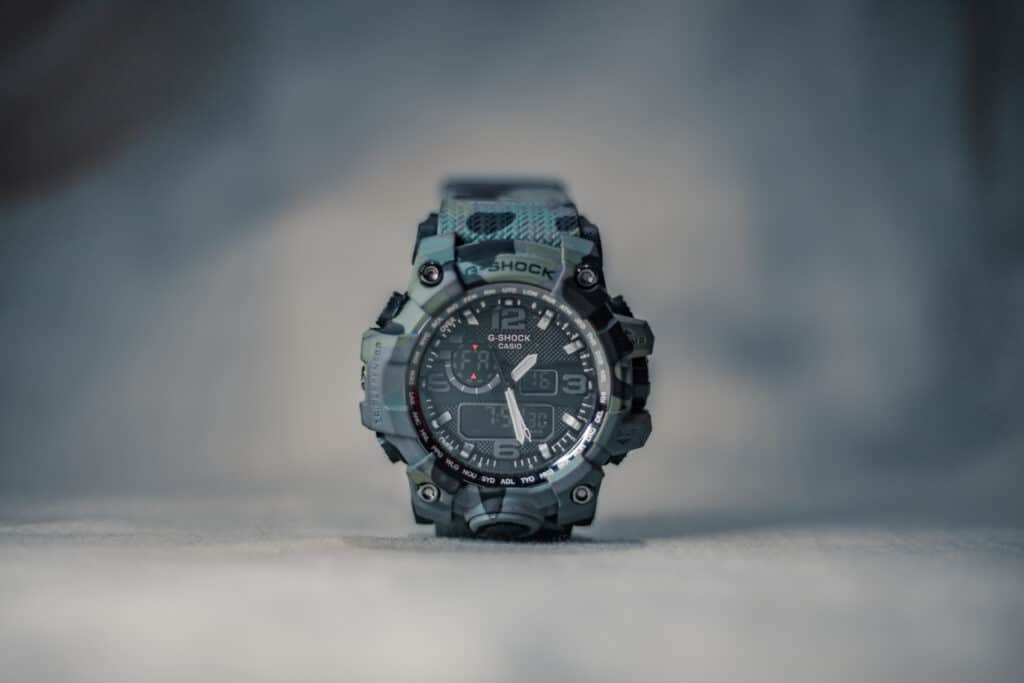 A Record-Breaking Brand
Building the most durable watch ever worn wasn't enough for the G-Shock engineers at Casio. The now-iconic watch went on to break record after record. The impressive list of achievements include:
The Frogman – The Frogman diver's model became the first ISO-certified Casio watch after taking up to 200-meters of water resistance with virtually no harm done.
The DW-6100 – Launched in 1992, this G-Shock model was the first sensor-equipped watch with a temperature reading.
The Rayman G-Shock – The first ever solar-powered watch, built with Casio's Tough Solar function, appeared in 1998.
Smart Access – An innovative technological system launched on G-Shock 30th anniversary, that enabled multi-function operation by combining an electronic crown switch with multiple hand controls. Casio's G-Shock was connected two whole years before the Apple Watch dropped onto the scene.
The GPW-2000 Gravitymaster – The first watch to offer 3-way connectivity with radio waves, GPS, and Bluetooth, came out in May 2017.
2017 Guinness World Record – Casio's G-Shock earned the Guinness World Records title for the heaviest vehicle to drive over a watch. A 24.97-ton truck drove over a G-Shock DW5600E-1 model. The timepiece was completely unharmed, still running after going through what no other watch has ever survived. The G-Shock now stands uncontested as "the toughest watch of all time."
Ongoing innovative updates to the watch place the G-Shock at the top in the watch world not only in durability, but also usefulness and functionality.
Luxury Lines, Baby-Gs, and the Frogman
Even at the pinnacle of durability and practicality, G-Shocks don't cut corners when it comes to style and versatility.
The metal-cased MR-G series debuted in 1996. Made for both casual and formal occasions, these G-Shocks match almost any situation for elegance and durability.
The Frogman series came with an appealing asymmetric case, the new Tough Solar modules (which allows for solar power), and various color options. Part of the epicly-named "Master of G" series—including Mudman, Gulfman, Antman and others—the Frogman watches are among the most popular G-Shocks for collectors and athletes alike.
The cute-yet-indestructible Baby-G line for women appeared in 1994. These watches are 30 percent smaller than the normal G-Shock, while being just as tough and durable. Mini-Gs became unisex soon after the Baby-Gs were launched to serve all people with smaller wrists.
Not to leave dress watches behind, Casio took the Frogman series to luxurious heights with the MRG G1000HT. The watch was basically an 18K gold classic G-Shock watch—a sleek, elegant, yet rugged affair. Full metal models like the GMW-B5000 opened new markets and niches for this one-of-a-kind watch brand. Many models are still sold exclusively in Japan, increasing their value in Western markets.
To this day, the Casio G-Shock stands as the timepiece that shattered the reputation of a watch as a fragile instrument. It makes one wonder if the durability of the G-Shock would only be exceeded by its long-standing appeal.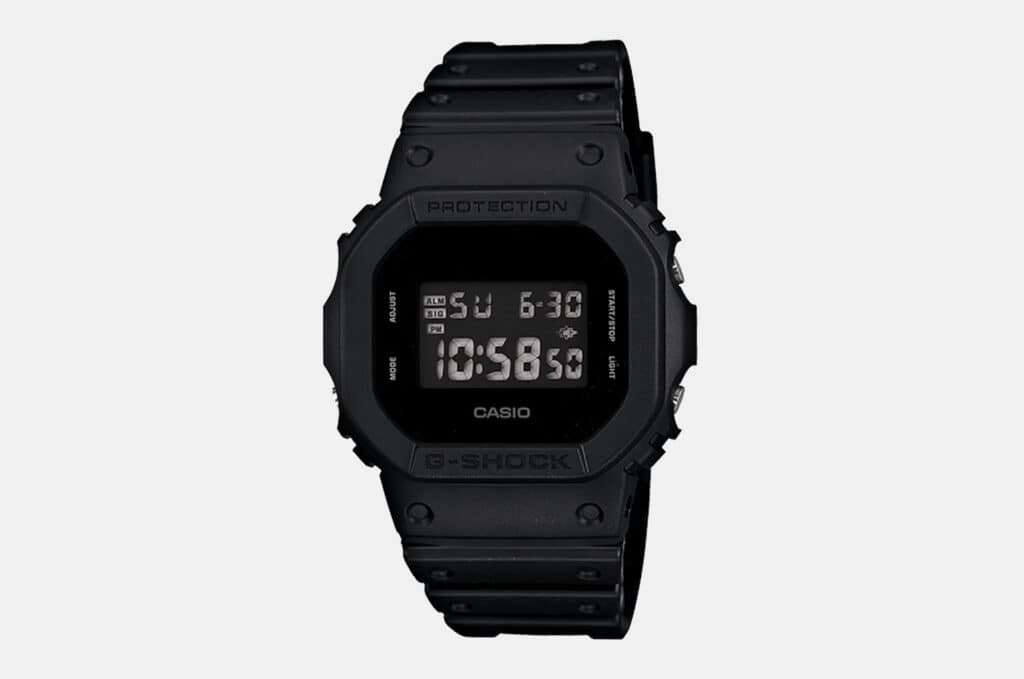 Casio G-Shock DW-5600BB-1
Basic. Iconic. Original. The DW5600BB-1 comes with everything you'll ever need for a practical time-keeping instrument. Functions include a stopwatch, countdown timer, and alarm. The LCD display makes reading time easy in any environment. Sleek and affordable, this G-Shock is a sure winner.
Case Diameter: 48.9 x 42.8 x 13.4mm
Case/Bezel Material: Resin
Strap Material: Resin
Water Resistance: 200m
Price: $99.00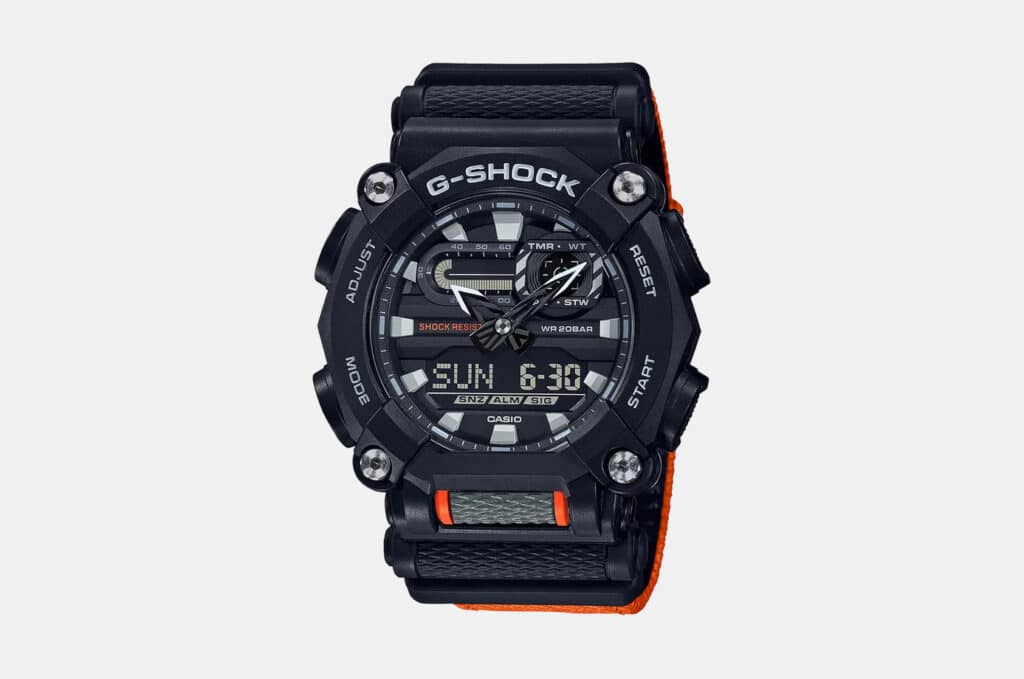 Casio G-Shock GA-900C-1A4
Rugged, hard-working, and fashionable, the GA-900C-1A4 sports an unique industrial look with a 10-sided bezel case. The functional and aesthetically-pleasing layout of the many features on the watchface enhance readability while offering durable style at a reasonable price.
Case Size: 52.8 × 49.5 × 16.9 mm
Case/Bezel Material: Resin
Strap Material: Resin / Cloth
Water Resistance: 200m
Price: $130.00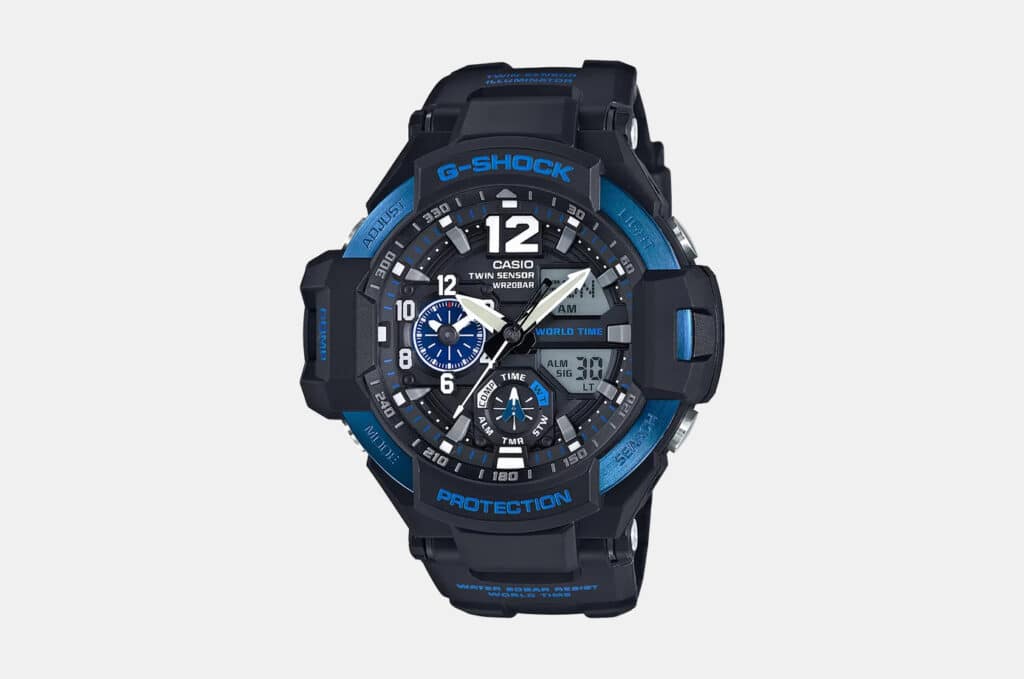 Casio G-Shock GA-1100-2B
Coming from the epic GravityMaster series of G-Shocks, the GA-110-2B was developed as a timepiece for pilots. Temperature sensor readings and 60-second continuous bearing features enable wearers to track their location with ease and confidence. Two display times, as well as its World Time function, make this watch the ideal travel or flying companion.
Case Size: 50.8×52.1×16.9mm
Case/Bezel Material: Stainless Steel / Resin
Strap Material: Resin
Water Resistance: 200m
Price: $270.00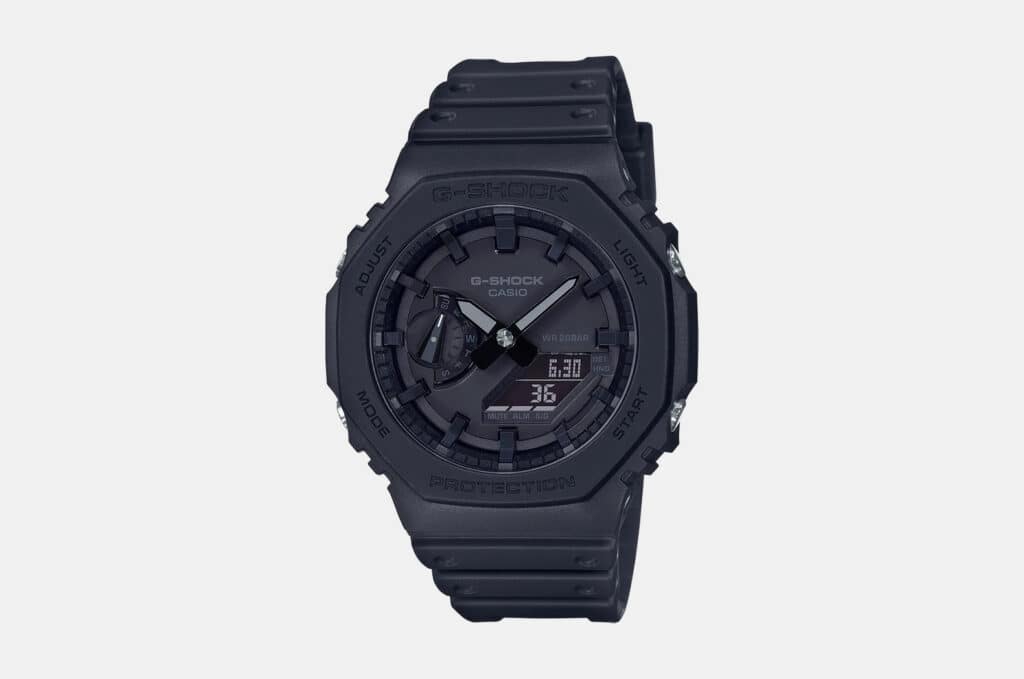 Casio G-Shock GA-2100-1A1
This watch inherits its octagon form from the original DW-5000C, keeping the no-nonsense design while maintaining the G-Shock standard of resilience to impact. With a high-strength resin reinforced with carbon fibers, this analog-digital timepiece offers G-Shock level excellence at an affordable price.
Case Size: 48.5×45.4×11.8mm
Case/Bezel Material: Carbon / Resin
Strap Material: Resin
Water Resistance: 200m
Price: $99.00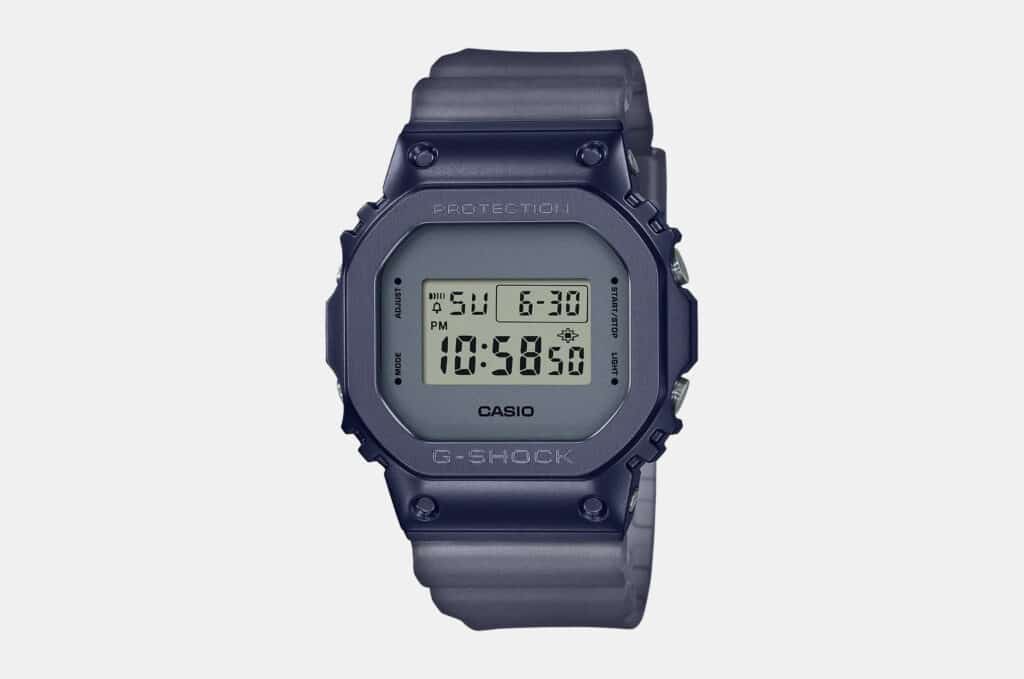 Casio G-Shock GM-5600F-2
Featuring a steel bezel cover over a resin case, the GM-5600F-2 is a classy look-alike of the Full Metal series of steel-clad square-shaped watches—at half the price. This watch is the modern incarnation of the original model, crafted with the technology (short of the Tough Solar function) that makes G-Shocks beloved and well-known.
Size of case : 49.6×43.2×12.9mm
Case/Bezel Material: Resin / Stainless steel
Strap Material: Resin
Water Resistance: 200m
Price: $210.00
Disclosure: Clicking on these links and making a purchase may earn us a small referral fee, at no extra cost to you. Learn more here.
freestar.config.enabled_slots.push({ placementName: "gearmoose_leaderboard_btf", slotId: "gearmoose_leaderboard_btf" });