Pictured Above: Canoo Pickup Truck
The age of electric vehicles is no longer upon us, it is here. Many drivers have already made the transition from the pump to the charge station. It was only a matter of time before the automotive industry began making electric trucks to cater to one of the most popular segments in the industry.
Trucks and sport utility vehicles serve a purpose but in layman's terms, they simply get the job done. In that regard, EV trucks are opening a whole new realm of possibilities when it comes to how you will depend on your truck in the future.
From features such as crab walking to providing power to your home, the future of the truck industry is exciting for enthusiasts. It is getting to the point where several EV concepts are streamlining production while other engineering teams are still working some kinks out.
With some electric trucks already hitting the streets, drivers are beginning to have several options to choose from. The electric truck market is full of innovation that pushes the boundaries of what a utility vehicle can do.
Now the challenge for most prospective EV truck owners is narrowing down their wishlists to determine which upcoming electric pickup or utility vehicle is right for them. These nine upcoming electric trucks are sparking a lot of interest from current gasoline and diesel drivers alike.
Discover what the hype is all about, you might even see something you missed before. Many of these EV trucks are on the verge of production while others remain in the concept stage for now. Either way, there is a lot of excitement surrounding these trucks while providing plenty of options for potential buyers of the next generation of workhorse vehicles.
Including only the most intriguing EV trucks set to hit the streets, this list covers what you need to know from the perspective of a driving enthusiast.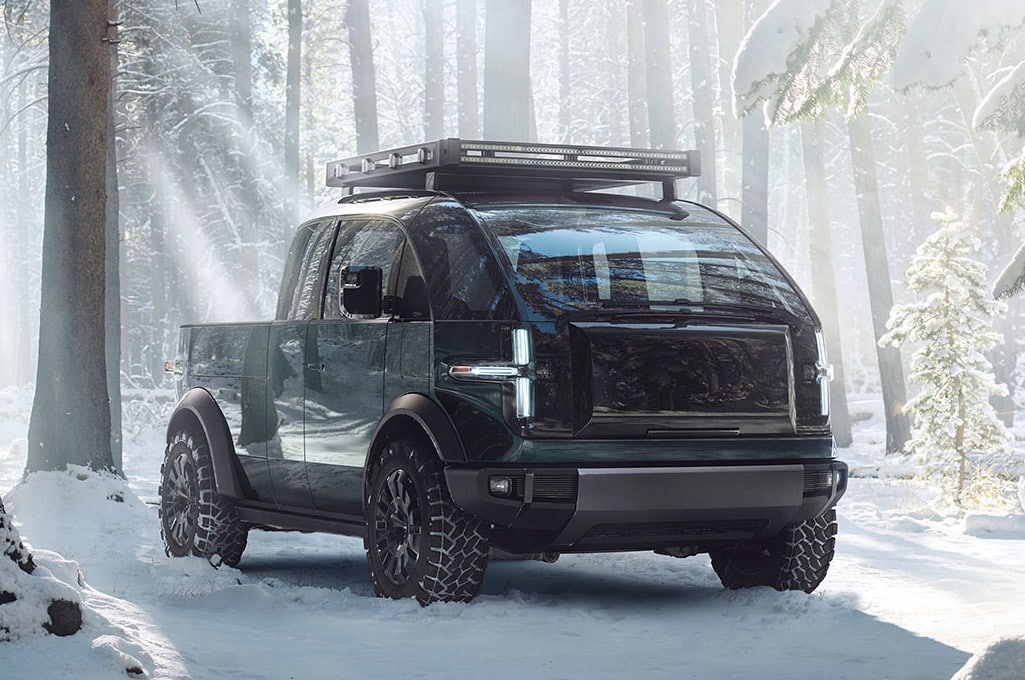 Canoo Pickup Truck
It may not be the fastest electric truck hitting the market but the Canoo Pickup Truck is making some waves. Slated for a 2023 release date, the Canoo Pickup Truck boasts AWD powered by two electric motors. One motor is in front while the other motor is in the rear of the vehicle.
Both motors combine to produce 600 horsepower with 550 pound-feet of torque. Canoo builds their Pickup Truck on a chassis featuring a 112.2-inch wheelbase. They use an 80-kWh battery with an estimated 200-mile range.
With a maximum payload of 1,800 pounds, the Canoo Pickup Truck looks to be very competitive in the EV pickup truck segment. There is no official word on its towing capacity yet. What you should know about Canoo is actually important.
They use a modular electric multi-purpose platform for every EV they build. When it comes to customization options, Canoo is quietly becoming a leader in the industry. However you want to use your Canoo Pickup Truck, the company offers personalization options to suit your needs.
This includes the benefit of a traditional flatbed so you can haul your cargo anywhere you go. Canoo even gives you the ability to extend your pickup bed by an additional two feet, should you need to.
All this utilization comes in a package that is very comfortable to drive in both urban and rural settings. This is not a large pickup truck, it is the equivalent of a small truck. Canoo boasts it has the turning radius of a Toyota Prius while being engineered for comfortable driving on roads anywhere in the world.
You can even use the CPT, or Canoo Pickup Truck, as a mobile power-plant. Canoo built their Pickup Truck to give you a better quality of life even when work demands your attention on the go.
From a performance driving perspective, the Canoo Pickup Truck offers a unique skateboard chassis design that makes it a very enticing candidate for a test drive.
If that is not enough to lure you in, perhaps the cockpit designed to maximize interior space is. Canoo incorporates an old-school '60s "forward-control" styling that looks good from the inside out. There is even a very fascinating front windshield view waiting for you once you get inside the Canoo Pickup Truck.
At the end of the day, the Canoo Pickup Truck is one of the more innovative designs coming from the EV industry. That makes it an interesting prospect from a driver's perspective.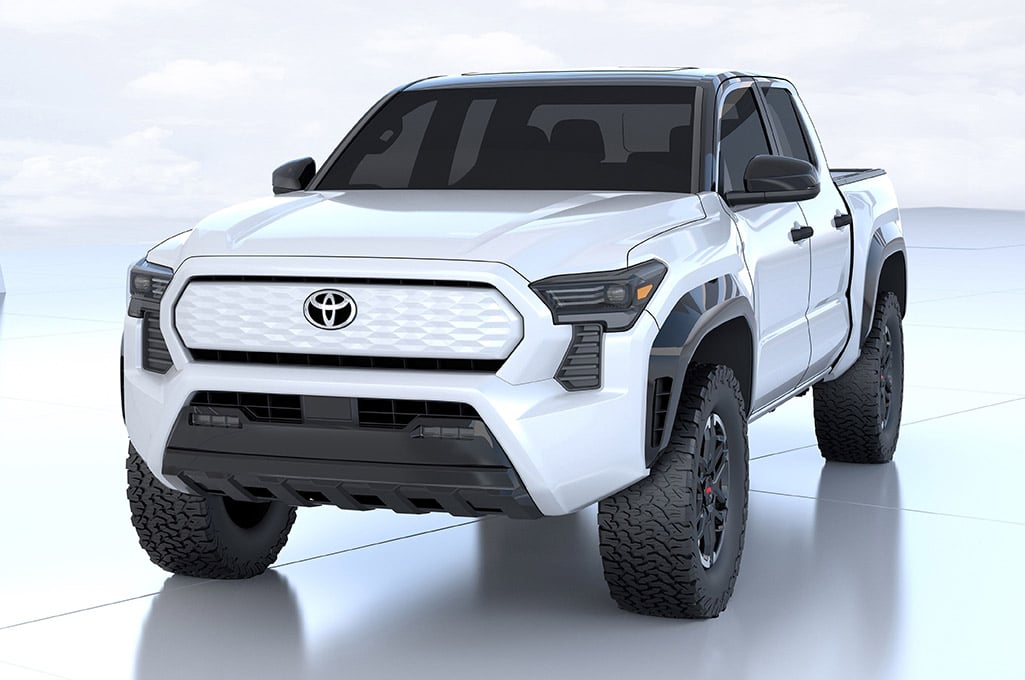 Toyota Tacoma EV
There are not a lot of details about the Toyota Tacoma EV available yet. For the most part, Toyota is keeping their plans for the popular Tacoma EV under wraps. What Toyota enthusiasts expect is a fully capable EV that carries the same reputation for reliability, capability, and ingenuity into the next chapter.
Industry experts expect a range of at least 300 miles, all-wheel-drive, and a release date of 2024 to 2025. The Toyota Tacoma EV looks to provide a durable and affordable EV truck option to the industry. Do not expect it to have overwhelming horsepower or torque numbers in base models.
Do expect it to have comparable specs to base model competitors in a similar price and truck size range. Toyota is all about providing value to their customers, which is why their buyers keep coming back.
Other than that, Toyota has made a commitment to using locally-sourced batteries for their EV lineup. This means they want to source batteries close to where the EV models are built. They put their money where their mouth is by making a $3 billion USD or 380 billion yen investment into locally-sourced batteries.
Because not much is known about the Tacoma EV yet, it is at the very bottom of this list. One thing that definitely makes it an intriguing electric truck is factoring the rich off-road performance heritage Toyota hangs its hat on. If the Tacoma EV can live up to that reputation, it will become an instant hit with the off-roading community regardless of horsepower or torque ratings.
There are leaked photos of an electric truck in development from Toyota that looks an awful lot like a newer Tacoma. It looks sharp but the driving potential of the Tacoma EV is still unknown. As a result, it does not generate a lot of buzz for driving purists.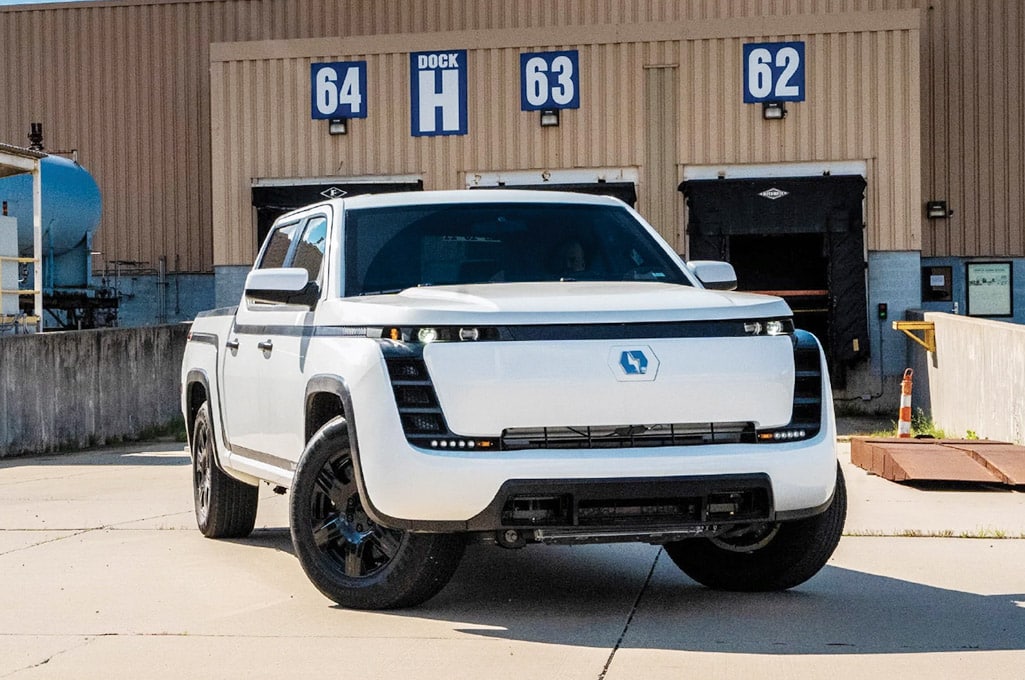 Lordstown Motors Endurance
At one point, the Lordstown Motors Endurance promised to be the first electric truck of its kind to hit the market. That has not happened. There is no need to get into the reasons why when talking about the driving potential of the upcoming 2023 Lordstown Motors Endurance EV.
Lordstown Motors says the Endurance will feature 600 horsepower with a range of about 250 miles. This electric truck achieves 4-wheel-drive by using an independent electric motor for each wheel. The motor, believe it or not, is mounted inside each wheel.
Lordstown Motors claims this unique motor design improves long-term reliability by reducing the amount of moving parts. Time will tell if that proves accurate once the Endurance faces some real-life drive time over a wide variety of surfaces.
Other highlights for the Endurance include a payload capacity of 7,500 pounds. The company claims a continuous torque rating of 2,000 pound-feet with a peak of 4,000 pound-feet in the Endurance. Those numbers are going to grab the attention of anybody who needs a true workhorse if they prove to be accurate.
A few years ago, the Lordstown Motors Endurance would have been near the top of this list because there was not a lot of competition in the works. Times have changed. Now it is near the bottom of the list because there are just more appealing electric trucks on the horizon.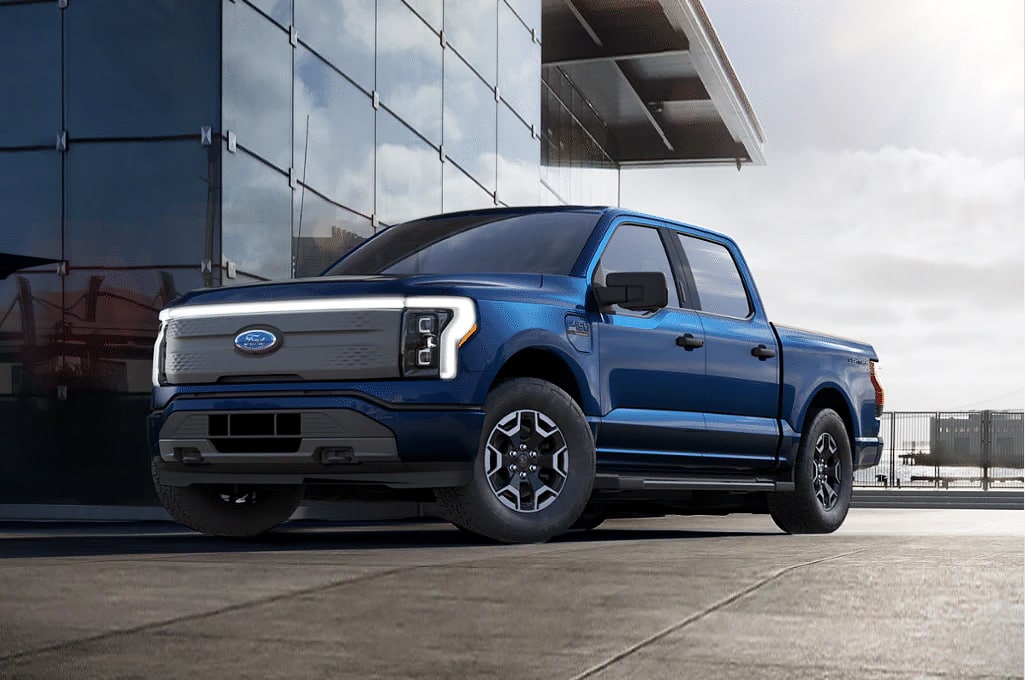 Ford F-150 Lightning
Once Ford made the decision to electrify the best-selling vehicle in North America, the F150 pickup truck, people were already eager to drive one. Now that the first wave of Ford F150 Lightning electric trucks are flying off the shelves, the opportunity knocks.
Ford has several configurations of the new F150 Lightning EV truck available, they all come standard with all-wheel-drive. Standard configurations feature 426 horsepower with 775 pound-feet of torque. This setup comes with a 98-kWh Standard Range Battery which translates to an estimated 230 miles of available range.
There is an optional 131-kWh Extended Range Battery available for XLT and Lariat configurations. The Extended Range Battery package comes standard with the Ford F150 Lightning Platinum configuration. This 131-kWh package produces 563 horsepower with 775 pound-feet of torque while providing an estimated 280 to 300 miles of range, depending on the configuration.
There is no doubt about it, driving enthusiasts like as much power as possible. The Ford F150 Lightning falls well short of their competition when it comes to horsepower. As a result, there is less excitement to actually drive the F150 Lightning compared to some of their competitors.
Sure, there is an available package that allows the F150 Lightning to provide power to your home for up to three days, but the Tesla Cybertruck can do that while delivering more horsepower.
If you are looking for an affordable EV truck, the Ford F150 Lightning with the 230-mile range battery package featuring 426 horsepower is probably at the top of your list. Just do not expect it to compete with some of the more impressive EV trucks available on the market.
Even the optional 563 horsepower Extended Range Battery package pales in comparison to some of the other available electric trucks on the market. In the end, from a driving enthusiast's perspective, the Ford F150 Lightning is near the bottom of the list.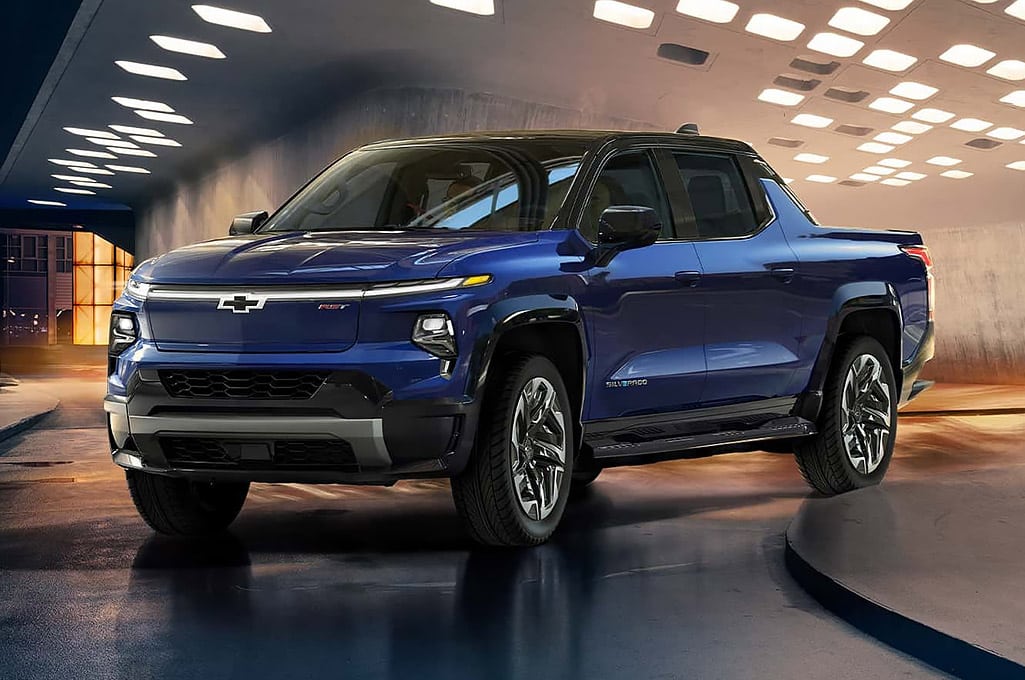 Chevrolet Silverado EV
Even though the Chevrolet Silverado EV shares an electric powertrain with the GMC Hummer EV, it does not have a configuration available with nearly as much horsepower as the Hummer electric truck or SUV.
It does have more power and range than the arch rival Ford F150 Lightning though. With an available 664 horsepower and 780 pound-feet of torque, select Chevy Silverado EV configurations are definitely more intriguing than the F150 Lightning from a driving perspective. On top of that, Chevy claims a range of up to 400 miles for the Silverado electric truck.
Of course, the base model Silverado EV WT configuration has a little less power. It produces 510 horsepower with 615 pound-feet of torque. Both all-wheel-drive and all-wheel-steering come standard across the entire Silverado EV lineup. Unfortunately, Chevrolet is a little behind Ford in terms of production. The Silverado EV is not going to make its debut until the 2024 model year.
As a work truck, the base model Silverado EV WT will deliver a tow rating of 8,000 pounds and a payload capacity of 1,200 pounds. More powerful 2024 Chevrolet Silverado EV RST configurations feature a 10,000-pound tow rating with a payload capacity of up to 1,300 pounds.
Even though it may offer a more exciting driving experience than the F150 Lightning, bowtie enthusiasts need to wait a little longer before boasting their bragging rights. Ford still holds the base configuration torque title between the two Detroit rivals.
Who knows? Perhaps Ford will add a more powerful model in the future to up the ante. They definitely have a head start on the market. Chevy fans can't wait to get their hands on the Silverado EV to make up some ground.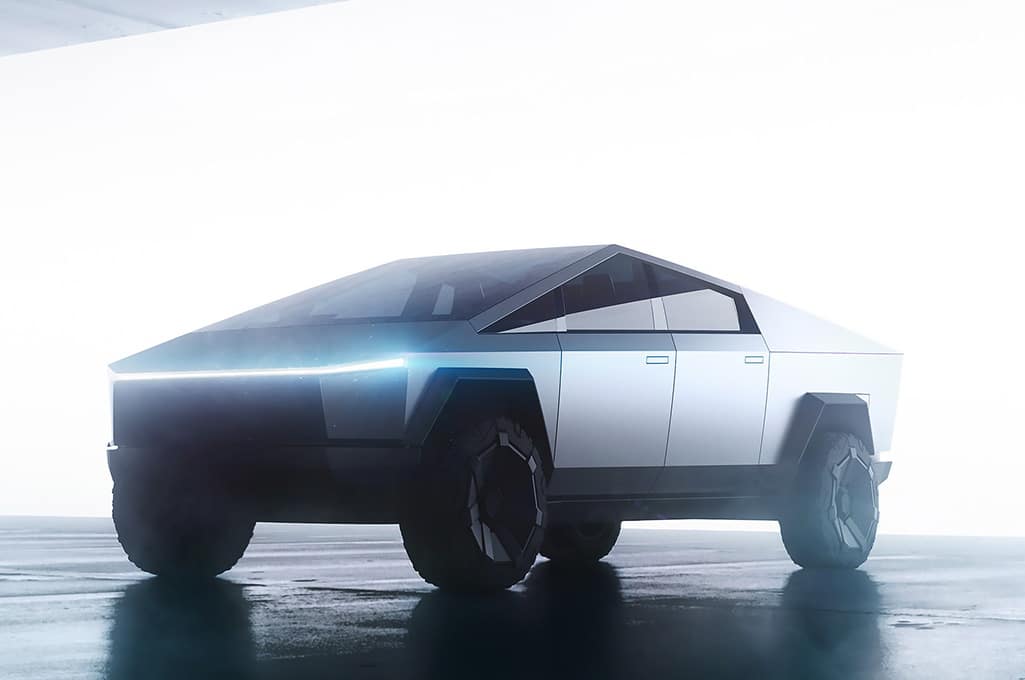 Tesla Cybertruck
Tesla is a major player in the EV industry now. Many of their ideas and concepts are industry-firsts even if a competitor beats them to the release-date punch. A prime example was the announcement that the Tesla Cybertruck would be capable of powering your home.
Sometimes that's just how it goes. An industry giant with more resources can use information to their advantage, as is the case here. The Ford F150 Lightning raced to the finish line with a similar feature. Regardless, the Tesla Cybertruck stands proud as one of the most anticipated electric trucks of all time.
Meanwhile, Tesla enthusiasts everywhere eagerly await the delivery of their Cybertruck. They put their money down a very long time ago and their decision remains unwavered. Why?
For starters, there is a configuration of the Cybertruck available for nearly every purpose imaginable. This includes a single motor, rear-wheel drive version. There will also be all-wheel-drive configurations of the Cybertruck available with either a dual-motor or a tri-motor setup.
Driving enthusiasts really want to get their hands on the steering wheel of the Cybertruck with three electric motors powering it. Sure, dual-motor configurations will be able to scoot from 0 to 60 mph in 4.5 seconds which is not too shabby.
However, the tri-athlete Cyberpunk will make it to 60 mph in only 2.9 seconds while being capable of reaching a top speed of 130 mph. Although there are no official specifications from Tesla yet, industry experts expect the three-motor Cyberpunk to feature 800 horsepower with 1,000 pound-feet of torque.
Best of all, select configurations of the AWD Cybertruck will be capable of towing up to 14,000 pounds. On top of that, some configurations of the Tesla Cybertruck feature a range of up to 500 miles. For those who love to wander, the Cybertruck just might be their top EV truck choice.
The 2.9-second 0 to 60 mph time of the tri-motor Cybertruck puts this electric truck on the map. You can't wait to drive it, we can't wait to drive it. The Cybertruck is going to be very popular indeed.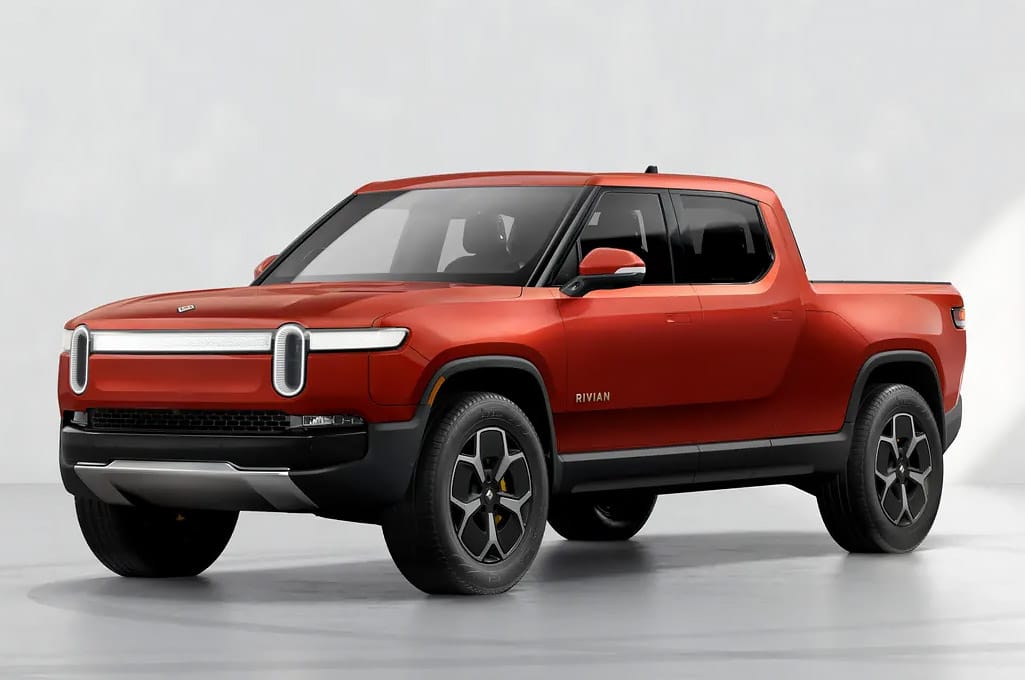 Rivian R1T
Rivian is a new player in the automotive industry but their new electric truck is causing a shockwave throughout. Whether you are a performance or off-road enthusiast, if the Rivian R1T is not on your radar, it should be.
How would you like to drive through three-plus feet of water? Would you like a vehicle capable of rock crawling at a 100 percent grade? The Rivian R1T electric truck can do that and more.
With 14.9-inches of ground clearance, you can truly display that go-anywhere attitude you always knew you had. Towing up to 11,000 pounds does not even make the Rivian R1T break a sweat. This electric truck is willing to be a workhorse every mile along the way.
What is really going to reel you in is the way the Rivian R1T EV promises agility similar to a sports car on the road. You get the best of both worlds with this EV truck, on and off-road performance.
The Rivian R1T will blast you from 0 to 60 mph in only 3 seconds while handling with the kind of finesse you just do not expect from a pickup truck. It uses a quad-motor setup to achieve 835 horsepower with 908 pound-feet of torque.
All you have to do is sink into the vegan leather seats and enjoy the ride. Welcome to the age of sustainable performance mobility. The 2022 Rivian R1T is definitely near the top of this list and you can already configure your truck now. What are you waiting for?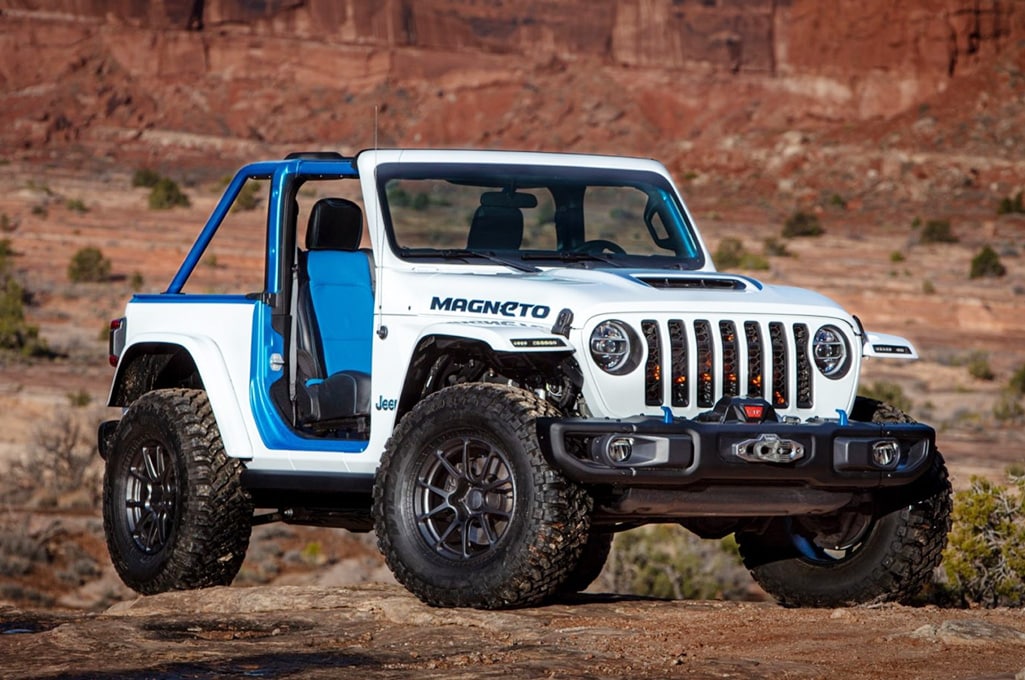 Jeep Wrangler Magneto
The hearts of old school off-roaders everywhere already belong to the Jeep Wrangler Magneto. Of all the EV trucks and sport utility vehicles in development, the Wrangler Magneto is the only one to offer a manual transmission.
If this concept Jeep ever makes it to production, it is going to be one hot ticket. Few experiences connect the driver, surface, and vehicle into one entity like a manual transmission can. It also gives you a lot more flexibility when venturing off-road by giving you additional control over the torque powerband.
Unfortunately, the Jeep Wrangler Magneto remains a concept vehicle at this time. The manual transmission featuring a real clutch, complete with the pedal, is something more electric vehicle manufacturers need to consider if they want to capture driving purists.
If Jeep ever decides to roll out an EV Wrangler with a three-pedal setup, there will be a long line of buyers lining up while chanting, "take my money." This EV concept is already on their radar.
Here is the good news, although no official details about the six-speed manual transmission development are out in the public yet, there is hope. Jeep is privately working on releasing a 2024 Wrangler EV based on the Magneto concept. Stay tuned to Jeep for more details.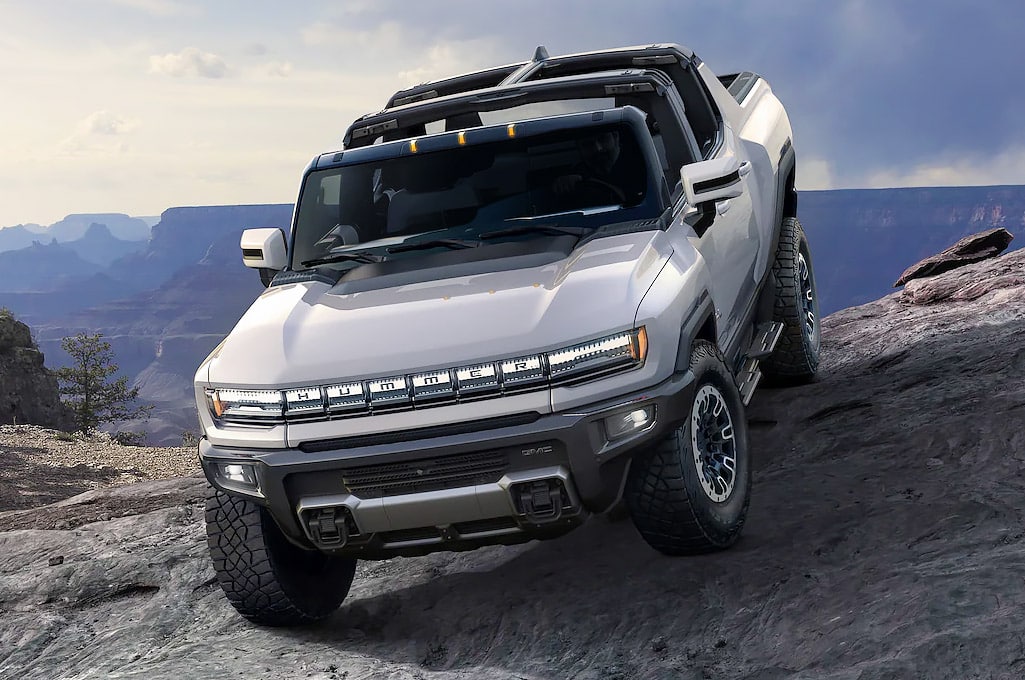 Hummer EV
Hummer is one of the most popular utility vehicle manufacturers in the world. From their experience developing rock-solid military vehicles to their popular entry into the consumer market, Hummer builds the stuff legends are made of.
When they announced the Hummer EV, there was plenty of fanfare. Many off-roading and venture enthusiasts could not stop drooling over the marketing hype videos. Especially the Crabwalk feature that seems to be exclusive to the Hummer EV. That's right, the Hummer EV can literally drive diagonally should you need to get out of a tight spot.
With 1,000 horsepower spewing from the electric drivetrain, the 2022 GMC Hummer EV Pickup can go from 0 to 60 miles per hour in only 3 seconds. Meanwhile, the Hummer EV SUV configuration is no slouch with 830 horses of its own. That translates into a 0 to 60 time of 3.5 seconds.
One way or another, the Hummer EV is set to blow the doors off the competition right out of the gate. From a luxurious interior experience to a powerful and capable off-roading experience, the Hummer EV checks all the right boxes.
You can still reserve your Hummer EV as production is still getting into the swing of things. Those who were one step ahead of the game are already expecting deliveries. You are going to begin seeing this silent monster in action on the streets any day now.
The Hummer EV tops the list of 9 electric trucks we can't wait to drive for obvious reasons. It offers the most performance potential on the market including amazing features such as all-wheel-steering to go with the standard AWD system. The fact that you get to enjoy the comfort of a premium interior experience is really only icing on the cake.
This is not just a capable off-road, explore-the-ends-of-the-earth machine. It is a beast. Encounter the Hummer EV Pickup truck at your own risk if you are not sitting in the driver's seat. Competition beware, you have a lot of catching up to do.
Disclosure: Clicking on these links and making a purchase may earn us a small referral fee, at no extra cost to you. Learn more here.
freestar.config.enabled_slots.push({ placementName: "gearmoose_leaderboard_btf", slotId: "gearmoose_leaderboard_btf" });