In a guy's life, there are a handful of things that you want to last a lifetime: Relationships with your loved ones. That vintage car or truck you've been fixing up for the past 10 years or so. The house you grew up in. These are the things that give us a sense of security, of enduring values in a world that's changing every day.
But it wasn't that long ago that the majority of things a guy could buy were made to last his whole lifetime, if not longer—with heirlooms like pocket knives and jackets being handed down through the generations.
Not every brand tries to make gear that can live up to that heritage status. But in everything they do, GoRuck goes above and beyond. They're not just one of our favorite brands because they produce some of the coolest, most durable gear around: We love them because they care about the things in life that keep men at their best.
Talk is cheap, though—so we got our hands on GoRuck's ultra-popular GR1 Rucksack to put it through its paces and report back to you with first-hand evidence for why you need one in your life.
To complete the experience, we're testing their Ruck Plate, Ballistic Cross-Trainers, and Indestructible Training Shirt too. So when you're ready to make the change to a lifestyle with serious longevity, you'll have everything you need to make it happen.
Disclaimer: The GR1 reviewed was provided to us by GoRuck in exchange for an honest review.
GORUCK GR1 Specs
For this review, we tested the 26 liter GR1; all specs that follow reflect that.
Dimensions: 12″W x 20″H x 6.75″D
Weight: 3.2 lbs
Primary Materials: 1000D Cordura Nylon
Zippers: YKK zippers with 550 paracord pulls
Laptop Compartment: Yes, fits laptops up to 16 inches
Weather Resistant: Yes, highly water resistant (rainproof)
TSA Compliant: Yes, fits under airplane seat
How We Used It
After living my life out of a backpack for 10 years or so, I have a deep respect for backpacks as an essential tool. And that hands-on time with dozens of packs has taught me this: Every bag is good at something, but no bag is great at everything.
Informed by this ethos, I put every bag through a progressive series of tests to see where it excels—and where it's not the best tool for the job. In practice, that looks like testing a bag for use in all of these activities:
A quick trip to the grocery store
Carrying everything I need for work (laptop, tablet, wallet, etc.)
Carrying while riding a bicycle (loaded and unloaded)
Packing for a day trip or hike
Packing for an overnight hike
Packing for a 2-3 day urban trip
Packing for a 2-3 day outdoor trip
That range of activities puts most bags under a range of stresses from "barely used" to "carrying 30+ pounds", effectively testing their carrying capacity and features for everything an average guy could need them for.
And in the case of the GR1, I also used it for its namesake activity: Rucking. Adding GoRuck's 30 pound Ruck Plate is a serious test of a bag's construction, durability, and comfort—and the GR1's purposeful design makes it ideally suited for this activity (more on that in a moment).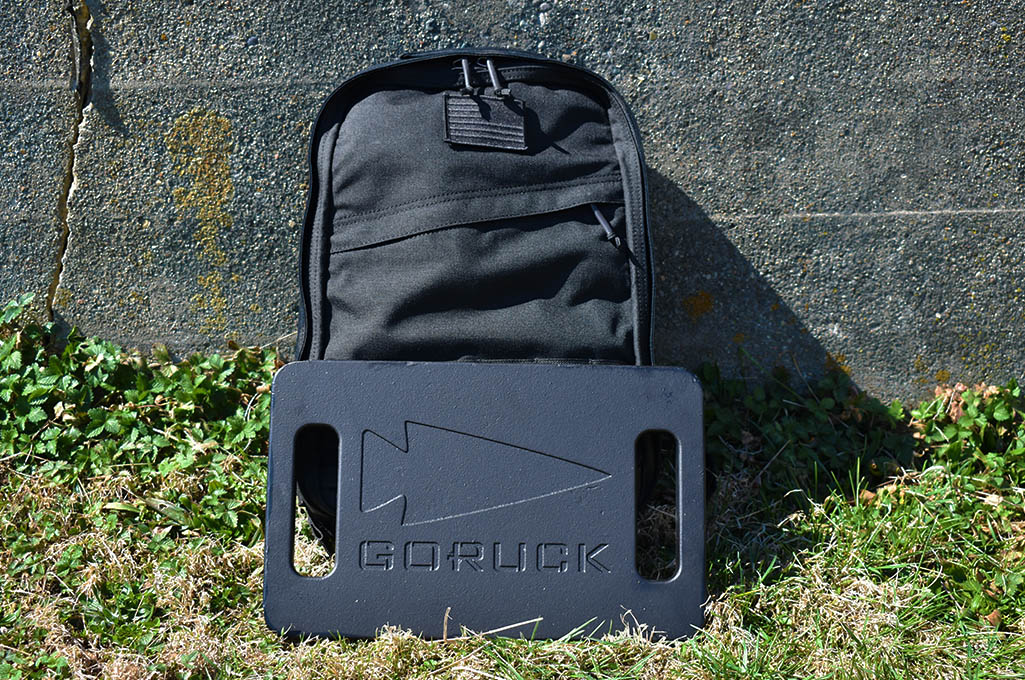 After the functional testing, I also like to put my bags through a few stress tests: Dragging them on grass, dirt, and concrete; tossing them around a little bit; checking whether the straps are slash-resistant; and seeing whether a bit of the material is flame retardant.
With all that in mind, let's take a look at how the GR1 measures up.
Materials
The biggest determinant of a bag's performance and longevity is what it's made out of, followed by how it's made. Look closely at the materials a backpack uses, and you can get a pretty clear idea of what purpose it's built for.
In the case of the GR1, we're looking at a seriously durable bag. It's made of 1000D Cordura nylon, a synthetic material that uses thick, tightly woven fibers to create a fabric that's highly cut- and abrasion-resistant (and also moderately flame retardant).
You don't see this grade of materials used often for backpacks. Why? Mainly because it's expensive, clocking at over $10 per yard of fabric. It's also heavier than other backpack fabrics; that'll factor in later.
That's paired with heavy duty YKK zippers, and some of the most finger-friendly zipper pulls I've ever used. They're made of paracord and wrapped in a rubber-like material for easy gripping, even when your hands are in gloves.
So overall, the GR1 is overbuilt in the best way possible. It's tough as nails, and guaranteed to last a lifetime—quite literally, as it's covered by GoRuck's Scars Lifetime Guarantee. That doesn't just cover any material defects; it also means that GoRuck will replace your bag if you manage to damage it through normal wear and tear.
Features
Because the GR1 is inspired by military design, it places a heavy emphasis on combining durability with organization and accessibility.
Personally, I love the open flat style of the bag. It makes it exceptionally easy to lay out everything you need for a camping or hiking trip and methodically pack everything in its perfect place. Then when you need to grab out a single item later, just lay the pack down, fold it open, and you have immediate top-down access.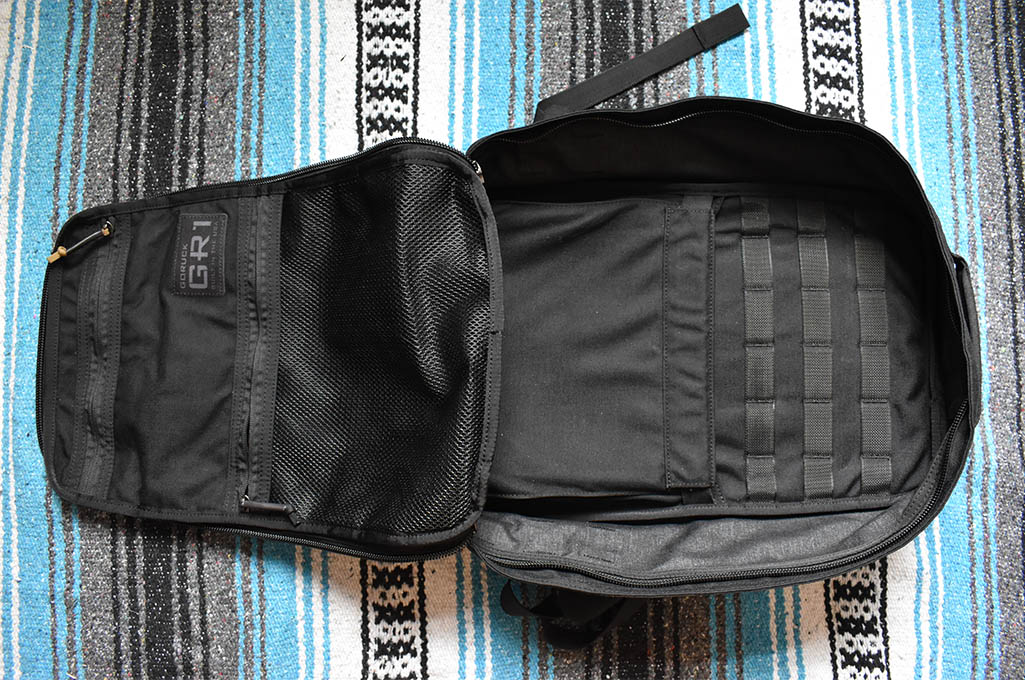 Directly next to your back, there's also a "bombproof" laptop compartment with extra padding and a false bottom. This is a great feature for everyday use, as it'll keep your laptop safe even if you drop the GR1 onto concrete. But it's especially great for bicycle commuters, as it nestles your most valuable possessions in the safest place possible.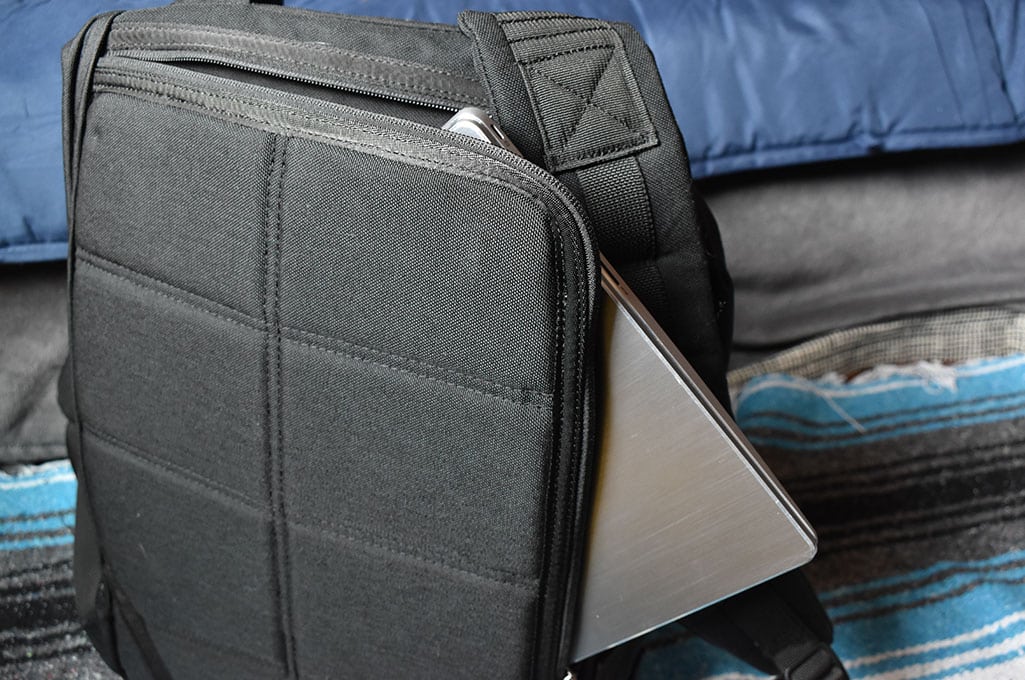 The GR1 has fewer pockets than many bags of its size, but they're carefully considered. The inside has three pockets: A large elastic pocket, a large mesh zippered pocket, and a small quick access pocket. There's also an external slant pocket for easy access without having to open the bag.
But that smaller pocket selection is supported by an extensive network of MOLLE webbing, with three rows inside and three rows outside. That gives a lot of extra gear carrying capacity in addition to the 26 liter internal capacity.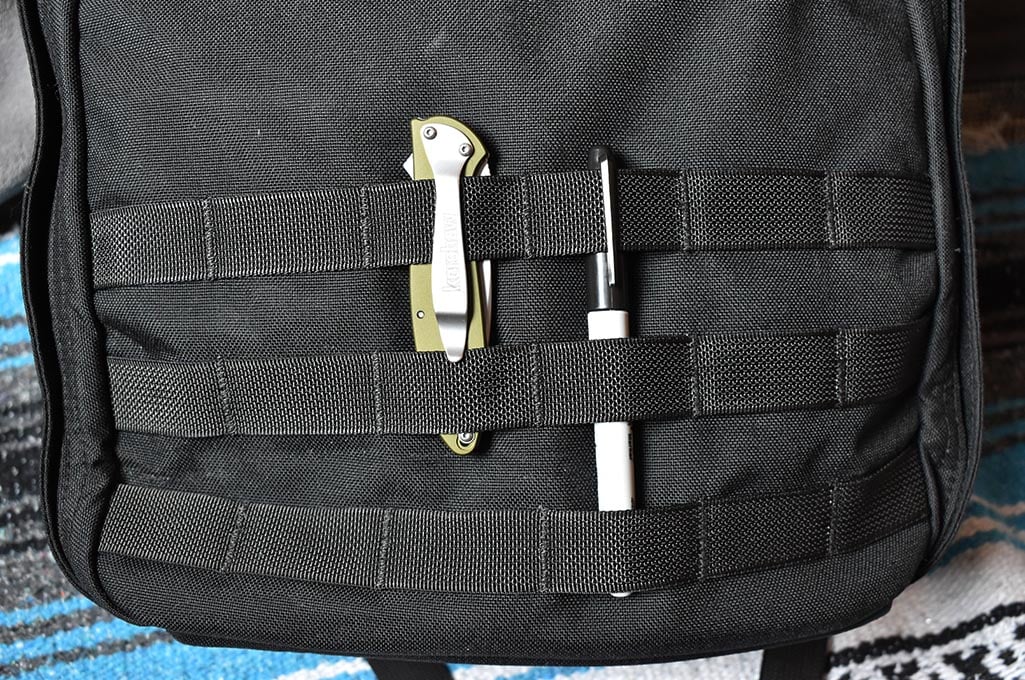 And lastly, there's a specific sleeve with elastic webbing for carrying a Ruck Plate. This is unique to GoRuck's collection of backpacks, and it keeps them tailor-made for heavy duty rucking exercise. Not sure what rucking is? Our Ruck Plate review explains it in depth.
What it's Best At
Of all the bags I've owned, the GR1 is far and away the toughest I've used. For everything short of slamming it on the ground, it's good to go (that would break the zippers, but not the bag).
It's also pretty much perfect for carrying heavy weights, and performs better than any other bag of its size when fully loaded with 50+ pounds. That's due to a combination of its stiff, heavy duty materials, purpose-built weight storage pockets, and heavily padded wide straps. There's no other bag I'd rather have for my regular rucking sessions.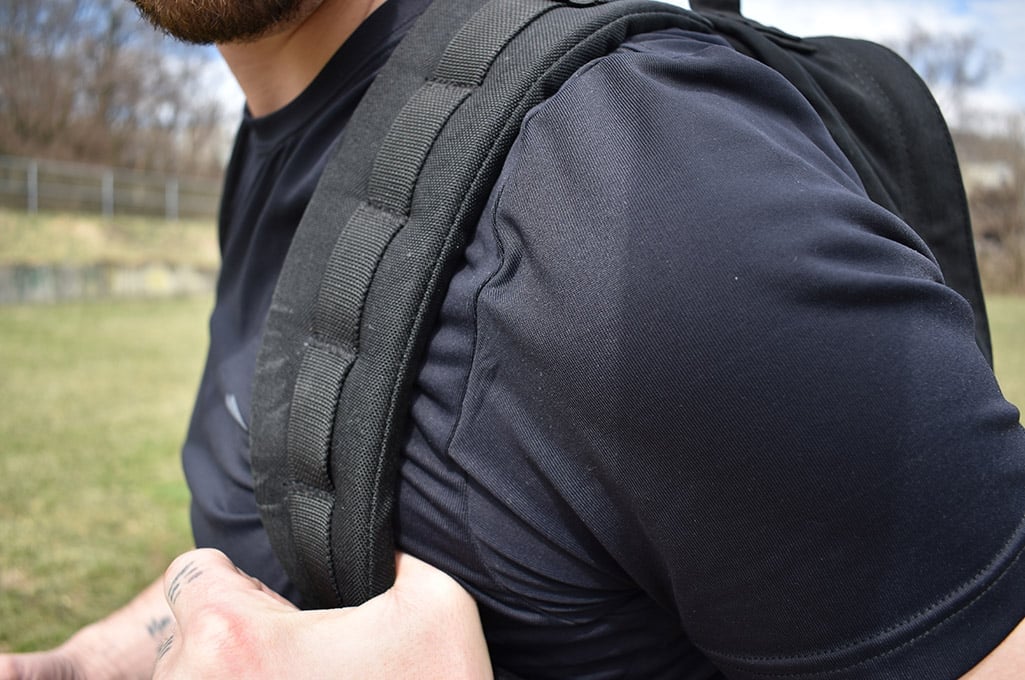 Overall, I will gladly use the GR1 for everything from bicycle commuting to retreating into the woods to live as a hermit. It feels like a bag that's going to be in my regular rotation for the next 20 years or so—and that's a high compliment coming from a guy who basically has his pick of packs.
What it's Not Great At
Being purposely overbuilt, the GR1 has just one real downside: It's heavy. All that 1000D Cordura nylon fabric adds up, and puts this bag far outside the realm of a lightweight backpack for quick errands.
When I was carrying the GR1 and it was not fully loaded, it felt a bit out of place. It's like a dog breed that's built for working: When it's not loaded down with weight, it feels a bit squirrely (and tends to ride up on your back).
So when you're taking a quick trip to the farmer's market I'd recommend grabbing a different, lighter bag.
Overall Value
As you might expect from a bag that's built to last forever, the GR1 is not cheap. At a little over 300 dollars, it's a substantial investment.
Why is it this expensive? The quality of materials and American-made craftsmanship. But when you combine those with the Scars Lifetime Guarantee, you get a genuinely buy-it-for-life backpack—and that's exceedingly hard to find these days.
Overall judgment: A great value over time, even if the initial investment might give your wallet a fright.
Parting Thoughts
If you take my word for it, the GR1 really is the finest example of a heavy-duty backpack that you can get. It's not a quick sling bag, but it's not meant to be—these bags are supposed to keep you and your gear in tip-top shape no matter where your adventures take you.
To end this review, I'd also like to include testimonials from two people whose opinions I hold in high regard: My good friends Wood Rogers (an all-round outdoorsman with a great eye for gear) and Adam Smith (founder of GearMoose).
Wood has this to say about his time with GoRuck's bags:
"I've always been around packs since my time in scouts, and I started to look for a bag that would be beefier than my North Face daypack I had in high school, but could also blend in for school and work's everyday carry needs. After I learned about the GoRuck/rucking culture, it ingrained the reality of the bag over five years in ruck clubs and hikes and three trips to Europe with the GR1's older brothers.
I've only ever been well taken care of by the folks at SCARS, who have repaired two things and replaced another for free. While I might have small critiques of the company, there's no item I've owned that I've ever been disappointed with and I have no reason to doubt their commitment to their product."
And Adam relates his own experiences with a bag that's still going strong after eight years of use:
"I initially purchased the GR1 as an overnight bag for my laptop and change of clothes for 24 hour tours at the firehouse, after other bags I owned began falling apart. I'm particularly hard on bags, and the GR1 is built tough enough to withstand the abuse I no doubt inflict upon it weekly."
"These days i'm even tougher on it. From 72 hour treks to Key West to 8 hour beer rucks with my F3 crew, the GR1 only gets better the more I use it."
And if all that's not enough to convince you that you need one of these bags, then I don't know what is.
Price: $325+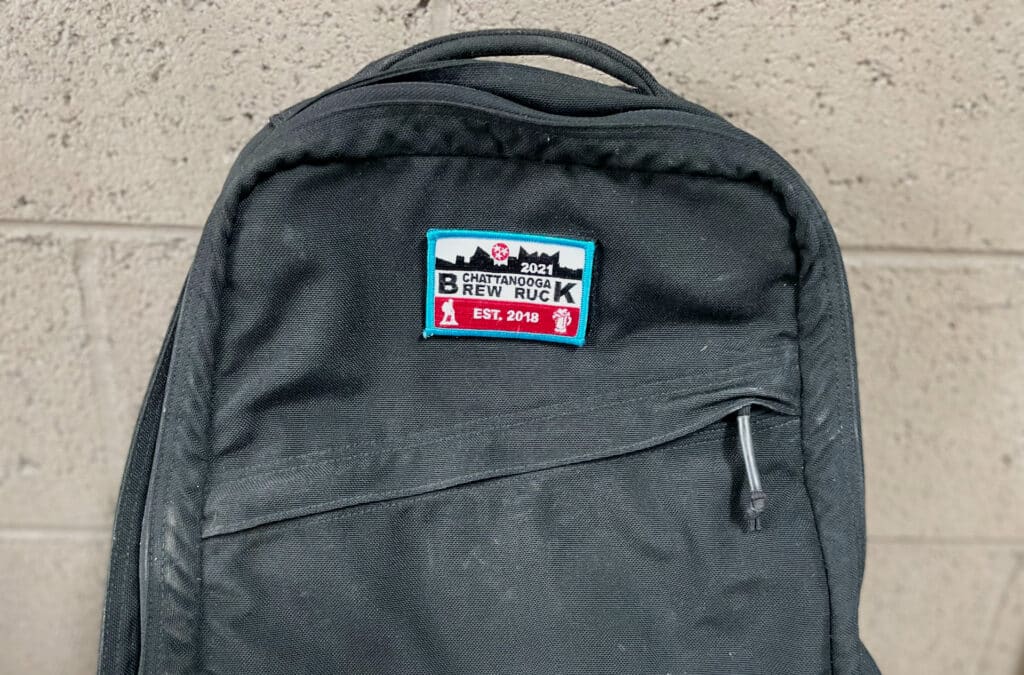 Disclosure: Clicking on these links and making a purchase may earn us a small referral fee, at no extra cost to you. Learn more here.
freestar.config.enabled_slots.push({ placementName: "gearmoose_leaderboard_btf", slotId: "gearmoose_leaderboard_btf" });