If you're in the market for a slim and built-to-last wallet, you're in luck. There are a lot of options out there. The only problem is, there are A LOT of options out there. In a quest to help you find your next minimalist wallet, today we're looking at the Holden Card Wallet from Everyman so you can decide for yourself if this is the pick for you… or if the hunt continues.
*We were not provided a sample by Everyman, and have not been compensated for this hands-on review. Clicking on these links and making a purchase, however, may earn us a small referral fee, at no extra cost to you. Learn more here.
About Everyman
You probably know EDC brand Everyman for their Grafton Pen. But the fact is, Everyman makes a curated selection of functional, thoughtfully designed EDC gear as well, including packs, keychains, and one wallet.
After feedback from customers, they tweaked and refined the The Holden Card Wallet in hopes of satisfying a broad segment of the EDC community. Did they succeed? While we can't speak for the community at large (has any community ever entirely agreed on anything?) we feel like it's a winning entry into the minimalist wallet race. Here's why:
The price
The price on the Holden, at just under 90 bucks, is on par with minimalist leather bifolds from other EDC brands. Considering the Holden goes on sale fairly often, knocking it down to $79, the price is more than fair for what you get. And honestly, once wallets get much below the $60 mark, you start to run into quality issues.
What you get
What you get is simplicity. A leather bifold with the spine on the long edge. Open it like a book and you'll see three card slots on the right (horizontal openings) and a card slot on the left (vertical opening). All cards store vertically. As one of the upgrades Everyman included, there's now space to store a few folded bills. On each side, behind the card slots, you'll find space for business cards, a couple more credit cards, or currency folded in half twice.
The exterior is 2mm full grain leather, with a slightly thinner, pressed leather sewn in for the card pockets. At just over four inches long and a little under three inches wide (4.25" by 2.75" to be exact) the footprint is typical of a standard bifold, but it's remarkably slim. Filled with six cards and two folded bills, the Holden measures just under a half inch.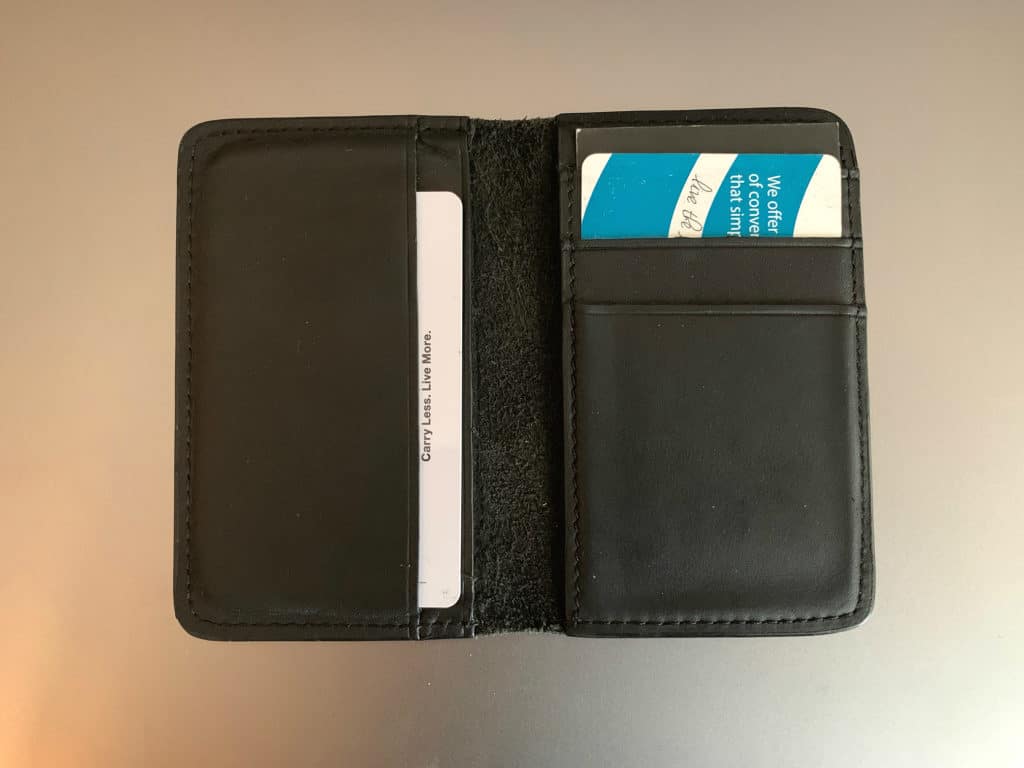 Function and set up
While some minimalist wallets come with a learning curve — straps, plates, bands, screws — the Holden is instantly recognizable to anyone who's ever seen a wallet. Playing with it over time, I found the best set up for me was to put my most-used bank card in the front slot on the right, my two lesser-used credit cards behind that, and my ID and insurance card together in the vertical slot on the left. The set up may be different for you — just know that the easiest-access slots are the horizontal ones on the right.
When the cards first go in, you'll be met with some resistance. And when I say "some resistance" I mean you'll feel like The Rock trying to fit into size 32 pants. Once those cards are in, they're in. Throwing the wallet across the room was not only fun to do, it proved that not a single item so much as shifted. Your paper and plastic are secure, sir. Over time, the card slots do loosen, which I'll talk more about when we cover ease of use.
Card capacity
You can fairly easily fit two cards in the horizontal slots and the vertical slot fits four cards no problem. While Everyman doesn't indicate a card max, I was able to load the card with nine cards before it felt like it was reaching capacity, though the thickness did significantly go up. I've been using minimalist wallets for a few years and have my needed daily card count down to five. That number feels like what the Holden is designed for — and the way it looks and feels best in the pocket.
Cash capacity
As for cash, the pockets behind the card slots can accommodate a lot. I fit twelve bills of varying newness in there and they went in easily, though after the third bill on each side, the profile started to lose its sleekness, bubbling out at the sides.
In short, you can put what you need in the Holden and it will likely accommodate. The whole point of a minimalist wallet is to carry less, so getting one and stuffing it like a Thanksgiving turkey is sort of missing the point. Personally, I feel like the Holden has an ideal capacity of four to seven cards and two to five bills. The nice thing is, if you have more bills or cards to carry for whatever reason, the Holden will allow it.
How it feels
Out of the box, one of the first things you notice is the feel of the leather. Smooth without being shiny, soft and pliable without being floppy, it has the feel of something substantial, despite the small and light profile. The inner leather is thinner but proved to be tough in testing.
Once the Holden is loaded, it still feels lightweight and fits easily in the hand. With the cards in place, it's a little stiffer but still feels pliable, like it won't gouge you in the thigh as you move (which it doesn't). Everyman says the Holden is meant for front pocket carry and that's where it seems to work best, as it tends to get lost in the back pocket (though if you tend towards slimmer jeans, it may work great). In the front pocket, it lies comfortably. The soft leather and rounded edges don't protrude or dig in.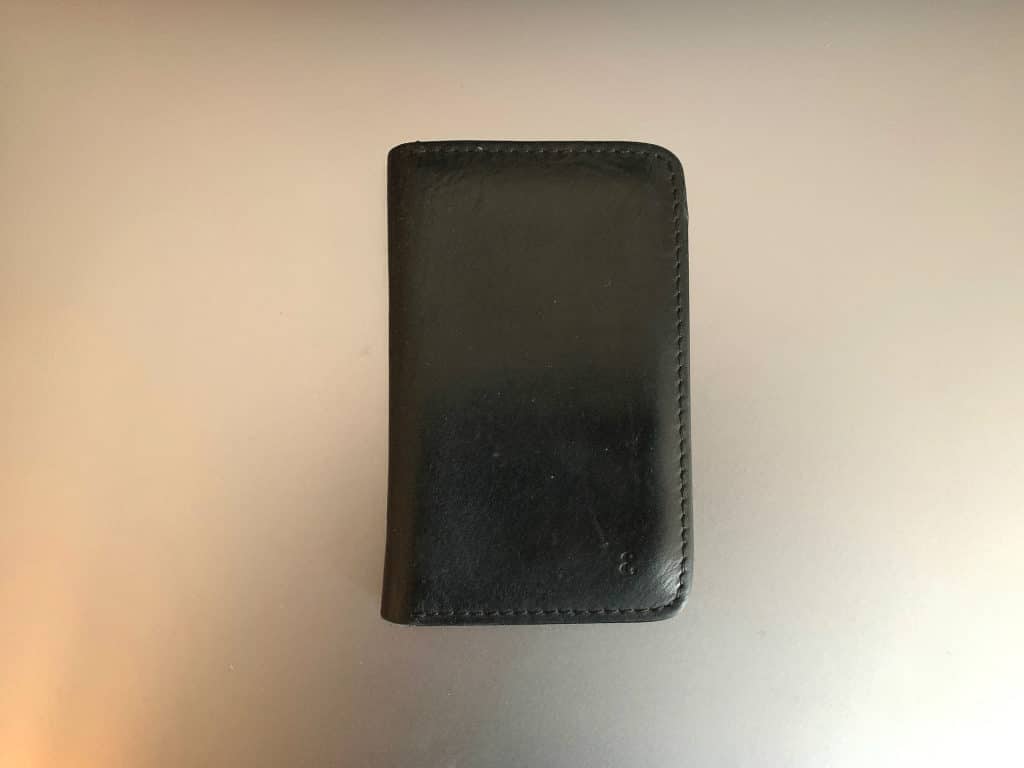 How it looks
You get your choice of black or tan leather (we tested black). The quality of the leather will allow it to develop a well-deserved patina over time but even brand new, there's an attractive depth and lustre to the material. The stitching is black for both color options and goes around the perimeter of each side, skipping the spine. Each stitch looks neat and evenly spaced, and the stress points at either ends are reinforced with back-stitching.
The only branding on the Holden is Everyman's logo on the front corner, a small, uppercase E. It's simple — nobody needs their EDC emblazoned like a stock car at a speedway — but no branding at all would make the wallet feel a touch generic.
The Holden is elegant and classy enough to look sharp when you're dressed up, but simple enough to look good in your day-to-day.
Ease of use
I mentioned my biggest concern already: the stiffness of the card slots. Once you finally get them in there, they don't really want to come back out. I tested this out in the midst of a lockdown, so the out-on-the-town opportunities for freewheeling spending were limited. So instead, I've been practicing my quickdraw as I move from room to room. Over the course of several days, removing and re-inserting the cards has managed to loosen the card slots considerably, but not to the point where anything feels loose.
Once you work past the stiffness, the Holden is pure simplicity. Flip it open and quick-pick from the three cards on the right. Shuffling through the cards in the left slot is easy.
Cash is more complicated since you need to double fold everything. I tried a single fold and the protruding bills made the wallet close off-center. To be fair, it's called a card wallet, so the included cash capacity is a bonus, letting you cart around a few large bills to handle those no-cards-accepted situations.
Durability
I did not go easy on little Holden. When contending with the stiff card slots, I pulled them out aggressively, stuffed them back in with force. I put more cards in than I'd ever need to carry on a given day and opened every pocket wide. Short of intentionally trying to destroy the thing, I used it hard. The materials and the stitching put up with it all.
Putting extra cards in the stiff card slots helped loosen them up, yet when I went back to just one card per slot, they stayed in place. I will say that after stuffing the wallet to its max (both with cards and cash) the wallet lost some of its original svelteness and rounded out on the exterior. While it only spent a few hours fully packed, it was enough to stretch the leather slightly, so I don't know how well this would do if you were continually adjusting. If you need something that lets you carry twelve cards one day and four cards the next, you might be better off with something elasticized.
Verdict
The Holden is clean and uncomplicated with classic style that can act both classy and casual. The materials are tough and the construction is plenty durable. While it calls itself a card wallet, it offers the option of carrying a few paper bills and despite its minimalist leanings, it doesn't refuse to carry a few extra cards around. Considering its price point and functionality, the Holden gives you everything you could want in a minimalist leather bifold.
Holden Wallet Alternatives
In our eyes, the Holden is a champ in its class, but maybe you're looking for something with different properties — materials, function, capacity, and so on. If so, here are three more minimalist bifold wallets we recommend checking out:
Disclosure: Clicking on these links and making a purchase may earn us a small referral fee, at no extra cost to you. Learn more here.
freestar.config.enabled_slots.push({ placementName: "gearmoose_leaderboard_btf", slotId: "gearmoose_leaderboard_btf" });