To venture into unknown territory, it takes courage and a willingness to dream. That's what makes the Fering Pioneer Electric Vehicle so intriguing.
Imagine a vehicle no larger than a minivan yet as light as a hatchback with the carrying capacity of a pickup truck. Sounds pretty wild, right?
Now, what if that same hybrid electric vehicle could go about 4,349 miles or 7,000 kilometers before needing to refuel or recharge? Spin a good yarn, do ya?
Well, these aren't tall tales and you will not need a parachute for a soft landing because this mythical hybrid sport utility vehicle is not only real, a British company is putting it into production. In fact, select customers are already testing the prototype.
Make no mistake about it, the Fering Pioneer is not a grocery-getter. Sure, it could excel when it comes to running errands or making it to every practice on time. But, it can also go anywhere and handle just about any terrain you toss in its way.
What else do you expect from a vehicle engineered by an ex-Ferrari and McLaren engineer? If this is what thinking outside the box leads to, the entire automotive industry is in for a treat.
The purpose of the Fering Pioneer EV design is to provide a low-emission vehicle for explorers and emergency service applications. Anyone with a sense of adventure can clearly see the appeal.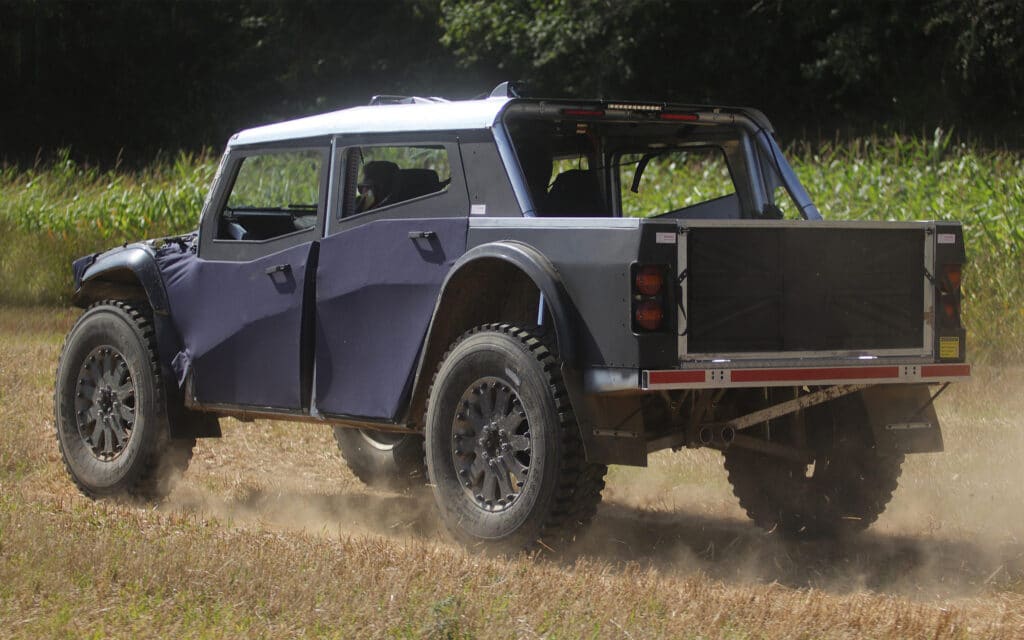 You could Pioneer some of the most epic camping escapades ever known to the planet, essentially covering multiple continents over long periods of time. Even if you're not planning on going nomad or off the grid, the Fering hybrid will happily lead you to the ends of the Earth if you're willing to go.
Two electric motors provide power to both the axles of the Pioneer Electric Vehicle. That power comes with instantly available torque, a lot of it. Some 4x4s do not even have 600 Newton-meters of torque. This Fering electric vehicle does. That translates to about 442 pound-feet of torque.
As for the combustible part of the equation, the Fering utility EV features an 800cc 3-cylinder biodiesel engine to keep you truckin. The true genius is behind the engineering. While driving the Fering Pioneer, the biodiesel engine produces enough juice for the motors as well as charging the battery.
This design enables the Pioneer to use the battery to cover power demands in peak situations such as hill climbing. Replenishing the battery's energy reserves just happens naturally as the vehicle is running, even during stationary idling.
With a curb weight of only 3,306 pounds, or 1,500 kilograms, you would think the design might sacrifice some structural integrity, but it does not. The Fering Pioneer Electric Vehicle is built like a tank. It is also worth its weight in salt, quite literally, featuring a 3,306-pound, 1,500-kg payload capacity.
For a 4×4 capable of achieving a fuel economy of 50 miles per gallon, you will truly feel like a pioneer behind the wheel of the Fering EV. These are uncharted waters. Fering even makes the Pioneer with an infinite-lifespan mentality. This means you can upgrade the battery or even combustible engine in the future, if necessary.
When it comes to combining sustainability with go-anywhere mobility, Fering nailed it. Expect to see an increase in demand once official production begins, quite possibly as early as 2022. Get ready to explore without limitations as a Pioneer.
Disclosure: Clicking on these links and making a purchase may earn us a small referral fee, at no extra cost to you. Learn more here.
freestar.config.enabled_slots.push({ placementName: "gearmoose_leaderboard_btf", slotId: "gearmoose_leaderboard_btf" });