If you are a gearhead and had a wall in the '80s or '90s, chances are you had a poster of the Ferrari F40. Perhaps you even had a few F40 Hot Wheels to match. To this day, the Ferrari F40 remains a dream car for many Prancing Horse enthusiasts.
Of course, designing and ultimately making a supercar such as the Ferrari F40 doesn't just happen by accident. Ferrari put a lot of sweat and engineering into making this dream come true. Looking back at the history of the iconic Ferrari F40 reveals how this supercar became a celebrity.
If you know a little bit about Ferrari then you already know Pininfarina is the Italian automotive firm responsible for many of the most popular and stylish Prancing Horse bodywork designs throughout history. It should come as no surprise that Pininfarina is also responsible for the seductive bodywork you see on the F40.
The F40 is a two-door berlinetta coupe. It is a hardtop two-seater and its predecessor was the Ferrari 288 GTO. Yet, what really makes this car so beautiful extends far beyond what you see with the naked eye.
In fact, the beauty of this car goes even deeper than seeing it in action at the track or hearing it rip past you at wide-open throttle. To love this car is easy but to truly understand it, you have to drive it.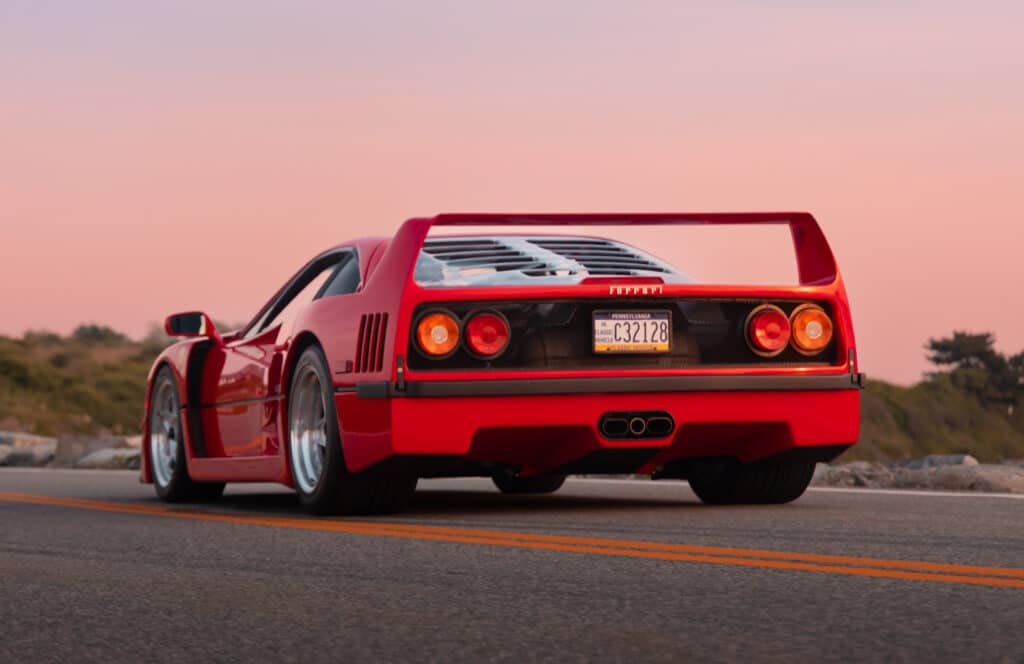 This is the kind of race car that makes you want to master every turn at the track while ripping the throttle wide-open on the straights. The F40 has excellent brakes and to truly take your driving to the next level, you must master the timing of your braking when approaching turns.
You see, with the right approach, you can literally point the nose of the F40 to effortlessly glide into corners. You can even shake the tail end of the F40 a bit, as drifting comes naturally and unforced in the F40. Just make sure you are not going too fast because you can just as easily lose control and that would be one of the most heartbreaking days of your life, not just at the track.
Just don't expect to have any driver-assist technology at your disposal. That's because one of the most appealing qualities of the F40 is the pure driving experience it offers with the soul of a race car during its era. There is no traction control, there is no stability control. It is just you, the machine, and the open road.
Although the F40 is street-legal, it is extremely low to the ground. It is better suited for the track, you know, away from speed bumps or sloped driveways. The ground clearance of the F40, in its stock form, is only 4.92 inches or 12.5 centimeters. On the plus side, the low center gravity of the chassis design makes the F40 clean up at the track.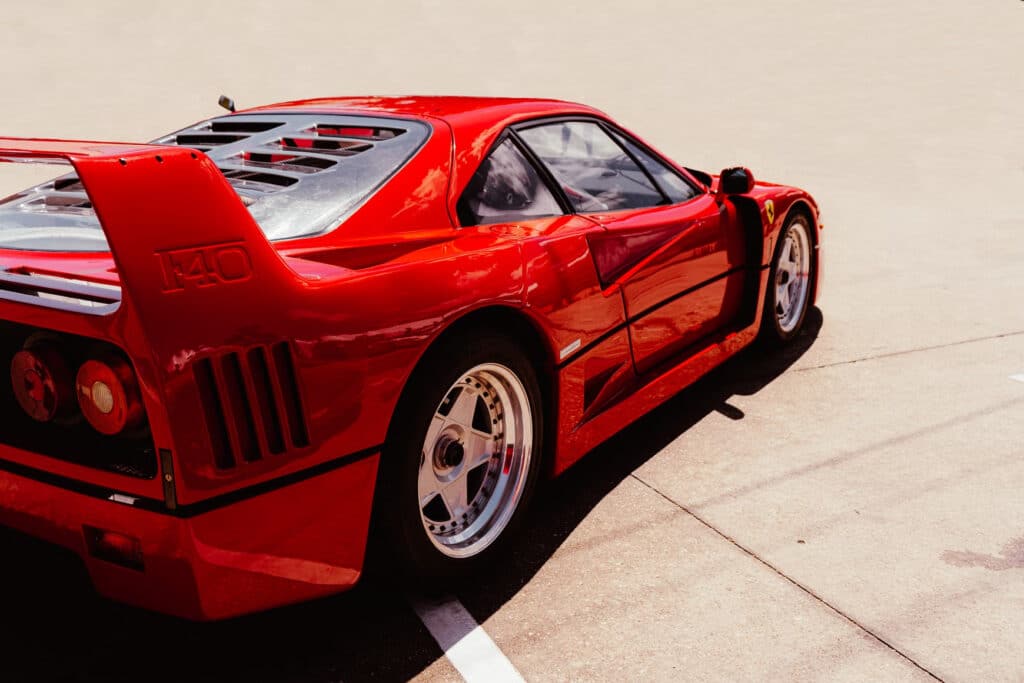 Designing the Iconic Ferrari F40
Nicola Materazzi was the leader of the engineering team for this project. In the end, the decision was made to make the F40 into a mid-engine, rear-wheel drive supercar with a five-speed manual transaxle. Combined with the high-revving twin-turbo V8 engine, the F40 backs its seduction up with powerful and precise performance.
At the heart of its performance, the 2.9L Tipo V8 engine with twin snails steals the show. It combines the sexy exhaust tone of a legendary Ferrari V8 with a jet-like forced-induction spool. Ferrari made several tweaks to the engine throughout production but the widely accepted factory numbers of the F40 are an impressive 471 horsepower with 426 pound-feet of torque.
Here is the real twist, many Ferrari historians now agree the factory numbers of the F40 were a bit conservative. Many Prancing Horse experts claim many F40 examples had over 500 hp from the factory.
This kind of power translates to a 0 to 60 miles per hour clocking of only 4.1 seconds. Keep going to get Smokey's attention pretty much anywhere you drive. Regardless, it will be difficult to resist the urge to see what this baby can do.
Other F40 engine highlights include the double-overhead camshaft design on top of 32 valves for your listening pleasure. It features a 90° bank design and is classified as the F120A/F120D engine design. Sending power to the rear wheels while experiencing vintage '80s Ferrari mid-engine handling is a treat in the F40.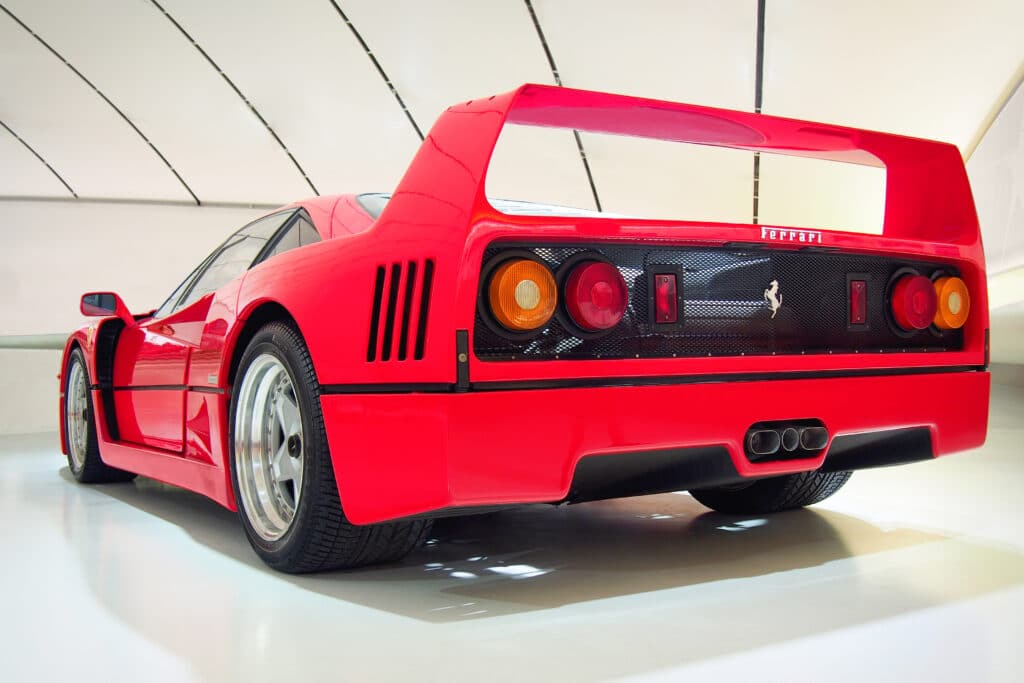 Because this engine runs so hot, Ferrari engineered the F40 to channel airflow using an undertray design. This helps with cooling while simultaneously creating a useful drag coefficient.
Pininfarina combined aluminum, Kevlar, and carbon fiber for the body of the F40.
In the end, the decision to use polycarbonate plastic windshield and windows was made to keep the curb weight down. Depending on the model year, the curb weight of the F40 ranges from 2,765 to 3,018 pounds.
On the interior of the F40, you will not find much. Don't worry about tunes, this is a race car. There is no stereo. Besides, the engine should be music to your ears for every drive. You will not even find door handles or door panels. There is not even a glovebox, your racing gloves should already be on your hands.
Oddly enough, there is air conditioning in the F40. You will appreciate it too, even though it is not the most efficient AC in the world. Hey, if you have ever spent a summer in Italy, you know it gets pretty hot there sometimes.
A double wishbone suspension really enhances the handling capability of the F40, this enables each wheel of the car to react independently to the surface below. Ferrari combines the double wishbone setup with aerodynamics tuned for efficiency and stability at higher speeds. In other words, the F40 is an absolute blast to drive at speeds over 150 mph.
In case you are curious, the Ferrari F40 can reach a top speed of 201 mph. This engine sounds so good and you do not even reach peak power until 7,000 rpm. The redline is not even until 7,750 rpm and the torque really pulls you back into your seat at 4,000 rpm.
However, keep in mind, there are no driver assists working with you as you drive. You must get to know the F40 intimately before attempting such runs. One of the most important things to learn in a car like this is how the turbochargers affect the powerband when engaging and re-engaging the clutch while shifting gears.
If you are a driver, you know how important it is to respect the machine. When you do this, the machine rewards you by teaching you how to drive it. Each car has a soul of its own and the F40 is no different.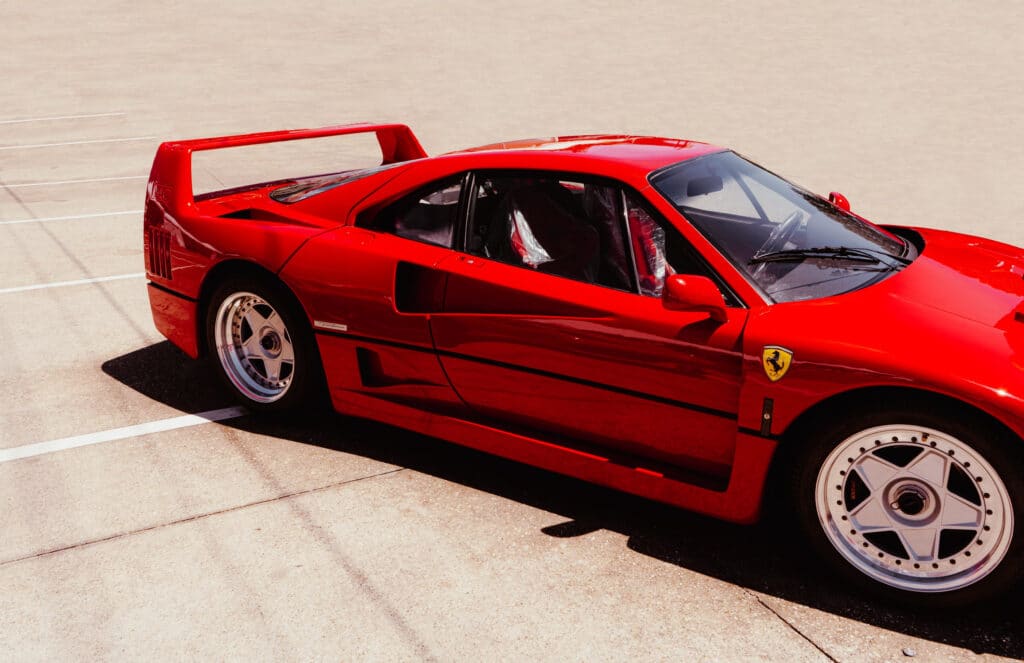 Ferrari F40 Production
Sadly, the F40 was the final car approved by Enzo Ferrari himself. Ferrari internally classifies the F40 as the Type F120. Ferrari produced the F40 from 1987 to 1992. When production of the F40 began in 1987, it marked the 50th anniversary for Ferrari as an official company. Enzo started Ferrari in 1939 but made it official with the first vehicle sporting the logo in 1947.
What is really incredible about the history of the F40 is how quickly this piece of automotive art came together. Enzo Ferrari wanted to make his final sports car project with a timeless approach. It is safe to say the F40 was a major success.
At the time, the public perception of Ferrari was shifting away from their race heritage and more into the luxury sports car category. Enzo was not going to put up with any of that bull hockey with his final project. He demanded completion of the F40 project in only 11 months. 
Development began on June 10, 1986 and Enzo set the target for completion in 1987. Ferrari began marketing the F40 with a middle finger to anyone who thought the Italian brand was not in touch with their racing heritage anymore. Their campaign revolved around this statement, "The F40 is for the most enthusiastic of our owners who want nothing but sheer performance."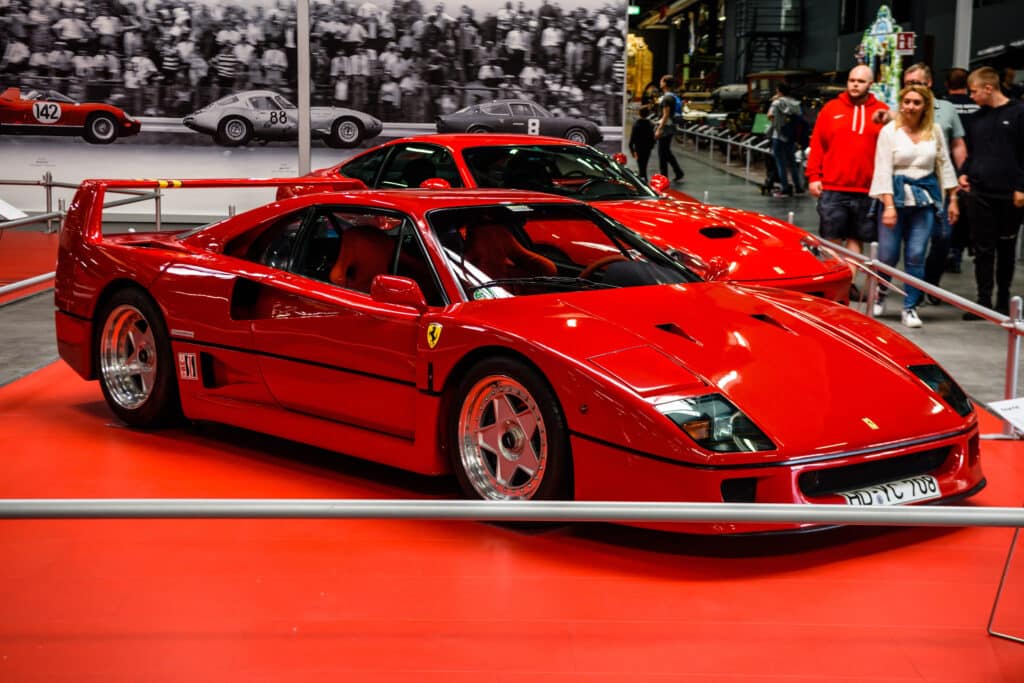 Ferrari originally planned to make only 400 F40 models but as they say, sometimes plans change. In the end, consumer demand was overwhelming which led to Ferrari making a total of 1,315 F40 supercars by the end of the production window. That is not even including the Le Mans and GTE race car versions produced from 1994 to 1996.
Even though Ferrari increased production in an effort to keep up with demand, there were still not enough F40 cars to go around. For example, the F40 was originally priced at $400,000 in 1987 but people began selling their car for more money to interested buyers. By 1990, an F40 sold for a then-record £1 million in 1990. The seller of that particular F40 was none other than Formula 1 driver Nigel Mansell.
If you wanted to get your hands on an F40 in the United States, you basically had to take a number and wait in line. Ferrari only exported a total of 213 F40 models stateside during production.
Every single F40 left the Ferrari F40 factory sporting the desirable Rosso Corsa color. All F40 models originally featured a left-hand drive configuration from the factory as well. You can, however, find some modified right-hand drive configurations out there. A handful of them exist, so don't hold your breath forever.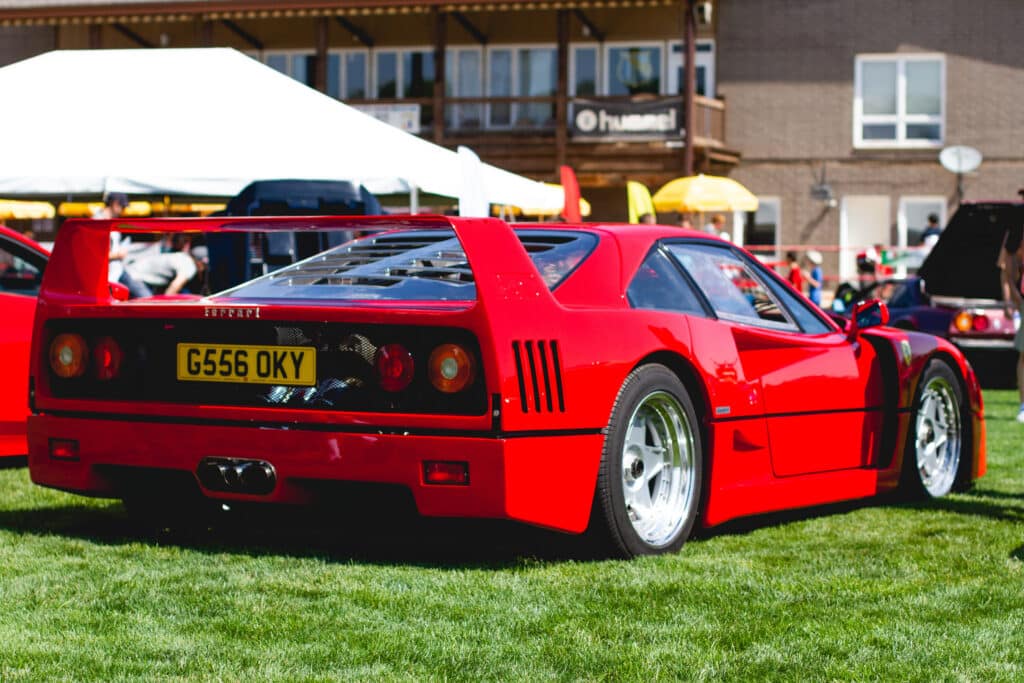 What's Next for the Ferrari F40?
For most people, the Ferrari F40 is in an untouchable category. After all, it is a dream car, right? It would not be a dream come true if it was easy. If you are looking for a Ferrari F40 for sale, expect to drop seven figures to acquire an authentic one.
Be wary of kit cars or replicas. If you want a real F40, make sure you verify it is authentic before signing what feels like a blank check. Other than that, higher mileage models may hover under 1.5 million while pristine examples sell for well over two million.
Since their inception and throughout the course of time, the constant pursuit of perfection defines Ferrari excellence. The masterpiece known as the F40 is one of many Ferrari gifts to the automotive world.
From video games to movies such as Scent of a Woman or even a brief cameo in Gone in 60 Seconds, the Ferrari F40 is a global superstar. You can also experience the driving thrill of a Ferrari F40 in both Gran Turismo and Forza racing simulators. It is recognized and cherished everywhere people love cars.
Driving enthusiasts everywhere owe a lot of gratitude to Ferrari for continually pushing the boundaries of racing performance both on and off the track. The F40 is just another notch in the belt for them.
A great way to show your respect to Ferrari is by taking care of the F40 if you are lucky enough to own one. This is a special car and it will always hold a place in the hearts of enthusiasts worldwide.
Because of the legendary status of the F40, chances are market demand will continue to increase. At some point, many of the cleanest and most original F40 models will end up in a showroom or a museum. That means there will be even less F40 examples available for drivers who want to put some miles on such an epic supercar.
When a car becomes iconic, it reaches immortality. To quote the Babe in Sandlot, "Remember kid, there are heroes and legends. Heroes get remembered, but legends never die. Follow your heart, kid, and you'll never go wrong."
Such is the case with the Ferrari F40. If this is your dream car, nothing will ever give you satisfaction until you are sitting behind the wheel of an F40. The other option would be to keep staring at that old poster from your room as a kid. Which option sounds more fun to you?
Don't let life pass you by without driving an F40. You will never forget or regret it.
Disclosure: Clicking on these links and making a purchase may earn us a small referral fee, at no extra cost to you. Learn more here.