The most memorable quote about boots that I've ever heard comes to us courtesy of Terry Pratchett's Discworld novels. In them, Captain Sam Vimes has this to say about a good pair of boots:
"The reason that the rich were so rich, Vimes reasoned, was because they managed to spend less money. Take boots, for example. He earned thirty-eight dollars a month plus allowances. A really good pair of leather boots cost fifty dollars. But an affordable pair of boots, which were sort of OK for a season or two and then leaked like hell when the cardboard gave out, cost about ten dollars. Those were the kind of boots Vimes always bought, and wore until the soles were so thin that he could tell where he was in Ankh-Morpork on a foggy night by the feel of the cobbles."
"But the thing was that good boots lasted for years and years. A man who could afford fifty dollars had a pair of boots that'd still be keeping his feet dry in ten years' time, while a poor man who could only afford cheap boots would have spent a hundred dollars on boots in the same time and would still have wet feet. This was the Captain Samuel Vimes 'Boots' theory of socioeconomic unfairness."
And this review is, without a doubt, about a pair of boots made to last. We partnered up again with GoRuck to test the latest addition to their footwear lineup—the Jedburgh Rucking Boots—in exchange for a fair review, so let's get right into it.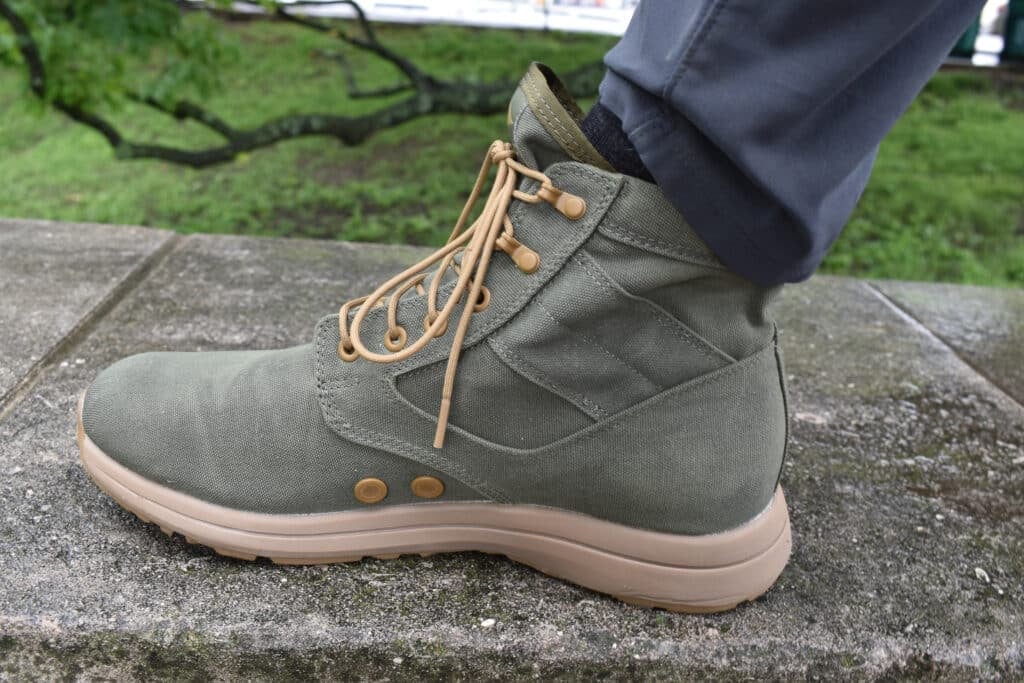 About the Boots
GoRuck's Jedburgh Rucking Boots live in a space firmly in the middle of historical precedent and modern technology.
They get their name from Operation Jedburgh, a covert special ops mission carried out during World War II. In it, 300 elite operators were dropped into Nazi occupied territories under cover of night—and then went on to wage guerrilla warfare and support local resistance movements, all to turn the tide of the war. If captured, these Jedburghs faced certain death.
"They're carefully designed to maximize durability and versatility—just like their namesake soldiers."
In this mission, deception was a must. And that's where the Jedburgh Rucking Boots' new technologies come in. Though they may look like a standard canvas tactical boot, they're carefully designed to maximize durability and versatility—just like their namesake soldiers.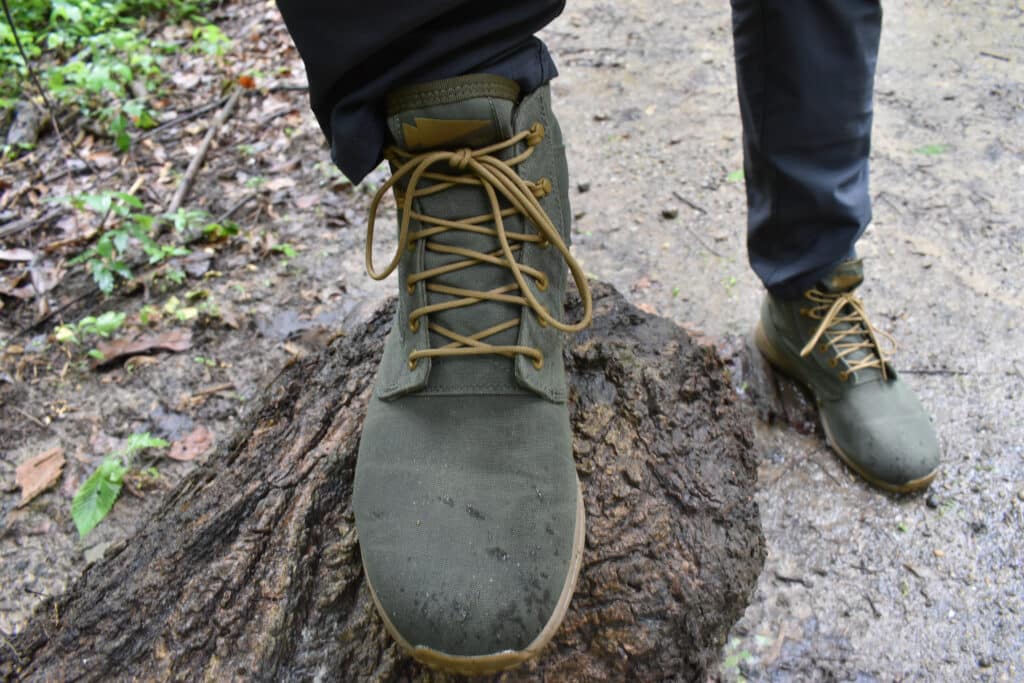 How We Used Them
In the past six months, rucking has formed the basis of my entire fitness routine. That gives me ample opportunity to test out the gear that makes it easier to haul a 50 pound pack for miles and miles.
For these Jedburghs, I took them straight out of the box and into an eight mile ruck. Following that I've been wearing them nonstop for a few weeks, from my morning rucks to afternoon hikes and bouldering to a couple of evenings working in a bar.
Overall that means I've been able to put a lot of miles on the Jedburghs, in a variety of weather, incline, and grip situations—and I feel confident in my estimations of their capabilities.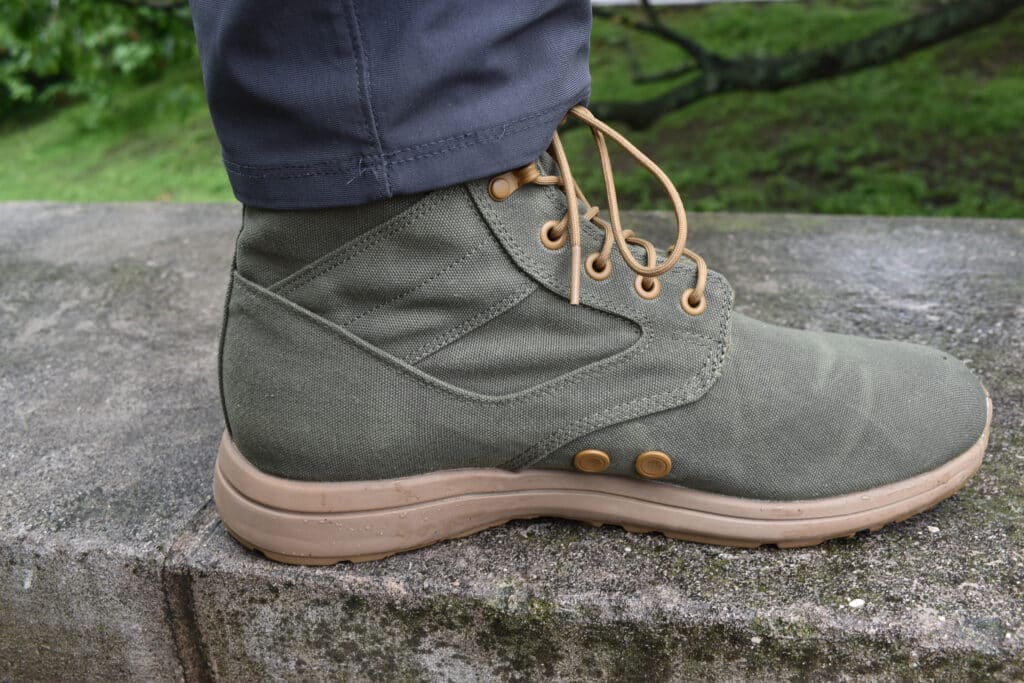 Materials and Durability
Every portion of the Jedburgh Rucking Boots—uppers, insoles, midsoles, and outsoles—has been engineered to a specific purpose, so it's worth talking about each of them.
The uppers are made of a (unique to GoRuck) Deception Canvas. Though it looks nearly identical to the classic canvas used in tactical boots for decades, it's actually a recycled polyester that's been tightly woven to create that look. That synthetic material combined with a tight weave gives the uppers incredible durability and a quick-drying property to boot.
Proceeding to the insoles, you'll find the same custom compression inserts used in GoRuck's ever popular MACV-1 boots. They use a dense foam compression that's molded to provide contoured arch support, making each stride easier on your knees, hips, and back.
Midsoles are made of a lightweight EVA—perfect for keeping the overall weight of the boot down and making it easier to wear over long distances.
I found the outsoles particularly impressive. They use a dual density rubber compound, meaning that the forefoot has exceptional grip while the heel is double reinforced for longevity. I'm really hard on my shoes, and after a few weeks of constant use my Jedburghs still haven't even begun to show signs of wear.
Overall, these combine together to make the Jedburgh Rucking Boots incredibly durable. Though the real test of any boot is in its longevity over years, I can say from what I've already observed that I expect these boots to last for a very, very long time.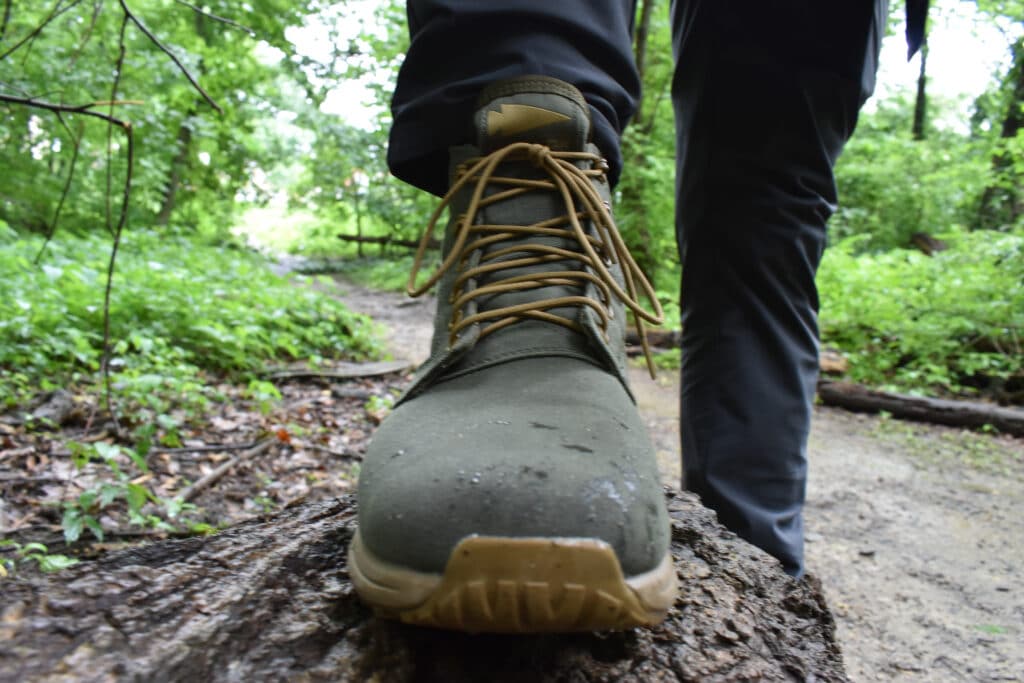 Design, Fit, and Feel
At first, I was skeptical of the claim that the Jedburghs would be "ready when you are, right out of the box." After all, how many times have you been able to wear a pair of boots without breaking them in?
"By combining a wide toe box, lightweight design, and custom molded insoles, the Jedburghs are about as comfortable and supportive a boot as you can get."
So I put it to the test, taking them straight out of the box for my morning ruck and then keeping them on for the rest of the day. At first I was expecting them to show pressure points and just generally make my feet sore—but by about 4 p.m. I was still cool and comfortable.
Even after waking up the next morning, my feet, knees, and ankles were ready to go. That's a big testament to how well designed these boots are, in my opinion. By combining a wide toe box, lightweight design, and custom molded insoles, the Jedburghs are about as comfortable and supportive a boot as you can get.
And somewhat unusually for a tactical boot, you can get the Jedburghs in a half dozen interesting color combinations. So style-wise, they're actually a fine choice for urban exploring too.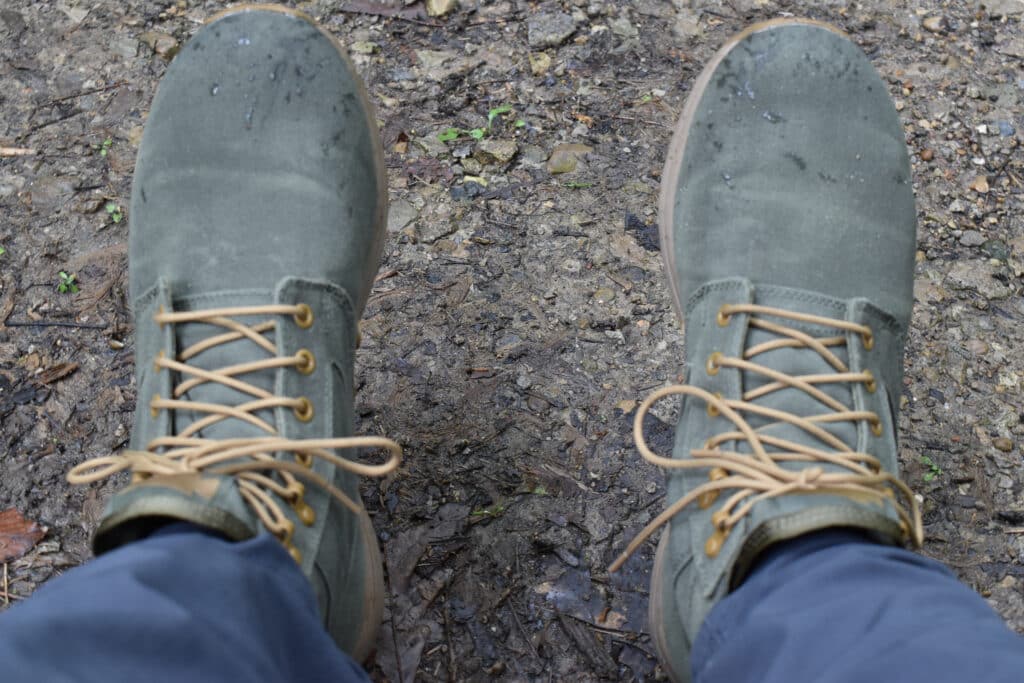 Final Verdict
After having tested a handful of GoRuck's gear this year, my expectations were already high for the Jedburgh Rucking Boots. And just as with each other piece of GoRuck gear, these boots exceeded my expectations.
Overall, these boots are remarkably durable for how lightweight and versatile they are. If you're looking for a pair of boots that can take you from 10 mile hikes to urban exploring to long camping trips and beyond, the Jedburghs will definitely do the trick. To me, they're a worthwhile investment that will return years of comfort and support no matter what activities you put them to use for.
Price: $175
Disclosure: Clicking on these links and making a purchase may earn us a small referral fee, at no extra cost to you. Learn more here.
freestar.config.enabled_slots.push({ placementName: "gearmoose_leaderboard_btf", slotId: "gearmoose_leaderboard_btf" });