The future of sport utility electric vehicles, or SUEVs, is charging full speed ahead. It is easy to visualize the Hyundai Seven Concept on the road, but take a peek inside and you may start seeing yourself dreaming of owning this SUEV.
Hyundai introduced their subsidiary marque known as IONIQ in 2020. This marque represents the growing family of battery electric vehicles, or BEVs, under the Hyundai umbrella. The Seven Concept is Hyundai's latest vision for the future of mobility.
With its sculpted aerodynamic exterior design, the seamless integration of Parametric Pixel lighting provides an extra touch of elegance for the Seven Concept. You will definitely feel like royalty when entering or exiting through the Pillarless Coach Doors.
Although it may seem more like a lounge than a traditional SUV interior, the Seven Concept provides spacious comfort for all passengers. It's time to kick back and enjoy the luxurious benefits of autonomous driving. Maybe even enjoy some quality family entertainment time while traveling to your next destination together.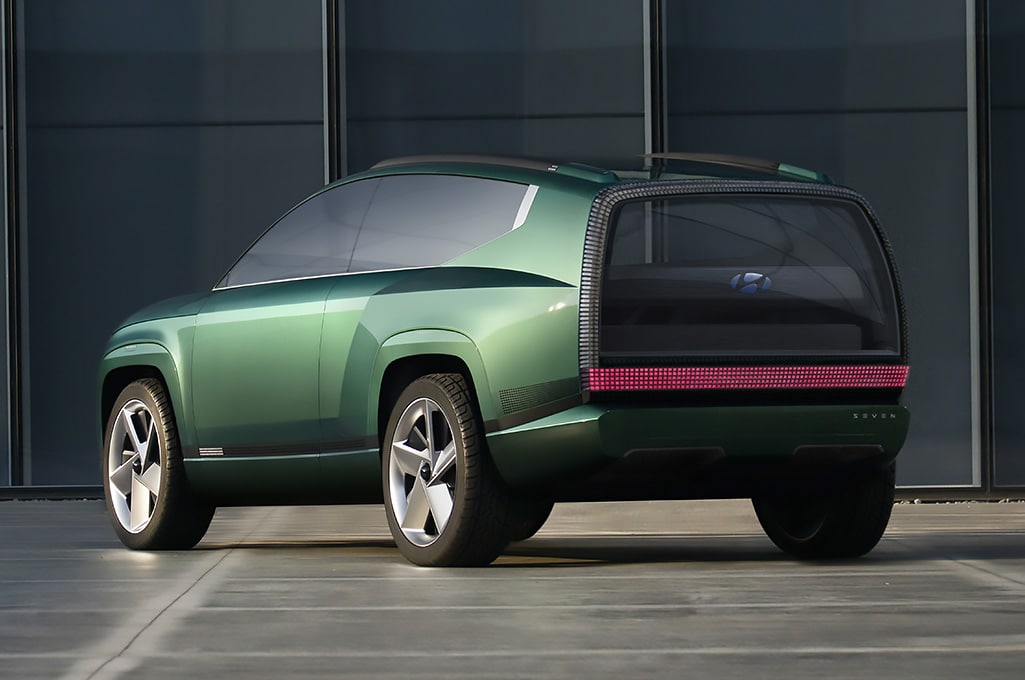 You will not find traditional row-based seating inside the Hyundai Seven. Instead, you will notice swiveling chairs in front with a wrap-around curved bench seat in the rear. The position of the front seats change if you are taking control of the vehicle as the driver or using the Seven in autonomous mode.
While you are relaxing in your mobile lounge, grab a chilled beverage from the in-vehicle mini-fridge or use the shoe-care compartment to refresh your kicks. Relax and look at the roof to enjoy the view of a full panoramic screen with a wide selection of content available.
Hyundai brings a very human-centric approach to the table when designing vehicles for tomorrow. The Seven even features many eco-friendly materials throughout its architecture. There is also a Hygiene Airflow System and complete UVC Sterilization inside this EV.
Sustainable and hygienic, this living space on wheels reduces cross-contamination between passengers. Hyundai used inspiration from passenger aircraft airflow systems when designing how to isolate the airflow between front and rear passengers.
Another way Hyundai strives for cleanliness is by using materials such as copper and hygienically-treated fabric throughout the interior. This means surfaces inside the Seven Concept remain clean at all times. Especially when the UV lights of the UVC Sterilization activate after each trip to eliminate bacteria.
If it ever sees production, the Hyundai Seven Concept will feature a range of over 300 miles between charges. Thanks to a fast-charging system, the Seven should be able to go from a 10 percent charge all the way up to 80 percent in only 20 minutes.
In many ways, autonomous vehicles are striving to be your next home away from home in an effort to make life more convenient when you have somewhere to be. Welcome to the future of mobility.
Disclosure: Clicking on these links and making a purchase may earn us a small referral fee, at no extra cost to you. Learn more here.