Pop your favorite bottle of bubbly and get ready to celebrate the 25th anniversary of Manthey-Racing GmbH with one of the most exceptional Clubsport models ever built. The all-new Porsche 911 GT2 RS Clubsport 25 is a collaboration between the famous German motorsports powerhouse and Manthey Racing.
Just like their successful partnership throughout the years, the Porsche-Manthey 911 RS Clubsport 25 is a winner. It combines handsome styling with the kind of aerodynamic flair you expect from a track-ready race car. More importantly, it can absolutely shred asphalt with tires so sticky you'd think they consist of superglue.
Powering the GT2 RS Clubsport 25 is a twin-turbo 3.8L flat-six cylinder engine producing at least 690 horsepower. Sometimes the public numbers are a little conservative on high-end sports cars while other times they are spot on. In vintage Porsche fashion, the engine is in the back of the car giving this GT2 RS 25 authentic Porsche handling and driving characteristics.
Combine the rear-engine mount design with rear-wheel-drive and you have the mischievous recipe for some serious fun at the race track. In the words of Porsche, the Clubsport 25 is "the perfect circuit racing car for ambitious private drivers, and it's an impressive example of engineering skill."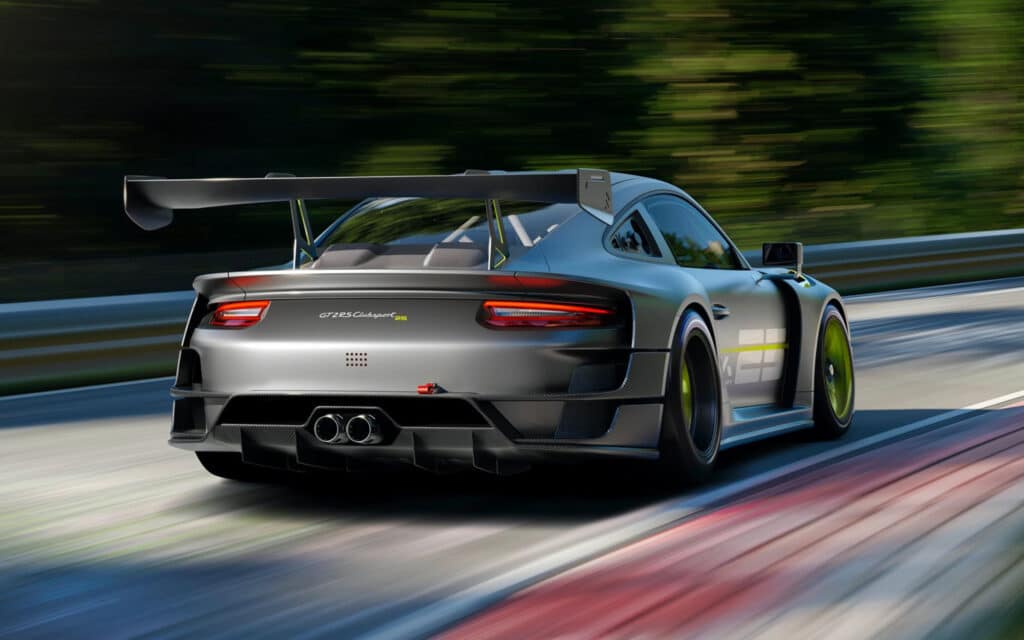 Here is another little secret, forced induction engines like this thrive on the cool autumn air, it is akin to enjoying a cup of cold water on a scorching day. Once you warm those tires up with a couple of laps, you are going to re-discover your passion for driving in a Porsche like this.
A seven-speed dual-clutch gearbox sends power to the rear wheels. Although some driving purists are not ready to accept it yet, this is the way in a lot of modern racing.
The paddle shifters located behind the steering wheel combined with a heads-up-display really keep your focus and attention on the track ahead. Modern race cars are very fast, sometimes moving much faster than you feel like you are going at the moment.
Brand enthusiasts will recognize this specific GT2 RS Clubsport 25 as the missing link between the "991" and "992" variations of Porsche's flagship 911 model. To get a taste you will need to pay the price of limited production exclusivity. Porsche will only be making 30 total Clubsport 25 race cars available to the public.
As you probably imagined, Clubsport models have a reputation for selling out immediately. Porsche tunes everything from the suspension to the aesthetics to be ideal for track settings and racing. For anyone who is not a professional racer, this is the closest most enthusiasts will ever get to experiencing an authentic Porsche race car.
Some people enjoy golfing on weekends, others spend them at the track. With a car like the Porsche 911 GT2 RS Clubsport 25, you'll have time to do both. If that doesn't make life easier, what will?
Disclosure: Clicking on these links and making a purchase may earn us a small referral fee, at no extra cost to you. Learn more here.