For any guy looking to streamline their everyday carry, it's out with the old—bulky bifold wallets—and in with the new generation of minimalist wallets and card carriers.
There's no shortage of options for slim wallets and card carriers out there now, but The Ridge and Ekster are two of the longest-running and most respected names in the biz. Their innovative designs have sparked dozens of similar wallets.
So for this review, we're going straight to the source and testing The Ridge and Ekster wallets in a head-to-head comparison. When you're ready to upgrade and streamline how you carry your cards and cash, the following sections will guide you through choosing the right wallet for your needs.
About the Brands
Before we jump into the specifics of the products, let's learn a little bit about each brand.
The Ridge
The innovative metal wallet design pioneered by The Ridge came about as the result of a hugely successful Kickstarter campaign in 2013. Since then, they've sold wallets to something like two million folks around the world, further cementing their place as a major gear brand to watch.
Today, The Ridge is branching out into other hard wearing everyday carry gear with their signature streamlined style and durability. That includes key organizers, a backpack, phone cases, pens, and more.
Ekster
Seeking to redefine the experience of carrying a wallet, Ekster was founded in 2015—also through a successful crowdfunding campaign. By focusing on ease of use and accessibility in their flip-out wallets and card carriers, they've earned a half million or so fans around the world.
In addition to their original wallet, Ekster is also branching out into other everyday carry gear like laptop sleeves, phone cases, and a clever anti-theft tracking card that can be integrated into their wallets. They're also doing great work with sustainable materials and production processes, making them a favorite of eco-conscious guys and gals.
The Wallets We Used for This Review
Because both brands now offer a few different wallets to choose from, we went back to their originals to see how the two compare. That includes: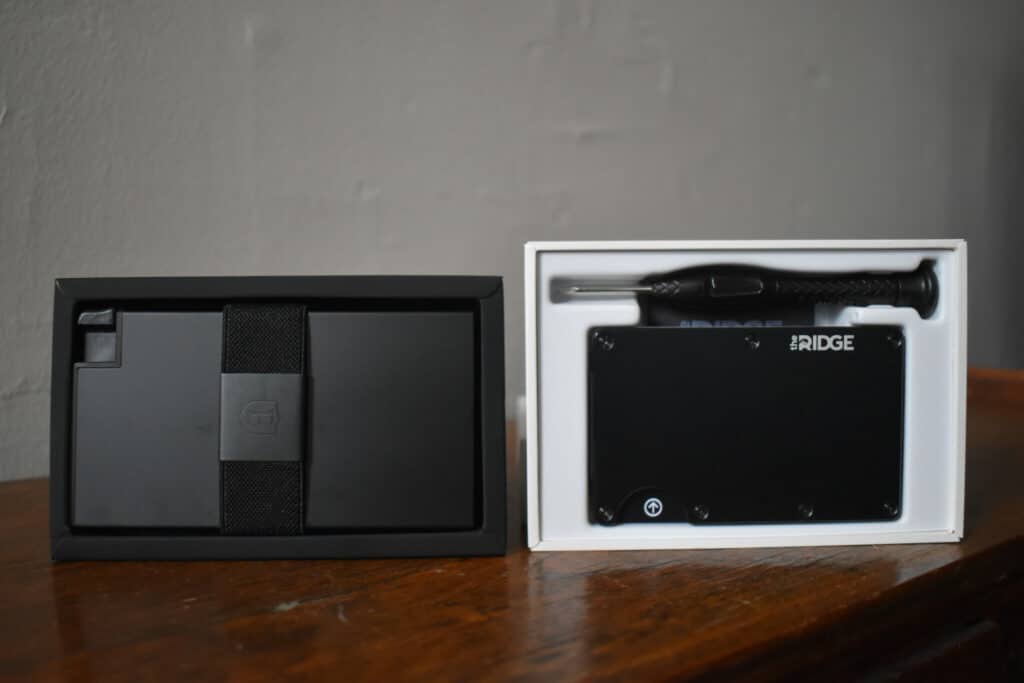 Both brands also offer a wide variety of color choices for these wallets—more on that in a moment.
Specs
Ridge Wallet
Material: Aluminum
Weight: 2 Ounces
Size: 0.24 x 3.39 x 2.1 inches
Capacity: 1-12 cards
Price: $95
Ekster Wallet
Material: Aluminum
Weight: 3.94 Ounces
Size: 0.29 x 4.1 x 2.3 inches
Capacity: 1-15 Cards
Price: $79
Ease of use
The Ridge and Ekster wallets take two very different approaches to accessing your cards, and nearly identical ways of carrying your cash (with one big exception).
When it comes to ease of use, my preference leans towards the Ekster wallet. For one, the ability to idly play with your wallet by flicking your cards out is pretty cool—like clicking a pen, but not nearly as annoying to the people around you. But in a more practical sense, the flip-out style of card access is much easier to use quickly.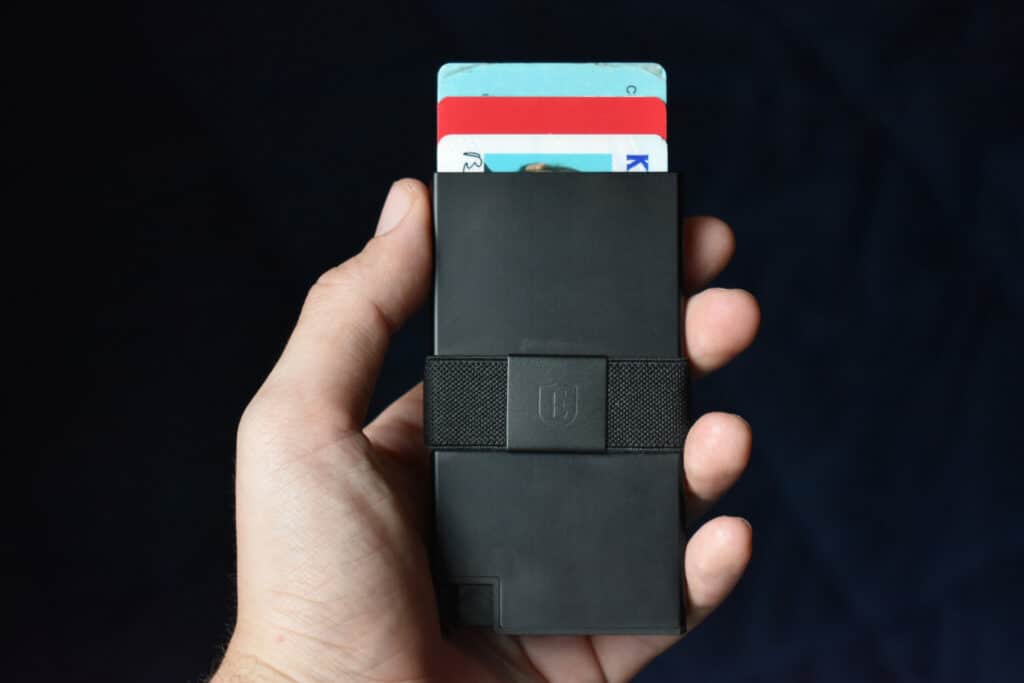 In contrast, The Ridge's wallet can make it tough to access a specific card. This is especially true if you're nearing the maximum card carrying capacity of about 12 cards, as the elastic band will really start to squeeze them together.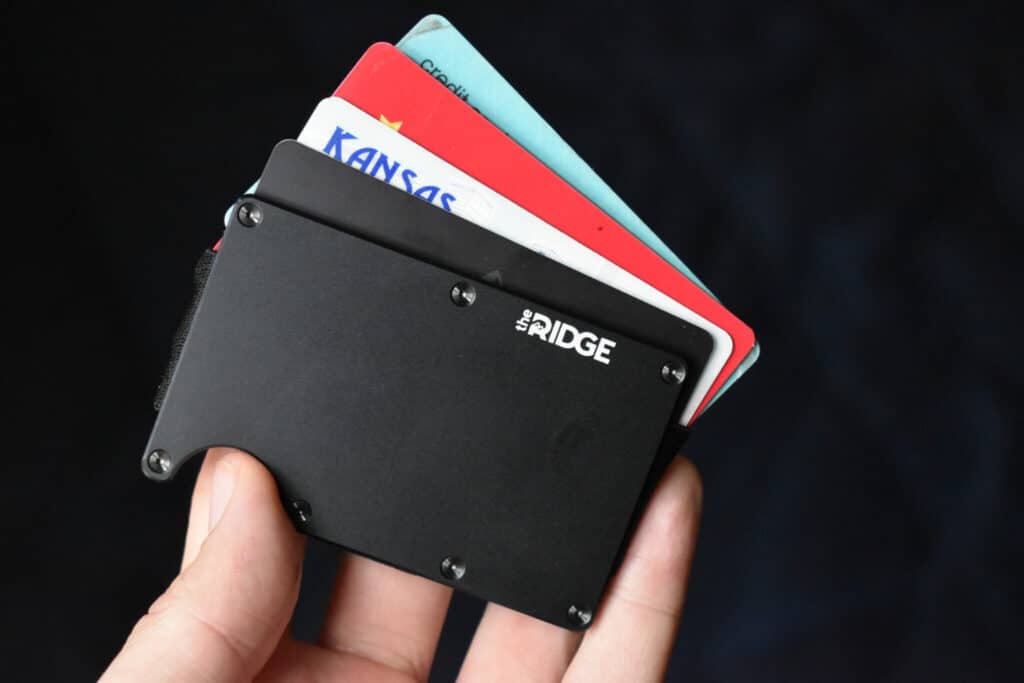 For carrying cash, Ekster's wallet uses an elastic band and The Ridge offers either an elastic band or a money clip. This one comes down to pure personal preference, so if you're a dedicated money clip kinda guy The Ridge is better; otherwise it's a toss up.
Security
Of course, a wallet is only as good as its ability to keep your cards and cash organized and safe.
Both wallets offer RFID blocking built into their designs. That means your radio-transmitting cards and ID badges won't be at risk of skimming (but let's be honest, that's probably not very important for most people).
After that, it comes down to how securely the wallets hold onto your cards and cash. Cash carrying capacity is a tie, as both wallets have secure banded options (or a money clip for The Ridge).
Card carrying security is the major tradeoff between the two wallets:
The Ekster offers quick and easy access to your cards, but depending on the exact cards you're carrying they can get loose and slip out. PSA: Don't try carrying it in your back pocket, as this puts you at risk of having a card spill out.
The Ridge wallet may make it harder to access your cards (compared to the Ekster), but this also means that it holds onto your cards more securely while the wallet is in your pocket.
So for safety and security in carrying your cards, The Ridge is my clear winner.
But it's equally worth noting that Ekster has an optional tracker card that can be used to hunt down your wallet in the event of theft. It's pricey, but not as expensive as replacing your wallet—and it's likely to save you a lot of frustration in replacing IDs and cards, too.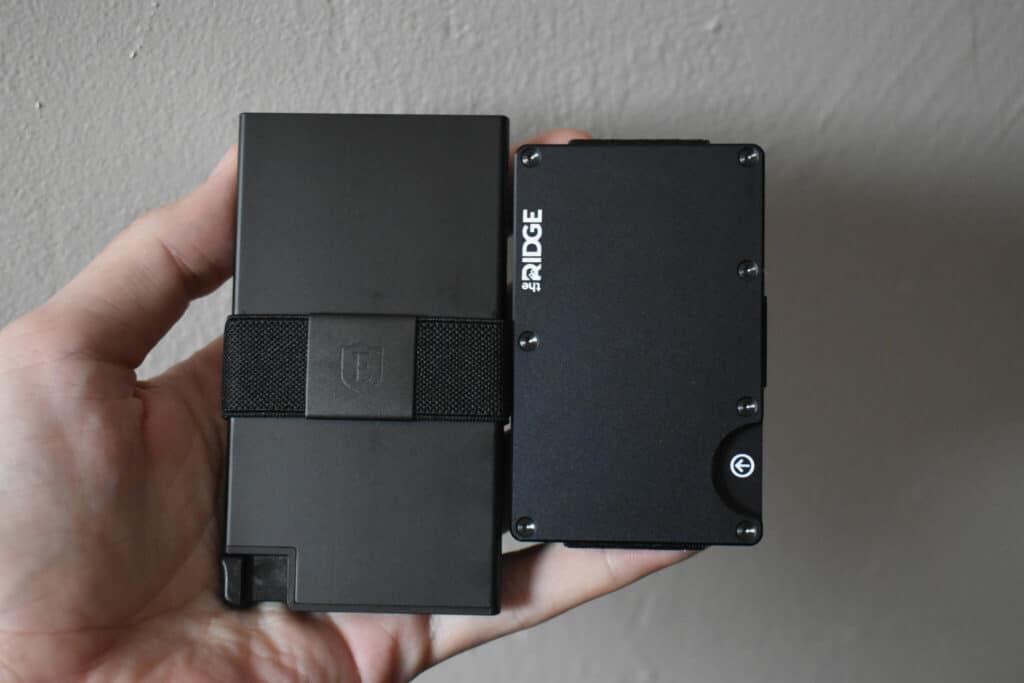 Durability
Both the Ekster and Ridge wallets offer an odd proposition when it comes to durability: Their cases are super tough, but their cash carrying options will eventually wear out.
There's no way around eventually having to replace the elastic bands. The Ridge offers replacement elastics, but Ekster does not appear to at this time.
Baseline models for both brands are made with aluminum cases that can stand up to some serious wear and tear. Short of smashing them with a hammer, these cases will probably last for the rest of your life.
But if you want something even more durable, lightweight, or cool looking, The Ridge offers their wallet in a wider range of materials. Carbon fiber is the strongest and lightest weight.
I'd also like to address one concern here regarding the Ekster wallet: Its card deployment mechanism is made with plastic parts.
Does this immediately disqualify it from being durable? No. But I'm going to keep a close eye on it over time, and report back here if it fails for any reason. As it stands now, the mechanism seems to be cleanly designed for repeated use.
Style
Beauty may be in the eye of the beholder and sure, there's no accounting for taste—but if you're spending around 100 bucks on a new wallet, ideally you want it to put a smile on your face each time you pick it up.
Both wallets have a slim design and dimensions that make them front pocket friendly; not much difference here, really, so it's a toss up.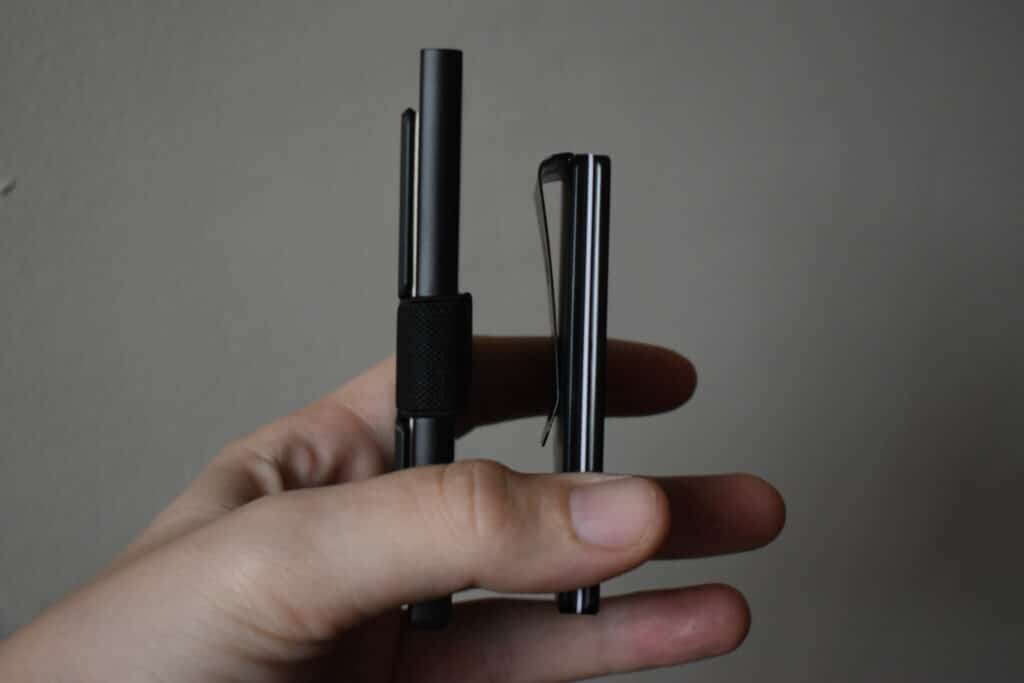 The Ridge has a wider array of colors and materials available, but they're all based on the same wallet design. In contrast, Ekster offers a wider range of wallet styles, but their colors and materials are more subdued.
Overall, I'd say that The Ridge wallet has a more tactical feel to it, while the Ekster wallet has a more professional feel.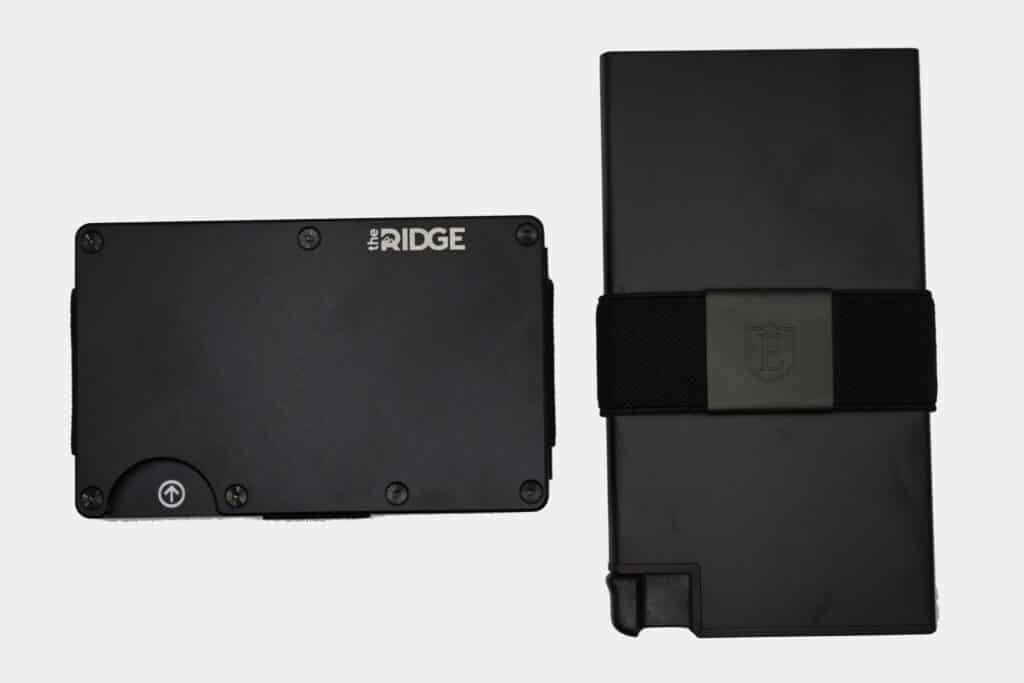 Final verdict
Taking everything into account, which wallet comes out on top? They're honestly neck and neck here, with neither wallet being a clear winner over the other.
The Ridge has a wide range of colors and styles, and offers great security for your cards—at the cost of making your cards harder to access quickly and smoothly.
The Ekster wallet has lightning fast card access and is really darn fun to use—but you'll have to keep it upright or risk your cards spilling out on the ground.
With all that in mind, I would recommend The Ridge wallet to my outdoorsy buddies and the Ekster wallet to my 9-to-5 professional friends.
Disclosure: Clicking on these links and making a purchase may earn us a small referral fee, at no extra cost to you. Learn more here.
freestar.config.enabled_slots.push({ placementName: "gearmoose_leaderboard_btf", slotId: "gearmoose_leaderboard_btf" });