What do you get when you combine the craftsmanship of some of the world's best, rarest whiskey with the hard-wearing style of some of the best boots on the planet? A partnership worth admiring (and wearing) this fall, and not a moment too soon for what we think is the best season in menswear.
That's right: Wolverine and lauded distillery Old Rip Van Winkle (yes, the Old Rip Van Winkle) have teamed up on something simply incredible for your fall wardrobe: The limited-edition Wolverine 1000 Mile Old Rip Van Winkle Boots look to be your new favorite boots (possibly ever), what with the sort of lauded heritage and history that only Wolverine and Old Rip Van Winkle can bring to the table.
If that all sounds too good to be true, believe us, we were just as excited and surprised to learn of this partnership as you might be, and if pre-orders are any indication, these rugged leather boots might soon be as rare as some of the finest Old Rip Van Winkle whiskey out there. Consider these boots for the true whiskey enthusiast, with enough serious style points to satisfy even the most hardcore boot collectors out there.
The specs are certainly as cool as you might expect, with boot heels made using parts from Old Rip Van Winkle American oak barrels (it's that kind of commitment that makes these boots so special). Naturally, premium whiskey-colored Horween Cavalier Squash leather sets these boots apart even further, giving them a distinctive and timeless look that'll definitely age nicely over time, akin to, of course, Old Rip Van Winkle whiskey. These are boots made to be worn in, but they've also got all the bells and whistles of a fine collector's item, from the hand-numbered textile tag to packaging inspired by Old Rip Van Winkle whiskey.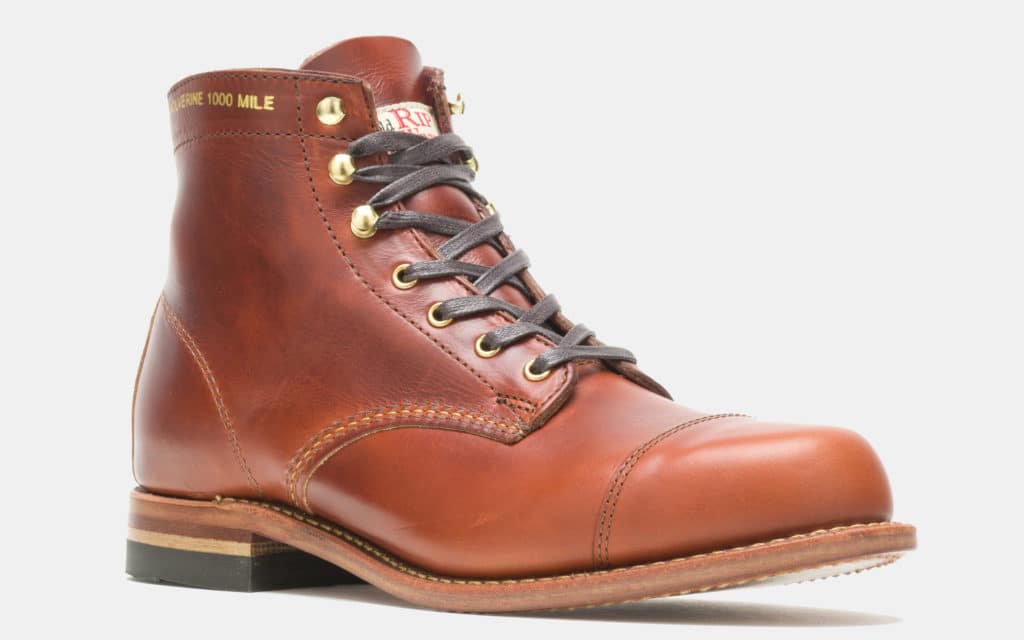 The benefits seriously don't stop there, though. We're impressed by the fact that 100% of revenue from these rugged and classic leather boots is going to the mikeroweWORKS scholarship foundation, furthering Wolverine's commitment to supporting American workers.
"The collaboration with Old Rip Van Winkle distillery has been an exciting project of ours that is finally coming to life. United by our shared passion and the history of American craftmanship, we created a product to celebrate the legacy and spirit of the American worker, and also give back to future generations through mikeroweWORKS," said Wolverine Brand Marketing Director Lauren Poole. "This is two brands with deep roots coming together to showcase their love for American craftmanship, bourbon and boots."
It's a partnership we admire and respect all the way around, and again, it looks certain that these boots are liable to be every bit as coveted and jaw-dropping as some stellar (and notoriously hard-to-find) Old Rip Van Winkle whiskey. Neither brand needs any introduction, so to see them team up on perhaps the best pair of boots for fall has certainly caught our attention (and it's got us thinking about restocking our bar cart. too). If you feel the same way, head to Wolverine to get your hand on some of the coolest (and soon-to-be rarest) boots on the market.
Disclosure: Clicking on these links and making a purchase may earn us a small referral fee, at no extra cost to you. Learn more here.