15 Awesome Bottle Openers
Its no secret that we love bottle openers, almost as much as we love the bottles of beer that they so cleverly gain us entry into. We plan to continue bringing you the very best bottle-opening gear for all of your shopping needs, but before we do, here's a look back at our fifteen favorite bottle openers from the past year—in case you missed 'em.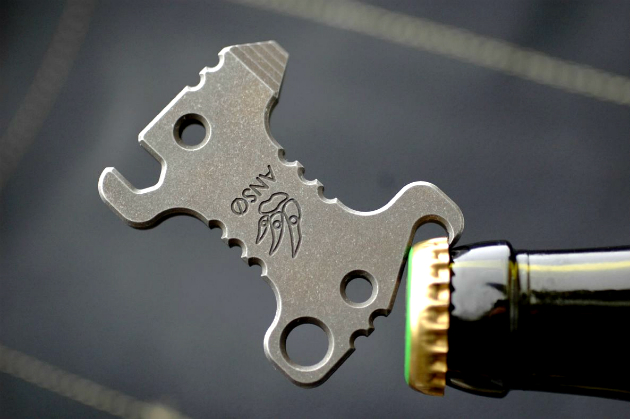 BarBar Multitool
First on the list, and quite possibly the coolest bottle opener to date is the BarBar Multitool. We have yet to discover one tougher or manlier than this one. Constructed from solid titanium, it not only provides you with bottle-opening capabilities, but is also a prybar and a 1/4″ bit wrench. Available in bronze, green, blue, and natural. CHECK IT OUT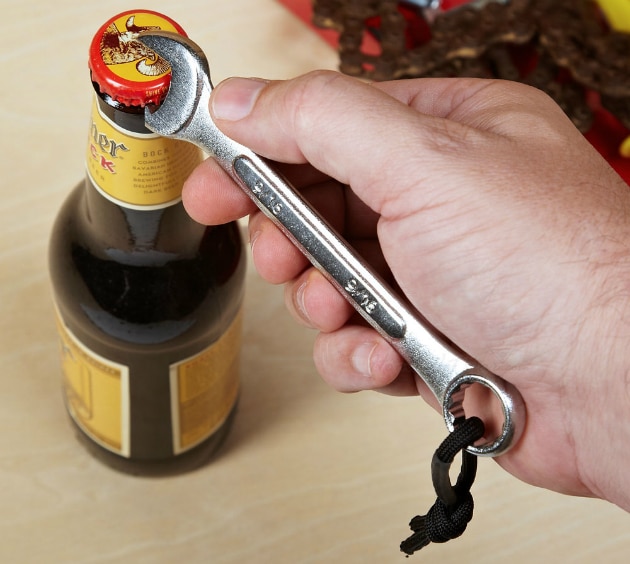 Bottle Wrench Bottle Opener
The Bottle Wrench is a durable and cleverly designed bottle opener made from an actual wrench, not some cheap imitation. Perhaps the coolest bottle opener ever invented, it is built to withstand the rigors of opening cold, crisp, refreshing bottles of goodness for years to come, while also blending in well with your garage decor. CHECK IT OUT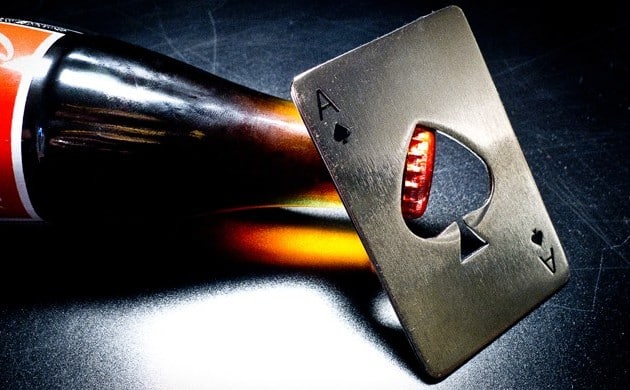 Ace Bottle Opener
Roughly the same size as a credit card, the Ace Bottle Opener is designed to fit in your wallet, right next to your other important cards. It is crafted from stainless steel and able to withstand the rigors of opening your favorite lagers for years to come. CHECK IT OUT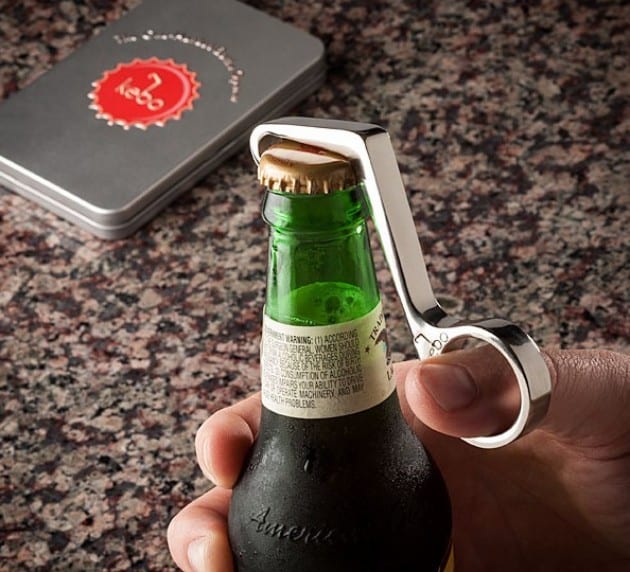 Kebo One Handed Bottle Opener
The Kebo One-Handed Bottle Opener offers a new challenge to popping tops on your favorite beverage, which is opening bottles one-handed. It is made of stainless steel and features a magnet that holds the bottle cap once it is removed, thus removing any safety hazards from the equation. Keeping your beer bottle opening capabilities in one hand leaves your other hand free to tackle more important things, like opening another bottle. CHECK IT OUT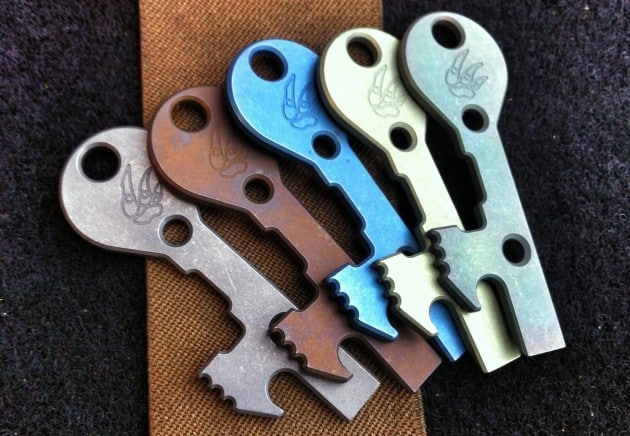 Bar-Key
The Bar-Key by AnsoKnives, milled from solid .125″ titanium, features a built-in bottle opener for popping open those fine craft beers, and a prybar for those dare to be great moments when you're in a bind, like escaping from the bathroom stall you locked yourself in at your favorite watering hole. Available in natural, bronze, blue, green, and a cool dark green/gray color. CHECK IT OUT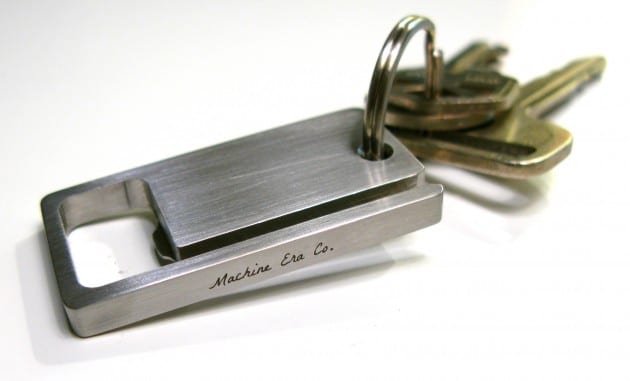 The Key Square
The Key Square is a simple yet stylish way to carry two things a guy must have at all times: His keys and a bottle opener. It is designed with a built-in slot for easily attaching and detaching from your belt loop for quick access to your keys or for any bottle-opening emergency that should arise. The KeySquare is cut and machined from a solid block of stainless steel with each piece hand finished to ensure that it will never rust or corrode. CHECK IT OUT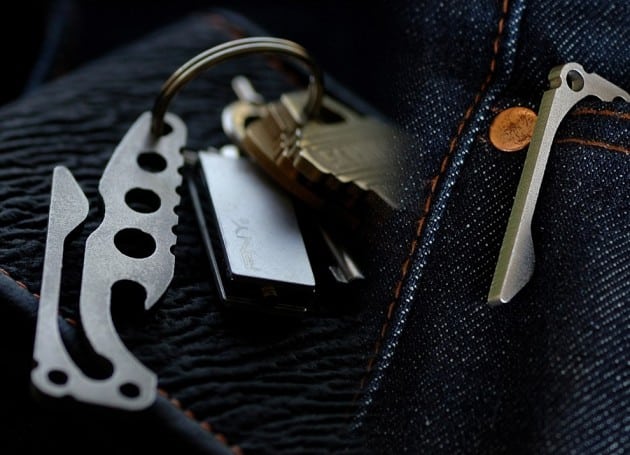 The Pickpocket
Designed to open cold beer bottles on the fly, The Pickpocket features a strong, titanium construction and boasts a small yet fully functional stature meant to fit nicely in your already-crowded pocket space. On the opposite side of the Pickpocket's bottle opener is a built-in pocket clip for attaching it to your belt or pocket, allowing for quicker access to your bottle-opener. CHECK IT OUT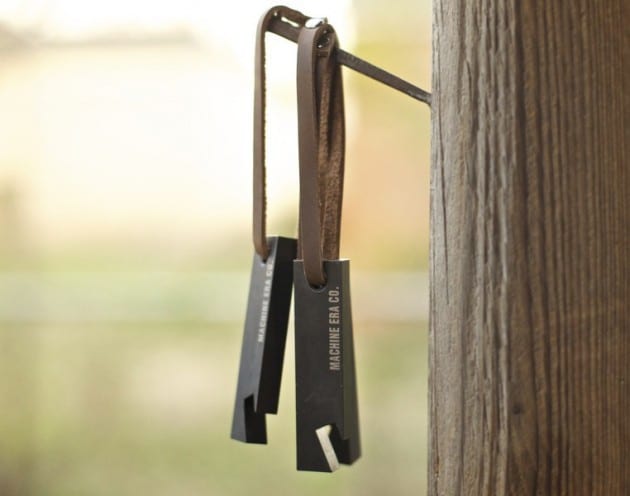 The Hidebound Bottle Opener
The Hidebound Bottle Opener is machined from a solid bar of cold formed steel with a gun barrel black finish, and features an oil-tanned leather strap. The Hidebound bottle opener has a strong, heavy feel to it, is stylish, and is small enough to carry in your pocket for every day use. Perfect for any guy who takes his bottle-opening gear seriously. CHECK IT OUT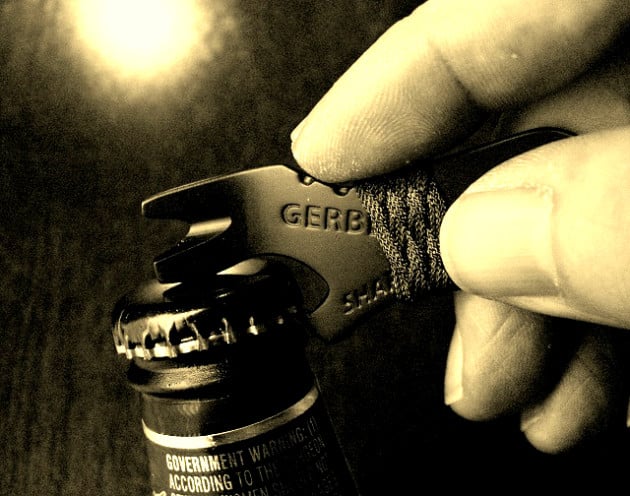 Gerber Shard Keychain Tool
The Gerber Shard Keychain Tool is neither big nor flashy, yet provides you with everything you may need in a pinch: two flathead screwdrivers, a cross driver, pry bar, wire strippers, and the always-necessary bottle opener. Its boasts a unique yet humble design, crafted from stainless steel coated in titanium and will quietly get the job done. CHECK IT OUT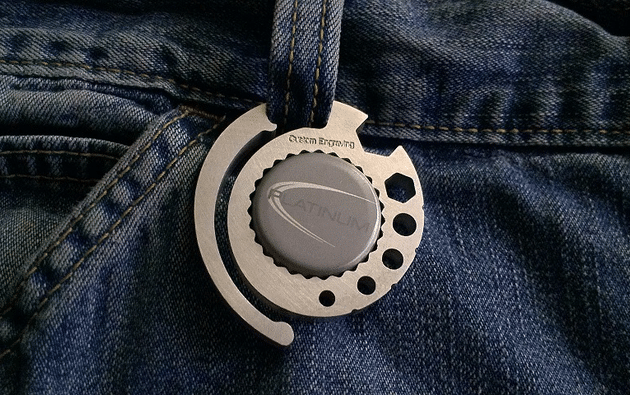 Bottle Grenade
The Bottle Grenade is not only a bottle opener, but also features 1/4″ and 7/16″ hex bit holders for making minor mechanical repairs on the go, 4 built-in holes for hanging key rings or other devices, a belt loop keychain built into the design, and an ingenious bottle twist opener, for those 99 out of 100 non-craft beer bottles that have a twist-off cap. It is crafted from aluminum for a strong yet lightweight design, with plans for a titanium build in the future. CHECK IT OUT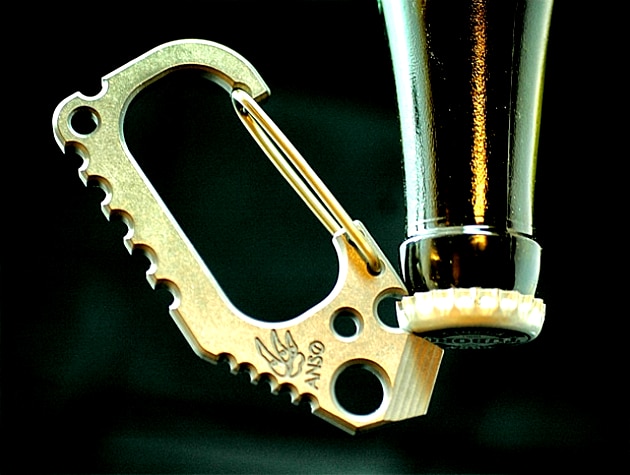 Ansoknives Carabiner V.3
Carabiners aren't just for climbing rocks or carrying your wad of keys anymore. Thanks to Ansoknives, they just became a little more functional. Their new Carabiner V.3, available in blue, green, bronze, grey stonewashed, and a grey/greenish color, will pop the top on your PBR without ever breaking a sweat. Yes, it doubles as a bottle opener, and is milled from a solid .200″ thick titanium that should last you a lifetime of bottle-opening fun. It also features a built in prybar/screwdriver, as if the bottle opener wasn't cool enough. CHECK IT OUT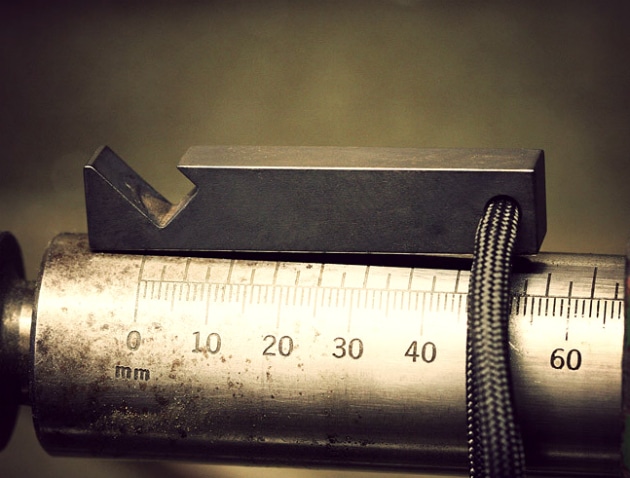 Respect Bottle Opener
The Respect Bottle Opener is machined right here in the USA from cold-rolled steel, with a black patina finish and a rust-resistant wax coating. It hangs from a paracord rope that makes it easy to attach to your bag, keys or belt loop. CHECK IT OUT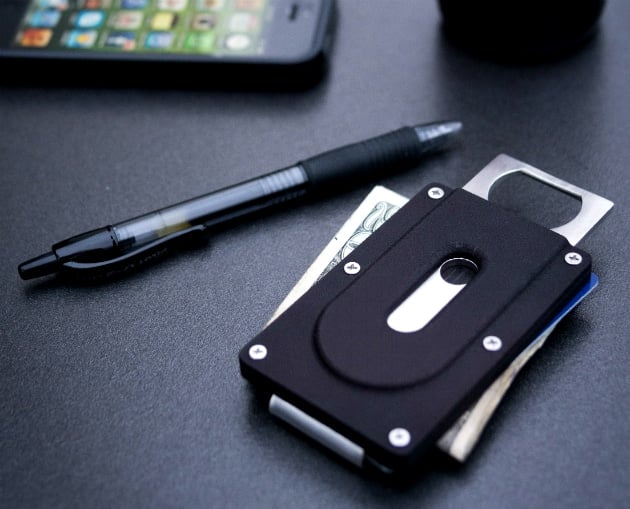 Brew Clip
The Brew Clip is part wallet, part bottle opener with a slim design can comfortably hold up to 5 credit cards and 30 bills, and is crafted from durable stainless steel with a 3D-printed sintered nylon backing. Its successful run on kickstarter is almost complete, but there's still time to get yours at a discounted price. CHECK IT OUT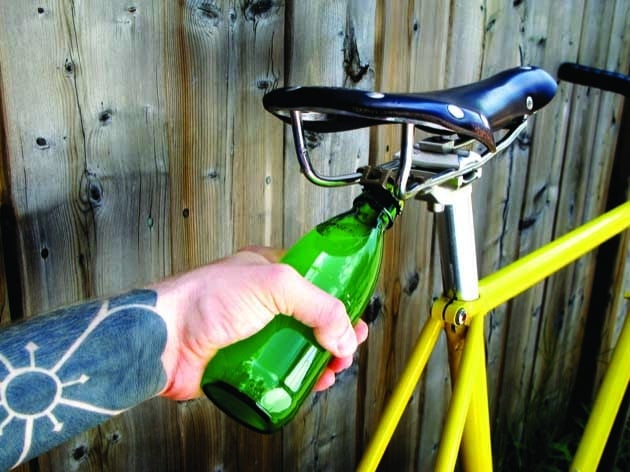 Road Popper
Whether you're commuting to work on your bike or just out for a laid back weekend peddle in the cool spring weather, the Road Popper gives you the always necessary bottle-opening capabilities on the go. It clips to the rails underneath your bicycle seat, and is crafted from bronze infused stainless steel—finished in your choice of matte gold, glossy gold, matte antique bronze, glossy antique bronze, or just a plain finish. CHECK IT OUT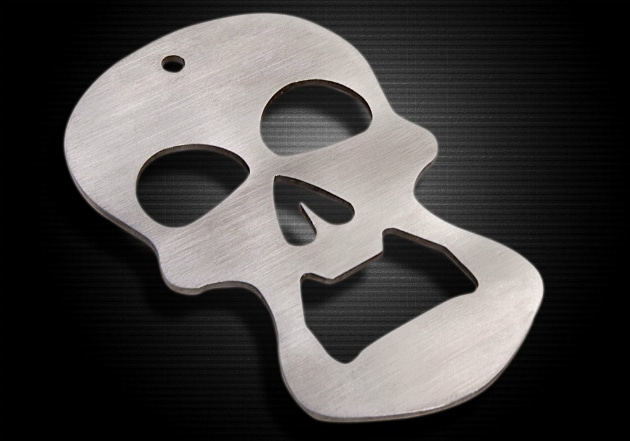 Crranky. Skull Bottle Opener
The Crranky. Skull Bottle Opener is crafted from 16-guage stainless steel, and as if that weren't tough enough, its human skull design says to the world that you don't take any crap from your beer bottles, or anything else standing in your way of that cold, refreshing goodness. CHECK IT OUT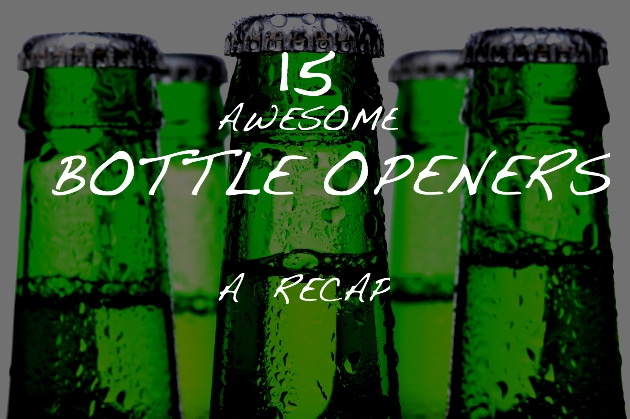 For more Gear Guides and other cool reading material, Subscribe to our email list and follow us on Facebook.
Disclosure: Clicking on these links and making a purchase may earn us a small referral fee, at no extra cost to you. Learn more here.
freestar.config.enabled_slots.push({ placementName: "gearmoose_leaderboard_btf", slotId: "gearmoose_leaderboard_btf" });