For the spring and summer season, there's no doubt that the modern man needs all the right gear. And when we say all the right gear, we mean it. Picture this: You've got your next big project in mind. You have the right tools, you've planned it all out … and yet, you don't have an apron. The best aprons for men can solve this situation handily. It might not seem like a big deal at first (any old apron will do, right?), but when you look at what the pros use — and the companies that make these aprons — you'll realize that the right apron is every bit as essential as what you're grilling and what you're sipping on.
Plus, a durable apron can be worn for summer projects aplenty. It can add an element of safety to go along with crucial functionality & the ability to keep your most-needed tools close at hand. Plus, men's aprons actually look cool and well-suited to pair with the rest of your summer gear (whether that's slim chino shorts and a retro camp-collar shirt for grilling, or tough work pants and a heavyweight tee). After all, if you want the best possible results this summer, you better use the best possible gear — apron included. You'll recognize plenty of brands making aprons for men, so start your journey toward summer grilling and home project perfection with at least one of these picks below.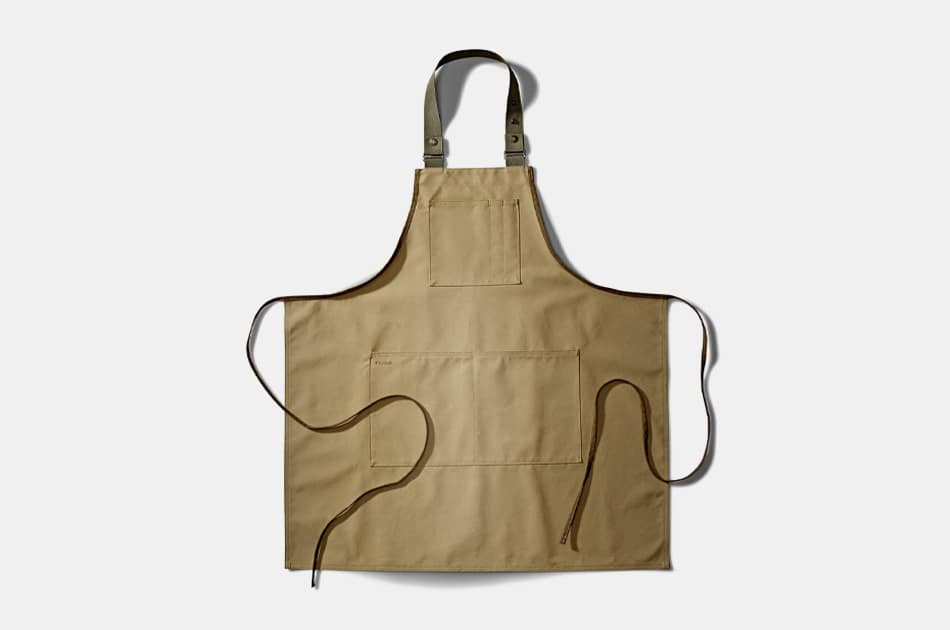 Filson Tin Cloth Apron
Filson's Tin Cloth fabric is the stuff of legend to begin with, so it's very fitting — and seriously cool — that they went ahead and made the Filson Tin Cloth Apron. This is an apron to break out on the daily, perhaps while wearing a Filson heavyweight tee. Five utility pockets give you plenty of space for your grilling and everyday carry essentials — seeing as this is one of the toughest aprons you can purchase, it's more than ready to be worn while working on home projects, too.
Puebco Vintage Trousers Apron
Possibly the coolest thing about diving into your search for a work apron? The things you'll find along the way, like the Puebco Vintage Trousers Apron (as sold by our friends at Huckberry). This tough apron repurposes cotton-nylon trousers in a seriously rugged apron that merges what Huckberry calls "Gordon Ramsey-meets Rambo" style. Sounds pretty sweet to us.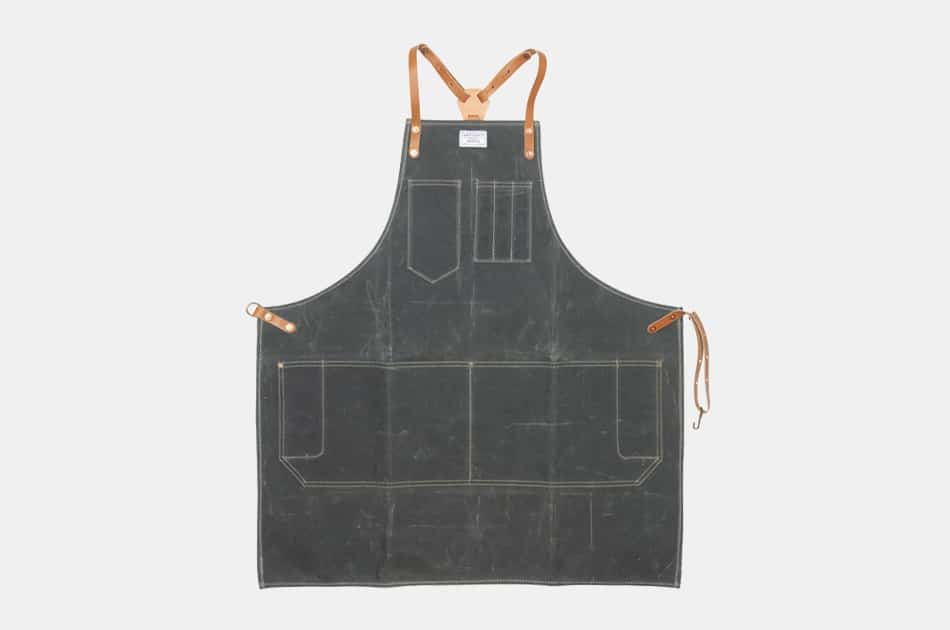 Artifact Wax Canvas Workshop Apron
The best men's aprons have got to stand up to the challenge of long-term use, no doubt about it, and that's what makes the Artifact Wax Canvas Workshop Apron so essential. The use of wax canvas makes this a tough, multi-purpose apron to wear in the workshop as well as elsewhere — plus, the innovative Y-strap system helps distribute the weight of the apron evenly, a critical touch if you're hauling tools as you wear the apron. Make sure you've got it handy before you take on that refurbishing project — it can provide all the functionality you need.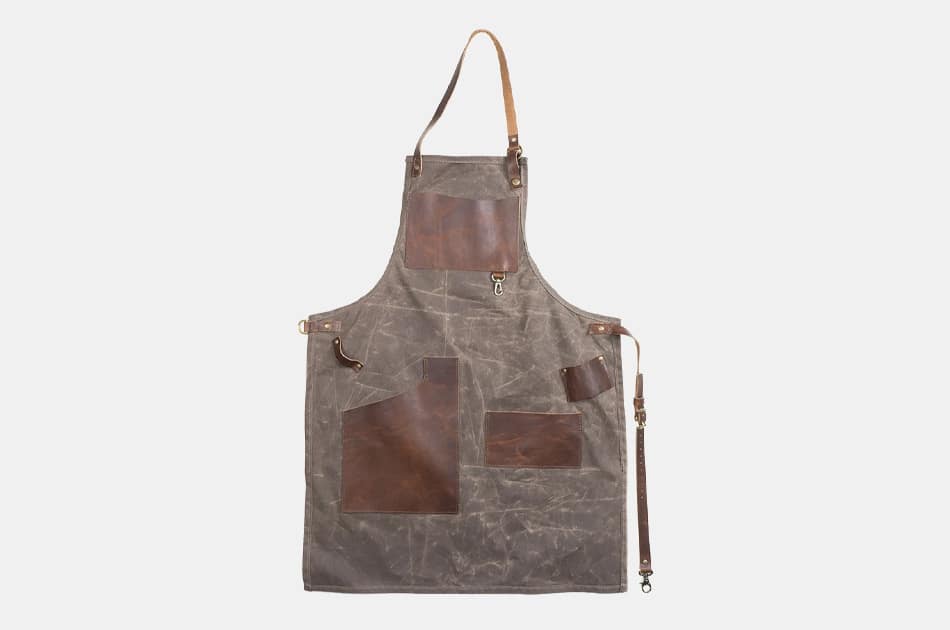 Rustico Journeyman Waxed Canvas Apron
Waxed canvas seems to be the way to go if you want a durable and tough apron, and Rustico knows this. The Journeyman Waxed Canvas Apron truly is one-of-a-kind, and a fitting addition to your workshop or garage. The use of top-grain leather straps and pockets adds another dimension of durability and functionality (plus cool looks).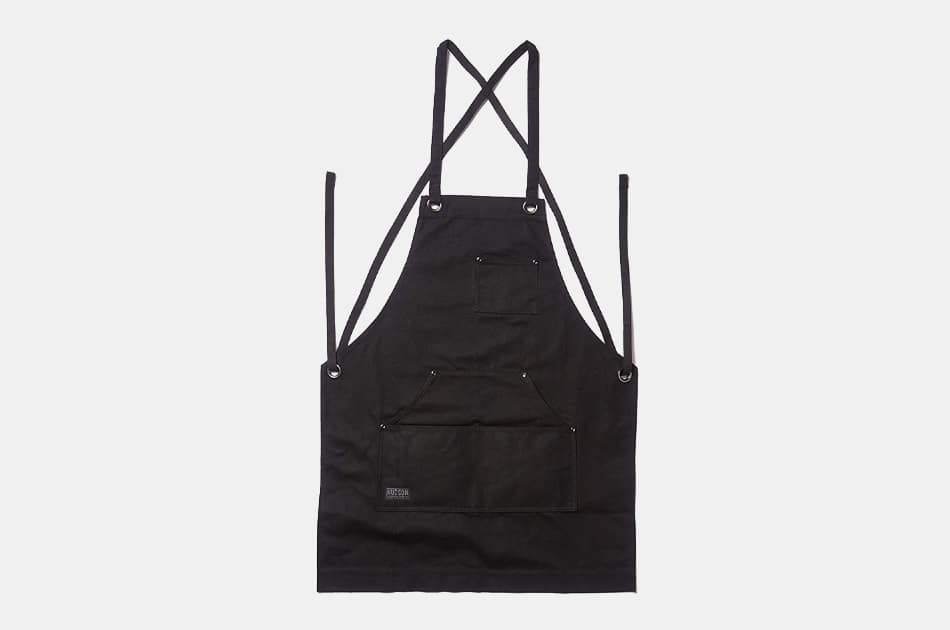 Hudson Durable Goods Waxed Canvas Work Apron
Waxed canvas essentials, in short, don't mess around. Hudson Durable Goods recognizes that right in its name, after all. Made with water-resistant 16oz. Waxed canvas in a no-nonsense black colorway, gun metal pocket rivets add some real toughness to this multi-purpose apron Cross-back straps also alleviate pressure on your neck.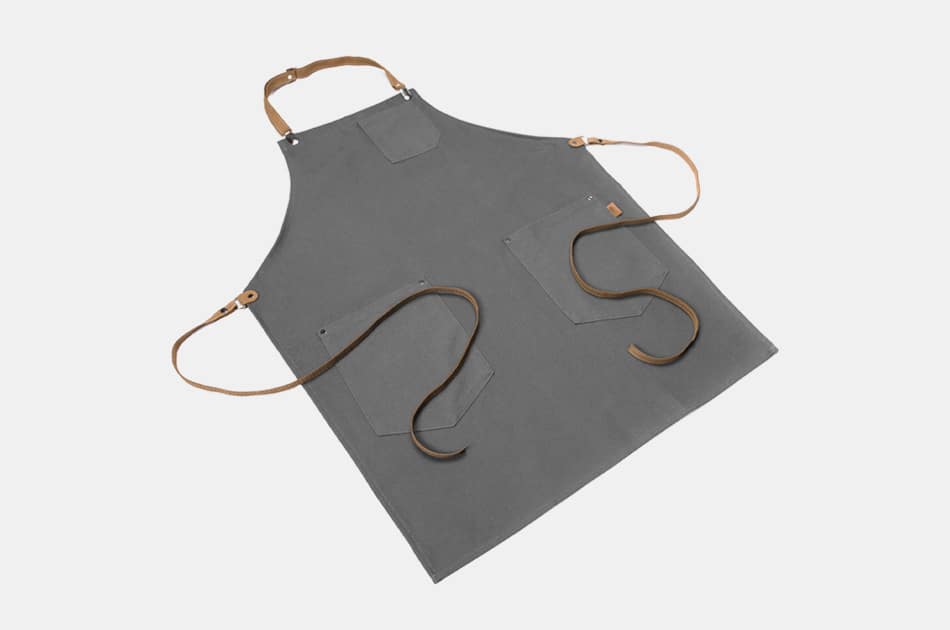 Maison Milan Kitchen Apron
Let's step away from the workshop and toward the kitchen and the grill, shall we? Maison Milan knows that guys prefer aprons that are, well, stylish and actually made to last, and thus they've done a standout job with this kitchen apron. Made from remarkable fireproof waxed cotton and featuring vegan leather straps, it's as if Maison Milan thought of everything when designing this essential apron.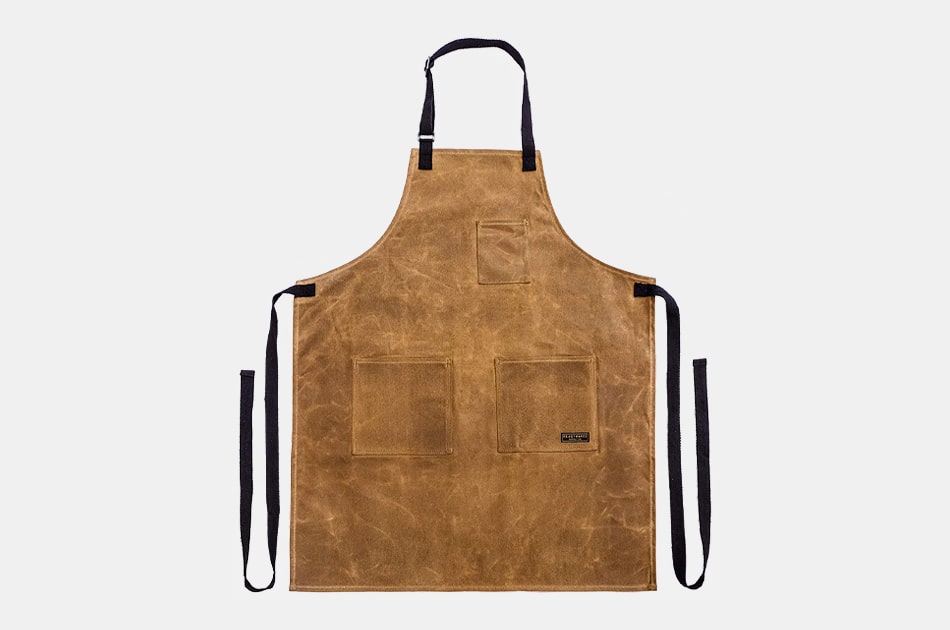 Readywares Waxed Canvas Utility Apron
A waxed canvas apron can meet darn near any challenge you throw at it. Readywares designed the rugged, no-frills Waxed Canvas Utility Apron with this in mind, intending this apron be used for everything from BBQ to bartending to long hours in the workshop. The use of brass hardware ensures this apron can take a beating.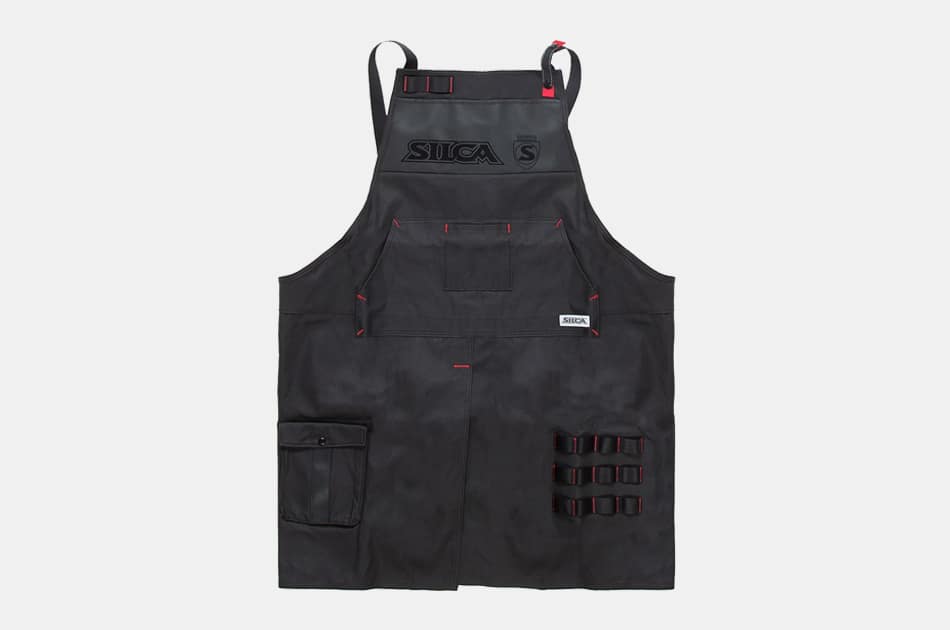 Silca Apron Premio
When you've really got to get down and dirty and put in some work on your ride, you best grab the Silca Apron Premio. Designed specifically with the craftsman and mechanic in mind, it's an excellent apron for keeping your tools close at hand while protecting yourself on the job. Made with tough waxed canvas and featuring tool loops and hoodie-style pockets for your everyday carry, it's the apron you need before your next big garage project.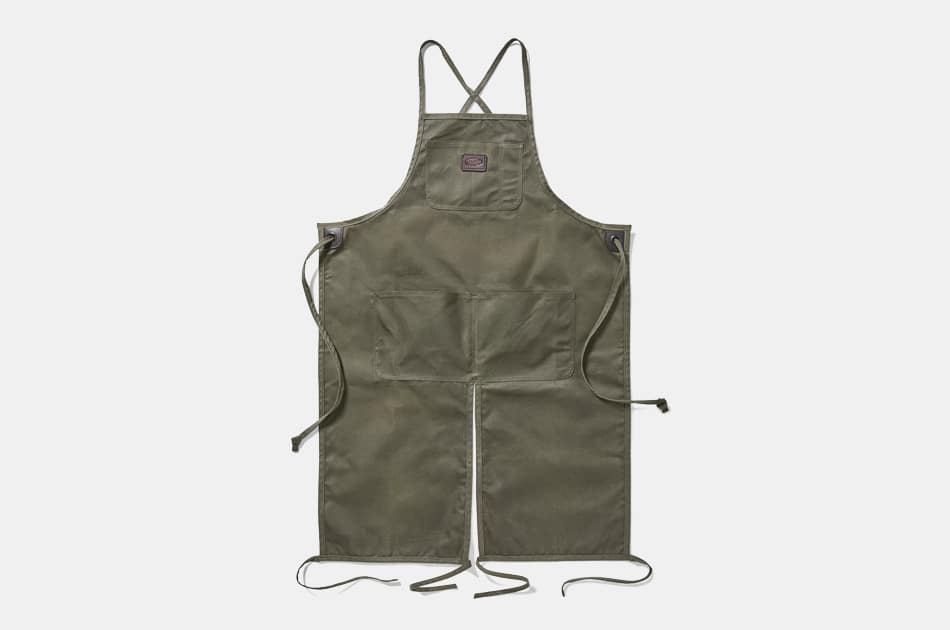 Filson Workshop Tin Cloth Split Leg Apron
To be frank, Filson doesn't mess around when it comes to the best men's aprons (or gear in general), so it should come as no surprise that the Workshop Tin Cloth Split Leg Apron checks all the right boxes in terms of functionality and rugged appeal. Cut to hit at the knee with chap-style legs, this is one of the toughest aprons we've seen, what with the oil-finish Tin Cloth fabric and leather grommets for durability.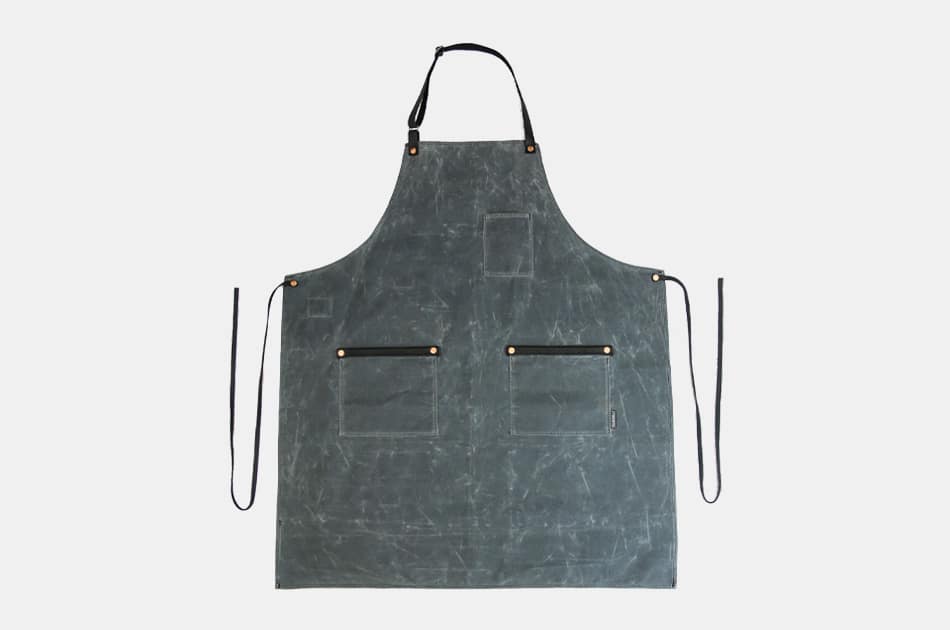 Hardmill Industrial Apron
The right apron, first and foremost, has to be able to provide some serious bang for your buck. Hardmill's Industry Aprons, available in surprisingly stylish waxed canvas colorways, do just that. For a shade under $150, you're getting one of the best aprons on the market. Made from a blend of oil-tanned leather and duck waxed canvas, it's suitable for any project you dream up.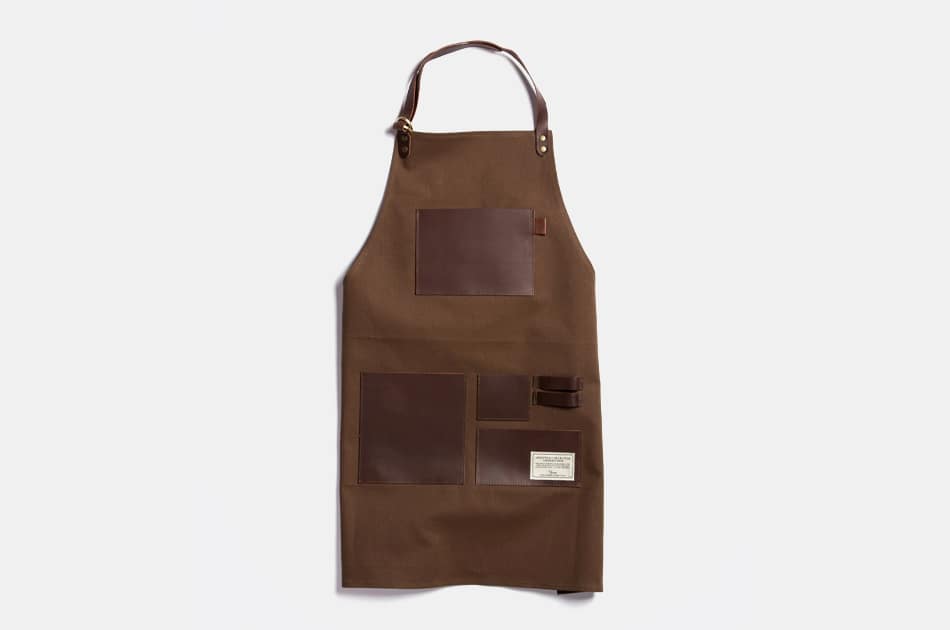 TRVR Waxed Canvas and Leather Gentleman's Apron
The best men's aprons shouldn't entirely sacrifice style in the name of functionality — TRVR designed its handsome, rugged and utilitarian Waxed Canvas and Leather Gentleman's Apron with this approach in mind. Waxed canvas makes up the body of the apron, while durable leather straps add a few style points.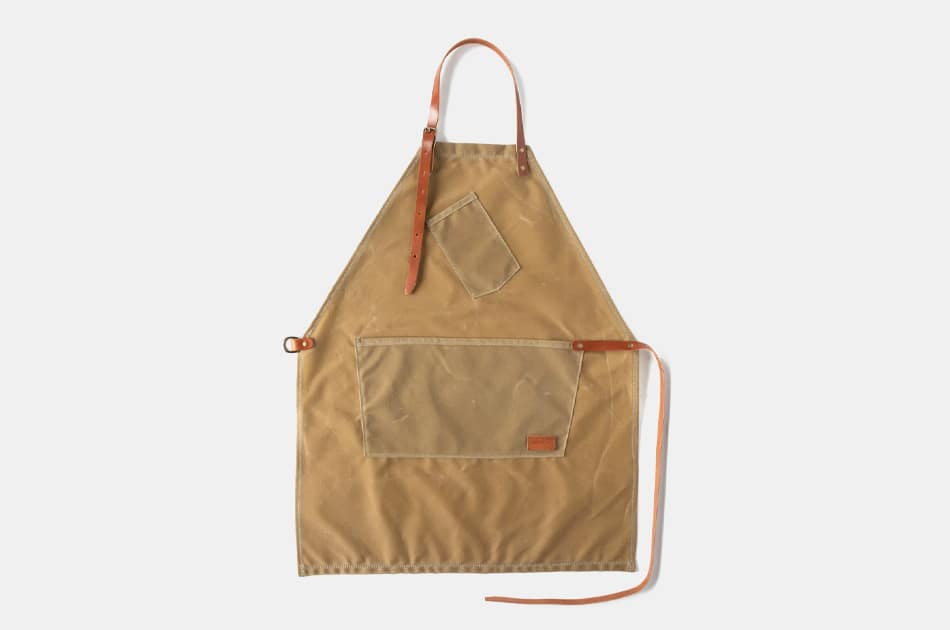 Bradley Mountain Workshop Apron
To put it simply, we love Bradley Mountain's entire lineup of goods, including handsome and adventure-ready packs and accessories. For projects at home, Bradley Mountain also delivers — the Workshop Apron is going to become a daily go-to in your shop. It blends USA waxed canvas and bridle leather with brass hardware for remarkable toughness.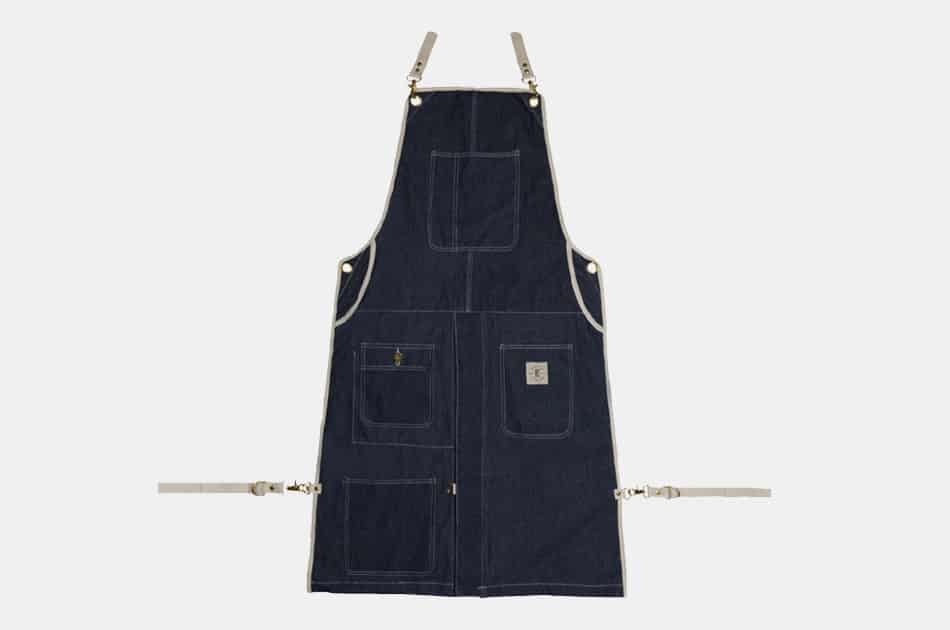 Knife & Flag Split-Leg Apron
If you're a fan of tough selvedge denim, then you know that the right fabric and construction makes all the difference when it comes to durability. Imagine if that fabric was translated into a rugged and yet stylish apron – that's where the Knife & Flag Split-Leg Apron enters the equation. It provides protection from chest to mid-shin, and looks great while doing so.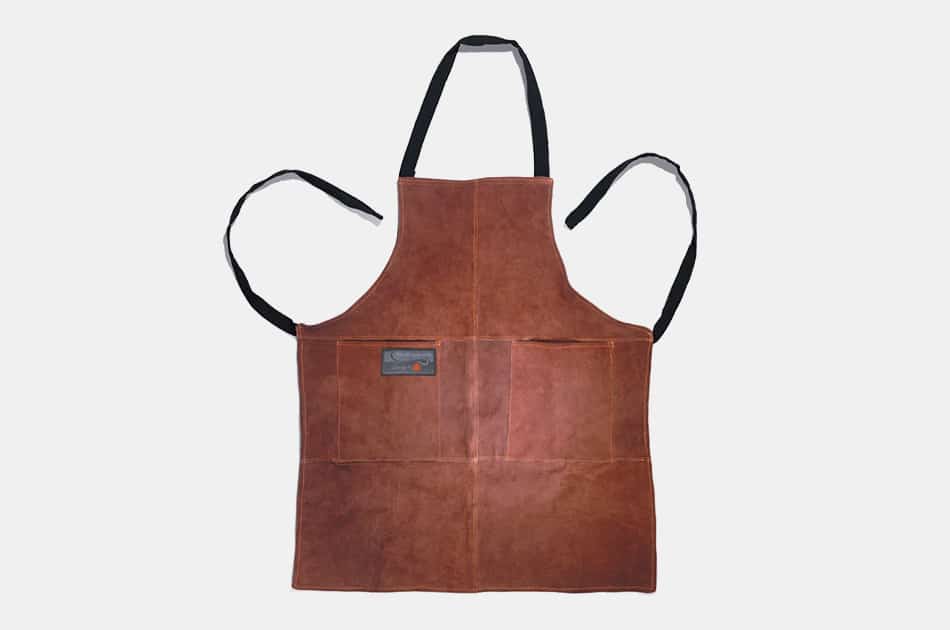 Outset leather Grill Apron
The best grill and the best cuts of meat for the season aren't worth much if you're not able to get them done up right — while wearing one of these aprons, of course. The Outset Leather Grill Apron fills in that gap quite nicely, and we'd wager that you might find yourself wearing it night after night while grilling on your patio.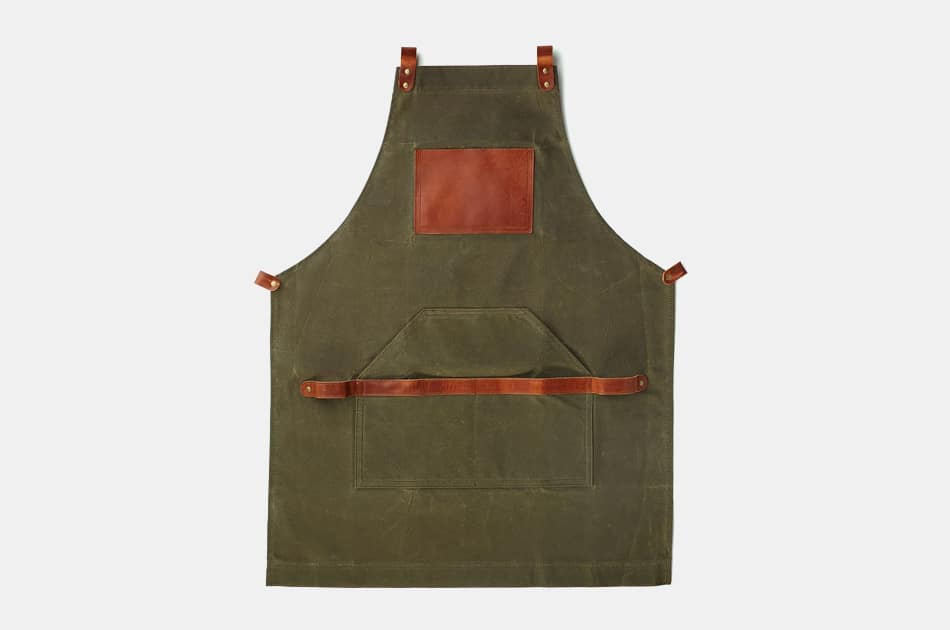 OLPR Waxed Canvas and Leather Apron
OLPR makes some of the best aprons for men, no doubt — the kind that consistently draw praise from those in the hospitality industry (and if that happens to be your field, then you need one of these aprons ASAP). This durable waxed canvas and leather apron blends durability with utility and breathability, making it a must-have behind the bar or in your workshop.
Disclosure: Clicking on these links and making a purchase may earn us a small referral fee, at no extra cost to you. Learn more here.