10 Best Soaps Made With Beer
The average soap promises only one thing: that you'll be cleaner after your shower or bath than before you got in the water and lathered up.  Some offer extras like fresh scents, a tingling sensation, or ingredients that moisturize your skin, just for example.  Not many are infused with the same hops and malt from your favorite beer that you guzzle at the end of a long work week.
Is there some reason why you would want to add beer to your daily grooming routine?  Believe it or not, your favorite, sudsy brew could actually deliver benefits for your skin – not so much when you imbibe, but when you add it to soap and apply it topically.
If you're a beer aficionado, you may know that beer can be rich in vitamins and minerals, as well as needed amino acids and free-radical-fighting antioxidants.  This all makes for a treatment that is not only invigorating, but great for skin, when paired with other soap ingredients.  The only question remaining is: which beer soaps are the best? Read on to find out.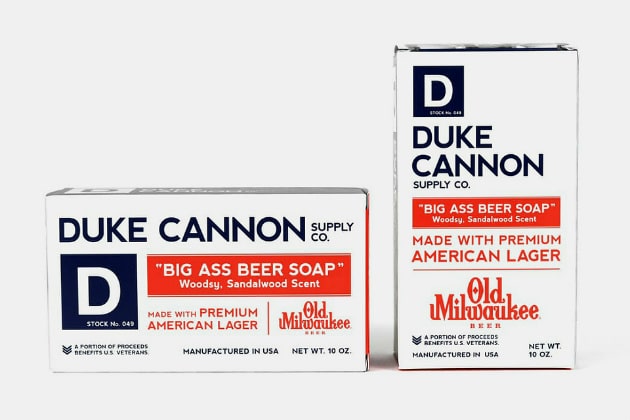 Duke Cannon Big Ass Beer Soap
Adding your favorite bottle of suds to your sudsy soap seems like a no brainer from a purely linguistic standpoint, which is apparently how Duke Cannon ended up with a mixture of cocoa, palm, glycerin, and beer, among other ingredients in their Big Ass Beer Soap.  A team-up with iconic everyman beer Old Milwaukee yielded this brick of a bar, which has notes of sandalwood for masculine appeal.  It will keep your skin smooth and smelling woodsy for weeks. – Shop Now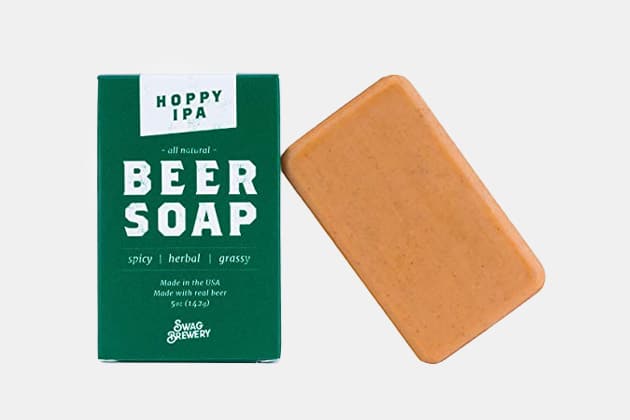 Swag Brewery Hoppy IPA Beer Soap
Not only is this bar of soap made from IPA and ground hops, but the addition of orange peel infuses this bar with a hoppy scent accented by the fruity zest of citrus, while the crushed oats ensure a cleanser that won't leave your skin dry and flaky.  Enjoy the foamy lather designed for use on hair, face, and body. – Shop Now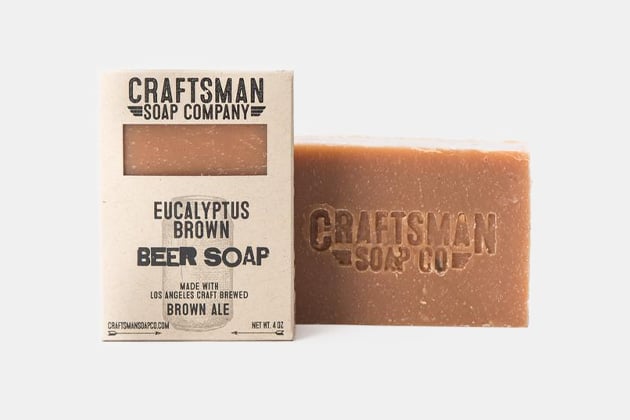 Craftsman Beer Soap
Made with locally-sourced beer from SoCal breweries, these soaps are standard fare with your favorite brews subbed in for water.  Sample from Eucalyptus Brown, Angeles Forest IPA, Golden State Hefe, Coastal Sage Lager, Citrus and Spruce Saison, and even a Hops & Barley Scrub (with extra exfoliation), each with its own heady aroma of botanicals, spices, and hops to delight the senses and cleanse the body.  When combined with coconut, olive, and castor oil, as well as cocoa and shea butters, it leaves skin smooth and hydrated. – Shop Now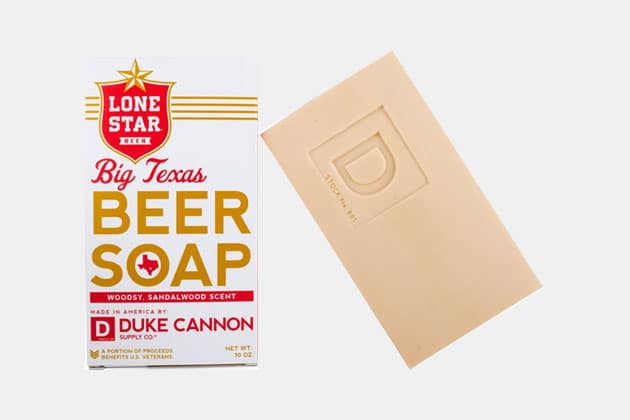 Duke Cannon Big Texas Beer Soap
For men (or women) who want to drink and cleanse with the same blue collar beer, Duke Cannon offers a line of beer soaps that drives the nail home in a single hammer swing.  While the Big Ass Beer Soap features the same Old Milwaukee granddad drank, the Big Texas bar relies on Northwest hops and Central Plains grains in a bottle near and dear to the heart of Texas – Lone Star beer.  It smells like sandalwood and suits hardworking fellas such as yourself. – Shop Now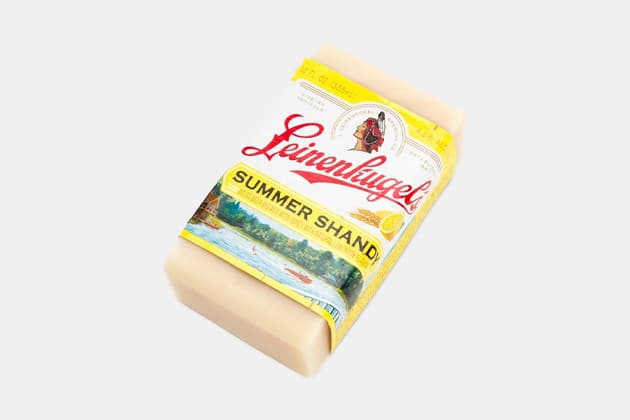 Leinenkugel's Beer Soap
If you already love this Wisconsin label for their zesty Summer Shandy or sweet Berry Weiss, you're sure to love the scents of their soaps, which leave you with a lemony lather or the scent of one of their other many alluring flavors, including Creamy Dark Lager, Oktoberfest, Snowdrift Vanilla Porter, Honey Weiss, or their Original Chippewa Pride beer.  Handmade with natural oils, this creamy beer soap is a cinch to lather with and is locally made by Cream of the Crop. – Shop Now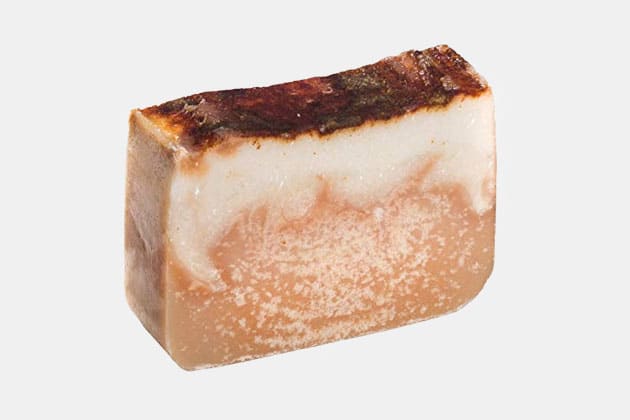 Falls River Bay Rum Beer Soap
Chilled beer and essential oils sound equally relaxing in their own right, so it only makes sense to pair them in one powerfully effective soap.  This handmade concoction from Ohio uses natural and certified organic ingredients, including detoxifying beer to draw out impurities, lemon peel powder for fresh scent and exfoliation, and a blend of shea butter, glycerin, coconut oil, and more to leave skin feeling fresh and silky smooth.  You won't hate the sweet and spicy Caribbean scent, either. – Shop Now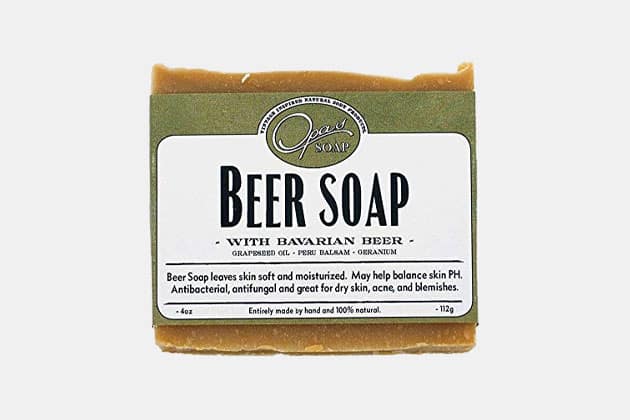 Opas Dark Ale Beer Soap
Some beer soaps try to cover the scent of hops and malt, but this dark German ale embraces its brewed base wholeheartedly, layering on spiced, roasted, and balsamic scents for a fragrance that's as complex as the dark beers you love.  All-natural ingredients deliver a sudsy lather that feels heavenly on skin and moisturizes while you wash, treating acne and blemishes with antibacterial properties.  It may employ Bavarian beer, but this product is made in the USA. – Shop Now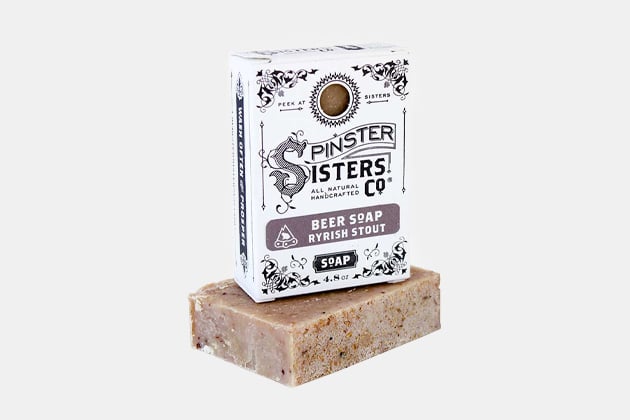 Spinster Sisters Beer Soap
Like many spinsters, one would assume, this soap is not the belle of the ball, but it's definitely got a a wicked intellect, with a dose of moxie thrown in for good measure.  A thoughtful soap, it's made with responsibly harvested palm oil, fair trade shea butter, other minimally-processed oils, and locally brewed hops for shiny hair and skin.  It's also produced in a Colorado facility using wind-power, and the final output is both vegan and biodegradable. – Shop Now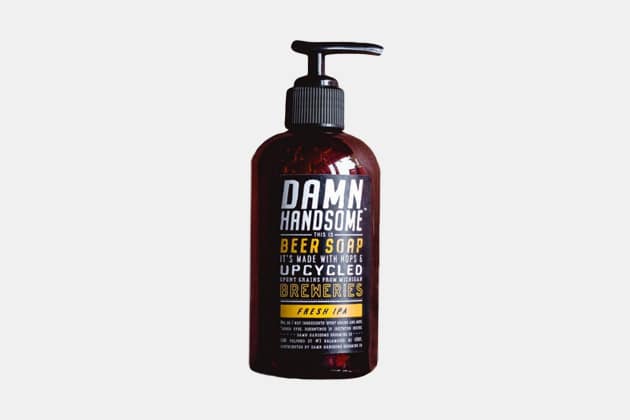 Damn Handsome Fresh IPA Beer Soap
Not a fan of bar soap?  Good news – you can get your beer soap in a bottle.  This liquid IPA soap featuring citrusy hops delivers the eye-opening appeal of grapefruit, paired with pine notes so you can delight in an energizing, refreshing, and yet still masculine scent.  Hand crafted small batches deliver the unique, artisan experience you crave in a rejuvenating cleanser that not only attacks dirt and dead skin, but enlivens your senses first thing in the morning. – Shop Now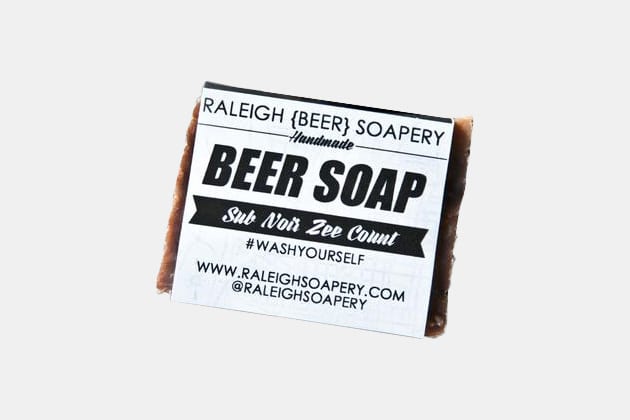 Raleigh Beer Soap
If you wanted to wash with actual beer, you could probably tote your favorite bottle into the shower and pour it over your head.  Aside from the sticky mess, however, you'd be down a beer to drink.  Instead, consider lathering up with thick, creamy, beer foam suds that will actually get you clean, courtesy of Raleigh Beer Soap and their partnerships with breweries like Trophy Brewing Co. and Brueprint Brewing Company.  Its all-natural ingredients plus beer equal an efficient, yet appetizing shower experience. – Shop Now
Disclosure: Clicking on these links and making a purchase may earn us a small referral fee, at no extra cost to you. Learn more here.
freestar.config.enabled_slots.push({ placementName: "gearmoose_leaderboard_btf", slotId: "gearmoose_leaderboard_btf" });