25 Best Bar Soaps For Men
Sooner or later (and usually sooner) you've got to get clean. And your options for doing so are just about endless. There's something gratifyingly primal about a basic bar of soap. Grasp it, wet it, rub it on skin to lather and clean. No bottle, no brush, certainly no pouf — with a bar of soap there's no intermediary between you and some good morning (post-gym, pre-dinner) suds. The number of available men's bar soaps out there has reached the bazillion mark (we're pretty sure) which makes choosing one an exercise in guesswork. So let this list of the best bar soaps for men be your compass as you navigate the scents, textures, and grippiness of your next bar of soap.
You'll find every kind of men's soap to fit your style and taste preferences, we made sure of it. From good enough to eat, to big enough to last, these bar soaps are woodsy, minty, citrusy and rummy fragranced workhorses that will get you clean, make your skin smooth, and leave your whole body smelling it's best. When it's just you, a jet of water and a solid chunk of saponified oils, this is how you make sure that chunk is a good one.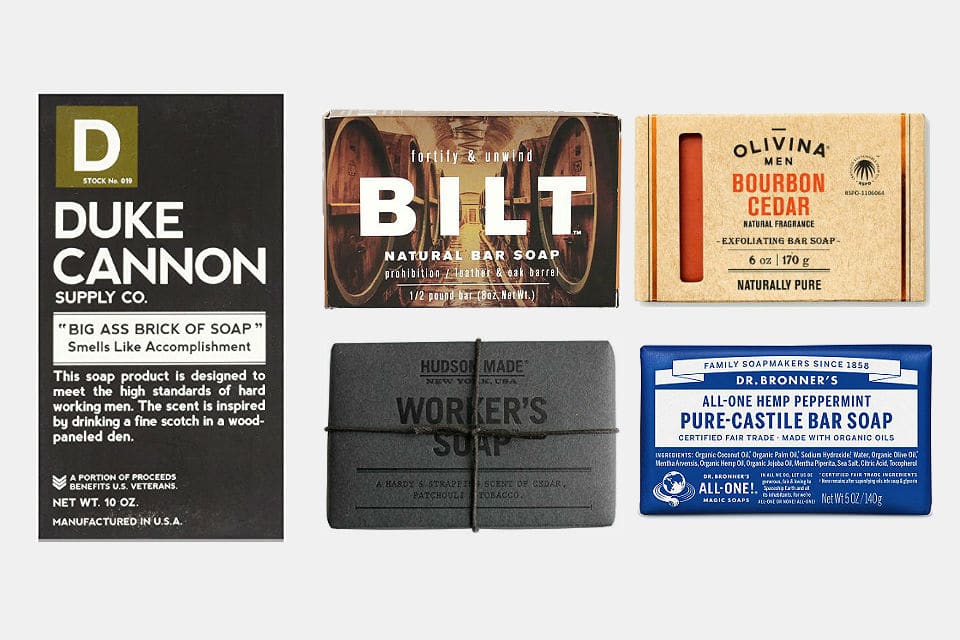 Disclosure: Clicking on these links and making a purchase may earn us a small referral fee, at no extra cost to you. Learn more here.