The 25 Best Bar Soaps For Men
Sooner or later (and usually sooner) you've got to get clean. And your options for doing so are just about endless. There's something gratifyingly primal about a basic bar of soap. Grasp it, wet it, rub it on skin to lather and clean. No bottle, no brush, certainly no pouf — with a bar of soap there's no intermediary between you and some good morning (post-gym, pre-dinner) suds. The number of available men's bar soaps out there has reached the bazillion mark (we're pretty sure) which makes choosing one an exercise in guesswork. So let this list of the best bar soaps for men be your compass as you navigate the scents, textures, and grippiness of your next bar of soap.
You'll find every kind of men's soap to fit your style and taste preferences, we made sure of it. From good enough to eat, to big enough to last, these bar soaps are woodsy, minty, citrusy and rummy fragranced workhorses that will get you clean, make your skin smooth, and leave your whole body smelling it's best. When it's just you, a jet of water and a solid chunk of saponified oils, this is how you make sure that chunk is a good one.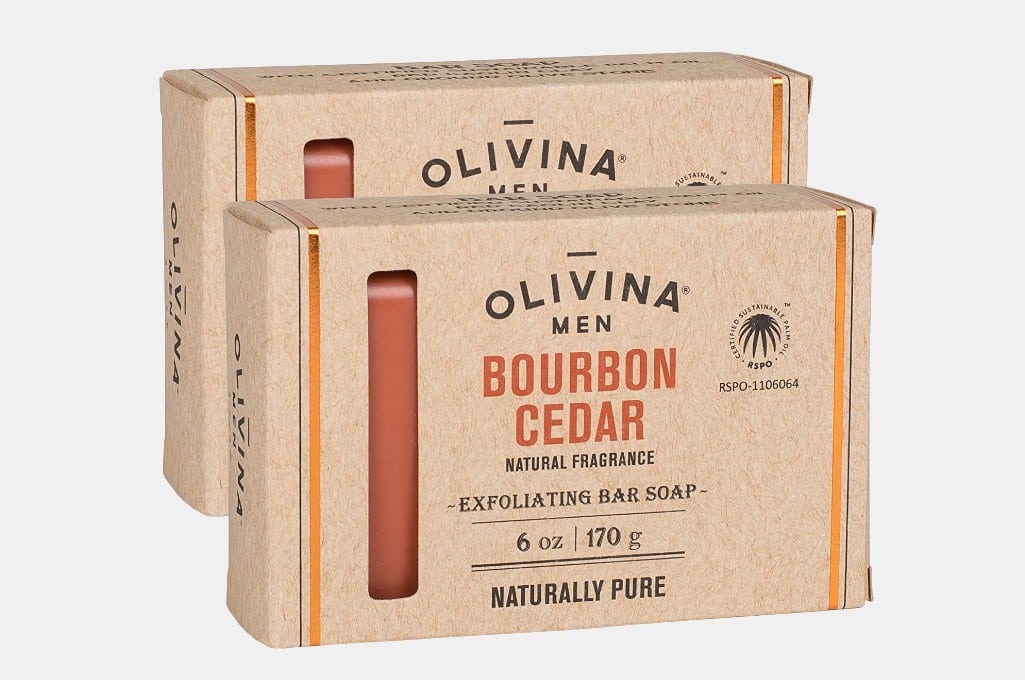 Olivina Men Exfoliating Bar Soap
Three key ingredients serve as the basis for Olivina products: olive oil, hemp seed oil, and grape seed oil, making their stuff extra moisturizing and hydrating. Their bar soap not only contains their three big players, it also packs kaolin clay and ground olive stones for some deep cleaning exfoliation, resulting in a serious clean that doesn't dry out your skin. The scent here is their crafted Bourbon Cedar, made from essential oils, that also shows up in a deodorant, cologne and body scrub. Acquire the suite of products and go out in the world with a unified aroma identity.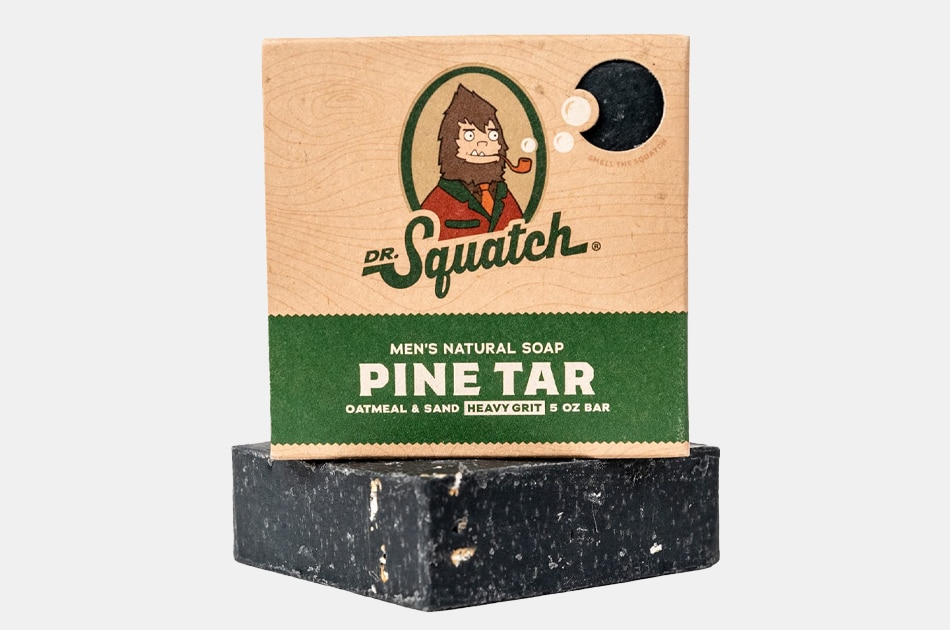 Dr. Squatch Pine Tar Soap
By leaving in the glycerin — a natural result of soap making that many commercial soap makers extract — Dr. Squatch soaps are able to give a good lather without extra added chemical whatnots like SLS and parabens. Gritty, grippy sand and oatmeal bring the sloughing scrub while shea butter offers the soothe. The Pine Tar bar of soap is made with real pine extract and the strong scent is reminiscent of an old growth forest. Good for oily or dry skin, this nothing-but-the-good-stuff bar soap will clean you up and get you yearning for a hike somewhere wild and woody.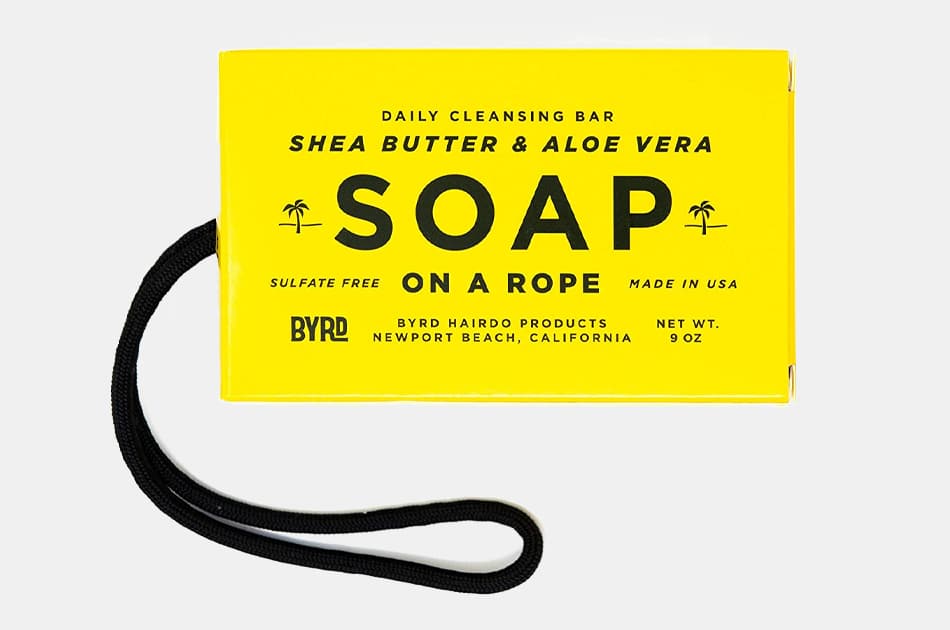 Byrd Soap On A Rope
The only acceptable accessory for soap is the trusty rope. Coil it on your wrist as you lather up then hang it to dry (thereby extending the bar's longevity) when you're done. Byrd products win special places in our routines by being multi-function (this one does hair, face and body duty) and by making you feel like you just swam the ocean after using them. The tropical coconut scent and Pacific sea salt will remind you of surfing Waimea Bay and the shea butter and aloe vera gel will keep your skin as calm and smooth as an island breeze.
Every Man Jack All Over Bar
Designed in California, made in Rhode Island, and containing ingredients from Iowa, these East Coast/West Coast/Midwest soap bars from Every Man Jack come in three different scents. Cedarwood and sandalwood bring a warmer woodsy feel to your morning, while citrus scrub offers a brighter note with wheat bran for a good scrub. All three options feature shea butter and organic aloe in a 100% vegetable-based bar with no parabens, phthalates or dyes. All this at a pretty agreeable price per bar from a company that promises products that perform while using as many natural ingredients as possible.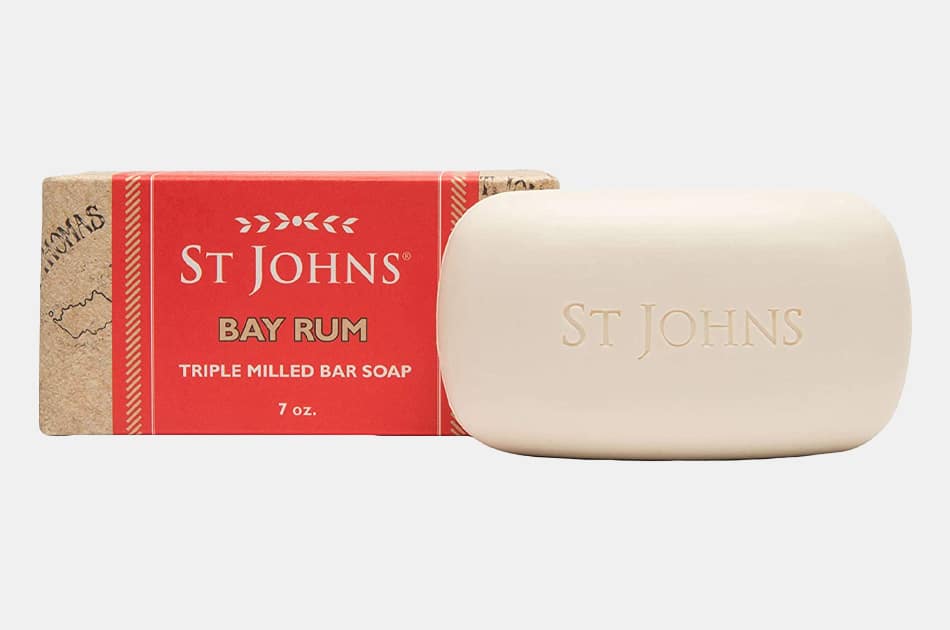 St. Johns Bay Rum Bar Soap
You don't get much more classic than the scent of Bay Rum. A blend of West Indian bay leaf oil and Caribbean rum, it's been making men smell nice since 1838 or so. This triple milled bar soap (which makes soap smoother in texture, creamier in lather, and long-lasting) comes from St. John's Fragrance Company, a 70 year old company actually based on the island of St. John (the smallest of the US Virgin Isles). It's a good place for a Bay Rum soap to originate, as we hear the Caribbean knows a bit about growing bay leaves and making rum.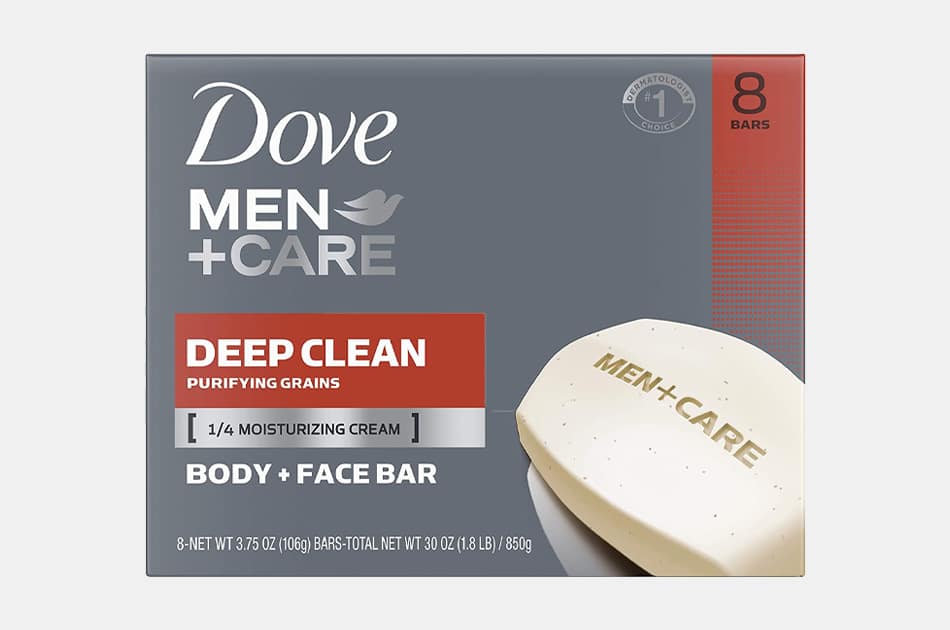 Dove Men+Care Deep Clean Body and Face Bar
Making bars of soap containing a quarter moisturizing cream worked out pretty nicely for Dove. Only problem, the scent (and marketing and packaging) was squarely aimed at women. Now, as part of their Dove Men+Care line of products, they've taken a good idea and reformulated into a bar of soap that appeals to (and cleans) men. This clean-rinsing bar works for your face or body and includes purifying grains (aka silica) for a deeper clean. It promises not to leave your skin dry and tight by maintaining moisture levels and features their "deep clean" scent — that's decidedly un-ladylike.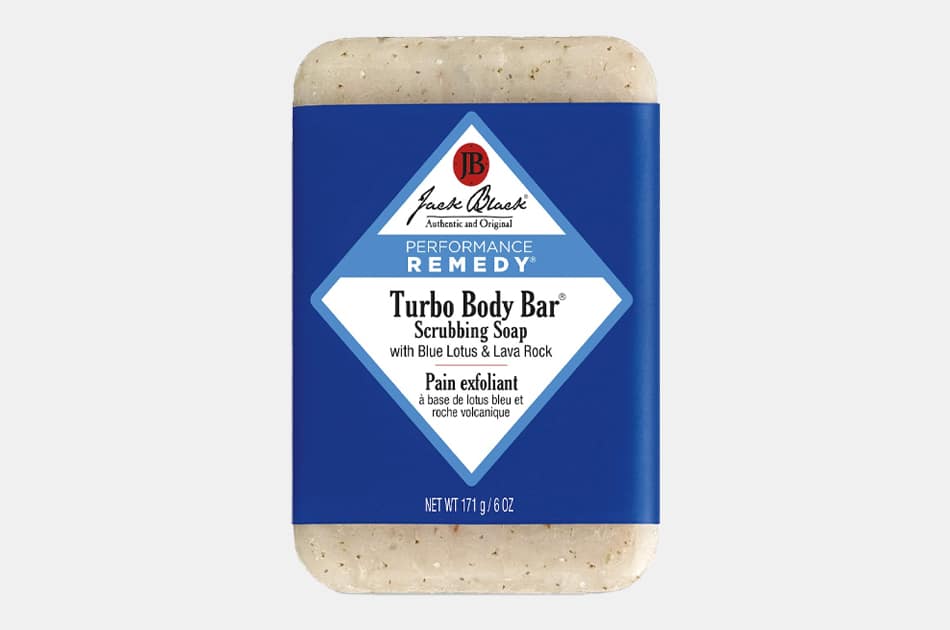 Jack Black Turbo Body Bar Scrubbing Soap
Want to get really clean? Rubbing your body with a lava rock will probably do the trick. While that may sound harsh, the granules in this bar are fine enough to just give you a gentle polish for smoother and cleaner skin. Using the same scent as their ever popular Turbo Wash, Jack Black's Turbo bar also includes blue lotus and ginkgo biloba to wake you up in the AM. Shea butter (from the nut of the African shea tree) and murumuru butter (from the seed of an Amazonian palm) keep the moisturization level high — and exotic.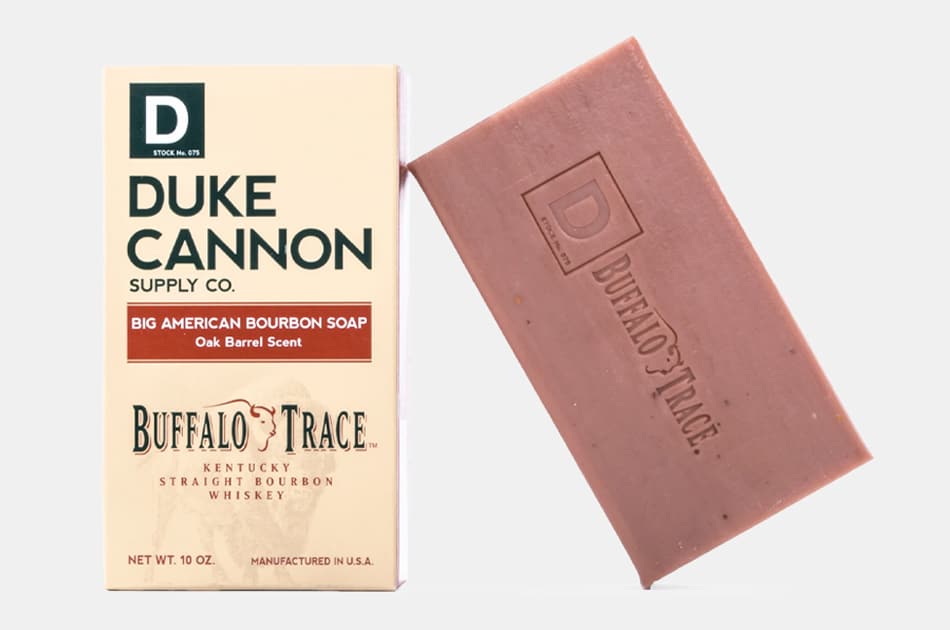 Duke Cannon Big American Bourbon Soap
Another reliable entry by Duke Cannon, this is the best bar soap for men who love whiskey and it smells like everything should — like the sweet, sweet fire of American bourbon whiskey. And no, they didn't mix some stuff in a beaker and come up with something that smells bourbon-esque. In partnership with Buffalo Trace Distillery, Duke Cannon has added actual Buffalo Trace bourbon to the bar. This one too, is more than double the size of your standard soap bar and has a rich, oak barrel scent. We suggest getting some so you can pregame as early as your evening shower with a soap that "smells as good as bourbon tastes.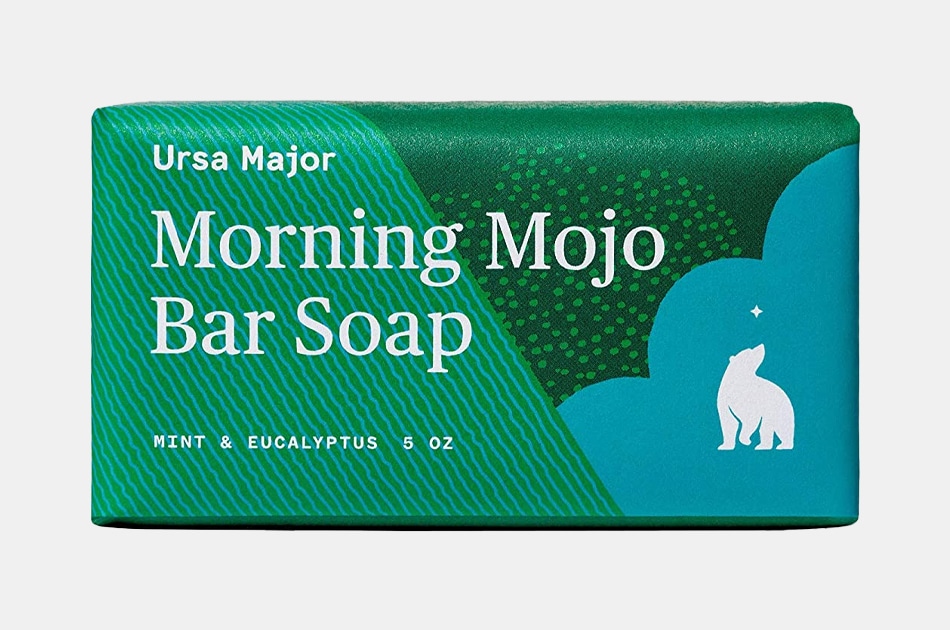 Ursa Major Morning Mojo Bar Soap
You read ingredients like honey, peppermint, rosemary, and coconut and get hungry. This bar seems good enough to eat. (But don't.) All the ingredients are there to serve a purpose, like honey for soothing moisturization, fatty-acid-rich shea butter, and peppermint for cooling refreshment. The addition of volcanic rock does double duty as an exfoliant and slippery-soap eliminator and it's all naturally derived. It's made in Vermont by Ursa Major, an outfit committed to healthy and natural stuff that keeps your skin clean and clear. All their stuff is produced without petrochemicals or sulfates, and they only use sustainable palm oil.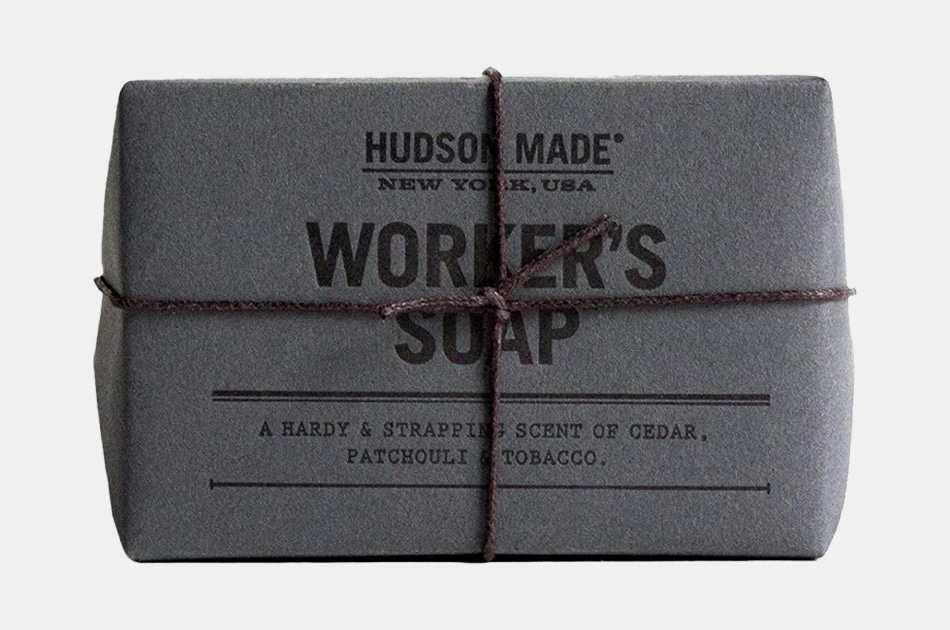 Hudson Made Worker's Soap
First off, note the packaging: heavy duty gray paper, brown string, overhand knot. Quality materials coupled with simplicity that usually signals a superior product. Unless of course the stuff inside isn't any good. This small batch soap comes from Hudson Made, a grooming concern out of the Hudson Valley that aims to source a good portion of their ingredients from within 200 miles of home base (which includes their own farm). Worker's Soap contains pumice for scrubbing with tobacco, cedar and patchouli for a rugged scent, and leaves behind soft skin. You can go ahead and judge this book by its cover.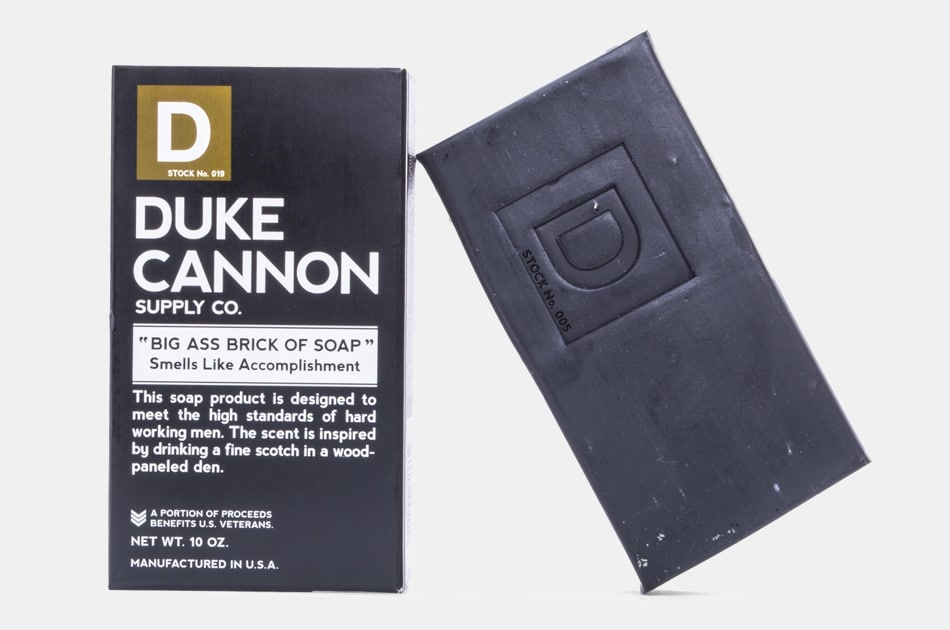 Duke Cannon Brick Of Soap – Accomplishment
When a company names their soap a "big ass brick," you might think that's just a cute marketing ploy. Fortunately, Duke Cannon doesn't do cute. Here big ass means something. These bricks are big in heritage — produced in the same plant that made soap for GIs during the Korean War. They're big in utility, with steel cut grains for grip and the smell of Accomplishment (bergamot and pepper) for a lasting scent. And they're big in size — two to three times larger than a bar of the grocery store variety. When Duke Cannon says this soap is a big ass brick, Duke Cannon means it.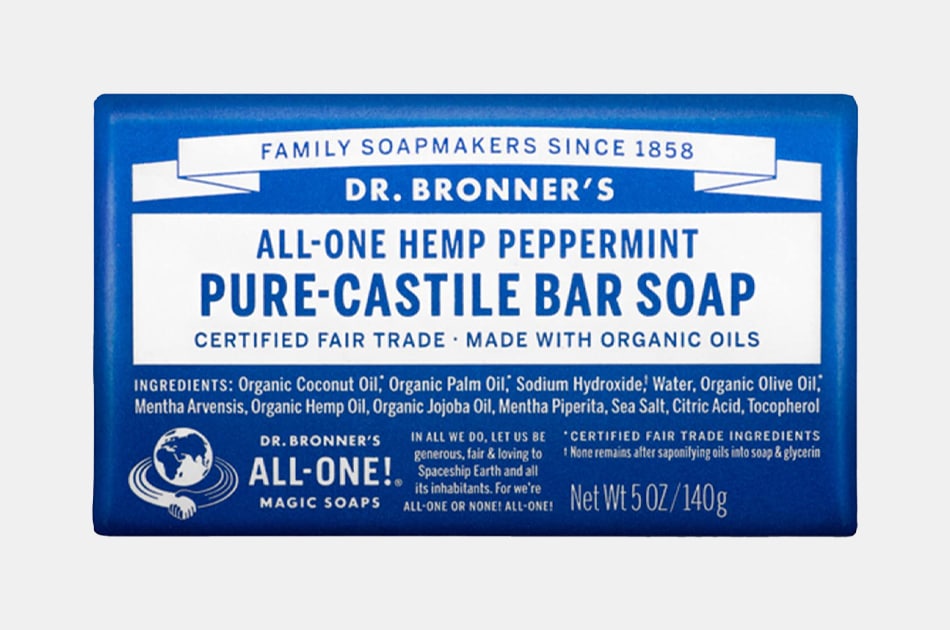 Dr. Bronner's Pure Castile Peppermint Bar Soap
If you ever found yourself at a loss for something to read and came across a big blue bottle of Dr. Bronner's Magic Soap, you suddenly had about an hour's worth of reading material in your hands. While the bar soap label doesn't sport quite as many All-One, Spaceship Earth, Moral ABC text, it's still a darn fine chunk of suds. The peppermint scent is the original Bronner scent and the pure castile bar is particularly good for washing hair, body and face without drying anything out. The ingredients are simple, as is the Bronner directive of using only two cosmetics — enough sleep and this soap.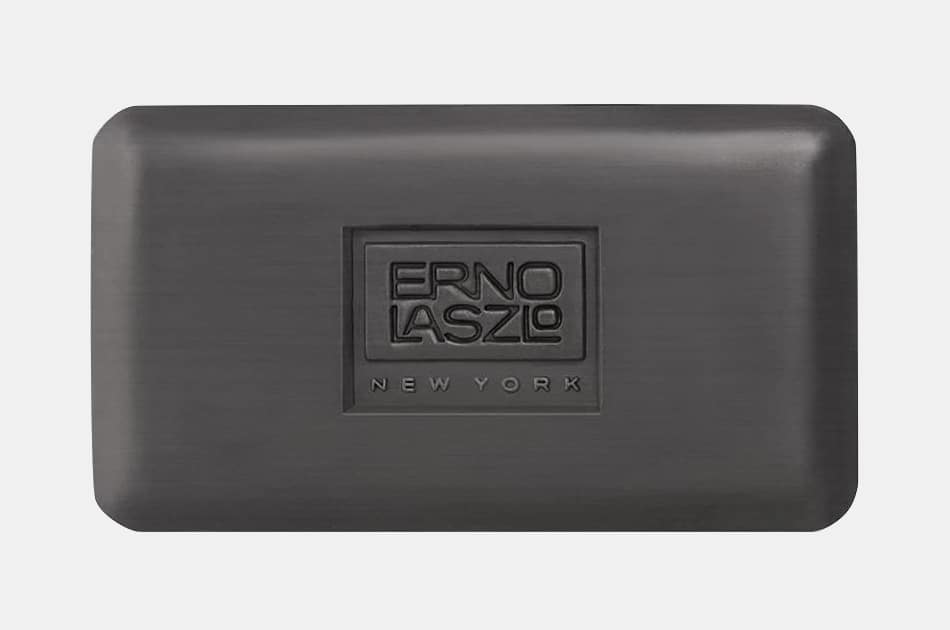 Erno Laszlo Sea Mud Deep Cleansing Bar
They say King Herod liked to visit the Dead Sea for a dose of mineral-laden vitality. And each year hundreds of thousands of people who are not ancient kings head there to take a dip too. The potassium, magnesium, zinc and 23 other minerals found in the mud from that salty body of water are said to have magic-level benefits for your skin. But if a trip to Israel isn't on your upcoming itinerary, Erno Laszlo's bar can bring a little Dead Sea mud to you. The deep black bar exfoliates, hydrates and detoxes while increasing circulation in your skin — no airfare required.
Das Boom Industries Everything Bar Soap
Das Boom would like you to know that their soaps are scented for men. To that end, their Bourbon County soap adds the scent of leather, their Detroit soap is reminiscent of tobacco, musk and motor oil and their West Indies soap brings you essences of Bay Rum, smoke and, yes, dirt. Soft floral notes? Look elsewhere. These Everything Bars are meant for head to toe washing with ingredients like blue-green algae, argan oil and rosemary extracts to leave you smelling like a steer-roping cowboy who knows how to work on a diesel and just started a bonfire on a beach.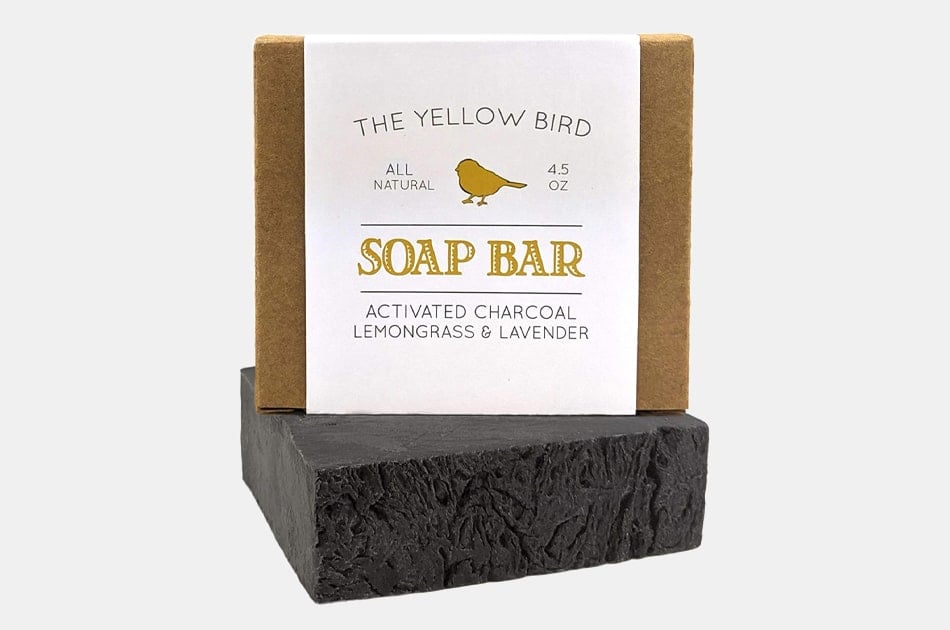 The Yellow Bird Activated Charcoal Soap Bar
Activated charcoal is carbon that's been treated to be extremely, super absorbent. Used in skin care products, all that absorbency pulls dirt and oil out of your skin to get washed away. Will rubbing a lump of leftover campfire on your face achieve the same result? It will not. Leave these things to a professional like Yellow Bird. Their all natural, small batch, cold process bar has activated charcoal along with lavender oil for its antibacterial action, lemongrass oil for its astringent properties, and shea butter for its moisturizing fatty acids. Put down the coal, pick up this instead.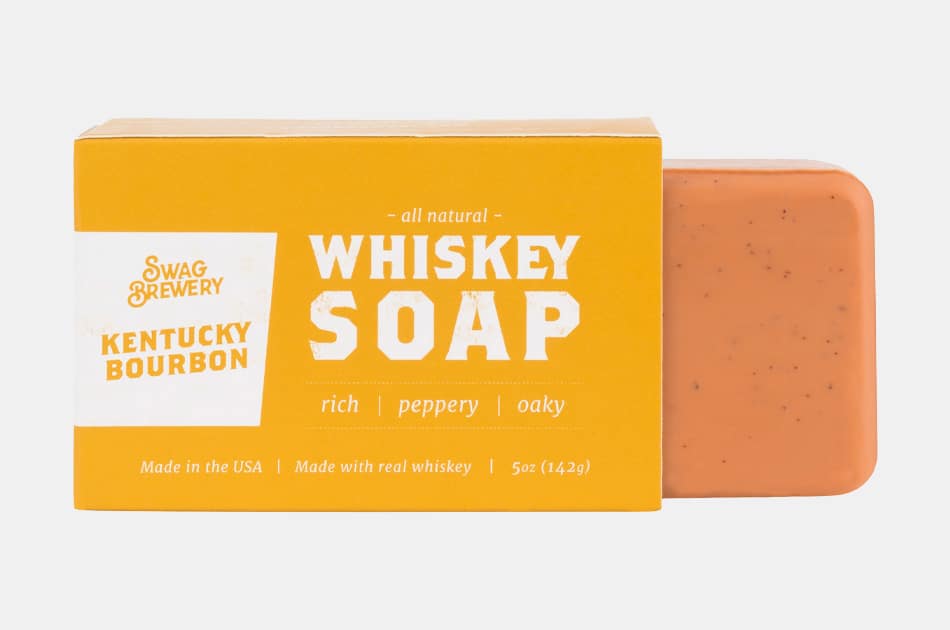 Kentucky Bourbon Whiskey Soap
Rich, peppery, oaky — all qualities you'd look for in a good bottle of bourbon. Now look for them in your soap bar. Handcrafted in the States using ingredients like oats, apricot seeds, and rosemary extract, this men's soap from Florida gift shop, Swag Brewery, contains not whiskey flavor, not whiskey essence but real honest whiskey in each bar. If you've ever been bummed that shower water keeps getting in your bourbon, set that glass on the counter (it'll be there when you emerge) and use this soap to enjoy whiskey goodness while simultaneously getting your face, body and hair clean (and smelling very agreeable).
Bilt Prohibition Bar Soap – Leather & Oak Barrel
It was a dark time for the US of A. From January of 1920 to December of 1933, the country temporarily lost its mind and prohibited the sale, production and importation of alcoholic beverages — yet the truly dedicated and industrious still managed to find a way to drink. Inspired by the spirit (and spirits) of the speakeasies of the roaring 20s, this Prohibition bar soap from Bilt blends notes of leather and oak barrels into a bar that's free from parabens and phthalates but full of good things like shea butter, Vitamin E and hops. Use it, then go buy yourself a deliciously legal drink.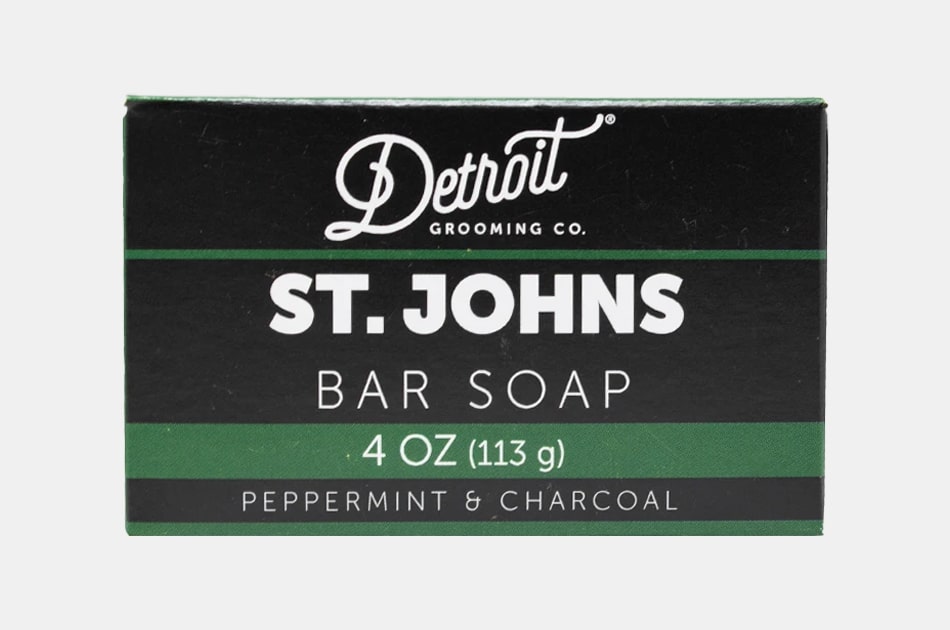 Detroit Grooming Peppermint Charcoal Bar Soap
While Detroit Grooming is known for their stellar beard care products, they manage to apply their product-making know-how to the production of other stuff too. For our purposes here today, we're talking about this fine bar of soap. Their Peppermint Charcoal bar contains activated charcoal (which you'll remember as the super absorbent stuff that fights dirt, oil and blackheads) and also includes goat milk in the ingredients list, which brings along a host of vitamins and minerals, as well as hydration. The peppermint oil makes everything tingly and awake and each bar is made in small batches in the hardworking state of Michigan.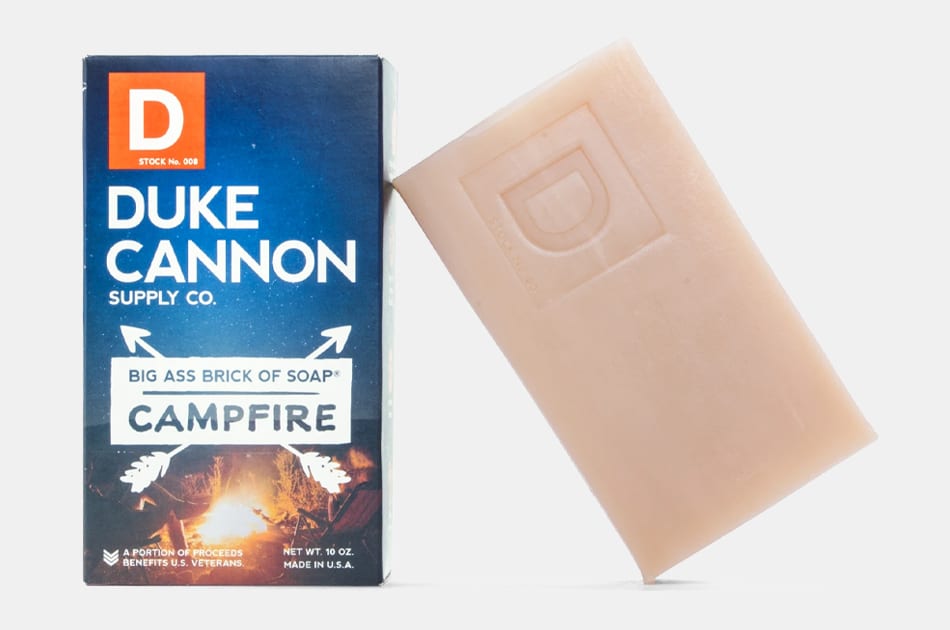 Duke Cannon Big Ass Brick of Soap
The Duke Cannon brand is all about making "men's products for real men," with superior-quality ingredients, masculine scents, and US-based manufacturing. The result: amazing offerings like the Big Ass Brick of Soap, a "guy's soap" to the core. This bar soap smells like your favorite campfire memories, with a scent reminiscent of smokey hickory wood. It more than lives up to its name—at ten ounces, it's more than triple the size of your average bar soap. The triple-milled soap cleans beautifully, smells uber-manly, and will last a long, long time. What more could you want?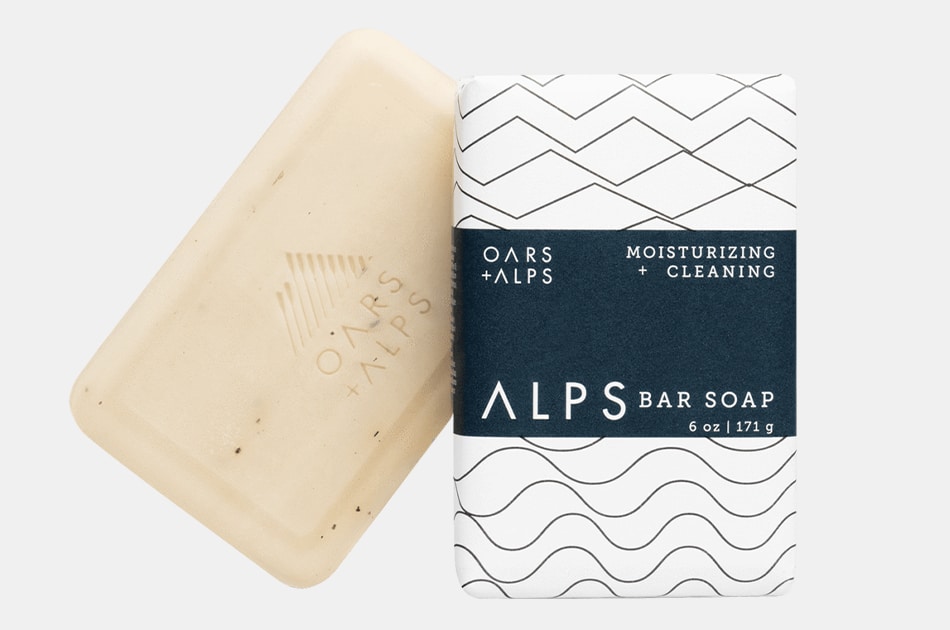 Oars + Alps Moisturizing Alps Bar Soap
Oars + Alps has a simple mission: to produce the quality products adventure-loving men will want to take with them everywhere and anywhere. Their Moisturizing Alps Bar Soap solves two of the biggest problems most outdoorsmen face—it cleans away the dirt of a long day of hiking, climbing, or camping, and it infuses your skin with nutrients and moisture to protect against dryness. Clay from the Amazon Rainforest detoxifies your skin, Shea butter and Larch tree extract provides an excellent moisture barrier, and crushed juniper berries eliminate dead skin cells. Best of all, the soap has a light, fresh scent that will only enhance your natural masculine smell, not overwhelm it.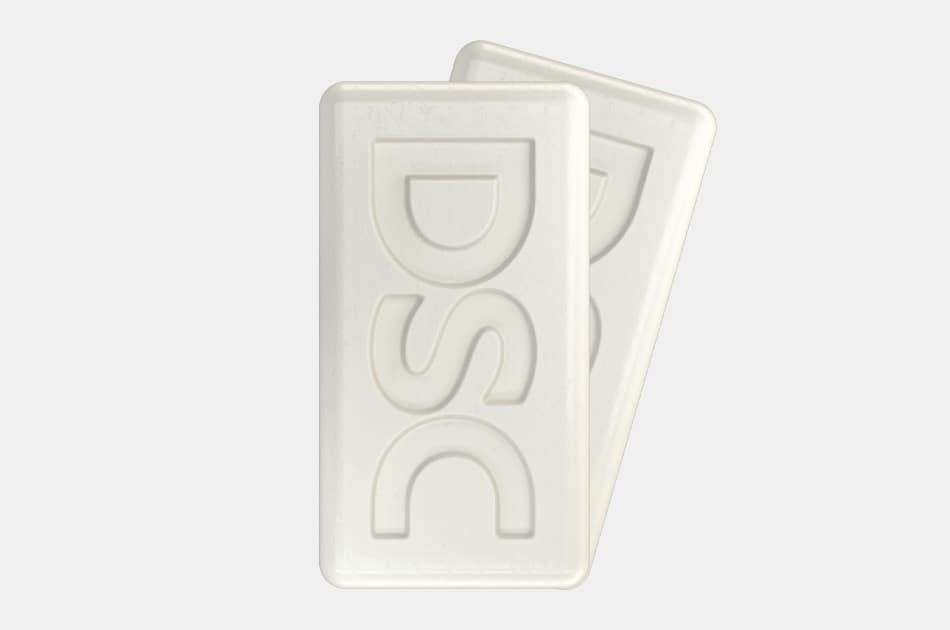 Dollar Shave Club Body Bars
Dollar Shave Club strives to provide products that are both top-shelf quality and bargain-bin priced. That's no easy task, but as the Body Bars prove, they can pull it off. This soap comes in a two-pack that costs less than one equally high-end bar. The scent of mint and cedarwood is as delightful as it is manly, and the addition of pumice will exfoliate your skin to maximize the soap's cleaning power. You'll never feel cleaner than after you wash up with this lovely soap.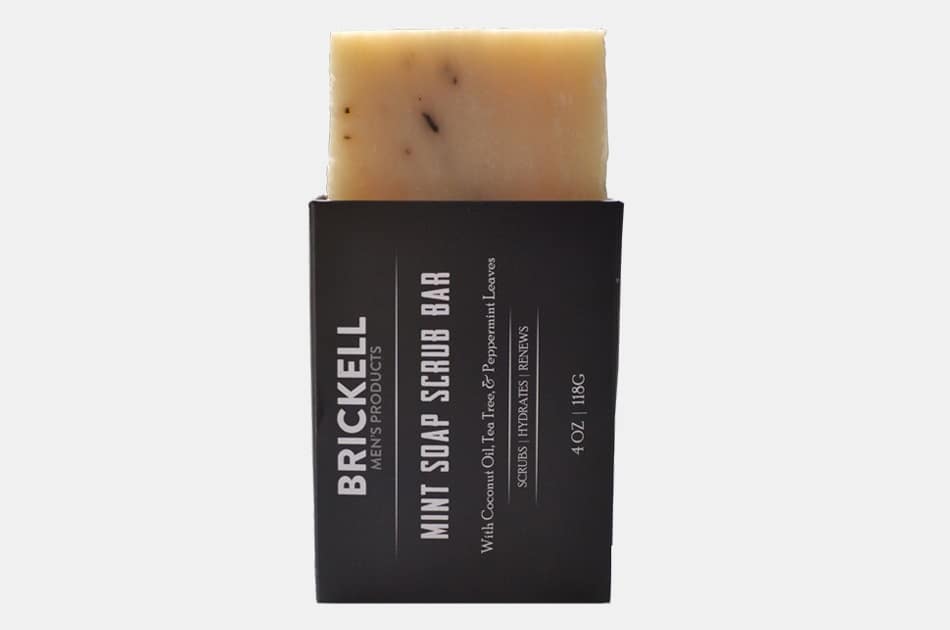 Brickell Men's Mint Soap Scrub Bar
Brickell puts its best foot forward with the Mint Soap Scrub Bar, a certified organic product made using only the highest-quality natural ingredients. The mixture of natural carrier oils (including coconut, palm, sunflower, hemp, and olive oil) with essential oils (including peppermint, eucalyptus, tea tree, and cajeput) combine to make a truly potent soap that will cleanse all impurities and leave your body smelling and feeling truly clean. It's suited for any skin type—even sensitive skin—and men of every age.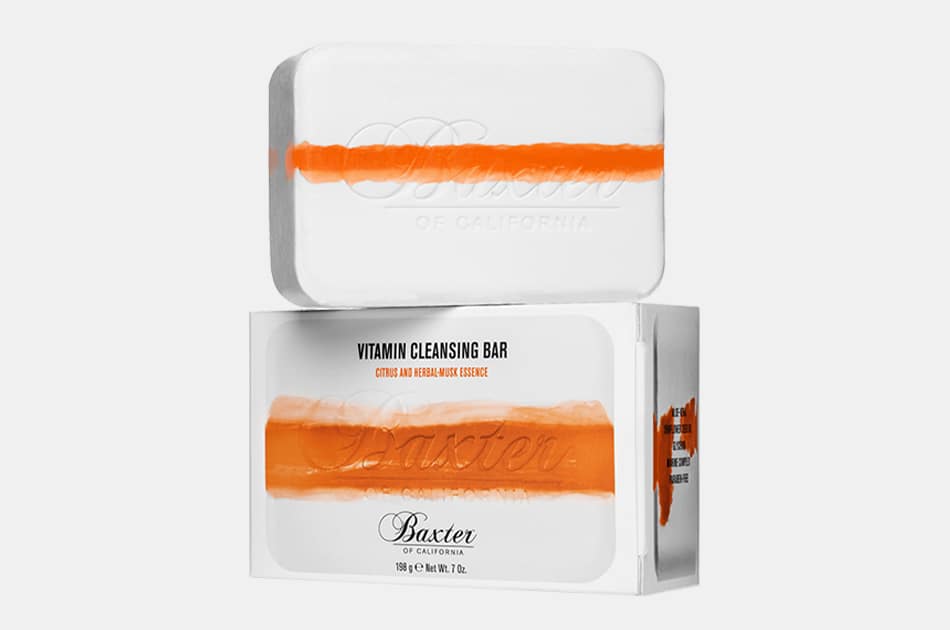 Baxter of California Vitamin Cleansing Bar
Baxter of California calls itself "the original experts in men's grooming and personal care," and one wash with the Vitamin Cleansing Bar will show you exactly why they have earned that name. The soap produces a rich, thick lather that is highly effective at eliminating all grime, dirt, and dead skin cells. The scent is light—a beautifully citrus-forward herbal musk—and the natural ingredients (sunflower seed oil, marine complex, and aloe) will work to nourish and moisturize your freshly scrubbed skin. It's an everyday soap you'll never get tired of using.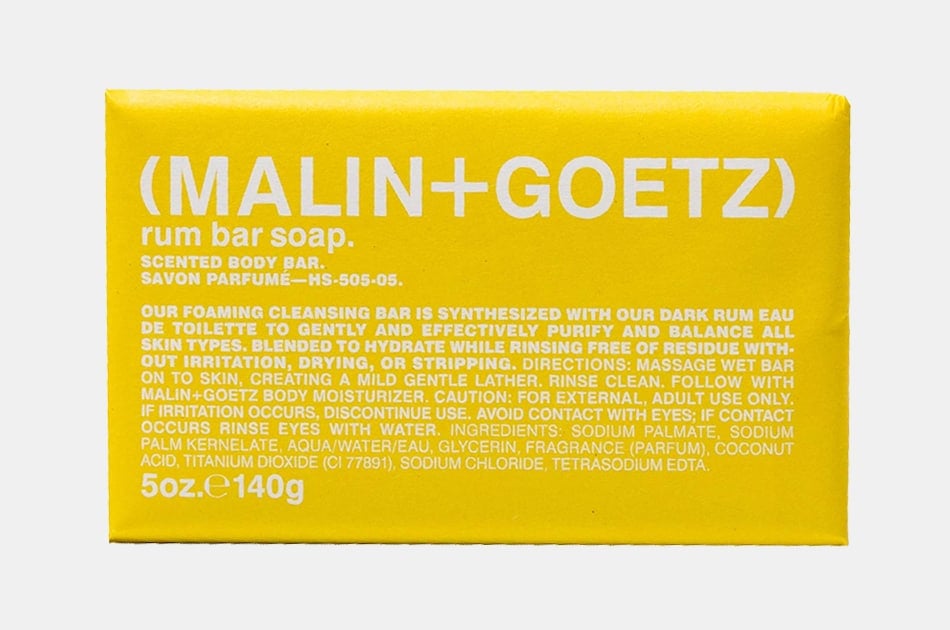 Malin+Goetz Rum Bar Soap
Never accept anything less than the best in your personal grooming products, and the "best" is exactly what Malin+Goetz delivers in this wonderful Rum Bar Soap. The soap has been triple-milled to maximize its lifespan, delivering more, better-lathering foam than its competitors. You'll find the dark rum scent alluring—reminiscent of either your favorite manly drink or ice cream flavor—but not so overpowering that it clashes with your deodorant or cologne. It's suitable for even sensitive skin and delivers excellent cleansing power without being excessively harsh or astringent. When you're done, it washes away and leaves behind no residue, only wonderfully clean skin.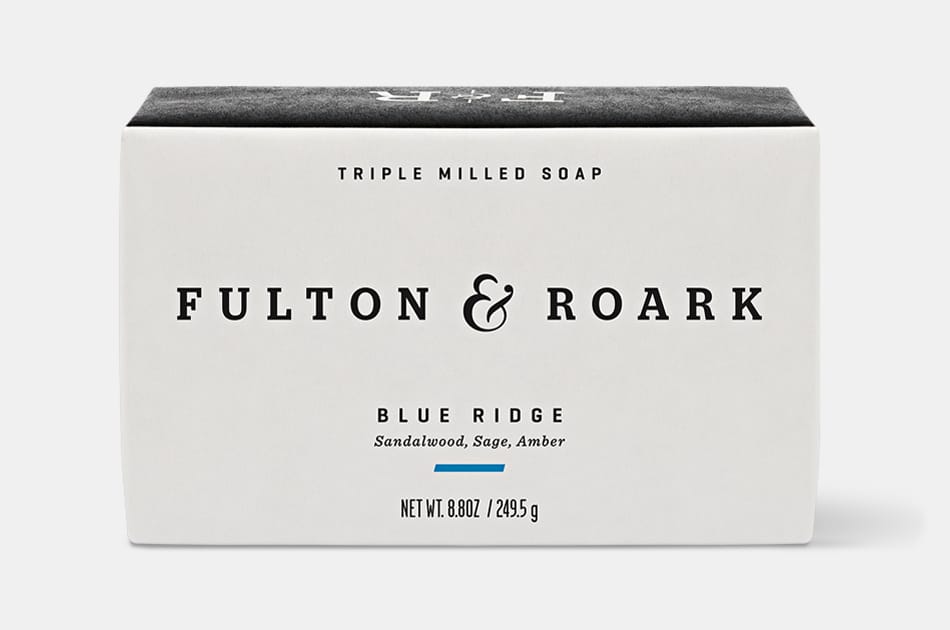 Fulton & Roark Blue Ridge Bar Soap
Fulton & Roark is the "jetsetter's brand," producing products perfect for manly men who want to look and smell their best on the go. Their Blue Ridge Bar Soap is one you'll want to take with you on every vacation and business trip, it just smells so wonderful (with its fragrance notes of amber, sage, and sandalwood) and does such a top-notch job of cleansing your skin. The triple-milled soap lathers beautifully, and when you apply it to your body, you'll find the oat flour mixed into the bar will exfoliate your skin to scrub away all dirt, grime, and dead skin cells. As it cleanses, the cocoa butter and shea butter infuse your skin with moisture and oils to protect against dryness. Now that's a great bar of soap.
Disclosure: Clicking on these links and making a purchase may earn us a small referral fee, at no extra cost to you. Learn more here.
freestar.config.enabled_slots.push({ placementName: "gearmoose_leaderboard_btf", slotId: "gearmoose_leaderboard_btf" });