15 Best Deodorants For Men
Stay perfectly still. Think no distressing thoughts. Never become nervous or embarrassed. Avoid summer. Otherwise you will sweat. And in the warm, dark, humid climate of the human armpit, that sweat gets gobbled up by bacteria, producing a compound with an aroma reminiscent of stale liver and onions dipped in sulfur. A scent deemed by polite society as undesirable in coworkers, drinking buddies, and significant others. So then: deodorant.
Here is our guide to the 15 best deodorants for men that will stop the stink before it starts. We found natural deodorants that use everything from common household ingredients to arctic-sourced moss to keep you fresh. We've put a couple of antiperspirants on here too. Because while the aluminum that stops pores from sweating is falling out of favor due to possible ill health effects, there are times when an antiperspirant might be called for over a plain stick of deodorant — job interviews and public speaking come to mind.
Feel free to move and heat up and sweat and experience all four seasons, with or without A/C. These men's deodorants will keep you appealingly not smelly, pleasantly unfunky, and socially acceptable each and every day you swipe some on.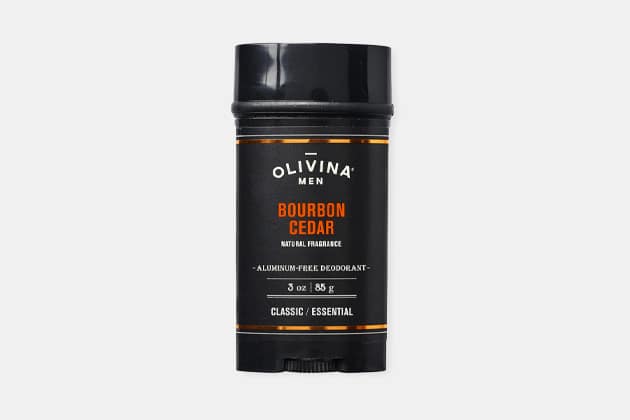 Olivina Men Aluminum Free Deodorant
Natural grooming care for men is what Olivina does, basing their stuff on olive, hemp seed, and grape seed oils — along with other natural and/or organic ingredients. This formula is gentle so those of you dealing with sensitive skin will be fine. Witch hazel extract kills bacteria to stop the stink while your choice of three different aromas layer on a boozy hint. Pick your scent like you're ordering at a bar: Juniper Tonic, Ginger Beer or Olivina's classic, Bourbon Cedar. – Buy It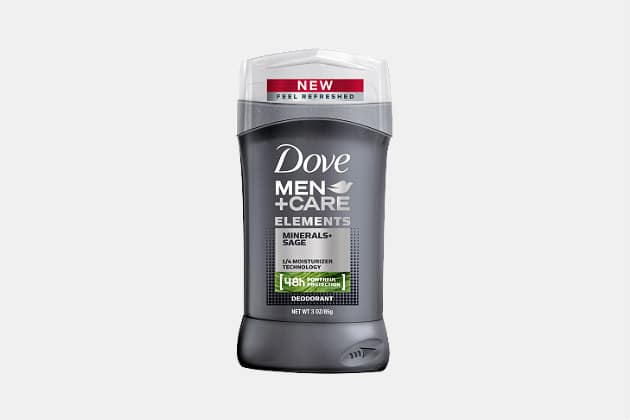 Dove Men+Care Elements Deodorant Stick
If you ever thought maybe you'd like to skip a day, grooming-wise, this might be the stick to try. Dove formulated their Elements deodorant sticks to give you a full 48-hours of defense against bad smelling pits. It comes in two different scents: sandalwood and sage, both incorporate earth minerals for added freshness. With their signature dose of ¼ moisturizer technology, the sticks also strive to help your skin stay moisturized and happily irritation-free. If you ever wanted Saturday's shower to count for Sunday too, now it can. – Buy It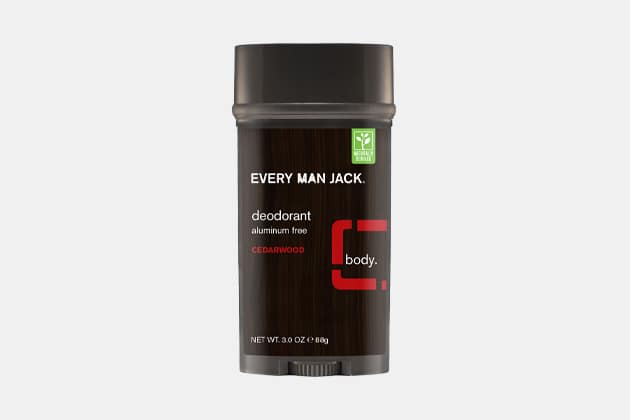 Every Man Jack Deodorant
Ninety-nine percent natural is a notable achievement — just about as natural as you can get before you're rubbing a piece of bark on your pits and hoping for the best. The big difference is these deodorants from Every Man Jack will actually work to keep the unpleasant aromas at bay. Along with witch hazel, lichen performs bacteria combat duties while cotton extract absorbs wetness. Fragrance comes from essential oils instead of synthetic perfumes and includes scents like Citrus, Cedarwood, and Signature Mint. – Buy It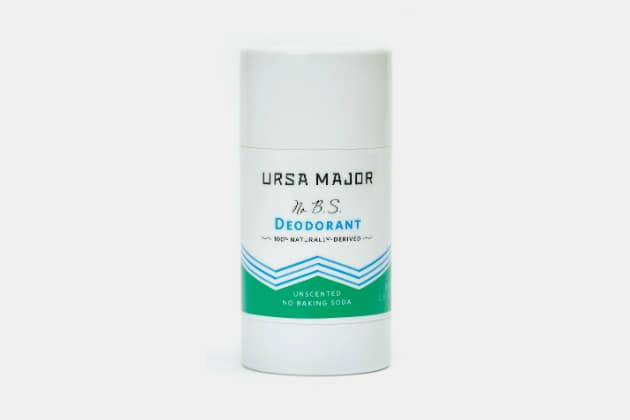 Ursa Major No B.S. Deodorant
Baking soda is a ferocious fighter of stink and is found in many of the more effective natural deodorants. Only problem is, some pits react rather negatively to the stuff. For those with sensitive skin, Ursa Major of Vermont offers their No B.S. Deodorant. Take that to mean no baking soda, but also no BS ingredients like petrochemicals, sulfates, parabens, or glycols. Instead, hops work their magic to neutralize odors and something called saccharomyces ferment (a probiotic enzyme) absorbs odors while kaolin clay absorbs moisture. – Buy It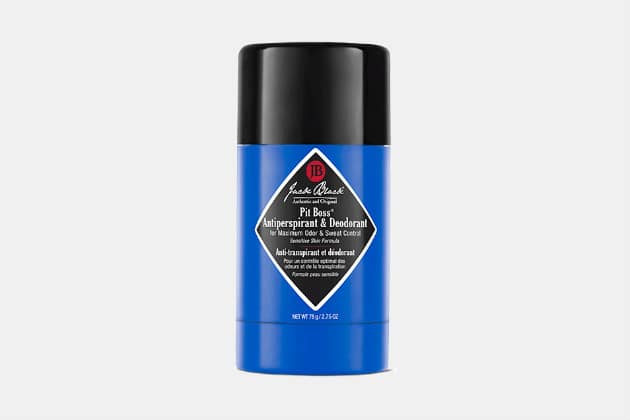 Jack Black Pit Boss Antiperspirant & Deodorant
Take the Pit Boss name on two levels. On one, Jack Black made this deodorant and antiperspirant so strong, it's good enough for the guy watching the poker tables down at the Stardust. Or more likely, it's for those of you with less (or more) demanding jobs and "Pit Boss" means it'll act as the boss of your pits, stopping them from sweating while making them smell good with Jack Black's signature All-Over scent (also found in their body wash and body spray). – Buy It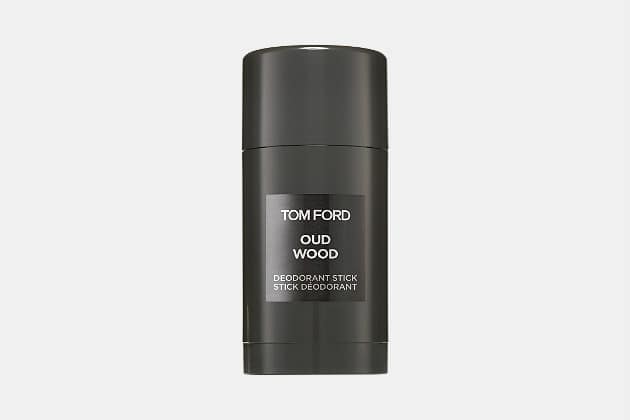 Tom Ford Oud Wood Deodorant Stick
So you ponied up for Tom Ford's Oud Wood Body Wash, or perhaps the bar soap. Maybe you went all out and got yourself a little bottle of the cologne too. Now what's the point of any of that if you're swiping a stick of Axe deodorant under your arms? No one will smell the resinous, slightly woody, slightly musky, faintly vanilla and subtly amber notes that your Oud Wood-derived products are putting out there. They'll just smell Axe. So here's the deodorant that properly completes your rich and rare set of oud wood wares. – Buy It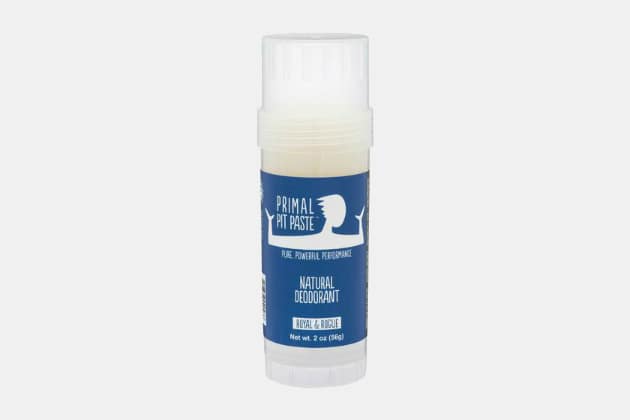 Primal Pit Paste Natural Deodorant Stick
This Austin, Texas outfit uses fully natural ingredients (as in stuff you could eat) plus essential oils, in this easy to apply stick. Baking soda eliminates odor while shea butter and coconut oil take care of your pit skin. Choose from Spice, Coconut Lime, or an earthy frankincense/sandalwood/rosewood scent called Royal & Rogue.
Their deodorant works a bit differently than others, so take a minute to read the how-tos. They also warn of the "adjustment period" experienced by those switching from fulltime antiperspirant use to (any) natural deodorant. Evidently, when you stop blocking those sweat glands with AP, they let go of what was held back. And it's not pleasant for up to three weeks. – Buy It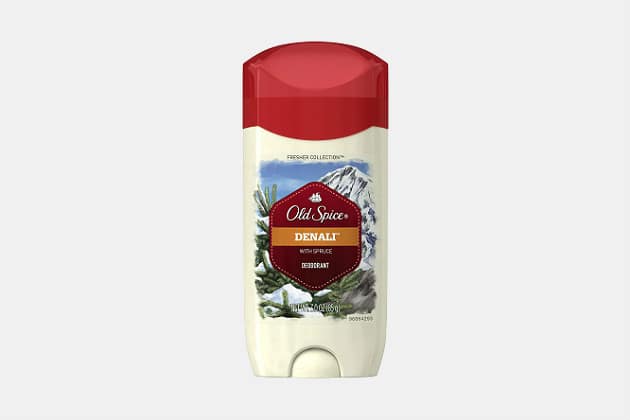 Old Spice Denali Fresher Collection Deodorant
The Fresher Collection on offer from Old Spice takes its cues from some of the freshest places on Earth. This one is named for the tallest peak in North America, Alaska's Denali. For a mountain that takes nearly three weeks to climb and can reach wind chill temps down to negative 118ºF we imagine it is, in fact, pretty fresh up there. Musk, citrus, and wood is the Old Spice interpretation of twenty-thousand feet of fresh and the blue stick will get you twenty-four hours of mountaineering-grade odor protection. – Buy It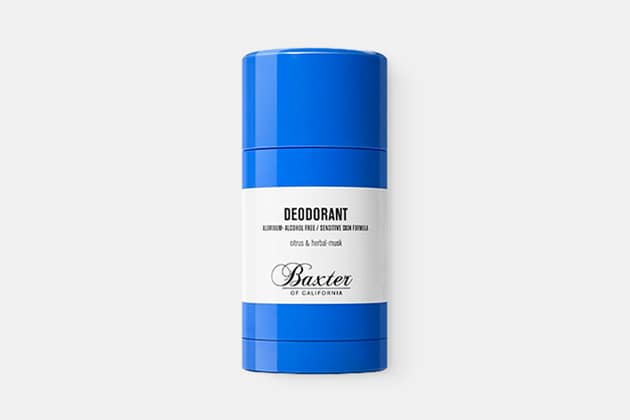 Baxter Of California Deodorant
The only deodorant Baxter of California offers has an herby, musky scent. It also contains extracts of comfrey, yarrow, chamomile and tea tree. Those are plant-y sounding things that seem good, but what do they do? Turns out comfrey, a common garden plant, soothes muscles, while yarrow and chamomile are two related culinary herbs that heal wounds and ease inflammation. Tea tree oil, from an Australian myrtle plant, has the benefit of being antimicrobial — perfect for preventing the funk. – Buy It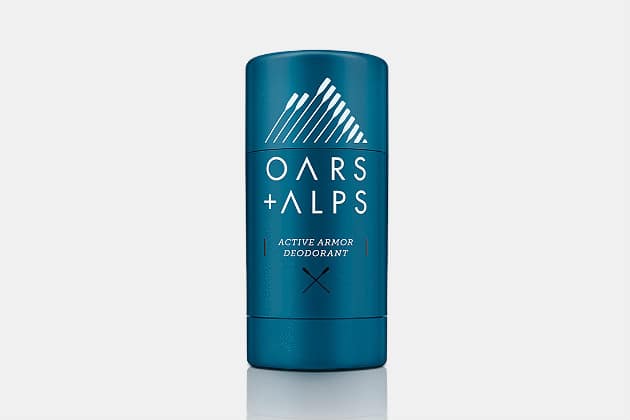 Oars + Alps Natural Deodorant
The mundane meets the exotic. Here's a stick that takes a little something from your pantry (cornstarch) and pairs it with something you've possibly never heard of (Alpine Caribou Moss). Both serve functions. The cornstarch absorbs wetness as a natural alternative to antiperspirant chemicals, while Alpine Caribou Moss is Oars + Alps own extract made from lichen that grows in the tundra of northern Finland. It's rich in antioxidants and helps keep your skin protected from irritation — and it finds its way into every product Oars + Alps makes. – Buy It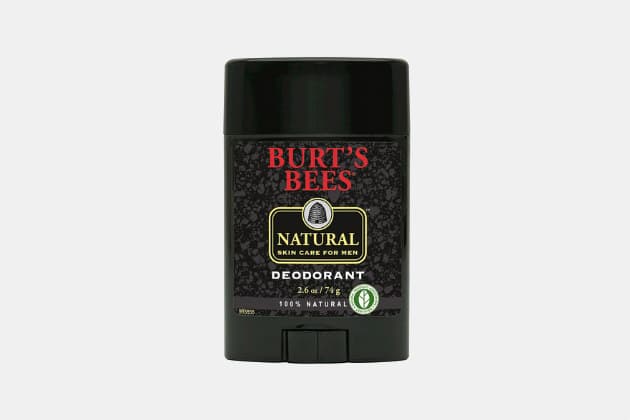 Burt's Bees Natural Deodorant
Burt's Bees, which started as a candle company that used the leftover beeswax from a guy named Burt's honeybees, has since grown into an international personal care company. But they still use bee-centric ingredients in their products. This one has beeswax plus the oils of two fruits (orange and lemon) that rely on bees for pollination. While the bees were told years ago of Burt's passing (it's a thing you're supposed to do) bees are still responsible for helping make stuff that goes into the products that bear his name. – Buy It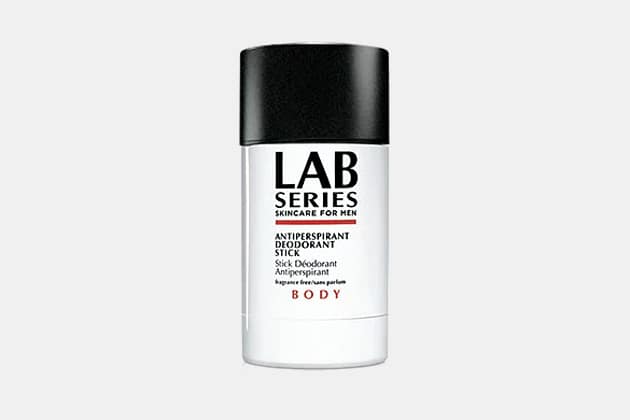 Lab Series Antiperspirant Deodorant Stick
Maybe you want to add some science-based product to your daily routine. Lab Series is here for you. They've been making high-tech grooming products for men for thirty years in those labs of theirs, and they rely on tried and tested, cutting-edge formulas that aim to be effective. This antiperspirant deodorant is fragrance free, controls odor, and relies on the proven active ingredient of aluminum zirconium to stop sweat in its tracks. – Buy It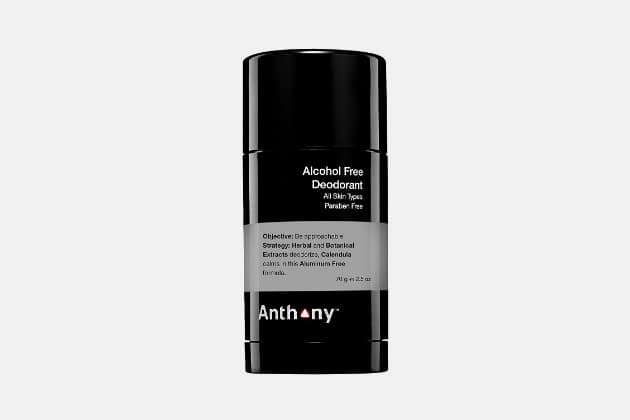 Anthony Alcohol Free Deodorant
Keep your alcohol where it belongs — in a bottle, flask, or your mouth — and not on your skin. This alcohol-free deodorant comes from Anthony, the grooming for men company founded by a guy named Phineas. Ok, his name is Anthony. (But now that we think of it, more people should be named Phineas.) Anthony's brand takes a problem/solution approach to personal care. The objective with this deodorant is ensuring approachability. To achieve that end, herbals and botanical extracts deodorize while calendula soothes your skin. – Buy It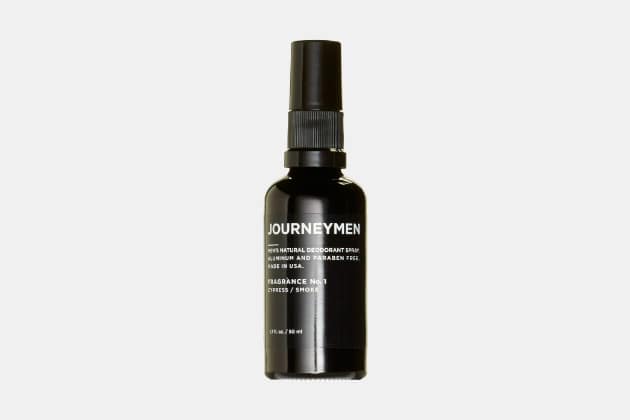 Journeymen Natural Deodorant Spray
One So-Cal surfer admits to another that he'd recently been called out for smelling like a low-rent drugstore deodorant. Instead of passively picking another pit protector, the two decided to start their own brand of men's body care and made their own dang deodorant. Journeymen currently has two products on offer — this deodorant spray and a body wash. Both feature their cypress/smoke scented Fragrance No. 1 and neither contain any harsh chemicals or parabens — you definitely won't smell drugstore cheap. – Buy It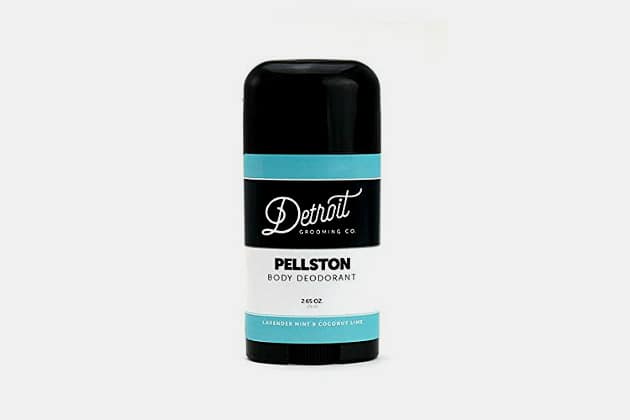 Detroit Grooming Deodorant
You picked out your preferred daily scent — be it a solid cologne, a beard oil, or maybe a really strong peppermint lip balm that makes you feel minty all over. Now all you need is a deodorant that'll keep your natural musk in check while not competing with the nose-flavor profile you're offering. Downtown Deodorant from Detroit Grooming is long-lasting, aluminum-free, and all-natural without offering any scent of its own so you can smell how you want to smell — or like nothing at all. – Buy It