15 Best Flasks For Everyday Carry
A nip at the office may not be apropos, and you certainly don't want to be caught drinking and driving, but there are plenty of occasions during the average day when you might be glad you have a shot of courage at the ready.  Like when you cut yourself preparing steaks, your in-laws show up unannounced, or you sneak off to watch the latest episode of "This is Us".  That show is for everyone.  Don't judge.
Whether you're seeking a classic beauty molded to fit your back pocket, a slim model you can hide in your suit jacket, or a covert and multifunctional creation that lets you keep your best booze to yourself, there is no shortage of flasks to choose from.  Men don't necessarily get the wide range of accessories women enjoy, so you have to make the most of the things you carry, whether you're looking for low-cost utility or you're willing to drop a little more skrilla on a statement piece.
Choosing a hip flask is a personal pursuit, and you'll want to explore all your options before settling on a Beefeater Betty, Smirnoff Sally, or other trusty little lady to offer you a drink when you need it most.  Here are a few of the best hip flasks to consider for your everyday carry needs.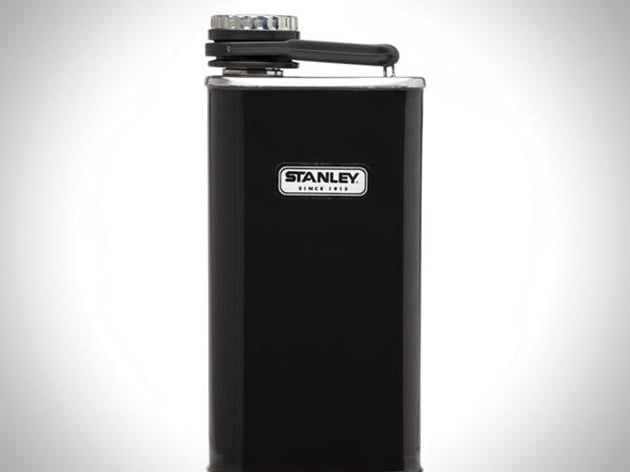 Stanley Classic Flask
You may already be familiar with the classic, muted, hammertone green of Stanley thermoses, which hold up admirably under hardhat conditions and camping abuses alike.  Now you can get the same durable construction and familiar hue in leak-proof, 8-ounce sizing.  This retro hip flask is made from sturdy stainless steel and features a wide mouth opening for those times when nothing but a giant gulp of liquid fire will do the trick.  It also comes with an integrated lanyard so you don't accidentally lose your cap.  It may be rugged, but that doesn't mean it's not smart. – Buy It
VSSL Compact Camp Flask
Suppose you want to pair stealth and utility with the option to get inebriated at a moment's notice.  This is where the VSSL Camp Flashlight Flask shines – pun intended.  At about the size of a water bottle, this unobtrusive, army-green cylinder packs away 10 ounces of liquid and 2 collapsible shot glasses, not to mention a bottle opener, a compass, and an LED flashlight. It's a must for anyone who likes to get lost in the woods…or a parking lot full of tailgaters at night games. – Buy It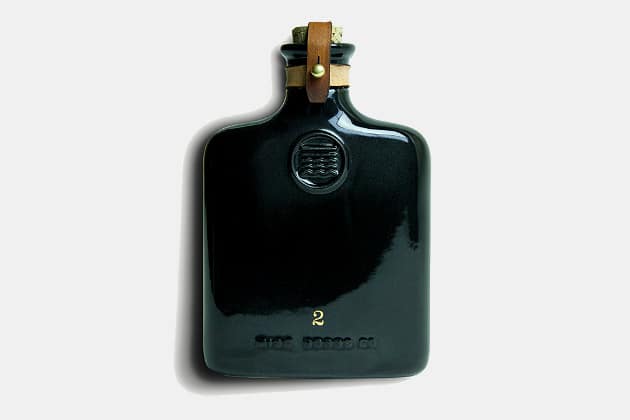 Misc. Goods Ceramic Flask
A ceramic flask may sound like a dangerous proposition to anyone who likes to get three sheets to the wind, and considering this one stores 11 ounces of liquid, the average drinker could easily get buzzed to the point of becoming butterfingered.  However, if you're a measured merry-maker, you'll definitely get style points for this black beauty, which looks like the cool kid brother to your old-timey moonshine jug.  Whether you proudly display it on your backbar or you cart it along for lazy picnics, it's one fancy container for your personal store of booze. – Buy It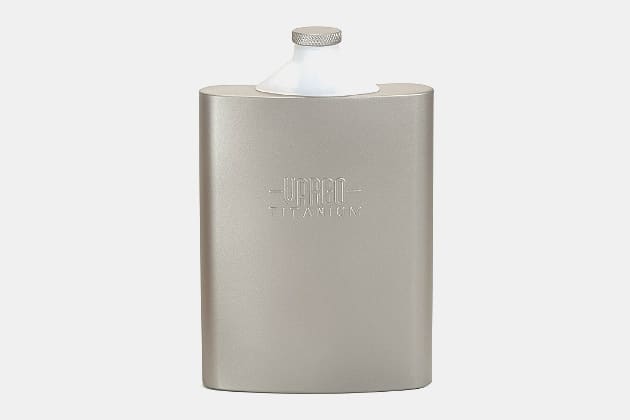 Vargo Titanium Funnel Hip Flask
Once in a while, you come across an idea so obvious you have no choice but to facepalm harder than Henri Vidal's "Cain".  This flask features a silicon spout that folds down over the neck of the bottle and pops up to easily pour in liquor.  No muss, no fuss.  Um, duh.  The solid titanium hip flask is sleek, simple, and food safe, not to mention incredibly durable, and it holds up to 8 ounces of liquid.  As a side note, titanium is easy to engrave – just take it to a local jewelry shop. – Buy It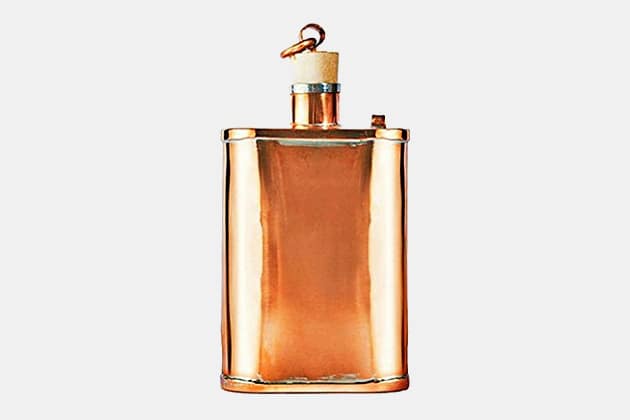 Jacob Bromwell Great American Flask
At 200 dollars, this flask is pricier than most, but it does come with a level of distinction you won't necessarily find with more commonplace products.  Let's just start with the fact that it's made with pure, solid copper, and the construction consists of lead-free soldering.  That alone is enough to warrant the price, because copper isn't cheap.  Then you add in the provenance.  Known as "the world's original flask", this simple design was created by Jacob Bromwell in 1819 and it remains in use today, holding 9 fluid ounces of your favorite hooch. – Buy It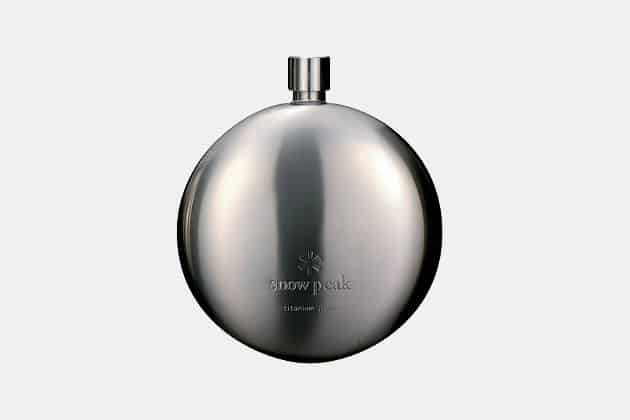 Snow Peak Titanium Curved Flask
It may or may not be bulletproof, but it's certainly titanium, which means this flask is strong, durable, and lightweight.  It also happens to be round.  You can't stand it upright, it's a little awkward to hold, and sadly, it only houses 6.4 fluid ounces, but damn, it looks cool.  As an added bonus, titanium leaves zero metallic finish on the contents of your flask, so your Laphroiag tastes just as rich and peaty months later as the day you poured it in, which P.S., you can accomplish neatly with the help of an included plastic funnel. – Buy It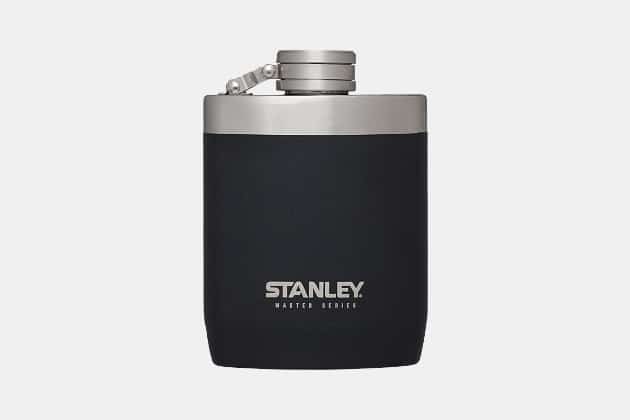 Stanley Master Flask
You'll see a lot of similarities between Stanley's Master Flask and its cousin, the Classic Flask (listed above), including the 8-ounce capacity, steel construction, and a wide mouth opening.  Where the Classic comes in the gray-green color we know and love, though, this bad boy is made of cold-rolled steel that's been finished with matte powdercoat as black as the lump of coal you got in your Christmas stocking.  If Wyatt Earp lived in this day and age, you'd imagine he might carry this understated, no-frills, and somehow completely necessary sauce-slinger. – Buy It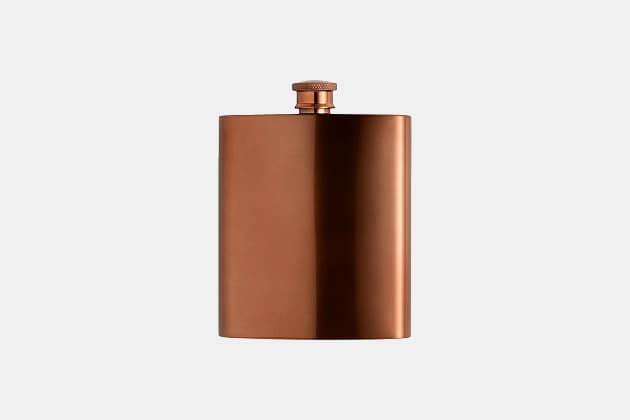 W&P Design Copper Flask
Sleek and simple, this copper flask is the perfect complement to your collection of Moscow mule mugs, especially if you want to take 7 ounces of your favorite cocktail to any destination.  Plated stainless steel pairs a gorgeous copper color on the outside with food-safe metal on the inside, and the slim design slides easily into your jeans or jacket pocket.  When straight up stainless steel doesn't provide the statement piece you're looking for, this EDC hip flask punches up the wow factor with a shot of stylish copper that takes your libation to the next level. – Buy It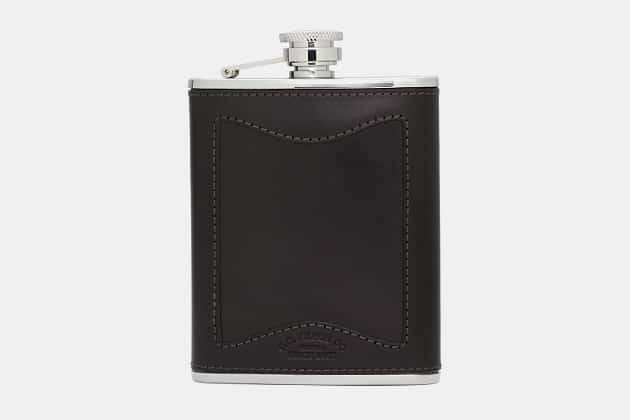 Filson Leather and Stainless Steel Flask
The Filson Leather and Stainless Steel Flask is a limited edition on-the-go adult beverage solution for any true gentleman. The 6 ounce screw top container is American made and perfect for tucking into your pocket. The bridle leather exterior provides comfort and a firm grip for any outdoor adventure or spontaneous night on the town. Get a feel for how a classic American man enjoyed his liquor with this vintage-inspired hip flask. – Buy It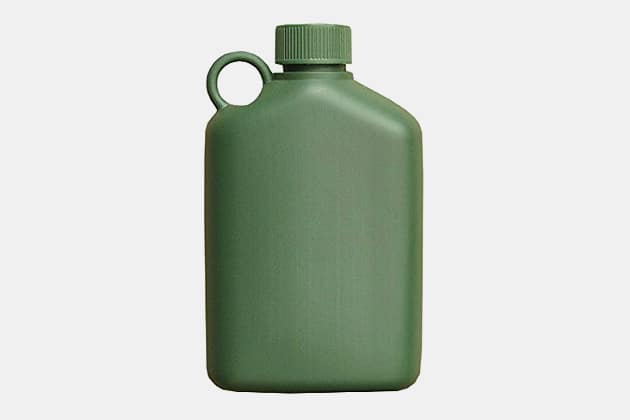 Bush Smarts Hip Flask
Unlike most metal products, the Bush Smarts Hip Flask is a practical and alternative container for quenching your thirst in the wild. Hikers adore this weather-friendly rounded edge design for the anytime potential of sharing a boozy beverage. What sets it apart from most hip flasks is the fact that it is made from tuff PE-HD, which prevents you from burning or freezing your tongue and lips in extreme temperatures while still keeping the liquid inside drinkable. It even comes with an oiled leather strap for linking onto your backpack during a long trip. – Buy It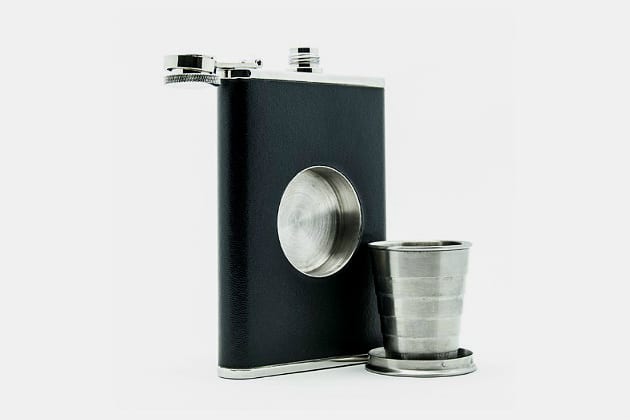 The Original Shot Flask
The originally designed Shot Flask has all of the same perks of any other high quality and reliable hip flask, but what sets it apart is the stealthy travel shot cup for pouring 2 ounce servings when your on the run. Using a collapsible technology, the cup can be stored flat and brought out anytime you're ready to get the party started. It is a great social tool and is a fantastic gift for any adventurous (and perhaps slightly mischievous) bachelor or dad! Wrapped in black bonded leather, the Shot Flask can hold up to 8 ounces of pure fun. – Buy It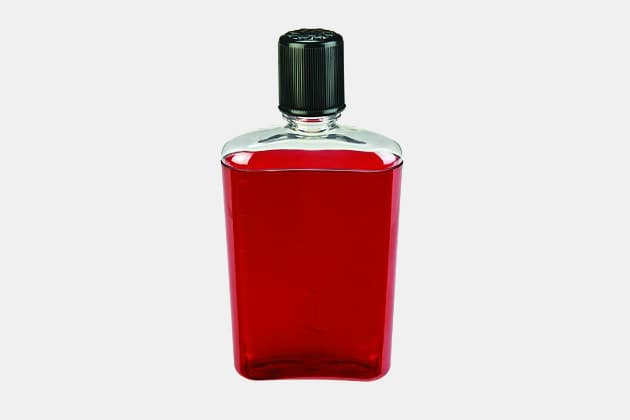 Nalgene Flask
A simple minded and low maintenance drinker doesn't want to mess around with fancy contraptions or accessories that require more work than actual drinking. This is why the Nalgene Flask is the perfect option. The BPA-free slender container comes in two basic colors —- red and blue -— and can hold up to 10 ounces of liquid at a time. What attracts people the most is the lightweight and pocket-sized characteristics, which allow you to get your drink on at the twist of a cap. – Buy It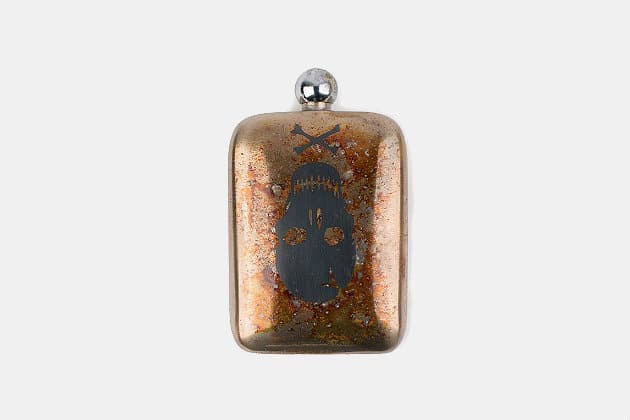 The Sneerwell Old Roger Noble Flask
This 6-ounce flask looks like a rusty, old tow hitch you'd find in a posh junkyard, what with the etched steel patina and the knobby lid.  That is, of course, until you peer a little closer and note the skull and crossbones motif, the iconic symbol of the Jolly Roger pirate flag.  In case you couldn't tell, this is the flask of rebels, made for those who tweak the nose of terror.  So throw on your tricorn hat, jacktar, and drink another measure to good friends and treasure with this hippest of flasks. – Buy It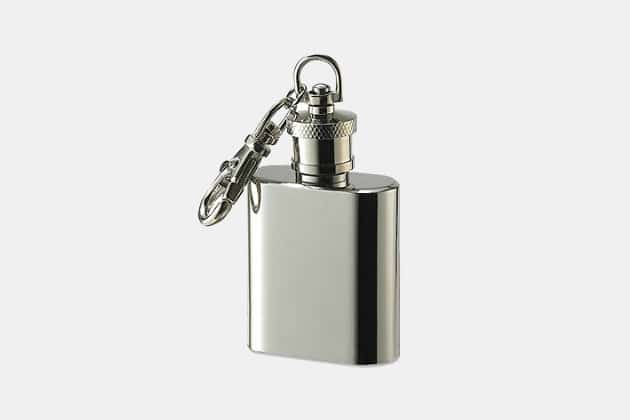 Mini Keychain Flask
This keychain-friendly drinking vessel looks more like a prop than a functional flask, but this EDC flask in stainless steel holds an ounce of your favorite bourbon for your private consumption.  It will leave you wanting more, no doubt, but if you're not keen on looking like a boozehound by toting tiny bottles of liquor around, this could be a suave alternative.  Of course, you'd have to snap two on your keychain to get the same amount of liquor as one of those little bottles.  Is it worth it?  When you need it, you'll be glad you have it on hand. – Buy It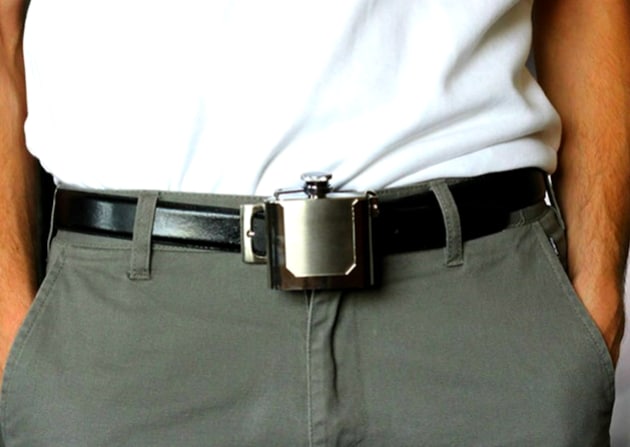 Belt Buckle Flask
Well, there's not much mystery here, thanks to a name that says it all.  It's a flask that holds your liquor…and holds your pants up.  Just what you never knew you needed.  The belt buckle itself is actually a caddy for the flask, which you can remove to take a swig without the risk of dropping trou.  At a slim 1.25 inches thick and approximately 3×4-inch dimensions, it's no surprise this hand flask only holds 3 ounces of fluid.  It's just enough to get you pleasantly buzzed (but not sloppy) on your next blind date. – Buy It