The 10 Best Carry-On Backpacks
It is said the world is shrinking as the population grows, countries and cultures start to overlap, and improved means of travel and communications technology allow us increased contact with our neighbors across the globe.  Unfortunately, while the planet continues to figuratively shrink, the world of airline travel is literally shrinking.
 
In order to increase profits, airlines started reducing seat size and leg room to pack in more travelers on every trip.  According to a report from USA Today that surveyed economy seating space on the big three airlines (American, Delta, and United) between 1985 and 2014, seat width has decreased by two or more inches (while average human hip sizes increased) and seat pitch (the distance between one seat and the seat in front of it) has decreased by as much as 2-5 inches.
 
This means a lot less leg room, not to mention less space to stow your carry-on bag under your seat.  With most airlines adding fees galore for checked bags and now carry-ons, you really need a piece of luggage that is compact, organized, and in keeping with sizing guidelines for a carry-on backpack.  Here are the 10 best carry-on backpacks that you'll want to check out before you book your next weekend getaway.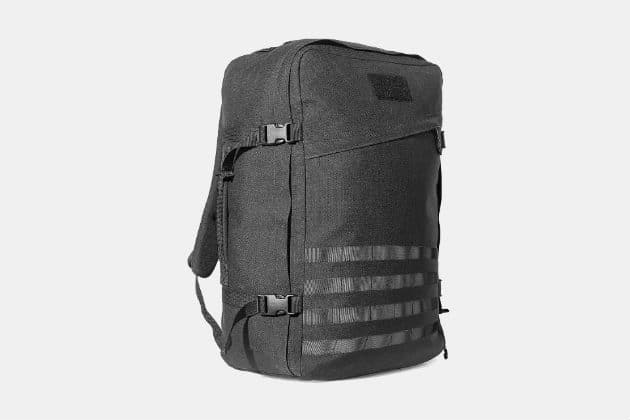 GoRuck GR3 Carry-On Backpack
This boxy backpack bills itself as the largest possible carry-on, which means you should be able to get it through the gate and into the overhead bin, even when stuffed full of socks, travel-size toiletries, and electronics.  Designed with special forces grade materials and "badass American construction", this tactical bag can tote up to 400 pounds and survive a sandstorm, so it should make it through the airport unscathed.  Straps are extra padded for comfort, the zipper pulls are silent for stealth, and the laptop compartment is bomb-proof so you can ostensibly use it as a shield.  It's rain-proof, it opens flat, and it's TSA carry-on compliant.  What more could you ask for? – Buy It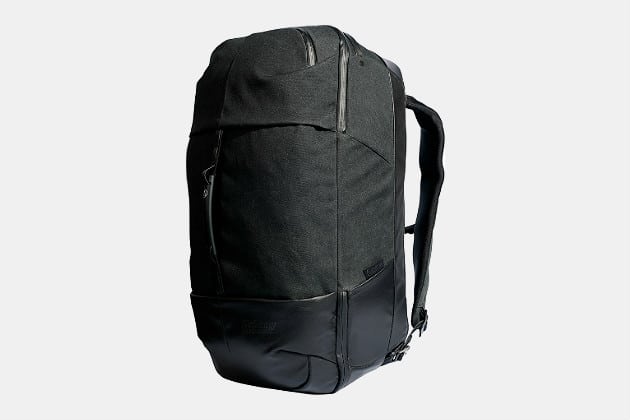 Alchemy Equipment AEL008 Carry On Backpack
It looks like a simple, black, nylon duffel bag.  So, why will it set you back north of 300 bucks?  There's more to this minimalist bag than meets the eye.  For starters, you can carry it as a duffel or backpack, making it more versatile than your average duffel.  It also features a polyurethane-coated base to prevent soaking when set on a wet surface.  The inside is what really shines, though.  Instead of your average, single-compartment duffel, this bag offers up compartments galore to store all your stuff, offering easy access without having to unpack your whole bag in the TSA screening line. – Buy It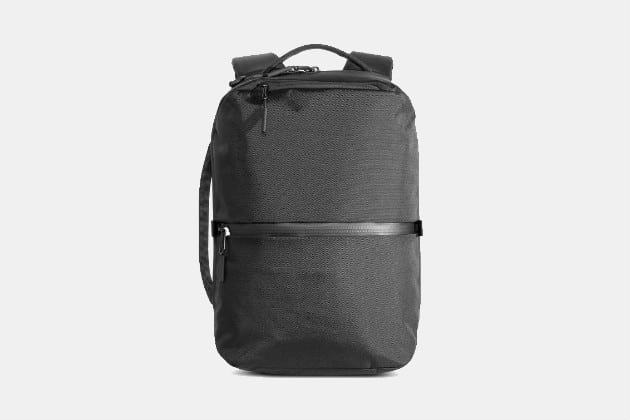 AER Flight Pack
This modern and attractive tote looks like it belongs on the shoulders of the trendy, prep school elite, but the functionality is all business travel.  Let's start with the convertible carry feature.  This bag can be toted three ways: as a backpack, a messenger bag, or a briefcase, depending on your preference.  It also has pockets for days, delighting those who make organization an art form.  At 19"x12.5"x5.5", it will definitely meet airline size guides for carry-ons, and you should be able to squeeze in all your electronics and at least a couple days worth of clothes, in case your checked bag gets waylaid. – Buy It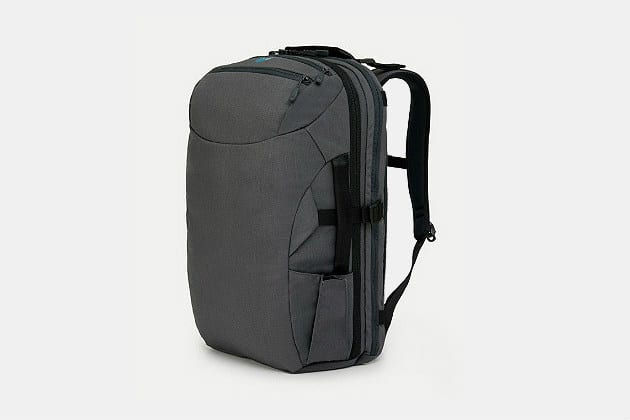 Minaal Carry-On 2.0 Bag
This bag functions on three principles: helping you to move fast and efficiently, bringing joy to your travel experience, and seamlessly transitioning from the board room to the outback.  The result is a lightweight, multifunctional backpack that keeps you organized and stands up to the abuses travel heaps on luggage.  The streamlined design is sleek enough to work as a modern briefcase, but rugged enough for backpacking.  Travelers will appreciate pockets for laptops and water bottles, as well as lockable zippers for safety and security.  Four-point ergonomic load balancing ensures comfort, even if you decide to carry a literal load of bricks. – Buy It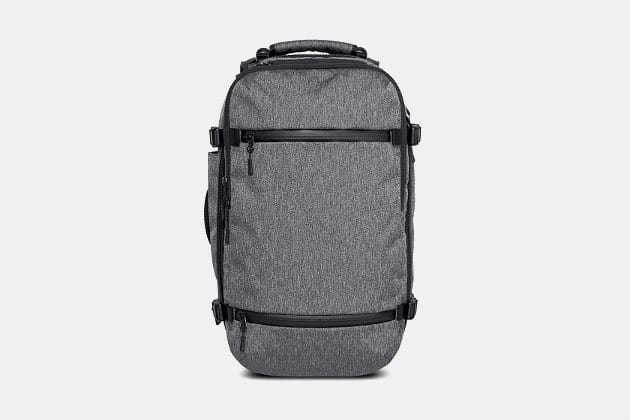 AER Travel Pack
Another beautiful carry on from Aer, this bag won the distinction of "2017 Best Carry-On Backpack" from the Carry Awards.  Although it won't covert from a backpack to a messenger bag like the Aer Flight Pack, the creative compartmentalization is sure to wow the organized traveler.  There are specialized compartments for – deep breath – your laptop (with quick access), charging cables, small valuables, accessories, your passport and smartphone, pens, a water bottle, and clothing.  There's even a ventilated shoe compartment so you don't have to store your funky kicks in a plastic bag.  With a ballistic nylon exterior, you can be sure all your valuables make it safely to your destination. – Buy It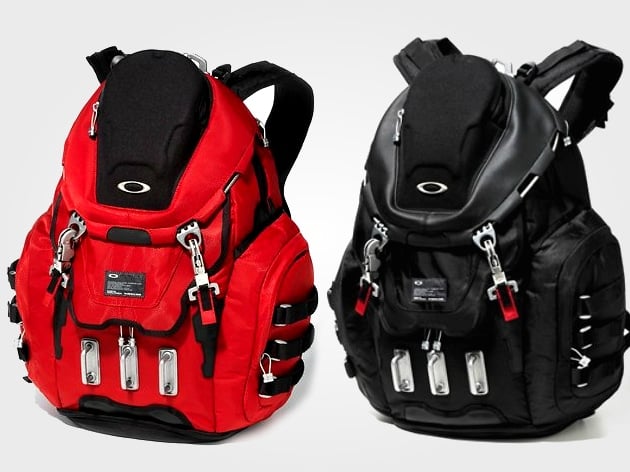 Oakley Kitchen Sink
Although not expressly stated, you can imagine that this versatile backpack got its name because you can pack everything but the kitchen sink inside.  In addition to a large central compartment for clothing, there's a padded compartment for up to 17" laptops, a side pocket for a water bottle, a hard sunglasses case, and a bottom shoe compartment, in addition to sundry smaller pockets for pens, electronics, charging cables, snacks, and more.  Padded and mesh-line back and straps keep travelers cool and comfortable, while abrasion-resistant fabric and a sturdy bottom panel keep the goods from getting dinged up.  At 20"x14"x8" you can fit plenty in this stylish carry on backpack. – Buy It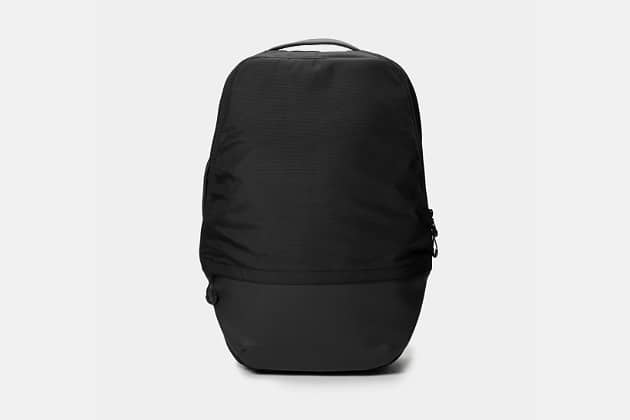 OpposeThis Invisible Carry-On Backpack
At first glance, this carry-on looks like an alien pod, thanks to wraparound side flaps that hide the zippers and help it live up to its "invisible" moniker.  You almost expect Lady Gaga to pop out when you open it up.  When packed and strapped, this bag meets size guidelines for carry-ons, but expandable features allow you to stuff it even more when you're not planning to get on a plane.  Myriad compartments and pockets house clothing, electronics, and knickknacks galore; there's a secret, drop-in pocket on top to keep valuable items secure and provide easy access; and a lightweight, waterproof nylon shell keeps contents dry. – Buy It
Timbuk2 Uptown Backpack
Whether you're heading across town to work or across the globe on a personal excursion, this carry on pack can go with you anywhere.  It's a bit boxy, and dimensions of just 19.5"x11.6"x6.5" don't leave room for a ton of stuff, but it's well within travel guidelines for size, so you never have to worry about gate checking.  The main compartment accommodates clothes, books, and more, while smaller pockets for electronics like a laptop and tablet populate the front compartment.  There's also a side pocket for a water bottle, a floating pocket for glasses or a smartphone, and a Vista loop to attach a bike light. – Buy It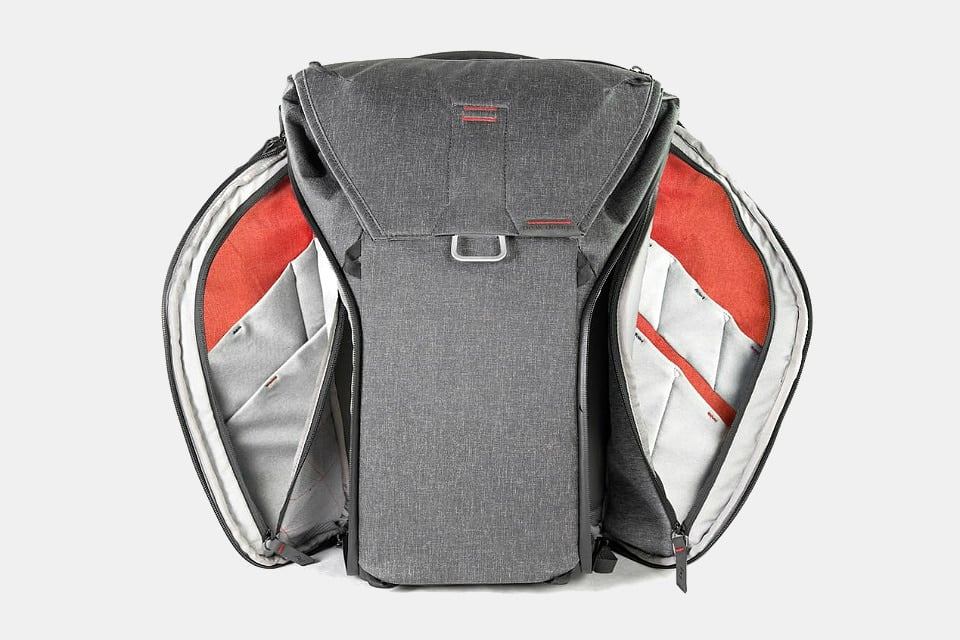 Peak Design Everyday Backpack
This sporty rucksack seems pretty standard, until you start unzipping the pockets.  Side flaps butterfly open to reveal padded compartments designed to safely store small electronics, accessories, snacks, or toiletries.  The main compartment is even more impressive thanks to the addition of FlexFold dividers that offer endless configurations to organize the contents of your bag – which, P.S., can be accessed from the top or side openings.  There's also a dedicated laptop compartment.  Magnets power the easy-to-use MagLatch closure system, materials are weatherproof, and custom, padded straps ensure comfort.  No wonder this carry-on backpack earned over $6 million in funding on Kickstarter. – Buy It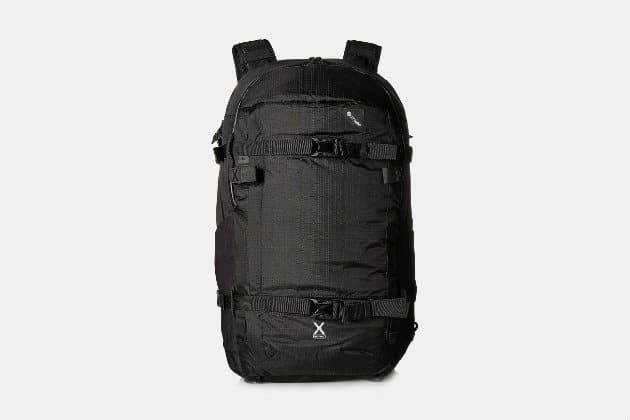 Pacsafe Venturesafe X40 Backpack
The Venturesafe X40 Plus looks like it was made for hitting the trails.  However, its many features make it just as good for travel.  Wraparound straps and zip clips deter your friendly neighborhood pickpocket, eXomesh materials defy cutting, and RFID technology blocks scanners from stealing personal data on credit cards and IDs.  Then there are the innards of the bag, including a hideaway rain cover, a laptop pocket, a removable main compartment divider, and plenty of smaller pockets for organization.  It also has adjustable sternum and waist straps for load balance and comfort.  If security and convenience top your list of priorities, you're going to love this carry-on. – Buy It
Disclosure: Clicking on these links and making a purchase may earn us a small referral fee, at no extra cost to you. Learn more here.
freestar.config.enabled_slots.push({ placementName: "gearmoose_leaderboard_btf", slotId: "gearmoose_leaderboard_btf" });