The 20 Best Body Washes For Men
How do you like to get clean? If you said, "Rub skin with rock," we wish you all the best. The rest of you might be interested in the vast and varied options in body washes for men, all of them laser-focused on landing a spot in your shower. Turns out there are almost as many ways to get clean as there are to get dirty and each product says it's the best body wash. Actually finding a body wash that lines up with your likes can take some shoveling, so here's our guide.
We've rounded up a complete list of the best body washes for men that promise to get you clean and make your skin feel refreshingly good. We decoded the branding jargon, looked under the labels and came up with 20 bottles that may very well warrant a position in your daily routine. Pick a body wash that wakes you up like an ice bucket. Or take a milder, just went surfing approach to your day. Sensitive skin is covered. So is deodorizing. Ingredients like juniper, volcanic ash and charcoal all make appearances here. Decide to go with any one of these men's body washes, and you'll be starting your regimen off right.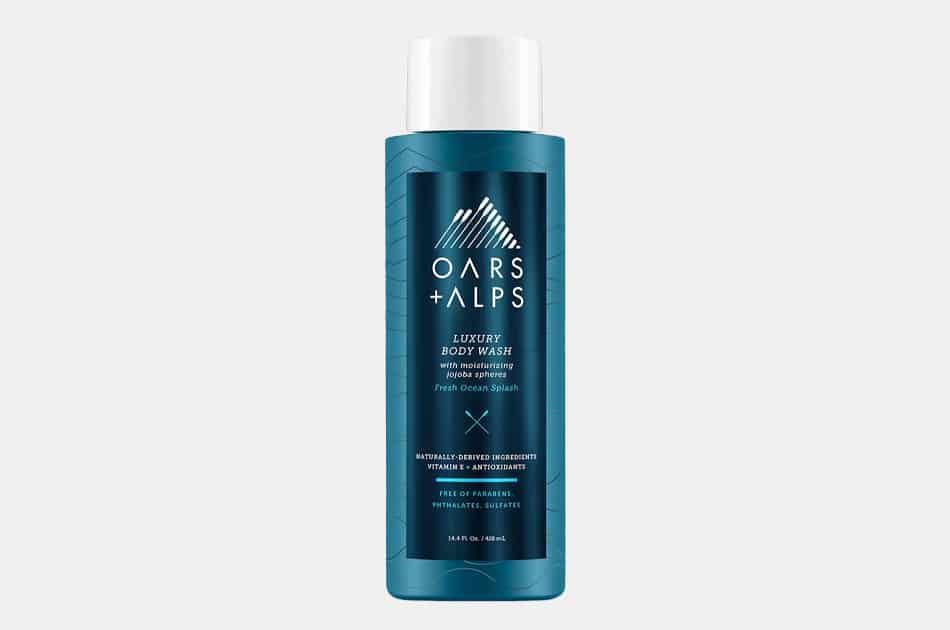 Best Overall: Oars + Alps Body Wash
Kick manly cleanliness up a notch with Oars + Alps Body Wash. The scent is fresh and clean, enough to make anyone passing by pay attention without overwhelming your natural manly smell or the cologne you're wearing. But it's more than just a body wash—the Vitamin E will protect your skin from dryness, the jojoba oil will provide added moisture, and the antioxidants will keep your skin looking young and fresh. Best of all, there's no oil-eliminating ingredients, and the sulfate-free lather will leave you cleaner than ever.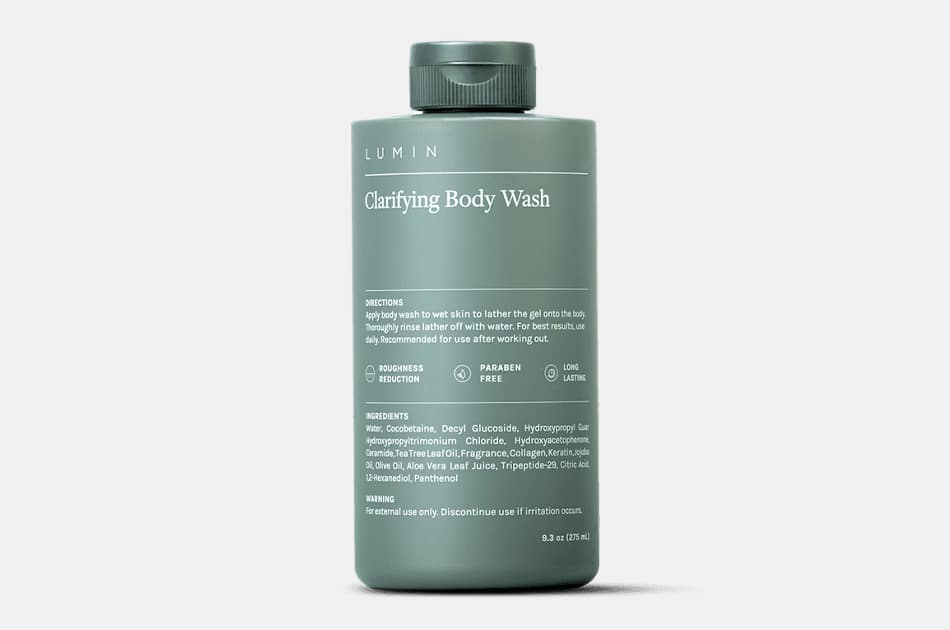 Editor's Pick: Lumin Clarifying Body Wash
Lumin Clarifying Body Wash is your solution for better, cleaner, healthier skin, all in a beautifully-scented body wash. It's formulated to eliminate body odors, bacterial build-up on your skin (preventing acne), reducing inflammation, and getting rid of dirt and dust after a hard day at work or the gym. You'll love how its ingredients improve your skin health: tea tree oil soothes irritated and dry skin, ceramide locks in moisture, and aloe vera repairs damaged skin. You'll never have to worry about dryness, itching, or cracking skin again thanks to this amazing body wash.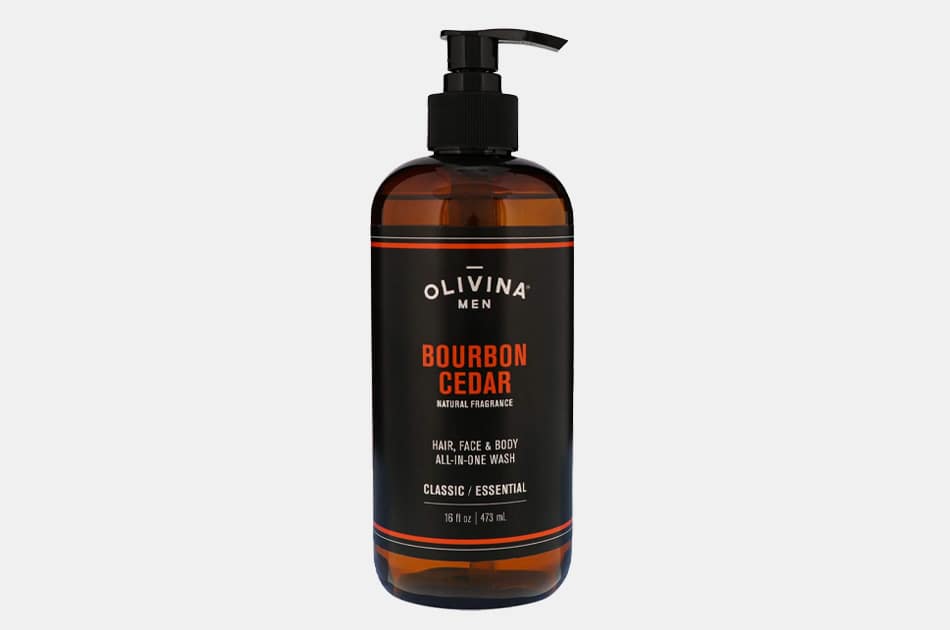 Best Scent: Olivina Men All-In-One Bourbon Cedar Body Wash
We like the washes that do it all: Face, hair, body. Pairing down what's in your shower neatens things up and you only need to worry about keeping stocked on one bottle instead of 3. Olivina Men started their collection of body care for men based around natural ingredients, particularly organic olive oil, which is where they get their name. Their Bourbon Cedar Body Wash is calming and rich with hints of smoky vanilla. Use it head to foot for an easy clean that smells excellent.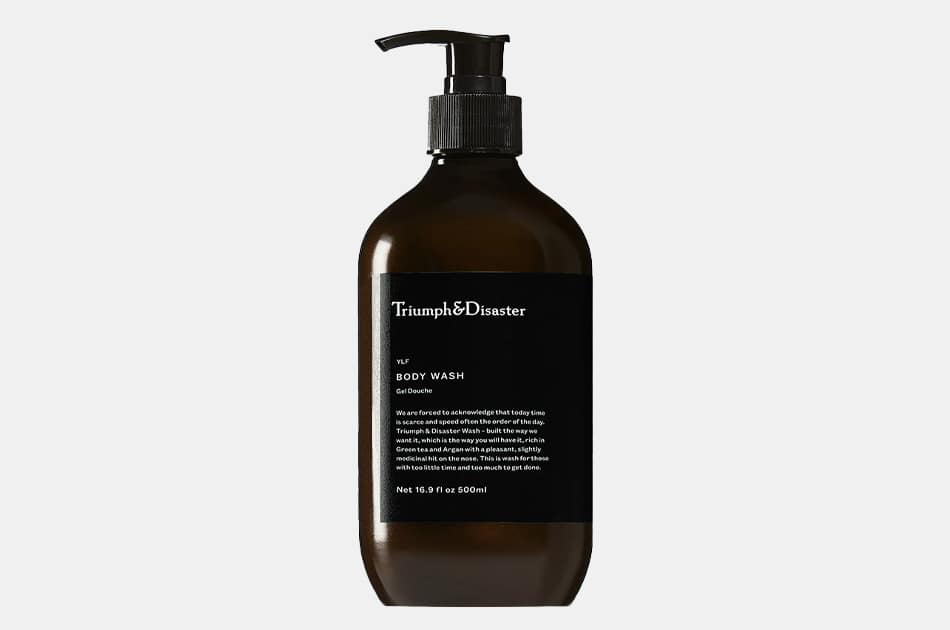 Best Head To Toe Wash: Triumph & Disaster YLF Body Wash
Athletes retire and do something else, hopefully bringing along lessons learned from the sport. In this case, New Zealand cricketer Dion Nash went on to make skin care for men. A key lesson carried over is getting clean after a hard day of play. YLF Body Wash for men follows Triumph & Disaster's ethos of using ingredients from nature, engineered through science. Argan oil hydrates. Things like kawakawa and green tea leaf extract work to protect the skin. And sandalwood gives the wash an herbal, woodsy scent. Perfect for washing up after a match or just getting ready for your day.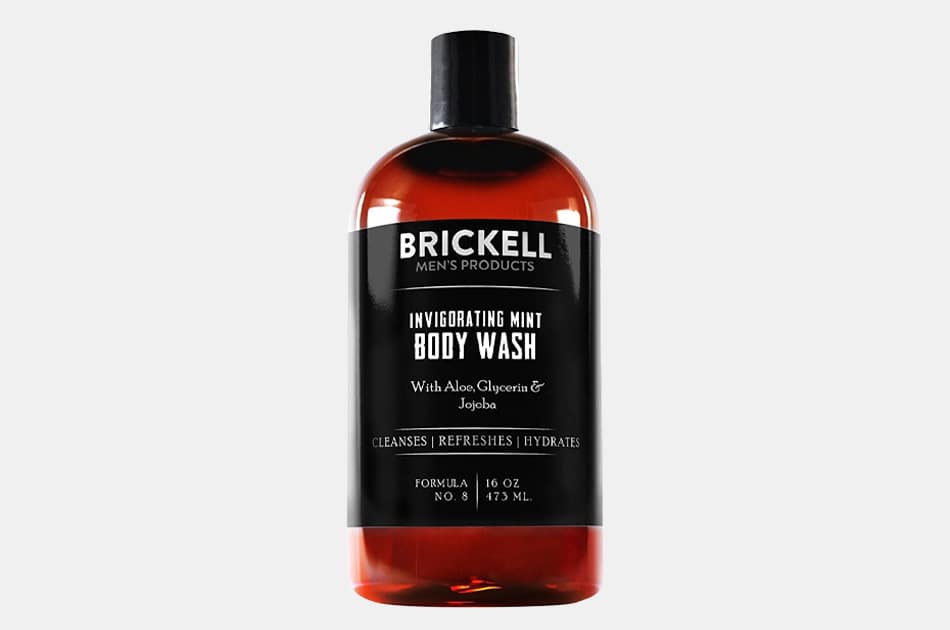 Best For Sensitive Skin: Brickell Invigorating Mint Body Wash
Wake up. Get clean. Stay hydrated. Three noble goals that Brickell's body wash delivers. With no unpleasant chemicals to irritate your skin, this Invigorating Mint body wash uses coconut-based cleansers and tea tree oil to clean, while jojoba and aloe vera moisturize. The addition of glycerin to the mix helps attract environmental moisture to keep your skin softer throughout the day. The minty scent is meant to put some vim in your morning routine while lavender and chamomile keep sensitive skin well cared for. Wake, lather, rinse, and go about your day, irritation-free.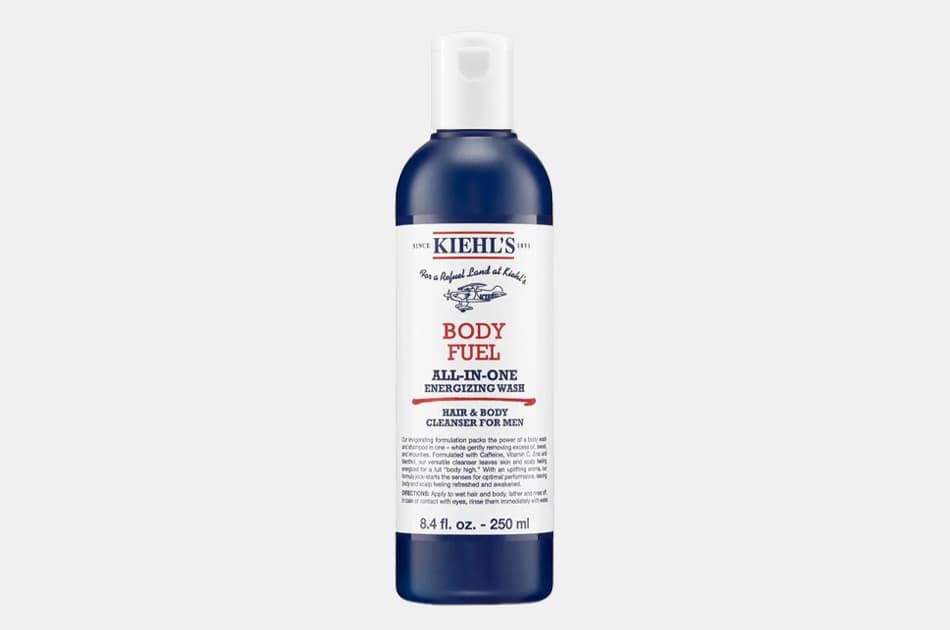 Best Caffeinated Wash: Kiehl's Body Fuel Energizing Hair & Body Wash
What happens in the morning? Coffee happens in the morning. But also showers. Which, sadly, makes you leave the mug behind while you get clean for the day. Kiehl's understands how hard that can be, so they put caffeine in their all-in-one Body Fuel. Good for hair, face and body, Body Fuel body wash wakes you up from the outside in with caffeine, Vitamin C and a little cooling tingle thanks to menthol. The addition of zinc helps your skin regulate sebum (oil) and does anti-microbial duty too. Yet another way to up the energy in the AM? Very good idea.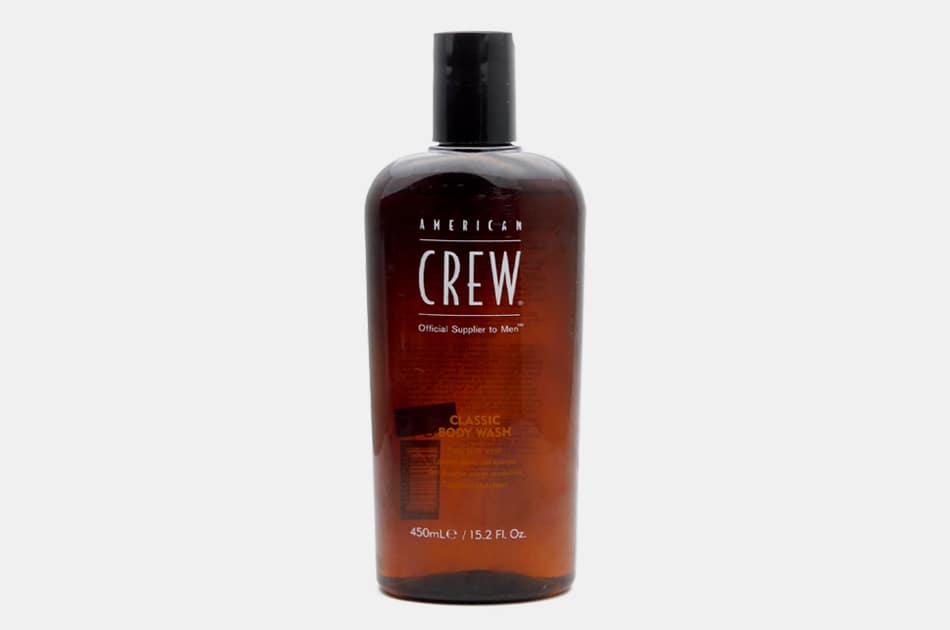 Best For Dry Skin: American Crew Classic Body Wash
Maybe you've seen those dark amber bottles and jars at the shop that cuts your hair. Most likely those were American Crew. They're pretty big in the salon products for men field and if you tried their pomade, you might want to give their men's body wash a turn. Featuring their signature fragrance, rich in spice and citrus, this body wash is good for dry skin and features ginseng root extract for a nice antioxidant boost. If you're already using their hair product, adding this to your routine is a good way to keep your fragrance game consistent.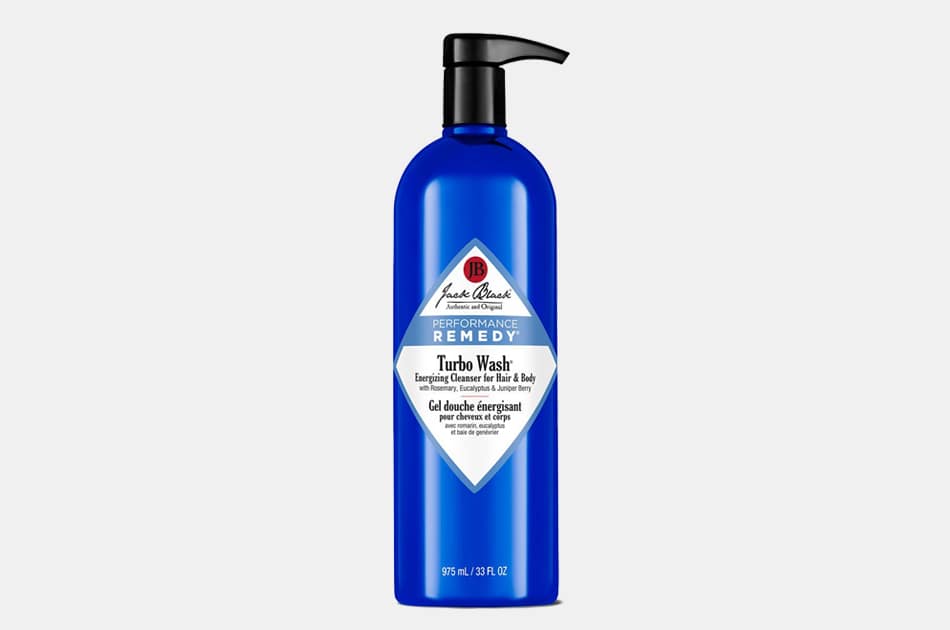 Best For Post-Workout Recovery: Jack Black Turbo Wash
To get some of us out of bed, it takes a lot. To get us to actually wake up? That can take more. Imagine someone blasting you with a fire hose of ice water. Awake now? Most likely. That's the feeling Jack Black Turbo Wash wants to leave you with. The rosemary and eucalyptus turn your shower into a head-clearing sauna while the juniper berry and arnica ease away lactic acid build-up in your muscles. It's a dual-purpose hair and body wash, so that blasted awake feeling goes all the way to the top.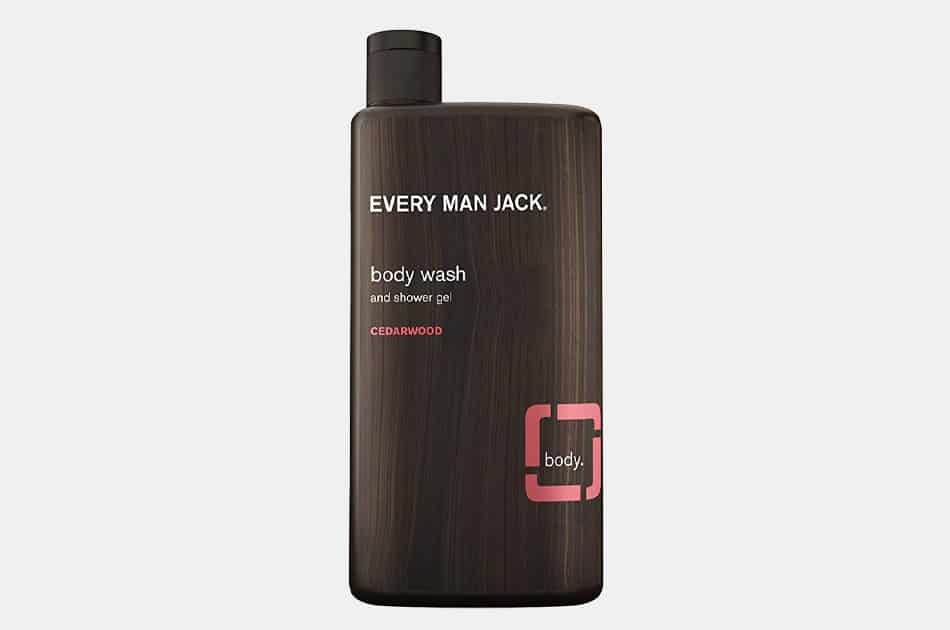 Best For Everyday Use: Every Man Jack Body Wash
Whoever said stuff had to be expensive to be good probably wasn't very good with money. While paying for quality is never wrong, if a good thing comes at an even better price, we say just go with it. Every Man Jack makes scrubs, shave creams, beard washes, bar soaps, and sun protection at agreeable prices and their body washes are no exception. With citrus scrub, eucalyptus mint, sandalwood and a bunch more scents, you get a slew of washes to choose from, and you could feasibly buy them all without draining your accounts.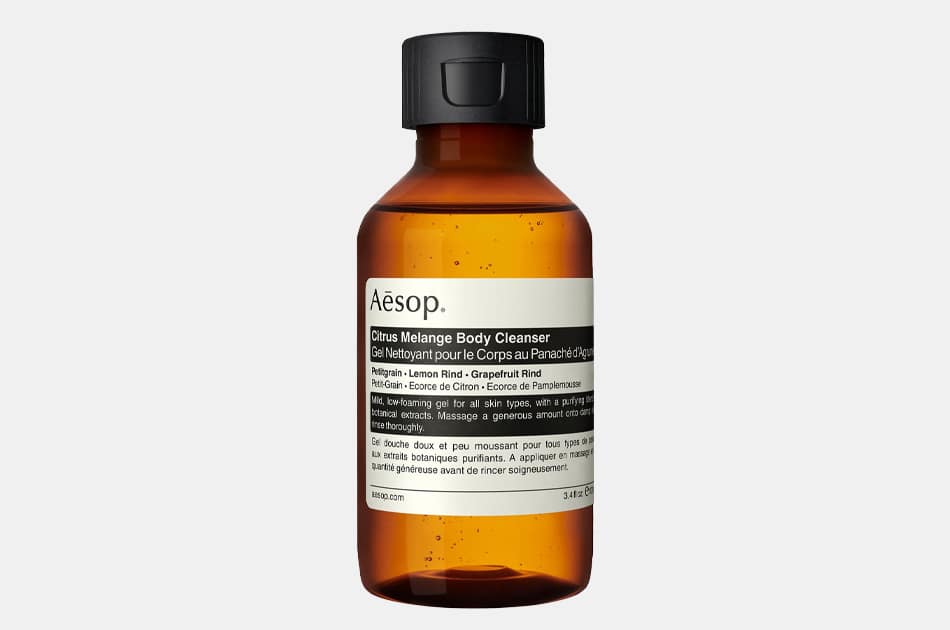 Best Plant-Based Body Wash: Aesop Coriander Seed Body Wash
Ask some people what scents they love most and they will tell you: food scents. We can totally get behind that. This body wash from fabled Australian skincare brand Aesop, gets its fragrance from black peppercorns and crushed coriander seeds. The resultant smell is more spicy/woody than spicy/dinner. But it's an agreeable aroma nonetheless. The wash itself is a low-foaming cleanser that uses Aesop's signature blend of plant-based and proven laboratory-made ingredients that work well to both clean and nourish. Now who's hungry?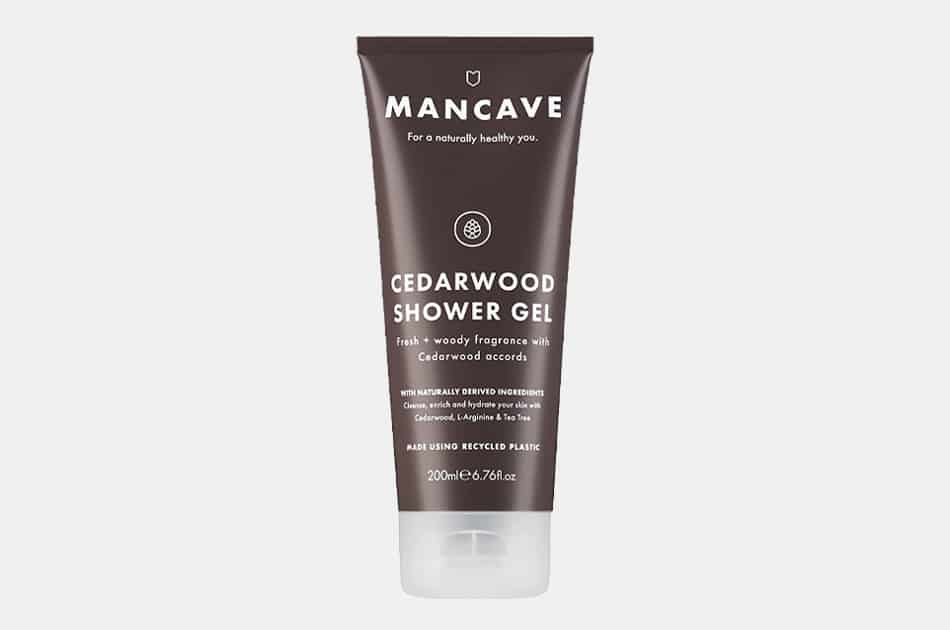 Man Cave Cedarwood Shower Gel
Naturally-Derived Ingredients
Ever read the back of a bottle and wondered just what in the what Guar Hydroxypropyltrimonium Chloride is? Man Cave will tell you. Committed to their policy of putting "no nasties" in their products, their website supplies the curious with a definition of every ingredient they use. This Cedarwood Shower Gel, for instance, uses a good deal of essential oils like cedarwood, tea tree and black pepper along with naturally derived ingredients like decyl glucoside (comes from cornstarch and makes things foamy). The end result makes you smell extra nice with a deep forest scent.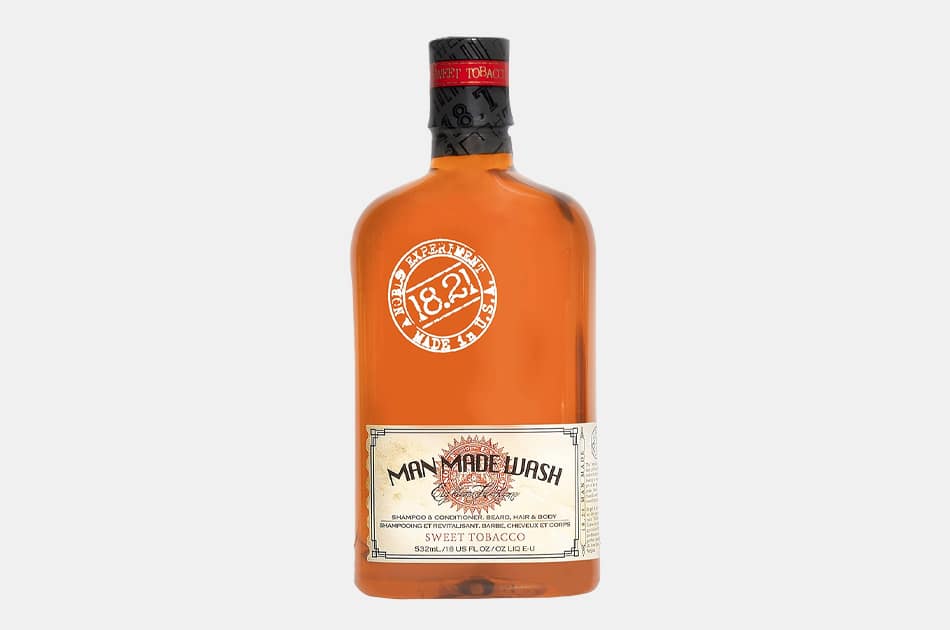 18.21 Man Made Wash
An Old School Body Wash For The Modern Man
18.21… is it a date? A time? Neither. It's an homage to the 18th and 21st Amendments that removed, and subsequently restored Americans' right to alcohol in the early part of the 20th century. And it's a fitting name for this maker of grooming provisions for men. Based out of Austin, Texas, 18.21 Man Made revels in an old-time style straight out of the days of prohibition. Their men's body wash comes in a bottle that looks like bourbon and has a scent that smells like sweet tobacco. Old time flair … but pH balanced too.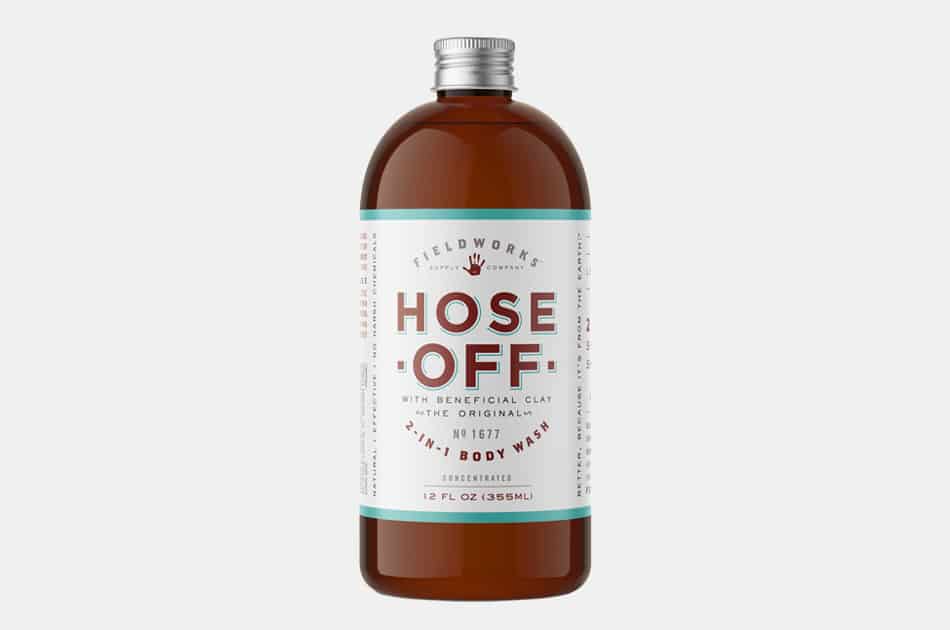 Hose Off Body Wash
An Effective Body Wash With Zero Harsh Chemicals
Here's a twist: You will actually recognize and be able to spell every ingredient inside this bottle. One of those ingredients is bentonite clay, a fine volcanic ash that Fieldworks Supply puts in most of their products. It's an effective carrier of natural oils and also works to draw away grime. The concentrated body wash formula is good for skin as well as hair and smells clean, masculine and spicy thanks to rosemary, vetiver and nutmeg. Aloe and shea butter keep your skin from feeling dried out. With no harsh chemicals, you can even take it camping.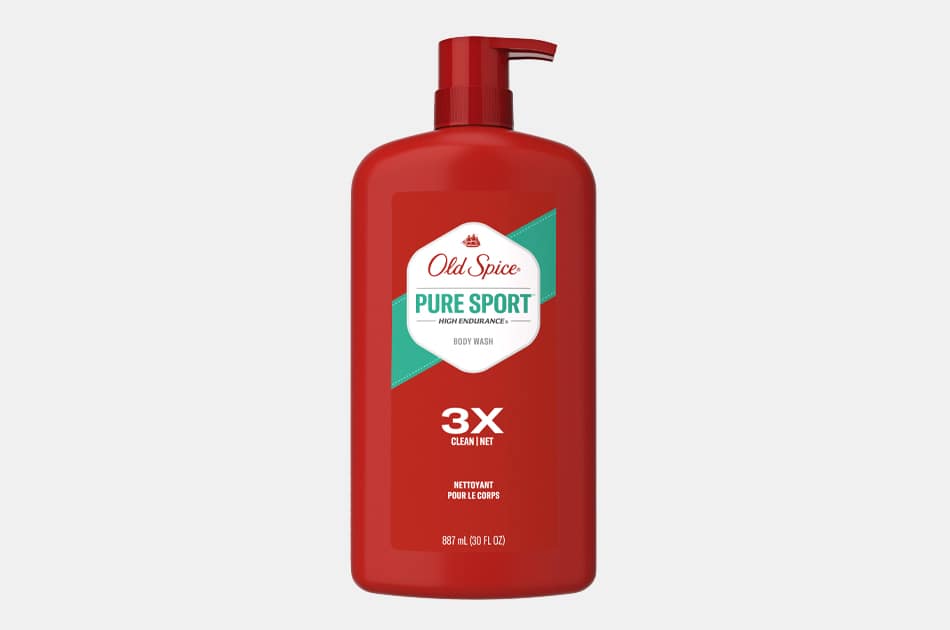 Old Spice Pure Sport Body Wash
A Lot Of Clean Packed Into One Body Wash
You may remember Old Spice from such places as… your dad's bathroom. But things have changed since then and Old Spice changed along with it. Their Pure Sport body wash for men will give you that assured clean feeling on 3 fronts: it lathers up to make you clean, rinses easily so you feel clean and has crisp scents to make you smell clean. That's a lot of clean packed into one bottle. Pick one up and prepare to wash-up while smelling nothing like your dad. Unless he switched to this. Which is cool too.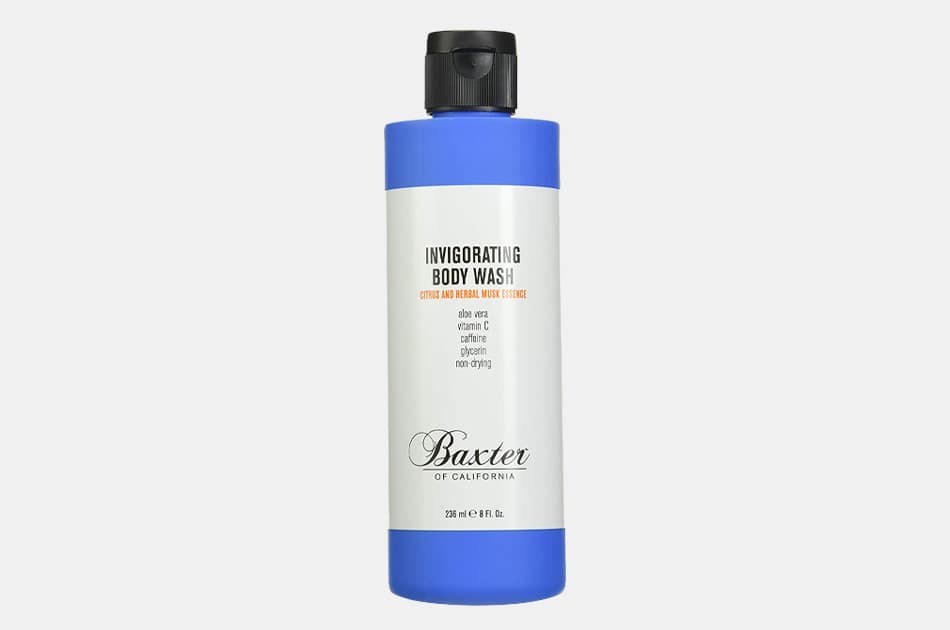 Baxter Of California Invigorating Body Wash
Cools The Skin While You Lather
There's really nothing wrong with wanting to add a little luxe to your daily regimen. Baxter of California products have been tested out since 1965 in the Baxter Finley Barber + Shop in LA where you can still get a hot towel/straight razor shave and a haircut (for just a smidge over 2 bits). This Invigorating body wash loads up on the aloe, Vitamin E and jojoba to soothe and cool your skin while it lathers up nicely. The Italian Lime & Pomegranate variety gives you notes of bergamot, citrus and cucumber with a sweet musk undertone.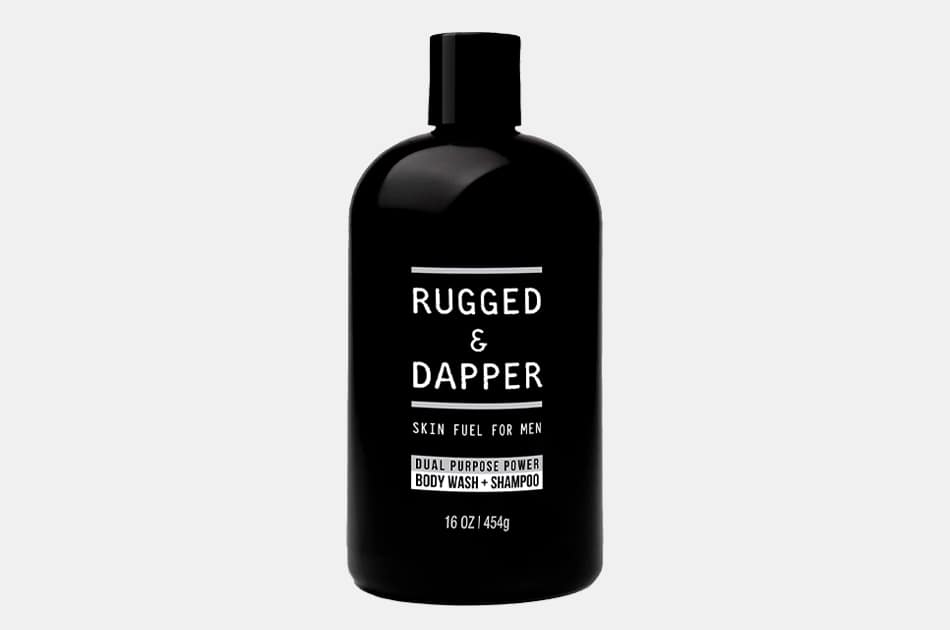 Rugged & Dapper Dual Purpose Power Body Wash
A Masculine Body Wash With Natural Ingredients
Here's a company that understands that just because you like to play in the dirt — at work, on the trail, or somewhere in between — it doesn't mean that you don't also like to get cleaned up. Hence the name, Rugged & Dapper. Their men's body wash cleans the grime out of your hair and off of your body using natural ingredients with nothing harsh to irritate. Using oils of olive, tea tree and borage as well as gotu kola and dandelion, this one lathers up rich and leaves behind a fresh, masculine fragrance.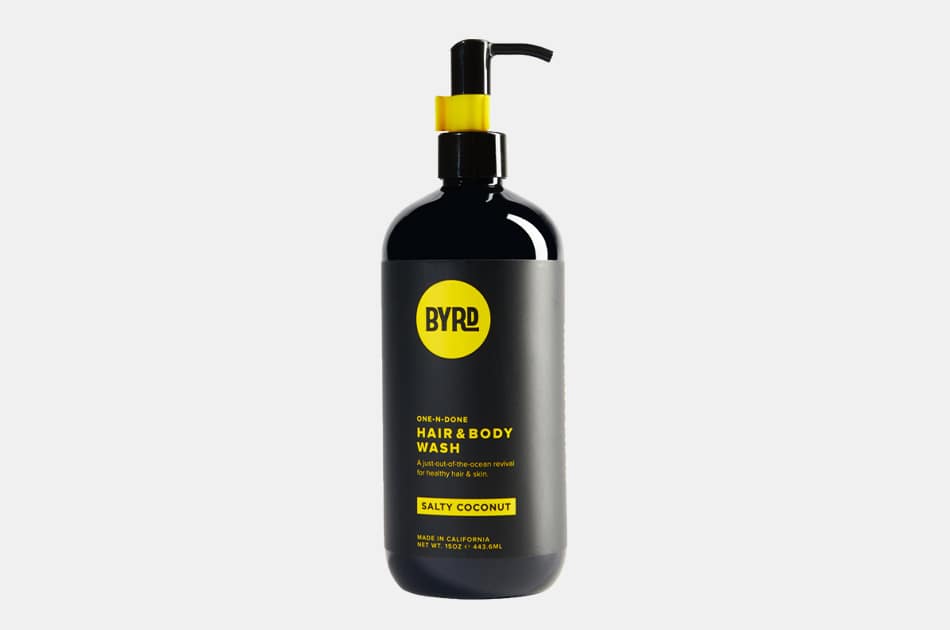 Best All-In-One Body Wash: Byrd One-N-Done Hair & Body Wash
Get your shower done in record time with Byrd One-N-Done Hair & Body Wash. Don't bother with the multi-stage washing, shampooing, conditioning, and scrubbing—instead, use this all-in-one body wash to do it all at once. It's a vegan-friendly, sulfate-free, paraben-free, cruelty-free product that cuts your shower time in half. For those days you just need to get on with your life, this is your ideal product.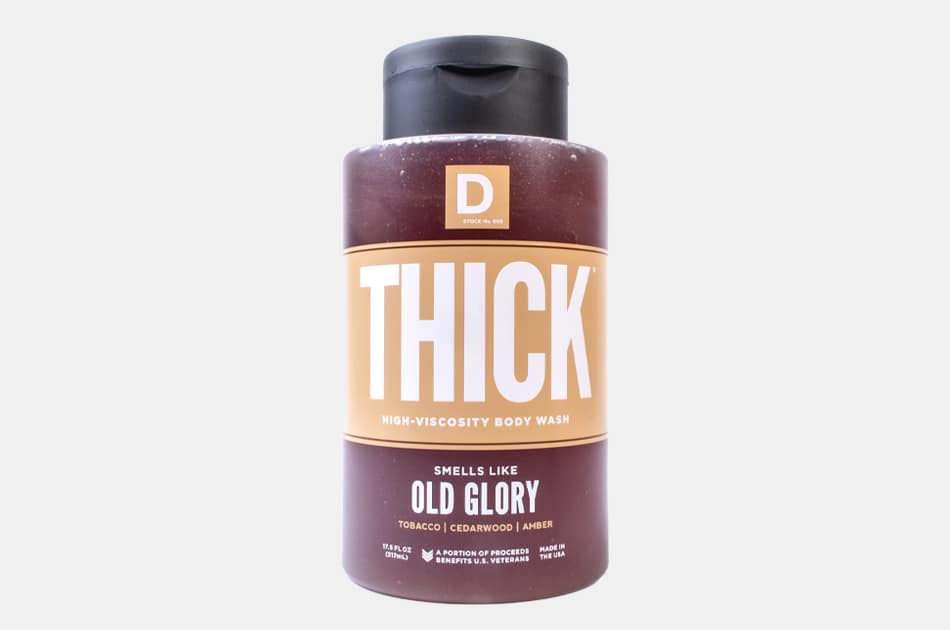 Duke Cannon Thick High-Viscosity Body Wash
With Masculine Scents of Amber, Cedarwood, and Tobacco
For hard-working, strong-smelling men who need a real body wash, Duke Cannon delivers what you want in the form of Thick High-Viscosity Body Wash. Its higher-than-average viscosity is guaranteed to cling to your skin, giving you a better, more thorough wash every time you use it. And there's none of those "juvenile" smells with silly names like "Cool Active" or "Fresh Sport"—with this body wash, it's all about the masculine scents of amber, cedarwood, and tobacco. It's a man's product all the way.
Jack Henry Cleanse+
Chock Full Of Antioxidants
Give your skin a feast of antioxidants and superfood nutrients with Jack Henry Cleanse+. With ingredients like coconut oil, Dead Sea salt, aloe vera, and citric acid, this body wash delivers a host of micronutrients that will protect, hydrate, and nourish your skin. It even comes with special prebiotic nutrients that feed the beneficial bacteria on your skin, encouraging a higher release of pH-balancing enzymes that will brighten and tone your skin. If you've got dry skin, eczema, acne, redness, irritation, or inflammation, this is the body wash you'll want to use for sure.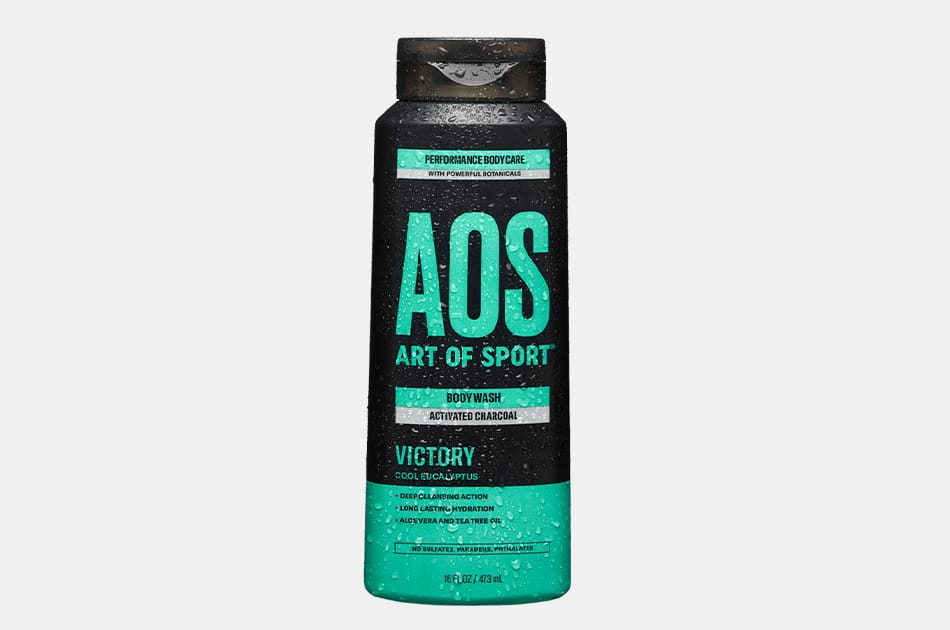 Best Body Wash For Athletes: Art of Sport Activated Charcoal Body Wash
Give your skin a proper deep clean with Art of Sport Activated Charcoal Body Wash. The combination of ingredients—including aloe vera, tea tree oil, and, of course, activated charcoal—will eliminate sweat, bacteria, grime, and dirt, leaving your skin fresher and healthier than ever. It's an ultra-moisturizing product that is both vegan-friendly and cruelty-free, and you'll love how your skin feels after just one wash.
Disclosure: Clicking on these links and making a purchase may earn us a small referral fee, at no extra cost to you. Learn more here.
freestar.config.enabled_slots.push({ placementName: "gearmoose_leaderboard_btf", slotId: "gearmoose_leaderboard_btf" });