The 20 Best Candles For Men
If at first coming across a piece dedicated to candles conjures up images of neon-bright candles with less-than-pleasing scents, fear not — there are regular candles, and then there are man candles, and you'd be surprised what the right candle can do for each and every space in your life.
From your den to your home office to a one-bedroom apartment in Brooklyn, the best candles are here to help you ring in fall and winter with style points and rich scent options aplenty. Again, if you haven't previously taken a shot in terms of upgrading your living space with a classically scent, rugged candle, then now's the perfect time to take the plunge. As in matters of style, it's the small details that make the difference, and when you want to add atmosphere, inspiration and seasonally friendly touches to a space, you'd be hard-pressed to find a quicker, easier way to do it than by picking up one of the best candles for men.
We're completely serious: With scents that evoke leather, cedar and sandalwood, the best candles provide outdoor-inspired and refined touches in equal measure, and when paired up with a handsome leather valet tray or a nice bottle of whiskey (or both), the right candle can also act as a unique design piece and a finishing component of any well-composed space. Take a chance at upgrading your living space this season with a new candle or three, then thank us later.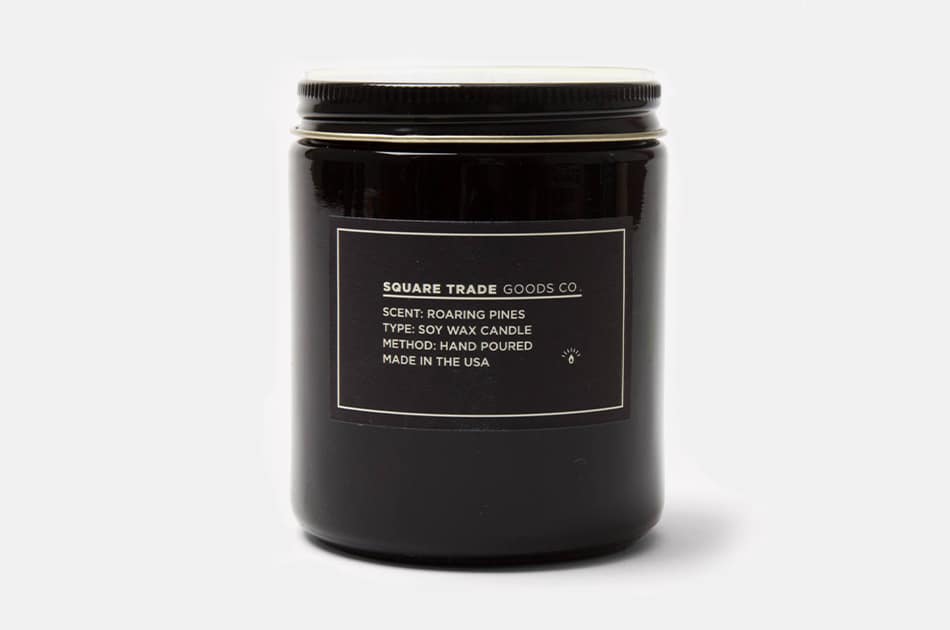 Square Trade Goods Co. Roaring Pines Candle
The best candles for men are often more than just your standard candle — take the Roaring Pines Candle from Square Trade Goods Co. It's as if the brand took the spirit of the great outdoors and distilled it down into a candle that calls to mind the beauty of nature and the rich tones of the fall season. Hand-poured in Richmond, Virginia, it's one of the best candles we've seen as of late, to say the least.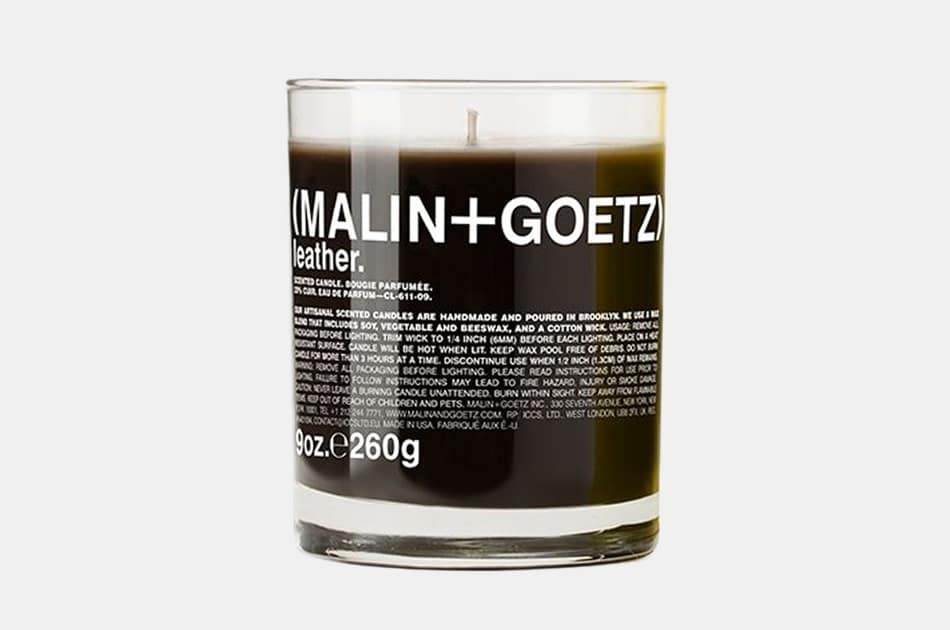 Malin + Goetz Leather Candle
Simply named, effectively designed and crafted to enrich your life and your living space (trust us) — that's the Malin + Goetz Leather Candle, made to deliver impeccable quality. The brand says this scent "marries rawness and refinement," and we think that's more than good enough to give your study or office a shot in the arm. It's slightly pricier than other candles on this list, but for good reason: It's a one-of-a-kind offering from Malin + Goetz.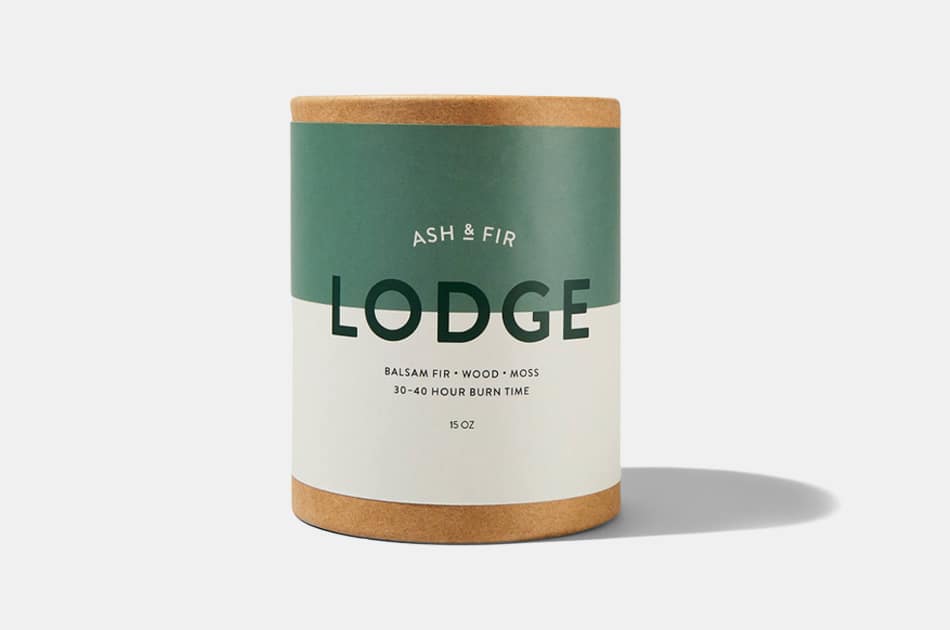 Ash & Fir Lodge Candle
We've long admired Bespoke Post for the ways in which this lauded retailer seems to have a knack for stocking just the right gear at the right time — like excellent, perfectly rugged gear for fall and winter, for instance. And that approach extends to handsome accessories like one of the best candles for men — the Ash & Fir Lodge Candle, to be more specific. The rich scent of balsam fir, wood and moss will fill your space; it's the next best thing to camping in the great outdoors.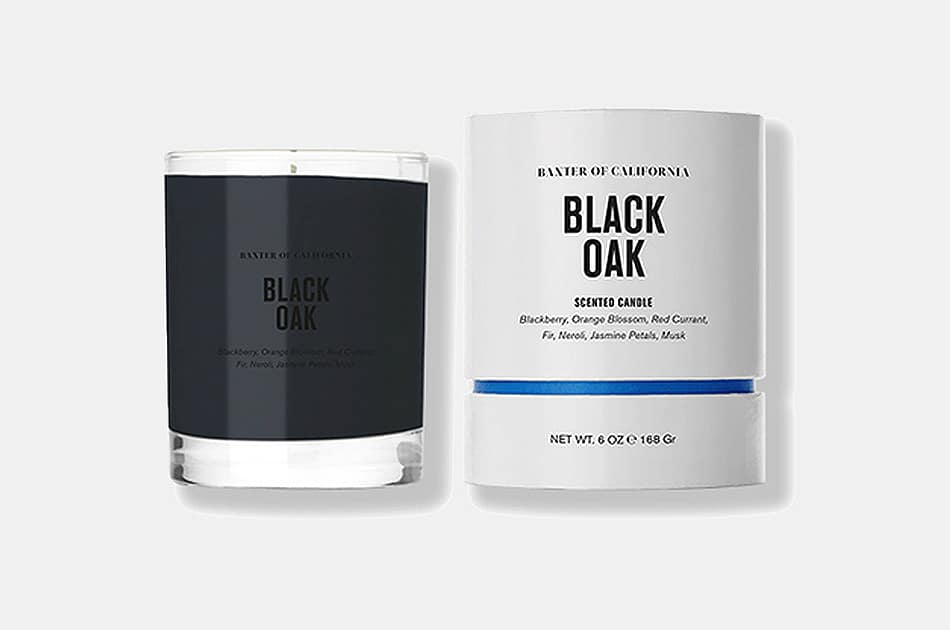 Baxter Of California Black Oak Candle
Believe us when we say the brand that makes some of your favorite grooming essentials can also craft one heck of a refined candle. In a sleek Black Oak scent, Baxter of California's candle evokes a mysterious, deep nature according to the brand, and it's also priced reasonably, at that. All of this means that you should feel free to pick up some extra grooming essentials to go along with a space-boosting candle for fall and winter.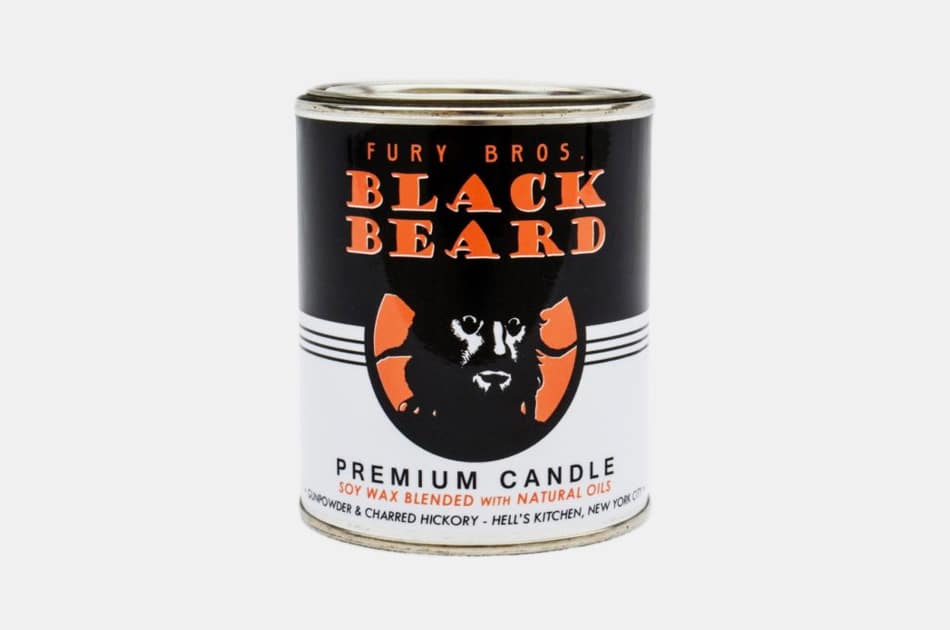 Fury Bros. Black Beard Premium Candle
Crafting items of quality in the States is hard enough, but imagine doing it right in the heart of New York City — Hell's Kitchen, to be more specific. That's what Fury Bros. has been doing with its expertly crafted, richly scented candles, including the Black Beard Premium Candle. Founded by rock-and-rollers Jeremy and Stevie Fury, these candles are nearly too good to be true. From the visually striking design to the vintage styling inspiration and the scent of gunpowder and charred hickory, it's absolutely a one-of-a-kind candle worth adding to your den or apartment — and then enjoying on a cool, crisp fall day.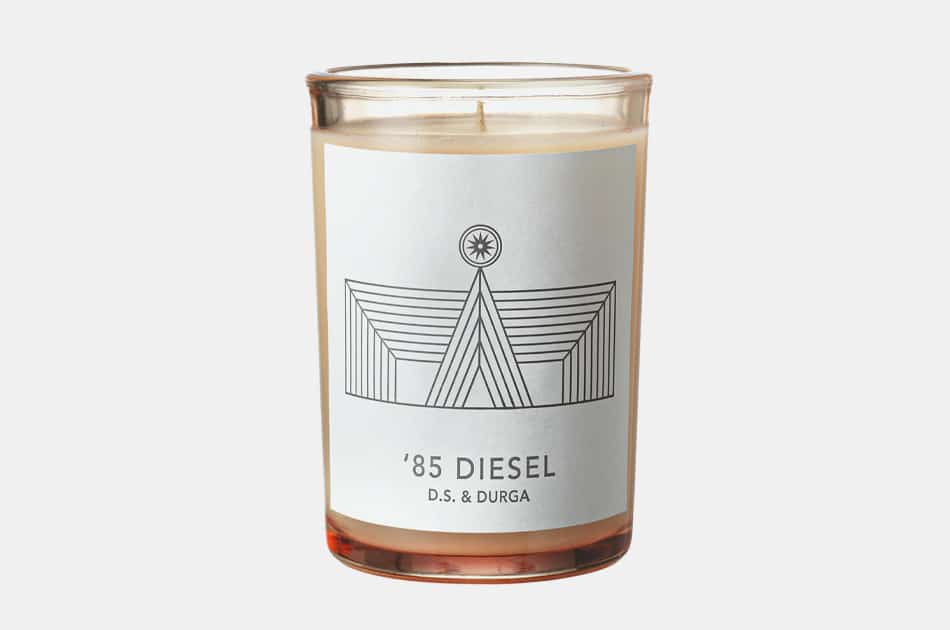 D.S. & Durga 85′ Diesel Candle
Keep your space well-stocked with a well-scented man candle, and we'd wager that you'll always find a candle you look forward to lighting up — consider it like having a rotation of your favorite leather boots, and consider picking up the D.S. & Durga 85' Diesel Candle for a seasonally appropriate touch. And in this case, you're going to love the masculine, pleasingly old-school mix of scent notes the 85' Diesel Candle brings to your space, including saffron leather, suede and crucially, vinyl.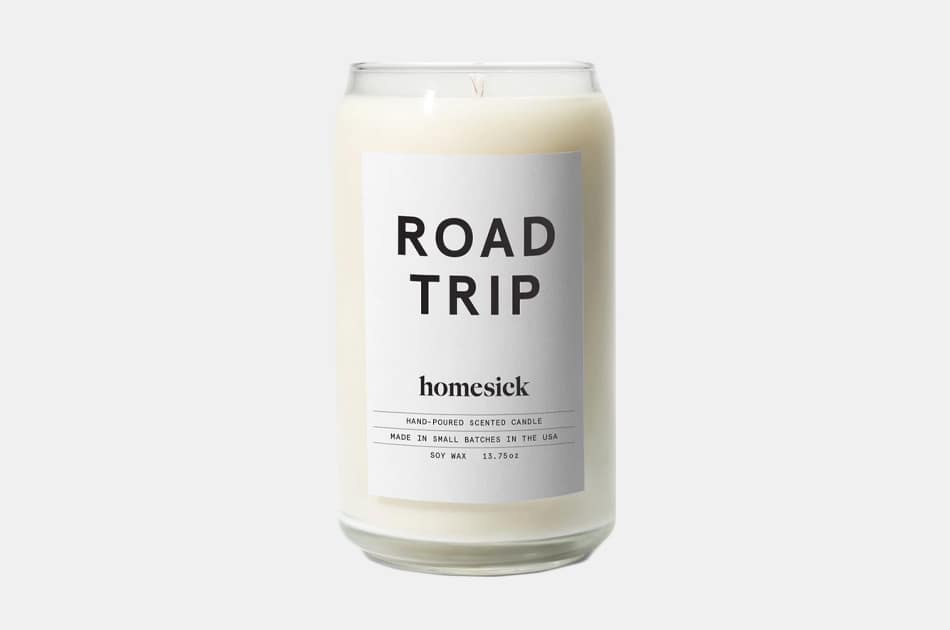 Homesick Road Trip Candle
The great thing about picking up a men's candle is that in some cases, the right scent and craftsmanship can help transport you to another world — seriously. Take the calming, highly effective Homesick Road Trip Candle, formulated with notes of amber, musk, leather and cedarwood — kind of like the scent found at your cabin or upstate retreat. It's almost as good as going home.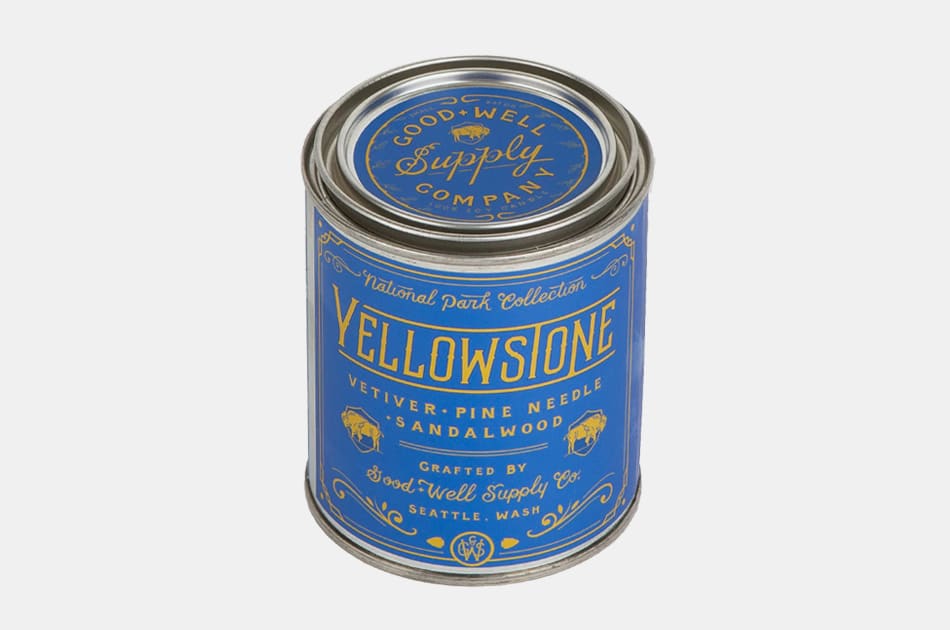 Good + Well Supply Co. Yellowstone National Park Candle
The good folks at Huckberry know plenty about stocking the essentials you need for fall and winter, from rugged leather boots to essential flannel shirting to yes, of course, one of the best candles for men. In fact, Huckberry stocks a full run of outdoor-inspired candles from Good + Well Supply Co., including the Yellowstone National Park Candle, which features notes of sandalwood, vetiver and pine for a refreshing scent and seasonally friendly atmosphere. It'll make you think you're right there at Yellowstone, we'd wager.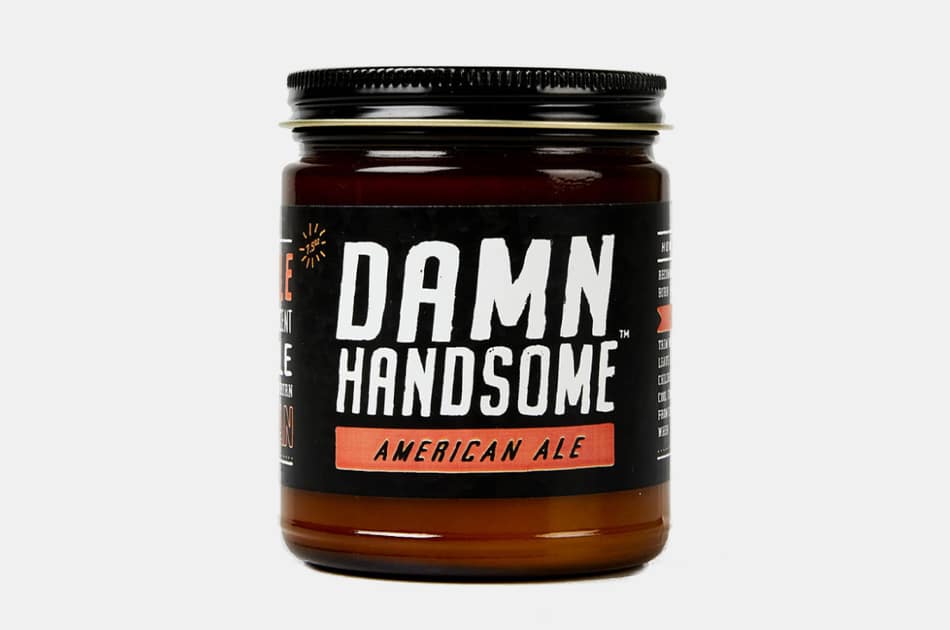 Damn Handsome Grooming American Ale Candle
As we've said before, it's astonishing how well some activities pair up together — take the art of enjoying a richly brewed craft beer (perhaps a brown ale or a rich stout). It pairs up more than handsomely with a day of relaxation and reading, and of course, a candle is the perfect accessory to complement these pursuits. The Damn Handsome Grooming American Ale Candle gets a lot of things right in that regard, from the use of natural soy to "barbershop notes of sandalwood, cedarwood and sage." Sounds great to us — 'tis the season, after all.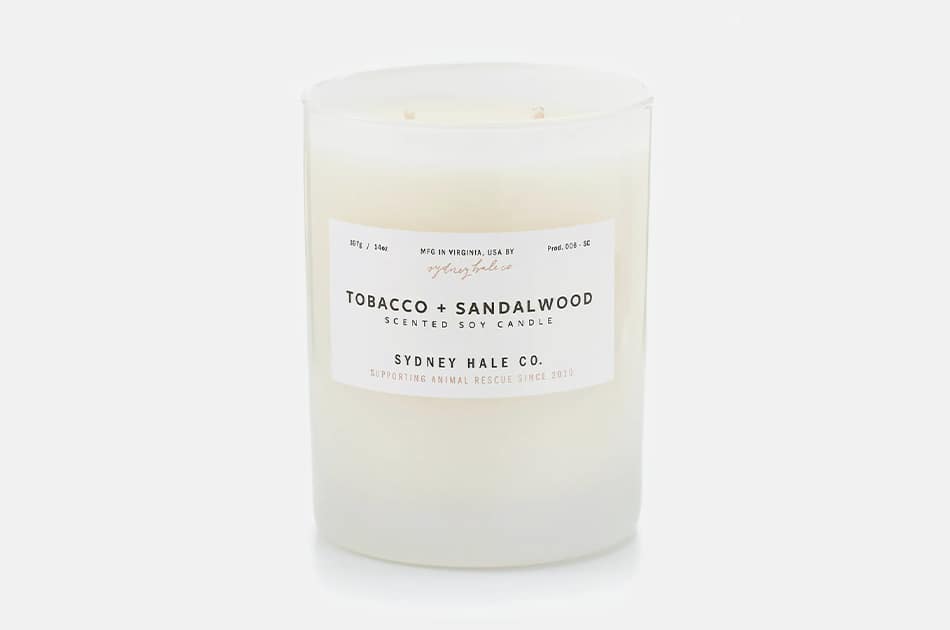 Sydney Hale Tobacco + Sandalwood Candle
There's really no telling what the best scent can do to enliven your space and add a touch of laidback, seasonally friendly atmosphere to anywhere in your home — and that's certainly one area in which Sydney Hale excels. The Tobacco + Sandalwood Candle hits the nail on the head in terms of a pleasing scent and rugged, masculine appeal, and that's more than enough reason to consider adding it to your space this season.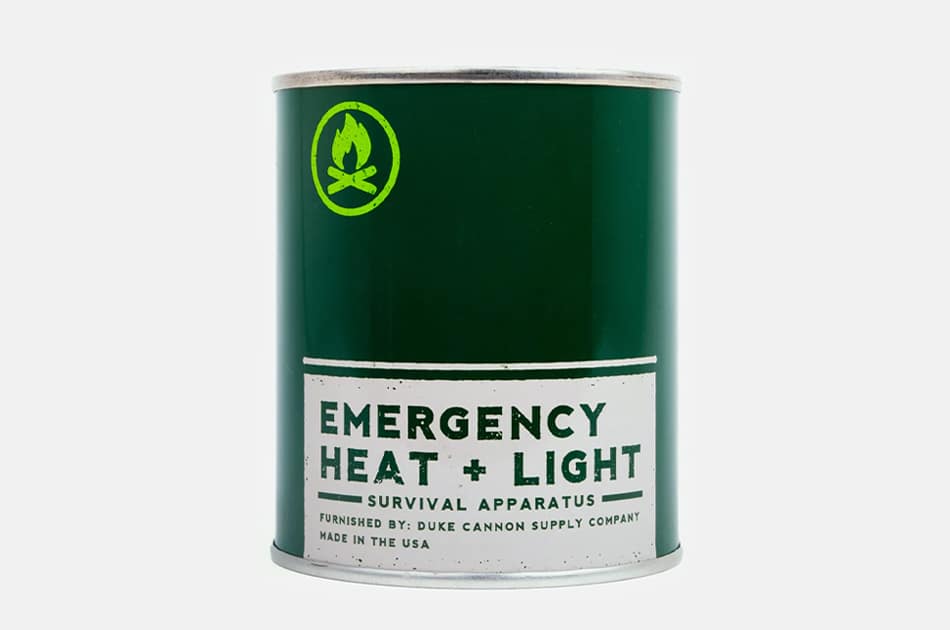 Duke Cannon Emergency Heat + Light Candle
If you just so happen to be as big of a fan of Duke Cannon as we are, then there's a good chance your bathroom is well-stocked with the Minnesota-based brand's ridiculously hard-working, high-quality soap, beard balm or cologne (or preferably one of each of those items). The even better news? You can bring that same quality and functionality to the rest of your living space (and the great outdoors, for that matter) with the Emergency Heat + Light Candle, designed to mimic outdoor adventure right in your living room.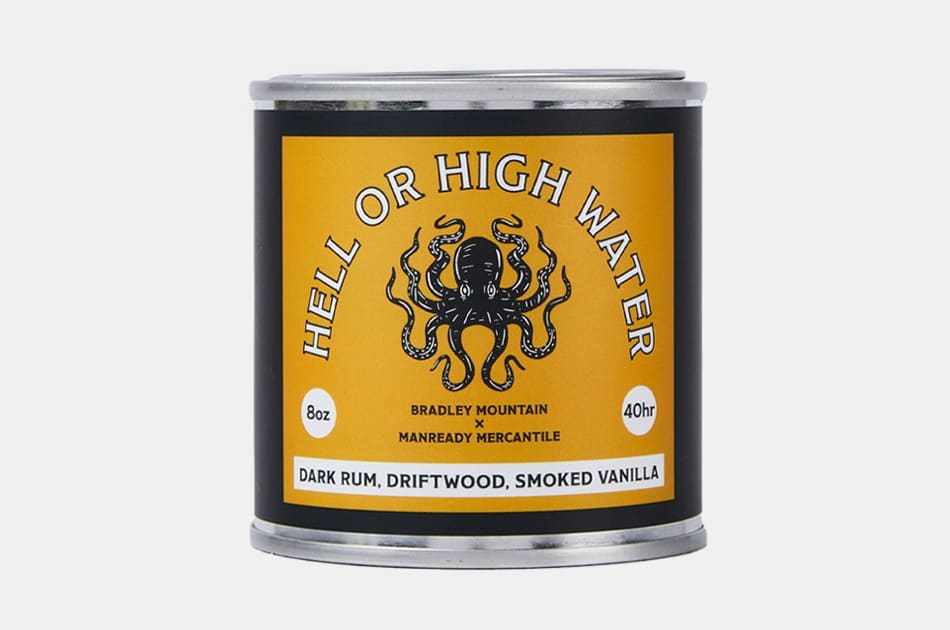 Bradley Mountain Hell or High Water Candle
If you shop the stylish digital pages of Bespoke Post, perhaps you're well-acquainted with the work being done by Bradley Mountain — it seems the brand excels at making the kind of gear that lasts … and lasts … and lasts. And that goes for its handsome, rugged-yet-refined accessories as well as items like its waxed chore coats and tough bags. In this particular instance, the Hell or High Water Candle is a seriously cool, old-school candle that'll lift your spirits and enrich whatever space in which you light it up.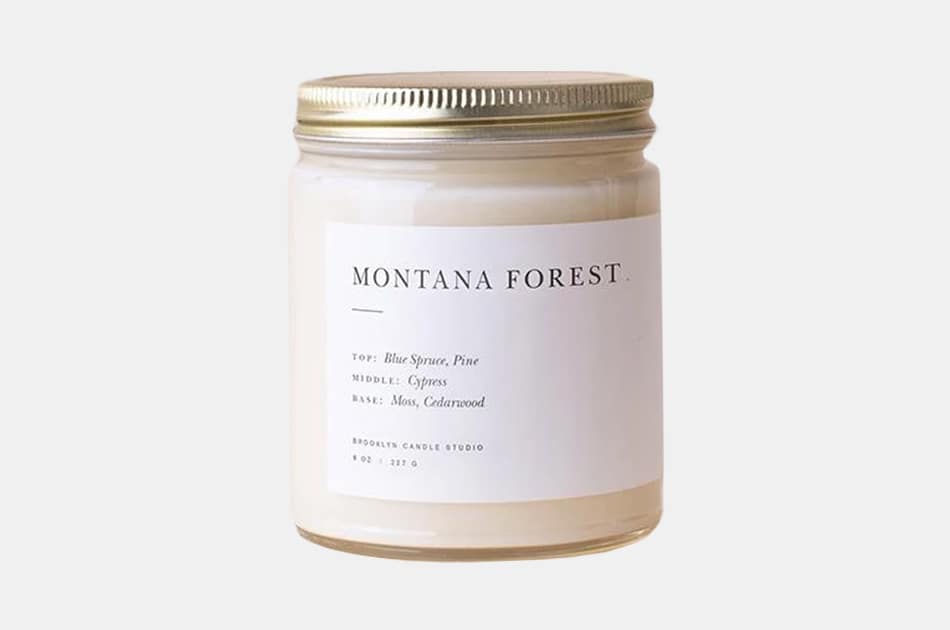 Brooklyn Candle Studio Montana Forest Minimalist Candle
The great thing about finding a new candle you love is the simple boost it can provide your den or your home — it's a way to shake up your lifestyle that's subtle yet effective. And when it comes to quality craftsmanship made to change your space, well, Brooklyn Candle Studio definitely delivers. It's only fitting that the small team of artisans at Brooklyn Candle Studio are based in a borough with strong roots in quality design, and we think you'll recognize (and smell) the difference.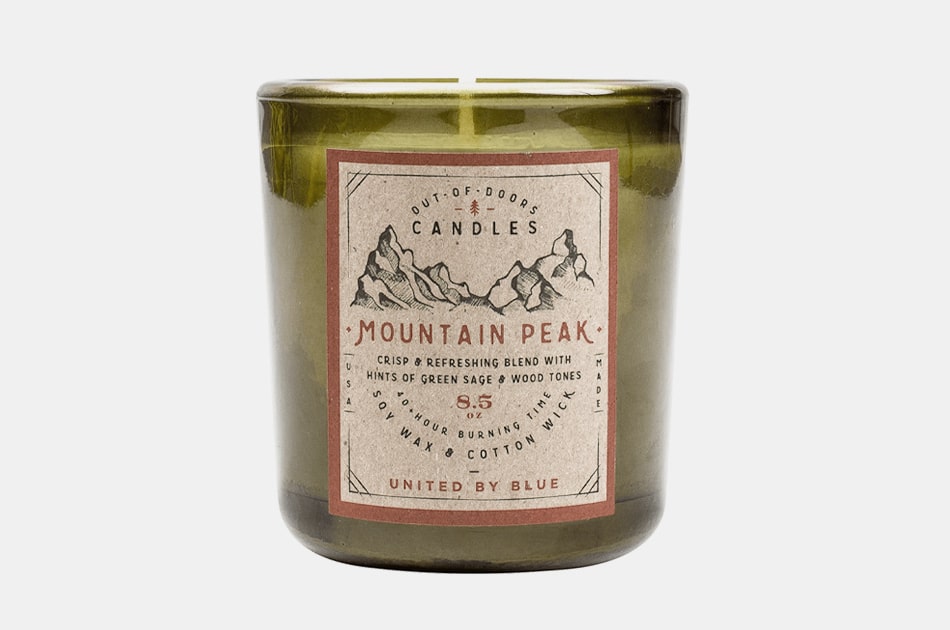 Mountain Peak Out-Of-Doors Candle
If there's one brand that calls to mind the great outdoors, from its gear offerings to its environmental commitments, it would have to be United By Blue. The sale of each product helps clean up our oceans and waterways, and it's only fitting that you can give back by purchasing one excellent, outdoor-inspired candle in the process. The Mountain Peak Out-of-Doors Candle calls to mind both wood and sage, while the candle itself is crafted by hand right in Philadelphia.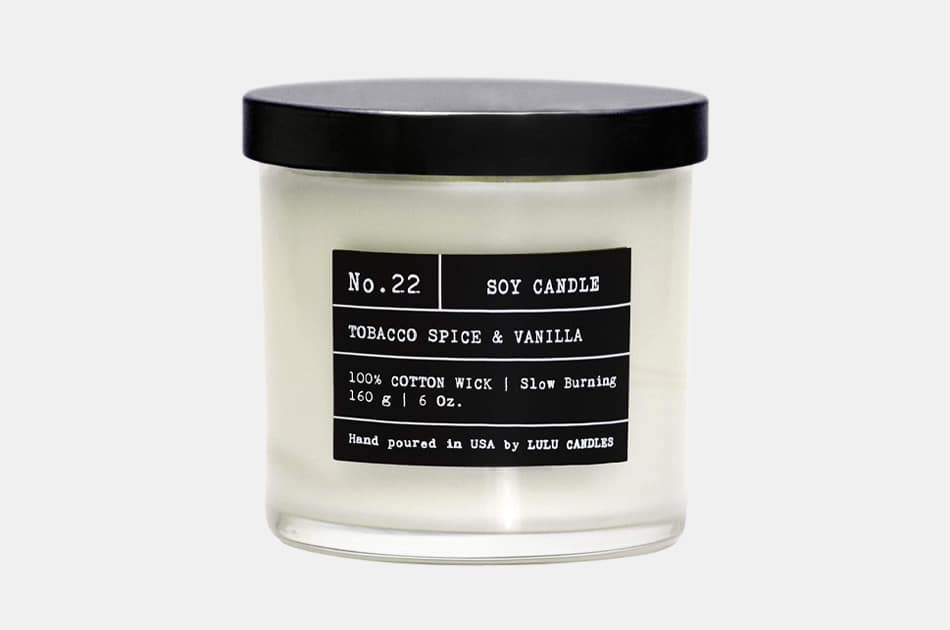 Lulu Candles Tobacco, Spice & Vanilla
At the right price, you can add a heck of a lot of personality and old-school appeal to your space — that's the upshot of picking up a candle from Lulu Candles for just a shade over $20, and that makes it more than worthy of inclusion on our list of the best candles for men. What else makes it worthy? The rich scent notes of vanilla, spice and tobacco for one, and the sleek, rugged candle design doesn't hurt, either.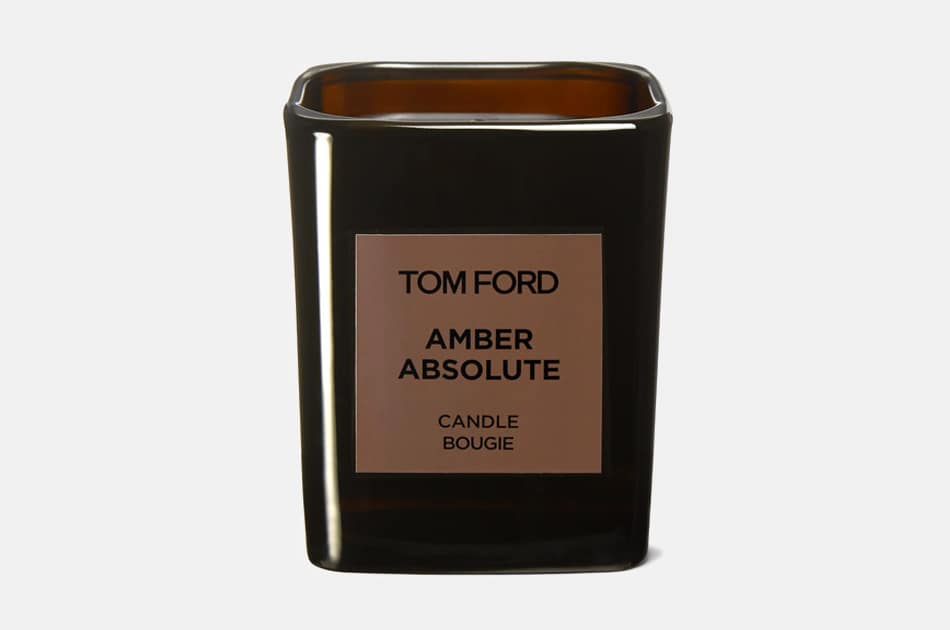 Tom Ford Amber Absolute Scented Candle
The adage seems to be that when Tom Ford decides he wants to branch out into a new product category, he then proceeds to one-up the competition entirely — and for the gentleman of refinement and taste, there's no higher mark of quality than a striking Tom Ford suit or handsome shoes. And now, that same aesthetic is distilled down into a lovely, refined candle. It's about as good as it gets, in our book.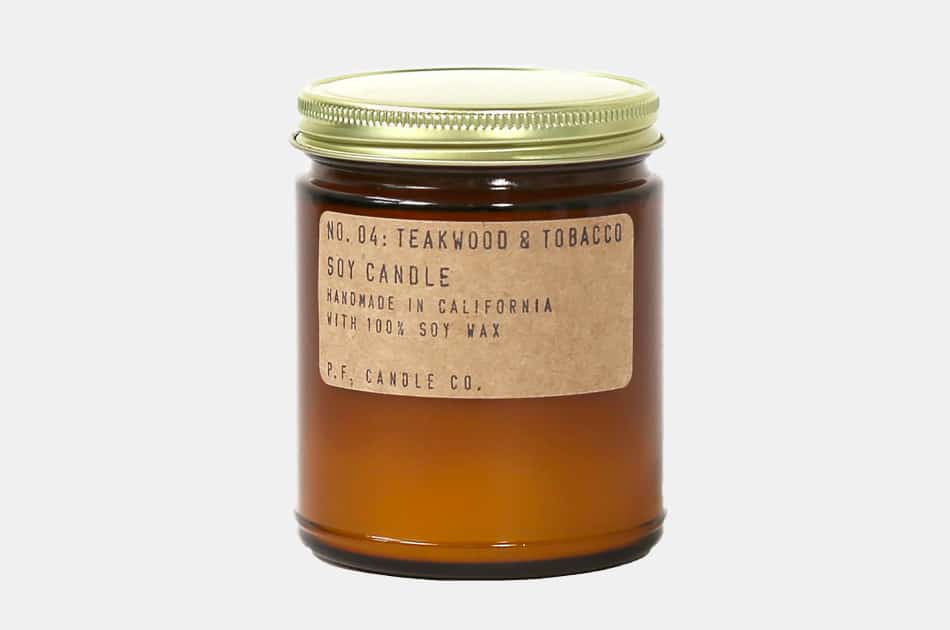 P.F. Candle Co. No. 04 Teakwood & Tobacco
Man candles often call to mind simpler times and quiet moments of relaxation, and for our money's worth, there's no brand doing that better than P.F. Candle Co. (along with our other selections on this list, of course). The No. 04 Teakwood & Tobacco Candle is made from eco-friendly soy, and features a handsome scent of leather, teak and orange — the perfect candle to upgrade your living space in a hurry.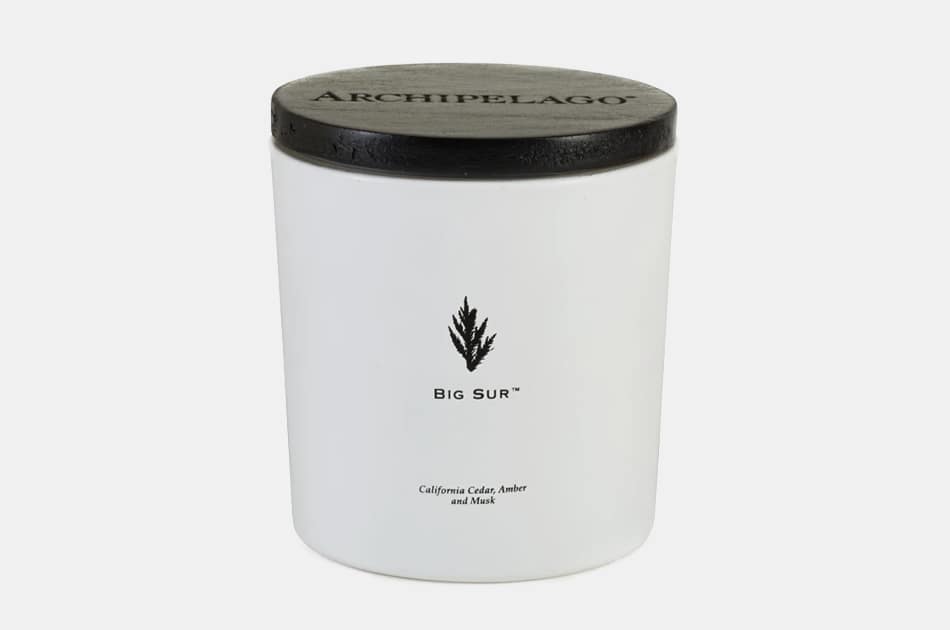 Big Sur Luxe Candle
Archipelago takes things to another level with its Big Sur-inspired candle, which is so well-done you might feel like you're right there on the iconic coastline itself. That might sound like a lot of talk, but when one considers the blend of California cedarwood, amber and musk, it starts to sound (and smell) a whole lot more plausible. A fitting way to wrap up our list of the best candles for men, don't you agree?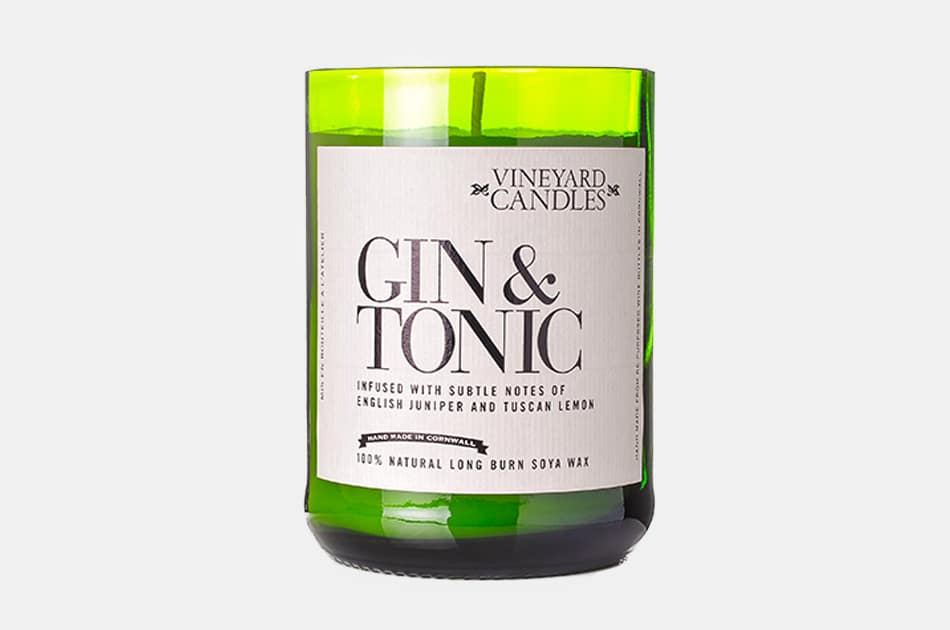 Vineyard Candles Gin & Tonic
It's pretty amazing how well certain activities go together with each other — take kicking back, slippers on, favorite cocktail in hand, and a favorite candle burning. Take things a step further with the Vineyard Candles Gin & Tonic, a fitting nod to the classic elixir that'll provide a pleasant scent and hours of enjoyment. The exact scent calls to mind juniper and coriander, while the use of an old wine bottle to hold the candle is a fittingly stylish touch.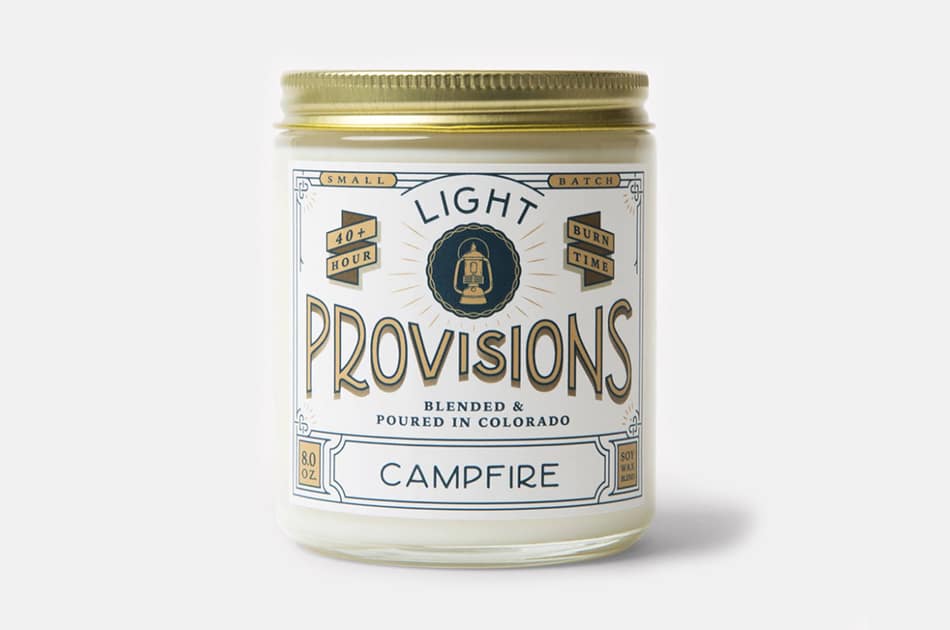 Light Provisions Campfire Candle
Light Provisions says its Campfire Candle is about as authentic as it gets, and we're inclined to believe them — the Campfire Candle calls to mind "looming evergreens, crackling wood and falling asleep on fresh earth," and that all sounds pretty great to us. If that floats your boat, too, we'd suggest you pick up this candle ASAP.
Disclosure: Clicking on these links and making a purchase may earn us a small referral fee, at no extra cost to you. Learn more here.
freestar.config.enabled_slots.push({ placementName: "gearmoose_leaderboard_btf", slotId: "gearmoose_leaderboard_btf" });