At some point, someone (we're still trying to find out who) decided alcohol should be consumed after 5 p.m., giving rise to the loophole phrase, "It's 5 o'clock somewhere." Exceptions seem to be allowed for afternoon barbecues, Sunday football and, of course, the Bloody Mary. We would now like to offer yet another acceptable occasion for day drinking: breakfast. We found twelve occasions, in fact.
Fermented from grains, replete with calories, beer is filling, satisfying and let's not forget, it makes us happy — an important consideration any time of day. Our list of the 18 best breakfast beers includes brews creatively made by adventurous brewers to highlight the best parts of your morning meal — the coffee, the cream, the maple syrup, even the scrapple — giving you a dozen ideas to pour into a pint by your plate. Or forget the plate altogether and just go for the brew.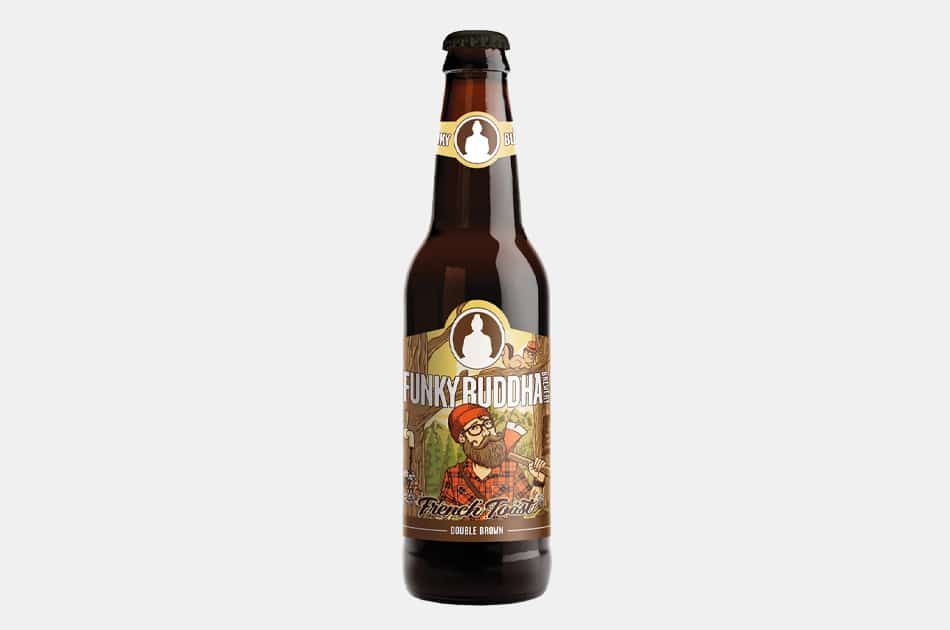 French Toast Double Brown Ale
ABV: 8.8% • Season: Summer • Brewery: Funky Buddha • Origin: South Florida
South Florida's largest craft brewery takes pride in making culinary-inspired beers. They brew up ales like Blueberry Cobbler and Lemon Meringue Pie and one beer that tastes like a peanut butter and jelly sandwich called No Crusts. For the breakfast hour (in addition to the above-mentioned Maple Bacon Coffee Porter), you can wake up to the taste of hot off the griddle french toast, dusted with cinnamon, infused with vanilla and maple syrup, and disguised as a dark, double brown ale. No fork required.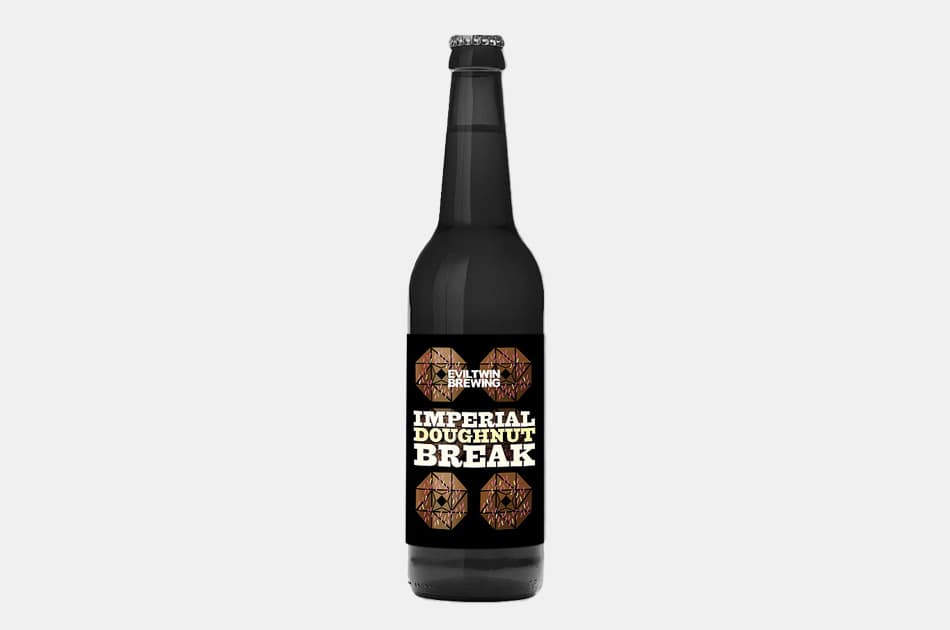 Evil Twin Imperial Doughnut Break
ABV: 11.5% • Brewery: Westbrook/Evil Twin• Origin: Mt. Pleasant, SC/ Brooklyn, NY
Beer for breakfast, doughnuts for breakfast, beer that tastes like doughnuts for breakfast… All of these things are good things. This imperial stout packs a big doughnut punch with aftershocks of of almonds, chocolate, and coffee in a dark black brew. Nomadic "brewery" Evil Twin brews their unique visions of beer creations at ten different breweries around the world. In addition to this doughnut delight, they offer up beers with names like Pappy's Even More Jesus, Fitzroy Hipster Ale, and Imperial Simcoe Slacker.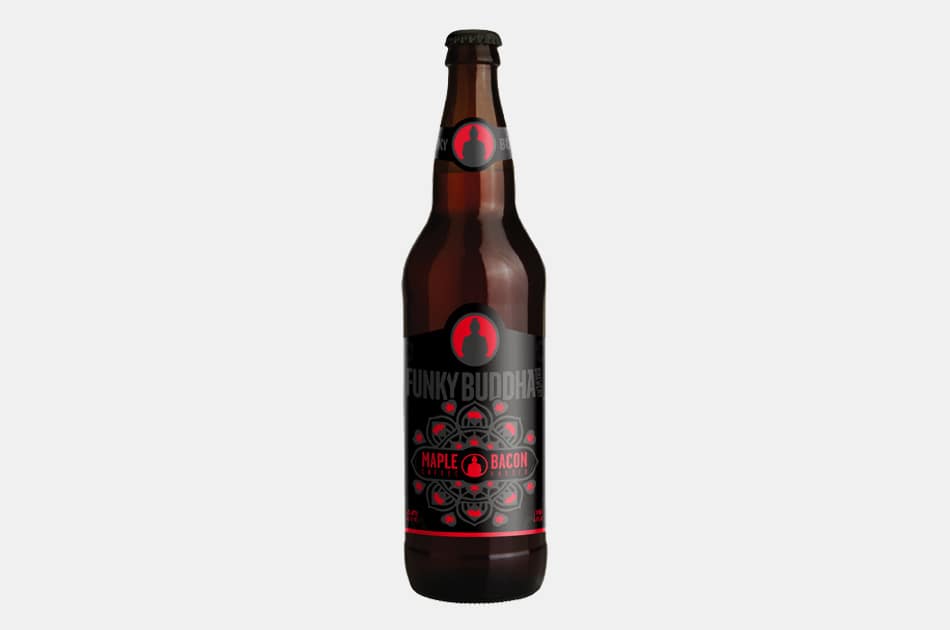 Maple Bacon Coffee Porter
ABV: 6.4% • Season: Winter • Brewery: Funky Buddha • Origin: South Florida
You can have beer with breakfast or have a beer that is breakfast. This is one of those meal-in-a-glass brews that covers all culinary bases — the dark black body hits you with maple syrup and coffee aromas, a creamy mouthfeel, and flavors of smoky bacon and sweet malt. The sticky sweet finish lingers, making you feel like you just tore into a full plate of the best shortstack a diner could offer. And all you did was lift your glass.
Garage Project Cereal Milk Stout
ABV: 4.7% • Season: Year-Round • Brewery: Garage Project • Origin: Wellington, NZ
Instead of trying to emulate an entire breakfast, Garage Project out of New Zealand is aiming at one specific part — some might say the best part — of breakfast, the milk that's left at the bottom of your cereal bowl. This brew is sweet, creamy and rich. But it's also a beer, so you get the roastiness of dark malt for a delicious milk stout experience. They also shot in a dose of liquid nitrogen before canning so you get a cool nitrogen bubble effect when you pour yourself a glass.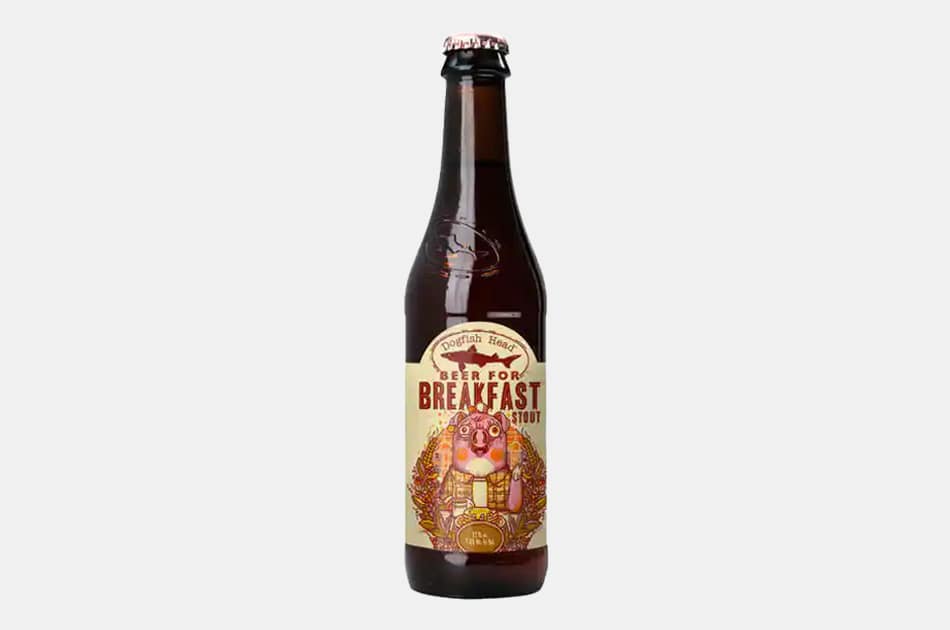 Dogfish Head Beer For Breakfast Stout
ABV: 7.4% • Season: Winter • Brewery: Dogfish Head • Origin: Milton, DE
You can get their beer in 36 of the 50 US states, but this will be most appreciated by those with a native love of, or an adopted appreciation for, the Mid-Atlantic specialty known as scrapple. Delaware Dogfish Head includes Guatemalan cold press, western Mass syrup, applewood smoked barley, and a touch of the actual pork-scrap breakfast delight and its special spice blend. DFH was once called America's most adventurous small brewery. Pour a pint of this tomorrow morning and you'll know why.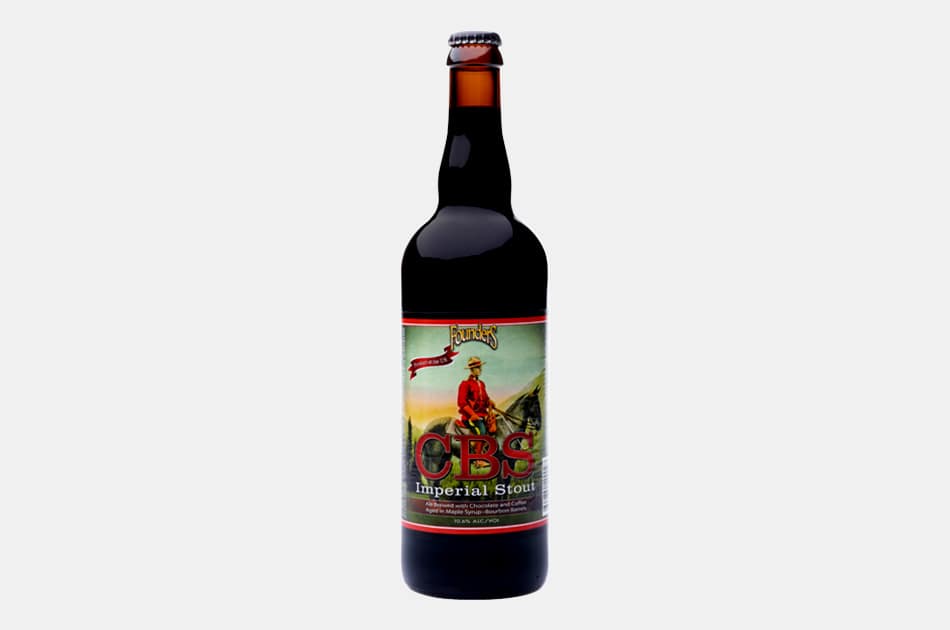 Founders Canadian Breakfast Stout
ABV: 11.7% • Season: Year-Round • Brewery: Founder's • Origin: Grand Rapids, MI
Bourbon popularity exploded, leaving bushels of used barrels in its wake (as a barrel can only age bourbon once). Today these barrels go on to do great things like aging maple syrup and beer. This imperial stout from Founder's found its way into some bourbon barrels that once housed maple syrup, and it's all the better for the stay. The result is a rich, velvety, roasted coffee and chocolate experience that makes a satisfying choice for the first beer of the day.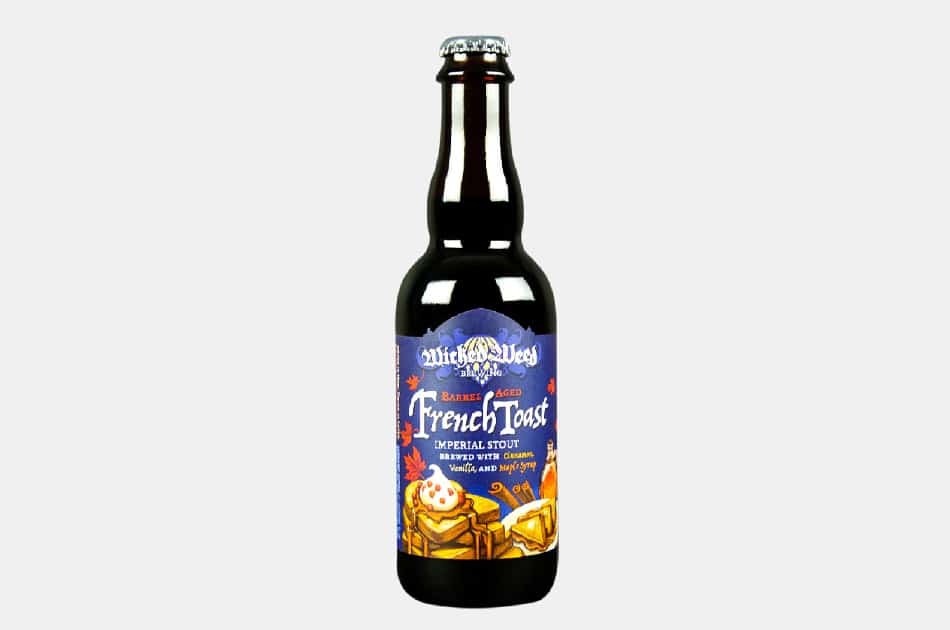 Wicked Weed French Toast Imperial Stout
ABV: 8.8% • Season: Winter • Brewery: Wicked Weed • Origin: Asheville, NC
To brew their French Toast Imperial Stout, the Wicked Weed brewers started with the enviable task of sitting down with a big stack of french toast, picking apart the flavors to figure out how to translate that into a beer. Beginning with a hearty and hale imperial stout, they added vanilla, cinnamon, and Vermont maple syrup for a sweet but drinkable breakfast ale that will warm you up when it's cold out there.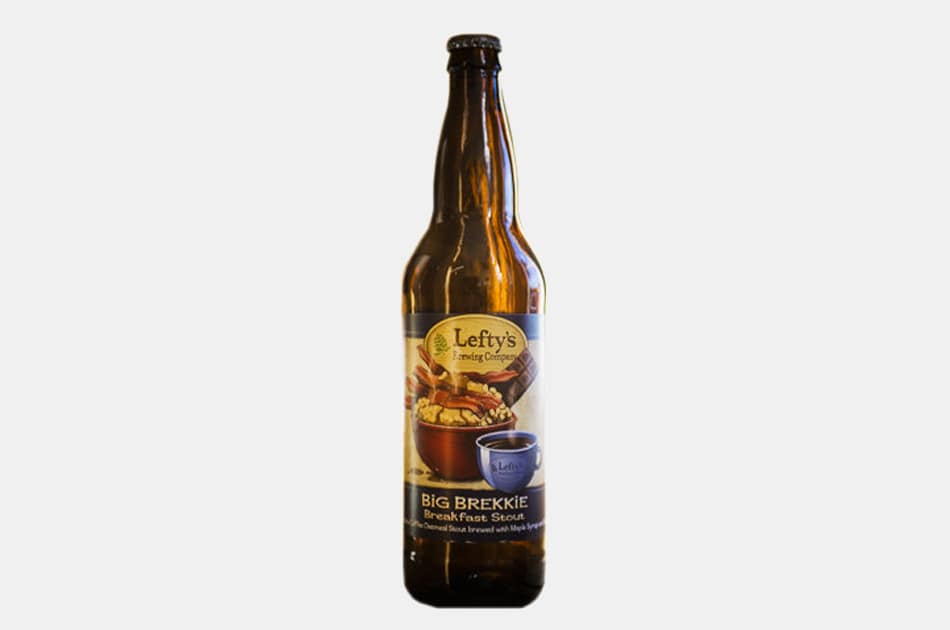 Lefty's Big Brekkie Breakfast Stout
ABV: 8.5% • Season: Winter • Brewery: Lefty's • Origin: Greenfield, MA
When Lefty's was brewing in western Mass, they proudly made use of the bounty of local ingredients available for their brews. Their Big Brekkie Breakfast Stout is a great example of that local love, with maple syrup from Mt. Massaemet Sugar House, coffee roasted at Esselon Cafe, and bacon (yes, actual bacon) from Mountain Top Country Meats in Savoy. They also added a touch of chocolate flavor using organic cocoa nibs.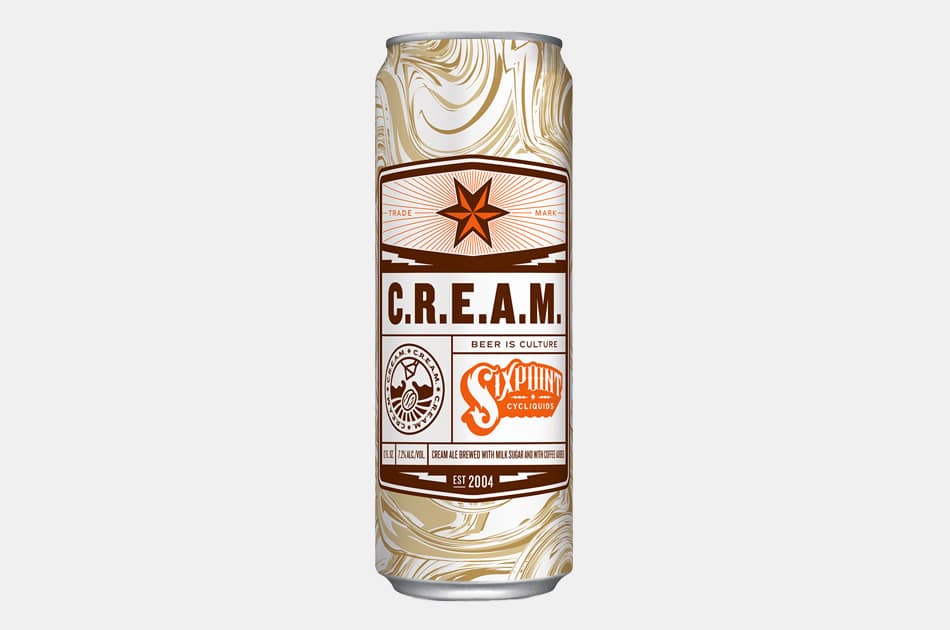 Sixpoint C.R.E.A.M. Ale
ABV: 7.2% • Season: Winter • Brewery: Sixpoint • Origin: Brooklyn, NY
Coffee and cream just go together like, well, coffee and cream. So cream ale, that's just begging for some coffee love. This blonde beer from Sixpoint brewery (who only started canning their stuff back in 2010 — before that it was exclusively on draft) boasts a touch of sweetness with roasted coffee in a beer that's bright, raw, and unfiltered with a low acidity to give you a creamy, roasty reason to wake up in the morning.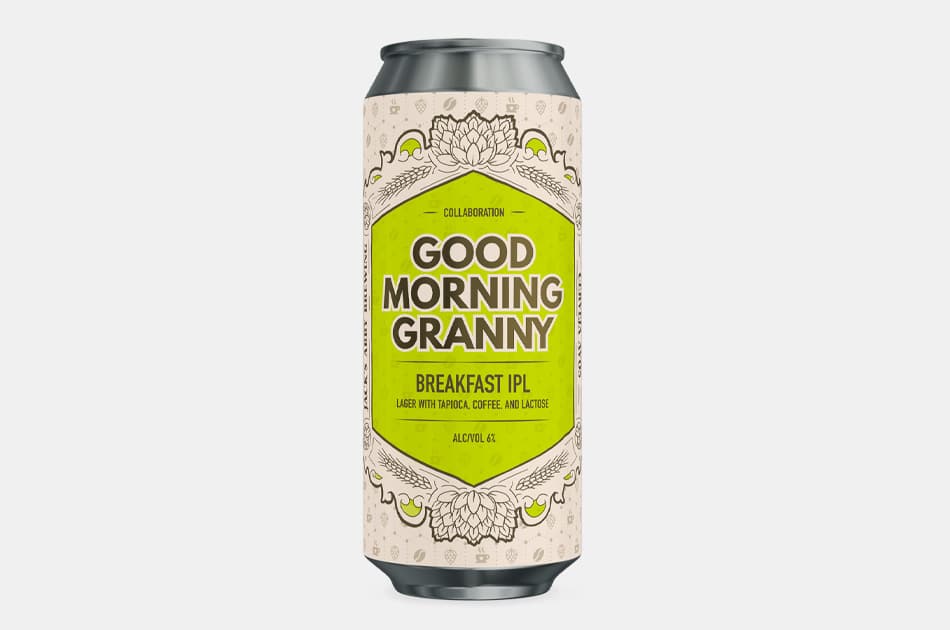 Good Morning Granny Breakfast IPL
ABV: 5% • Season: Winter • Brewery: Jack's Abby • Origin: Framingham, MA
From a brewery that only brews lagers (that crisp style born of cold and slow fermentation) comes a breakfast-ready IPL. Taking cues from their flagship brew, Hoponius Union India Pale Lager, Good Morning Granny Breakfast IPL is a lager with bright West Coast hops, but because Jacks' Abby brewed this one with coffee and milk sugar, it delivers a pleasant coffee bitterness that will even wake up grandma.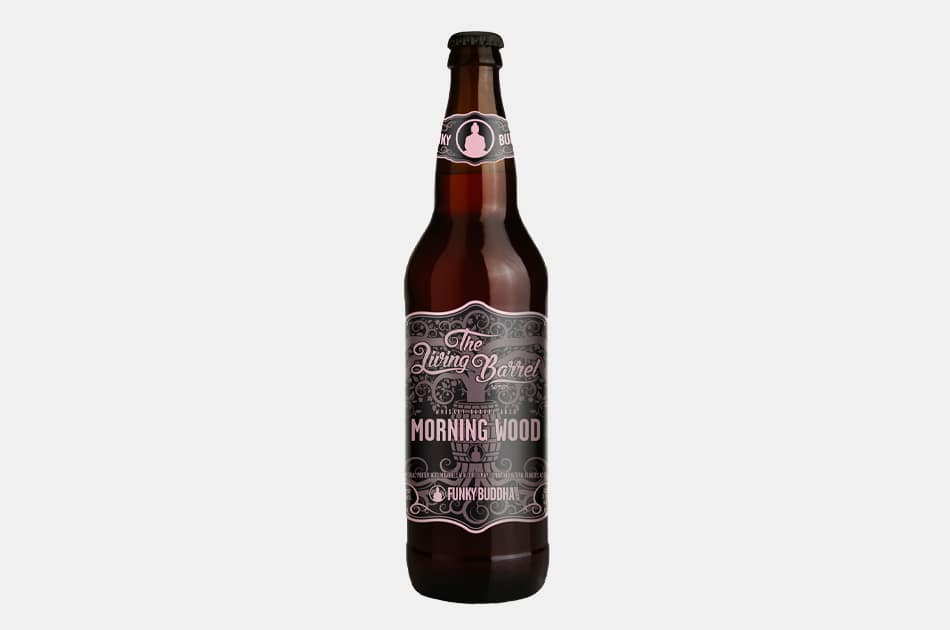 Morning Wood Imperial Maple Bacon Coffee Porter
ABV: 13% • Season: Fall • Brewery: Funky Buddha • Origin: South Florida
More beer aged in bourbon. That's both a statement (about this particular beer) and a request (of what we want from the world at large). Part of Funky Buddha's Living Barrel series, this is an imperial version of the brewery's Maple Bacon Coffee Porter that's been left to get tasty inside bourbon barrels for a few months. The result is a smooth, smoky, salty specialty (with an amusing name) that'll make every morning feel like the start of something nice.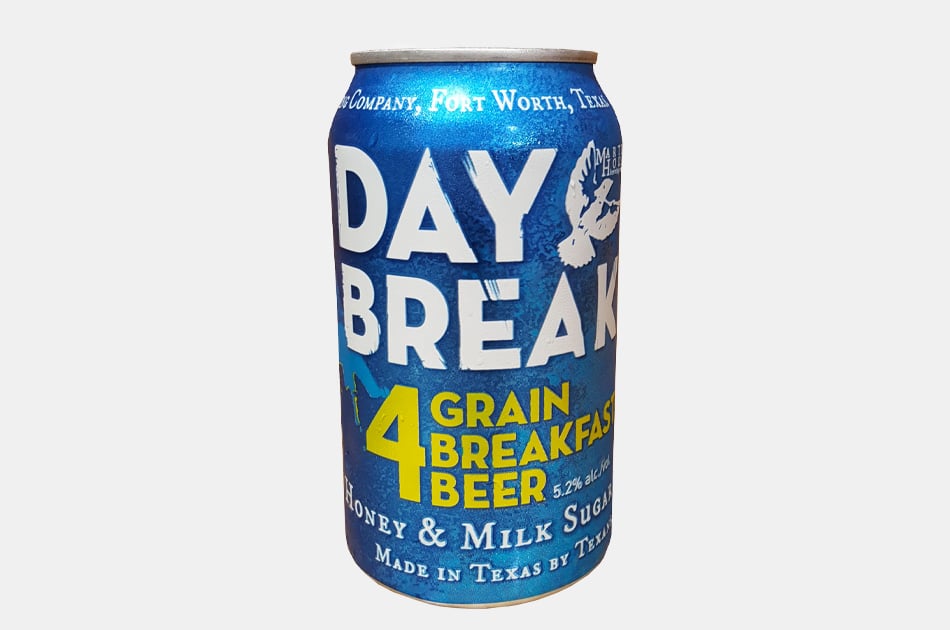 Day Break 4 Grain Breakfast Beer
ABV: 5% • Season: Year-Round • Brewery: Martin House • Origin: Fort Worth, TX
All these breakfast beers aim to represent a Sunday morning big-deal breakfast. Here's one that understands breakfast sometimes means a bowl of cereal. Texas-based Martin House developed Day Break as a low-alcohol beer you can start drinking in the AM and continue on through the day. It's an ale made with four grains and finished with milk sugar and local honey for a breakfast beer that's as easy as a bowl of cereal.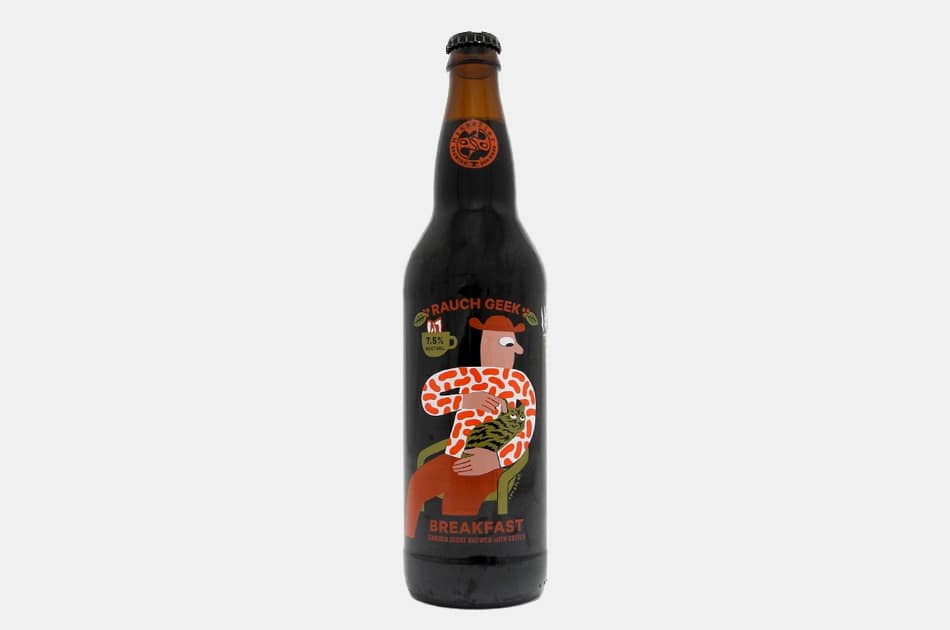 Mikkeller Rauch Geek Breakfast Oatmeal Stout
ABV: 7.5% • Season: Year-Round • Brewery: Mikkeller • Origin: San Diego, CA
When wandering brewer Mikkel Borg Bjergsø decided to settle down and call a single brewery his home, that brewery became Mikkeller Brewery in San Diego (formerly Alesmith). This beer is a take on their famed Beer Geek Breakfast but with a smoky twist. Instead of just roasting the malt to create a dark and inky stout, they smoked the malt too. Then they added flaked oats and gourmet coffee for a satisfying breakfast brew reminiscent of bacon and toast.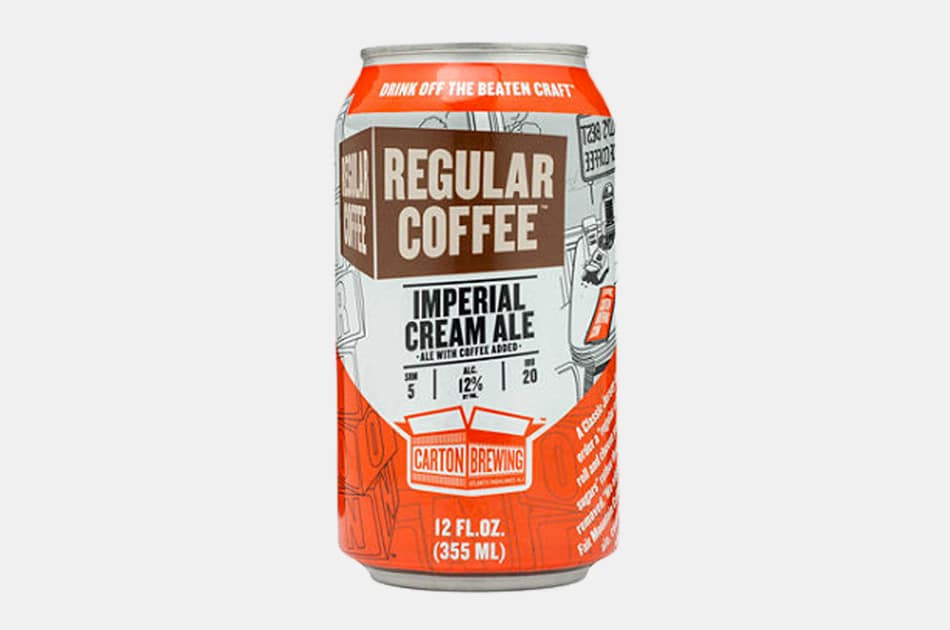 Carton Brewing Regular Coffee Imperial Cream Ale
ABV: 12% • Season: Limited Run • Brewery: Carton • Origin: Atlantic Highlands, NJ
Most places, a regular coffee means not-decaf. In New Jersey, it means coffee with milk and two sugars. At Carton Brewing, it means a cream ale with coffee. Using a blend made just for them by their coffee roaster neighbors, Fair Mountain Coffee, Regular Coffee uses a blend of Ethiopian Sidamo and a Mexican Chiapas with Carton's rich and creamy, sweet golden ale. A nice change from the dark and darker ales on the list, this one goes great with a pork roll and cheese.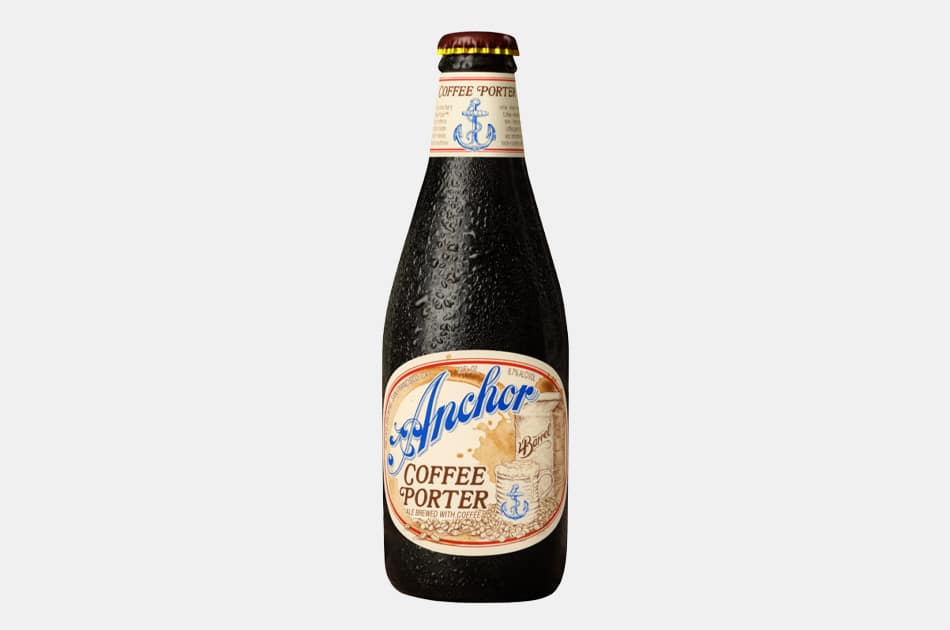 Anchor Coffee Porter
ABV: 6.7% • Season: Fall • Brewery: Anchor • Origin: San Francisco, CA
Anchor has been brewing beer in San Francisco for a long time. Like 120 years long. They've been in their current building since 1977 but before they got there, it was a coffee roastery. Coming full circle, they started brewing a coffee porter in the art deco building, adding flash-chilled coffee from SF roasters Four Barrel Coffee to the beer during second fermentation. The end beer is dark, rich and malty with a bold coffee aroma and layers of coffee, chocolate and spices.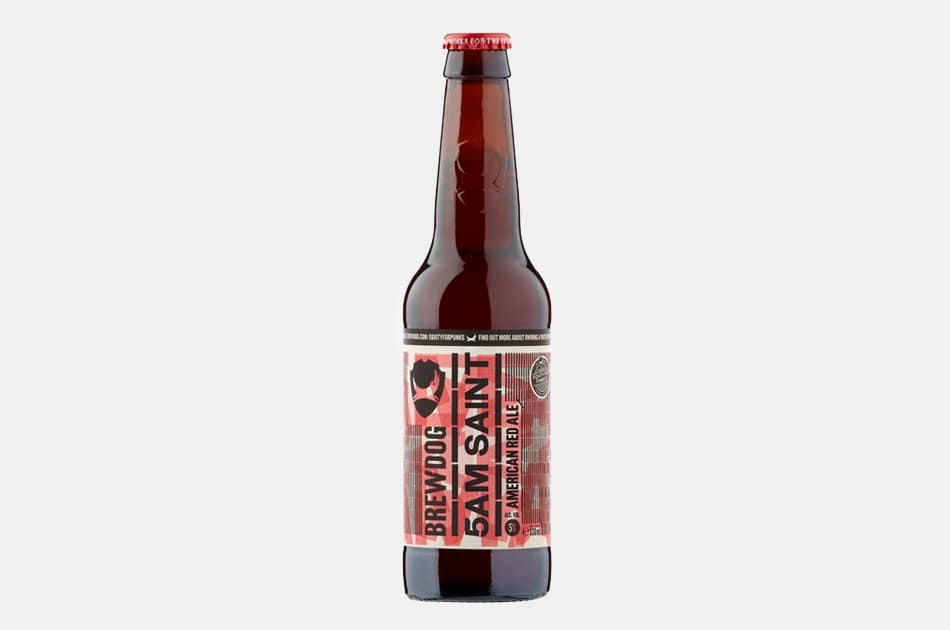 Brewdog 5AM Saint
ABV: 5% • Season: Year-Round • Brewery: Brewdog • Origin: Columbus, OH
Five AM looks very different depending on which side you see it from. Waking up early? Five AM is fresh and full of possibility. Up all night? Five am has a hazy, buzzy feel with a good sleep on the horizon. We see no reason both can't be occasions for a bottle of something like this. It's bitter, yet sweet, fruity with a bite, and spicy with a good maltiness. Just the kind of beer that can be what you need it to be at any hour of your morning (or night).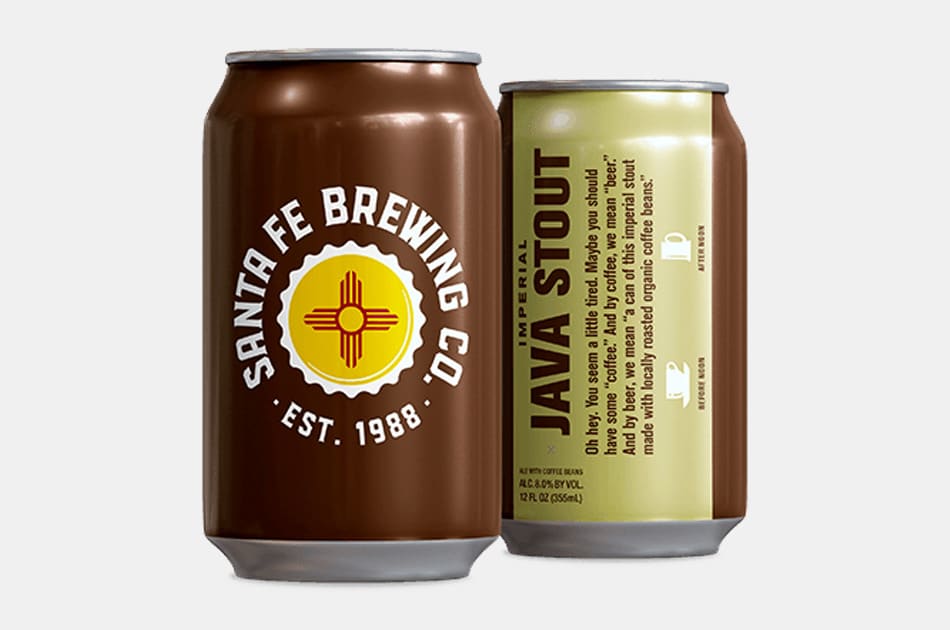 Santa Fe Brewing Java Stout
ABV: 8% • Season: Year-Round • Brewery: Santa Fe • Origin: Santa Fe, NM
French toast, bacon, cereal, milk. These things all make for fine breakfasts. But if you had to choose just one thing that really makes getting up in the morning worthwhile (or better yet, possible) that thing would be coffee. Brewed by Santa Fe Brewing, this year-round Java Stout is a heavyweight with a strong ABV and full body. Plus you get a generous dose of locally-roasted organic coffee from New Mexico's Ohori's Coffee so you can say good morning any time of day.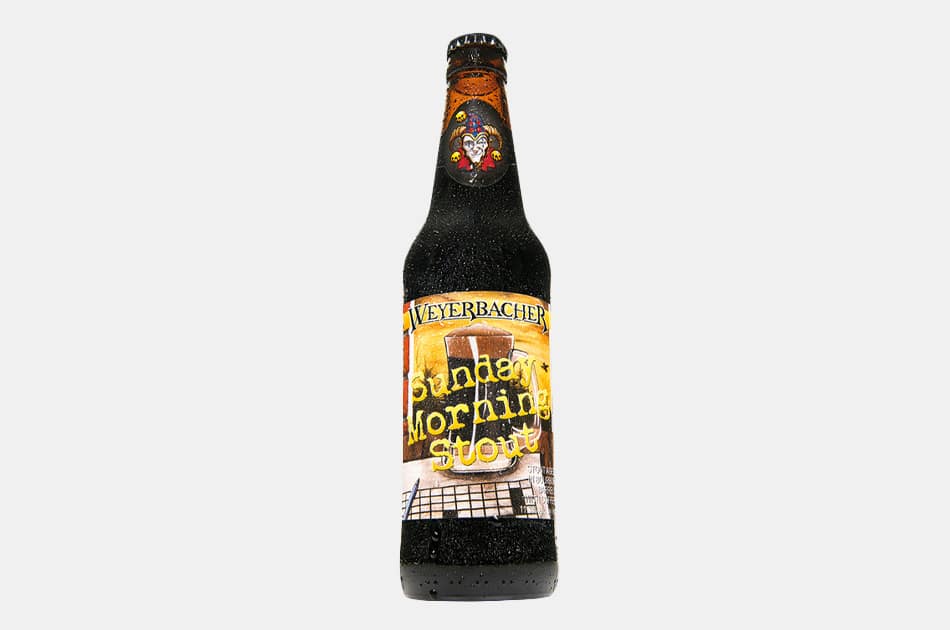 Sunday Morning Stout
ABV: 12.7% • Season: Late Winter • Brewery: Weyerbacher • Origin: Easton, PA
So maybe you're having a hard time deciding whether you'd like to start your day with a shot of bourbon in your coffee or a beer. Here's a way to kinda do both. Another brew that's aged in used bourbon barrels, this imperial stout carries aromas of roasted coffee with an underlying sweet whiff of bourbon. The accompanying flavors, such as vanilla, caramel and chocolate all go well with both coffee and bourbon. And despite the name, no one's going to make you wait until Sunday to drink it.
Disclosure: Clicking on these links and making a purchase may earn us a small referral fee, at no extra cost to you. Learn more here.
freestar.config.enabled_slots.push({ placementName: "gearmoose_leaderboard_btf", slotId: "gearmoose_leaderboard_btf" });