The 10 Best Cinnamon Whiskey Brands
Some kids like chocolate and nougat while others prefer fruity snacks like Starburst or Skittles.  Then there are the kids who gravitate toward daring and spicy cinnamon treats like Red Hots, Hot Tamales, or Atomic Fireballs.  If you've always loved the kick of cinnamon, you're sure to enjoy the addition of this thrilling flavor to some of your favorite libations.
You might be surprised to learn that some of the best whiskey brands out there are now branching out into flavored fare, including cinnamon.  Sure, you'd expect it from flavorless vodka – there's no reason not to add lime or vanilla when you're basically guzzling rubbing alcohol – but you might be a little hesitant to start piling on palette pleasing additives to your whiskey.  After all, there's no guarantee that the fiery burn of cinnamon will pair well with your favorite smoky spirits.
To be fair, if people didn't take a shine to it, there wouldn't be so many cinnamon whiskeys on the market.  Plus, the fun of finding your new fave is in the journey.  Where's your sense of adventure, lad?  Throw on your kilt, grab your shillelagh, and get to your local bar to start sampling some of the best whiskey brands paired with the striking essence of cinnamon!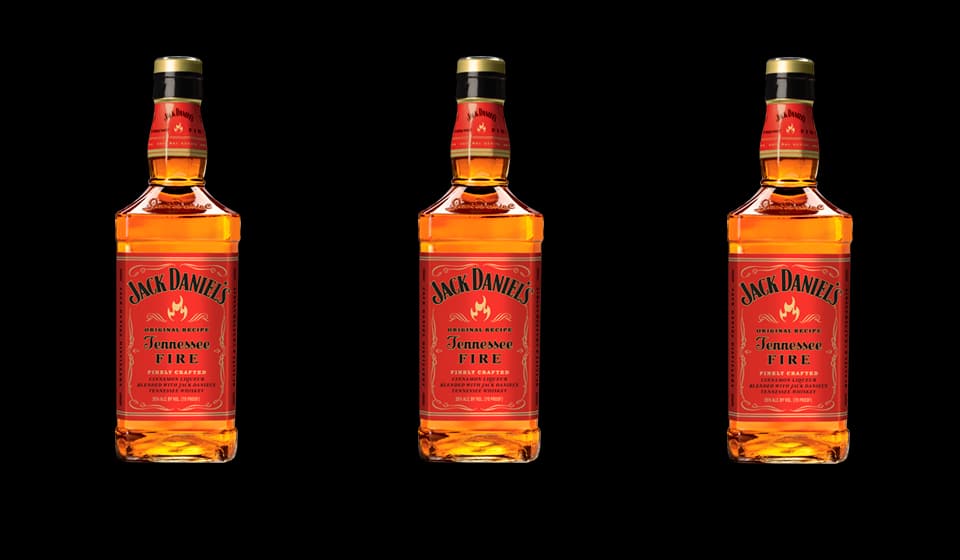 Jack Daniel's Tennessee Fire
If you've tried this American classic with a sweet dollop of honey, it's time to branch out and sample the spicier side of Jack Daniel's.  Tennessee Fire may bring the heat with intense cinnamon flavor, but you'll still get the exceptionally smooth character this bronzed liquor is known for.  When paired with cinnamon, Old Number 7 starts slow and smooth, a blazing ember, and grows to a 5-alarm fire, which is why the manufacturer recommends chasing a shot with a cool pint of cider to tame the flame. – Learn More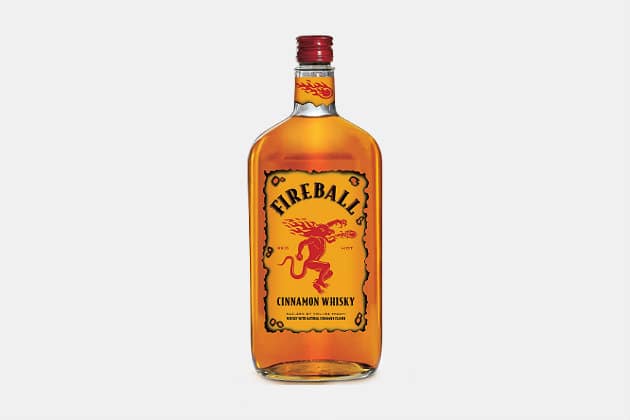 Fireball Cinnamon Whisky
I don't know if this is the original cinnamon whiskey, but it's certainly the first one most of us tried, probably at a frat party, dropped in a red Solo cup of crappy beer.  Just me?  Well, standards of youthful drinking aside, this ubiquitous cinnamon whiskey is popular for a reason.  It packs a wallop of cinnamon that will blast your taste buds like a delightfully spicy inferno.  There's a reason why the logo on the label is a fire-breathing dragon. – Learn More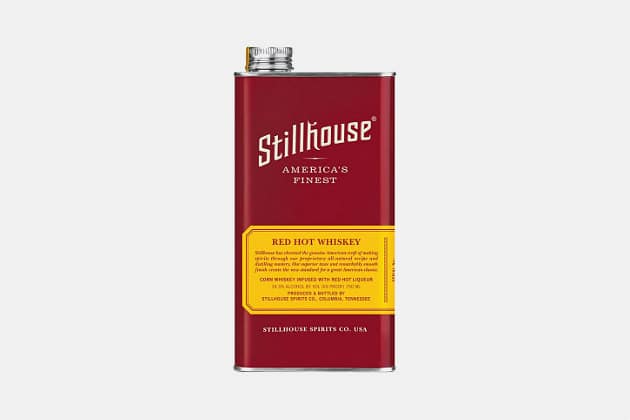 Stillhouse Red Hot Whiskey
Let's just pause for a moment to appreciate the fact that this liquor comes in a stainless steel container that looks like it ought to house paint thinner.  Cool or crazy?  You decide, but keep in mind that this screw top flask can go with you anywhere.  Moving on, the contents, including 100% clear corn whiskey (which is gluten free, by the way) paired with all-natural cinnamon flavor, pack a punch of sweet and hot that is delicious on its own or mixed into a variety of cocktails. – Learn More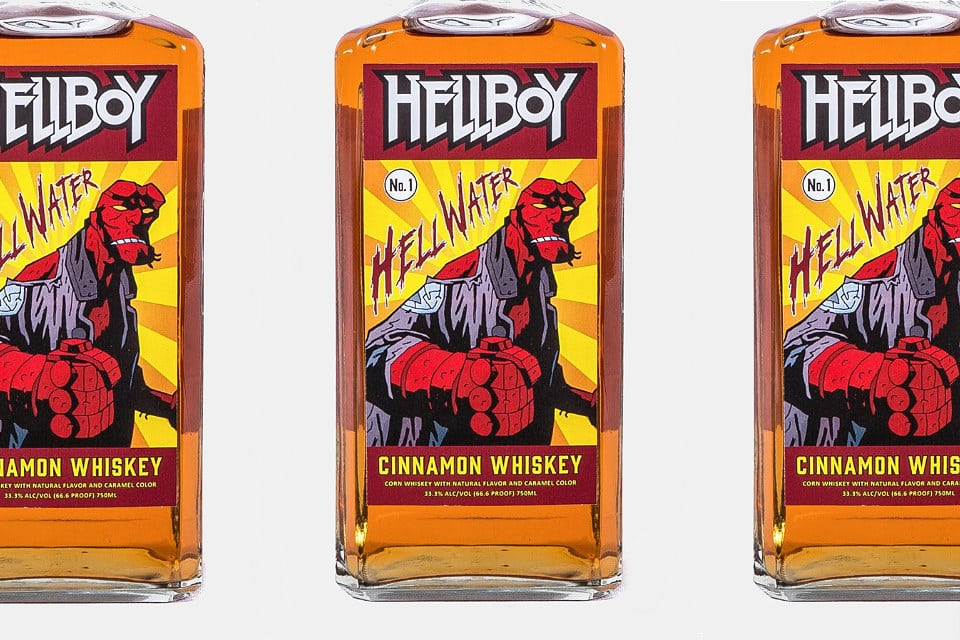 Hellboy Hellwater Cinnamon Whiskey
Is there any better rep for a flaming hot whiskey than a demon straight out of the netherworld?  Mike Mignola's demon-spawn-turned-hero comic creation is no stranger to the seedier side of life, and he's been known to guzzle a Tecate or six on occasion.  Now whiskey lovers seeking a spicy treat can try the Hell Water cinnamon whiskey dedicated to this lovable rogue.  At over 66 proof, it will make your blood boil and your senses sing like a stint in Satan's lair. – Learn More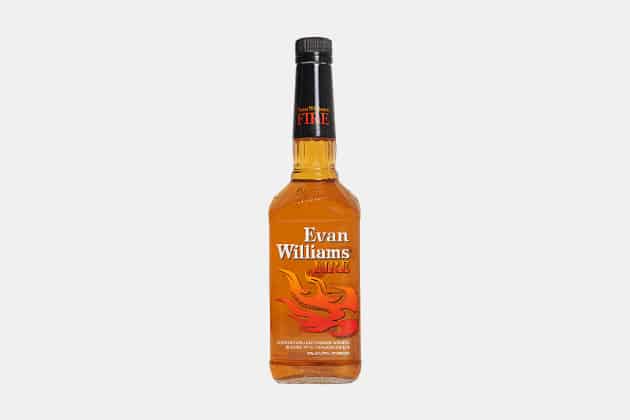 Evan Williams Fire
This coppery Kentucky Bourbon may not have the provenance or name recognition of Jack Daniels, but the peppery shot of cinnamon paired with sweet honey and melon notes will warm your insides with equal aplomb.  At 70 proof, you'll be feeling no pain before you know it.  The main difference is the intensity, which could be labeled as slightly subdued with a subtle build.  That just means you can enjoy it straight up without running to a trough to dunk your head in horse water. – Learn More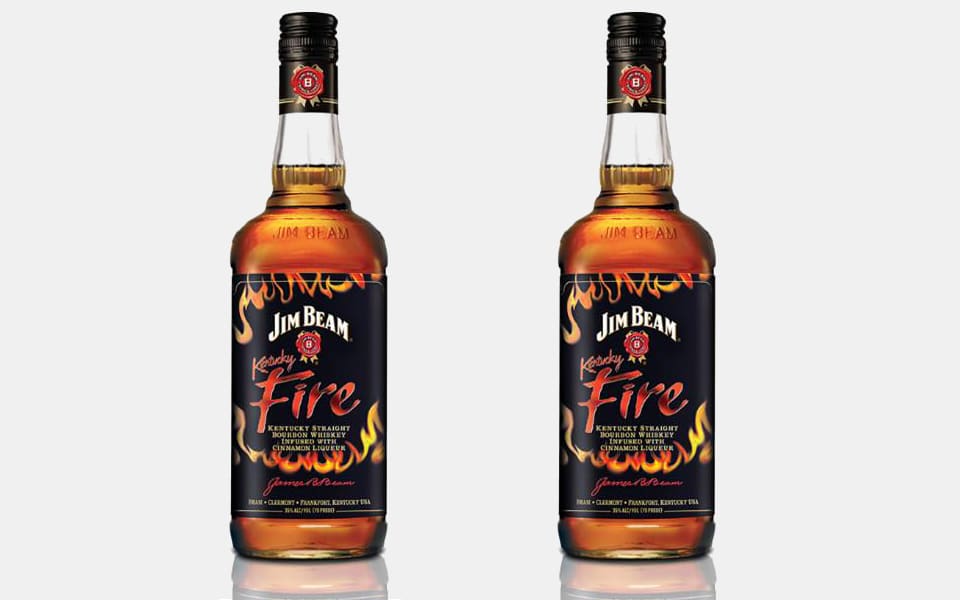 Jim Beam Kentucky Fire
All you have to do is look at the flames on the label to know this bourbon is serious about the level of cinnamon including in their whiskey, which is labeled KENTUCKY FIRE, in case you can't take a hint.  A whiff of the hot candied cinnamon should prepare you for the fiery kick in the taste buds this golden liqueur delivers, and yet, you might still be surprised.  Never fear, Jim Beam has you covered with ideas for mixers like cocoa and ginger ale that will add some sweet to your heat. – Learn More
Bird Dog Hot Cinnamon Flavored Whiskey
This cinnamon-flavored whiskey comes with classic appeal, thanks to a bottle with curvy composition, a cork stopper, and a label featuring the namesake English Pointer searching for fallen pheasants amid a field of golden grass.  This whiskey is straight outta Kentucky, and at 80 proof, it'll keep you warm on a chilly hunting trip.  Even better, it pairs an oaky, vanilla bourbon with front-loaded cinnamon spice and a pleasant, caramel aftertaste.  If you're looking for the classiest way to drink cinnamon firewater, Bird Dog's got your back. – Learn More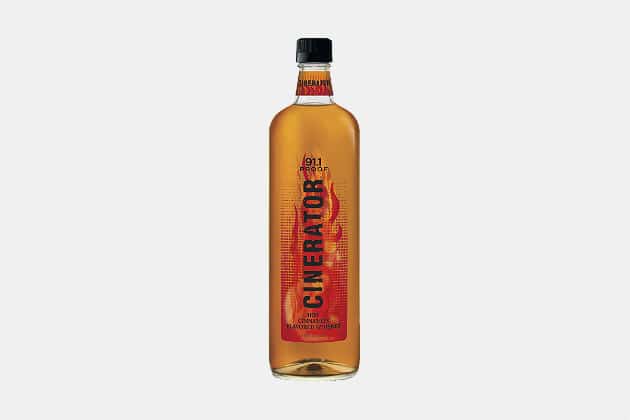 Cinerator Hot Cinnamon Whiskey
Some like it hot, and if you're among them, you'll no doubt enjoy the sizzling, hot cinnamon appeal of this blistering whiskey, which clocks in at an alarming 91 proof.  According to the manufacturer, it will "kick your glass", delivering heat that spreads from tongue to tail with every hearty gulp.  Still, it goes down pretty smooth, like a liquid torch to the intestines.  If you're looking for something less like a red-hot poker to the gut, pair it with cider, sweet tea vodka, or orange liqueur. – Learn More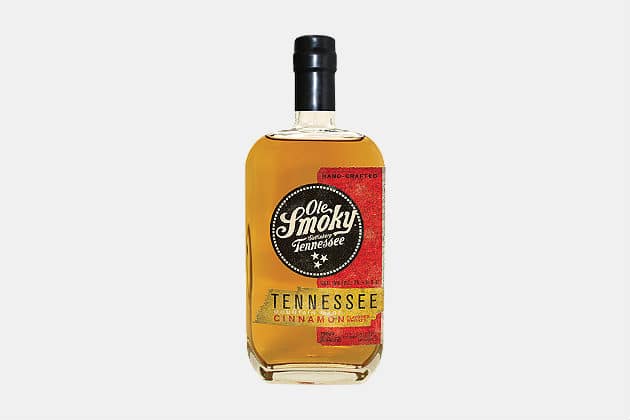 Ole Smoky Cinnamon Flavored Whiskey
This whiskey answers the ages-old question: what would it be like to swallow a campfire?  The company known for Tennessee Moonshine does not disappoint with this cinnamon-inspired concoction, which BT Dubs, is only available at The Barrelhouse in Tennessee.  It might be worth a trip, however, to sample the cinnamon heat paired with delightfully delicate layers of traditional bourbon appeal.  At 70 proof, it's not the strongest, but that just gives you more time to enjoy the slow-burn of sensuous cinnamon. – Learn More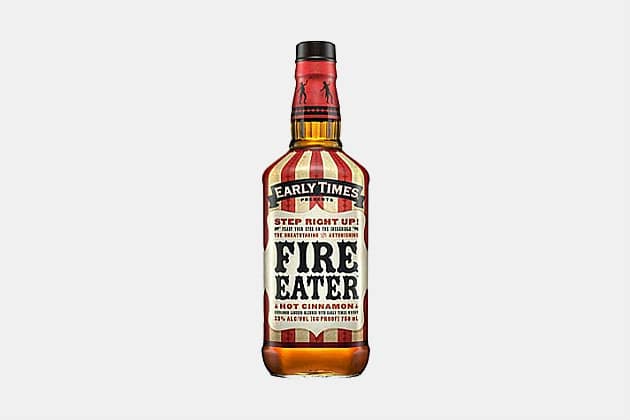 Early Times Fire Eater
The striped label may look like a carnival tent reminiscent of Barnum & Bailey, but don't let connotations of clowns (shudder) deter you from tasting the hard-earned subtlety only arrived at by pairing aged whiskey with bakery cinnamon, cinnamon stick, and a dollop of creamy brown sugar.  This pale amber firewater is 70 proof and incredibly drinkable, especially when chilled to offset the spice.  Milder than most, you can knock this spicy booze back with nary a mixer in sight. – Learn More