The 20 Best Conditioners For Men
We men could use a little help in the haircare department. An effective hair conditioner is key, especially since over 80 percent of us will experience significant hair loss. And no, that 2-in-1 stuff at the drugstore doesn't count. Level up your hair game with the 20 best conditioners for men.
A good conditioner makes your mane look thicker and healthier, and it provides protection from the elements. With the right formula, you might even be able to combat your own genes before hair loss treatment becomes necessary. We've got a solid collection here for different hair types, hair problems, and even for those of you looking for a cure-all.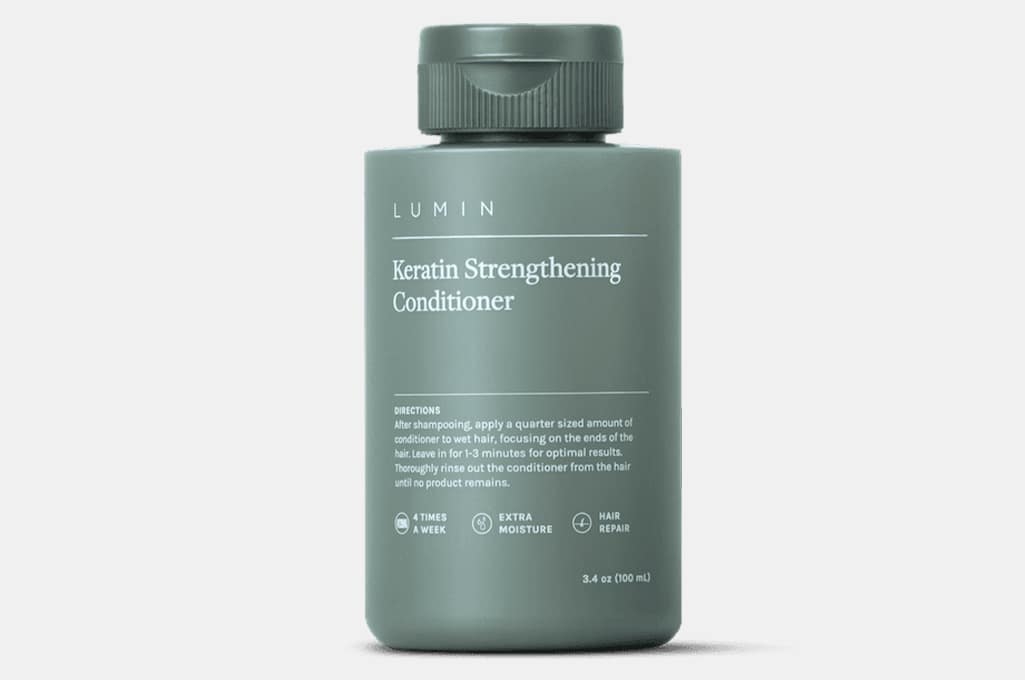 Lumin Keratin Strengthening Conditioner
Best Overall
If you've been using a bad conditioner, or no conditioner at all, it's possible that your hair isn't thinning, as much as it's in pretty rough shape. Enter Lumin Keratin Strengthening Conditioner. Keratin is the exact same self-repairing protein that your hair produces, which it may not be producing as much of if you aren't taking care of it optimally. This conditioner is like an adrenalin shot for your hair. On top of that, it has jojoba oil in there, which promotes thickness and moisture for a silky and manageable coif.
KEY INGREDIENTS: Jojoba oil, keratin, green tea leaf extract,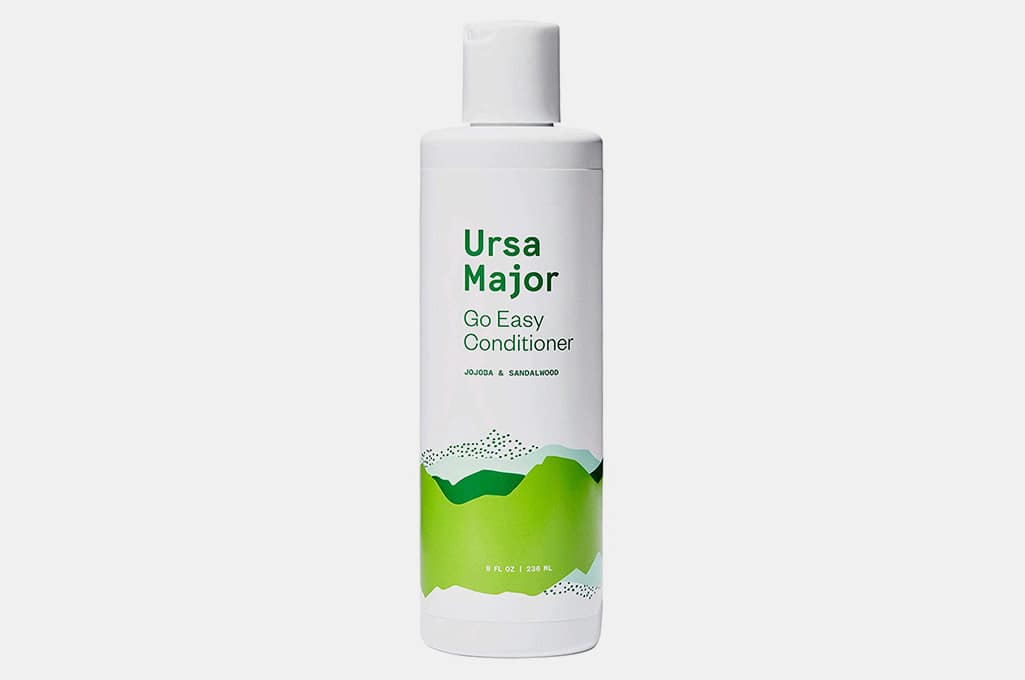 Ursa Major Go Easy Conditioner
Best For All Hair Types
If you suffer from knot-prone hair, or if you're already blessed with Beckham-esque tresses, the Ursa Major Go Easy is the conditioner for you. Typically those chemical-reduced type products are too light and weak for unruly or extra thick hair, but Ursa Major contains hydrolyzed soy protein and aloe, which ups your hair's elasticity, strength, and moisture. It's effectively made for dense and tangly hair despite its lack of petrochemicals and synthetic additives. The orange, bergamot, and sandalwood in the conditioner also provide a spa-like aroma therapy quality.
KEY INGREDIENTS: Jojoba oil, hydrolyzed soy protein, aloe, sandalwood, macadamia seed oil, ginger root, orange peel, lemon peel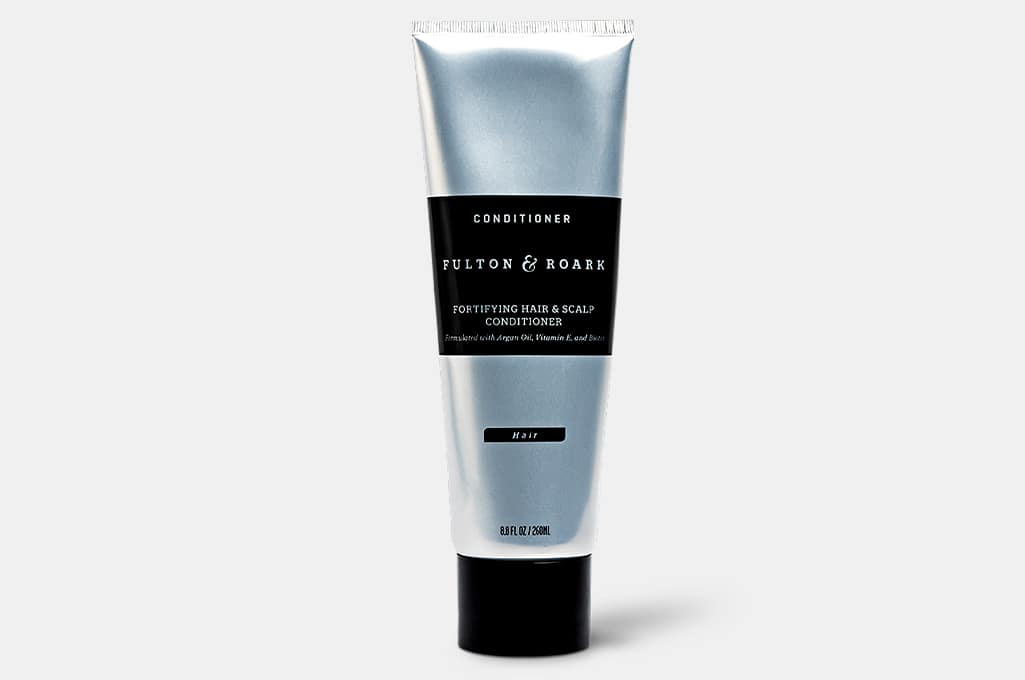 Fulton & Roark Conditioner
Best For Dry Scalps
You need good soil for good crops, and you need a healthy, non-itchy scalp for nice hair. Fulton & Roark Conditioner is formulated with argan oil, vitamin E, and Biotin, which loads that crown of yours up with antioxidants and scalp-nourishers. Besides, while not everyone has a lot of hair, everyone has a scalp. So even you gents in the twilight years of hair-having could benefit from this conditioner.
KEY INGREDIENTS: Vitamin E, green tea, rosemary extract, argan oil, jojoba oil, shea butter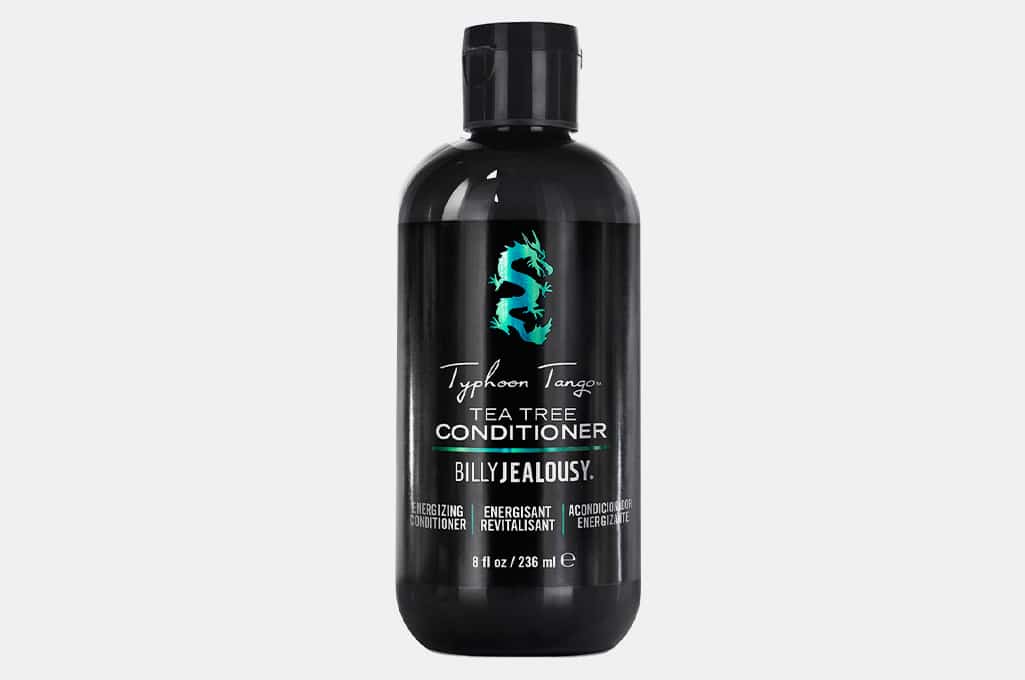 Billy Jealousy Typhoon Tango Tea Tree Conditioner
An All-Purpose Conditioner
Sometimes, you just know your hair is being lousy and you don't know the specific root of the problem. Flexible and all-purpose, the Billy Jealousy Typhoon Tango Tea Tree Conditioner is like the PPO plan of conditioners. Afterall, tea tree oil is a natural cure-all for skin problems, and hair is just modified skin. It won't clog hair follicles and prevents hair-breakage, so even guys with dermal sensitivity can use it. Bonus points for that refreshing tingle from the ginseng, peppermint, and rosemary.
KEY INGREDIENTS: Tea tree oil, coconut oil,  rosemary leaf oil, peppermint oil, algae extract, Roman chamomile extract, ginseng root extract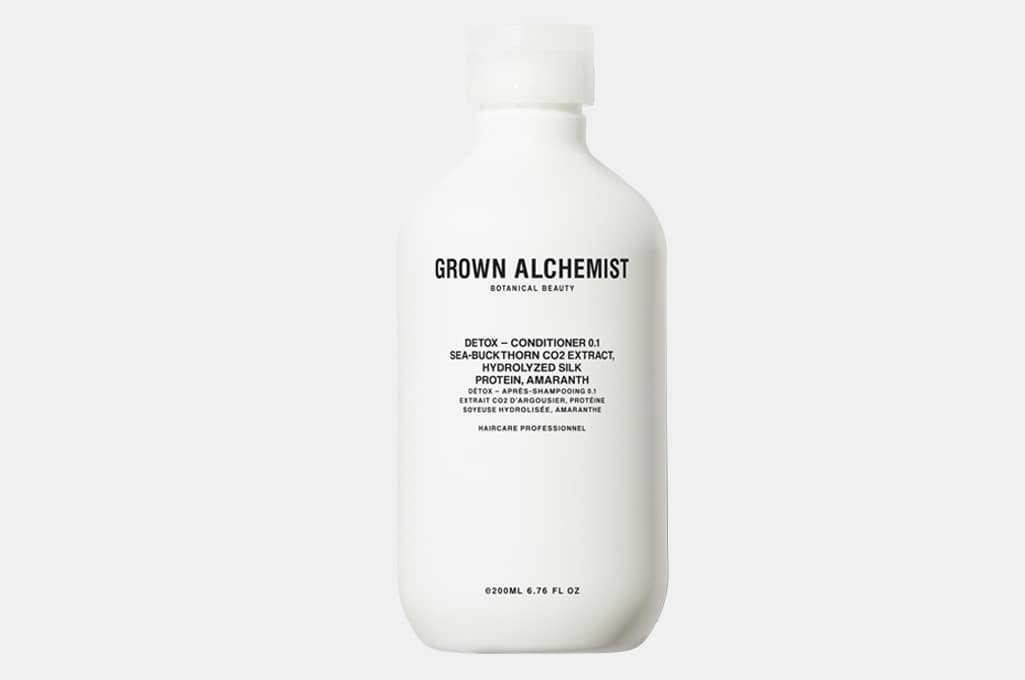 Grown Alchemist Detox Conditioner 0.1
Best For Scalp Repair
As its name suggests, the Detox Conditioner 0.1 is a rehabilitator. This is an excellent option for anyone who lives in a high-smog environment, or whose job exposes them to unideal conditions like smoke, chemicals, or UVB/UVA rays. Its mix of sea-buckthorn CO2 extract, hydrolyzed silk protein, and amaranth detoxifies your scalp of free radicals, which can damage cells. This combination also creates a protective barrier around your hair.
KEY INGREDIENTS: Hydrolyzed silk proteins, sea buckthorn CO2 extract, amaranth seed, plant-derived liposomes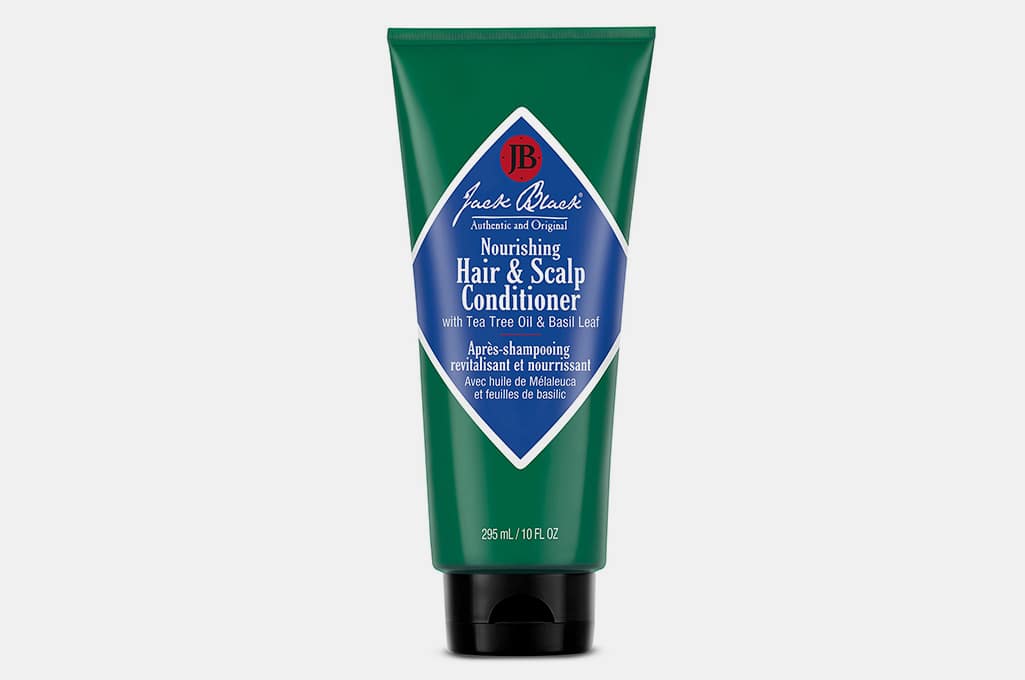 Jack Black Nourishing Hair and Scalp Conditioner
Best For Damaged Hair
Jack Black Nourishing Hair and Scalp Conditioner shows us that salads are just as nutritional and beneficial for our hair as they are for our bellies. It's packed with basil for antioxidants and a beautiful soothing head-feel when you apply it, and sea kelp, a nutrient-dense seaweed. It's also conveniently made for all hair types and isn't too heavy or too light. No surprise here that it was one of the top-selling men's hair conditioners in 2020.
KEY INGREDIENTS: Pro Vitamin B5, jojoba seed oil, tea tree oil, organic basil leaf oil, biotin, peppermint oil, sage oil, panax ginseng root extract, grapefruit peel oil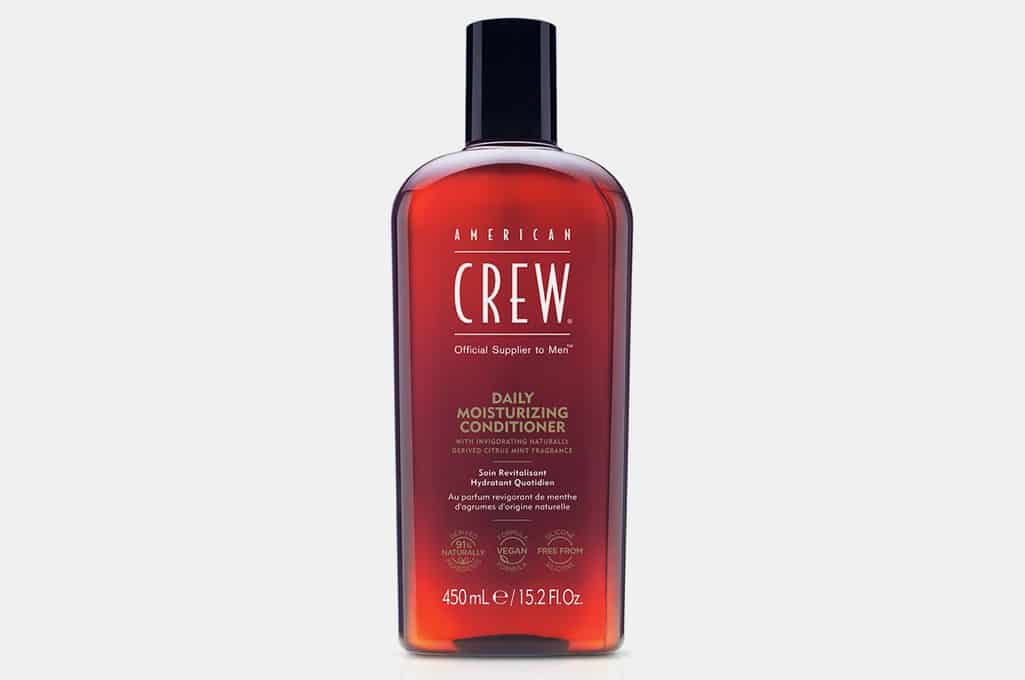 American Crew Daily Moisturizing Conditioner
Best For Dry Hair
Crew has been a staple in hair salons since the '90s, and their American Daily Moisturizing Conditioner is an impressive and professional little concoction. It's super hydrating and reduces hair breakage from combing by a whopping 86 percent. It's got a lot of good stuff in it for restoration, strengthening, and protection. You know what's not in it? Silicone. This means no hard-to-remove buildup.
KEY INGREDIENTS: Vitamin B5, citric acid, limonene, menthol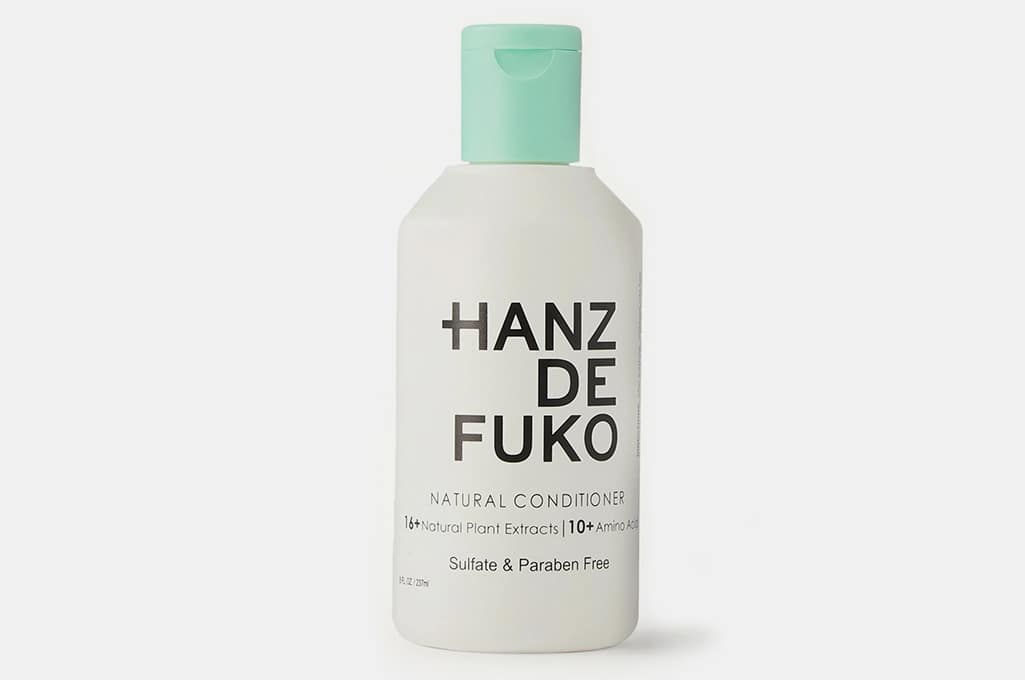 Hanz De Fuko Natural Conditioner
A Unique Conditioner + Shaving Cream
We mentioned avoiding most 2-in-1 hair products, but Hanz De Fuko Natural Conditioner is the exception. For one thing, it's not a shampoo+conditioner, but a conditioner+shaving cream. How though? It's enriched with natural plant extracts, which fortify your scalp's circulation, meaning you get the same thick-but-light and nourishing-but-tough properties that your noggin needs just as much as your face does.
KEY INGREDIENTS: White Tea, Cactus, Lemon, Acai, Burdock Root, Shea Butter, Pomegranate, Sea Buckthorn, Jojoba, Spearmint, Seaweed, Aloe Vera, Olive, and Avocado
Malin+Goetz Cilantro Hair Conditioner
Best Conditioner For Frizzy Hair
If your hair gets a little too enthusiastic in the humidity, Malin+Goetz Cilantro Hair Conditioner is designed specifically to tame frizz. The cilantro extract, its main ingredient, is mixed with fatty acids to fully hydrate and calm your locks without leaving residue. This conditioner is actually so lightweight that you can also use it as a leave-in treatment. Fear summer no more.
KEY INGREDIENTS: Shea butter, sunflower seed oil, coriander seed oil, cilantro extract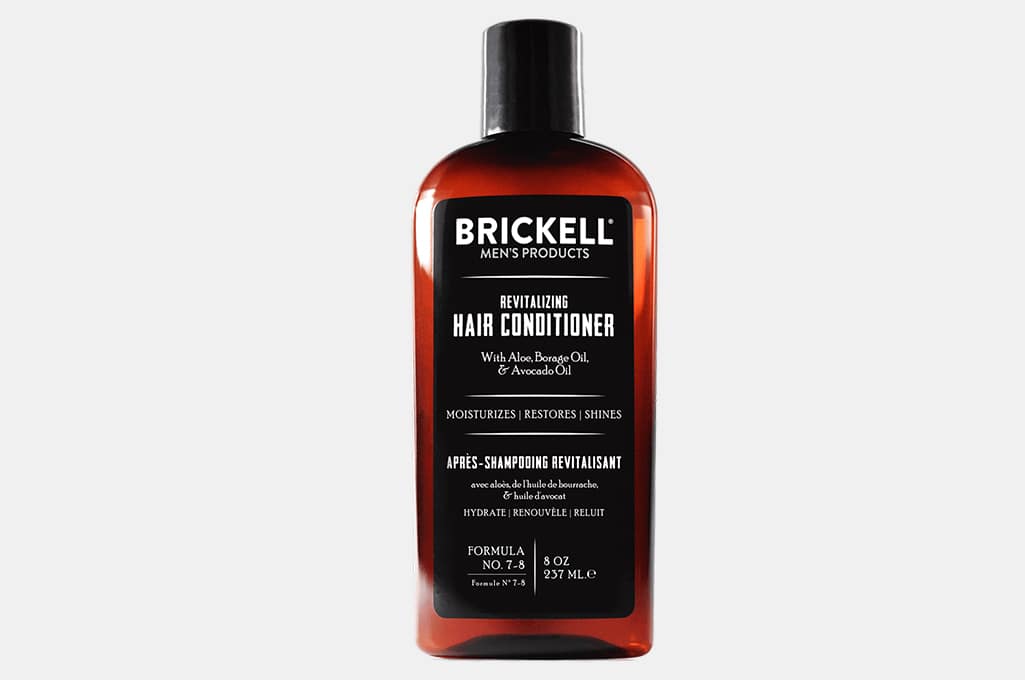 Brickell Men's Products Revitalizing Hair & Scalp Conditioner
Best For Thinning Hair
You know how you need to stretch before a major workout, run, or game? So does hair. Treating your locks like a five-star athlete, Brickell Men's Products Revitalizing Hair & Scalp Conditioner uses a thick aloe base to provide elasticity and resilience. They also jammed this conditioner with omega-6 fatty acids and avocado oil, so it gives your hair a sportsman's diet too. The result is a conditioner that stimulates hair growth, fights dandruff, and fixes damaged cells.
KEY INGREDIENTS: Organic aloe vera, Vitamin E, peppermint, tea tree oil, gotu kola extract, geranium extract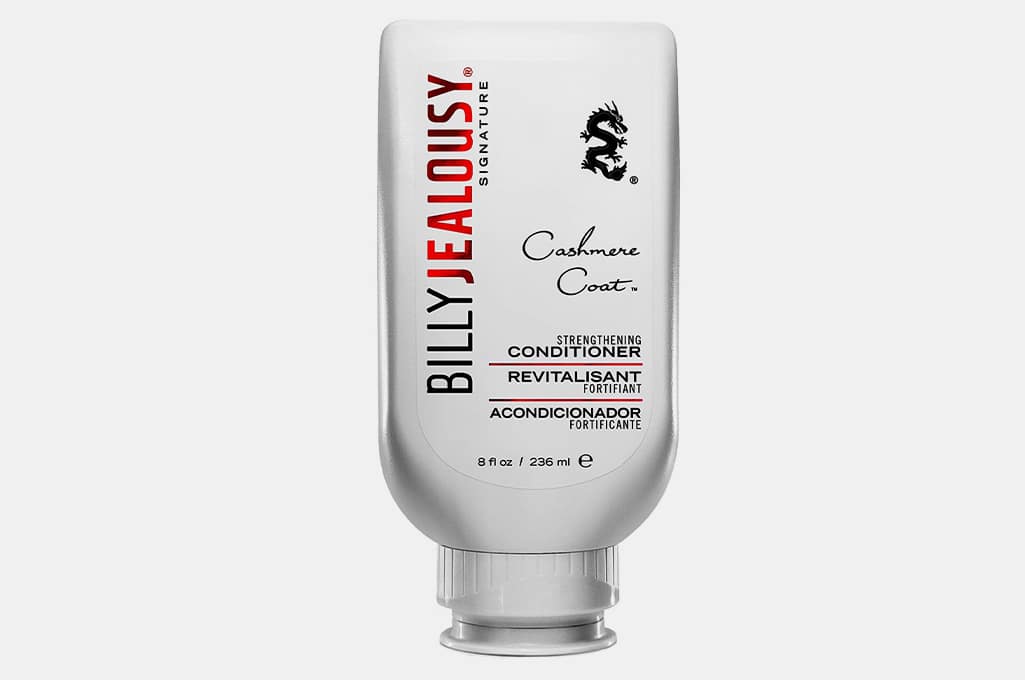 Billy Jealousy Cashmere Coat Strengthening Conditioner
Best DHT-Blocking Conditioner
DHT, or dihydrotestosterone, causes baldness. It's also a male hormone, so whether or not your hair is thinning, you're definitely harboring these follicle-terrorists that can strike at any moment. Thankfully, the Billy Jealousy Cashmere Coat Strengthening Conditioner is fortified with DHT blockers that protect your hair from environmental damage and potential cue-balling. It's also infused with peppermint and fruit extracts, adding a sweet smell to this tough compound.
KEY INGREDIENTS: Lemon peel extract, peppermint leaf oil, licorice root extract, swertia japonica extract, ginseng root extract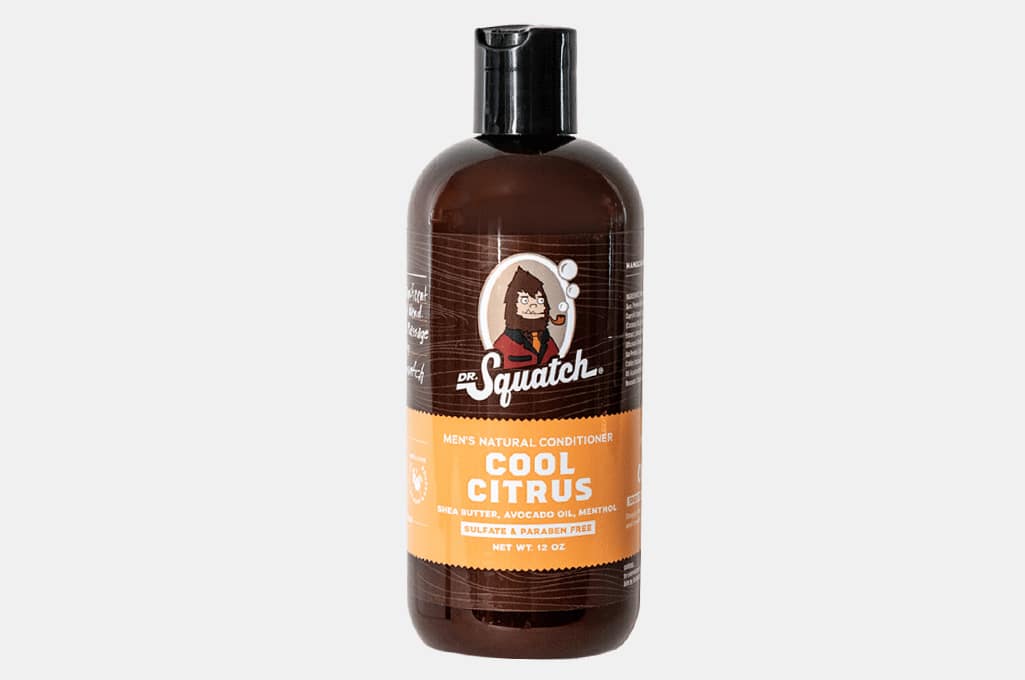 Dr. Squatch Cool Citrus Conditioner
Best All Natural Conditioner
Take your scalp to a tropical vacation spa with the Dr. Squatch Cool Citrus Conditioner. While a lot of hardcore conditioners take the medicinal route, this holiday in a bottle uses skin-softening shea butter, soothing peppermint, and a cool citrus scent. The conditioner version of using relaxation to revitalize, it soothes and stimulates your scalp at the same time, and strengthens your hair. The shea butter has literal healing properties, so feel free to let that conditioner drip onto your face a bit.
KEY INGREDIENTS: Calendula flower extract, avocado oil, peppermint essential oil, shea butter, rosemary leaf extract, sweet orange oil, hemp seed oil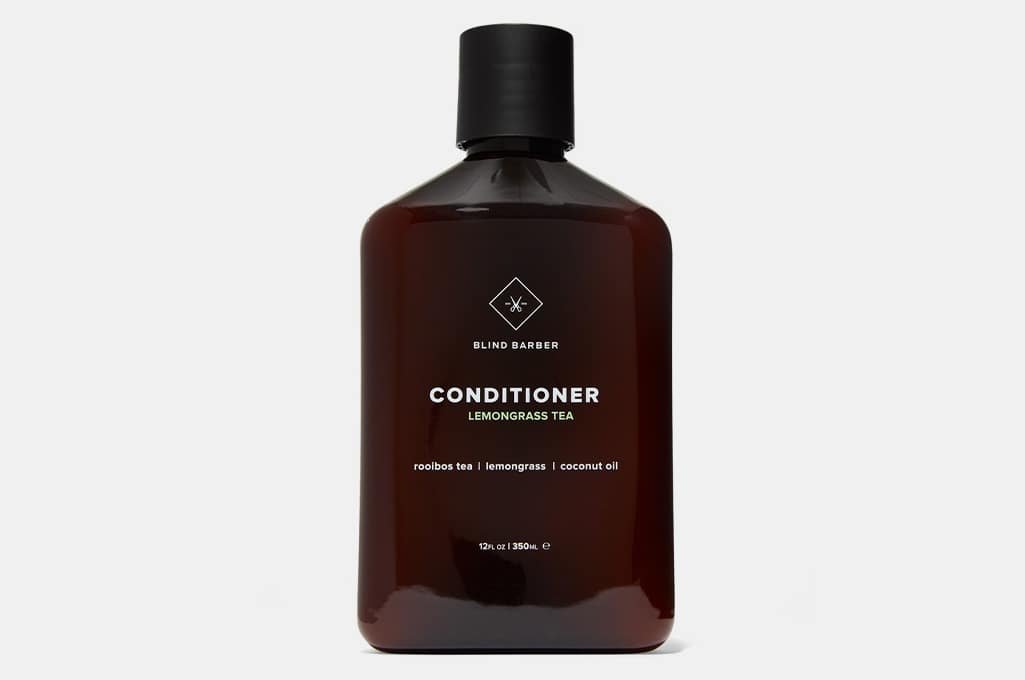 Blind Barber Conditioner Lemongrass Tea
Best For Dandruff
If you enjoy hops in your beer, you might be surprised to know that your hair enjoys them too. Blind Barber's Lemongrass Tea Conditioner is hopped up because they strengthen hair follicles, promote hair growth, and prevent dandruff. It's also nutrient-dense and filled with oils, so you only need the smallest amount to get your mane into tip-top shape. And as its name suggests, it boasts a relaxing lemongrass scent to calm those nerves.
KEY INGREDIENTS: Rooibos tea, coconut oil, hops, jojoba esters, sativa seed protein, olive oil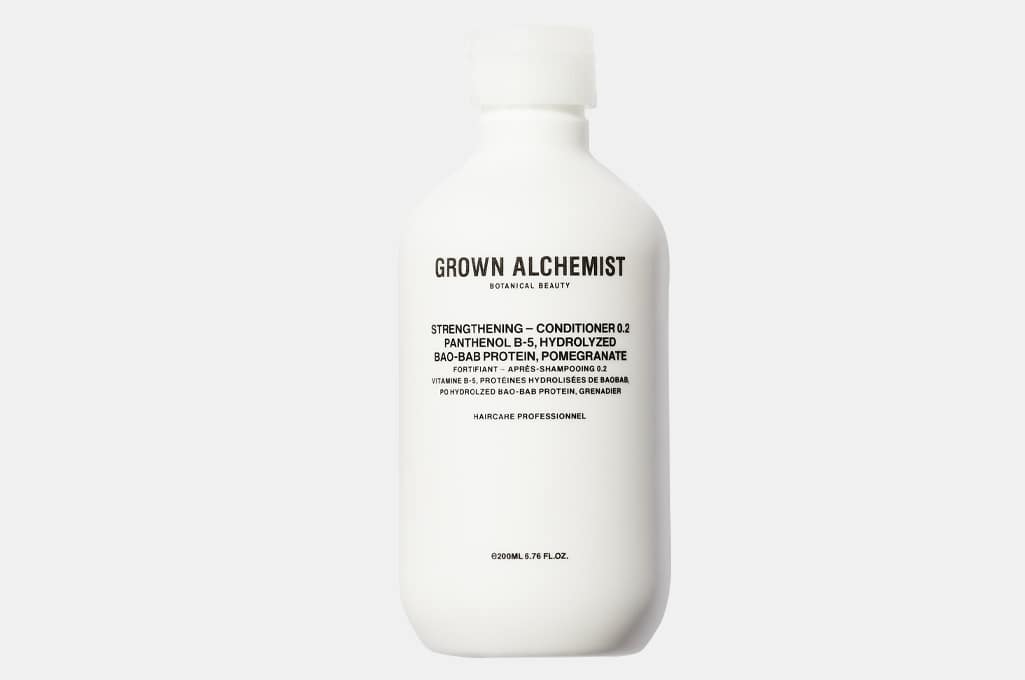 Grown Alchemist Strengthening Conditioner 0.2
Protect Your Hair From The Elements
The phrase super food gets thrown around a lot these days, but the BaoBab fruit proteins in the Grown Alchemist Strengthening Conditioner 0.2 can actually strengthen your hair. This formula ups each strand's resistance to chemicals, UV rays, and heat stress. It's no wonder they're so popular with old, surviving civilizations. Rich in antioxidants, vitamins, and minerals, this conditioner basically puts a forcefield around every fiber of your hair.
KEY INGREDIENTS: Panthenol B-5, Hydrolyzed Baobab protein, Panax Ginseng, Tucuma, Plant-derived Liposomes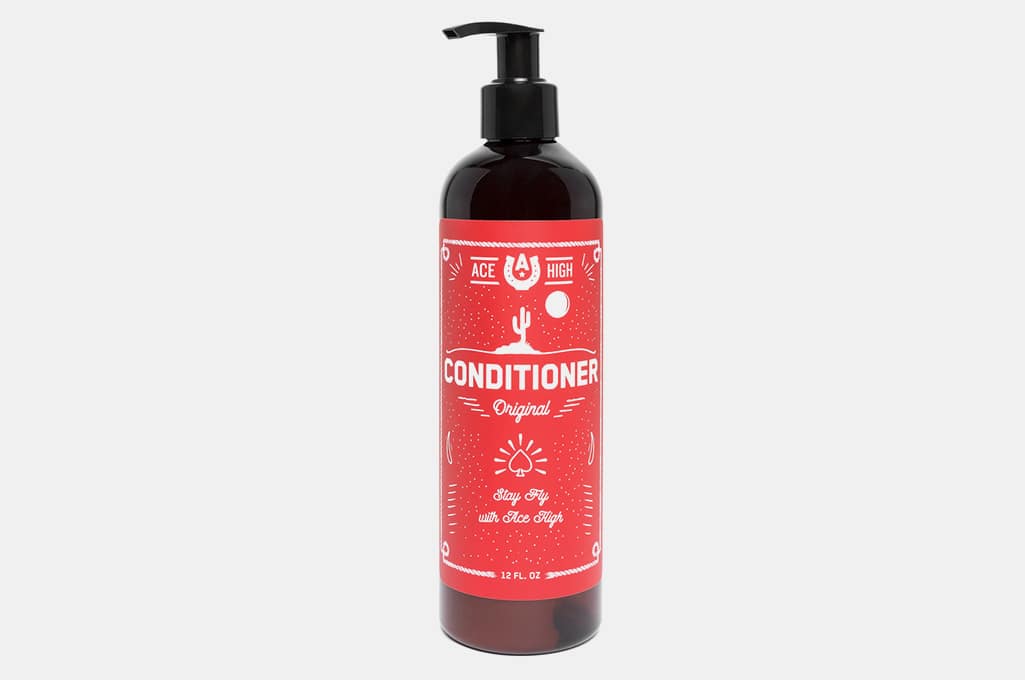 Ace High Hydrating Creamy Conditioner
Free of Parabens & Sulfates
Men are allowed to smell sweet too. Ace Hydrating Conditioner's combination of orange peel, mango butter, and eucalyptus gives your hair a light fragrance without making it seem like you dipped your head into some potpourri. It's also free of harmful parabens and sulfates, and formulated with vitamin E, argan oil, and grape seed extract, which moisturizes your mane without making it greasy. Plus, you have to love a good pump bottle.
KEY INGREDIENTS: mango butter, argan oil, red algae extract, Vitamin E, sea grape extract, and eucalyptus oil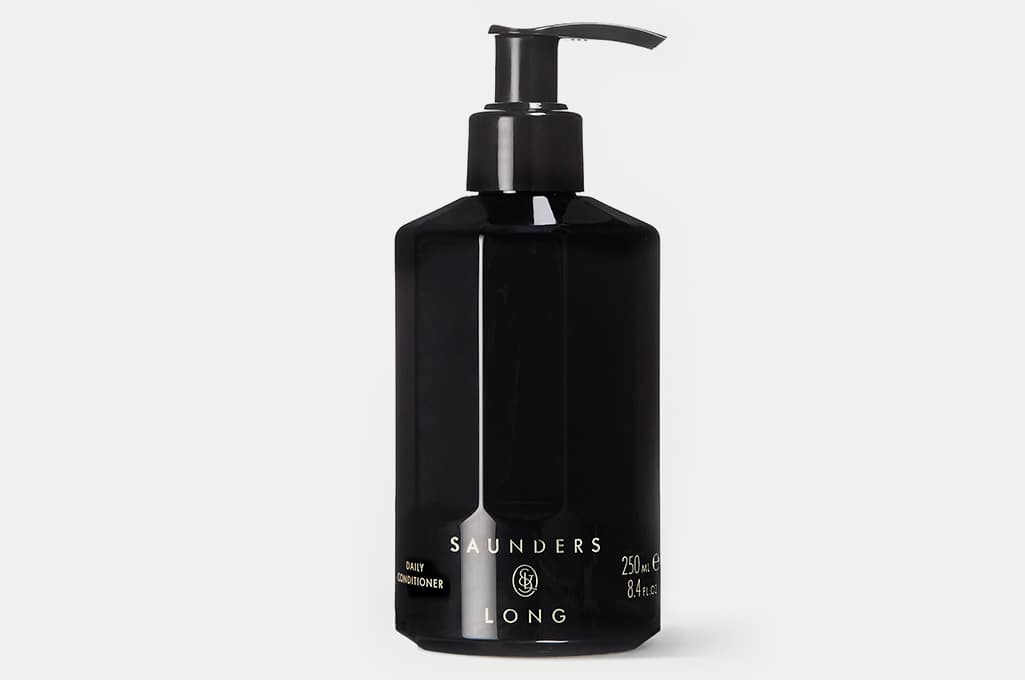 Saunders & Long Daily Conditioner
Protects Against Fungus and Bacteria
You may not remember everything you've learned about pH balance from chemistry class, but when it comes to hair, it's paramount in maintaining your natural oils and preventing breakage. Saunders & Long Daily Conditioner balances your scalp's pH with a mix of vitamins, fruit acids, green tea, and argan oil. Just leave it in for two minutes before washing and you're good to go. If that's not enough to convince you, having a normal pH balance also protects against fungus and bacteria. Let's keep those head mushrooms at bay.
KEY INGREDIENTS: Pro Vitamin B5, green tea, Sugar Cane extract, Lemon extract, argan oil, Orange extract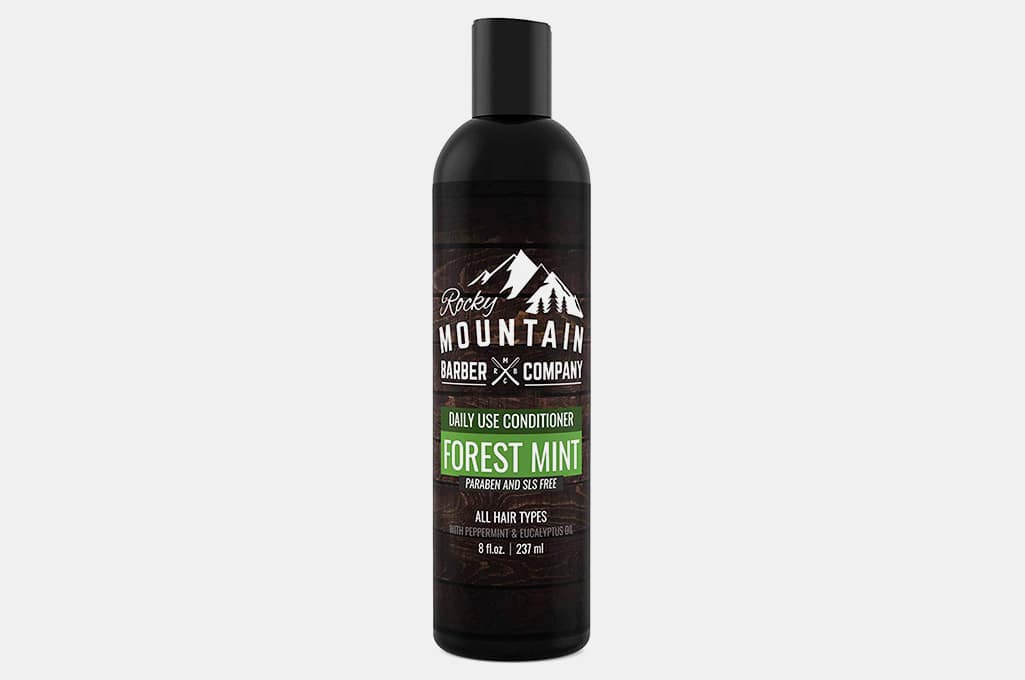 Rocky Mountain Barber Company Conditioner
Made With Peppermint and Eucalyptus Oil
The Rocky Mountain Barber Company Conditioner is made for you outdoorsmen out there. Yes, it effectively softens, hydrates, and protects your hair and scalp as a good conditioner should do. What's really cool about this guy though is that it's made from a combination of peppermint oil, tea tree oil, and real-deal eucalyptus oil, which is used as an antidote to asthma, nasal congestion, and even as a tick repellant. Rocky Mountain Barber is also free of diethanolamine, or DEA, which is a compound used to create suds but is extremely harmful to your eyes—which is great for those of us who don't shower with goggles on. Even if you aren't Paul Bunyan, you should probably take a bottle of this to your next camping trip.
KEY INGREDIENTS: Eucalyptus oil, peppermint oil, citric acid, tea tree oil
Oars + Alps Invigorating Conditioner
Great for promoting a healthy scalp
With tea tree oil as the primary ingredient, it's no wonder that this Oars + Alps is named the "Invigorating Conditioner". Tea tree oil has a delightfully minty scent that infuses freshness into your scalp and revitalizes your hair. Plus, the addition of menthol, spirulina, and witch hazel does wonders to provide critical nutrients for a healthier scalp and thicker, richer hair, as well as keep your locks smooth and manageable. You'll love how your hair shines and feels smooth to the touch after just a few days of regular use, and the scent of lavender, cedarwood, and mint are truly divine.
KEY INGREDIENTS: Tea tree oil, menthol, spirulina, Witch Hazel, Erythritol, creatine, olive oil, grapeseed oil.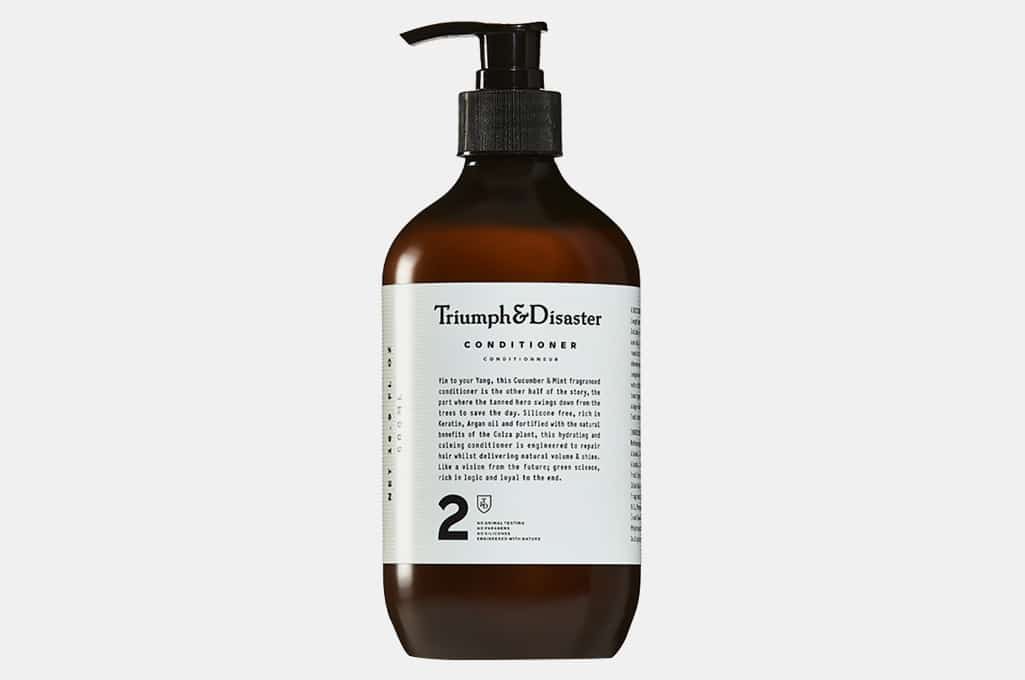 Triumph & Disaster Conditioner
Contains hydrolyzed keratin to strengthen hair
Get a whiff of this delightfully scented conditioner, and you'll be hooked for life. The Triumph & Disaster Conditioner is gentle on your nose and your hair, perfect for repairing damaged strands, detangling and de-stressing tight curls, and adding both shine and volume to thin or faded hair. Best of all, it's a hundred percent natural, made using nutrient-rich ingredients that nourish your hair down to the follicles and lock in moisture.
KEY INGREDIENTS: Hydrolyzed keratin, argan oil, Colza plant, Tazmen pepper, Sunflower Seed oil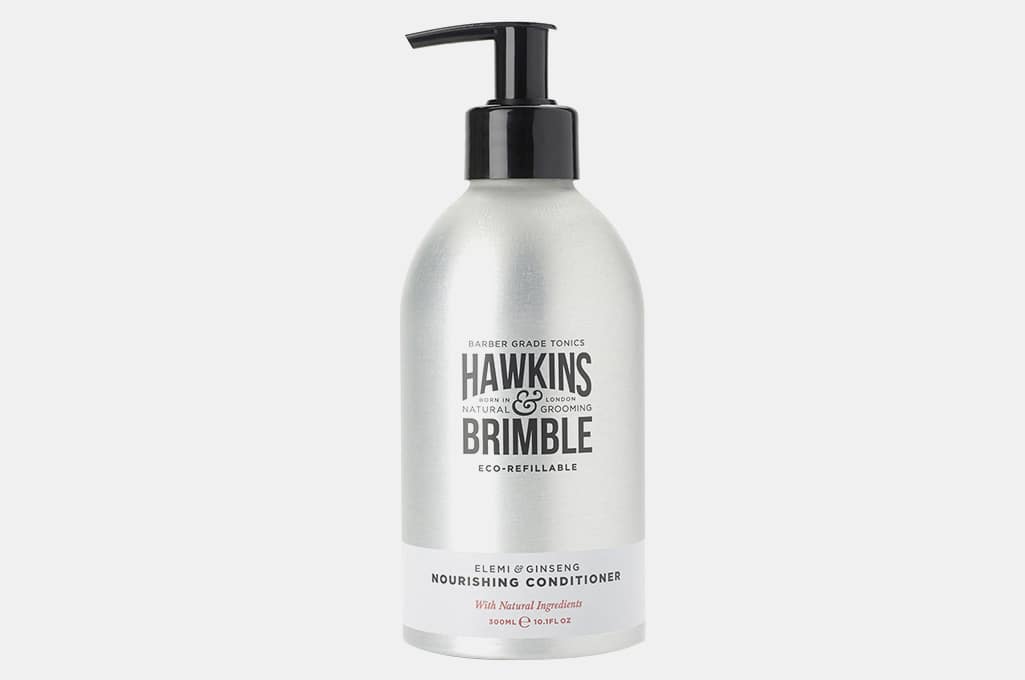 Hawkins & Brimble Nourishing Conditioner Eco-Refillable
Most Eco-Friendly Packaging
Hawkins & Brimble does something special with its Nourishing Conditioner: it makes it a refillable product that you can use over and over for the rest of your life. Whenever you run empty, just order in a new recyclable pouch and refill the bottle—no more plastic waste, no more adding to landfills. Plus, the bottle contains seventy-two percent less plastic than regular conditioner bottles. Thanks to the blend of coconut oil, glycerin, aloe vera, and ginger, your hair will smell and feel fresher than ever.
KEY INGREDIENTS: Coconut oil, aloe vera, ginger, citric acid, glycerin, Dehydroacetic Acid
Disclosure: Clicking on these links and making a purchase may earn us a small referral fee, at no extra cost to you. Learn more here.