The 10 Best Shampoos For Men
You've put in the time, you've put in the hard work, you've curated the perfect wardrobe and put together the perfect outfit for a night on the town, a day in the city or a road trip abroad … but what's missing? Sometimes, the answer might be your grooming essentials. The best men's grooming essentials extend from head to toe, quite literally starting with your 'do and what you're using to wash and prep your hair. That's where our picks for the best shampoos can be of service.
Many men's shampoos use innovative, unique ingredients to deliver moisture, refreshment and comfort to your hair, all while fitting seamlessly into the daily grooming routine you've established. Brands big and small are consistently looking for new ways to help you upgrade your hair and elevate your everyday hairstyle, and that's an approach we think could use more attention in your lifestyle.
These are the best men's shampoos for every hair type, and they are available at every price point, too — that means you can pick up the right shampoo to fit your budget and your grooming needs, and you don't have to spend a whole lot to do it. And with plenty of time, attention to detail and research in the mix, quality shampoos are about as well-made as you could hope for. And again, your product of choice will fit with ease into your daily routine. Start with one of these shampoos, add some excellent styling product, then curate a great get-up on the daily — it's nearly that easy.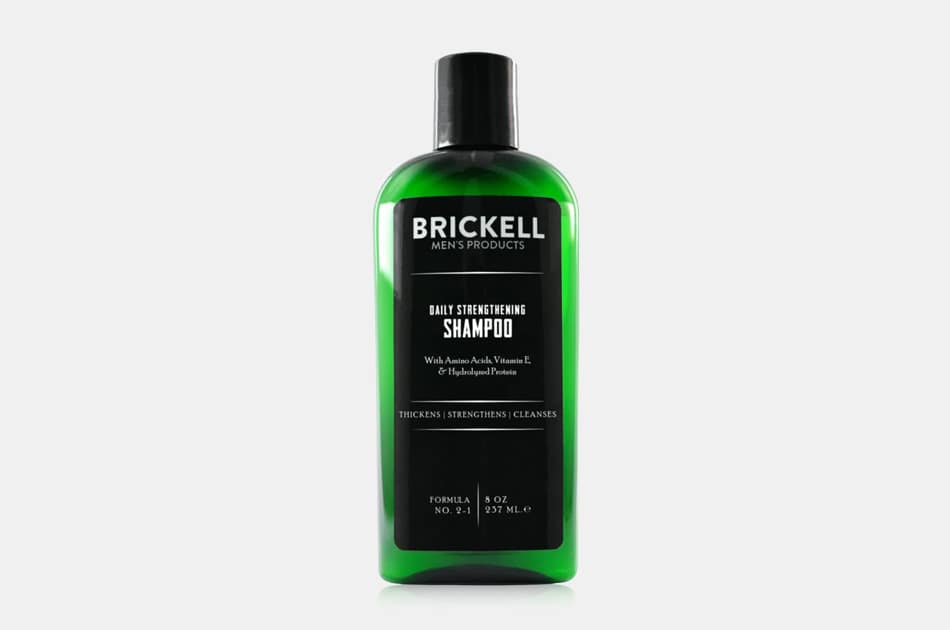 Brickell Men's Daily Strengthening Shampoo
Best Shampoo For Everyday Use
Your new favorite shampoo for daily use does quite a few things all at once — and in the case of the Brickell Men's Daily Strengthening Shampoo, that means it's highly functional and exceptionally well-made. We can't recommend it enough, seeing as your hair can use a bit of a boost (and that goes beyond just cleansing and a refreshing scent). As the brand itself says, this shampoo — delivered in a sleek bottle that'll stand out stylishly in your shower — is designed to strengthen and stimulate your hair, all at an affordable price.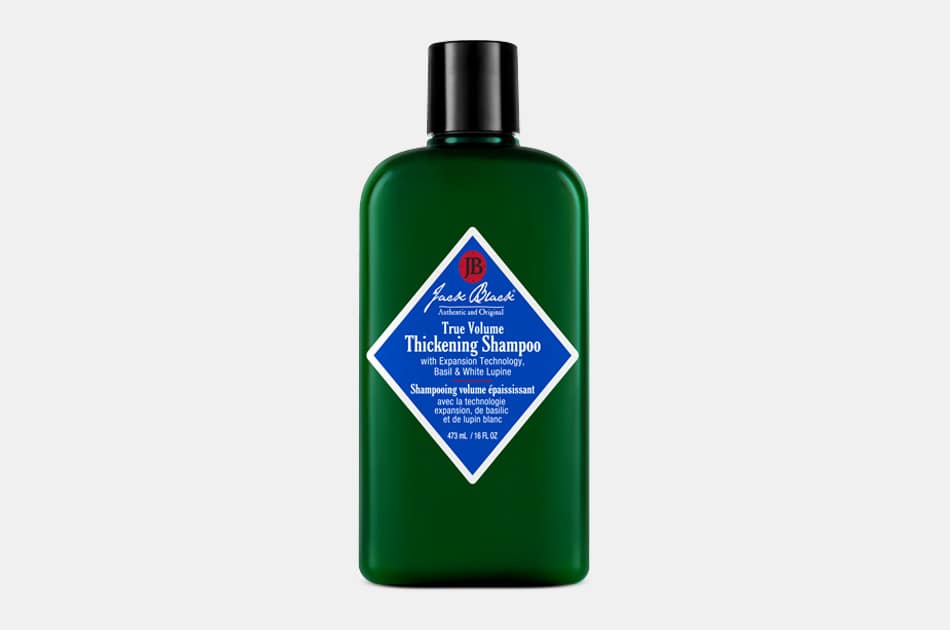 Jack Black True Volume Thickening Shampoo
Best Shampoo For Thinning Hair
As we've said, the best men's shampoos go beyond just the basics that your hair needs — many brands you know and love are expanding the functionality and potential of their shampoo, and that's great news for you indeed. Take the Jack Black True Volume Thickening Shampoo, made for thinning hair. This extraordinary shampoo is made with basil and white lupine, and is designed to tame your mane, eliminate oils and dirt, and thicken your hair by adding volume. It's a worthy addition to the Jack Black product line, and one you're going to find yourself using on the daily.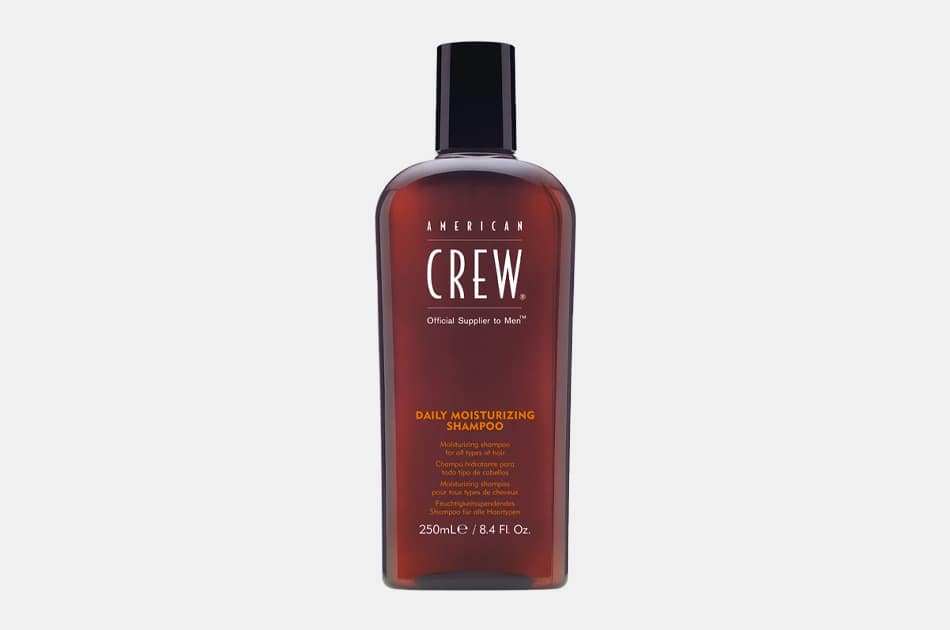 American Crew Daily Moisturizing Shampoo
Best Shampoo For Dry Hair
Plenty of men's shampoos are designed to fill a specific category or niche to help your hair look and feel its best, and a crucial part of that equation just so happens to be moisture. Healthy hair isn't dried out — at least, not when you use the American Crew Daily Moisturizing Shampoo. Designed to give back to your hair rather than remove that critical moisture, this shampoo is hands down the best shampoo for dry hair and a fine complement to your American Crew pomade and styling products. That's as perfect a product as it gets in our book, and it's made to deliver a true one-two punch of functionality and style when it comes your hair.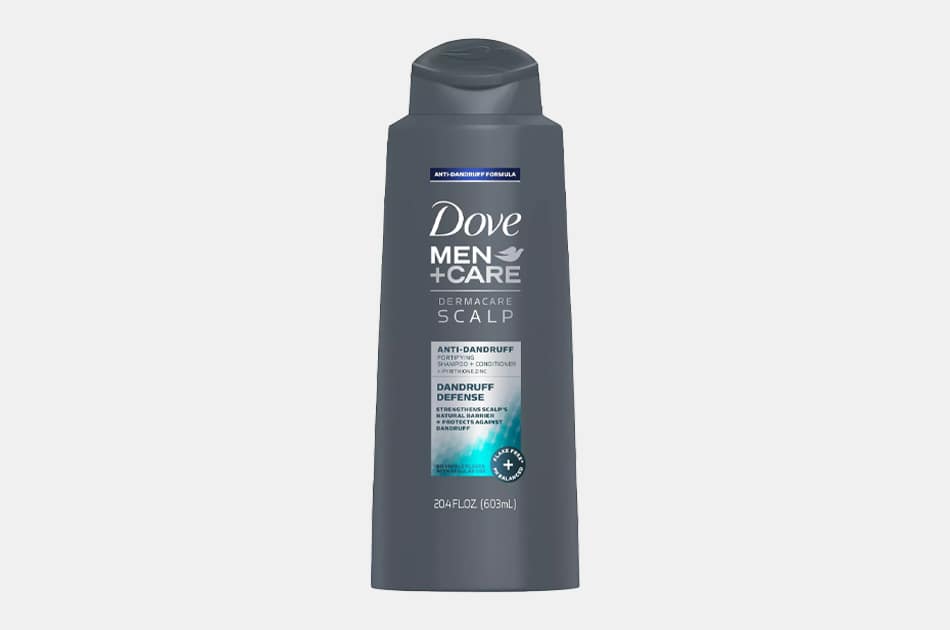 Dove Men+Care Anti-Dandruff Shampoo + Conditioner
Best Shampoo For Dandruff
Any respectable guy interested in grooming likely has a product or two (or three) from Dove Men in his medicine cabinet — add the brand's Anti-Dandruff Shampoo and Conditioner to that list now, too. If you deal with dandruff on the daily, we can't recommend a helpful dandruff shampoo enough — and this specially formulated shampoo and conditioner is about as ready as any to tackle that pesky issue. This unique shampoo also strengthens your hair through the use of caffeine and pyrithione zinc, too. It's a multi-faceted shampoo that gets the job done.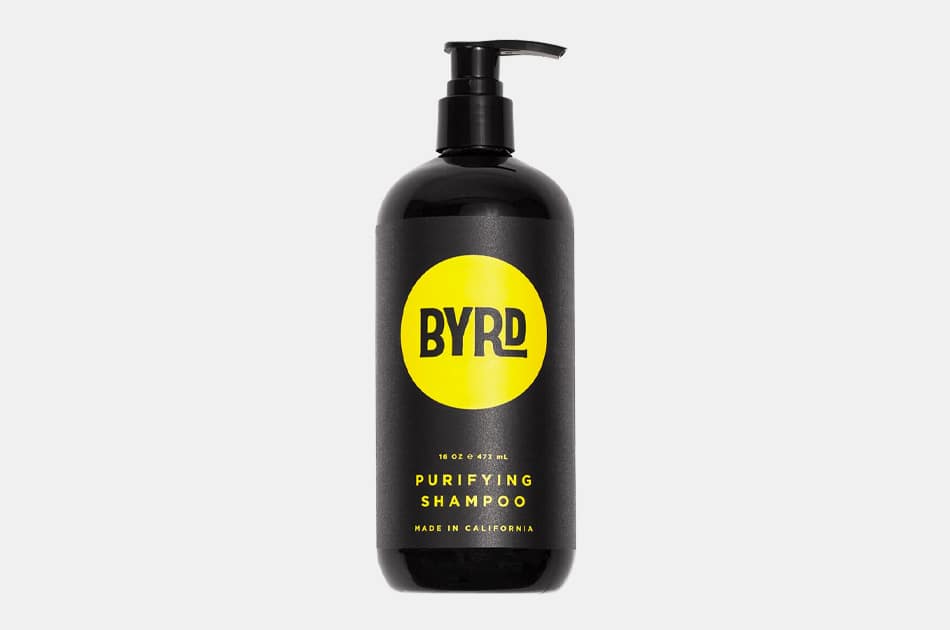 Byrd Purifying Shampoo
Best Shampoo For UV Protection
The team at Byrd knows a thing or two about making sure your hair looks and performs its best — it's helpful that the Byrd approach begins at the beach and in the water. This men's grooming brand features plenty of surf inspiration, a rarity in the grooming world (but a difference we appreciate). That means the brand's Purifying Shampoo is made specifically with UV protection in mind. While the sun and the surf can be plenty fun, those hours can start to add up — thus, it's best to start that protection process early on, before you even hit the beach.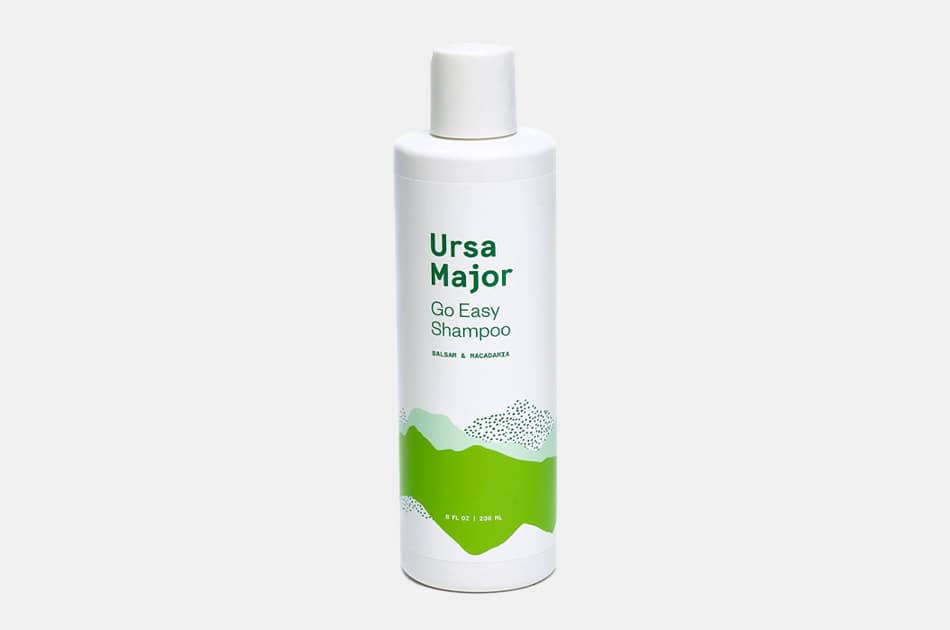 Ursa Major Go Easy Daily Shampoo
Best Shampoo For All Hair Types
Ursa Major has quickly turned into a go-to brand on the daily for guys on the go (ourselves included), and it's only fitting that they've turned their collective expertise toward making one of the best shampoos for men. The Go Easy Daily Shampoo targets all hair types, something we can certainly appreciate. Ursa Major says this shampoo is "luxurious," conditioning as it cleans — we think you need to pick up a bottle right now to get your hair jumpstarted ASAP.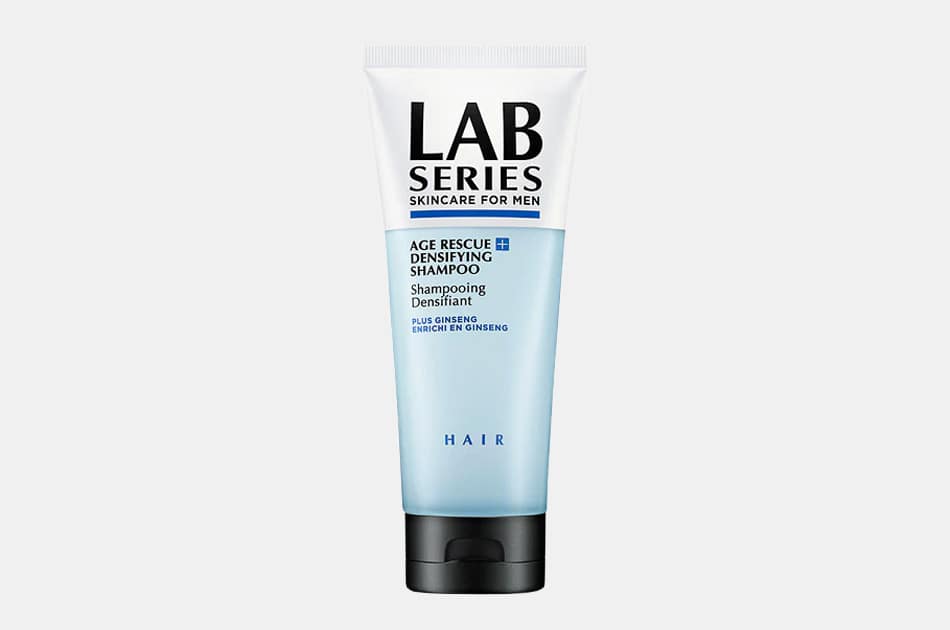 Lab Series Age Rescue Densifying Shampoo
Best Shampoo For Anti-Aging & Repair
Protecting and fortifying your hair is a lot like protecting and fortifying your skin — start it early and often, then reap the rewards down the line. Lab Series knows this quite well, which is what makes its Age Rescue Densifying Shampoo one of the best shampoos for men. The use of ginseng is what sets this shampoo apart from a crowded field of shampoos, made to remove debris from your pores while adding moisture at the same time. It's a versatile, dependable shampoo you should incorporate into your grooming routine just as soon as you can.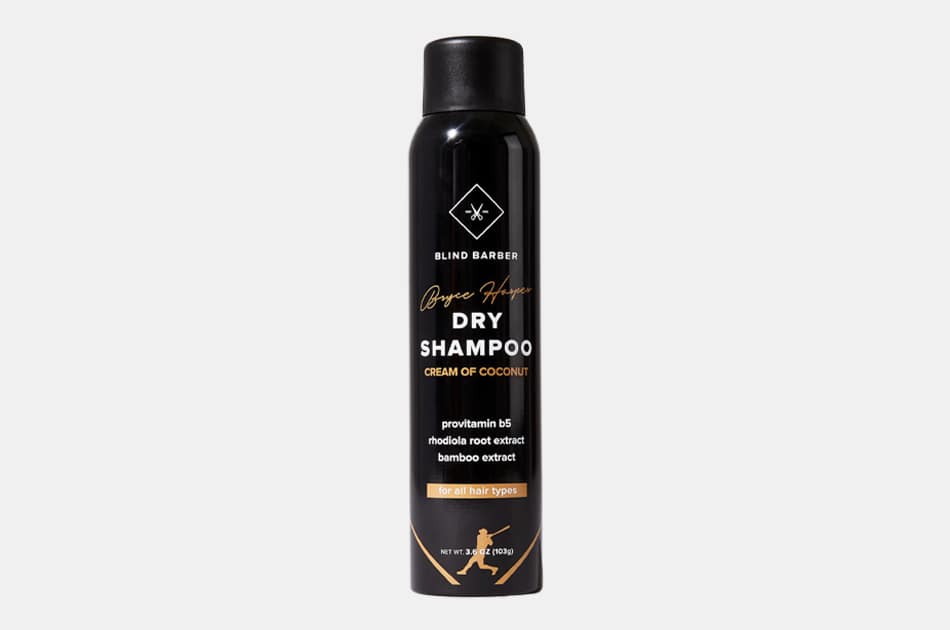 Blind Barber Bryce Harper Dry Shampoo
Best Shampoo For Busy Schedules
Sometimes, you're simply too busy or rushed out the door to take a full shower in the morning — as inconvenient as that can be, there's a simple solution via a highly functional, super-useful dry shampoo. In fact, this Blind Barber Dry Shampoo isn't just any old drug store product — it's made in the USA and named after slugger Bryce Harper, a guy who knows a thing or two about staying fly on the go. It eliminates product build-up and protects your hair and scalp, too.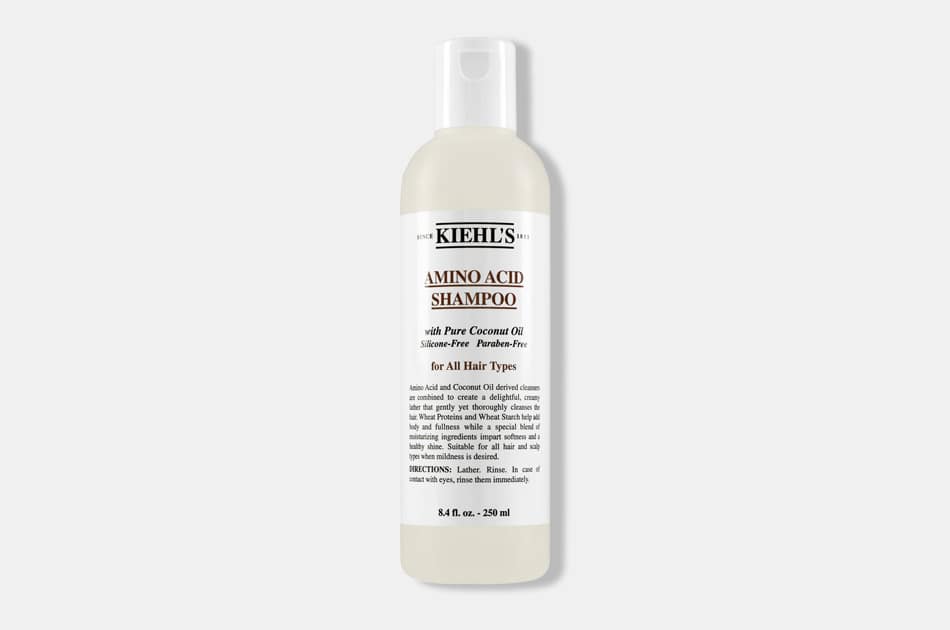 Kiehl's Amino Acid Shampoo
Best Shampoo For Sensitive Scalps
Kiehl's grooming essentials nearly speak for themselves — the brand's reputation for quality and heritage precedes itself, and that's an approach they've taken into the present day with useful additions to your grooming routine. The Amino Acid Shampoo shown here is made to cleanse and soften your hair, and the mild formula works with all hair types, too. At the same time, the use of wheat protein conditions and moisturizes your hair.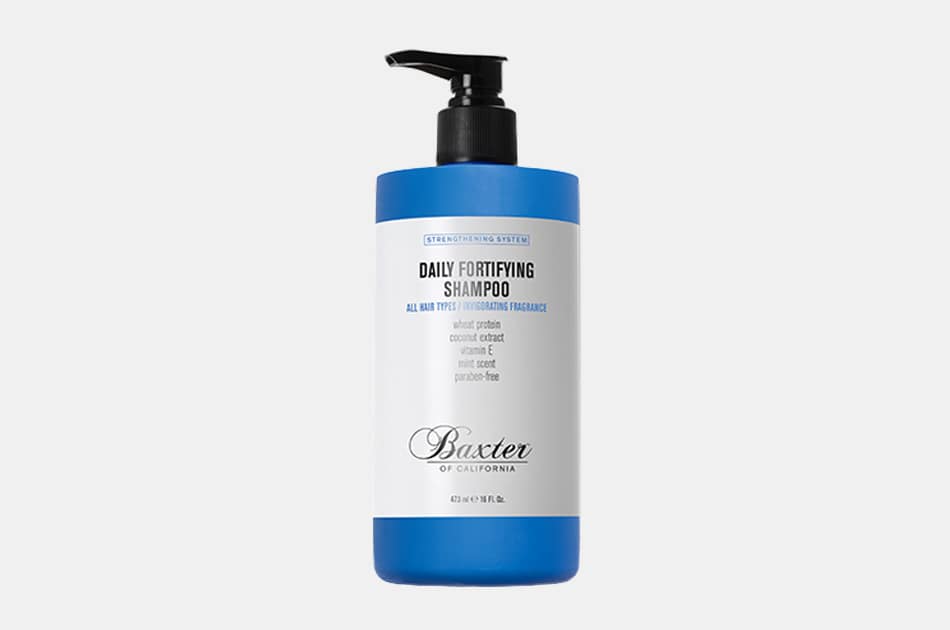 Baxter of California Daily Fortifying Shampoo
Best Shampoo For Repair/Manageability
When we need men's grooming essentials that deliver quality performance and effortless good looks, we turn toward Baxter of California. That can be said for the brand's entire lineup from A-to-Z, and it's certainly true when it comes to the Daily Fortifying Shampoo. Made to pair with the brand's conditioner, both products are formulated to strengthen your hair and deliver a high-quality shine and finish. It's clear that you need Baxter of California right now if you're still searching for a daily shampoo to add to your grooming routine (although hopefully, this article helps you out).
Disclosure: Clicking on these links and making a purchase may earn us a small referral fee, at no extra cost to you. Learn more here.
freestar.config.enabled_slots.push({ placementName: "gearmoose_leaderboard_btf", slotId: "gearmoose_leaderboard_btf" });