The 10 Best Camping Chairs
When spring seems so far away it might as well be on another planet, it's time to comfort your winter heart with thoughts of warm weather activities. Camping, in this case. Whether you love or hate sleeping on the ground or if you can take or leave eating beans from a can, one thing is nearly universal: the best part of camping is sitting around the campfire, beverage in hand, shooting the breeze with your fellow campers or simply enjoying the silence.
The key word here is sitting. While a rock is fine for some, we think time around the campfire deserves the best camp chair possible. Our list of the 10 best camping chairs run the gamut from swift, lightweight packability to reclinable comfort and throne-like grandeur. Pick out your chair now and when spring comes, you'll be the first one out there, sitting in your new chair, with winter a distant memory.
Helinox Camp Chair
2.9 lbs • 315 lb capacity • 14" seat height • Packed: 20" x 5.5" x 4.75"
This one is all about the poles. Made from an alloy that allows for thinner walled tubes that aren't subject to stress cracking, the result is lightweight, yet strong. Aussie outdoor equipment maker, Helinox, uses them in its series of cots, camp tables and, yes, camp chairs. Theirs weighs in under 3 pounds, holds 315 pounds of camper, and packs down smaller than a firelog. The shock cord pole assembly makes for easy set up and the carry bag attaches for a nice place to store stuff. Such as cans of camping beer. – Buy It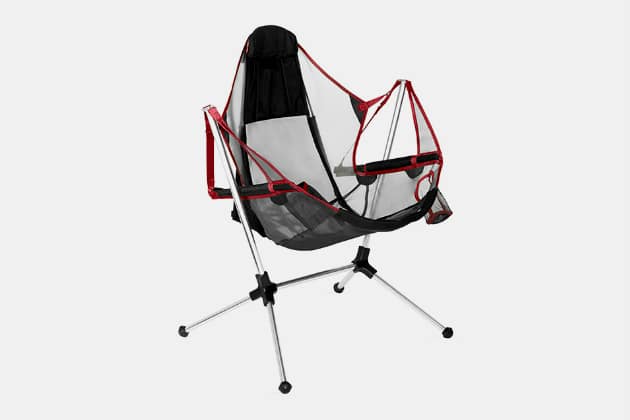 Nemo Stargaze Recliner Luxury Camp Chair
6.3 lbs • 250 lb capacity • 12" seat height • Packed: 23" x 7" x 5"
Camp's set up. Fire's going strong. Beer is in hand. It is now time to relax. This chair is for those who take that last item very seriously. Basically bringing the comfort of a rocking recliner to the campsite, the Nemo Stargaze supports your head and neck while you lie back and enjoy checking out the universe above, with a media pocket and cup holder rounding out the amenities. Despite employing what they call an "auto-recline mechanism," which sounds complicated, in reality it only takes a quick minute to set up and doesn't mind uneven terrain. – Buy It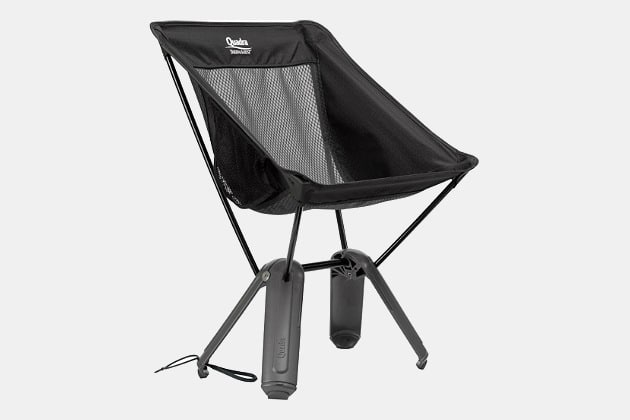 Therm-a-Rest Quadra Chair
2.7 lbs • 300 lb capacity • 13" seat height • Packed: 12.5" x 5" x 5"
High marks go to the design element here. Instead of packing your chair into a boring old sack, this one folds up into its own legs for transport. Forming a sort of rigid pod when packed, the chair unfolds Transformer-like, using the pod quadrants as the four legs. The sling is a solid ripstop polyester and the base is made from a strong, non-skid composite. This offers the smallest pack size on our list, and it's pretty lightweight, so for those who pack light and tight, this chair's for you. – Buy It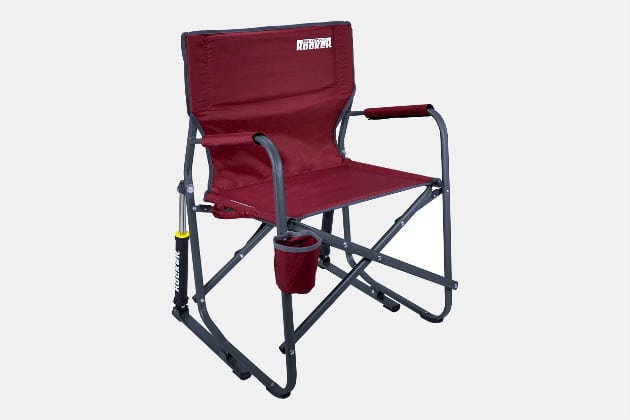 GCI Freestyle Rocker Chair
13 lbs • 250 lb capacity • 17" seat height • Packed: 31" x 26" x 5"
Not one for a stationary chair? Here's another option. At 13 pounds, this isn't the backpacker's choice, but for those who want a bit of smooth glide rocking action at the campsite, throw this in the back of your truck. The "spring-action rocking technology" is assisted by suspension arms that look like they'd be at home on the forks of a mountain bike and the powder-coated steel frame delivers in the sturdiness department. Heavier and bulkier than the Nemo rocker, this Freestyle Rocker definitely has the advantage over the Stargaze chair in the affordability department. – Buy It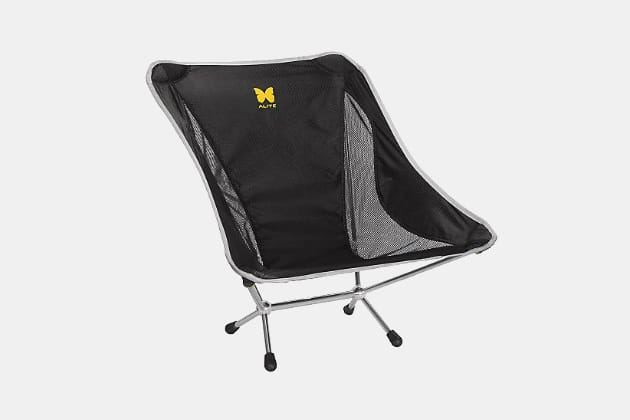 Alite Mantis Chair
1.8 lbs • 250 lb capacity • 6" seat height • Packed: 13" x 5.5" x 5.5"
Here it is, the lightest camping chair on our list. Coming in only a touch larger in pack size than the Quadra and weighing less than 2 pounds, the Mantis is light enough to be considered for inclusion in a backpacker's gear — especially those who feel that "relaxing" on a log after a full day's hike is a no-go. The seat to ground clearance is fairly low, just 6", but some of us find a low profile seat pretty dang comfortable. It comes in a whole slew of colors, though we find the standard black a good bet. – Buy It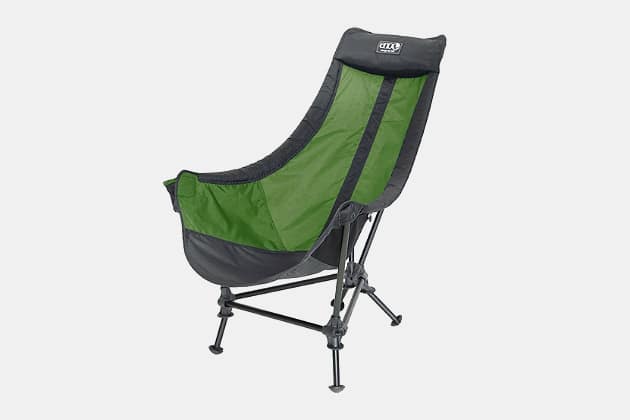 ENO Lounger DL Camping Chair
4.6 lbs • 250 lb capacity • 3-10" seat height • Packed: 18" x 6" x 6"
These guys are known for their comfortable, uncomplicated camping hammocks and it shows in their chair design. With a back high enough for head and neck support, we nominate this one as the best camp chair for a nap. Fold the legs out for 10" of butt to ground clearance or fold them in for a down low lounging experience. The aluminum alloy frame is light but strong and the ripstop nylon provides hammock-y comfort. We especially like that ENO included cup holders, a cargo pocket and a nap-friendly pillow. – Buy It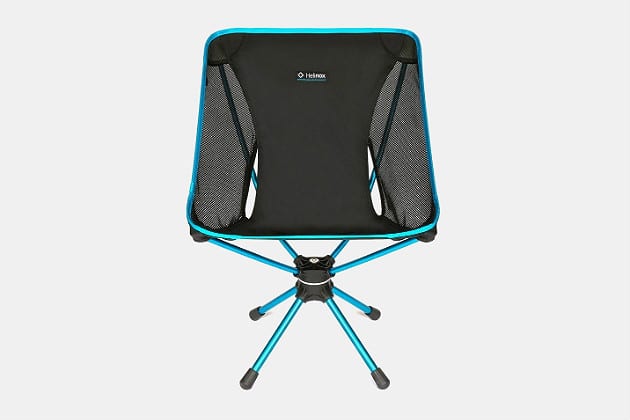 Helinox Swivel Chair
2.7 lbs • 265 lb capacity • 15.5" seat height • Packed: 16.5" x 5.5" x 5.5"
Do your best Dr. Evil impression in your very own frickin rotating chair (that doesn't malfunction). Extremely light and packable, this second pick from Helinox also employs a shock cord pole structure, but has the added bonus of giving you a 360º swivel capacity. Thanks again to the extra strong yet ultra light alloy poles, this one is the second lightest on our list and is tolerably small in its packability. An excellent choice for those of us who can't stay still, even when seated. Or those who want to shoot "lasers" while camping. – Buy It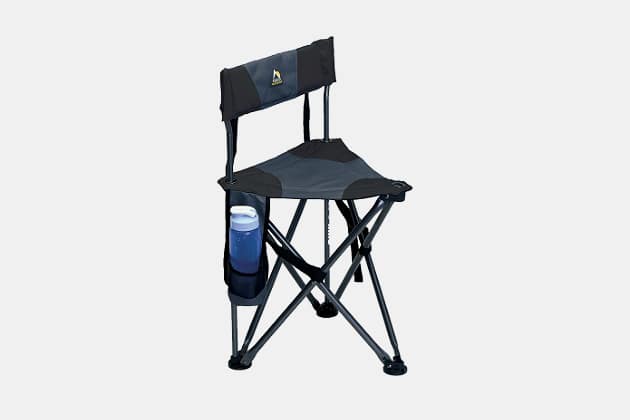 GCI Outdoor Quik-E-Seat
4.4 lbs • 250 lb capacity • 17.3" seat height • Packed: 27" x 5" x 5.5"
You are frugal. You have no desire to spend more on a camp chair than you would on a 24-pack of Bud. Then this chair's for you. The triangle shaped seat holds up to 250 pounds of camper and the wide backrest brings a stroke of comfort to the Quick-E. This isn't a camp chair that's going to lull you to sleep as you sit, this is utilitarian sitting. Fishing, festivals, doing camp chef duty, that's where this chair shines. Despite being thrifty, it still boasts a cup holder and padded seat. – Buy It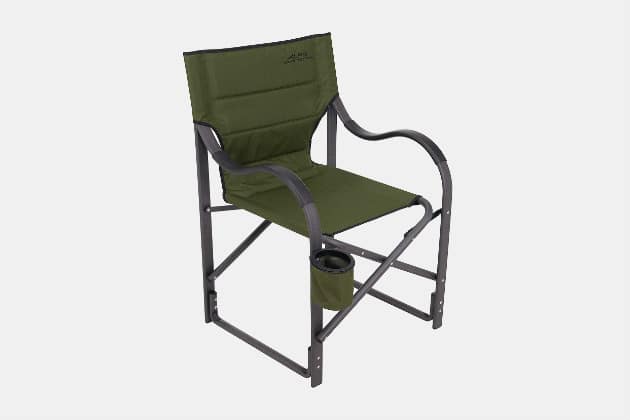 Alps Mountaineering Camp Chair
10.5 lbs • 425 lb capacity • 17" seat height • Packed: 36" x 24" x 5"
No, you will not be bringing this with you into the backcountry. This is for the car camper who wants the assured stability and firm comfort of a patio style chair — and by a good margin, the Mountaineering chair has the highest weight capacity. A wide seat, curved armrest and an easy, pop-open setup make this your go-to on-the-go choice for outdoor relaxation. With a modern furniture style look, we could easily see this one serving as a deck or grill-side seat long after the camping trip is over. – Buy It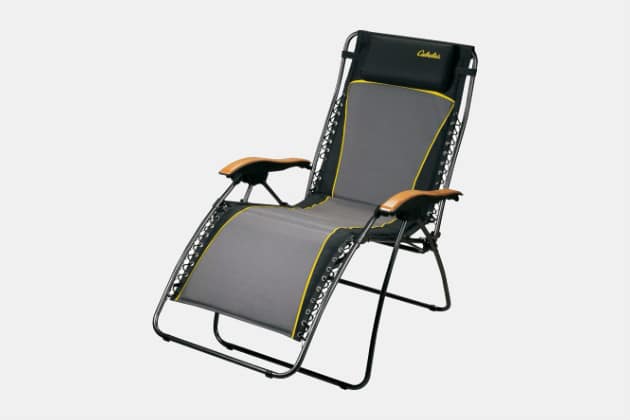 Cabela's XL Padded Lounger
24.5 lbs • 300 lb capacity • 23" seat height
If you're ready to go deluxe, pick up one of these. Sit, recline, and put your feet up in padded comfort. The cup holder that a coffee mug will fit in and natural hardwood on the armrest up the swank factor while the adjustable foam headrest, bungee suspension and lumbar support cover all the comfort angles. This is the king's choice of outdoor seating, more of a throne than a camp chair. Sit in it, survey the bounty of your campsite and order someone to bring you a beer. Or a s'more. – Buy It
Disclosure: Clicking on these links and making a purchase may earn us a small referral fee, at no extra cost to you. Learn more here.