The 12 Best Card Tools For Everyday Carry
Everyday carry is continuously evolving. Just when you think you've gotten your EDC just the way you need it, something new like a card tool comes along and begs for a spot in your pocket or wallet. Since their inception, card tools have been effectively replacing their heavier, more traditional multi-tool counterparts in many EDC collections.
They're conveniently thin, relatively lightweight, and often fit straight into your wallet with your other cards and cash thanks to a clever credit card design. Here is a list of our ten favorite card tools in no particular order. Although more than half of them open beer bottles, each one of these tools is vastly different from the others, offering it's own unique way of meeting your everyday carry needs.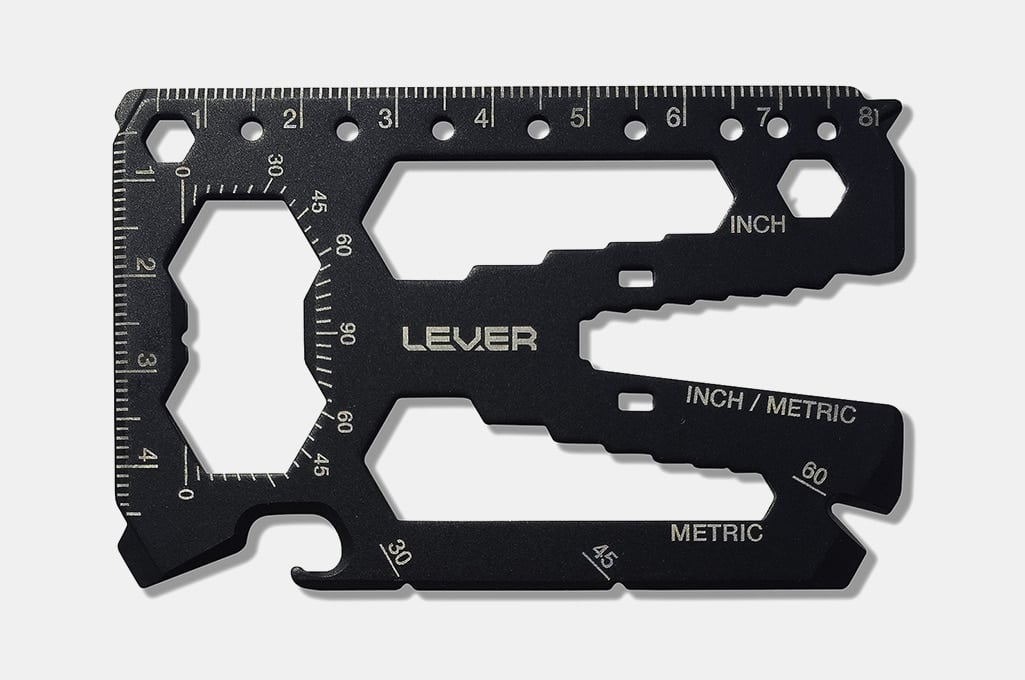 Lever Toolcard Pro
If you're a handy guy who needs a quick, convenient tool to use on any job site, look no further than the Lever Toolcard Pro. This comes with everything you need to tighten a bolt or screw, measure a straight edge, mark the perfect ninety-degree angle, cut cords and cables, pull out nails, and, of course, crack open a beer at the end of a long work day. With forty tools packed together into just one card-sized device, barely a millimeter and a half thick, it's an incredibly versatile and practical choice to carry around with you. Best of all, the snap-on money clip makes it easy to carry up to six credit cards, so it can serve as both your wallet and backup tool.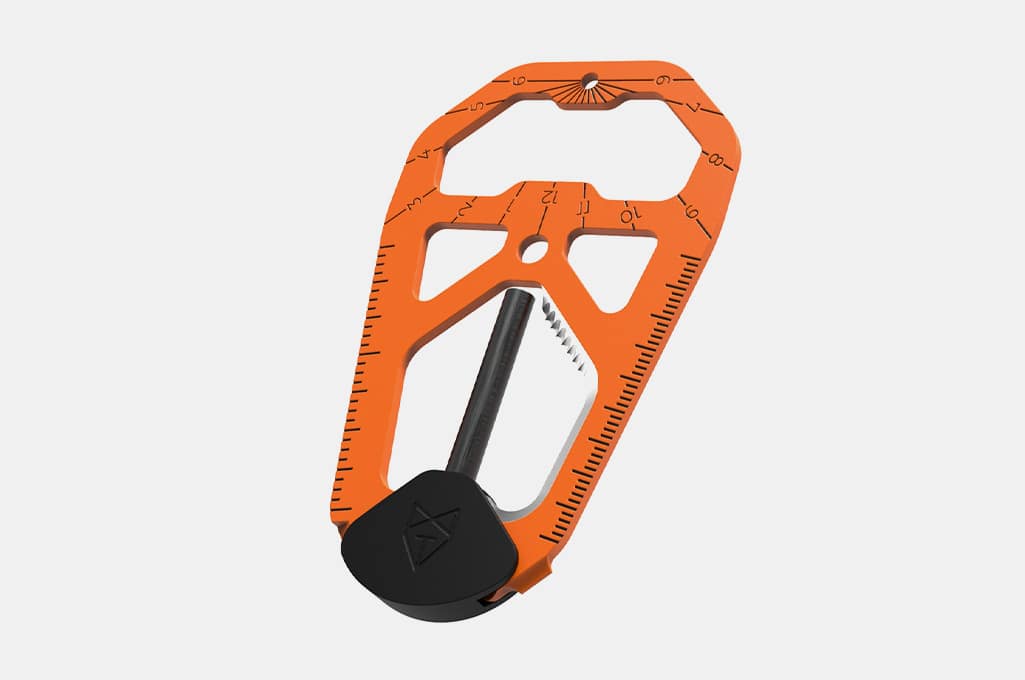 Tactica M.020 Camping Tool Card
Take the Tactica M.020 on your next camping trip, and you'll be ready for anything. This camping tool card comes with a surprising number of tools: bottle and can openers, rope tensioner and cutter, tent peg puller, scraper, saw, and even a sundial. The removable ferro fire rod starter makes it easier than ever to get your campfire started, and you'll love how the rest of the tools come in handy for every task around the campsite. At less than two ounces and the size of a thick credit card, it's the perfect tool to take with you into the great outdoors.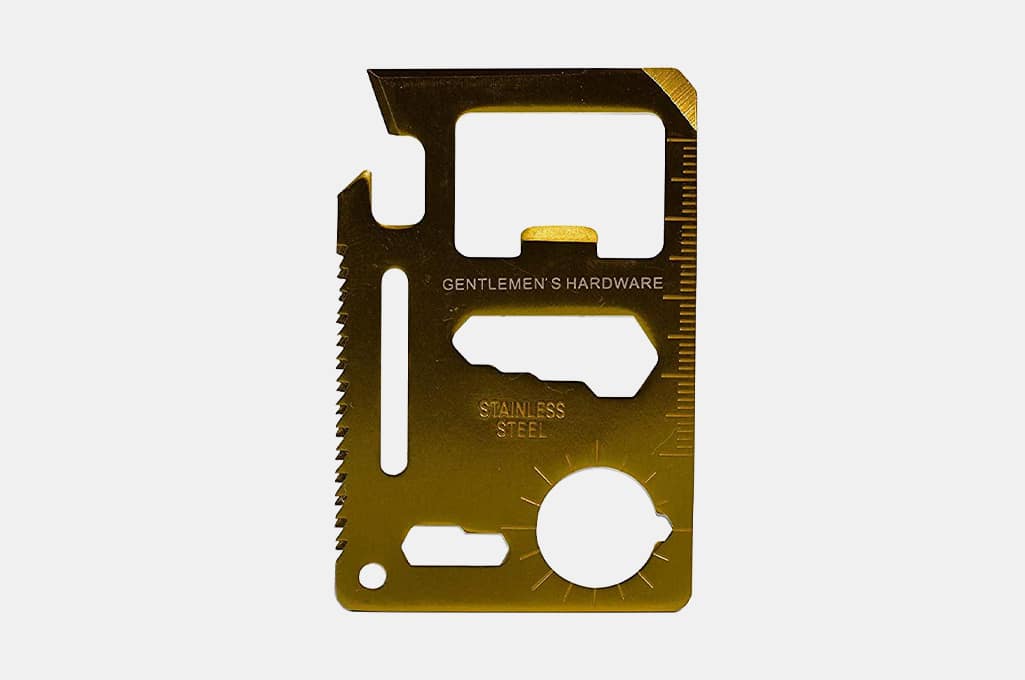 Gentleman's Hardware Credit Card Multi-Tool
Gentleman's Hardware creates products of the sort true gentlemen need, but rugged enough to survive years of regular use. The Credit Card Multi-Tool is just what you want to carry in your wallet at all times. With it in your pocket, you'll always be ready to crack a cold beer, open a can, fix something at home (thanks to the ruler, wrench, screwdriver, and saw blade), and slice your favorite fruit. It's elegant but durable, made from super-tough stainless steel that will never rust, break, or bend.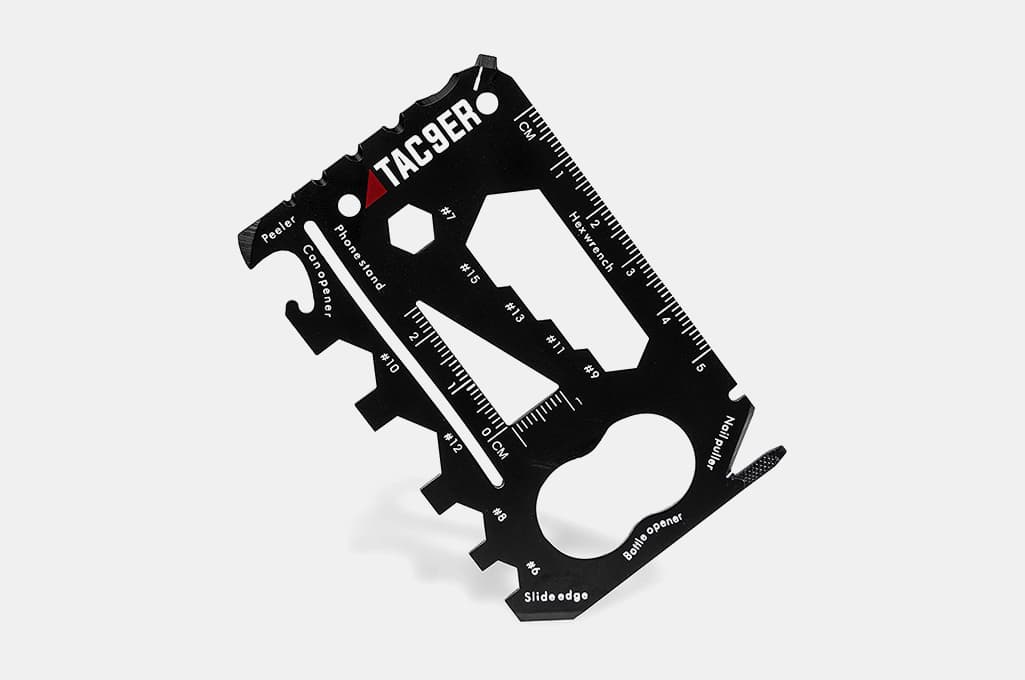 TAC9ER 22-in-1 Credit Card Sized Wallet Multitool
TAC9ER steps up the credit card tool game by delivering a Credit Card Sized Wallet Multitool with TWENTY-TWO different options. The 22-in-1 includes all the standard options (such as screwdriver, bottle opener, can opener, and ruler), but takes it up a notch by adding multiple-sized hex wrench apertures, a card insert for a smartphone stand, a cable peeler, and a nail puller and filer. It's the ultimate card for quite literally anything and everything. Made from heat-treated stainless steel, it's backed by a five-year, no-questions-asked warranty.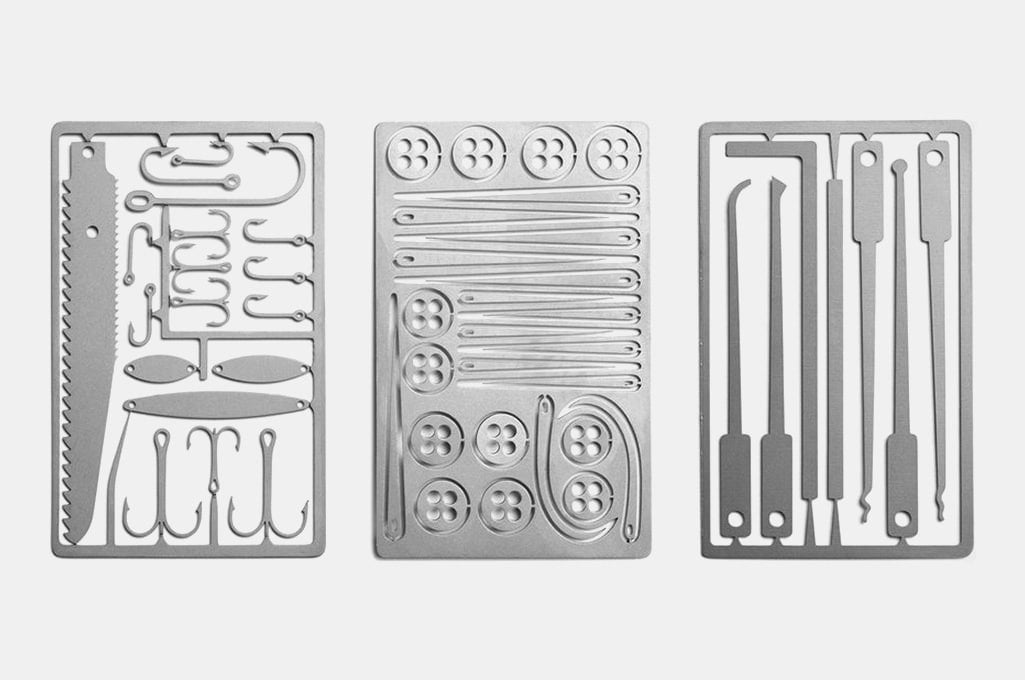 Titanium Survival Card Tools
You won't find anything quite on par with the Titanium Survival Card Tools, three highly useful cards to slide into your wallet. The first comes with a broad assortment of fishing hooks and spoons so you'll always be able to fish, anywhere you go. The second has emergency buttons that you can sew onto ripped clothing using the assortment of provided needles. The third will come in handy next time you find yourself locked out of your home, with a set of seven lockpicks that make it easy to get back inside in a jiffy. Precision laser-cut from Grade 4 titanium, they're incredibly durable but include a neoprene backing that makes it easy to store and organize your tools in a second.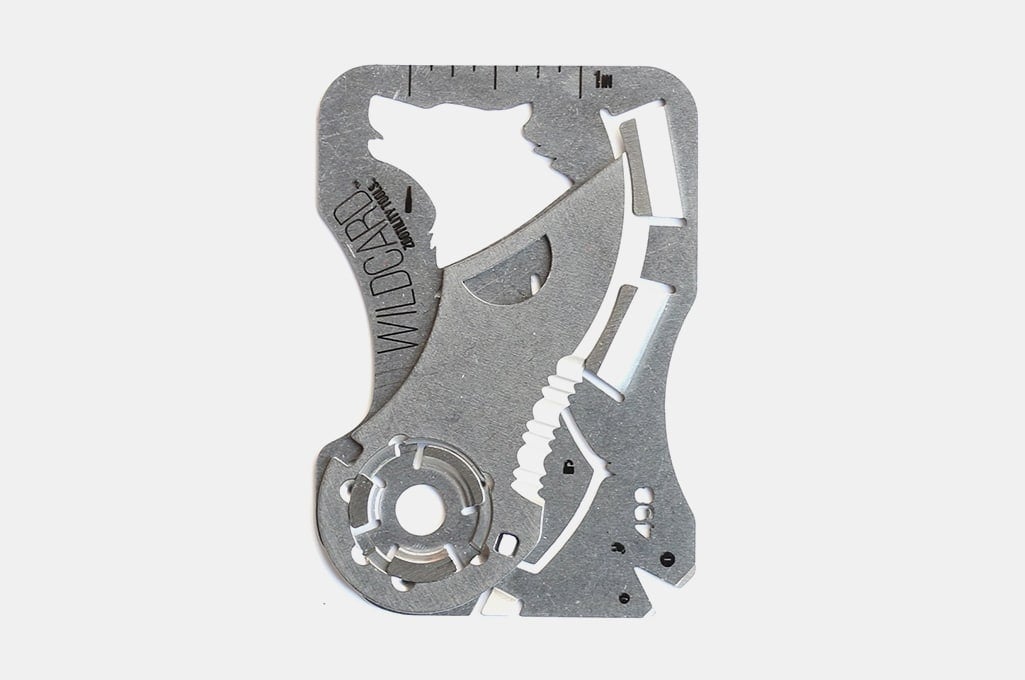 Zootility WildCard
Zootility brings a unique design and sleek style with the WildCard, a hyper-thin pocket knife that will always be ready to cut anywhere you go. Made from heat-treated stainless steel, the knife blade is just over an inch long, weighs one-point-one ounce, and is just two millimeters thick. The detachable blade can be removed to make this a TSA-friendly tool, as well as easy washing in the dishwasher after use. Built into the body, you also get a pry-bar, screwdriver, and bottle opener—all sized to slide inside your wallet for easy, convenient carry.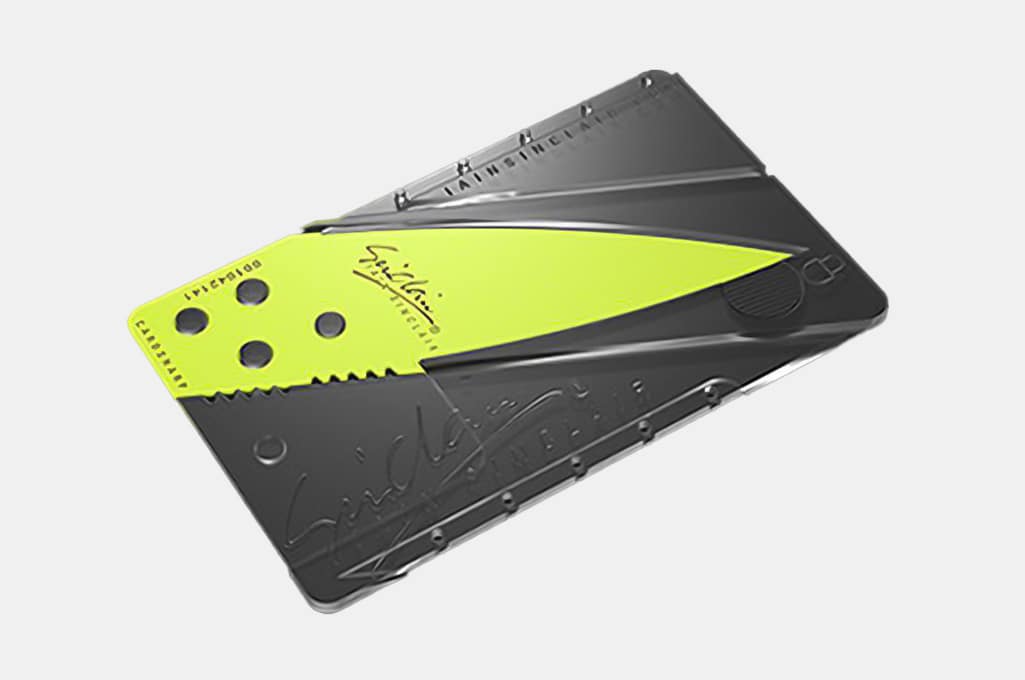 Iain Sinclair Cardsharp2 Ice
You'll never find a knife quite as sharp as the Iain Sinclair Cardsharp2 Ice. The colored stainless steel blade isn't just eye-catching—it's also painted a bright color for your safety as you slide it in and out of the translucent polypropylene card body. There is a child lock to ensure the knife will always be safe to carry even if your kid likes to rummage in your wallet, but it takes just three quick motions to unfold it for easy use. If you need a scalpel-sharp knife all around town, this is the card tool for you.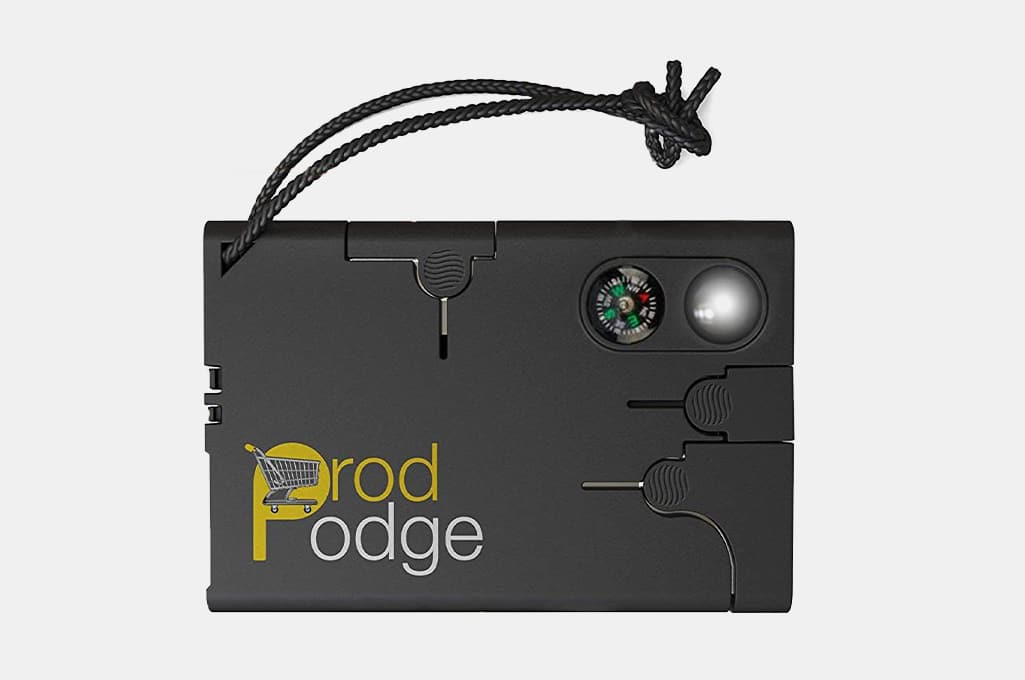 ProdPodge Credit Card Multitool
Never be unprepared, but pack the ProdPodge Credit Card Multitool so you're ready for any emergency. The built-in compass and magnifying glass allow for easy navigation, the serrated knife and accompanying hook can cut through any fish or small game, and should the knife get dull, you've got a built-in sharpener to restore that razor edge. A pick and tweezer are always handy to have if you work around wood (no more splinters). If you're out camping, you'll find the flint firestarter handy for getting your fire going and the whistle useful in case you get lost. With a case made of hard ABS plastic and steel tools, it's a card perfect for any urban or outdoor environment.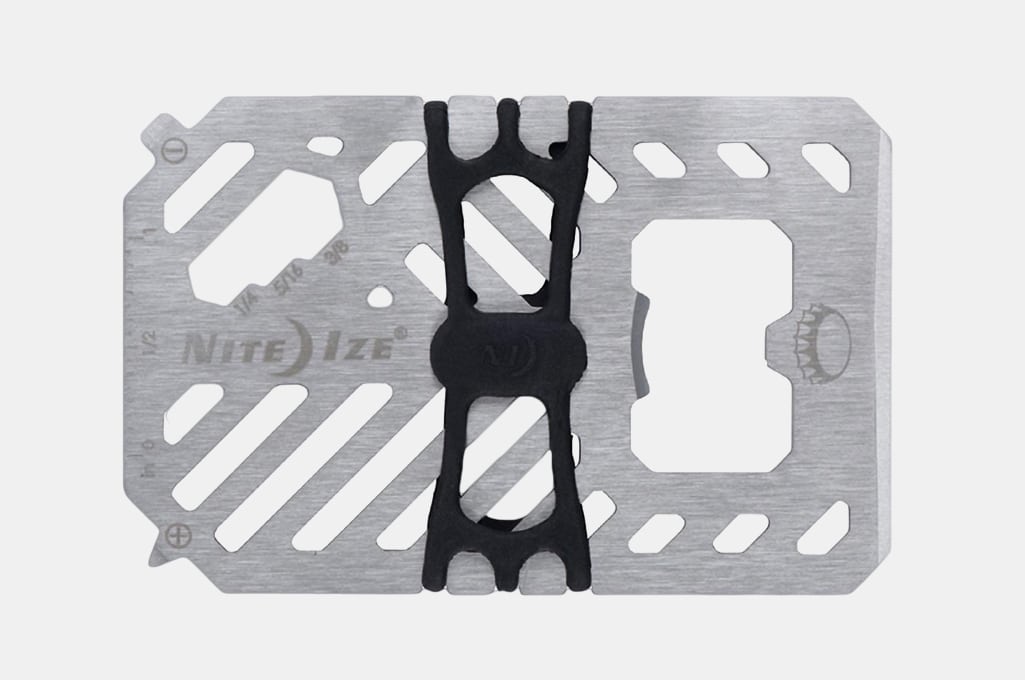 Nite Ize Financial Tool Multi Tool Wallet
Take the Nite Ize Financial Tool Multi-Tool Wallet with you wherever you go—it's TSA-friendly and approved for carry-on travel. Made from hyper-tough stainless steel, it comes with a built-in money clip to carry cash and credit cards, crafted in a sleek, minimalist design that won't call attention to your pocket. Just in case you need them, the card includes a bottle opener, wrenches, screwdrivers, tape cutter, rulers (both metric and standard), and a scraper. It's a traveler's best friend, and you'll always have what you need for on-the-go repairs with this in your pocket.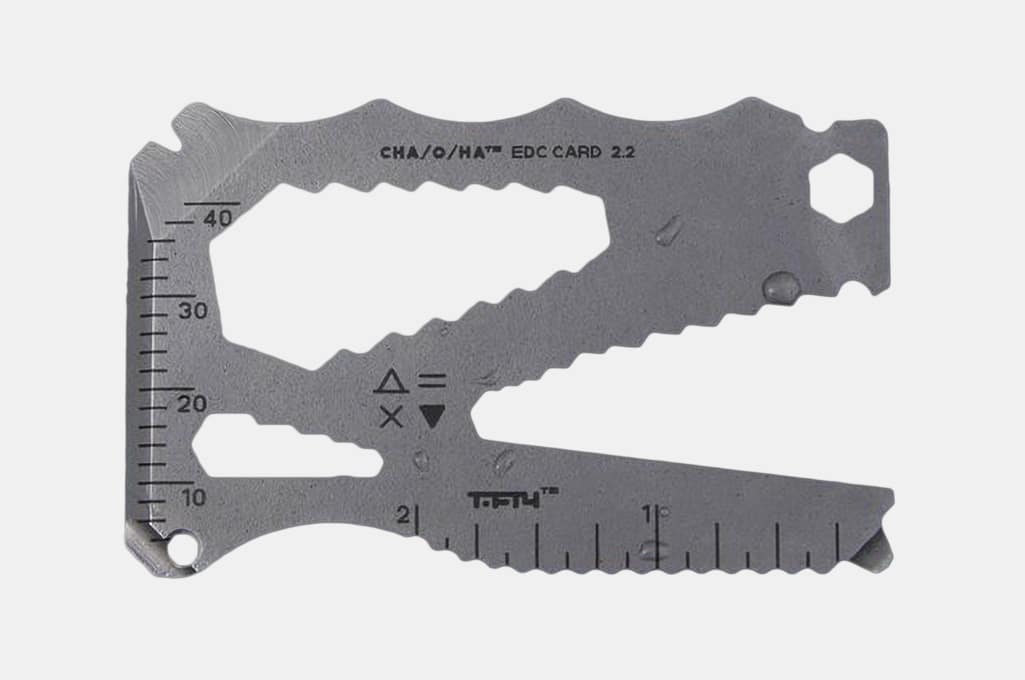 Cha-O-Ha EDC Card
There are no frills or gimmicks when it comes to the EDC Card. Its machined from a solid piece of S35VN stainless steel and features built-in hex wrenches, a prybar and nail lifting slot, a 30mm metric ruler and beveled edge, a flathead screwdriver and Phillips screwdriver, a lanyard hole, and of course, a bottle opener. It maintains a super slim profile that fits easily onto your key ring or in your wallet with your other credit cards, leaving more room in your pockets for other important stuff.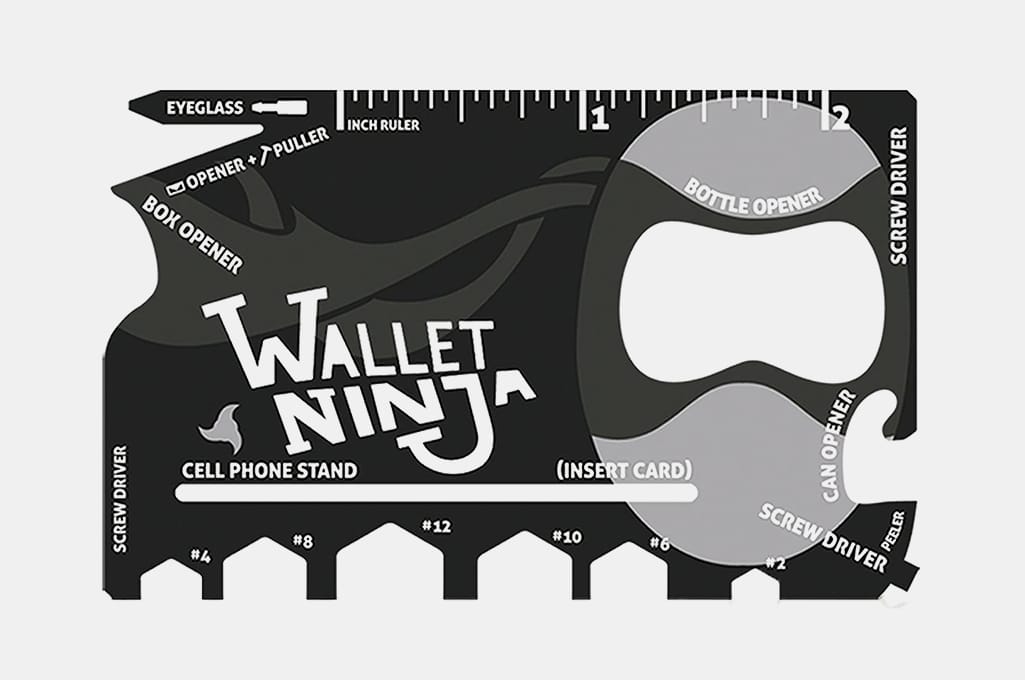 Wallet Ninja
Streamlining your everyday carry kit is not nearly as impossible after adding the Wallet Ninja to it. This credit card sized multi-tool is crafted from heat-treated steel, fits neatly in your pocket or wallet, and features 18 tools including an assortment of screwdrivers and wrenches, a bottle opener, a can opener, a letter opener, a box opener, a peeler, a three-inch ruler, and a smartphone stand for kicking back and watching an hour's worth of YouTube videos on your lunch break.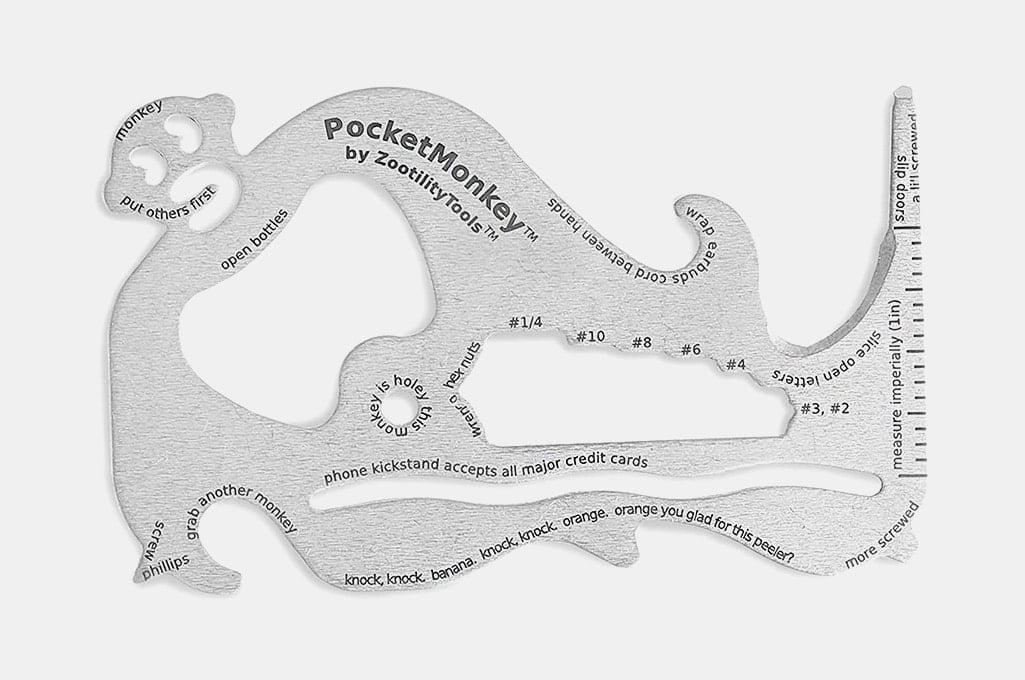 PocketMonkey
Although the name is funny, there's nothing funny about how functional your everyday carry will become with the PocketMonkey in your wallet. Measuring in at 1mm thin, the PocketMonkey takes up very little pocket real estate, yet provides 12 separate functions, some of which include opening bottles, peeling oranges, and opening letters, along with the built-in earphone cord wrap, Phillips head and flat head screwdrivers, and a door latch slip for when you lock yourself out of your house. The PocketMonkey is TSA compliant and weighs only one ounce, so you'll likely forget you're carrying it until you need it.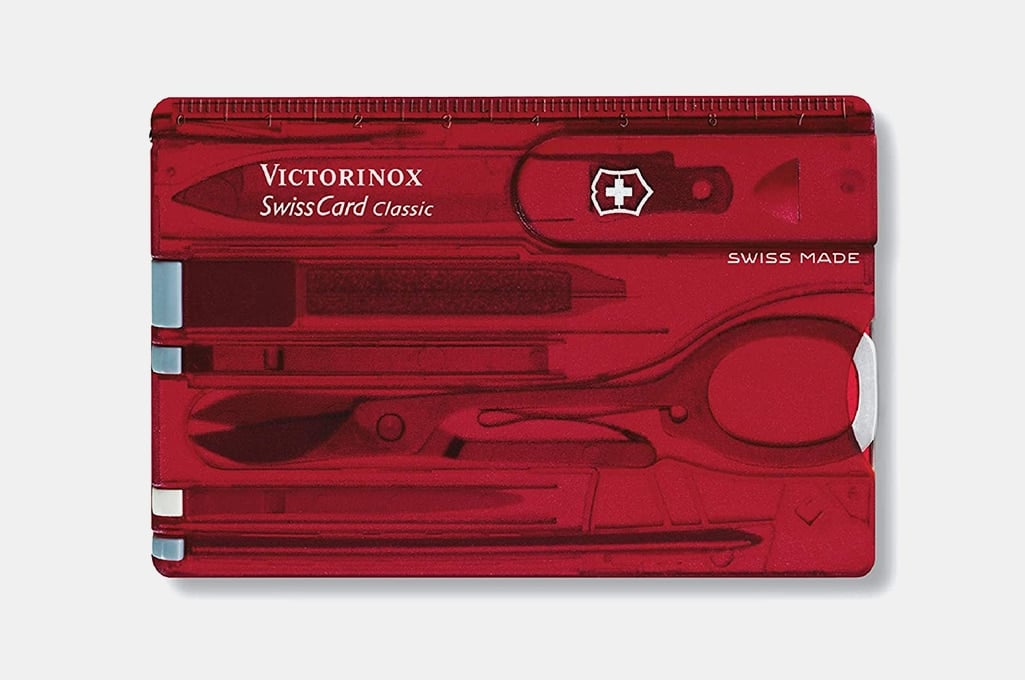 Victorinox Swisscard
The Victorinox Swisscard is the Swiss army knife of card tools, and, much like the Tool Logic Credit Card Companion, is loaded out with essential tools ideal for everyday use. The card-sized device houses a screwdriver, a nail file, a set of tweezers, a toothpick, a pair of scissors, a pin, a pair of measuring rulers, a letter-opening blade, and a pressurized ballpoint pen for jotting down notes or ideas on your pocket notebook.
Disclosure: Clicking on these links and making a purchase may earn us a small referral fee, at no extra cost to you. Learn more here.
freestar.config.enabled_slots.push({ placementName: "gearmoose_leaderboard_btf", slotId: "gearmoose_leaderboard_btf" });