The 20 Best Pocket Notebooks
The pocket notebook has become as much a part of EDC culture as the bifold wallet, the folding knife, and of course, a smartphone. With the rise in popularity of smartphones in the past 10 years, why not just jot down information on an iPhone app and call it a day? Not only is jotting down lists onto a notebook with a pen still faster than opening your phone with your passcode, scrolling for the note-taking app you need, and typing away on a virtual keyboard that is a fraction of the size of your fingers, a pocket notebook is also more reliable than an $800 dollar piece of technology and will allow you to write down phone numbers, ideas, lists, and notes long after your smartphone's battery has died at around lunch time.
A pocket notebook fits securely in your back pocket and, unlike your smartphone, won't crack or break when dropped from standing height. There are many different styles to choose from, depending on your lifestyle or personal carrying preferences, with each EDC notebook offering it's carrier something unique from the rest. Whether you're looking to overhaul your current everyday carry ensemble or just add a bit more functionality to it, consider adding one of these 20 best pocket notebooks to your EDC for organizing your shopping lists, notes, random doodles, and the generally bright ideas you may have from time to time.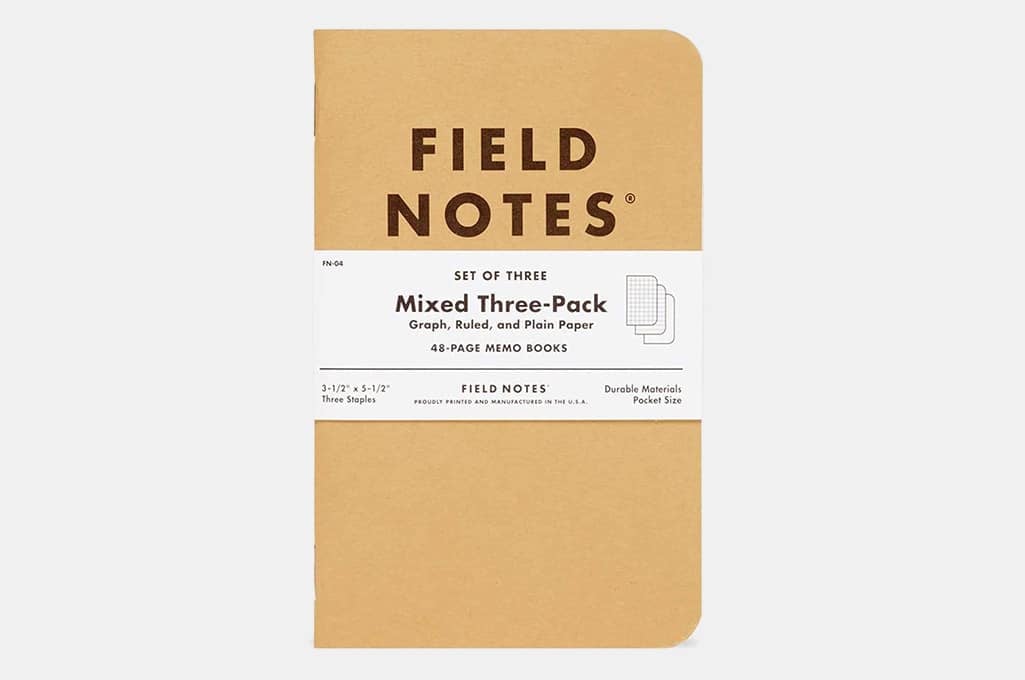 Field Notes
You'll find a Field Notes Notebook tucked away in many a back pocket, and for good reason. They're sturdier than almost any other standard pocket notebook available and feature 48 pages of your choice of graph, ruled, or plain paper on which to doodle your to-do lists, school notes, or your greatest ideas that you might otherwise forget a few hours later into life. They're also available in a variety of colors and designs, with new, collectible designs being released each year.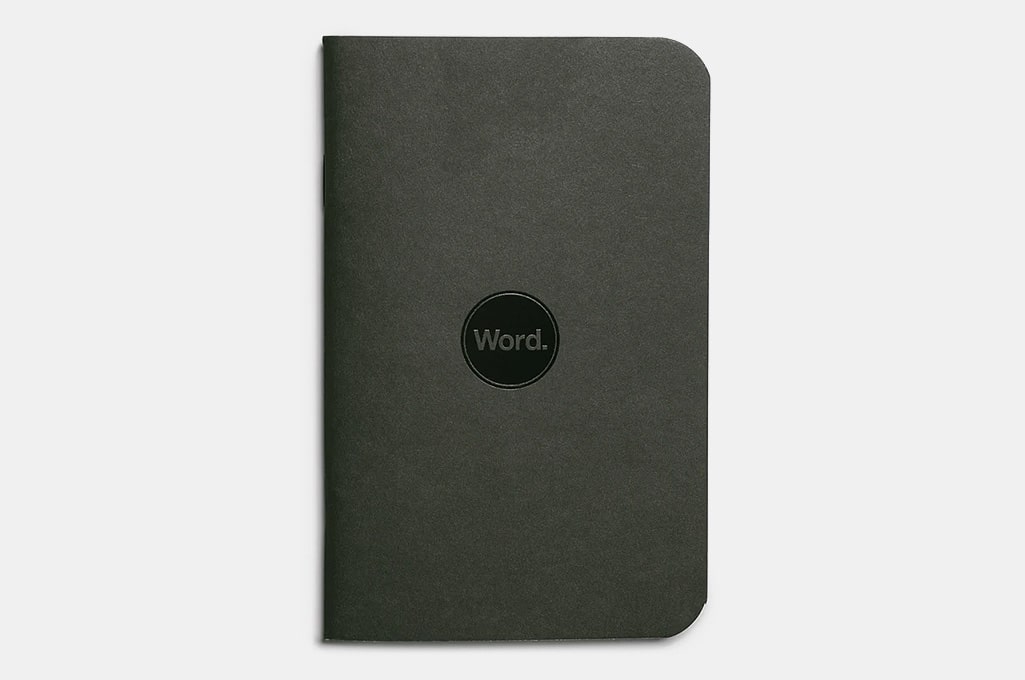 Word. Notebooks
Much like Field Notes, Word. Notebooks have been around the everyday carry community for quite a while, offering up a fresh new way to take better notes. These pocket-sized notebooks are available in a variety of stylish colors and designs, and feature 48 pages of clean lines and a special bullet point system that will keep your to-do lists, notes, brainstorming ideas, and random doodles much better organized than the back of your hand or a napkin at your local watering hole.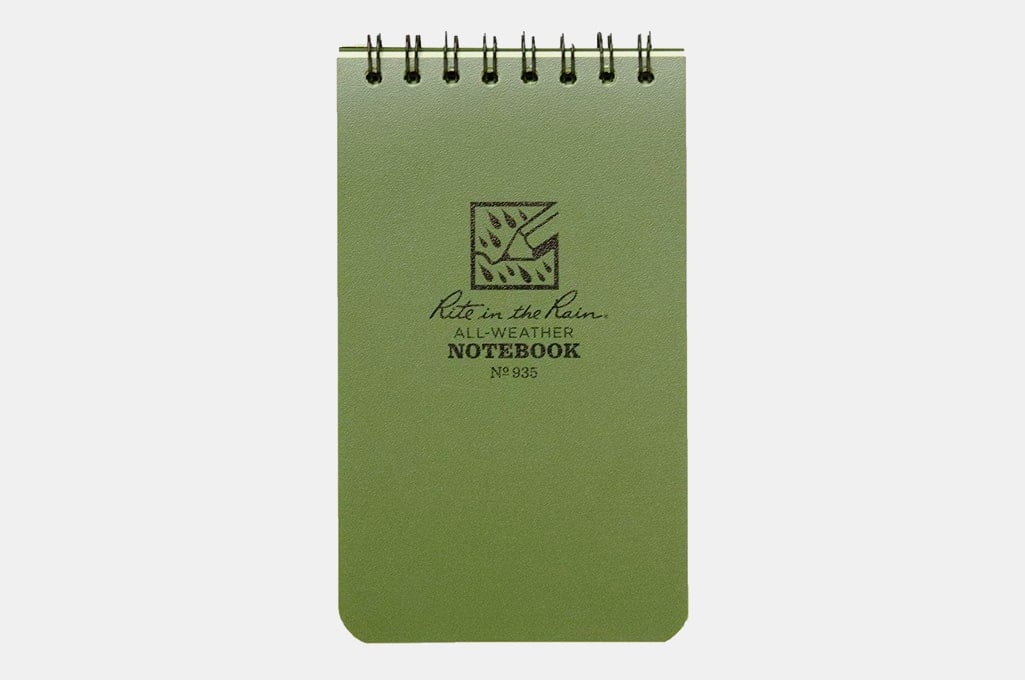 Rite In The Rain All-Weather Notebook
The best pocket notebook for Military personnel, field journalists, and other outdoor professionals is Rite In The Rain's All Weather Notebook. Tucked between the waterproof front and back covers are 100 pages of specially-designed paper on which you can write in the heat, cold, humidity, and unforgiving downpours of rain or snow. Truly tactical by design, this pocket notebook accepts ink or lead in any environment imaginable, and even includes a collection of sometimes-useful reference material on the back and inside covers.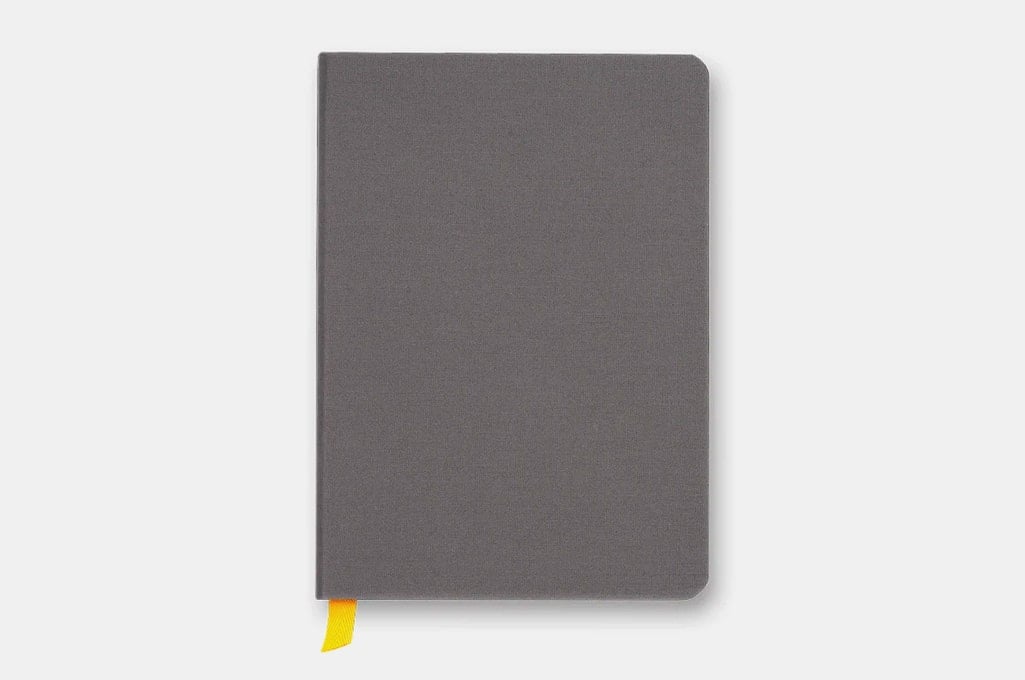 Baron Fig Vanguard Notebook
Baron Fig gets it right where many other companies get it wrong, especially with their Vanguard pocket notebooks. This can be attributed to the three basic principles that they follow: They believe in a simple, intuitive design that works every time; Products should be functional; Their designs are a product of community feedback. Basically, if a product works as intended, less can be more. The Vanguard notebooks offer a minimalist design that features soft covers in gray or charcoal and 72 pages on which to write down your notes for class, highlights from your last meeting, and anything in between.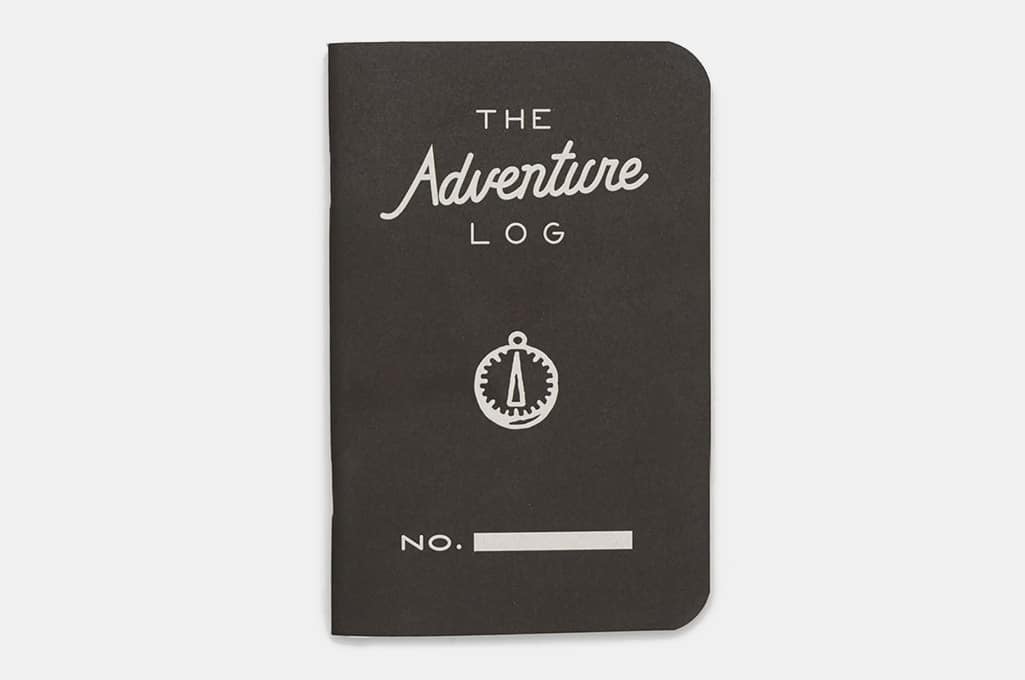 The Adventure Log by Word. Notebooks
Where cell reception ends, the real adventure begins. Instead of documenting with a phone, the proud owner of these American-made notebooks will use time-honored pen on paper to chronicle the where, when and with who details of their next trip. The Adventure Log — the result of a collaboration between Word. Notebooks and Bradley Mountain — was designed for those with the spirit of adventure in their hearts, and features 48 pages on which you can record the location, date, conditions, and field notes of your next outdoor excursion, vacation, backpacking adventure, or road trip.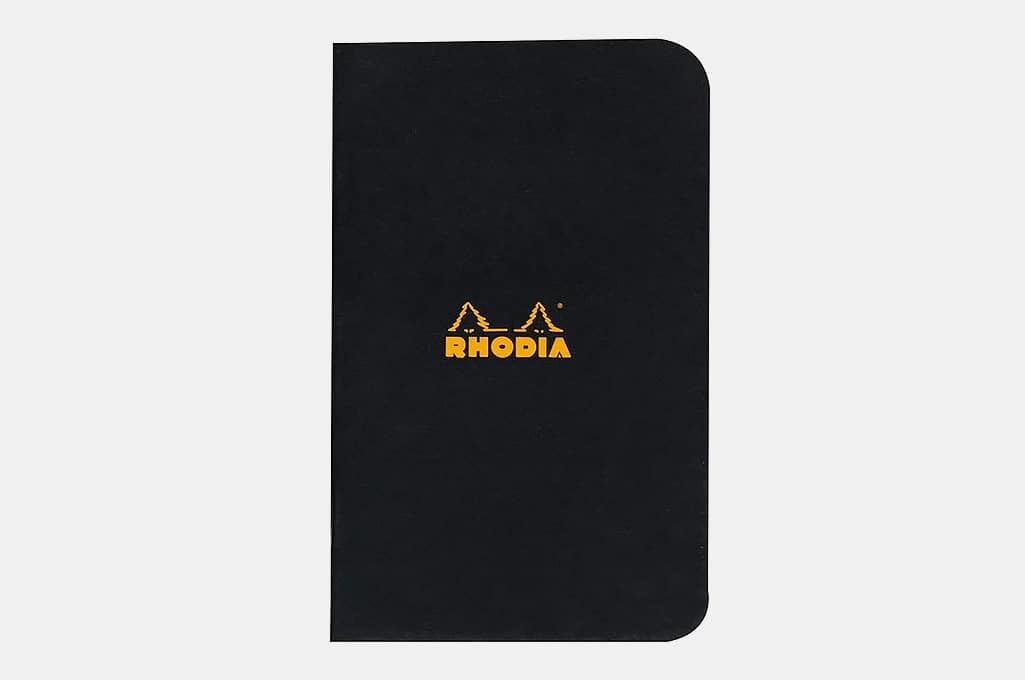 Rhodia Pocket Notebooks
Rhodia Pocket Notebooks are neither trendy nor expensive, yet they continue to be a choice EDC notebook for many people. The reason is that these pocket notebooks have sacrificed neither form nor function, and feature a coated, water proof cover that protects the thicker, pen-friendly 80g paper inside. Each notebook is outfitted with 24 sheets of your choice of lines or grids on which to record your notes, thoughts, and ideas.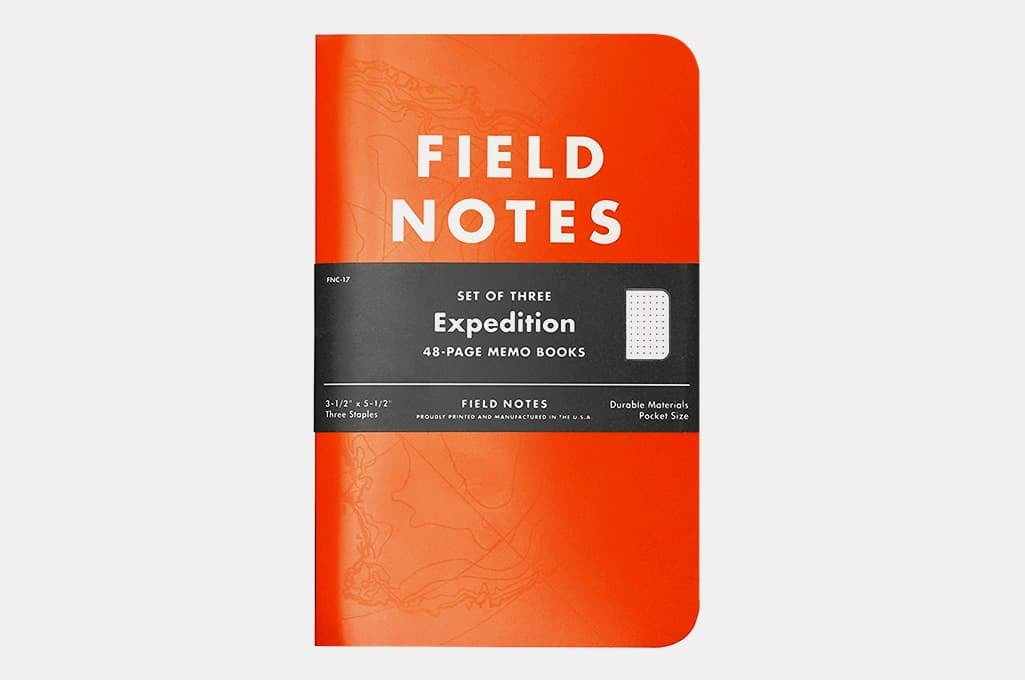 Field Notes Expedition Pocket Notebook
As if Field Notes weren't rugged enough for the rigors of everyday carry, the brand went and outfitted the pocket-sized notebooks with 48 pages of waterproof, tear-proof, and extreme temperature-resistant synthetic paper for jotting down notes or coordinates on your next journey to the Antarctic (or anywhere the weather might take a turn for the worse.) And like any other Field Notes notebook you may be carrying with you while you're reading this, the Expedition edition is proudly made in the USA and fits right into your back pocket for easy everyday carry. It's literally the best pocket notebook for those with an intense, active lifestyle.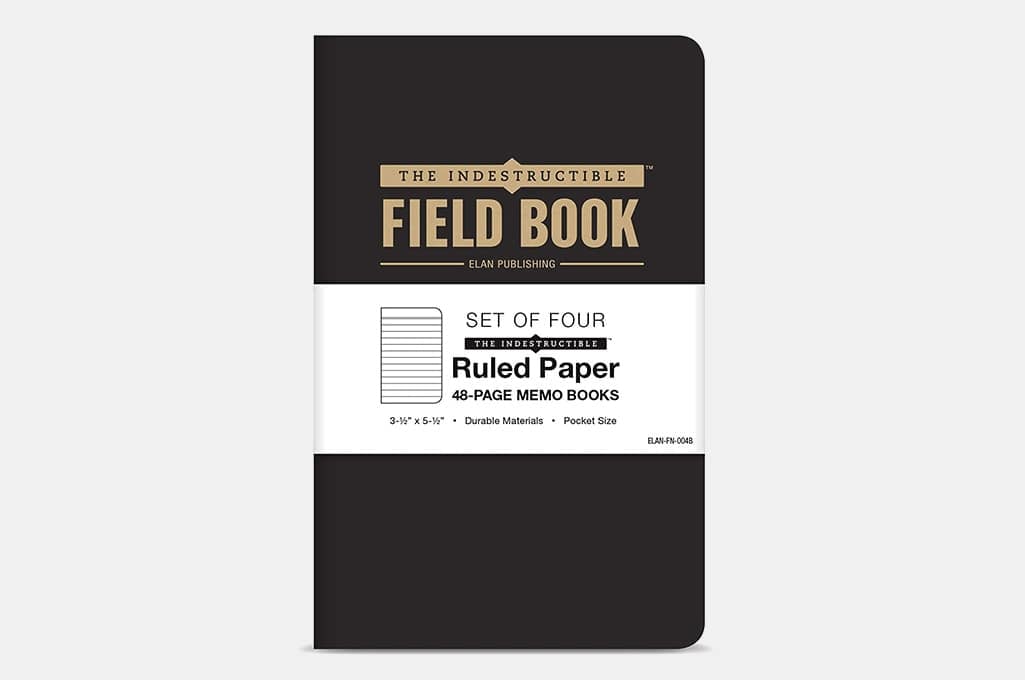 The Indestructible Field Book
Much like the Field Notes Expedition notebook above, and as it's name clearly states, the Indestructible Field Book is, well, theoretically indestructible. We're not saying that you should take a flamethrower to it to test this claim, as were sure you will end up with a pocket-sized pile of ashes and a visit from your local fire department. But the notebook's 48 synthetic pages are waterproof and won't tear when you're writing down important field stuff out in the field. And the best part? you get 4 notebooks in a pack compared to the usual 3 from other brands.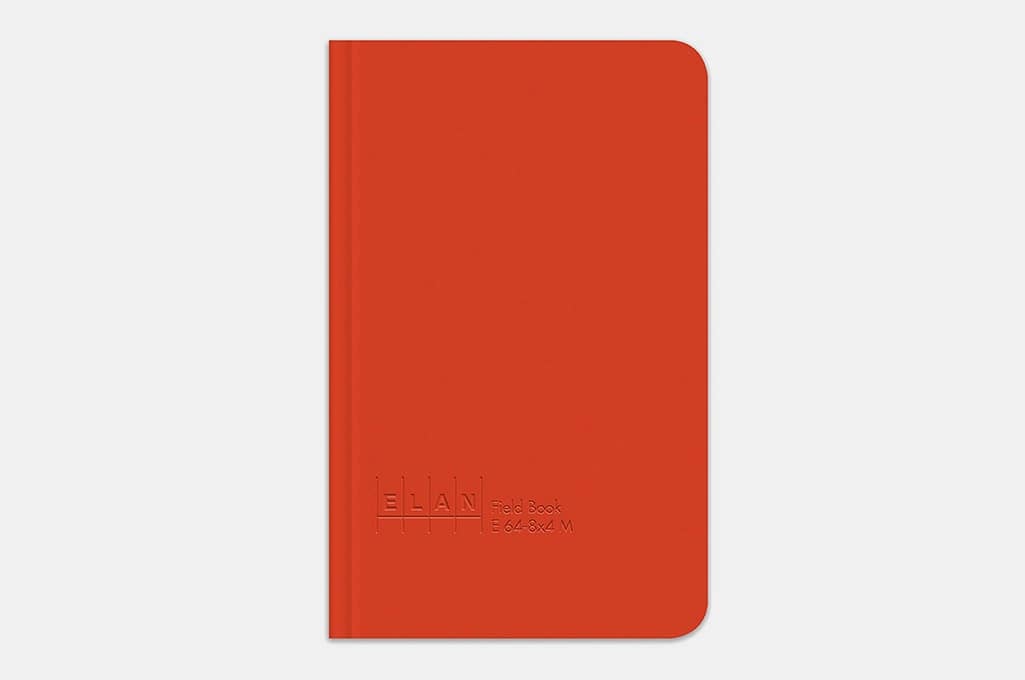 Elan Pocket Field Notebook
Sure, you can EDC the Elan Pocket Notebook, and why wouldn't you? It can withstand the wear and tear of everyday carry better than most any notebook on this list, probably because it's intended use is in the field — by those doing the jobs that matter most. On the outside is an extra-stiff, orange hardbound cover that is both highly visible and waterproof. Inside you'll find 160 pages of 50% cotton, water-resistant grid paper for jotting down important notes in both favorable and inclement weather, along with 15 pages of practical information at the notebook's end.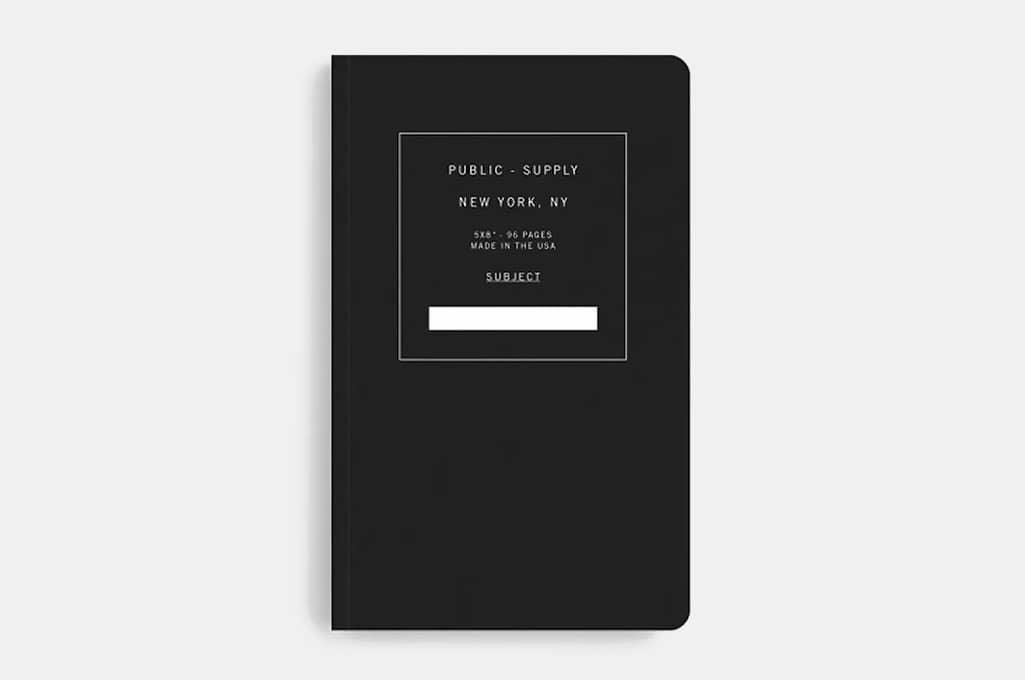 Public Supply Notebooks
As addicted to our smartphones and tablets as we all are, there is no better way to take notes or get your ideas worked out that by putting pen to paper. And Public Supply Notebooks are just another good reason to start writing things down on paper again. These 5×8 pocket notebooks are made in New Jersey and are inspired by the vintage public school workbooks of yesteryear. Your choice of dotted or ruled #60 paper sheets ensure superior versatility no matter what project you may be working on, while the notebook's Rainforest Alliance Certification and 10% post consumer waste construction ensures you're doing your part for the environment.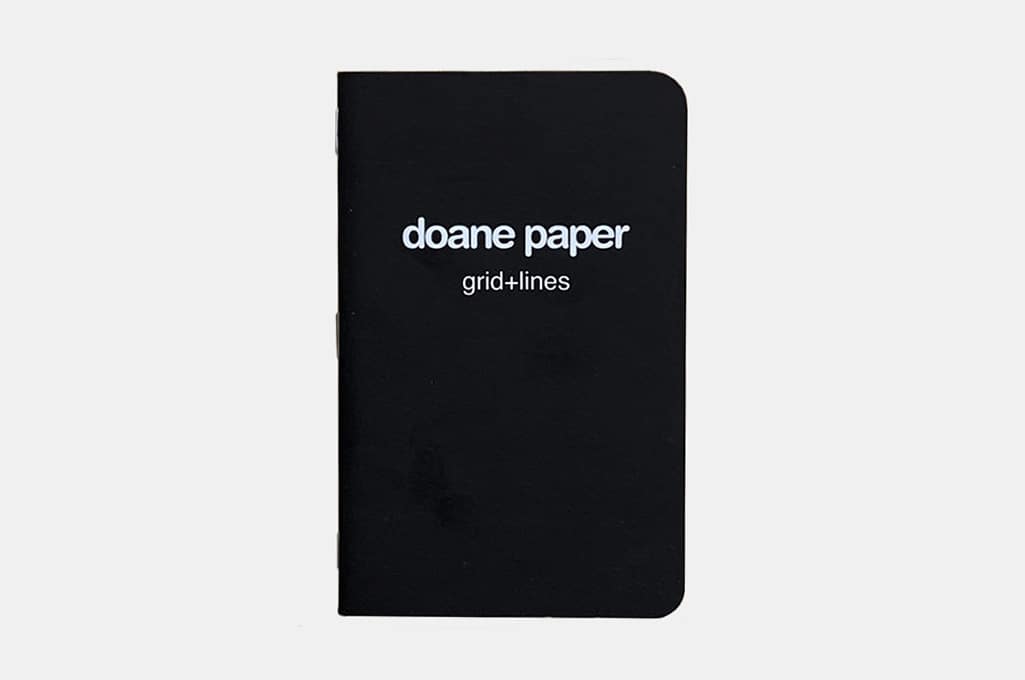 Doane Paper Pocket Utility Notebook
Cover to cover, the Pocket Utility Notebook is just like any other EDC pocket notebook — 48 pages, recycled paper, pack of 3 — and that's more than fine with us. After all, if something isn't broken, then why fix it? But what sets the Doane Paper Utility Notebook apart from the rest is the brand's unconventional method of providing both grids and lines to each sheet of paper for the absolute maximum utility no matter your current task or project. And that alone is enough for us.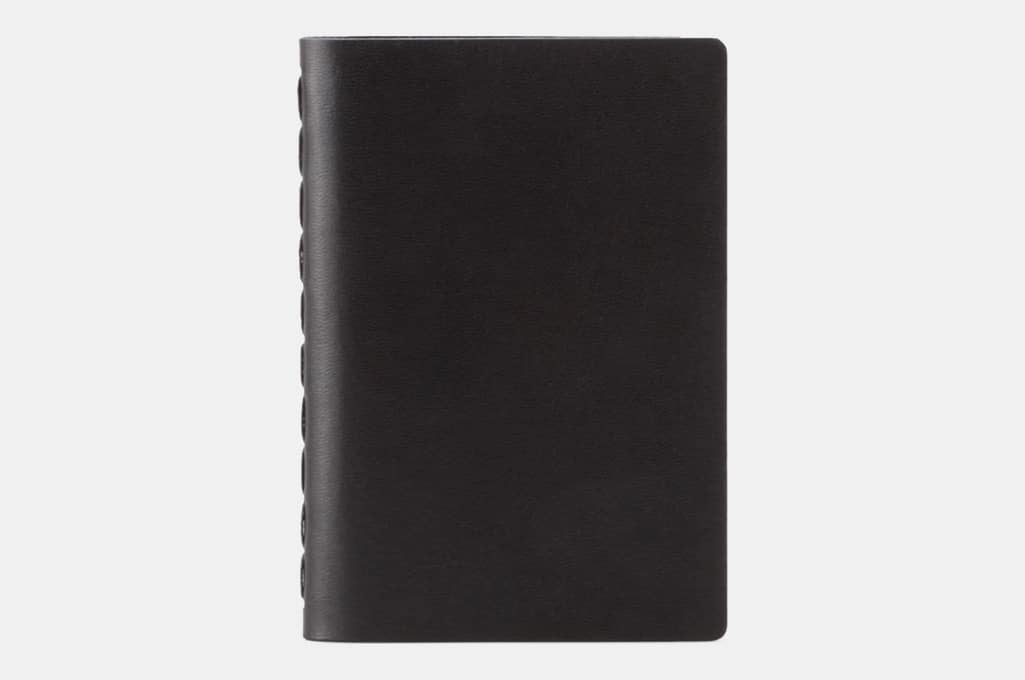 Ezra Arthur Small Leather Notebook
We're privy to Ezra Arthur's minimal Cash Fold Wallet for those looking to shed some pocket weight, but to fully round out your everyday carry, add to it the brand's Small Leather Notebook. There are many names for it — journal, notebook, diary, logbook, etc. — but one this is clear, it's well built. The notebook's cover is hand stitched from full grain Horween Chromexcel leather — the kind of leather that truly lasts for generations — and protects 128 pages of acid-free, blank Tomoe River Paper — the thinnest and highest quality writing paper according to Ezra Arthur — that reduces overall bulk and weight.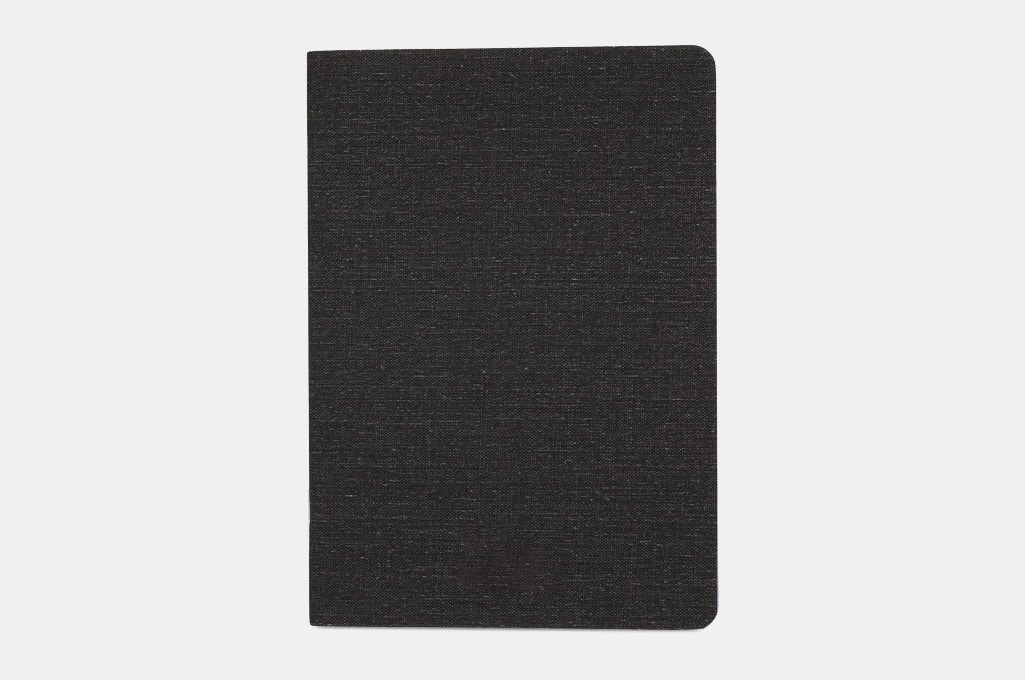 Appointed Mini Linen Jotter Pocket Notebook
The Mini Jotter notebooks by Appointed blend in seamlessly with the rest of your everyday carry thanks to three classic color choices in charcoal, chambray blue, or gray. The water-resistant, soft book cloth cover is complimented by a practical, well thought-out design that includes a saddle stitch binding and 40 blank pages of thick stock notebook paper in your choice of blank pages or those adorned in grids.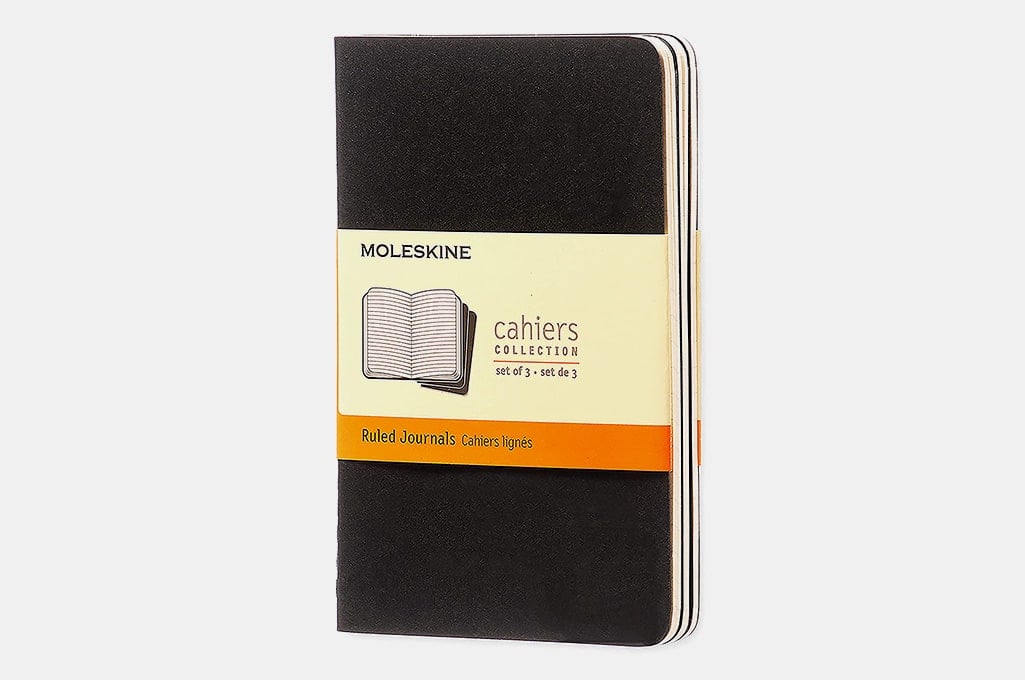 Moleskine Cahier Pocket Journal Notebook
They call it a pocket journal, we call it a pocket notebook, but the end result is the same: The Cahier Pocket journal will eliminate your need to ever jot down anything on an iPad or smartphone ever again. It features a flexible, heavy-duty cover made from cardboard, a stitched spine, and acid-free paper on which to doodle your favorite comic book heroes while your coworkers make the work meeting last 30 minutes longer than it should by asking ridiculous questions. Aside from that, the Cahier Pocket Journal also offers 16 detachable sheets and an integrated pocket for stashing those sheets — along with any other notes of importance.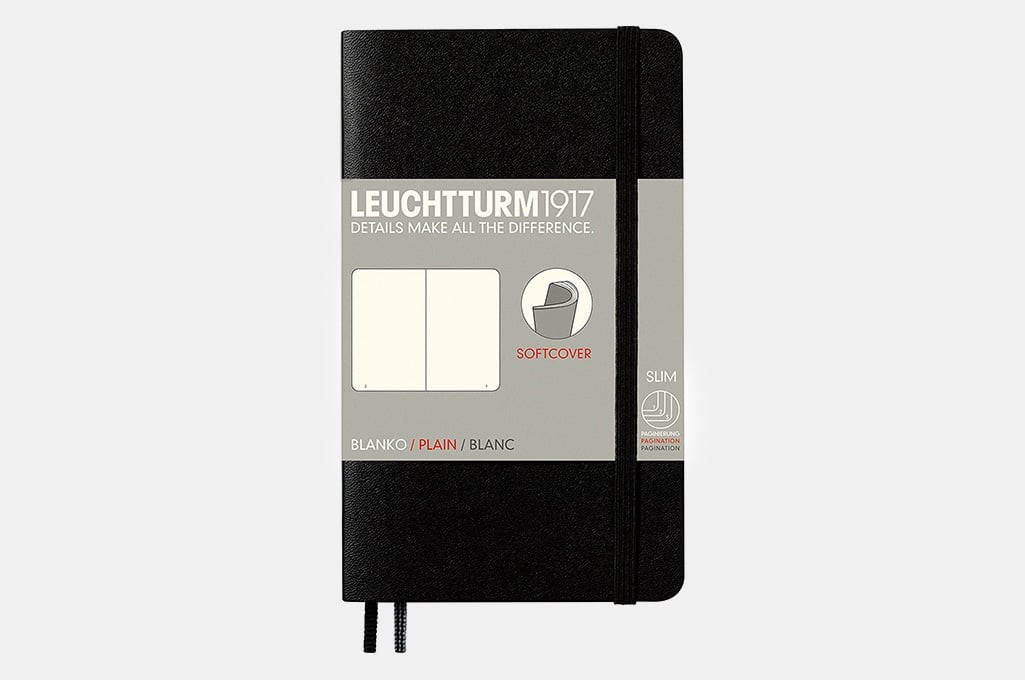 Leuchtturm1917 Notebook Pocket A6
If Guided's Recycled Notebooks above are the greenest notebooks on this list, the Notebook Pocket A6 by Leuchtturm1917 offers the most features. This notebook offers a flexible cover with thread-bound binding that allows it to lay flat while you're working, in turn leading to better productivity. That's not all. High quality paper prevents bleed-through of ink from rollerball pens or fountain pens, while 8 detachable sheets can be stored inside the included expandable pocket for safe keeping. A page marker and an elastic closure round out the A6 Notebook's notable features. Add it to your EDC today and keep your thoughts, ideas, and lists well-organized.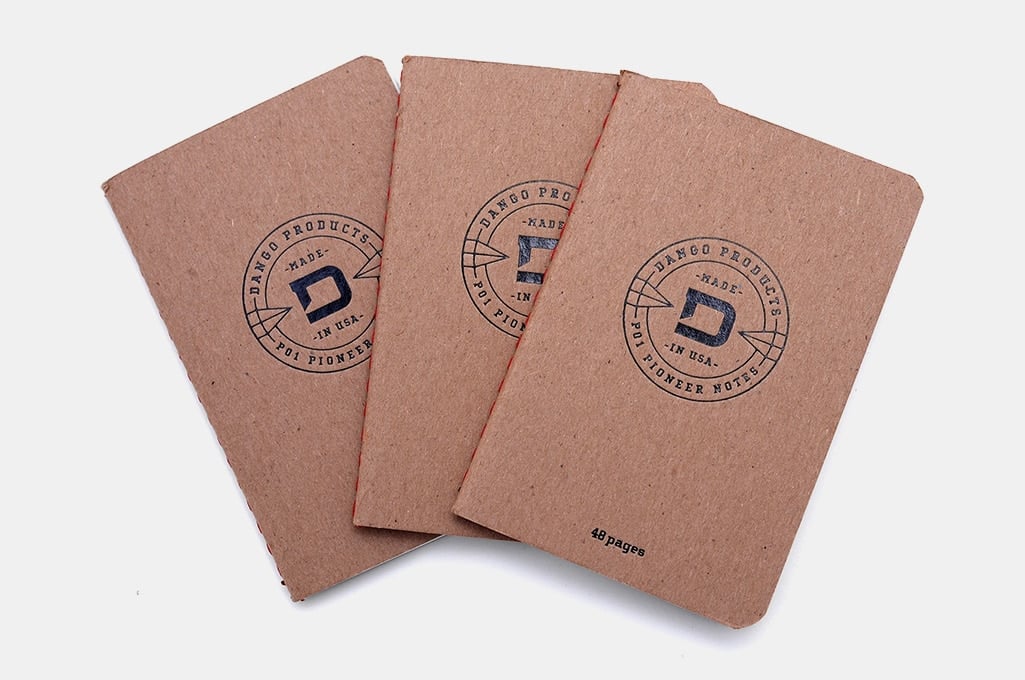 Dango Products Dango Pocket Notebooks Set of 3
Made in the USA, the Dango Pocket Notebook is hyper-rugged and built to go with you wherever you go – on a biking trip, camping, hiking, or trekking. Made with a tough cardstock cover and held together with ultra-durable stitch binding, this dot-grid notebook is perfect for taking notes, sketching beautiful objects in nature, or writing down that next million-dollar idea. And if you're looking for the best "bang for your buck", you don't just get one notebook with your purchase, but THREE.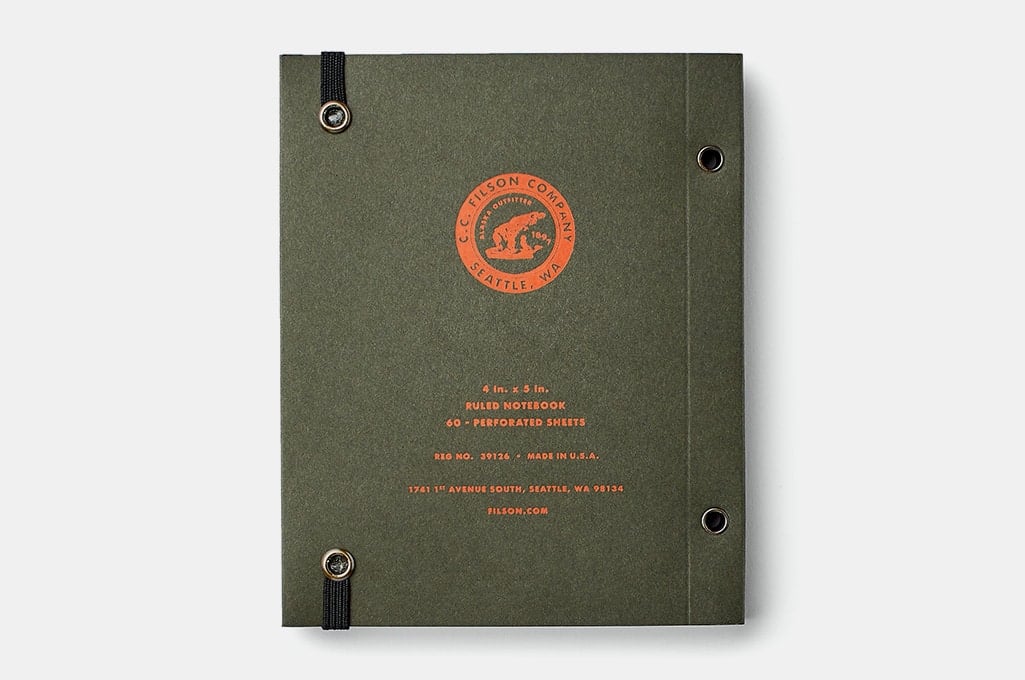 Filson Small Pocket Notebook
The Filson Small Notebook may be compact, but it delivers maximum value at a price point you'll love. It's sleek enough to fit into any pocket, with a flexible cover that will keep your important notes protected no matter what you do. The built-in elastic band is perfect for marking your place in the book so you can flip open to the last page used the moment you pull it out of your pocket.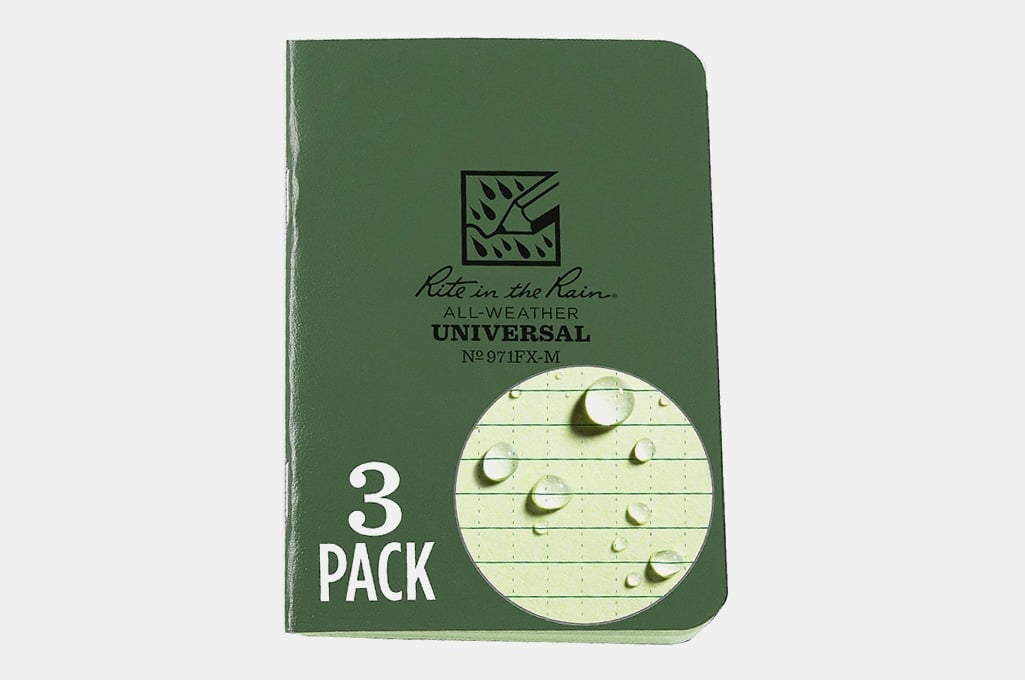 Rite in the Rain Weatherproof Mini-Stapled Notebook
You'll never have to worry about water soaking your notes with the Rite in the Rain Weatherproof Mini-Stapled Notebook. Whether you're at the beach, lake, poolside, or hiking in the rain, this notebook is filled with all-weather paper that is repellent to water, sweat, mud, and grease – heck, it can even survive a trip through the washing machine. Best of all, the wood-based paper is made in the USA and is fully recyclable. It's great for a stocking stuffer, a "Tuesday gift," or as a practical addition to your everyday carry choices.
Waxed Journals Waterproof Slim Notebook
Style and versatility is exactly what you get with Waxed Journals' Waterproof Slim Notebook. The cover is made with super-tough, waterproof waxed canvas, and even the pages inside are fully waterproof. Don't worry about having to use a special writing tool like some other waterproof journals – this bad boy works with any ballpoint pen or pencil, but the ink or graphite will never be erased by even the heaviest downpour. If you're looking for a compact notebook to carry in your pocket or backpack on any camping trip, this is definitely the choice for you.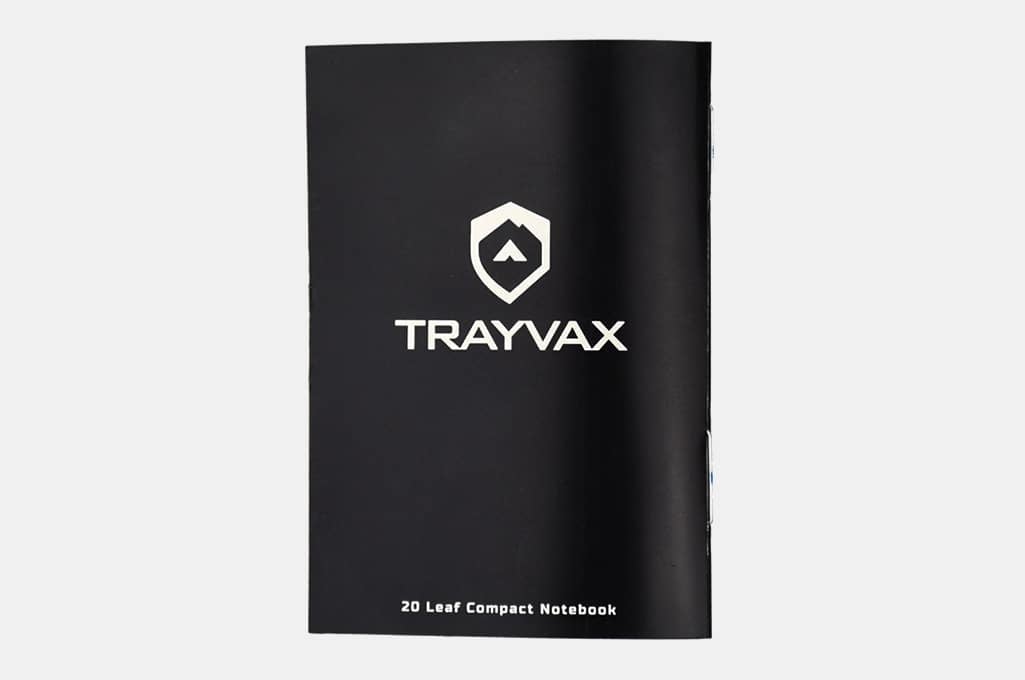 Trayvax Weatherproof Pocket Notebook
This Trayvax notebook may look simple, but the Waterproof Pocket Notepad is an outdoorsman's best friend for even the dampest, rainiest, wettest conditions. Take it into the jungle, on your whitewater rafting trip, or out to sea – the cover is ultra-durable and fully waterproof, and the 20 pages are weatherproof. You can even fit it into your wallet, that's how compact and portable this bad boy is. Best of all, it's made in the USA using all locally-sourced material. Now that's a quality US product you can get behind.
Disclosure: Clicking on these links and making a purchase may earn us a small referral fee, at no extra cost to you. Learn more here.
freestar.config.enabled_slots.push({ placementName: "gearmoose_leaderboard_btf", slotId: "gearmoose_leaderboard_btf" });