The 16 Best Face Moisturizers For Men
There's no two ways about it: Most guys need to take better care of their face. Whether you're the rugged outdoorsy type, a dedicated do-it-yourselfer, or you rarely see past your home office, one of these 16 best face moisturizers for men deserves to become part of your daily routine.
Aside from feeling luxurious as heck, we've got three good reasons guys should start moisturizing their faces: It helps prevent acne by keeping your skin healthy, slows down the onset of wrinkles to keep you looking and feeling young, and soothes irritation caused by shaving. So without further ado, let's introduce you to the best face moisturizers.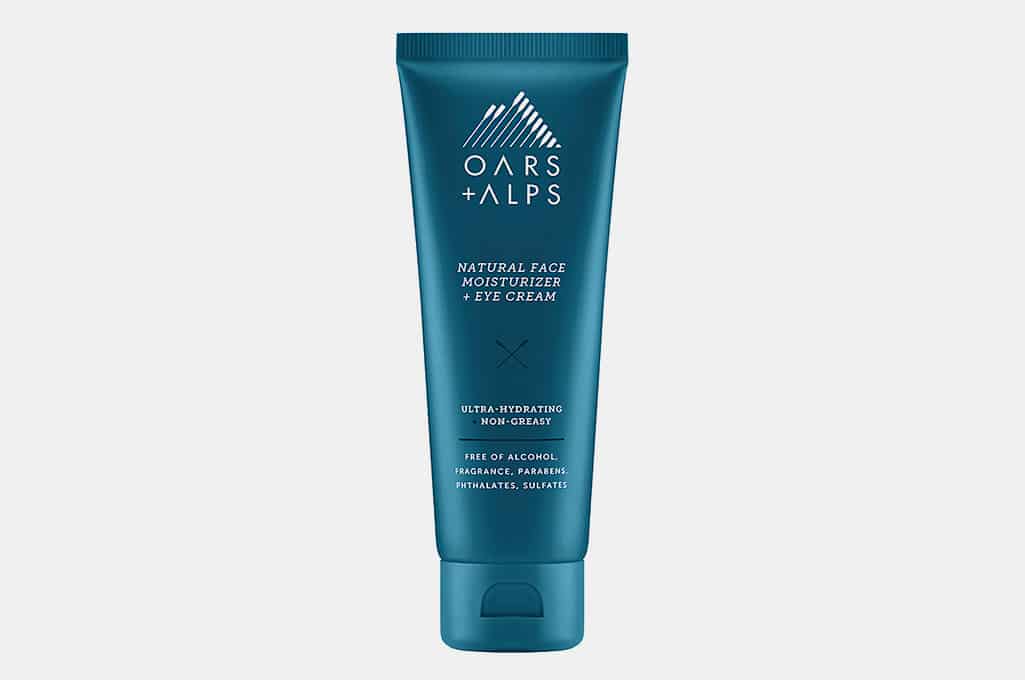 Oars + Alps Face & Eye Moisturizer
Best Face Moisturizer For Sensitive Skin
Men with sensitive skin, rejoice. We have your the right moisturizer for you. A shea butter and jojoba oil base sets the stage for Oars + Alps' light and fast-absorbing face and eye cream. It's an especially gentle, unscented moisturizer that's great for any type of skin thanks to its generous inclusions of aloe and Vitamin E. In our opinion, it's absolutely worth signing up for a bi-monthly subscription so you never have to worry about running out.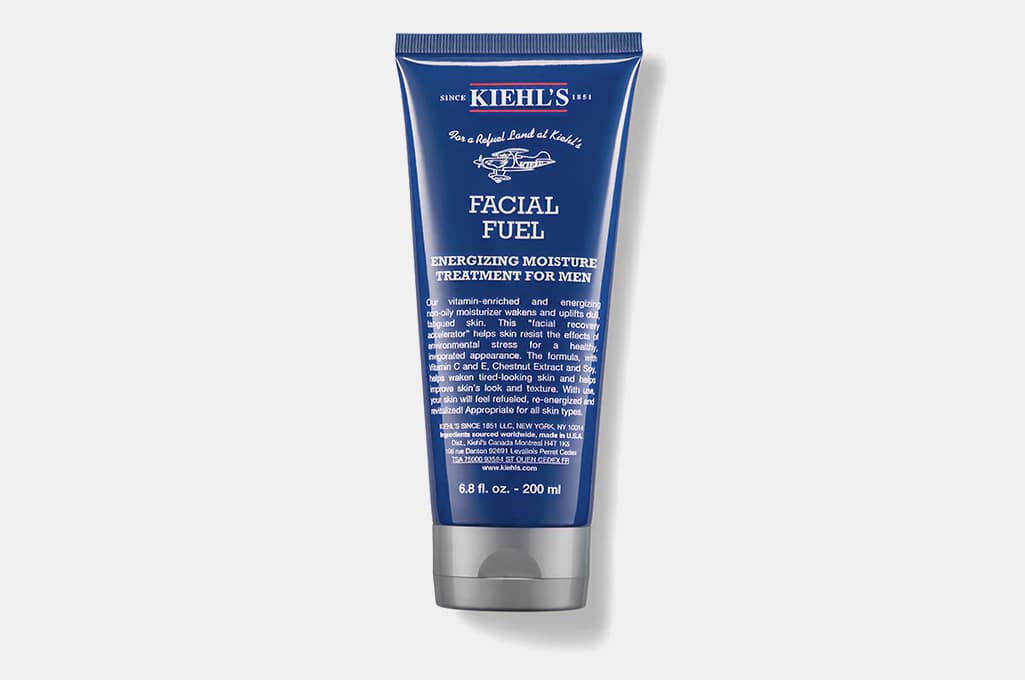 Kiehl's Facial Fuel Energizing Face Moisturizer For Men
An Energizing Boost of Caffeine
A trio of antioxidants are what power the fresh and energizing effects of Kiehl's Facial Fuel: Chestnut extract, Vitamin C, and Vitamin E. Promising to awaken fatigued and dull skin, it's a water-based moisturizer that goes on smooth and dries quickly, leaving no greasy residue. Best of all, a subtle boost of caffeine makes it an invigorating addition to your morning routine.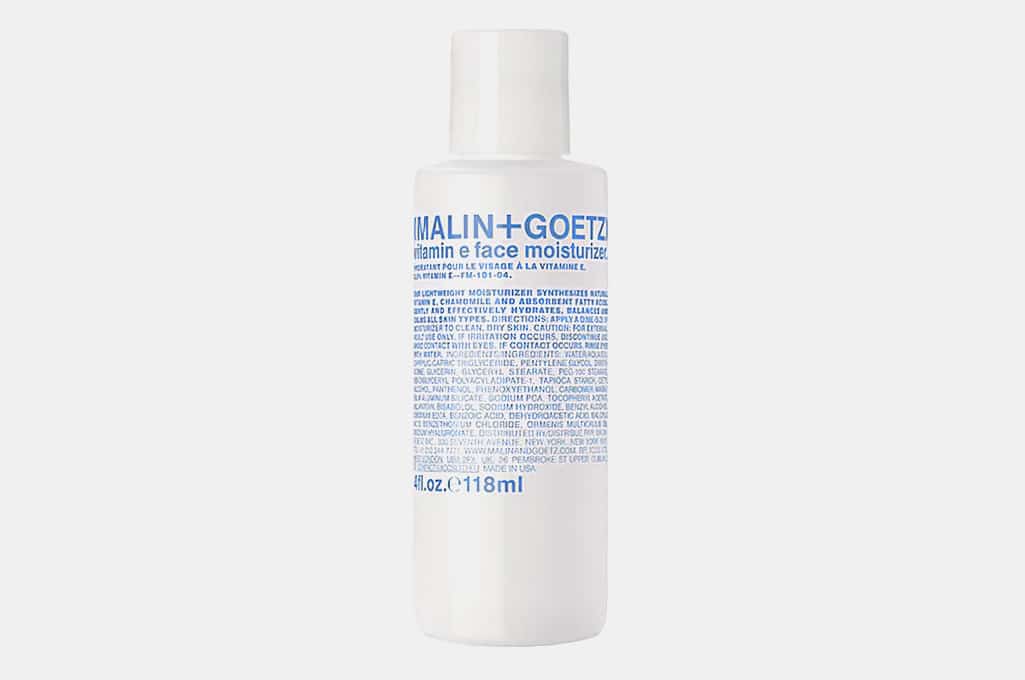 Malin + Goetz Vitamin E Face Moisturizer
A Vegan & Cruelty Free Face Moisturizer
The beautifully minimal packaging design of Malin + Goetz's Vitamin E Face Moisturizer hints at what's inside, as well — a straight-to-the-point combination of Vitamin E, fatty acids, chamomile extract, and Vitamin B5 that pairs beautifully with their grapefruit skin cleanser to create an uncomplicated daily skincare routine. Completely vegan and cruelty free, it can also double as an aftershave balm and is especially good for sensitive skin.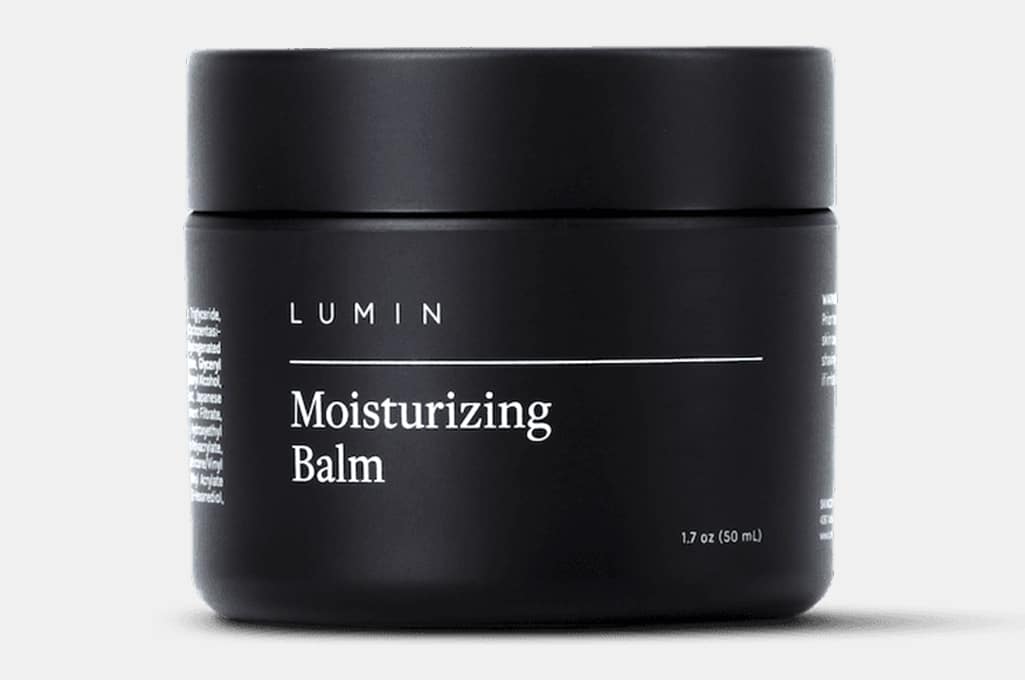 Lumin Ultra-Hydrating Moisturizing Balm
Combat Dehydration and Sun Damage
Ultra Fresh? Check. Ultra Hydrating? Double check. Lumin's Ultra-Hydrating Moisturizing Balm is made for skin that's been put through the wringer, and is designed to heal everything from dehydration to sun damage and oil balance. It's intended for nighttime application, where leaving it on overnight will give it time to work its deep hydrating magic. Meadowfoam Seed Oil is the star player here, as it balances oil regulation by closely mimicking the natural oils of your skin.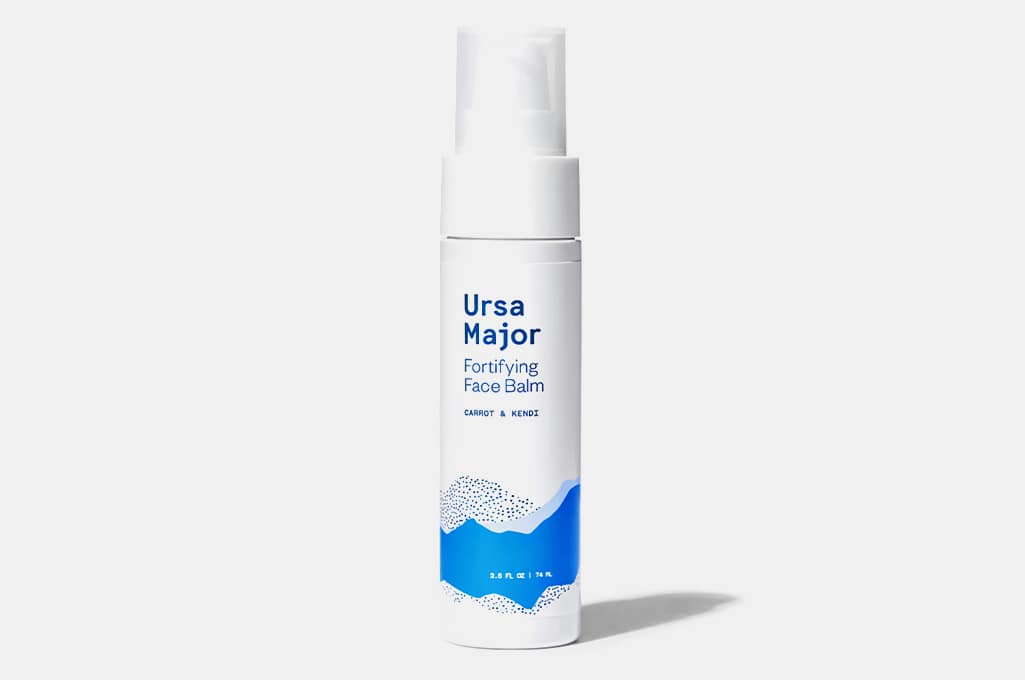 Ursa Major Fortifying Face Balm
A Lightweight & Fast-Absorbing Face Moisturizer
This gel moisturizer might be most amazing for what it doesn't include. Ursa Major is clear in stating that there's "no petrochemicals, SLS, SLES, parabens, synthetic fragrance or color, glycols, silicones or PEGs" — in short, none of the chemical additives that can really irritate sensitive skin. It's also one of the most pleasantly scented of the moisturizers featured here, with an herbal array of lavender, lime, spearmint, and rosemary.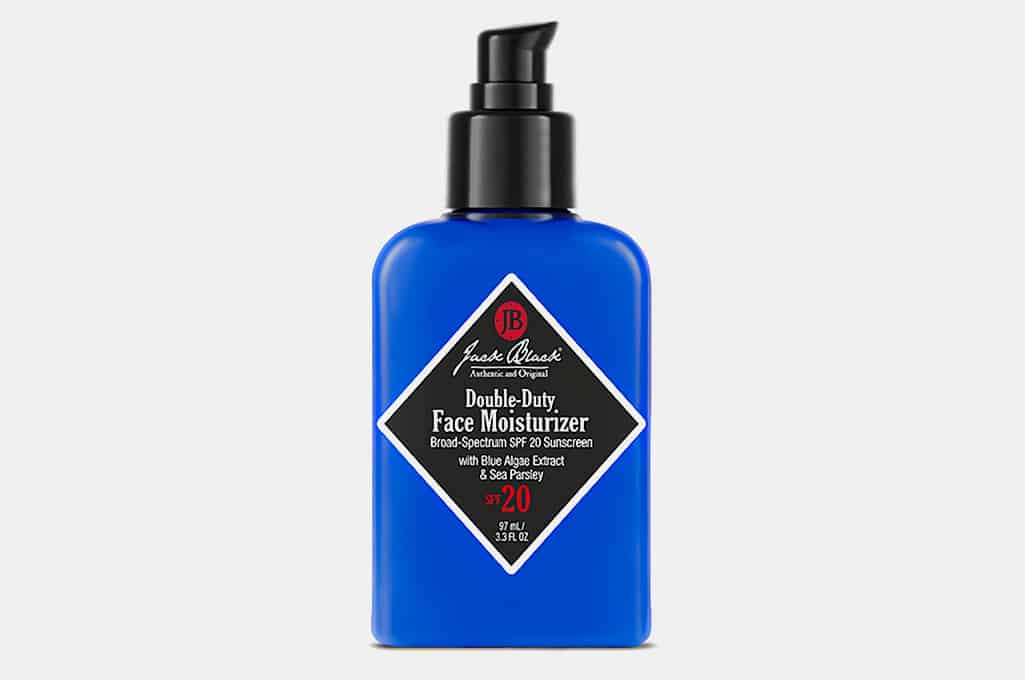 Jack Black Double-Duty Face Moisturizer SPF 20
The Best Face Moisturizer + Sunscreen
A moisturizer and light sunscreen in one? Awesome. Jack Black's Double-Duty Face Moisturizer has just enough SPF to prevent your skin from getting dry and red in the spring and summer sun, and plenty of Vitamins A, E, and C to protect and rejuvenate your face. It's also certified organic, vegan, and cruelty free, so you can apply it liberally with conscience as clean as your face.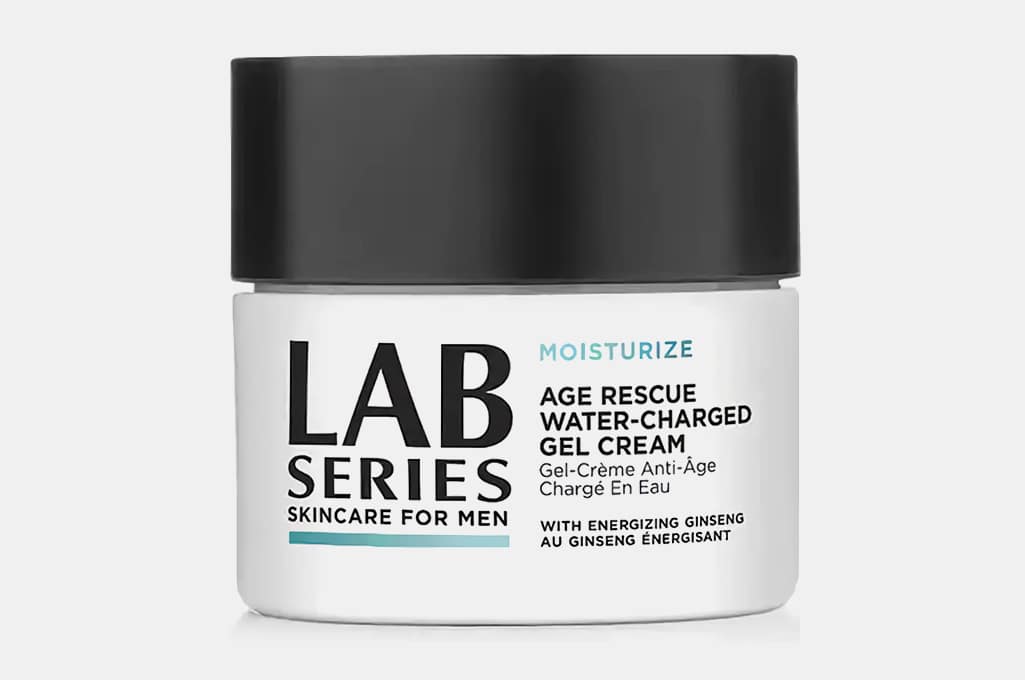 Lab Series Age Rescue Water-Charged Gel Cream
Fight The Signs Of Aging
Lab Series' Age Rescue Moisturizer is a gel and cream hybrid moisturizer that uses adaptogenic ginseng root as a secret weapon to fight the signs of aging. Replenishing, cooling, and energizing, it's great for anyone who spends a lot of time outdoors and in the elements. The scent is pleasantly clean and herbal without being overwhelming, and it dries rather quickly after application.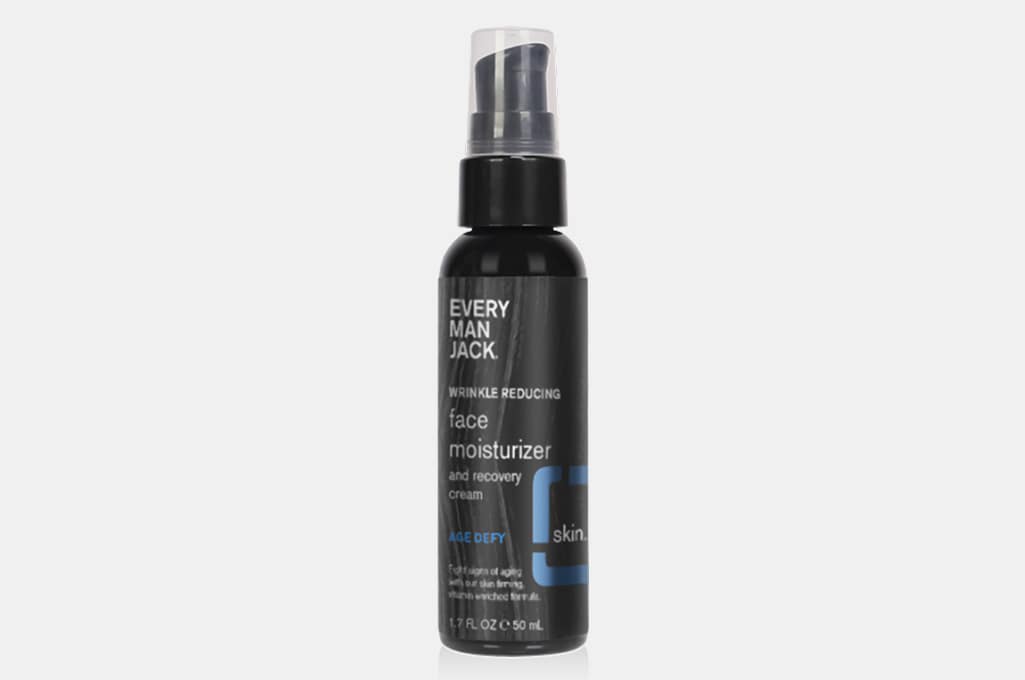 Every Man Jack Age Defy Face Moisturizer
An Affordable Face Moisturizer
Made from naturally derived ingredients and both cruelty- and phthalate-free, Every Man Jack's Age Defy Face Moisturizer is one of the most affordable products on our list. Aloe vera gives it a lovely cooling quality, while plant-derived glycerin makes it deeply hydrating and moisturizing. If you're looking for your first moisturizer and don't want to empty your wallet, this is a great choice.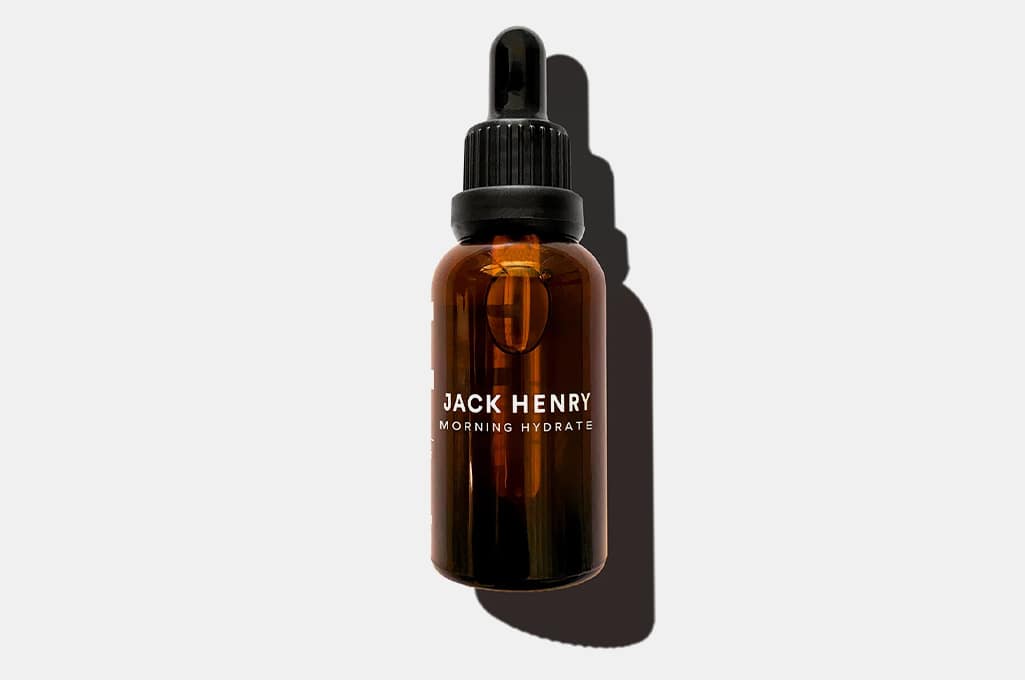 Jack Henry Morning Hydrate
An Organic, Three-Ingredient Face Moisturizer
There's something so appealing about personal care products that don't come with a gigantic list of ingredients. Jack Henry's Morning Hydrate is guaranteed to speak to your minimalist side, with its composition of just three ingredients: MCT oil, sweet almond oil, and turmeric oil. It's perfect for guys with facial hair (and will work as well as some of the best beard oils you'll find), and supports the health of all skin types.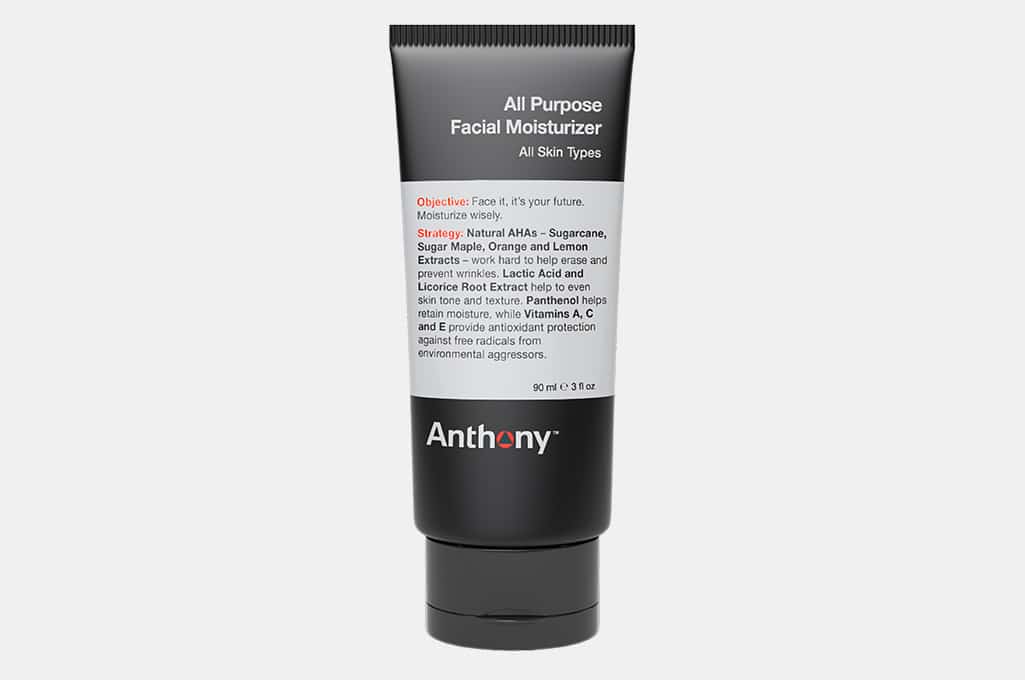 Anthony All Purpose Facial Moisturizer
Best Face Moisturizer For All Skin Types
Anthony's All Purpose Facial Moisturizer really lives up to its name. It's a soothing and lightweight cream moisturizer that's made for all skin types, with a huge array of vitamins and natural extracts designed to keep your face looking its best. Lactic acid and wheat protein are its most uncommon ingredients, included with the intention of tightening and evening skin tone. It's an excellent wrinkle reducer that comes in a generous size for the price.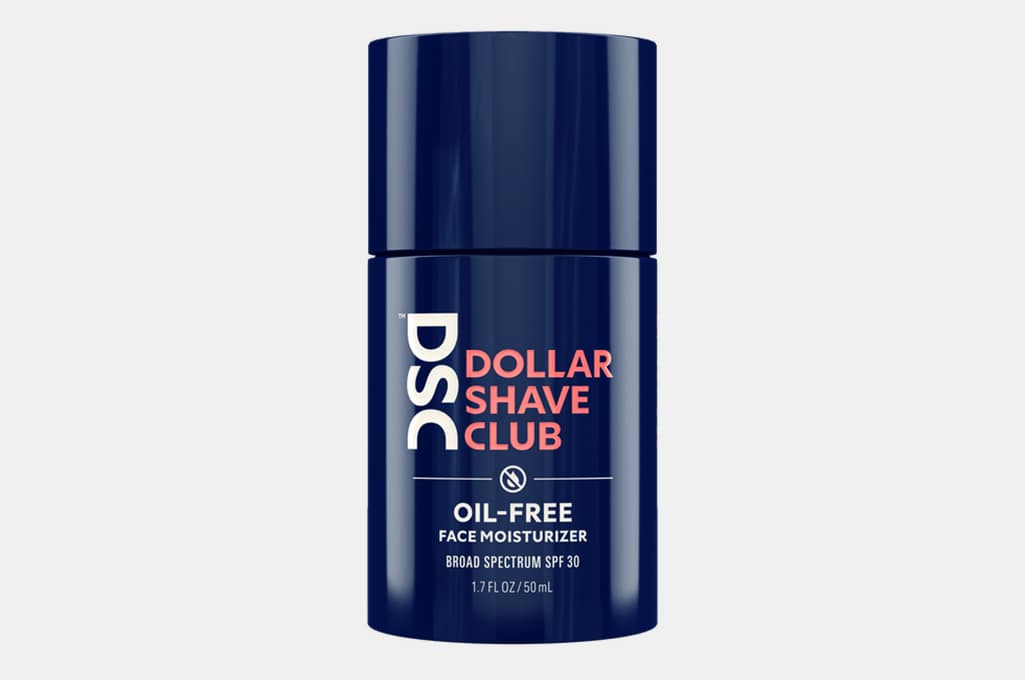 Dollar Shave Club Oil-Free Face Moisturizer
Oil-Free & Non-Greasy
Oh, Dollar Shave Club — you've made so many men's morning routines easier, more pleasurable, and more affordable with your budget-priced razor subscription service. We love the club for that reason, but their oil-free moisturizer gives us another reason for affection. Oil free, non-greasy, and scented with a light herbal note, it's also packing 30 SPF sun protection. Truly a versatile all-rounder for facial care.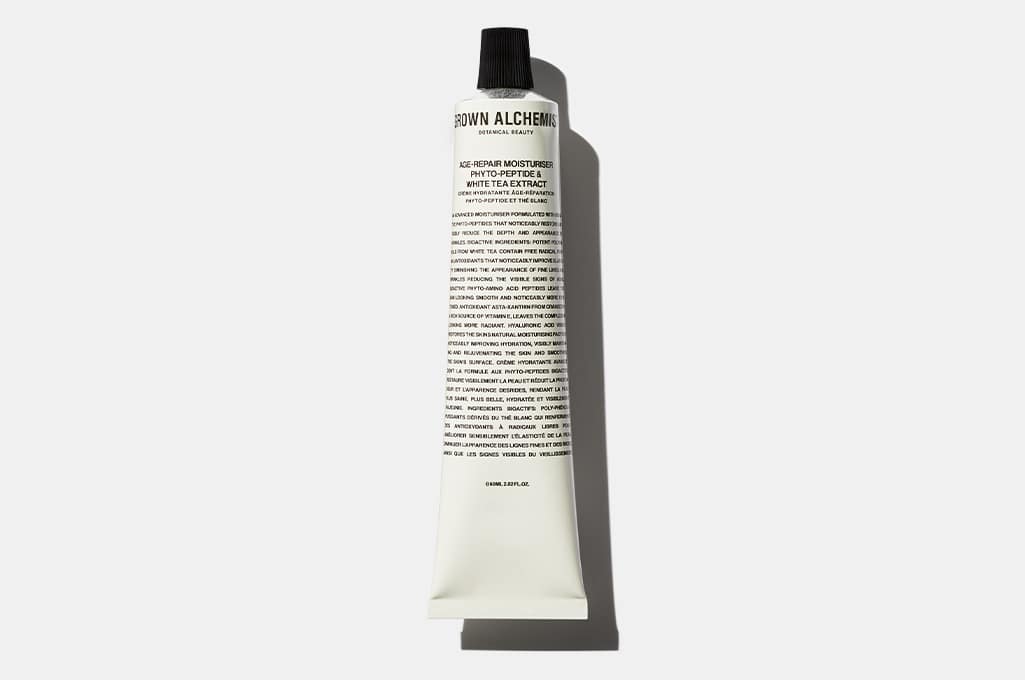 Grown Alchemist Age-Repair Face Moisturizer
Visibly Reduce The Appearance of Wrinkles
Two things set the Grown Alchemist Age-Repair Moisturizer apart from its competitors: White tea extract, and bioactive phyto-peptides. In the case of the former, white tea has strong antioxidant properties that help to heal wrinkles and sun damage. And the phyto-peptides? In combination with Vitamin E, they work their magic to tone and firm your skin, leading to a gloriously youthful appearance over time.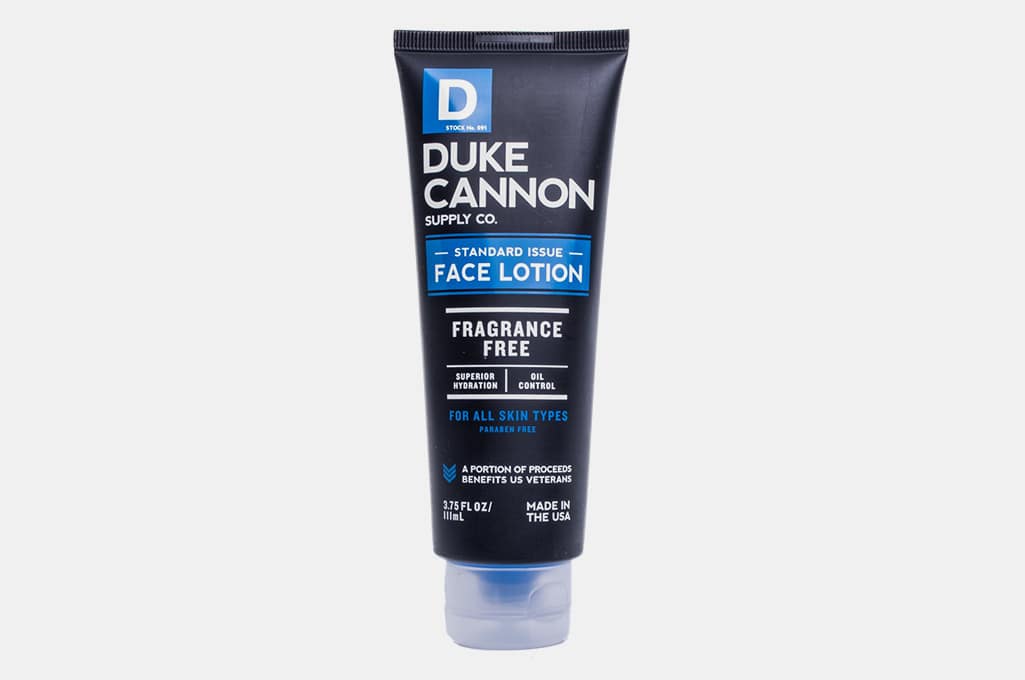 Duke Cannon Standard Issue Face Lotion
Best Face Moisturizer For Everyday Use
Smooth, lightweight, and fragrance-free, Duke Cannon's Standard Issue Face Lotion is a no-nonsense solution to skin care for guys who don't want to mess around with exotic creams and ointments. The apricot kernel extract helps it both to absorb quickly and provide a matte finish, reducing shine while balancing your face's oil regulation. Better yet, it comes at a great value that makes it a fine choice for everyday use.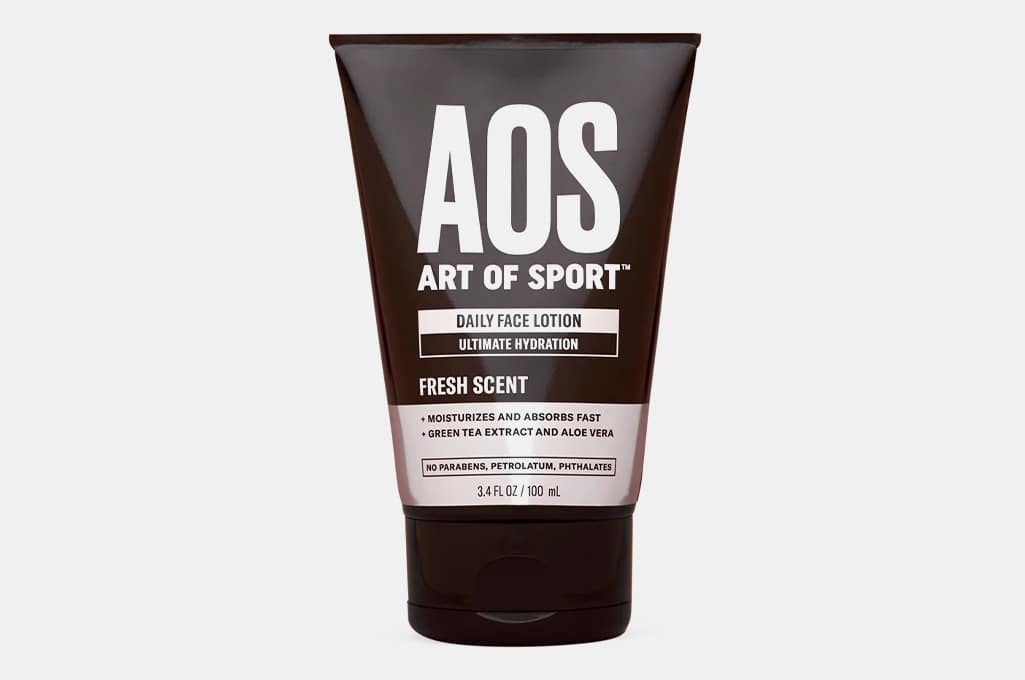 Art Of Sport Daily Face Moisturizer
Energizing & Invigorating
Designed with the sporty guy in mind, Art of Sport's Daily Face Lotion is a four-part skin care solution that will work wonders on your face. Green tea extract is energizing and invigorating, helping to firm your skin tone, while aloe vera and shea butter combine to deeply nourish and rehydrate your skin. Top that off with Vitamin E for antioxidants, and it's a full-spectrum face lotion that's great to apply any time of day.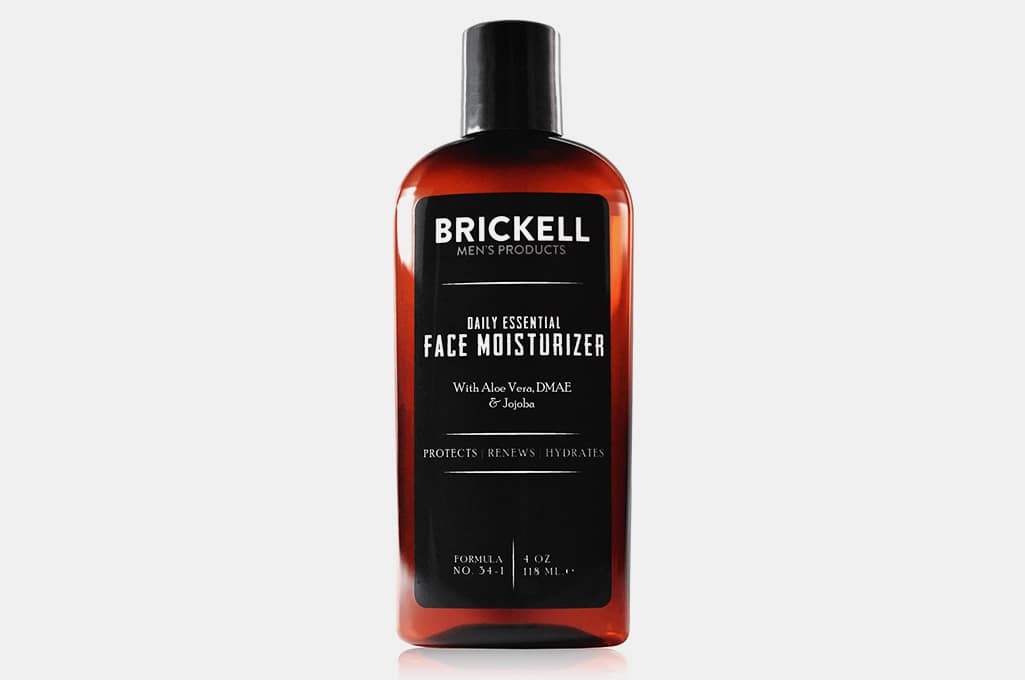 Brickell Men's Daily Essential Face Moisturizer for Men
Lightweight & All-Natural
An exceptionally light moisturizer that absorbs quickly and leaves no oily residue, Brickell Men's Daily Essential Face Moisturizer is an all-natural skin care product that can be ordered in scented or unscented varieties. Though it's wonderful to use on its own, it really shines when combined with Brickell's full face care routine, including a face scrub and face wash. Suitable for men of all skin types.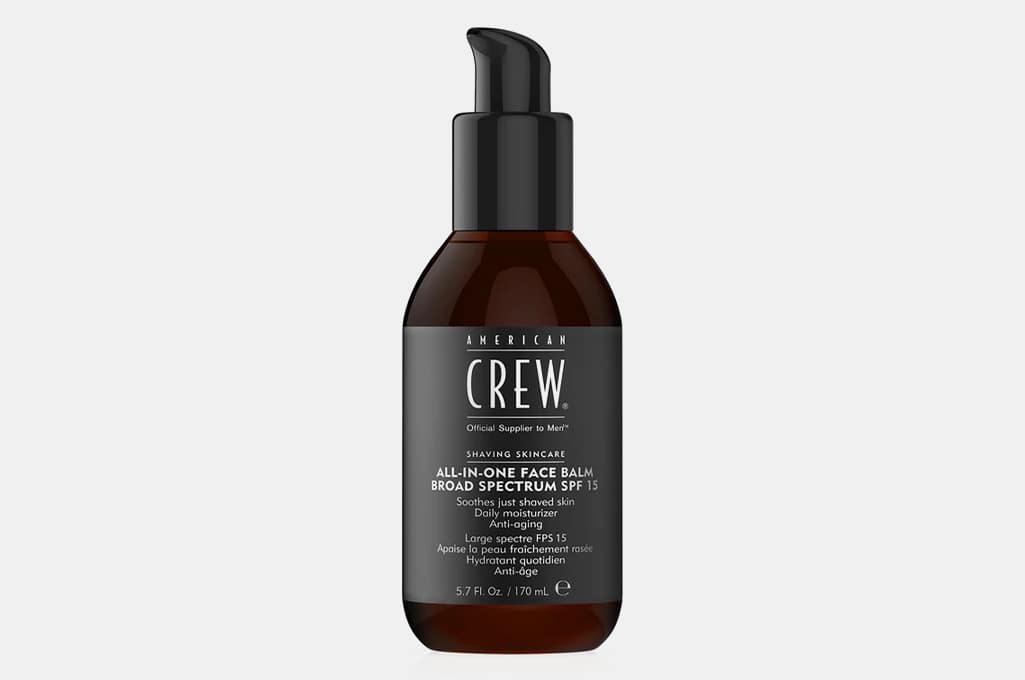 American Crew All-In-One Face Balm SPF 15
A Quick-Acting Face Moisturizer For Sensitive Skin
If we could only choose one moisturizer to use after shaving, it would be American Crew's All-In-One Face Balm. The combination of bisabolol for soothing just-shaved skin and keratoline for preventing ingrown hairs makes it a fast-acting serum that's ideal for men with sensitive skin. If you regularly experience redness or itching within a day or so after shaving, consider picking up a bottle to add to your morning routine.
Disclosure: Clicking on these links and making a purchase may earn us a small referral fee, at no extra cost to you. Learn more here.
freestar.config.enabled_slots.push({ placementName: "gearmoose_leaderboard_btf", slotId: "gearmoose_leaderboard_btf" });