There's no wrong time of year for a grocery store beer. That's why they're so great. Don't know what a grocery store beer is? Well, it's not so much a style like a lager, pilsner, stout, or IPA. It's more of a broad set of standard beers that fit three specific criteria (mostly). For one, they're available everywhere from your local grocery store, supermarket, beer store, or wherever you buy beer in your area. Number two, they're usually reasonably inexpensive (although that's not a guarantee).
Lastly, they're the types of beers you would feel comfortable drinking all year long. We're talking about beer that drinks well at a mid-summer backyard barbecue, a winter soiree, or even a fall evening spent bundled up, watching the leaves slowly fall to the ground. In the simplest terms: you can get them anywhere and they're always perfect for any occasion.
And while there are specific beer styles well-suited for specific seasons, grocery store beers are like the Swiss Army knife of beers. Even though they run the gamut of beer styles from stout to adjunct lager, they're well-suited for any impromptu social gathering or just an evening with friends spent binge-watching 'Stranger Things' on Netflix.
There's no more aptly named beer than the classic grocery store beer. From OG craft beers like Sierra Nevada Pale Ale to dry-hopped bangers like Firestone Walker Pivo Pils, and even the iconic Guinness Stout, the grocery store beer has an important place in the brewing landscape. It's a respite from the over-the-top difficult-to-find $25 for a four-pack craft milkshake IPAs of the world. The best part? It's always there. Keep scrolling to see ten of the best grocery store beers.
Sierra Nevada Pale Ale
Back in 1980, Sierra Nevada changed the American beer landscape with the introduction of Sierra Nevada Pale Ale. This beer, which featured liberal use of Cascade hops, not only ushered in a new era of pale ales but the IPAs that follow it as well. It's well-known for its caramel malt backbone, citrus, and floral, slightly bitter, hoppy finish. There's a reason it has stood the test of time. It's just a great, well-balanced beer.
Origin: California
ABV: 5.6%
Price Range: $10.99-11.99 for a six-pack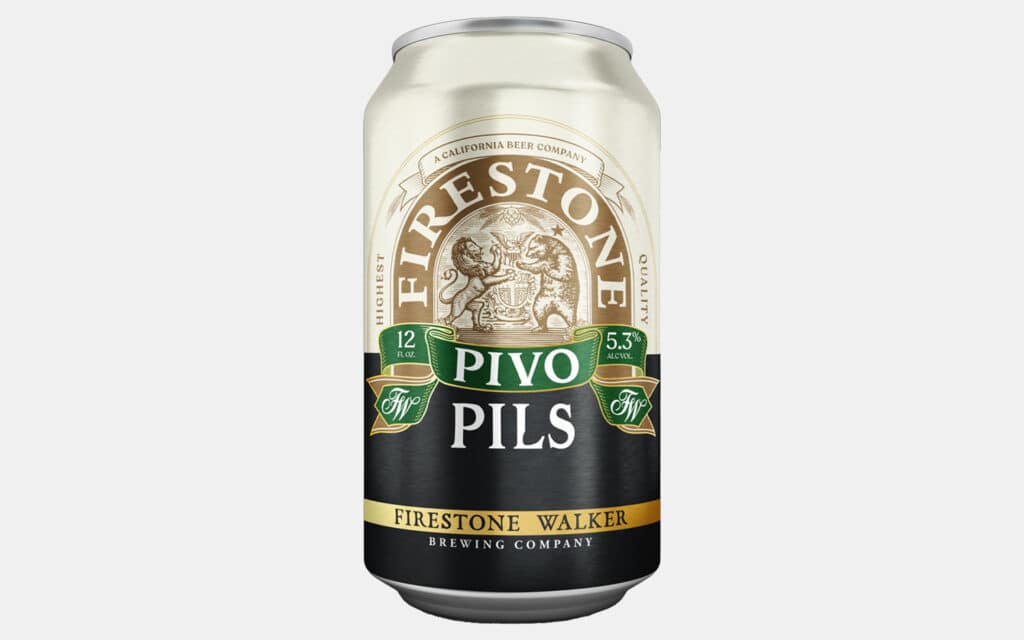 Firestone Walker Pivo Pils
One of the most popular pilsners on the market, Firestone Walkers Pivo Pils is one of the most beloved pilsners on the market. The best part? It's available almost everywhere. Hopped in the kettle with Spalter Select, Tradition, and Saphir hops before being dry-hopped with even more Saphir hops, it's known for its crisp, thirst-quenching, a subtly bitter flavor profile that leaves you craving more.
Origin: California
ABV: 5.3%
Price Range: $10.99-12.99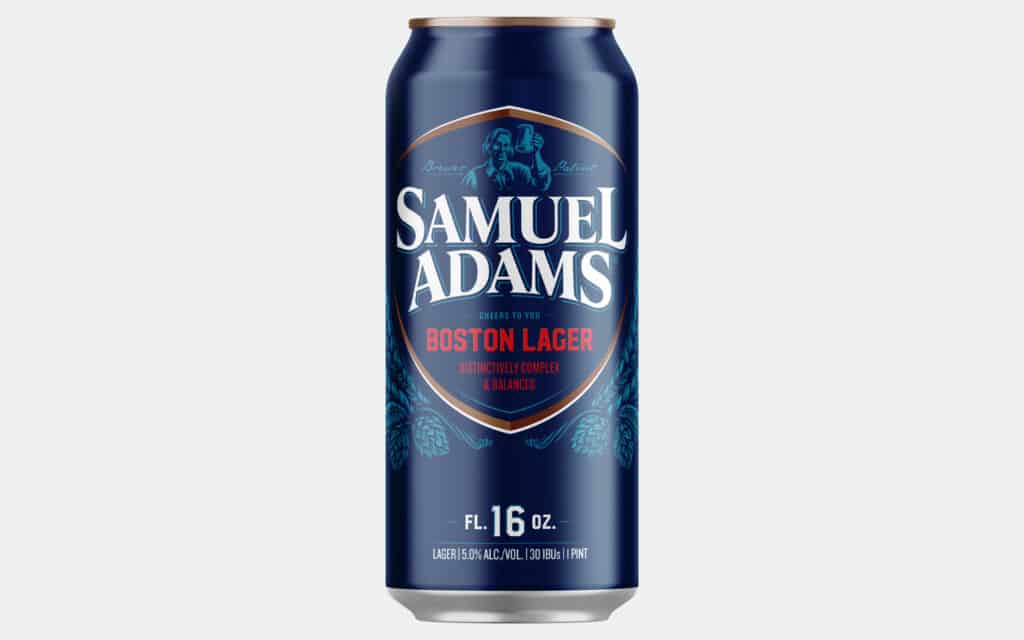 Samuel Adams Boston Lager
Like Sierra Nevada Pale Ale, Samuel Adams Boston Lager's genesis can be traced back to the 1980s. Originally brewed in founder Jim Koch's kitchen, it's brewed with a combination of malts as well as Hallertau Mittelfrüh and Tettnang Tettnanger Noble Hops sourced from Bavaria. It's a malty, slightly spicy, floral, subtly hoppy beer that pays homage to the European brewers that came before it.
Origin: Massachusetts
ABV: 4.9%
Price Range: $9.99-12.99 for a six-pack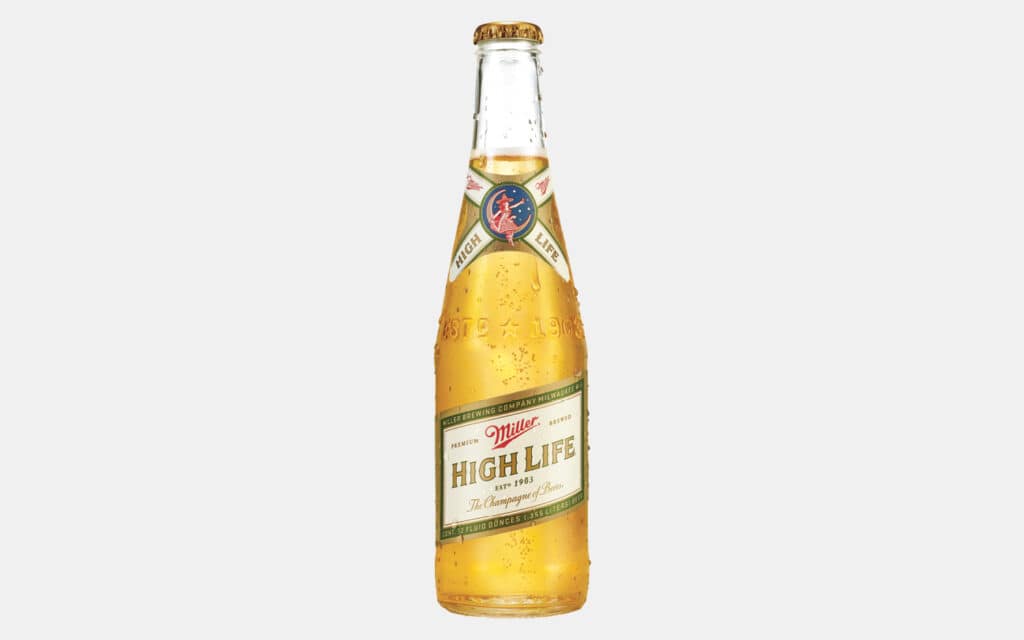 Miller High Life
There are few beers more synonymous with a grocery store than Miller High Life. This classic, clear glass bottle is filled with nostalgia. Available way longer than we've been around. It's known for its ridiculously cheap price and refreshing, thirst-quenching, crisp, crushable flavor that pairs just as well with summer yard games as it does with mid-winter get-togethers. It's a beer everybody is happy to see.
Origin: Wisconsin
ABV: 4.6%
Price Range: $6.99-8.99 for a six-pack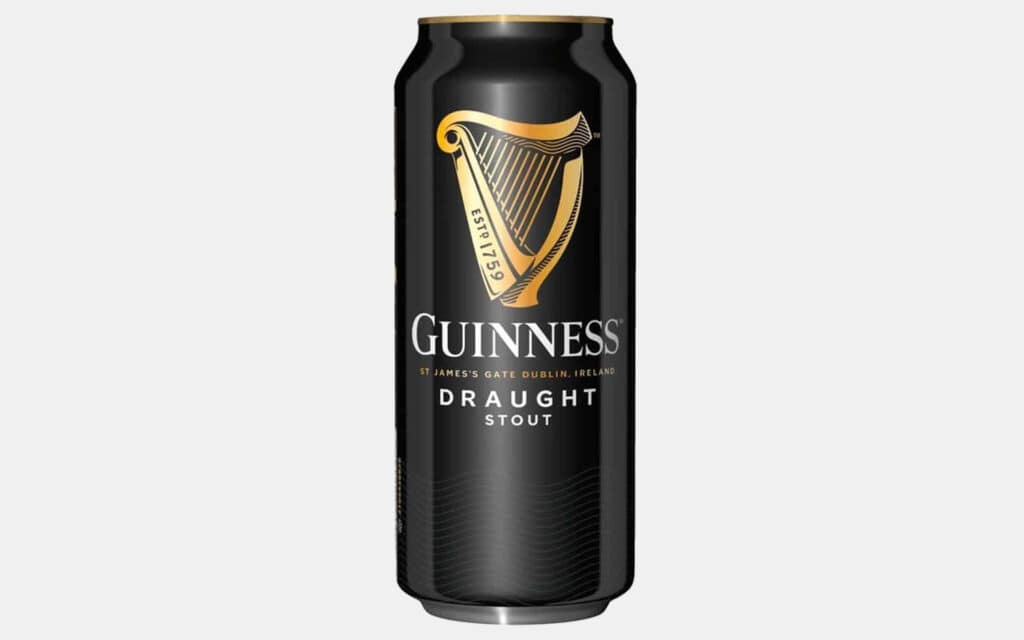 Guinness Stout
While most grocery store beers are easy-drinking lighter beers, Guinness Stout is the one dark beer we'd be remiss if we didn't add to this list. This "meal in a can" is known for its dry, roasted malt, coffee, and chocolate flavors that pair well with any occasion. While we'd prefer a pilsner or lager on a hot, humid summer day, sometimes we still opt for a flavorful, rich Guinness Stout on a summer evening.
Origin: Ireland
ABV: 4.2%
Price Range: $9.99-12.99 for a six-pack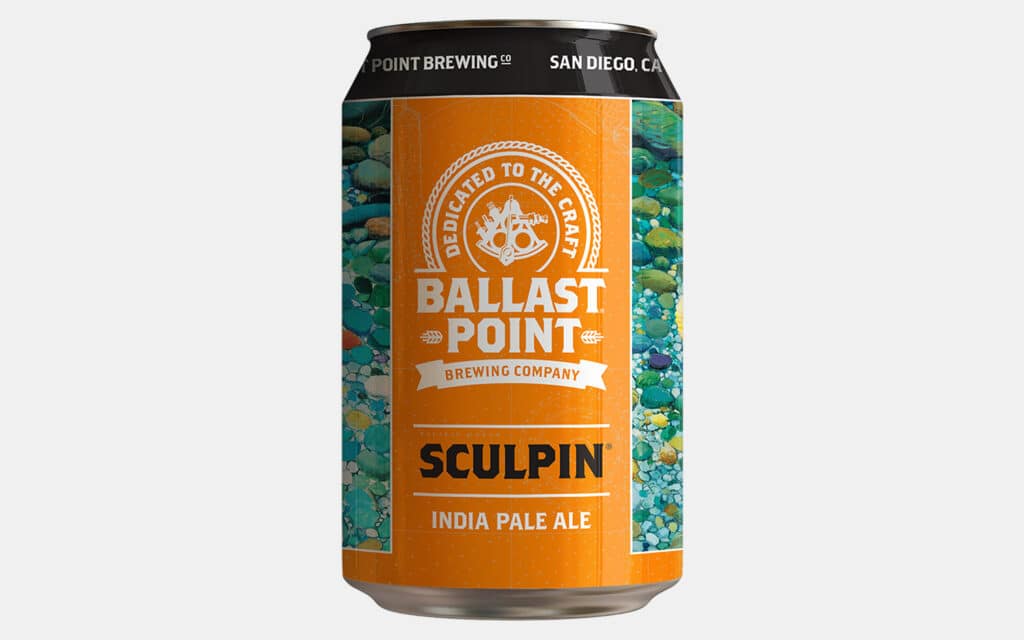 Ballast Point Sculpin
Named for the stinging Sculpin fish, Ballast Point Sculpin IPA is one of the most easy-to-find, highest-rated grocery store beers for a reason. This year-round IPA is known for its flavors of ripe peaches, grapefruit, mango, and lime zest, all melded together with piney, resinous, dank, bitter hops at the very end. When it comes to grocery store IPAs, it's very difficult to beat the appeal of a cold, refreshing Sculpin IPA.
Origin: California
ABV: 7%
Price Range: $12.99 for 14.99 for a six-pack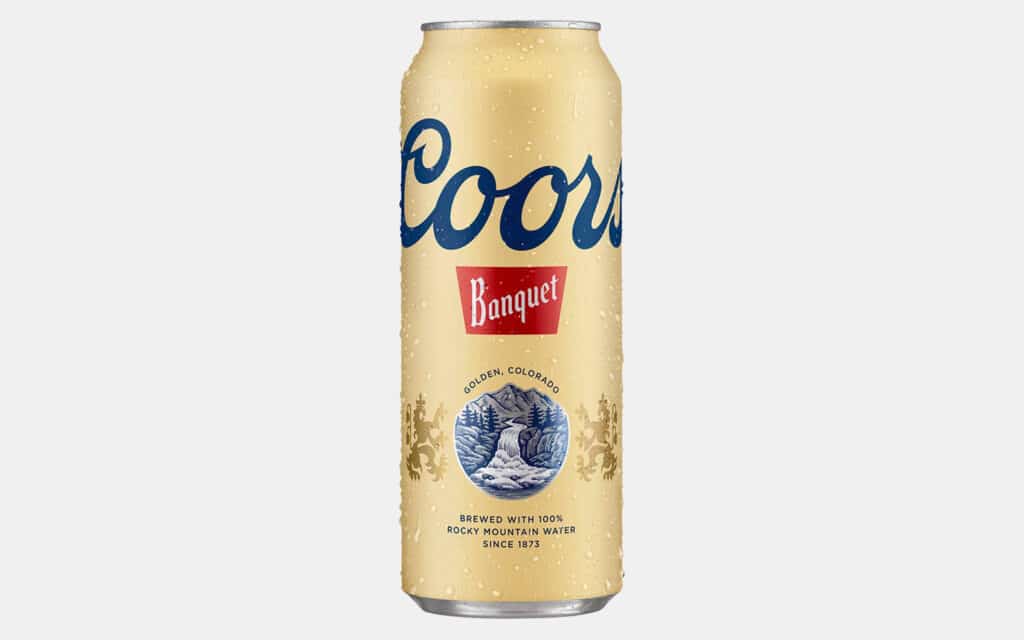 Coors Banquet Beer
Sure, we could have filled this list with nothing but macro-produced lagers, but that wouldn't showcase the wide variety of grocery store beers. That's why we picked Miller High Life and Coors Banquet. The two best, most versatile big brand lagers in our opinion. Brewed with Chinook, Hallertau, Herkules, and Taurus hops, it's known for its crisp, refreshing balance of caramel malts and piney, floral hops bitterness.
Origin: Colorado
ABV: 5%
Price Range: $6.99-8.99 for a six-pack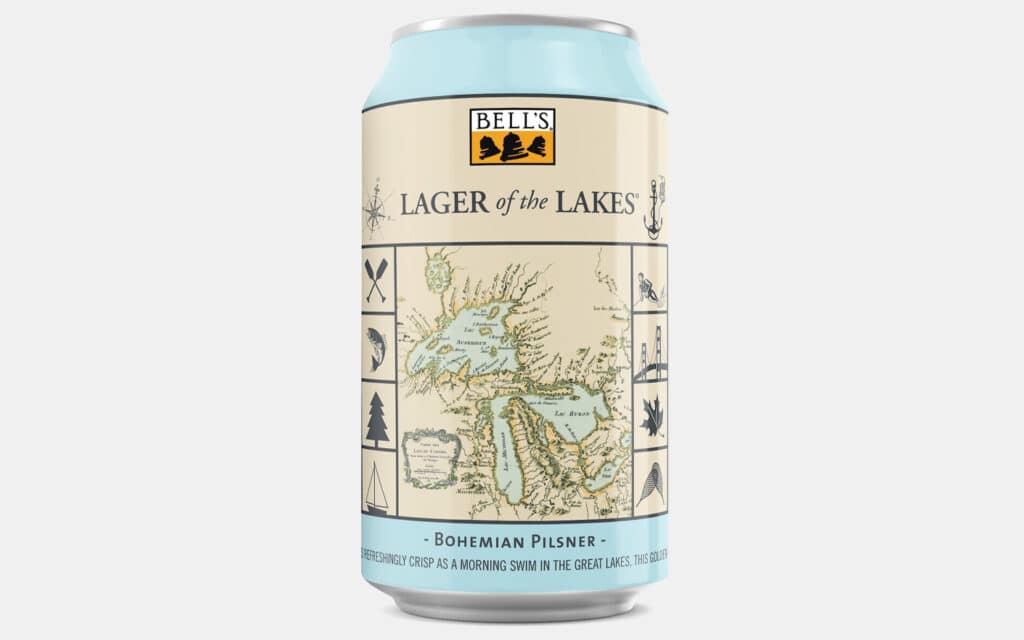 Bell's Lager of The Lakes
Bell's is one of those breweries that not only makes a slew of great beers in every style, but they're also available almost anywhere. And while we easily could have picked its iconic Two-Hearted Ale, we believe the best grocery store beer from the legendary Michigan brewery is its Lager of the Lakes. This crisp, refreshing beer is known for its mix of corn-like sweetness, wheat, ripe fruit, and a slightly bitter finish that ties everything together nicely.
Origin: Michigan
ABV: 5%
Price Range: $10.99-12.99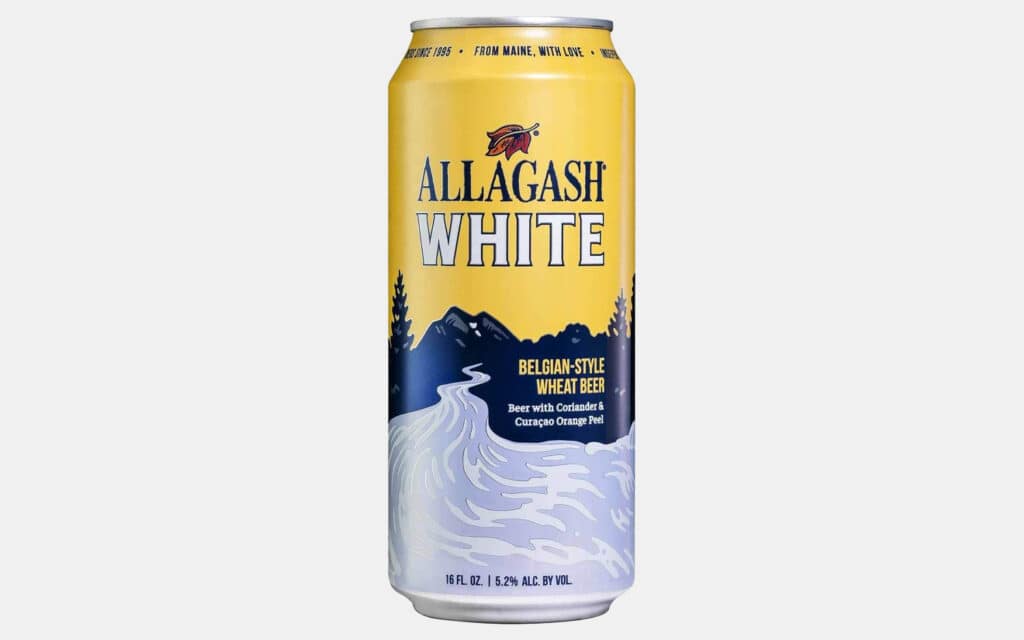 Allagash White
Allagash is a big name in the craft beer world and its most popular, highest-rated beer is its iconic Allagash White. This unfiltered, hazy Belgian-style wheat beer is brewed with malted wheat, raw wheat, and oats. It gets its spicy, memorable flavor from the addition of Curaçao orange peel and coriander.  The result is a flavorful, slightly spiced, cloudy wheat beer well-suited for drinking in the middle of the summer or the height of the winter.
Origin: Maine
ABV: 5.2%
Price Range: $9.99-12.99 for a four-pack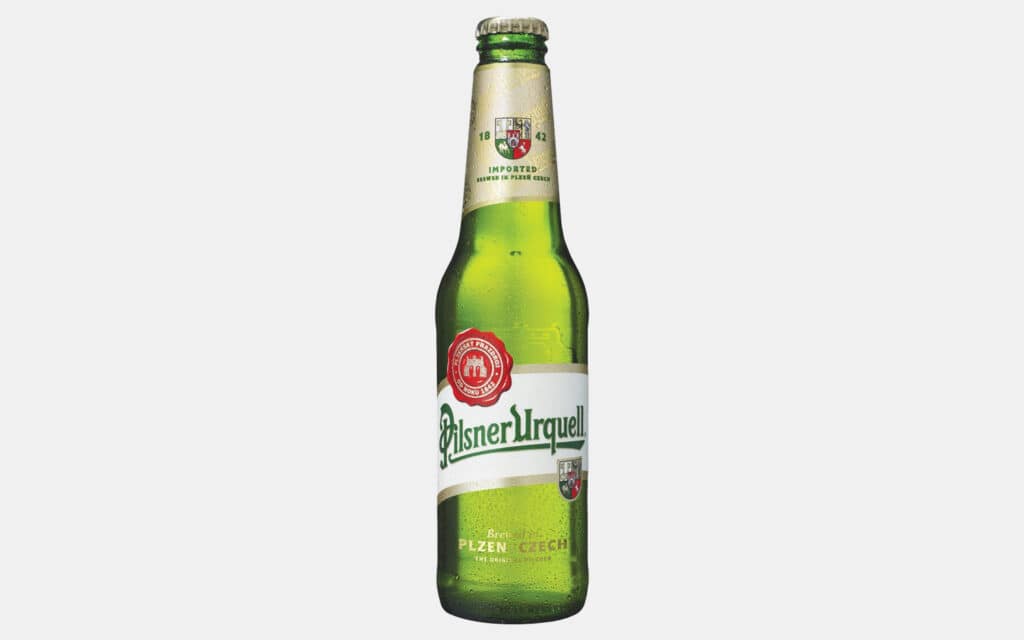 Pilsner Urquell
Not only is Pilsner Urquell surprisingly complex, cheap, and available everywhere, but it's also the beer that created the pilsner style. Every other pilsner ever made owes the brewers of this historical Czech pilsner a debt of gratitude for its creation. Know for its slightly fruity, citrusy, floral, subtly bitter, extremely refreshing flavor, it just might be the most perfect grocery store beer of all time. If you only buy one beer from this list, make it Pilsner Urquell.
Origin: Czech Republic
ABV: 4.4%
Price Range: $9.99-11.99 for a six-pack
Disclosure: Clicking on these links and making a purchase may earn us a small referral fee, at no extra cost to you. Learn more here.
freestar.config.enabled_slots.push({ placementName: "gearmoose_leaderboard_btf", slotId: "gearmoose_leaderboard_btf" });