The 12 Best Yard Games To Play This Summer
Now that the Fourth of July is squarely in our rearview mirror, summer is officially in full swing. This means that we're currently in the midst of days of seemingly never-ending sun, warm weather, and afternoons spent grilling, drinking refreshing beer, and playing yard games. We like to emphasize the latter as June through September (and even into October) is prime yard game weather.
Sure, we can just as easily stand (or more likely sit in a gravity chair) in the middle of a recently mowed lawn and drink a few sessionable, light beers on a hot summer afternoon. But it's a lot more fun to imbibe thirst-quenching, hot weather-specific beers while we toss bocce balls all over the yard, knock some croquet balls through expertly placed wickets, and play intense games of ladder toss.
But there's more to yard games than the classic games our fathers and grandfathers played. Right now there are countless, exciting, high-quality yard games available for purchase. Each is perfectly suited for a few games after work or a weekend of standing out in the sun from the early morning until dusk.
Below, you'll find twelve of our favorites. From tumbling wooden towers to corn hole, to Kan Jam, these yard games are guaranteed to draw a crowd this summer. Check them all out below, crack open your favorite beer (or hard seltzer), and spend your summer in the proverbial great outdoors.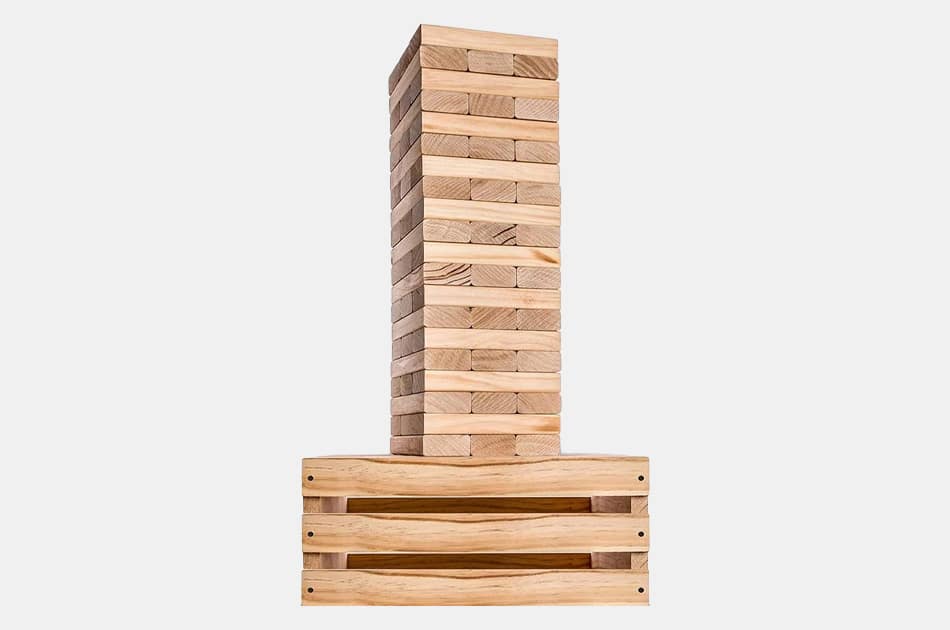 SWOOC Games Giant Tower Game
Growing up, we've all played the classic game of Jenga at least a dozen or (way) more times. As an adult, we still enjoying chanting "Jenga! Jenga! Jenga!" as our friends attempt to add just one more piece to the wobbly construction just waiting to topple over. The only thing that could possibly make this classic game better would be if it was giant and we could play it outside. That's where SWOOC Games Giant Tower Game comes in. It's just like the nostalgic game of our youths, but this version stands two and a half feet tall and is guaranteed to elicit a ton of excitement when it finally falls over.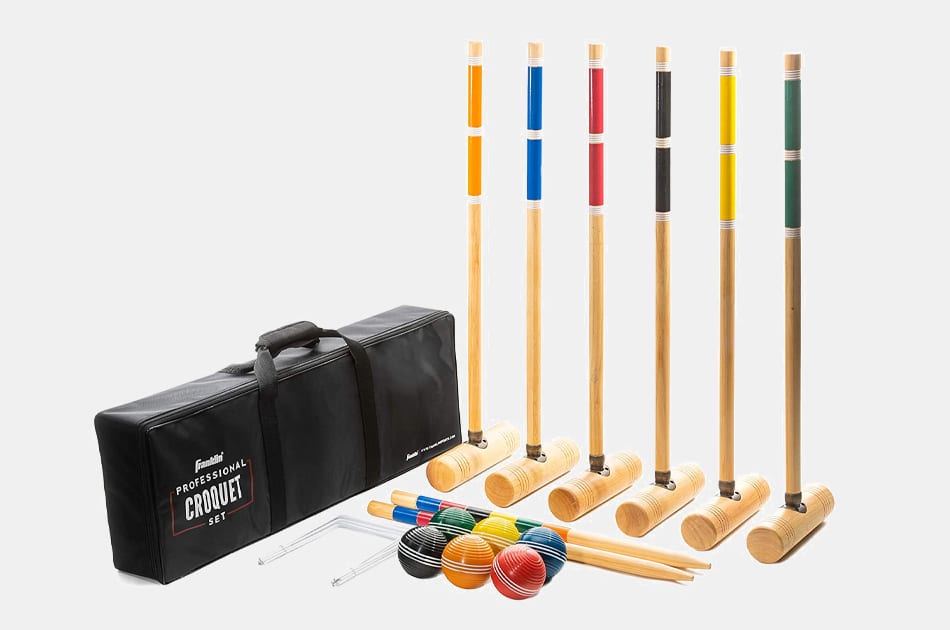 Franklin Sports Croquet Set
Croquet is a gentleman's (and gentlewoman) game. It's a slow-moving, intense game that requires focus and determination. In our opinion, it also requires a beer in one hand and the other hand holding a croquet mallet. This set is perfect for the experienced and novice croquet player alike with wooden stakes, wickets, wooden mallets and handles, and multi-colored all-weather balls for up to six players. Set it up in a tiny side yard, a grand back yard, or your mediocre front yard and enjoy hitting balls through wickets for hours while you pretend you're enjoying your free time in a bygone era.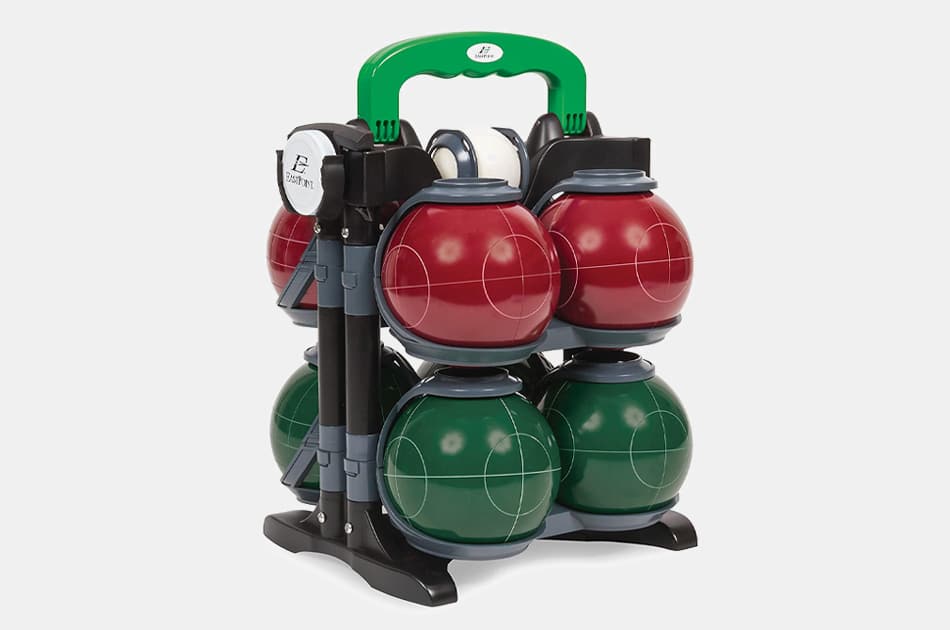 EastPoint Bocce Ball Set
Like croquet, bocce is a classic game that seems like it belongs in a different era. The best part? Unless you're playing against your uncle who has been playing this yard game since the '60s, you don't really need any skill to play it. Simply throw the pallino somewhere and then take turns attempting to throw (or roll) your balls as close to it as possible. This set includes everything you need to enjoy a wild afternoon of bocce with tournament size bocce balls, a white pallino, measuring tape (to guarantee no score errors), and a deluxe carrying case.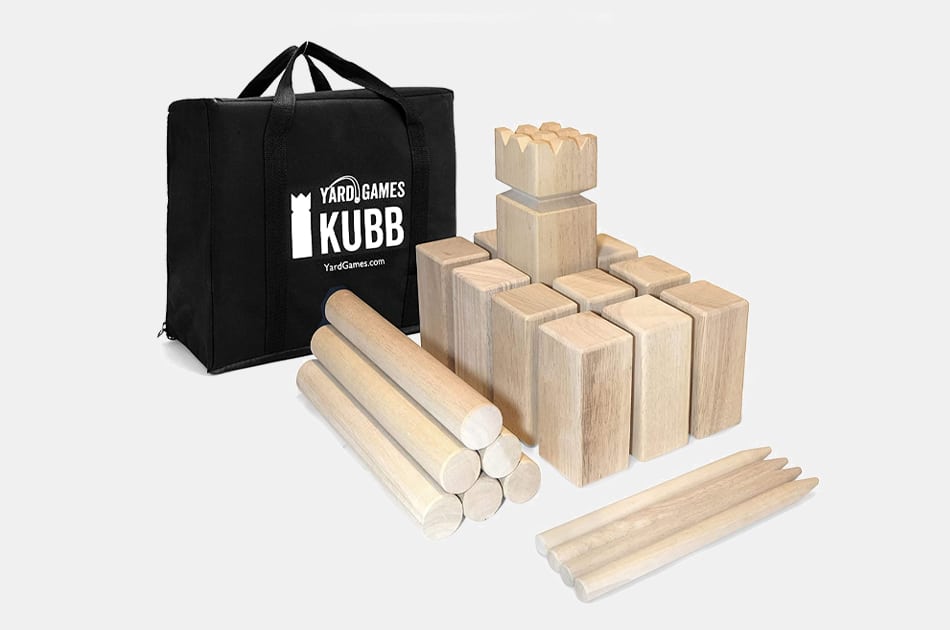 Yard Games Kubb Outdoor Tossing Game
This head-to-head yard game that was inspired by the Vikings consists of dueling teams taking turns throwing wooden sticks attempting to knock pieces of wood over (and eventually the king). It sounds simple but believe us when we tell you that it's a lot more exciting. This set includes ten Kubb blocks, six dowels, one king, and four corner stakes to mark the field. Great for any age and skill level, this action-packed game is sure to crank your next barbecue up to 11.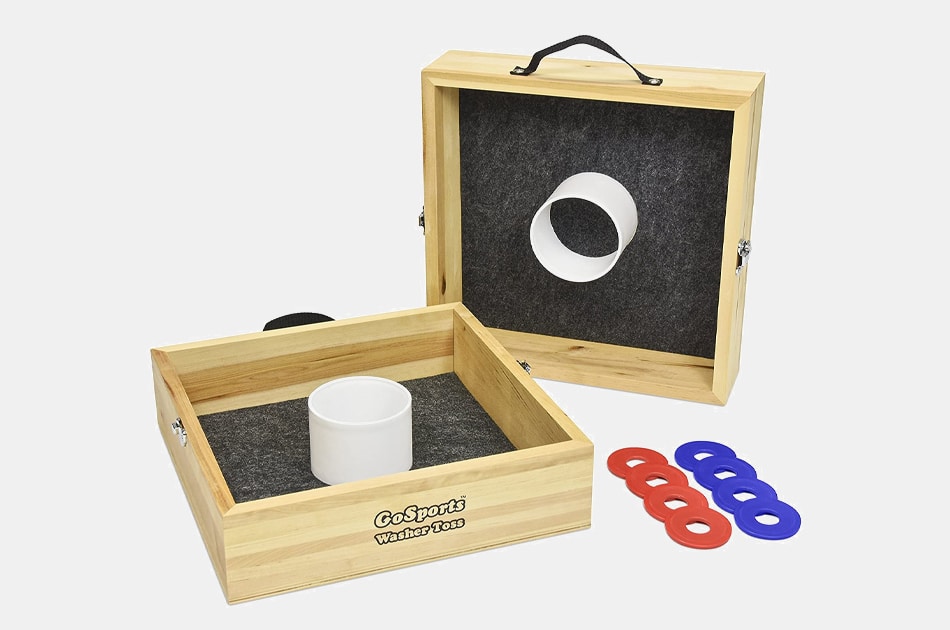 GoSports Premium Birch Wood Washer Toss Game
Washers Toss is one of the simplest, most addictive, enraging, and satisfying yard games ever created, and just writing about it makes us want to go play it right now. To play, you simply take turns throwing washers into the play area hoping to either land on the outside or the inside of the white tube in the center. If you land anywhere on the target board, you get one point. Inside the white tube nets you three points. Anywhere else is zero. This set includes everything you need to play, including two targets, eight washers (four in each color). It's made from premium birch wood to be both stylish and durable.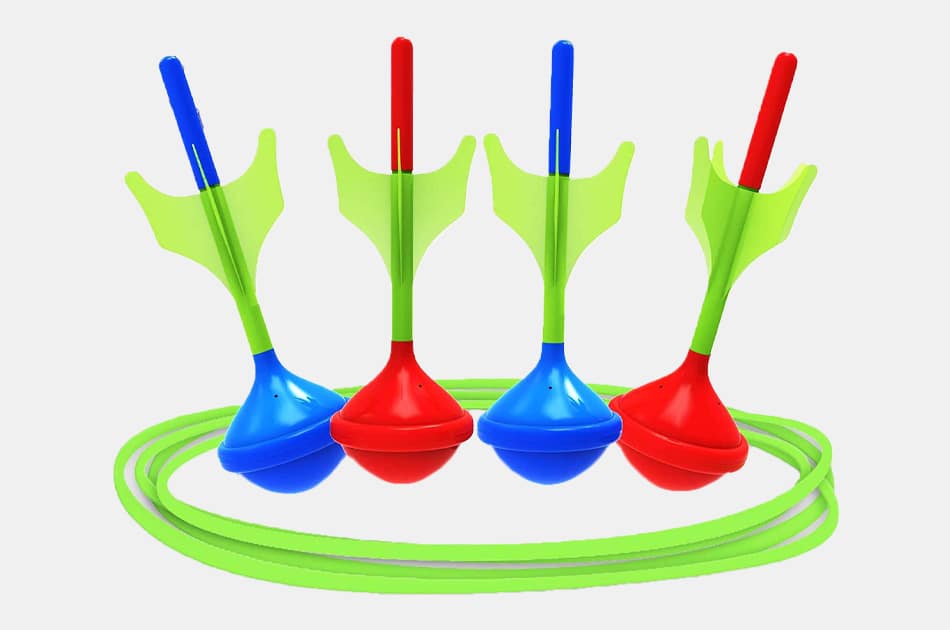 NomNom Glow In The Dark Lawn Darts
When we were kids, lawn darts were literal darts. They were sharp, dangerous, and extremely fun when played using common sense. Since they're sharp and potentially deadly, they don't make that version anymore. Luckily, in 2021 you can have an experience just as fun because NomNom makes a glow-in-the-dark version with darts that, instead of brutal, sharp points, have round, weighted ends. The set includes four soft tip (glow in the dark) darts, four (glow in the dark) target rings, and a drawstring carrying bag so you can play pretty much anywhere you're allowed to throw weighted darts willy nilly.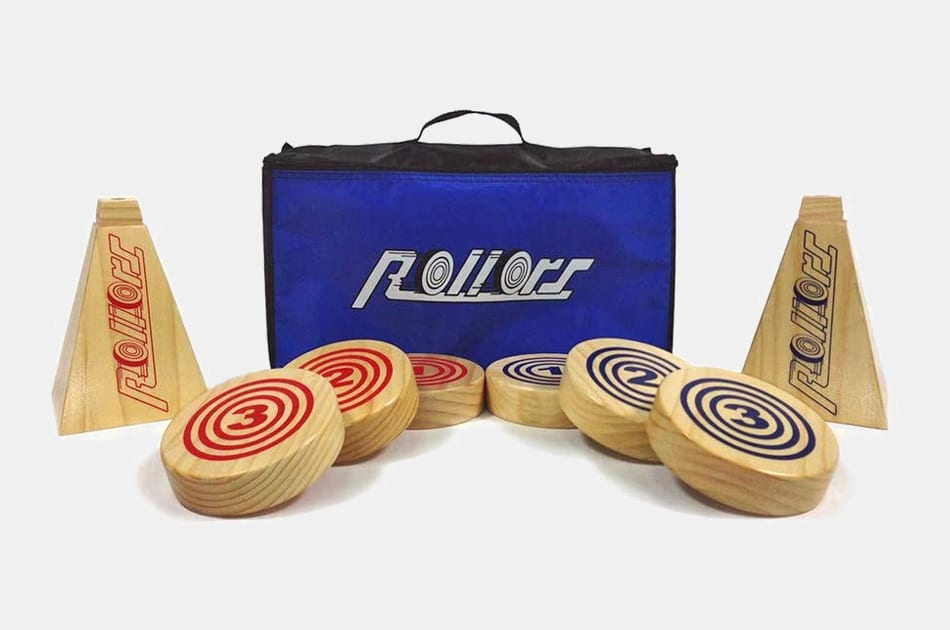 Rollors Backyard Game
If you enjoy bowling, bocce, or horseshoes, Rollors is the yard game for you. To play, you simply place the red and blue goals 25 feet apart from each other on a lawn. Players select one color to use (red or blue). The blue player stands behind the red goal and rolls his rollors (one at a time) on their side toward his or her opponent's goal. The red player does the same once the blue player is finished rolling. Only the player closest to the goal gets points. If they land on their side, they get the point value of the number that shows, if it stops on the edge you add up both sides, and if it rests against the goal the number shown is doubled.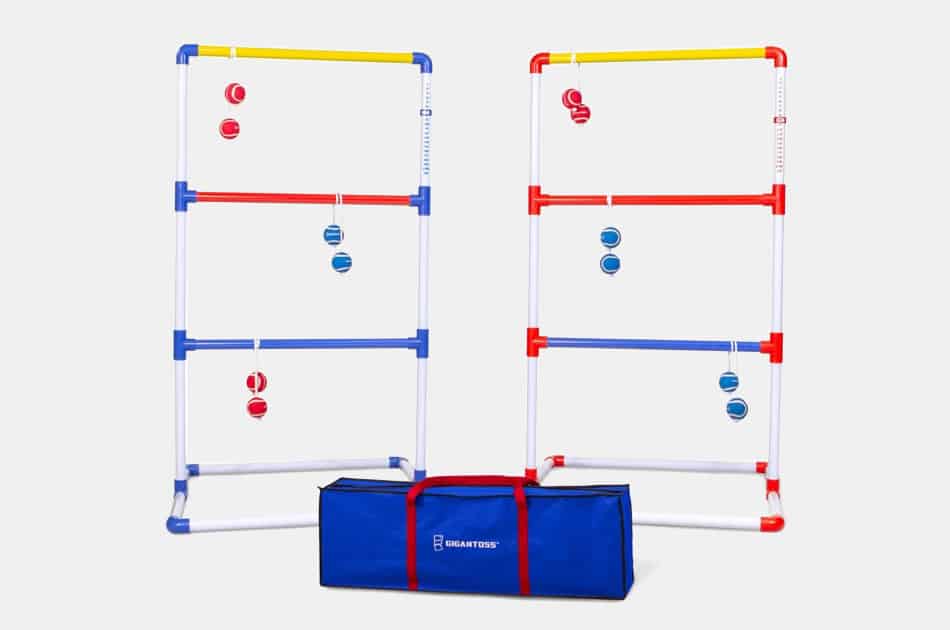 GoSports Ladder Toss
In our opinion, there's no better yard game than ladder toss (or ladder ball depending on where you live). It's a fairly easy game consisting of two targets that literally look like ladders. They're made of multi-colored PVC pipes and have three different levels. You throw rubber bolos in an effort to get them to wrap around the pipes. The lowest level is one point, the second level is two points, and the top shelf is three points. This set includes two target ladders with score trackers, six rubber bolos, a carrying case, and rules.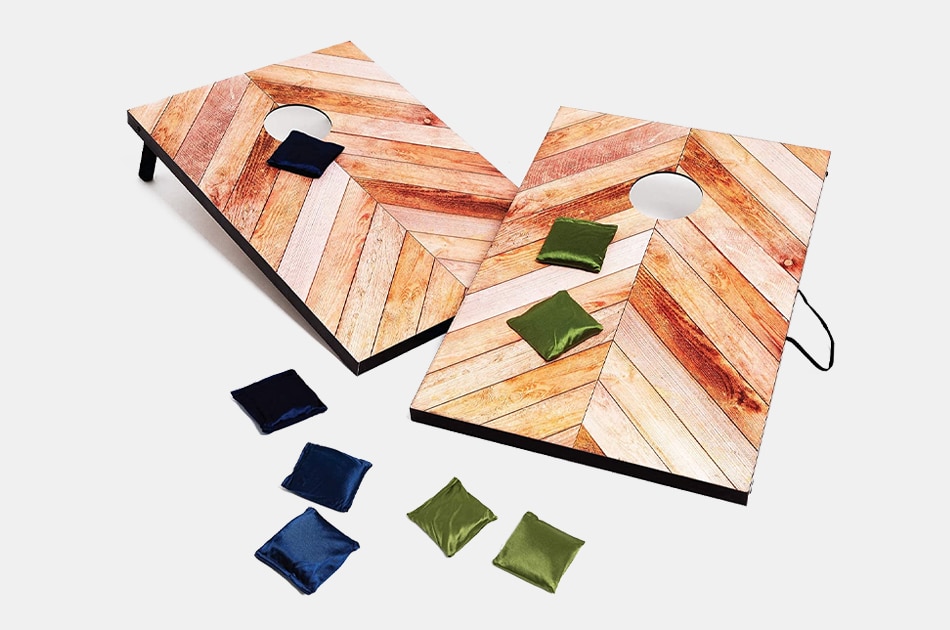 Hammer + Axe Corn Hole
If ladder toss is the best yard game, corn hole is a close second. Also, the best tailgate game by far, the game consists of two (usually wooden) corn hole boards placed on opposite ends of a yard (around 15 feet apart). Players stand next to one board and throw bean bags towards the other one. Landing on the board nets a player one point, going through the hole gives them three. This particular set includes two finished wood boards, eight bean bags (four green and four blue), and a carrying bag for the bean bags.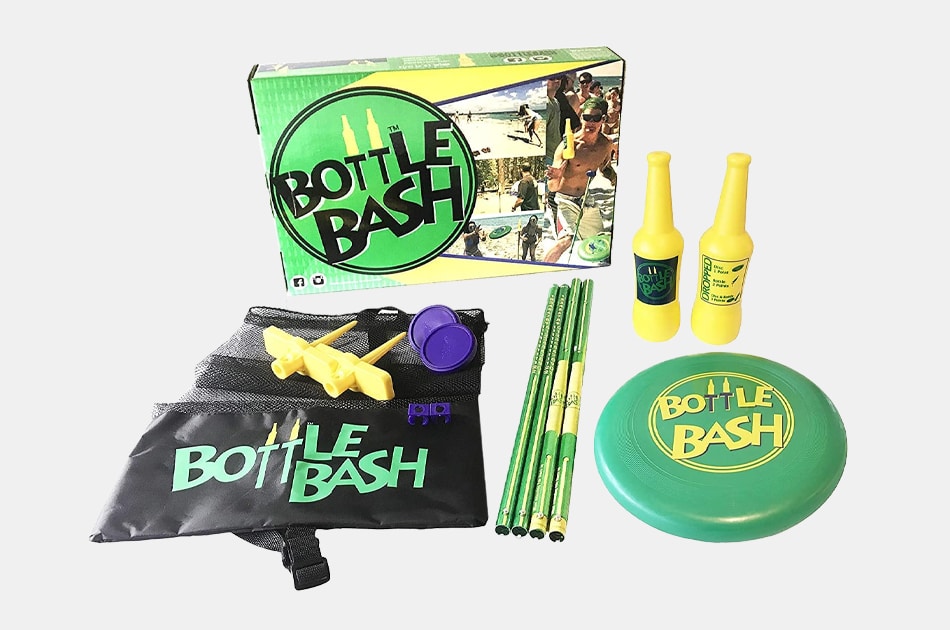 Bottle Bash
Bottle Bash is a great, action-packed backyard game. The best part? Unlike some of the other games on this list, it's incredibly simple to play. You simply throw a frisbee in an attempt to knock a plastic bottle (not glass so it won't shatter and ruin the fun) off a pole. There are more rules, but that's the gist. This set includes two poles, a frisbee, two plastic bottles, and a carrying bag. It's easy to set up and is just as fun during a day at the beach or in your backyard while you wait for your burgers to cook.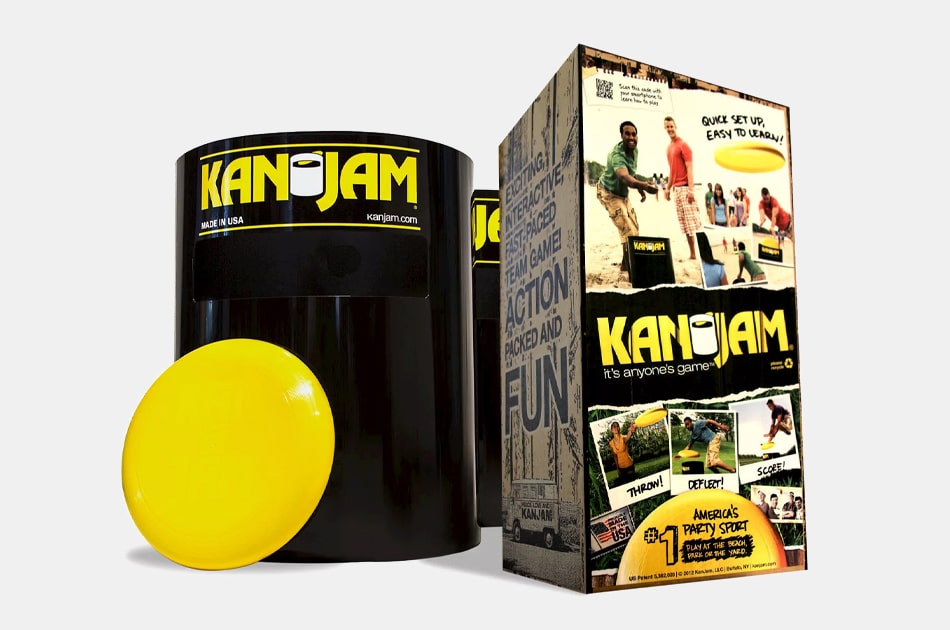 Kan Jam Original Disc Toss
When we were younger, we spent whole afternoons playing epic Kan Jam games. As we get older, these types of days are getting fewer and far between. But, whenever possible we still take turns throwing and trying to deflect a yellow disc (pretty much just a frisbee) into what looks sort of like a garbage can. It's easy, fun, and can really draw a crowd. The only problem is that you can't really drink a beer while playing due to the strong probability that a frisbee will be smashed into it, resulting in a foamy nightmare.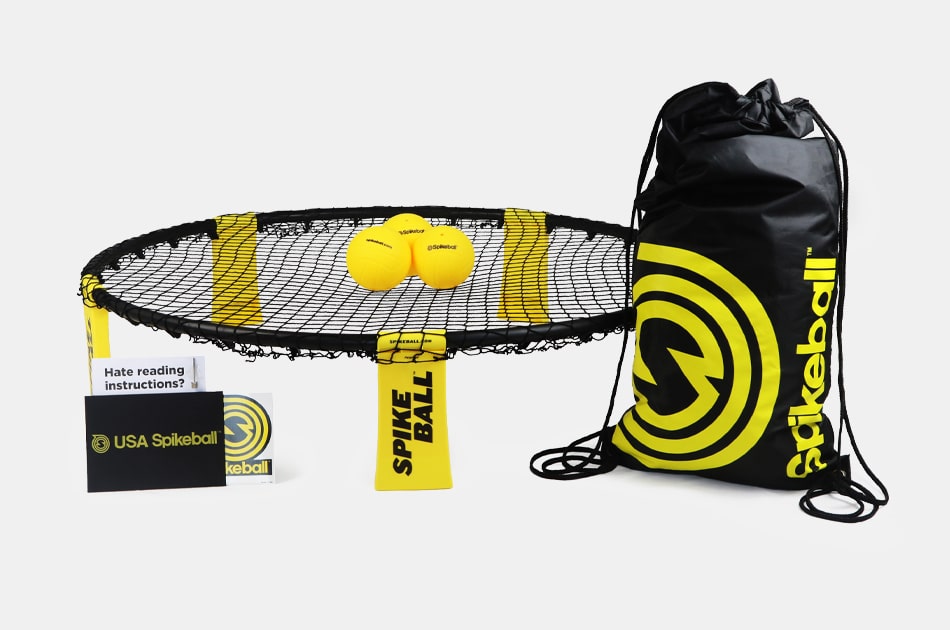 Spikeball
If you've ever spent any time volleying balls back and forth on a beach or in your yard, you'll enjoy the hard-hitting, intense action of Spikeball. This game consists of players taking turns literally slamming a ball into a mini trampoline-like net. That's pretty much it. It gets pretty heated when players start to get better at keeping the action going. This set includes everything you need for a day of action, including one Spikeball net, four competition size balls, a rule book, and travel carrying bag.
Disclosure: Clicking on these links and making a purchase may earn us a small referral fee, at no extra cost to you. Learn more here.
freestar.config.enabled_slots.push({ placementName: "gearmoose_leaderboard_btf", slotId: "gearmoose_leaderboard_btf" });