15 Best Instant Coffee Brands
Used to be instant coffee was for dire situations. Those times when nothing else was going to get you caffeinated, so you might as well choke down boiling burnt black chalk water and be done with it. But there's a renaissance of sorts going on, instant coffee is now concerned with taste and origin, using better beans and proper brewing methods. We sought out fifteen of the best instant coffee brands that are making the rounds today to help you get acquainted with this new, fast but good coffee landscape.
And while a cup of instant isn't going to match that pour over from your professional barista, what you have to choose from now is a far cry from Sanka. Most of the brands on our list are opting for Arabica beans — some of them single-origin, organic, and/or fair trade. Many of these instant coffee brands are ditching the heated spray drying method and using the more expensive freeze drying process to dehydrate their java, resulting in a better tasting, better smelling cup of on-the-spot joe.
Instant coffee is what you need when backpacking, mountaineering, fishing, studying, but it might — just might — be what you actually want when time is of the essence. Check out our list of the best instant coffee brands and pick your favorite. Soon you'll be on your way to a cup of go juice. Right. Now.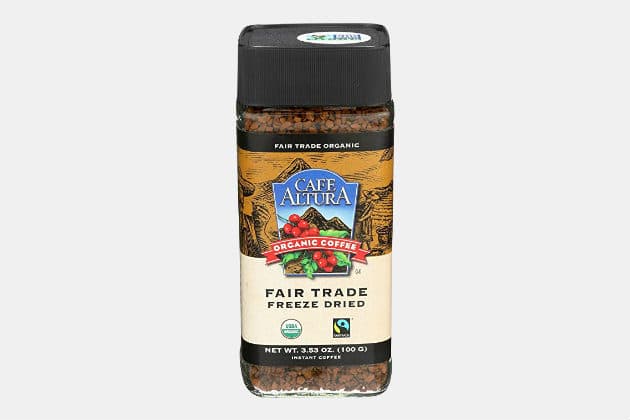 Cafe Altura Organic Freeze Dried Instant Coffee
The biggest gripe about instant coffee is taste. Of the two beans used for coffee, the easier-to-grow and cheaper bean is robusta. It's got more caffeine, but that means it's more bitter. Plus it tends to carry notes of burnt rubber and peanuts. But many manufacturers pushing mix-n-go cups o'joe figure you don't care about the taste, you just want coffee pronto. So here's a brand that uses 100% Arabica beans. The softer, fruitier, less tire-y flavored beans. Cafe Altura Instant is also organic, fair trade, and freeze dried by a company that's been roasting coffee for nearly forty years. – Shop Now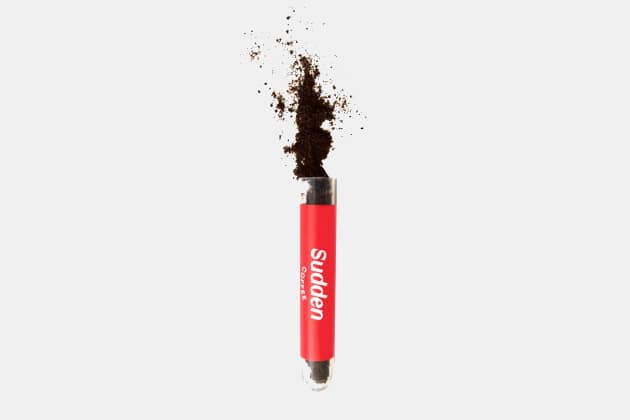 Sudden Coffee
For many coffee enterprises, instant is a side business, a companion offering to their main gig: the whole and the ground bean. Sudden Coffee however, is serious about the right-now java. Sold by the single-serve, compostable tube (or a pouch if you must). Sudden Coffee uses single-origin Arabica beans, roasted by a respected roaster which is gently brewed by Sudden to maintain complexity and flavor, before it's small-batch freeze dried. Go for an eight-cup pack or a forty-eight-cup box. Or do a quarterly subscription, however you like it — especially if you like it right now. – Shop Now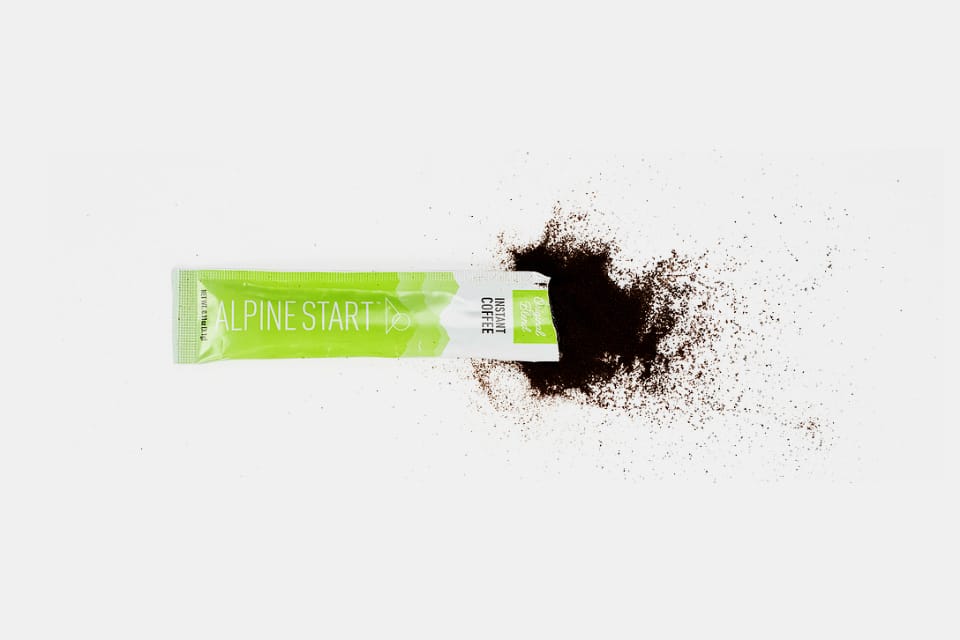 Alpine Start Instant Coffee
If you like your coffee more badass than (or equally badass as) you, Alpine Start might be your new instant. Alpine Start is a term used by mountain climbers to mean getting up early (early as midnight) and starting a climb before the sun rises and increases the chance of rockfall. Developed by a climber who wasn't a fan of crappy instant coffees, this one uses all Arabica Colombian beans and comes in single-serve packets of three different flavors — original, Coconut Creamer Latte, or Dirty Chai with spices, black tea, and soy milk. – Shop Now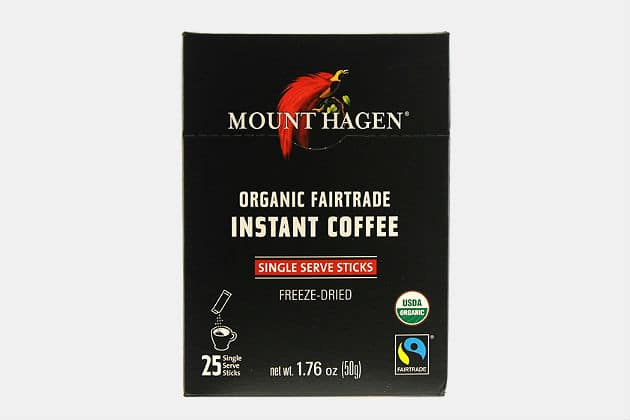 Mount Hagen Organic Single Serve
These guys know coffee (just check out their growing coffee encyclopedia). A German company committed to producing coffee with respect since 1986, Mount Hagen makes an instant coffee that is all the things most instant coffee is not: organic, fair trade, single-origin, hand-picked Arabica beans that are shade-grown by Highland Organic Agriculture Cooperative in Purosa, Papua New Guinea. The beans are shipped to Mount Hagen's headquarters in Hamburg, Germany where they're roasted and gently processed into one of the better instants around. – Shop Now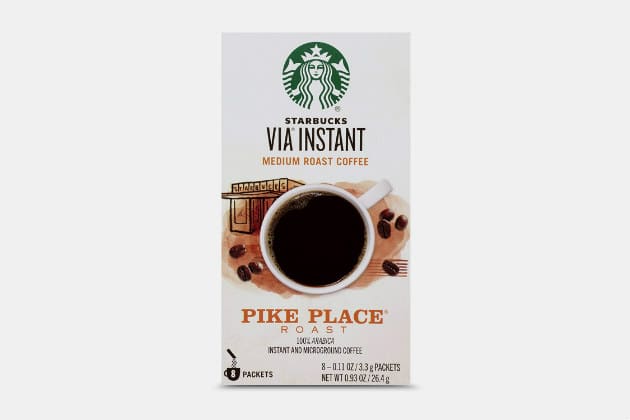 Starbucks VIA Instant Coffee
You can't make a best-of-coffee list without at least mentioning Starbucks. With $22 billion in revenue in 2017, the coffee giant must be doing something right. Right? Their player in the instant game is VIA and offers the most iterations of any brand on our list — blonde, medium and dark roasts, iced coffee, green coffee strawberry lemonade, white chocolate mocha latte and, because: fall, Pumpkin Spice Latte. VIA is probably the easiest instant to find — at one of their 13,000 US stores, most grocery stores, or right here. – Shop Now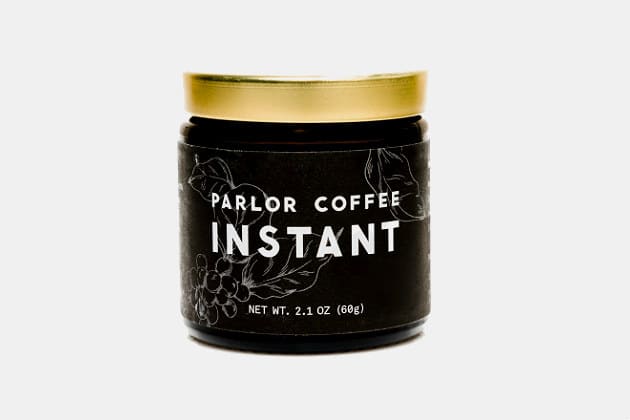 Parlor Instant Coffee
Like Sudden, (listed above) the instant coffee you get from Parlor changes up regularly. Unlike sudden, instant isn't Parlor's only focus. The Brooklyn-based roasting company aims to source and roast "coffees with character." Their instant offering is meticulously freeze dried and is currently made from a blend of beans from southern Colombia and the Puno region of Peru. The gold-on-black jar is something nice enough to keep on the counter and the dense caramel, toffee and cocoa notes add that touch of decorum that instant coffee so often lacks. – Shop Now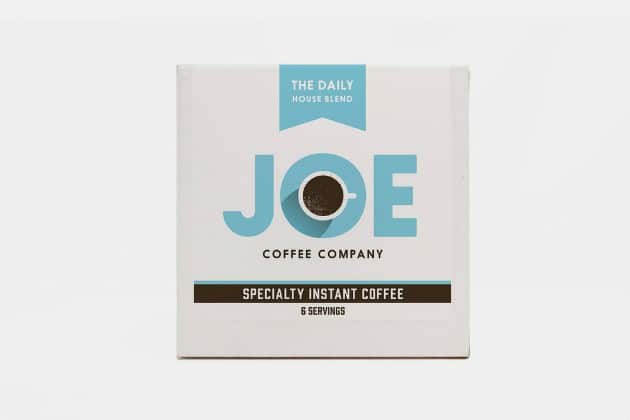 Joe Specialty Instant Coffee
Back in the early aughts, Joe began as a corner coffee shop in the West Village. Expanding to include a Red Hook roasting house and ten cafes in Manhattan, Brooklyn and Philadelphia, Joe now roasts all their own beans and have gotten themselves in on the instant coffee game. Currently on offer are two versions: The Daily, a seasonally sourced blend of Peruvian and Colombian beans, and La Familia Guarnizo, made from beans grown on six farms operated by the Guarnizo family in Huila, Colombia. If you can't make it to Joe, Joe can come to you — stat. – Shop Now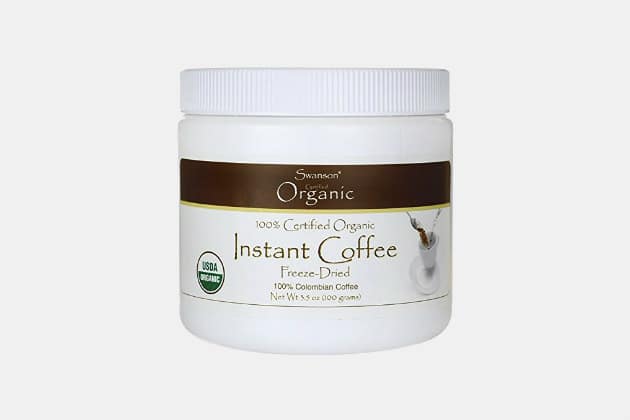 Swanson Organic Instant Coffee
A vitamin company making your instant coffee? Well, coffee is kinda like a vitamin, taken every morning, it makes you a better person — smarter, faster, stronger, happier. That's a mega-vitamin in our book. Made from 100% organic Colombian coffee beans, Swanson's instant coffee is roasted, finely ground, and freeze-dried in a way that preserves the polyphenol content — that's the stuff with the potential to help with everything from digestion to blood pressure. So drink up. It's good for you. But you knew that. – Shop Now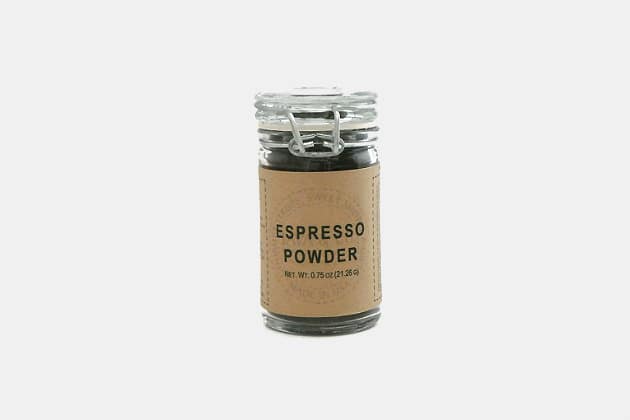 Java & Co. Espresso Powder
Even if you never backpack, never need to make coffee on the fly, and always have time in the morning for a proper drip, press or pour-over. There's still one good reason for putting instant coffee in your life: food. From steak marinades and rubs, to smoothies with a jolt, to espresso brownies, instant coffee makes many things zippy and good. JAVA and Co.'s finely ground espresso is made from fair trade organic Arabica beans, and while it's not actually an instant, it's the stuff you want to have on hand for your best chili and tiramisu recipes. – Shop Now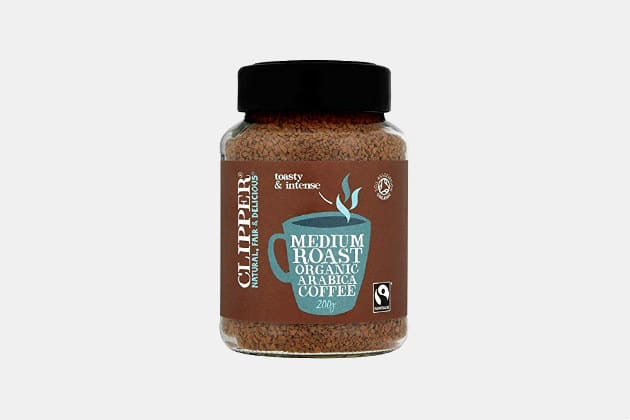 Clipper Instant Coffee
Americans drink coffee, Brits drink tea. Or so we thought. Coffee is now outpacing tea in the UK and shows no signs of stopping. So it makes sense that a venerable British tea company has also thrown its hat in the coffee ring. Clipper started out in 1984 and became the the UK's first fair trade tea company ten years later. Now they count fair trade instant coffee among their offerings. With a Super Special Organic and an Everyday Organic, Clipper Instant is your chance to see how they do java on in dear old Blighty. – Shop Now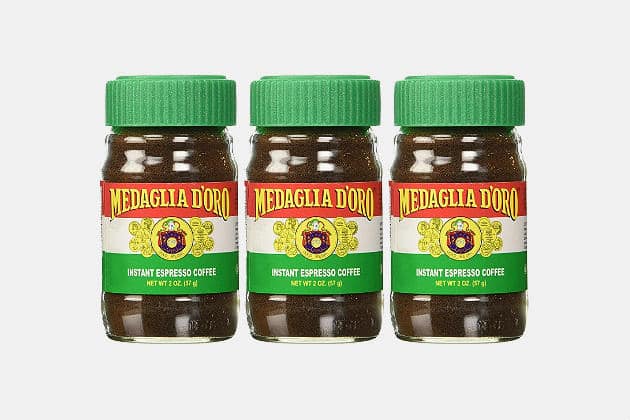 Medaglia D'Oro Instant Espresso Coffee
Medaglia D'Oro is one of those "secret" brands. One that doesn't shout its awesomeness with a clean-lined modern design, instead looking like something you'd pick up at a backwoods general store. But inside is a blend of Italian espresso coffee that's rich, strong and smooth, and comes from a company that's been making Italian espresso since 1924. Their instant espresso is double roasted and ready to serve as the base for your fastest cappuccino and speediest caffè latte. – Shop Now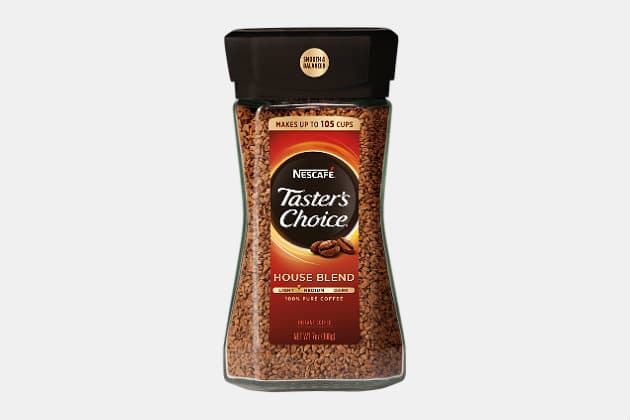 Nescafé Taster's Choice
Before the instant renaissance, when you said instant coffee you meant the jar of Taster's Choice eternally hanging out in your grandparents' cupboards. But we are not ones to discount something just because it's not new. Nescafé (branded as Taster's Choice in the US) got its start back in Switzerland in 1938. In WWII, American troops got instant as part of their rations and brought a love of the stuff back home with them. The classic entry on our list (and cheapest) counts among its fans those who've been at this mix-n-go routine for decades, son. – Shop Now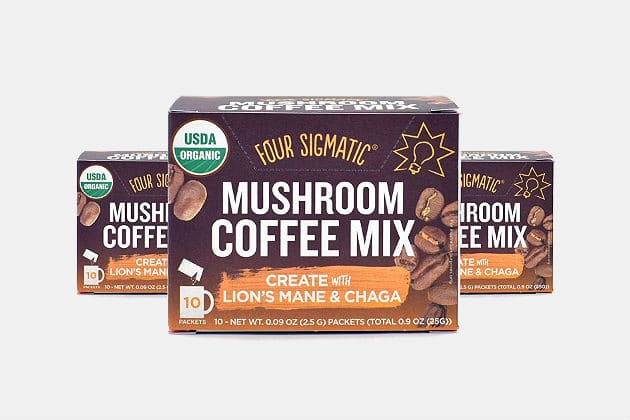 Four Sigmatic Mushroom Coffee
You've been told to eat your vegetables. Now we're telling you to drink your mushrooms. Four Sigmatic thinks life is better on 'shrooms (no not that kind…yet). With health benefits ranging from immunity to longevity, plus the ability to energize, calm and focus you, drinking mushrooms with your coffee might just be brilliant. Go for an instant coffee mix with Cordyceps and Chaga for energy and stamina, or with Lion's Mane for focus and memory. The coffee at the base is shade grown Arabica from the Sierra Madre de Chiapas in Mexico and the mushrooms are just there to do their job, not make your joe taste like mushroom stew. – Shop Now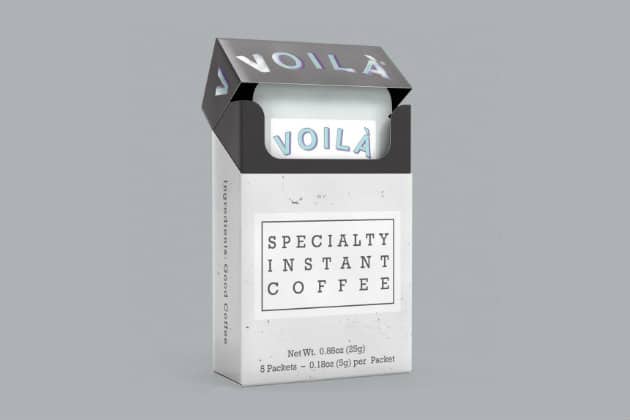 Voila Instant Coffee Discovery Box
One can start anything on Kickstarter, your cousin's RPG, your neighbor's comic, your co-worker's bird feeder. So yes, someone took to Kickstarter to launch a specialty instant coffee brand. Voilà (as in, just add water and, voilà: coffee) wanted to bring coffee from some of the top roasters in the world into people's hands in the form of a go-wherever instant coffee sachet. Currently they have a box of five different coffees from their favorite roasters which features two lively, two complex and one structured coffee. – Shop Now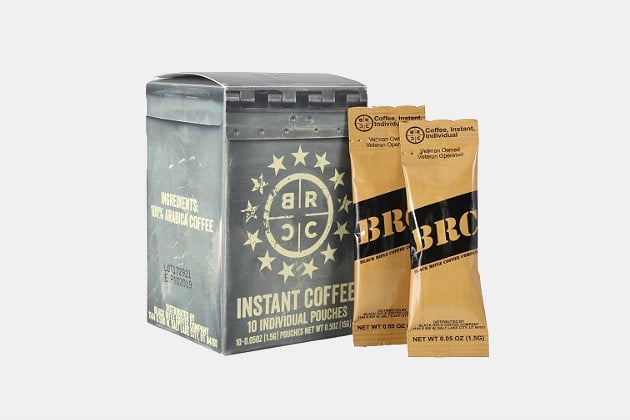 Black Rifle Coffee Company Instant Sticks
In competition for the most badass coffee on our list are the instant sticks from Black Rifle Coffee Company. BRCC is a veteran owned company committed to making directly imported, small-batch, roast-to-order coffee for the people who love America. Available in a ten or twenty count box, their pouches of instant coffee make sure you can have their quality brew in the field, on the job site, or anywhere else fragile coffee equipment might not hold up. – Shop Now